This article is in continuation with a previous one and part of my Spiti Valley Travelogue. We arrived in Chitkul on Day 2 from Narkanda; stayed here for the night; and then traveled from Chitkul to Kalpa on Day 3. Details on this part of the journey including the route, road conditions, accommodation, and time taken are mentioned further in the article. To read the previous part of this travelogue, please click on the link below.
Journey So Far: Narkanda to Chitkul – Day 2
Chitkul to Kalpa​
As per the original plan, the idea for 3rd day was to reach Nako which is about 150 kilometers from Chitkul. Distance is not really that large and easily doable in a day but due to bad roads, it can easily take up to 6-7 hours in total. My friend had started to feel a little better by 3rd day, but was still not very keen on traveling for 6 hours and wanted to keep the journey short.
A major reason behind this was the uncomfortable night at Chitkul. It was an extremely cold night and we had to keep the heater switched on until morning. More than the cold, however, it was the bed and the blankets which made it difficult to get through that night. After a lot of tossing and tumbling and temporary shut-eyes; the morning finally arrived and I was so thankful that it did. It was probably the most difficult night of our entire trip. Extreme cold weather mixed with a horrible hotel made it really tough to get some proper sleep.
Also Read: How to Plan a Trip to Chitkul?
Finally, the sun decided to show up.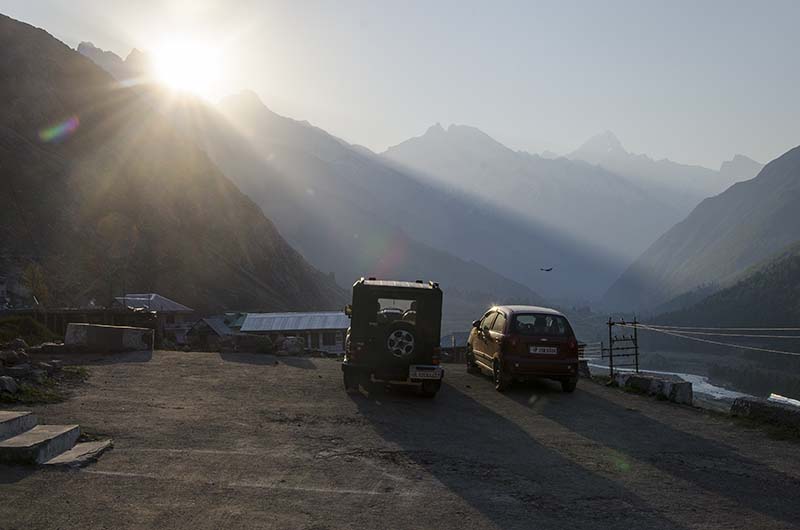 A Horrible Start of the Day
The first thing I noticed that morning was that there was no water in the washroom. I stepped out of the rest house and went to the caretaker's quarters. The caretaker was nowhere to be found and his wife told me that a pipe had broken somewhere due to which there was no water in the rooms. She also had no idea about how long it will take to fix it, and only knew that the caretaker was out there somewhere trying to fix it. My friend was still fast asleep in her room and since there was nothing else to do, I decided to take a stroll to the village for a cup of tea.
After a few pictures, a couple of cups of tea, and one hour, I returned to the rest house. The problem was still not resolved and there was still no water in the washrooms. The caretaker however was available now; and he told me that the problem was only in the rooms on the upper floor only. There was no immediate fix in sight and he asked us to use the only washroom available on the ground floor.
This was really the only choice and I totally hated to even step in that stinking washroom; which I guess was used by the caretaker and his family and god only knows who else. My friend hated me even more for asking her to stay at that guest house against her wish. She wanted to move to some other hotel the day before but I did not agree to it; just because I did not want to deprive that caretaker of some money that he could make.
The Idiotic Caretaker
And it was the same caretaker that I so badly wanted to beat up now. After a torturous morning, we packed up our bags and loaded them in Thar. We discussed our destination and sensing that my fellow traveler was in no mood to drive for 6 hours, I decided to change the destination and head to Kalpa instead.
The distance between Chitkul to Kalpa by road is merely 65 kilometers and the entire journey can be completed in about 3 hours at most. I paid the caretaker the rent for the horrible rooms and that is when the argument about food broke out; that I explained in the previous article. I just resisted myself from slapping that idiot but I so badly wanted to do it. Instead, I just paid the man another Rs. 300 for food that I never ate; and did not even know if he actually cooked, or was just lying to me all that time.
I have posted a detailed review at HPPWD Rest House Chitkul Review. My strong recommendation would be that you do not make the mistake of staying at this rest house, or you too will regret it as I did. There are plenty of other hotels in Chitkul, even the budget ones.
Chitkul to Karcham
I asked Khushboo about her plans and she too agreed to stay at Kalpa for the day. Since our destination was the same, she put her bags as well in my Thar rather than roping it around her Avenger again. Finally, we started on our way to Kalpa and left Chitkul in my rear-view mirror. I took frequent photography breaks while Khushboo continued to ride non-stop; and very soon, had left me far behind.
Beautiful vistas on the way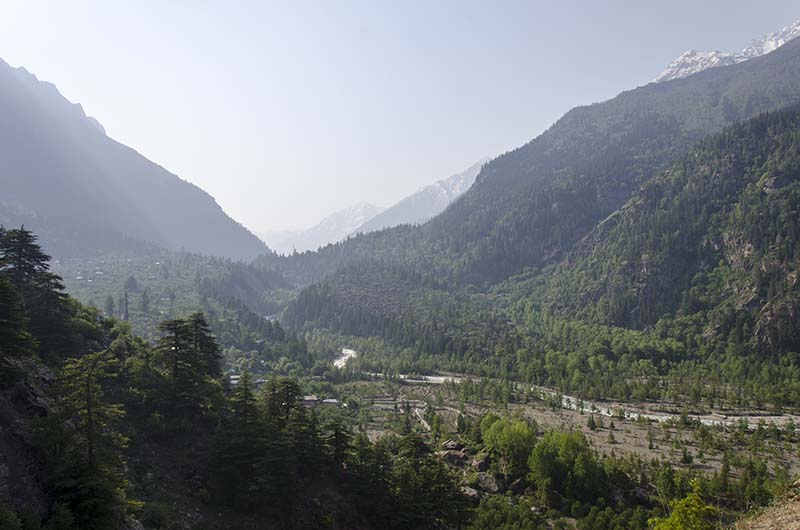 Finally we reached Karcham and took the turn towards Reckong Peo from there.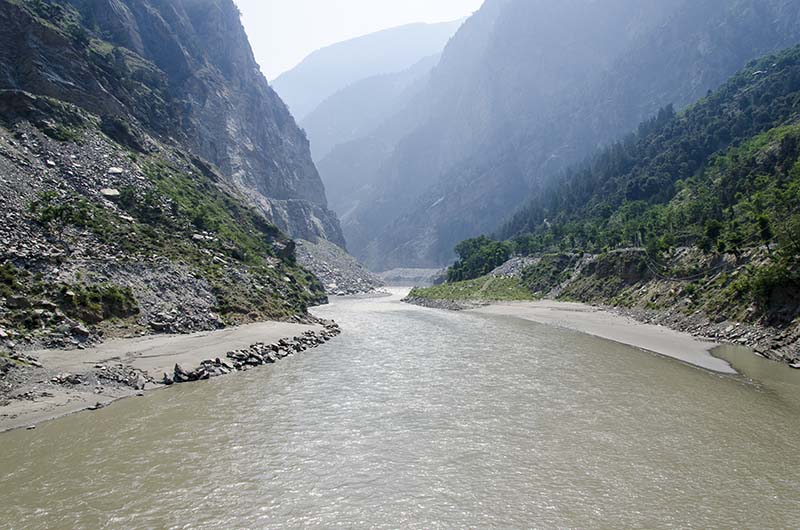 Karcham to Kalpa
The road turned a little bad between Karcham and Reckong Peo but it was just for a short stretch.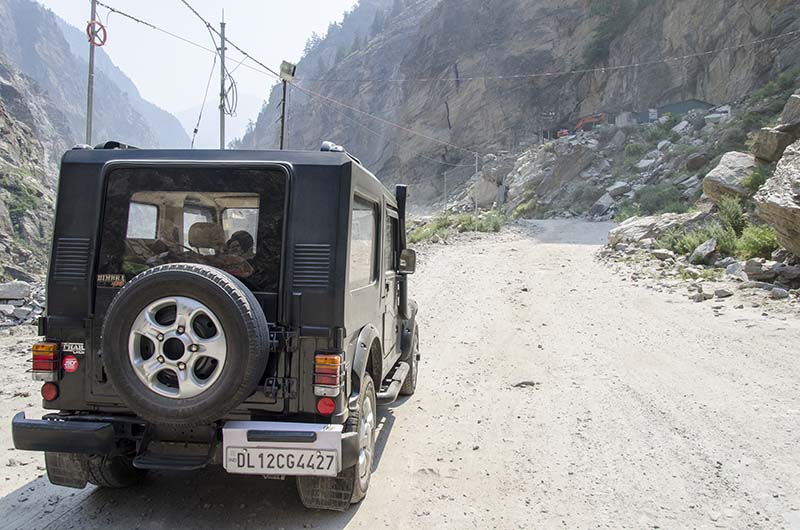 The entire drive was quite smooth mostly and that actually surprised me a little. The last time I was here, the entire stretch after Jeori was in a horrible state and I was mentally prepared for the same but this time, until Kalpa, the road mostly remained good.
Also Read: How to Plan a Trip to Kalpa?
Kalpa
We finally reached Kalpa and after a bit of hotel hunting, I decided to stay at Hotel Parvati. From an overall point of view, my stay here was comfortable and a pleasant one; and I would recommend this hotel to anyone who is heading towards Kalpa. They are not really one of the luxury or well-known hotels here. But if you are looking for a decent enough hotel in Kalpa with a great view; then Hotel Parvati would prove to be a great choice for you.
Please read Hotel Review – Hotel Parvati, Kalpa for a detailed review of this hotel and to see a few pictures of the rooms.
The biggest attraction and probably the only one as well, in Kalpa is the magnificent and majestic peaks of Kinner Kailash. As you climb up to Reckong Peo and then further up to Kalpa; the imposing peaks put up a view that will sweep you off your feet. Every hotel out here is facing in the same direction but a few have a slightly better views than others. And this is where this hotel comes out to be a winner.
This was the view from our room.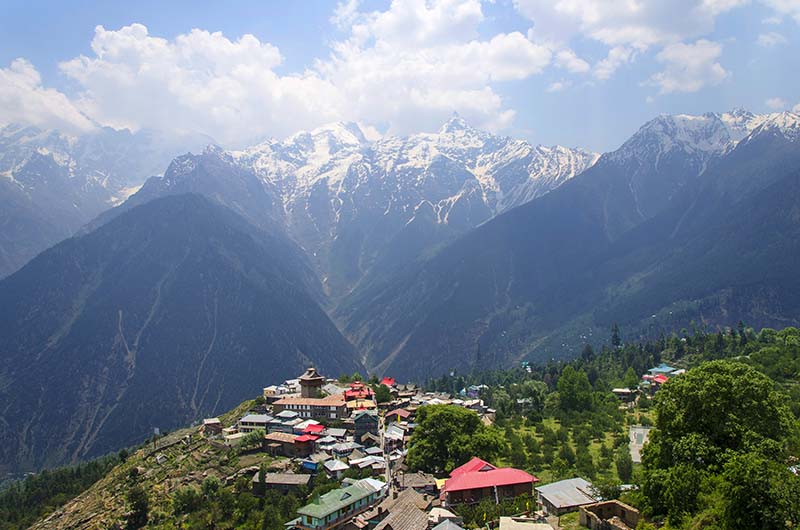 Hotel Hunting
To be honest, Parvati was not really the hotel that I was looking for upon my arrival in Kalpa. The last time I was here, I stayed at a hotel called Ashoka and that was the one I wanted to stay in again. Unfortunately, however, when I arrived at Hotel Ashoka, I was told that they were completely booked and did not have even a single room to spare for a night.
Also from the looks of it, it did not seem like that the folks at Ashoka were doing a good job in maintaining the hotel. A few of the rooms were open and they just did not seem to be clean or hygienic enough. I was anyways having second thoughts about staying here; and when they told me that they were totally booked, it just gave me another excuse to rush out and look for a different hotel.
About a kilometer ahead of Hotel Ashoka, I noticed Hotel Parvati and when I asked there, they had rooms available and were able to accommodate us.
Also Read: How to Plan a Trip to Spiti Valley – A Complete Travel Guide
Hotel Parvati
This hotel is located right in front of the HPTDC Hotel Kinner Kailash. It is run by a few Bengali folks and the rooms they gave us were newly constructed. The view of the Kinner Kailash peaks in front was great. The rooms including the washrooms were quite spacious. The beds were large, comfortable, and very clean. In terms of food, they do not have a kitchen of their own; but there is a small restaurant right next to the hotel that you can eat at. That restaurant too is run by the Bengali folks and can serve some amazing fish curry if you would like to have some.
On a different note though, I was surprised by the number of Bengali people living here in Kalpa. There are quite a few of them out here.
I paid Rs. 2000 for the room in the pictures above which may not sound like a budget option but in peak tourist season, it really is not too great a price to pay in Kalpa. Other hotels will ask you about Rs. 2,500 or more for a similar kind of room. If however, you need something for a lesser price then these guys also have other budget rooms that you can rent for Rs. 1000 to Rs. 1,500. You can park your car or motorcycle right in front of the hotel so that too will not be an issue.
I am not getting into a very detailed review because there really is not much to write. But in short, this is a great place to stay in Kalpa. Other tourist attractions like suicide point, Roghi village, etc are also not very far away. It will take you about 15 to 20 minutes at least to walk down to Kalpa town from this hotel.
Khushboo
To read a detailed review of this hotel along with a few pictures, please read Hotel Parvati – A Decent Place to Stay in Kalpa.
We checked in but now a bigger problem was of Khushboo. She had put all her luggage in my car and was riding ahead of us on her Avenger. She left us far behind and never stopped or waited for us. So now here we were, checked into a hotel at Kalpa with no sign of her and her luggage still in my car.
We called Khushboo a few times while on the way but either her phone was out of reach, or she did not answer. Now this kind of was posing a serious problem and I wasn't sure what was I going to do. After calling her non-stop for a few times, she finally answered her phone and I gave her the location of the hotel that we were staying at. There was a room right next to mine and I had already told the owner that a friend of mine would be arriving and staying in it.
Also Read: How to Plan a Trip to Sarahan
Sangla Incident
Khushboo arrived half an hour later. A funny incident happened to her. She was riding with proper gear including gloves, elbow and knee caps, etc. At Sangla, she decided to check out Kamru fort and left her motorcycle parked somewhere in front of a shop. When she asked the shopkeeper if she could leave her riding gear as well with the bike and if he would keep an eye on it, he immediately agreed.
Khushboo went ahead to see the fort and when she returned, her bike was still there but the riding gear was stolen. The shopkeeper told her that there were some kids passing by and they took her gloves and knee caps thinking it is meant for playing cricket. When she asked him where those kids were or why he did not stop them, he just shrugged his shoulders and did not have an answer.
Sightseeing in Kalpa
After taking a shower and having lunch at the nearby restaurant, we decided to go check out the nearby suicide point. First, we thought to drive but then just decided to walk all the way.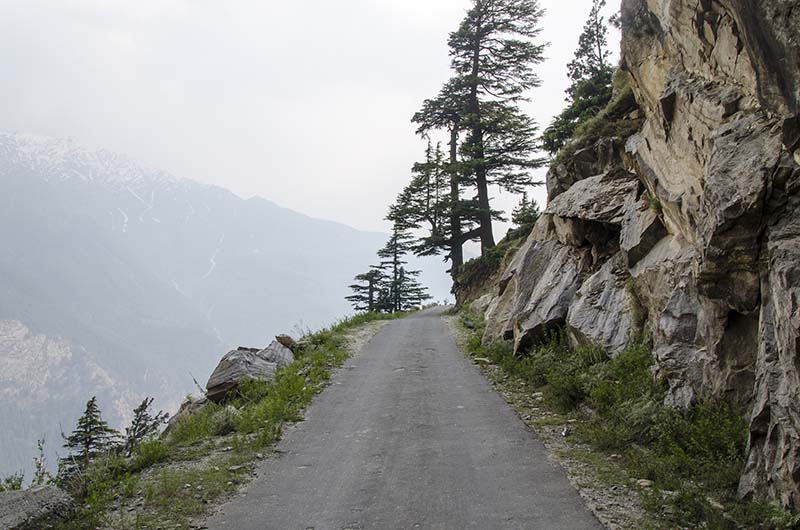 The walk turned out to be longer than we thought and it took us more than an hour to finally get to the suicide point.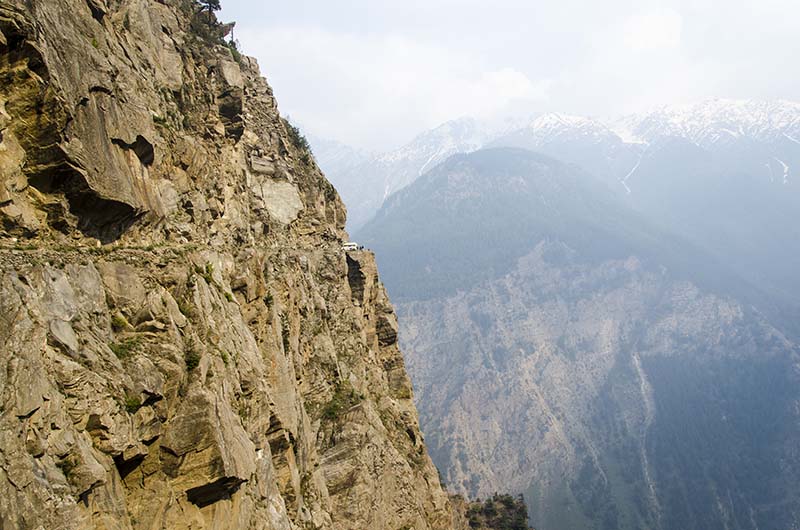 The location of this village really scared me. I mean why would anyone want to go build houses here?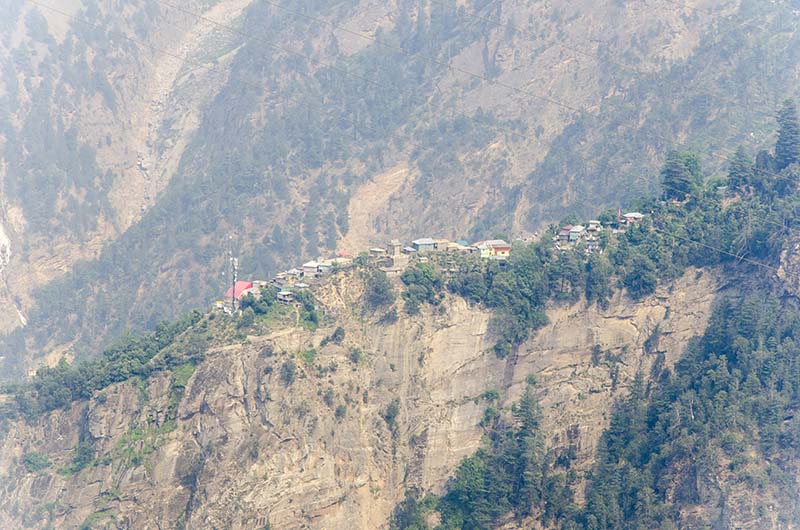 After spending some time here, we started walking back. It was a long walk, definitely tiring but the views around made it all worth it.
Much to my surprise, both Khushboo and my friend went to their respective rooms to lie down for a little while. Soon enough they were both asleep and never got out of their beds again that evening. I pretty much spent the entire evening walking around all by myself; ate at the restaurant alone and then at around 9 PM, I too decided to call it a day and retired into my room.
Kalpa at Night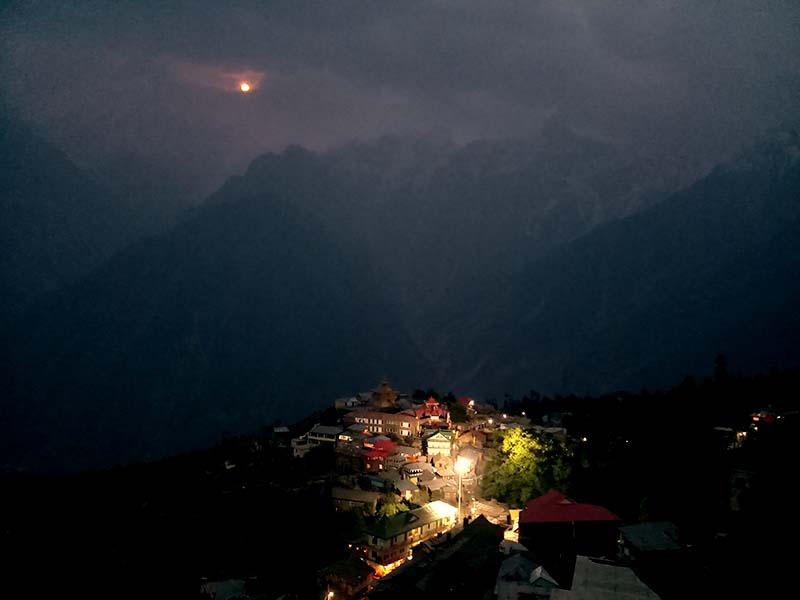 And that was the end of our journey for Day 3. Please read Kalpa to Nako – The Upper Reaches of Kinnaur Valley to read the next part of this travelogue.
How to reach Chitkul from Kalpa
Let me also post some basic information about Chitkul and Kalpa and the route starting with a distance chart and travel time.
Chitkul to Sangla Distance: 25 Kilometers; about one hour of a journey
Chitkul to Reckong Peo Distance: 60 Kilometers; about 3 hours of journey
Chitkul to Kalpa Distance: 65 Kilometers; 3 hours of total travel time
Chitkul to Kalpa Road Condition
The road for the entire 65 kilometers of the journey is a smooth run. There are a few bad stretches in between but those are very short ones. For the most part, you will be traveling on a well-laid tarmac.
Chitkul to Reckong Peo Bus
There is one early morning bus from Chitkul for Reckong Peo. It leaves from Chitkul at around 8 AM.
Chitkul to Sangla Bus
The morning bus for Reckong Peo passes through Sangla as well. Shared taxis and a couple of other privates buses too ply between the two villages.
Also Read: Clothes for Spiti – What to Pack
Sangla to Reckong Peo Bus
For traveling from Sangla to Reckong Peo, you can either board the morning bus coming from Chitkul. Or you can either board the noon bus from Sangla to Reckong Peo. It starts at Sangla at 1 PM.
Chitkul to Kalpa Bus
There is no direct bus from Chitkul to Kalpa. You will have to board a bus from Chitkul to Reckong Peo. There are two buses in the day for this, one in the morning at 9:00 am and another at 1:00 pm.
Kalpa to Chitkul Bus Timings

For traveling the other way around as well, you will first have to reach Reckong Peo from Kalpa. There is a morning bus from Reckong Peo for Chitkul that leaves at 9.30 AM from Peo and reaches Chitkul by noon.
Reckong Peo to Kalpa Bus
There is a regular bus service from Reckong Peo to Kalpa at every couple of hours. Shared taxis also ply on the route regularly so you will not have any problem finding a mode of commute.
Journey Ahead: Kalpa to Nako – The Upper Reaches of Kinnaur Valley
Kalpa to Chitkul Road Conditions
The distance from Kalpa to Chitkul may just be only 65 kilometers but this short stretch will have you traveling on all kinds of roads. It is a mix of really smooth, average, and really bad. One thing that is common however is that it is mostly all narrow. The only broad sections of the road are limited to around Powari and near Chitkul but the rest of the section is all very narrow. If you were in a car and there was another car coming from the other side, you will have to find a spot wide enough to cross.
Chitkul or Kalpa
A friend of mine asked me this question that whether they should go to Chitkul or Kalpa. To be honest, it is extremely tough to answer this. Both of the places are extremely scenic and are equal in terms of natural beauty. Considering the fact that the distance also is not that great, an ideal way would be to cover both of them. If you were short on time, then plan your night stay in one place and make s short trip to another.
If however you were on a Spiti ride and were short on days, then I will recommend skipping Chitkul and visiting Kalpa on the way.
Chitkul to Kaza
Why do I recommend skipping Chitkul? Because it is actually a little off the route. If you want to cover Chitkul, then from Karcham, it will be a journey of around 80 kilometers to and fro, and it will easily take you 5 – 6 hours at least. Chitkul to Kaza is a very long ride so there is no way that you can start from some other town, cover Chitkul and be on your way to Kaza. Kalpa is merely one hour ride to and from the main highway and can easily be integrated into your itinerary without spending too much time or the night.
Shimla to Chitkul
Shimla to Chitkul is a total of 245 kilometers. The journey can easily be completed in a day but you will have to make sure that you started early from Shimla. The entire trip by road will take you anywhere between 9 to 19 hours depending on your speed and breaks. The good part is that the road is super smooth until Jeori and then a mix of good, average, and bad after that.
If you were traveling by public transport, then it can get a little tricky. There is no bus that goes from Shimla to all the way till Chitkul. But you can easily get a bus for Sangla that starts from Shimla at 6 AM. This bus will drop you at Sangla at around 3-4 PM. From Sangla then, you will have to find another mode of transport for Chitkul. Shared cabs are easily available on the route and you can, in fact, hitchhike as well.
Shimla to Kalpa
The distance between Shimla to Kalpa by road is about 230 kilometers but the journey can easily be completed in 6 to 7 hours. If you were taking frequent breaks, even then you can do it in 8 hours at most. The road is mostly all smooth with a few bad stretches between Jeori and Powari. The narrow part of the road is limited to the last 17 odd kilometers between Powari and Kalpa.
If your Shimla to Kalpa trip was by public transport, then you can board the morning Bus from Shimla for Reckong Peo which leaves between 5 – 6 AM from ISBT Shimla. This bus will drop you at Reckong Peo by afternoon. From Peo, there are regular buses and shared cabs available for Kalpa which will cost you about Rs. 20-30 per person.
Kalpa to Chitkul
If you want to travel the other way around, Kalpa to Chitkul, then the journey will pretty much be the same that I explained above.
Conclusion
Please click on the link above to read the next part of this journey. I hope the information posted above was of help. If you have any questions; or need any further information on traveling from Chitkul to Kalpa; please feel free to ask in the comments section below, or at our Community Forum; and I will be glad to answer.