In this article, I will provide information on how you can plan a trip from Kaza to Kibber, Chicham, Key Monastery, Gette, and Tashigang villages. All these villages are within a couple of hours' visit from Kaza and offer some of the most amazing landscapes you will see during your trip.
Also Read: How to Plan a Trip to Spiti Valley – A Complete Travel Guide
These are possibly among the remotest villages in our country, nestled up in the mighty Himalayas and there isn't even really much of a road leading here. However, this is exactly what makes these tiny hamlets worth a visit. Wrapped in silence in a land far away, with beautiful vistas all around, the hospitality of the villagers, the silence and solitude, a night sky filled with countless stars; put these all together and you will have an experience of a lifetime. The nights especially are bliss for anyone interested in Sky gazing.
There are several small nearby villages that you can visit from Kaza however; in this article, I will cover Kibber, Chicham, Gette, and Tashigang. The reason being is that these are all on the same road that you will have to divert on from Kaza-Manali highway. For other villages like Langza and Hikkim, you will have to come back to the highway and take another diversion. I have covered the remaining villages in the next part of this article.
Kaza to Kibber – Chicham – Gette – Tashigang
Below is a map of the circuit you will be completing while visiting these villages. Click on the map below or save it to your hard drive to view it in full size.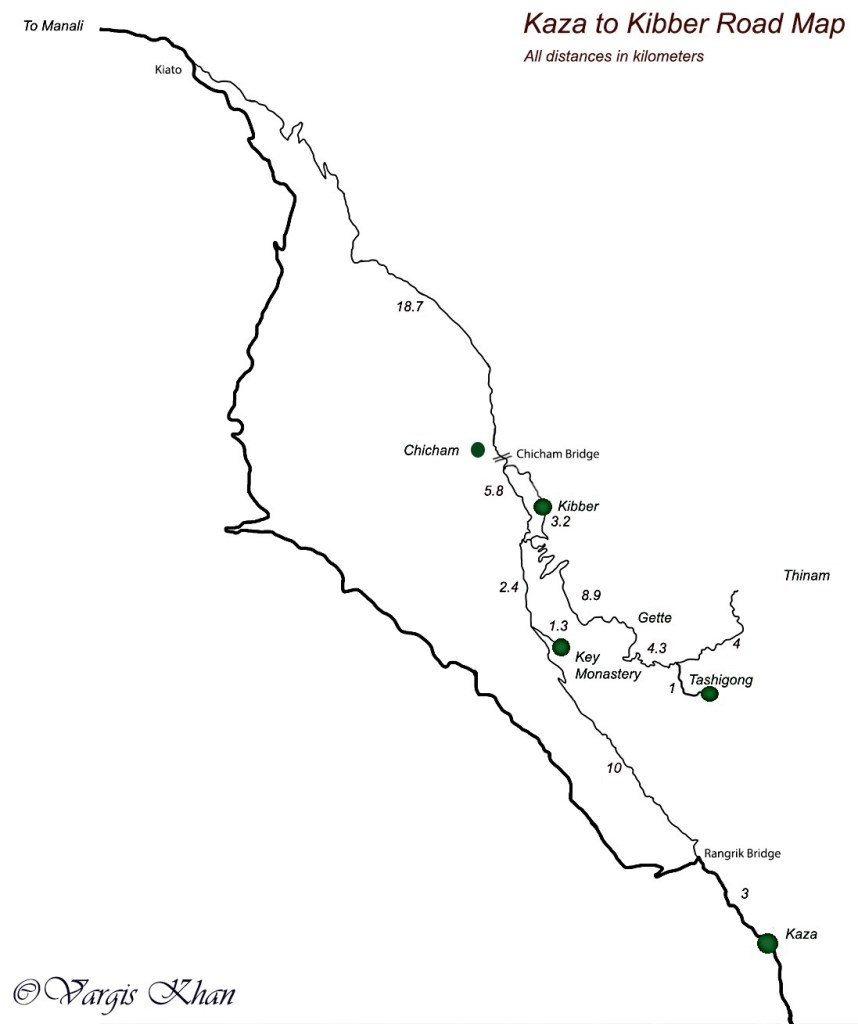 Your journey for the day will be like below.
Kaza to Key Monastery – 14 Kilometers
Key Monastery to Kibber – 6 kilometers
Kibber to Chicham – 6 kilometers
Kibber to Gette – 12 kilometers
Gette to Tashigang – 5 kilometers
Tashigang to Kaza – 32 kilometers
In total, completing the above circuit, you will cover a total of 75 kilometers round trip from Kaza. Depending on your speed and breaks, it can take you anywhere between 4-6 hours. You can either visit all of these villages and return to Kaza; or you can come down to the highway and the drive up on the other road leading to Komic, Hikkim, and Langza. I have explained this in the next part of this article.
Also Read: How to Handle Acute Mountain Sickness in Spiti Valley
The road will be a mix of good and bad. From Kaza to Kibber, it is a newly built tarred road but the one towards Gette and Tashigang is still a dirt trail. The good part, however, is that the trail is not a bumpy one and can be a smooth drive if you went slow. Something like in the image below.
Even though you will be leaving your luggage back at the hotel at Kaza since you will be returning here by evening, ensure that you are carrying good sunblock lotion, sunglasses or possibly a hat too. Sun up here is really harsh and if you go unprotected, it will not just tan you but burn you.
Also Read: What Clothes to Pack for Spiti Valley Trip
Kaza to Key Monastery
I will recommend that you start early from Kaza. This way, you can visit Kibber, come back to the highway and still have time to visit Langza and Hikkim which I have explained in the next part of the article.
From Kaza, head on the road towards Manali. About 3 kilometers later, you will come across a bridge; using which you will cross over on the other side of the Spiti River. This bridge is known as Rangrik Bridge.
Do not cross the bridge though and head straight towards Key Monastery, further 12 kilometers from here. To reach the monastery, you will have to leave this road after 10 kilometers and take a kilometer long diversion to your right which will see you at the gates of the monastery.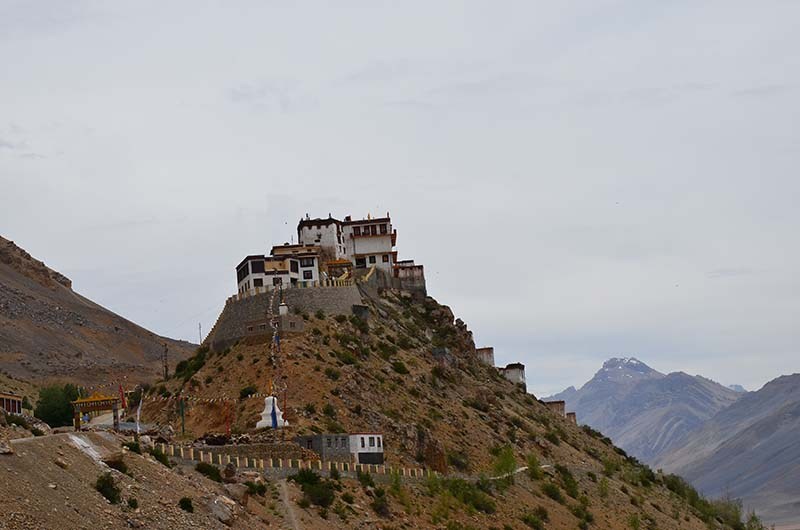 Also known as Kye Gompa, this monastery is the biggest in all of Spiti valley and also acts as a training center for Lamas. It is believed to have been founded in the 11th century and has a vast collection of ancient murals, books, and centuries-old Thangkas. It is located on top of a hill at an altitude of 4,166 meters (13,668 ft).
Kye Monastery is among the top must-visit places in Spiti Valley and a short visit here is highly recommended. Fun fact is that you can even stay in the monastery for just about Rs. 200 – 300 (including meals) which makes it great for someone traveling on a tight budget. For more information, please read How to Plan a Visit to Key Monastery.
Key Monastery to Kibber
After visiting the Monastery, travel back a kilometer to the main road and from here, continue another 6 kilometers towards Kibber Village. If you haven't had breakfast at Kaza before you started in the morning; there is a small restaurant at Kibber where you can eat.
Kibber, also spelled as Kyibar, is the most famous of all the villages around Kaza. It is located at an elevation of 4,270 meters (14,010 ft) and comprises about 80 odd houses. It has facilities like electricity, a civil dispensary, school, and a post office.
Apart from the natural beauty of the place, this village is best known for a wildlife reserve known as Kibber Wildlife Sanctuary. It was established in 1992, is India's only wildlife sanctuary in cold desert and is home to several rare animals like Ibex, Blue Sheep, Red Fox, Tibetan woolly hare, Himalayan wolf, lynx, pika, Tibetan wild ass. The most famous of all, however, is Snow Leopard.
Kibber is located on the outer limits of the sanctuary and becomes a base in winters for people interested in spotting this rare, shy and beautiful large cat. It is also the base for the trek to Mount Kanamo.
Kibber has an ancient monastery that you can visit while you are there. Another thing that this area is famous for is the huge amount of marine fossils found here, earning it its popular nickname of "Fossils park". The villagers here keep these fossils and would show and even sell if you requested so. For more details, please read Tourist Places in Kibber Village and Things to Do.
Kibber to Chicham
If you drove a little further from Kibber village, you will easily be able to spot another small village of Chicham. It is located about 22 kilometers from Kaza, at an altitude of 4150 meters (13,615 ft) and right next to Kibber across a deep gorge called Samba Lamba Nallah. Because of the gorge, there was earlier no way that you could go from Kibber to Chicham (or vice versa) by road. Kibber was connected by a road from Kaza and Chicham was connected by a road from Kiato.
So if you were in Kibber and also wanted to cover Chicham, you will first have to drive down to Kaza, then go to Kiato and drive up to Chicham from there. Due to this, while a lot of people visited Kibber, tourism in Chicham was next to none. However, a few years ago, things changed with the completion of Chicham Bridge.
Also Read: Best Time to Visit Spiti Valley
Chicham Bridge
Chicham Bridge is a suspension bridge that is now built over the gorge that separates Kibber and Chicham Villages. It is one of the most spectacular bridges in India and that is why it is so well known as well. It remained under construction for a total of about 14 years and was finally inaugurated on 15th Aug 2017.
The bridge is 114 meters long and was built with an estimated cost of Rs. 485 Lacs. It is often credited as Asia's Highest Bridge which is actually incorrect. What it certainly is, however, is a marvelous sight and definitely worth a trip while you were in Spiti Valley.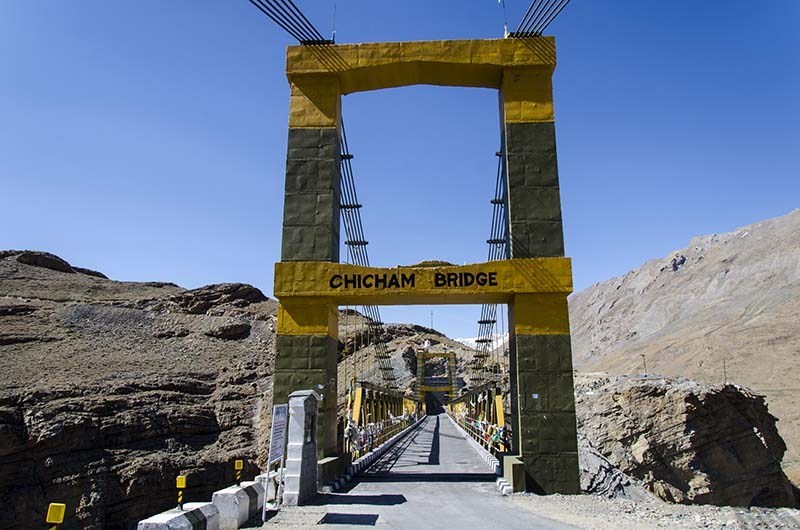 Chicham Village
Chicham is just a small village and as such, there is no long list of tourist attractions here. The natural beauty of the place is its prime attraction. The views you get on the road between Kiato and Chicham are simply amazing. The serenity and peace of the place would come next in line. It is a place perfect for doing some soul searching and spending some time relaxing.
Other than this, the only two tourist places that can be called within Chicham Village itself are the Chicham Bridge, which we just discussed, and Chicham Valley viewpoint. It is a spot slightly ahead of the village and gives an awesome view of the entire valley. I have highlighted this spot on the map I posted above.
Also Read: What to See in Spiti Valley – Sightseeing in Spiti
Chicham to Kibber
After you are done sightseeing in Chicham and have spent some time here, you will once again cross the bridge and drive back to Kibber.
Another thing that can be done here is that rather than coming back to Kibber, you can continue downhill from Chicham and go to Kiato. After driving for about 20 kilometers, you will exit on the Kaza Manali highway just before Kiato. From here, turn left and drive back to Kaza for 40 kilometers.  But if you did this, you will miss visiting Gette and Tashigang.
A third way that people plan this journey is to cover Kibber and Chicham while going to Chandratal or Manali. You drive up to Kibber, then Chicham, drive down to Kiato and rather than coming back to Kaza, continue to Losar and then to Chandratal or Manali.
Kibber to Gette
From Kibber, you will once again return about three kilometers on the same road where you will notice another dirt road with a signboard pointing towards Tashigang. Take this road and after about 9 kilometers, you will reach the small village of Gette. If you want to enter the village; you will have to leave your vehicle on the road and trek for about a kilometer.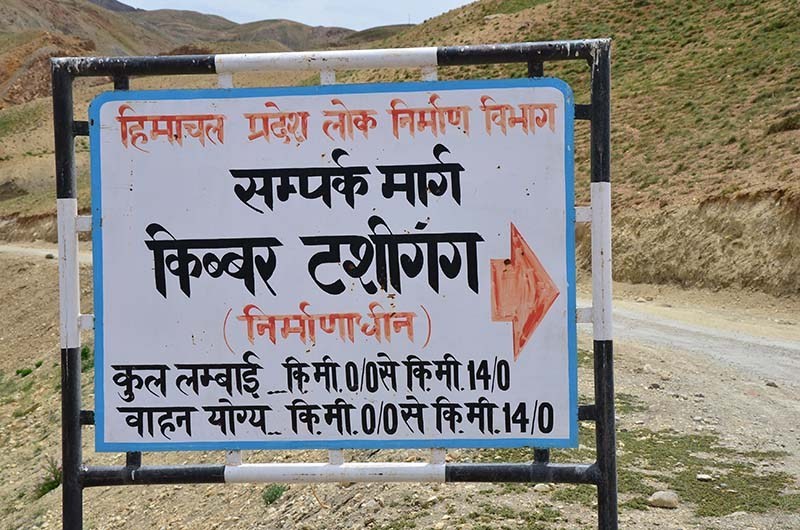 There is really nothing in Gette village as such. If you want to hike around a little and enjoy the scenery, you can do so. Otherwise, just keep riding or driving straight towards Tashigang Village.
One thing that I would add here is that there are no tourist spots in any of these villages. When you are visiting here, you are just driving through the mountains and enjoy the vistas. Stop whenever you come across a sight you like, spend some time and move on. This is what you do when you go from Kaza to Kibber or any other village.
Also Read: How to Plan a Trip to Chandratal
Gette to Tashigang
Tashigang, also known as Tashigong Village, is among the smallest villages of Spiti Valley at a height of 4650 meters and is home to about 10 families only. The only thing that puts it on the map is the recent world's highest polling station that is now located here.
But one thing that this place has in ample is natural beauty and serenity. You should visit Tashigang to enjoy the calm of the place and nothing else.
Marine fossils are found here as well. The village also has a small monastery by the name of Somang Monastery that is worth visiting.
Tashigang to Kaza
After visiting Tashigang, you can either return to Kaza or head towards the villages of Hikkim, Langza and Komic. Even for doing this, you will have to get back to Kaza Manali highway and then drive up. For more details, please read How to Plan a Trip from Kaza to Komik, Hikkim and Langza.
Where to Stay



There are no luxury hotels in any of these villages. The only choice of accommodation is small guest houses or homestays. If you are planning to stay here, it would be wise to let the owner know and book in advance as not many tourists go this way and calling in advance will allow the owner some time to prepare for your arrival.
Homestays are the best and most cost-effective way of accommodation in Spiti Valley. The locals here are quite welcoming to tourists. If you wish to stay here at night; you can speak with them and they will let you stay in their home for a very nominal charge.
You should keep your expectations however very low. Your stay and food would be very basic but comfortable and delicious. You should also remember that you are staying in the home of a villager so do not expect any fancy rooms or cuisines.
For more information on homestays in all these villages and their contact information, please read Complete List of Homestays in Spiti Valley.
Camping
If you are bringing your own camping gear; you can set up your tent but ensure that you are doing so within the village; closer to a home and after seeking permission. I will again stress the fact that this is a wildlife sanctuary and you should not go camping in the middle of anywhere. All these villages have their own small monasteries and you can also inquire with the monks if they are willing to lend you a room in the monastery.
Where to Eat
There is one small restaurant in Kibber and that is pretty much about it. You must carry sufficient food before you start from Kaza if you were planning a day-long drive.
If you were planning to stay overnight, then you will be eating at your homestay only. Speak to your host and see if they can cook you a local dish for dinner.
If you stayed at a monastery, you will be eating very simple and basic food with the lamas. Click here  to read my experience about how a monk went out of his way at one of the monasteries to cook something for me and a friend of mine.
Bus service / Public Transport
There is a daily bus from Kaza to Kibber at 4 PM. This bus will drop you at Kibber in less than an hour. If you want to travel in the earlier part of the day; you will have to inquire and wait for a shared taxi on the highway. The frequency of these taxis too, however, is not that much.
There are no direct buses to Chicham, Gette or Tashigang and finding a shared cab too will be difficult. You can hitchhike if you found someone going that way. I have found a lot of Israelis here who actually like to walk from the highway to the villages.
If you want to hire a private taxi; you can do so from Kaza and it will charge you about Rs. 2000 – Rs. 3000 per day covering all the villages. If only a drop to Kibber is on your mind, charges will be around Rs. 600 – 800.
Mobile Network and Data Connectivity
BSNL has the widest coverage in Spiti Valley but even that does not work in any of the villages. You will remain completely off the network as long as you are here.
Please read  How to Plan a Trip from Kaza to Komik, Hikkim and Langza to take you to next part of this article detailing on how to plan a visit to rest of the villages.
Conclusion
I hope the information above on traveling from Kaza to Kibber, Chicham, Gette and Tashigang was of help. If you have any further questions; please feel free to ask in the comments section below, or at our Community Forum, and I will be glad to answer.