This post is in continuation with a previous one; and a part of my Spiti Valley Travelogue. We traveled from Delhi to Nako in first four days of the journey, while covering Narkanda, Chitkul and Kalpa on the way. On Day 5, we journeyed from Nako to Pin Valley, and stayed in the beautiful Mud village for the night. Details of the journey and a few pictures are in the article below. To read the previous part of this travelogue; please click on the link below.
Journey So Far: Kalpa to Nako – Day 4
Day 5: Nako to Mud Village (Pin Valley)​
All thanks to the rock hard mattress that I spent the night on, the next morning arrived with stiff back and shoulders. I woke up that morning feeling tired and exhausted; and with a sore body; even though I have had a good night sleep of almost 8 – 9 hours. It felt like as if I had slept on the floor and not on the bed really. A few minutes later, my co-traveler stepped out of her room and she too complained of the same.
Morning in Nako
The only good part about that morning was a pleasant view of Nako village. For people like us living in metro cities, a silent morning like this is indeed very rare. Otherwise our days start in a hurry to rush to work and to the sound of morning traffic on the roads. But out here, it was a cold morning in the month of July where both of us were sitting in the sun; in front of a lake with no hurry at all. Rare indeed.
I woke up our hotel owner and asked him for some breakfast while we got our bags packed and loaded in the car.
Destination for today was going to be Mud Village in Pin Valley. Even though it was my 6th trip to Spiti, I had been to Pin Valley only once and that too 5 years ago. So yes, I was a little excited about our journey on this day. Total distance between Nako and Mud is about 130 kilometers and I knew that roads were going to be mostly OK with a few bad patches in between. This entire journey is easily doable in about 4-5 hours so we were in no hurry to start from Nako.
Also Read: A List of All Tourist Attractions in Spiti Valley
Nako to Dhankar
But there was really nothing to do there anymore. We sat out in the sun for a little while, had our breakfast, packed and loaded our bags and no matter how slow we did all of it, by 8 AM we had already checked out of our hotel and were on our way.
The moment we got out of Nako, we were stopped and had to wait for a while till this truck got loaded.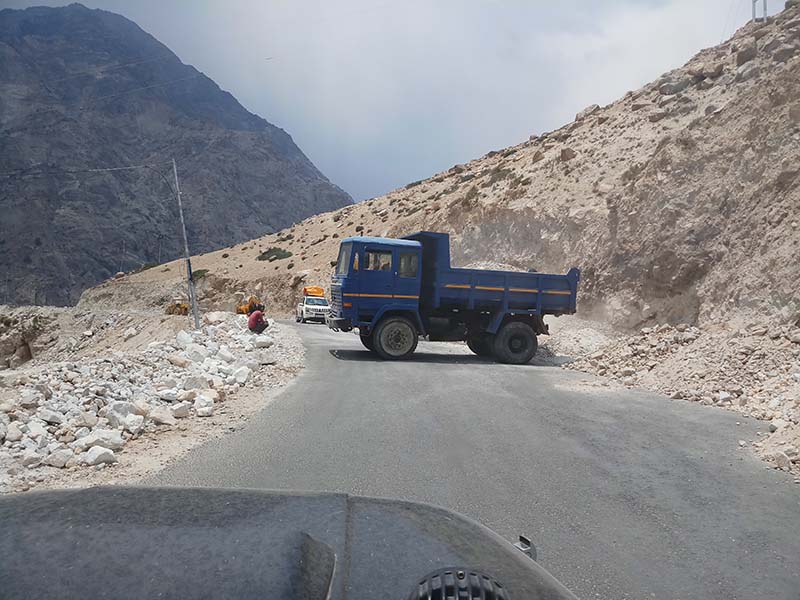 Malling Nallah
I was a little worried about the infamous Malling Nallah after Nako; but since we were traveling in May, it was still all dried up. It was actually a huge relief because all my trips to Spiti were on motorcycles so far; and this was the first time that I was driving a car here. The entire trip I was dreading about having to drive through Malling and if I will be able to manage it but when I saw it all dried up, it was a blessing and relief indeed.
Some other vistas en route.
We reached Dhankar and visited the monastery. I wanted to trek to Dhankar lake but my friend refused since she was in no mood to walk around. So we gave up the idea and continued driving to Pin Valley.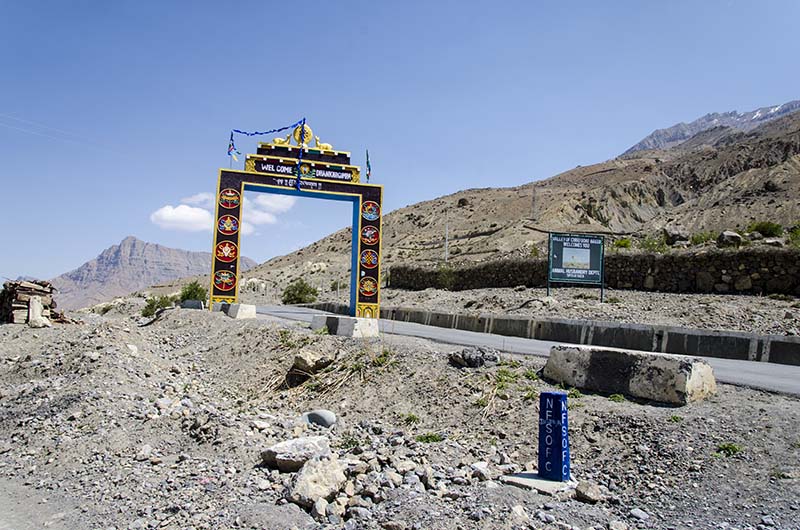 Very soon we had reached Attargo and the bridge which we were to cross in order to get to Pin Valley. Straight ahead from here for 16 kilometers is Kaza. But for today, we were going to take left and explore Pin.
During my previous visit to Pin Valley, I had gone straight to Mud Village and stayed there at Tara Guest House. That was the plan this time as well but then a friend of mine in Kaza, Jamaica, booked a hotel for me in Gulling. Now from Attargo Bridge, Gulling is about 16 kilometers and Mud Village is another 18 kilometers from Gulling. To be honest, I was not really very keen on staying at Gulling because the view you get from Mud Village is one in a million, picture posted below.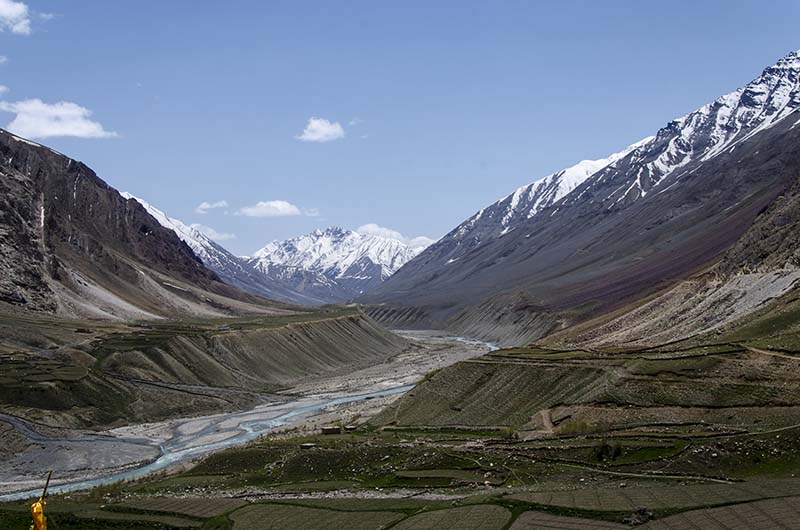 Dhankar to Mud Village
I wanted to stay with that view from my hotel window again but since it was between friends and my booking at Gulling was already done, I had no choice but to change my itinerary. Now the plan was that we will reach Gulling, check into the hotel there, freshen up and then drive till Mud Village. We will then return to Gulling after spending some time at Mud and then go to Kaza the next day. But then this was just the plan; and plans have a habit of changing at the last minute.
Also Read: How to Plan a Trip to Pin Valley
So we started driving through Pin Valley and after a few kilometers, saw Khushboo coming in from the other direction. She had stayed at Tabo the previous night, then trekked to Dhankar lake in the morning, rode to Mud Village and was now returning to Kaza after exploring Pin. She covered so much in a few hours and all that we did was to drive lazily from Nako. I wanted her to come with us and stay at Mud for the day but she did not find the village too interesting. Her plan was rather to reach Kaza and explore towards Kibber and Komik. I told her to stay at Hotel Spiti Valley in Kaza and meet us there the next day.
Pin River
Her bags interestingly remained in my Thar and she still left those there. So here we were, met a stranger on the circuit just 3 days ago. Now all her luggage was in our car and she was riding around freely with complete faith and trust on us. That is what I like about traveling the most. You meet new people and make interesting friends.
Also Read: Cost of Motorcycle Trip to Spiti Valley
While we were walking around on the banks of the river in the picture below, my friend tripped on a lose stone and ended up hurting her feet. It was bleeding a little as well but thankfully nothing too serious or deep. There was little we could do there so We just washed her feet and then started on our way towards Mud. Khushboo went in the other direction towards Kaza.
Hotel Valley View, Gulling
We arrived at Gulling in an hour and I started looking for a Hotel Yellow Peaks, which I was told to stay at. Surprisingly, I passed through the village but there was no Hotel Yellow Peaks anywhere. I did notice a hotel by the name of Valley View but that was it. There was no other hotel anywhere. I still kept an eye out as we continued driving but there was no hotel by that name. We reached Sagnam after a while and that is when I gave up looking for Yellow Peaks and focused on reaching Mud Village and staying there.
As I learnt later, the hotel that I was to arrive at was indeed Valley View; the one that we passed and the only one in Gulling. When Jamaica told me about this hotel, he mentioned another one called Yellow Peaks but in an entirely different reference. I in confusion assumed that the one he booked my stay is called Yellow Peaks and ignored Valley View completely.
Also Read: How to Plan a Trip to Pin Valley
Mud Village
Nonetheless, in this confusion, I actually got what I wanted. Finally our journey from Nako to Pin Valley ended as we arrived at Mud Village. In terms of accommodation, my first preference was Tara Guest House. Unfortunately, Tara at that time was completely booked and the only room he could offer me had a shared bathroom with two other rooms. This I was not comfortable with so I decided to talk at another hotel right in front of it, Hotel Ibex. They had rooms available and he quoted me a price of Rs. 700 per room which sounded very reasonable. We decided to check in and stay here for the night.
After a quick lunch and freshening up, we decided to talk a walk through Mud village. I was surprised to see the number of new hotels here. The last time I visited Pin, Tara Home Stay was the only hotel here but now I counted at least 7. It looked like every house here was service as a hotel.
Also Read: How to Plan a Trip to Chandratal
A Walk in The Village
After walking around for a while, we returned to our hotel and spent rest of the day just sitting in the balcony. My friend started to complain of pain in her ankle that she twisted earlier in the day. It got so bad that she could barely walk straight by evening. We had some painkillers but not a spray that could provide immediate relief. There was another biker group staying at the hotel and I asked them if they had a pain-relief spray. Luckily they did and we ended up borrowing it from them.
Apart from the number of hotels, I was also surprised by the number of tourists. Even though it was not too much but there were other tourists here too. The last time I visited Mud, I and another friend of mine were the only two tourists in the entire village.
After a while, dark settled in. It was dark all around and time for us to call it a day. My friend also started to feel better in a little while and retired to her room. I sat in the balcony for a little while longer, enjoying a full moon view of Mud Village before finally going to sleep. Our journey from Nako to Pin Valley took us through some really amazing vistas and I thoroughly enjoyed the day.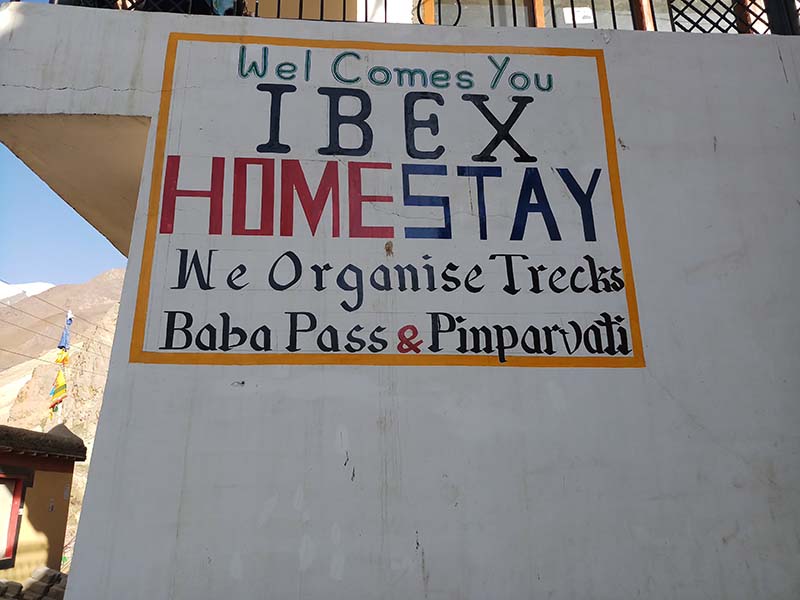 Hotel Ibex
For a short review of the hotel, the rooms were quite spacious and very clean. The bed was large enough to accommodate even three people on it. The mattress was comfortable enough to sleep on and the bed-sheets / blankets were clean enough. The washroom felt a little small but not to an extent where it may become a problem.
Also Read: A Detailed Review of Hotel Ibex and Some Pictures
The best thing about the hotel was the view in front. The view actually is same from anywhere in the entire village but it looked even better from the balcony or roof of a multi-storied building. They have a kitchen in the hotel that you can order from. The food was basic but very delicious. They have a central dining hall type area as well where you may sit down with friends to have a nice chat.
The rent they charged me was Rs. 700 for a day per room which makes this hotel a great place for anyone traveling on budget. Overall, I will highly recommend Ibex Home Stay to anyone traveling towards Pin Valley. They call it a Homestay but it is really not that.
Journey Ahead: Pin Valley to Kaza – The Heart of Spiti Valley
Overview
An overview of our journey for the day is as mentioned below. I will start with the distance and time chart. Mud Village in Pin Valley is where everyone heads so I will use that as a point to measure the distances.
Nako to Pin Valley
Pin Valley is at a distance of about 130 kilometers from Nako. The journey will take you about 4 to 5 hours to complete because of bad roads.
Nako to Dhankar
Dhankar is at a distance of about 93 kilometers from Nako; doable in 3 hours depending upon your speed and breaks.
Nako to Tabo Distance
Tabo is at a distance of about 63 kilometers from Nako; doable in 2 hours.
Nako to Tabo Bus
There is a daily bus that plies from Reckong Peo to Kaza. This bus crossed Nako at around noon which you will have to board for reaching Tabo.
Nako to Tabo Road
The road between Nako and Tabo is a mix of good and average. From Tabo to Dhankar, it is mostly average but Dhankar to Pin Valley is an entirely broken dirt trail.
Also Read: How to Deal with Acute Mountain Sickness in Spiti Valley?
Tabo to Dhankar Distance
Distance between Tabo and Dhankar is of 30 kilometers; doable in about an hour.
Tabo to Pin Valley
Pin Valley is at a distance of 80 kilometers from Tabo; doable in 3 hours.
Dhankar to Pin Valley
Dhankar to Pin Valley is about 50 to 55 kilometers doable in 2 hours.
Journey Ahead: Pin Valley to Kaza – The Heart of Spiti Valley
Conclusion
I hope the information above on traveling from Nako to Pin Valley was of help. If you have any other questions; or need any further details; please feel free to ask in the comments section below; or at our Community Forum; and I will be glad to answer.