This post is in continuation with a previous one; and a part of my Spiti Valley Travelogue. We traveled from Delhi to Kaza in a total of 6 days; while covering Narkanda, Chitkul, Kalpa, Nako and Pin Valley on the way. On Day 7, we journeyed from Kaza to Chandratal, and camped there for the night before moving on to Manali the next day. Details of the journey and a few pictures are in the article below. To read the previous part of this travelogue; please click on the link below.
Journey So Far: Mud Village to Kaza – The Heart of Spiti Valley
Journey Ahead
Night at Kaza turned out to be an extremely inconvenient one. The Shakshuka I ate the previous evening turned my stomach into a "Shukshuka". That entire night I kept tossing and turning in the bed; regretting the moment when I decided to try that "something Israeli".
Another thing that I was regretting was to leave my medicine pouch out in the car. I actually bought some medicine for upset stomach and pain before the trip but had put it in the car dashboard. Medicine was in the dashboard; dashboard was in the car; but the car was outside the hotel; which at that time was completely locked down. Though a couple of times I did think of stepping out of the room and waking up the hotel staff; but it just did not seem the right thing to do; to disturb someone like that on a cold night.
Finally the morning arrived and the first thing I did was to called Tanzin; the owner of the hotel to ask if there was a Doctor or medical shop nearby. Tanzin lives quite close to the hotel. Being the gentleman that he was and upon learning that I wasn't feeling well; he immediately came to the hotel and together we went out towards the market area looking for a Doctor.
Medical Assistance in Kaza
But it was quite early in the morning. Sun was just coming up so the entire town was still shut down. It was impossible that we would find a Doctor open so early at a place like Kaza and we both knew it. Fortunately enough, Tanzin also knew of a medical shop at main Kaza market where the attendant sleeps inside the shop itself. So this actually is a good to know information for everyone. Look for a medical shop in the market opposite Kaza Monastery. It remains closed during night but the guy who runs the shop sleeps right inside. So in case of an emergency, you can just knock on the shutter and he will open.
That is what we did. We reached the shop and knocked at the shutter. The guy inside opened the shop; did a quick check up on me and handed me a few tablets. Surprisingly, he turned out to be as good as a doctor himself. Within 15 to 20 minutes of taking the tablet he gave, I was already started to feel better. You do not really expect a medical attendant at a remote town like Kaza to be so good. But to my good fortune, this guy was and after a restless night, I finally started to feel back in spirits.
By the time we reached back at the hotel, both my friend and Khushboo were up. So yet again, the task of packing and loading bags in Thar started.
Kaza to Chandratal
To be honest, I was actually very nervous about our journey today. So far, all my trips to Spiti valley have been on motorcycles. How to handle the tough stretch between Manali to Kaza on a bike was not a concept unknown to me. I had done it several times before; went through those bad broken narrow roads, water streams, slush and whatever the terrain threw at me. But doing this journey in a car was going to be my first this time.
Whether or not I will be able to handle it was not really the question. It was just me driving the car, traveling alone with a girl. So in the end; I had no other option but to handle it regardless. But how to handle and what if I got stuck somewhere was what was driving me insane. The Batal to Chandratal road is the one I was dreading in particular; knowing how narrow it was.
But as I said, there was really no turning back. I couldn't possibly have chickened out at that point.
Road Condition from Kaza to Chandratal
I asked Tanzin about the road ahead. His answer was something that I already knew. Road was bad but water level in rivulets was not that high yet since it was just the month of May. He however advised me to avoid the highway and take the Kibber road instead. The road from Manali to Losar too was badly broken but the Kaza – Kibber – Chicham – Kiato stretch was all fresh tarmac.
So rather than going from Kaza to Kiato and then Losar straight, I could take the Kibber – Chicham route; and avoid the bad roads at least until Kiato. It was a slight deviation and would add about 5-6 kilometers and an additional one hour to the journey at least. But I still gladly agreed. I had been to Kibber and Komik before but never to Chicham; and had not yet seen the newly built Chicham bridge. So taking this diversion meant I could also explore that side of Spiti.
Finally all our luggage was loaded in Thar and I bid goodbye to my new friend in Kaza and a gem of a person, Tanzin. He had been asking me to visit Kaza next in winter since I arrived here the day before. Now even I had not done a winter trip to Spiti valley so I promised him that I will be back in coming February and with that, he waived us on our way to Chandratal.
Petrol Pump in Kaza
Khushboo started to ride ahead of us but there was another task left for me to do yet before we could leave Kaza. It was to buy Diesel because the next petrol pump after Kaza is at Manali.
We arrived at the gas station quite early and it was not yet open. Several other cars were waiting too so we too got in the line. Finally the attendant arrived and by the time we left Kaza, the clock was showing slightly past 9 AM.
Not that I doubted what Tanzin told me, but I also confirmed the road condition ahead with the guy at the petrol pump. He too told me the same thing; to avoid the main highway and take the road via Kibber at least until Kiato. And that is what we did.
Some vistas en route.
Chicham to Kiato
We reached Kibber in a little while; took a short break in the village and then started towards Chicham. Finally we reached the area of Spiti that was unseen for me as well. The famous and awesome Chicham Bridge.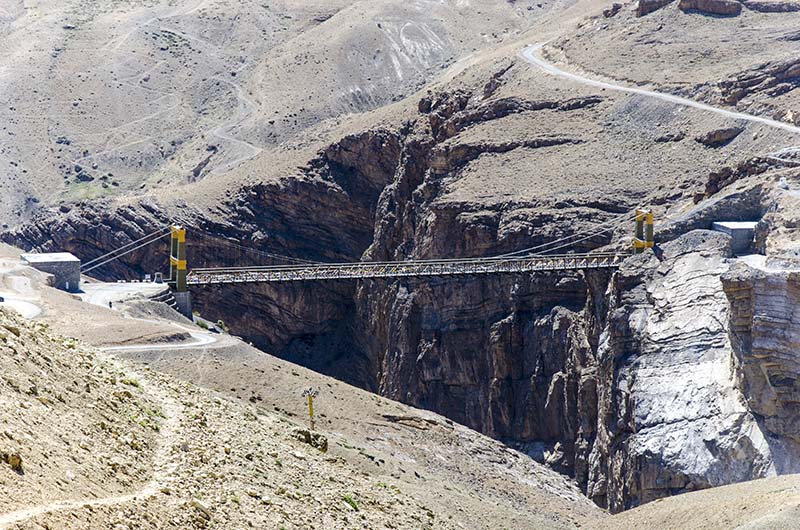 After a short visit to the Chicham village, we were descending down towards Kiato and the vistas kept getting better.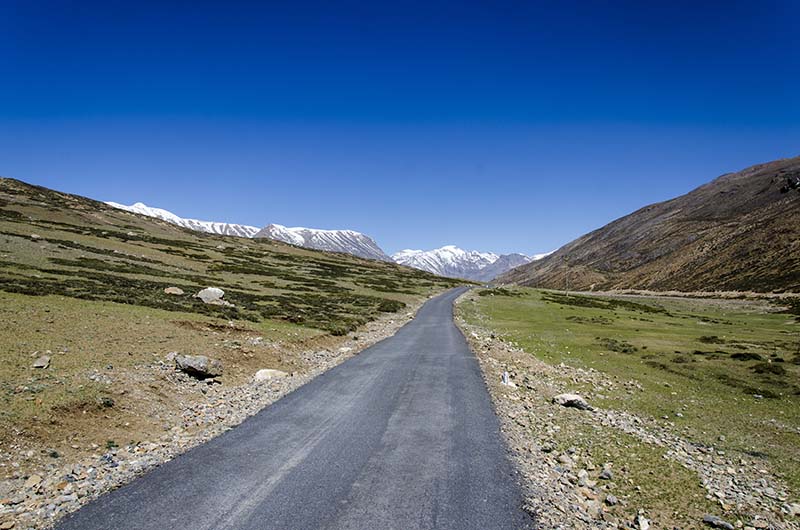 The road from Chicham merged into the Manali – Kaza highway just before Kiato and this where I realized what Tanzin was talking about. The last time I traveled on Spiti circuit , the road from Kaza to Manali was good all the way till Losar but this time, it was completely broken. So traveling through Chicham was actually a very good decision. Not only we avoided the bad road until here, but also traveled through an amazingly scenic area.
Kiato to Losar
Driving speed after Kiato came down to a painfully slow 20 kilometers per hour, that is how bad the road was at some places. Just before Losar, I also crossed our first major water crossing. So far, all the water crossings were either completely dry or very low in water level but the one before Losar was already at its full flow.
I stopped for a minute to check out the rivulet. It could have been a cause of worry for a hatchback maybe but not for an SUV with good ground clearance; and definitely not for a Thar. I got back it, engaged the first gear and slowly crossed the water stream without any problem at all.
We took a short break at Losar. I was hungry but did not want to risk eating anything. My stomach was better since I took the medicine in the morning but I let it stay like that; and decided not to eat anything for a few more hours. Our destination for today was Chandratal, a lake in the middle of nowhere and if my stomach started to hurt there, I would be in big trouble for the night.
Losar to Kunzum Pass
After having just a cup of tea, we started to climb up the mighty Kunzum Pass. Road conditions from here on continued to get worse with every passing kilometer.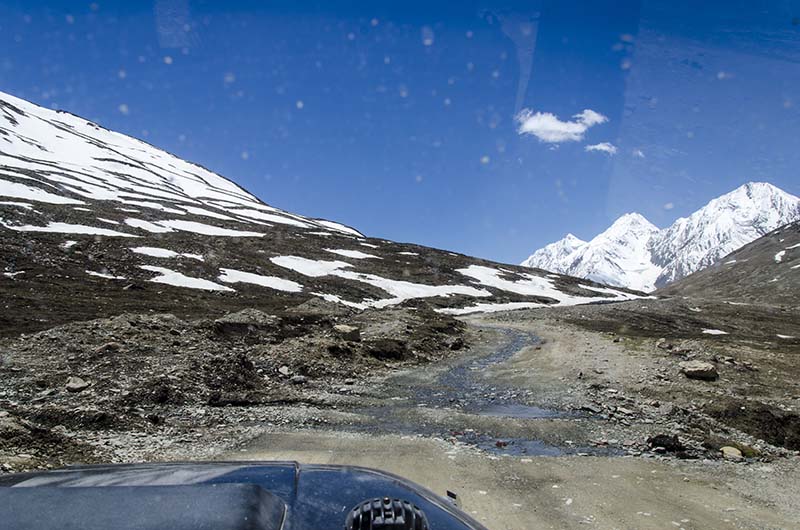 And soon we were standing at top of Kunzum Pass.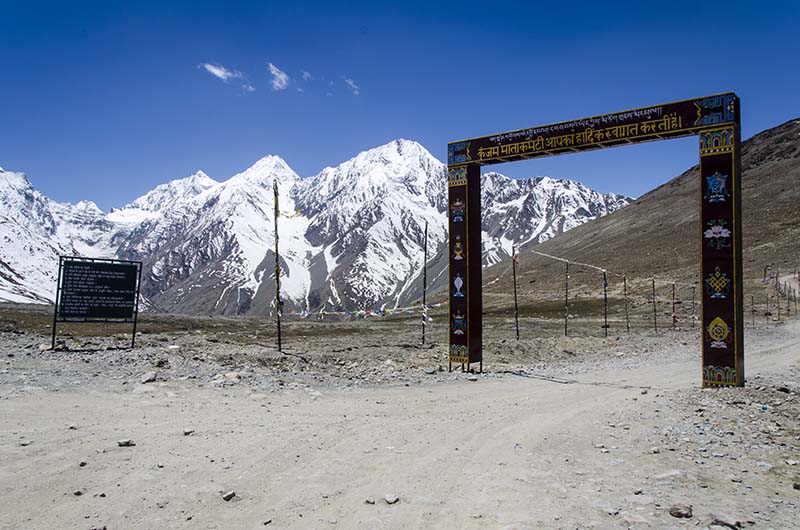 Kunzum Pass to Chandratal
The real fun actually started after we started to descend from Kunzum Pass towards Batal. Road until now was bad, but from here on, it started to turn into adventurous and scary. My nervousness was increasing by every passing minute as I was getting closer to my worst nightmare, the Chandratal road.
And finally we reached the part that I was scared about the most, the Chandratal road.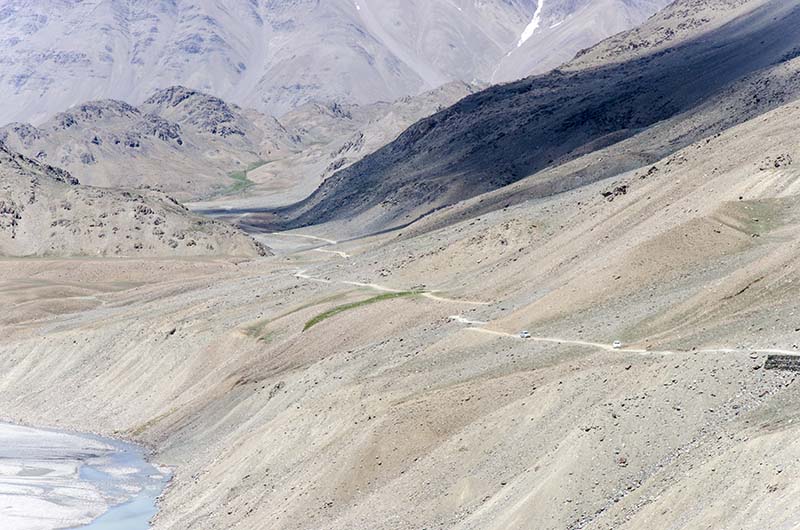 For a brief introduction, the road to Chandratal is a 14 kilometers long stretch that bifurcates from Manali Kaza road and takes you to the famous moon lake. The bifurcation is about 2 kilometers from Batal towards Kaza. This entire 14 kilometers long road is extremely narrow; barely wide enough for one car; and you are bound to get stuck if there was a car coming from the opposite direction. On one side of the road is the steep mountain and a steep fall into Chandrabhaga river on the other side.
See those 2 cars coming from the other direction in the picture above? There was actually a third one as well; even farther than these two and coming at an even slower speed. I saw these cars coming from miles away and stopped at a wide enough spot to let them pass. It took all the cars nearly half an hour to get to me but I just kept standing where I was, clicking pictures. I wasn't sure if there would a wide spot after the one I was standing at so did not feel like taking a chance.
The Road to Chandratal
To be honest, once I started to drive on the Chandratal road, I felt like I was scared for no reason. I mean, there is no denying that the road was very narrow and dangerous; and way more adventurous than any road I had been on so far. But after a couple of kilometers on it, I gained the confidence that both I and my Thar can easily handle it. And rest of the 12 kilometers kind of became a bit easy to drive on after that.
My friend and co-traveler however did not think so. I thought the road was fun and adventurous but for her, it was plain and simple "Scary". For the entire 14 kilometers, she sat in the car in complete silence, staring at the narrow road ahead. Her expression was such as if she had just seen a ghost.
"Are we coming back on this road tomorrow?" She asked.
I think she may have suddenly remembered something I must have said about coming back to Batal and going to Manali. The answer was that yes, we were to drive these 14 kilometers back to Batal tomorrow. But I also knew that it would scare and make her nervous. She will spend the entire evening worrying about the drive tomorrow and not enjoy her time at the lake. So I lied.
"No we won't come back. There is a road straight from Chandratal to Manali that we will drive on" I said
"Is the road the same as here?" She asked
"No it is bad only until Chandratal. After the lake it is a good broad road" I lied more.
But I could also see that my lies put her at ease so it was totally worth it.
Chandratal
We reached Chandratal at around 2 PM I think, a full 5 hours later from Kaza. I headed straight to Jamaica's camps. Khushboo as expected was already there. I was meeting Jamaica after several years so the next one hour was just spent in talking to him and catching up while sipping down some tea.
I was surprised by the number of camp sites at the lake. The first time I was at Chandratal, there were only 4 camps here. One was a Moonlake or something that I don't remember the name of; second was Parasol, third was Jamaica and the fourth one of a local 'Gaddi" shepherd. But now, there are at least 15 difference camp sites at Chandratal. This place too is slowly getting commercialized. How long before it becomes the next Pangong Lake I wondered.
Nevertheless, we decided to go to the lake after freshening up. All the camp sites are about 3 kilometers from the lake. Of these 3 kilometers, the last 1 kilometer had to be walked because there is no motorable road on it. The remaining 2 kilometers however can be covered by car. I first thought to walk the entire 3 kilometers but my friend was not too eager on it. Jamaica too advised against it so we decided to drive to the lake. Khushboo too jumped into the car and the drive began again.
I have had my fun on bad roads. The entire day I was driving on nightmarish and narrow roads but trust me; driving the last 2 kilometers from camp sites to the lake even made my heart jump into my mouth at several places. Slowly and carefully, we reached the car parking spot, left Thar parked there and started to trek to the lake.
A Walk Around The Lake
Not much to write after this part. We took a full circle around the lake that I will post pictures of.
The spot where all the camp sites are.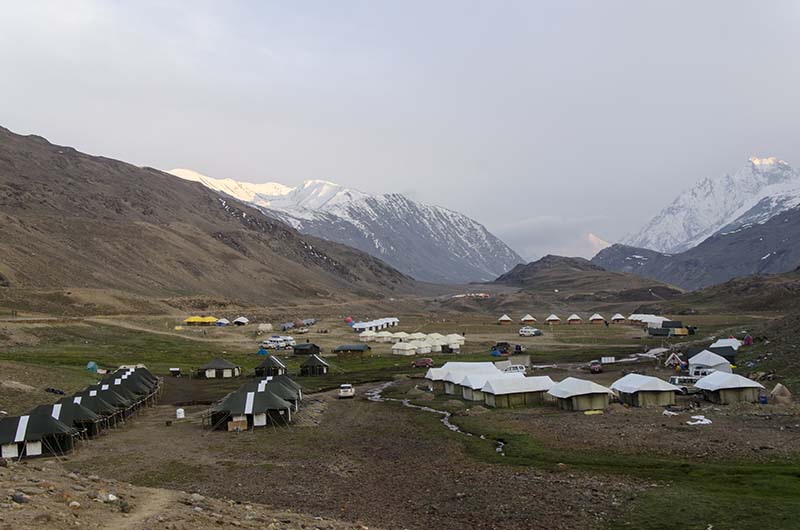 This is the spot where you have to leave the car parked and walk the last 1 kilometers to Chandratal. Earlier, Jamaica and the "Gaddi" shepherd had their camp sites right at this spot but then were asked to move back later.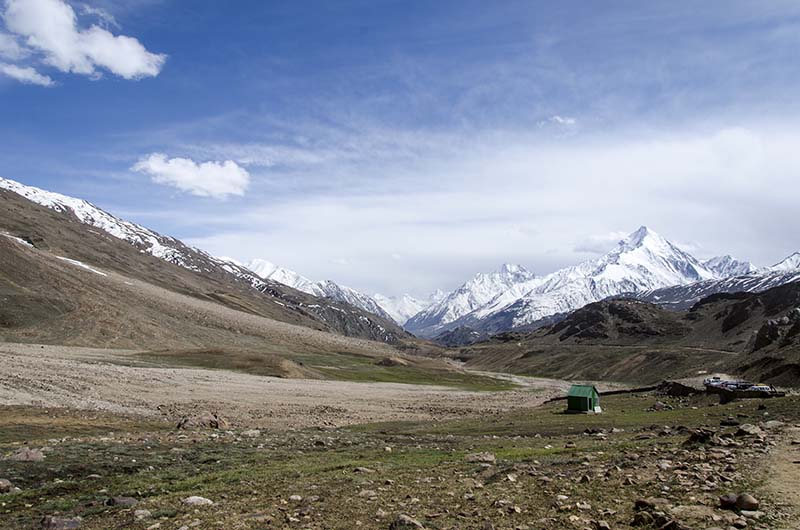 Some shots of Chandratal
I was walking around in a slipper and after a while it broke. I don't even remember why I chose to go to the lake in that slipper rather than putting on my shoes. But it actually broke in first 10-15 minutes of walking and I walked the rest of the circle while dragging a broken slipper.
We came back to the camp site just when the sun was starting to set down. In all my visits to Chandratal, that particular evening was the coldest of all. Entire time while we were walking at the lake and even at the camp site, wind of the speed remained high and it was extremely cold. Temperature started to drop even further as sun went down.
Back at the Camp Site
A few other guests arrived and surprisingly, they all knew me. Not by my face or personally but just by my name and the blog. This was actually kind of a pleasant surprise. During the entire trip I kept running into people and the moment I would say my name, they all would have read my blog.
Rest of the evening was spent in sitting at the camp site and having long conversations. Jamaica has this one central camp that he uses as a dining room as well. All the guests gathered in there and the talks kept going till late in the night. Interesting thing that happened during this conversation was that a discussion broke out on how dangerous the Chandratal road was and why authorities cannot widen it a bit. During this conversation, one of the guests ended up mentioning that we will have to drive back to Batal tomorrow. Hearing this, my friend immediately looked into my direction. My lie that we won't have to drive back did not last till morning and was caught that very night.
Finally we all decided to crawl into our individual tents and call it a day. This is the gang that I met there that evening. Picture was clicked the following morning.
Journey Ahead: Chandratal to Manali : A Roller Coaster Ride
Kaza to Chandratal
A few details of our days journey are as mentioned below; including distance and time chart and other details that can be of help.
Kaza to Chandratal Lake Distance
Total distance between Kaza and Chandratal is approximately 100 kilometers. You climb up to Kunzum Pass which is about 75 kilometers from Kaza. Then you drive down a 10 kilometers towards Batal; and about 3 kilometers before Batal, you take the 14 kilometers long narrow road to Chandratal.
Kaza to Chandratal Taxi
There are three ways around it. You either take a private taxi from Kaza to Chandratal that can either bring you back to Kaza; or drop you at Batal. Second choice is that you take a private taxi from Manali to Chandratal which will be a costly affair and may as well cost you about Rs. 20k in peak tourist season. Third option is of shared taxi but those will not bring you all the way to the lake. Shared taxis will either drop you at Batal; or at Chandratal diversion; from where, you will either have to hitchhike or walk 14 kilometers to the lake.
Kaza to Chandratal Trek
There are two ways that you can trek to Chandratal. You either walk the motorable road itself for 14 kilometers which trust me is no less than a trek route in itself rather than a road. Or you take the actual trek which begins from Kunzum top. Do keep in mind though that you will actually need someone to guide you if were taking the trek from Kunzum Pass. If you did not have a guide and were on your own than just stay and walk on the motorable road.
Kaza to Chandratal Road Status
The entire road from Kaza to Chandratal is a badly broken road and it always stays that way. The last 14 kilometers from Batal to Chandratal will have your heart jumping to your mouth if you were in a car. This road open sometimes towards early May and then closes by Mid October. To know the recent status of the road, check out Lahaul Spiti Valley Road Status thread.
Kaza to Chandratal Route
From Kaza, you will first drive towards Losar and then climb up to Kunzum Pass top. You will then drive down towards Batal and about 2 kilometers before Batal, there is a narrow road going towards your right which you will take to reach Chandratal after 14 kilometers.
Kaza to Chandratal Time
The entire journey from Kaza to Chandratal will take you about 6 to 7 hours to complete; depending upon your speed and breaks.
Kaza to Kunzum Pass Distance
Kunzum Pass is at a distance of approximately 75 kilometers from Kaza.
Kaza to Losar Distance
Losar is at a distance of about 57 kilometers from Kaza.
Kunzum Pass to Chandratal
Chandratal is at a distance of about 22 kilometers from Kunzum Pass top. The road to Chandratal is about 3 kilometers before or after Batal bridge depending on which way you were heading.
Kaza to Chandratal Bus
There is no Bus service available from Kaza to Chandratal. You will have to board the daily bus to Manali and then get down at either Batal or near Chandratal diversion. From there, you will either have to walk the entire distance to the lake or hitchhike.
Kaza to Manali via Chandratal
A lot of people do it and you can as well but if you want to complete the entire journey from Kaza to Manali via Chandratal in a single day then you must start from Kaza by first light of the day. Start by 6 AM from Kaza and keep your breaks to bare minimum. Do keep in mind though that you will barely touch the lake and start on your way back. Considering the traffic Jam at Rohtang top, you will not make it to Manali before late evening or even after dark.
Kibber to Chandratal
If you were heading from Kibber to Chandratal then you will have to take the route via Chicham. From Kibber, cross the Chicham Bridge, reach the village and drive down to Kiato. From Kiato, you will then reach Losar and arrive at Chandratal via Kunzum Pass.
Kibber to Chicham Bridge
Kibber to Chicham Bridge is hardly a 15 to 20 minutes journey on freshly laid tarmac.
Losar to Chandratal Distance
Total distance between Losar and Chandratal is about 40 kilometers in total.
Losar to Chandratal
The route will be the same that I explained above. You will first reach Kunzum Pass top and then take the Chandratal road.
Losar to Chandratal Trek
There is a direct trek from Losar to Chandratal but please do not attempt it unless you have a local guide helping you navigate through the hills. Do keep in mind that there is wildlife here and getting lost is not what you really want. Do not attempt this trek on your own.
Conclusion
And that was our journey from Kaza to Chandratal, one of the most beautiful lakes I have ever been to. Please read Chandratal to Manali : A Roller Coaster Ride to read the next part of this travelogue. I hope that the details I provided above were of help. If you have any questions, please feel free to ask in the comments section below; or at our Community Forum; and I will be glad to answer.