This article is in continuation with a previous one and part of my Spiti Valley Travelogue. We arrived in Narkanda on Day 1 from Delhi; stayed here for the night; and then traveled from Narkanda to Chitkul on Day 2. Details on this part of the journey including the route, road conditions, accommodation and time taken are mentioned further in the article. To read previous part of this travelogue, please click on the link below.
Journey So Far: Delhi to Narkanda – Day 1
The first time I visited Chitkul was quite by accident. As a matter of fact, it was not even part of my original itinerary for Spiti valley that year. We were staying at a hotel in Sarahan for the night and the hotel owner suggested that we must include Chitkul in our travel plan. It meant adding an entire day to our itinerary but by the way that hotel owner insisted that we should go to Chitkul quite invoked my curiosity. I added another day to our trip, went to Chitkul from Sarahan; and realized that every word of praise that I heard about this place was quite true. Even I completely fell in love with this tiny village hidden up in the hills. So much I like being here that when someone asks me about my favorite hill station, I without a second thought name Chitkul.
Also Read: How to Plan a Trip to Chitkul?
Day 2 – Narkanda to Chitkul
Our destination for second day was Chitkul and I was quite excited about it. It had been a while since I was there last; and I was quite eager to see what had changed at my favorite hill station after all these years. I woke up early while rest of the Narkanda was still fast asleep. Even the main door of our hotel was still locked so there was little that I could except for to sit in the balcony and enjoy a pleasant morning breeze.
The Morning in Chitkul
A little later my friend too woke up and we started to pack our belongings. I knew that the distance between Narkanda and Chitkul is a bit great for a day. Not because it is actually a lot of kilometers but because the speed will be slow due to bad roads. In order to get an early start, I walked out of our room in order to wake up the hotel staff so they could open the main door. It took us another hour or so to get all our bags loaded in our car and to be ready for our journey ahead.
Khushboo, the girl we met the previous day, was also staying at the same hotel and since she too was following the same itinerary, I thought to let her know of our next destination. Since I thought her to be still fast asleep, I told the hotel receptionist to inform her that we were headed to Chitkul after she was up. To my surprise, the receptionist in return told me that she had already left at 5:30 in the morning.
Also Read: How to Plan a Trip to Spiti Valley – A Complete Travel Guide
Narkanda was still pretty much closed and I could not even get a cup of tea anywhere. We got Thar's diesel tank full at Narkanda petrol pump and started our journey.
The Bee Keeper
I saw a lot of places with a set up like in the picture below selling honey. You will in fact come across a lot of these bee-keepers between Narkanda and Rampur. I bought two jars of honey from here and now after being home, I can tell that the quality of honey was good and pure. If you are on the way and come across these, you may consider buying honey from these guys.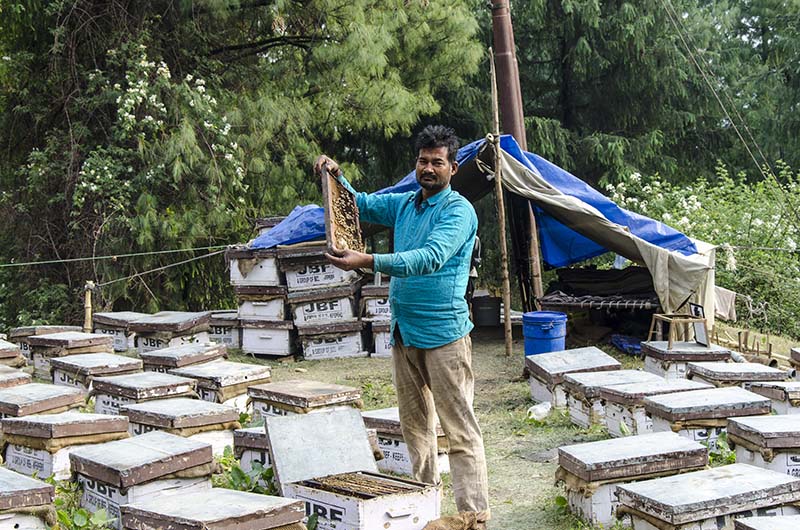 A funny incident happened here. After buying honey, I was also taking some pictures of the bees; and the entire set up but from a safe distance. The guy in the picture above, holding that thing with all the bees on it, wanted me to get closer and get a picture from up close. I was a little apprehensive about it because I did not want to get stung on 2nd day of my trip with still miles to go. He assured me that nothing will happen and that the bees will not sting.
He took out one of those frames from inside the boxes to show me; and just when I clicked this picture, he got stung on his ear by one of the bees. He dropped the frame and started to run away to his tent while I stopped clicking and ran towards my car.
We drove a few kilometers ahead and I noticed this guy selling tea along the road. I haven't had a single cup since morning so the moment I noticed him, I immediately stopped. It was not the best tea I ever had but considering the surrounding and the fact that it was my first cup of the morning, I kind of really enjoyed it.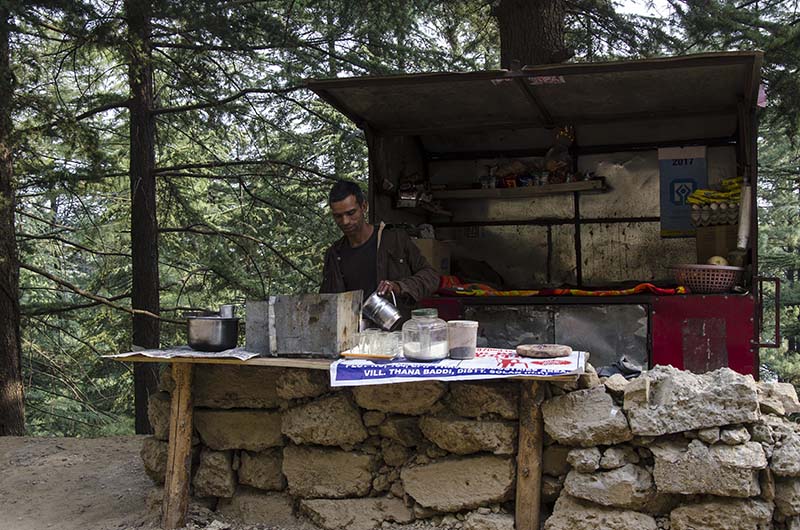 Chitkul to Sarahan
Somewhere along the way I realized that my friend was still not feeling very well. She was still showing signs of what seemed like either motion sickness or altitude sickness. If it was altitude sickness, then heading to Chitkul that day was not the best thing to do. Chitkul is at a great height and not really the place to be for someone suffering from altitude sickness. Looking at her condition, I decided to keep the journey for that day short and thus giving her enough time to feel better. So the itinerary was changed; and I decided to break the journey at Sarahan for that day which is barely 3 hours from Narkanda.
Halting at Sarahan but looked like the reasonable thing to do; considering that my fellow traveler was not really fully enjoying the journey because of all the motion sickness. We reached Jeori and from there, took the narrow turn on the right that goes to Sarahan. Slowly we started to climb up and after about 5 kilometers, stopped to click some pictures. Just then a car coming from the opposite direction stopped near us and asked if we were headed to Sarahan. I replied in affirmative to which the guy in the car told me that the road ahead was broken and we will not be able to reach Sarahan.
Also Read: How to Plan a Trip to Sarahan
Sarahan Bridge
Now I knew that a bridge on this route broke last year and they were trying to fix the road. But I was under the assumption that it would have been restored by now. I had absolutely no idea that the restoration work was still not completed. What this also meant was if we were to reach Sarahan now, we must take the dirt trail that was put in place as a temporary road. This road is located about 2 kilometers after Jeori chowk, towards Karcham. I really had no intention of driving on that dirt road because I knew it was in a terrible state. I had traveled on this road during my last year's ride to Spiti; and absolutely did not want to be on it again.
So once again the plan was changed and we decided to reach Chitkul nonetheless. My friend did not quite like the idea but I assured her that if we come across a good scenic hotel on the way, we will break our day there. Slowly, the journey towards Chitkul started again.
Some vistas en route.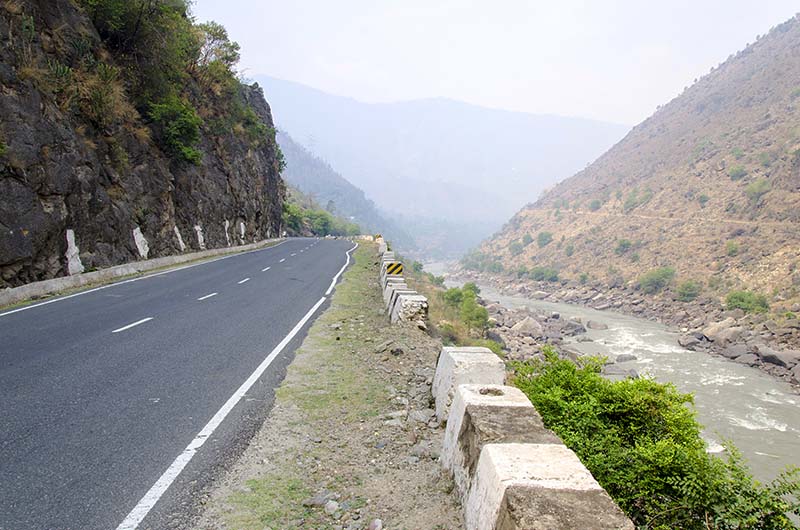 Stopped at this temple on the way to get blessings for the trip ahead.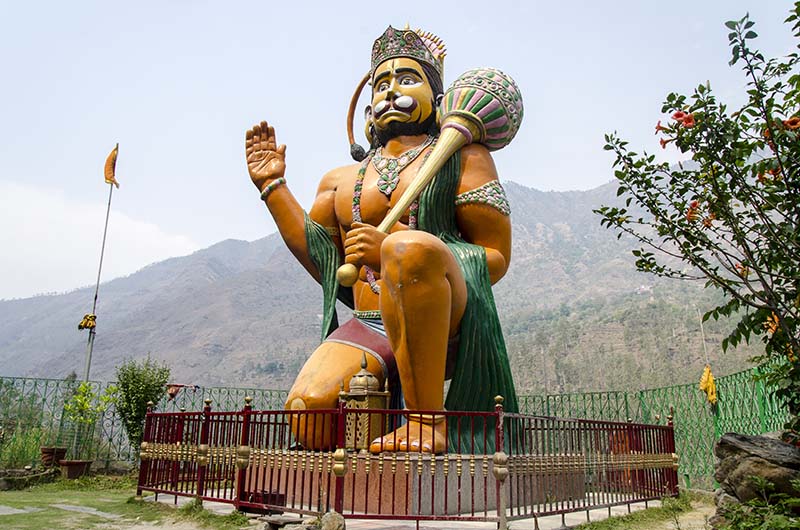 Beautiful Kinnaur and its adventurous roads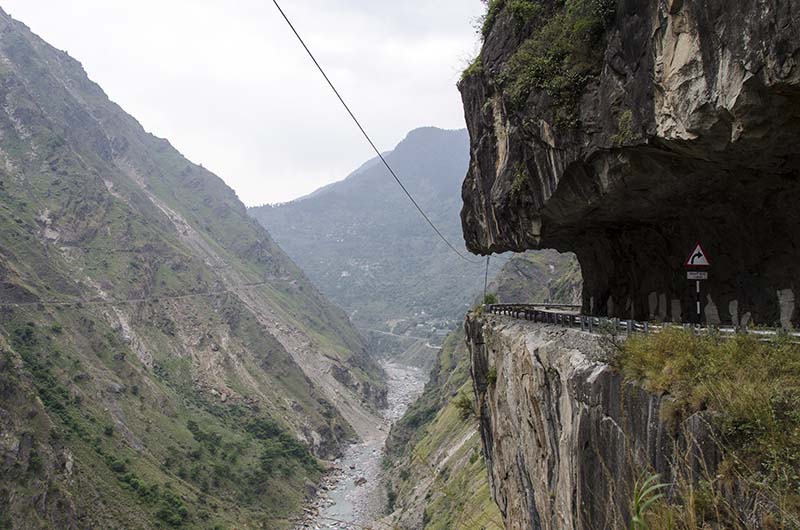 Karcham to Sangla
Finally reached Karcham and started on our way to Sangla.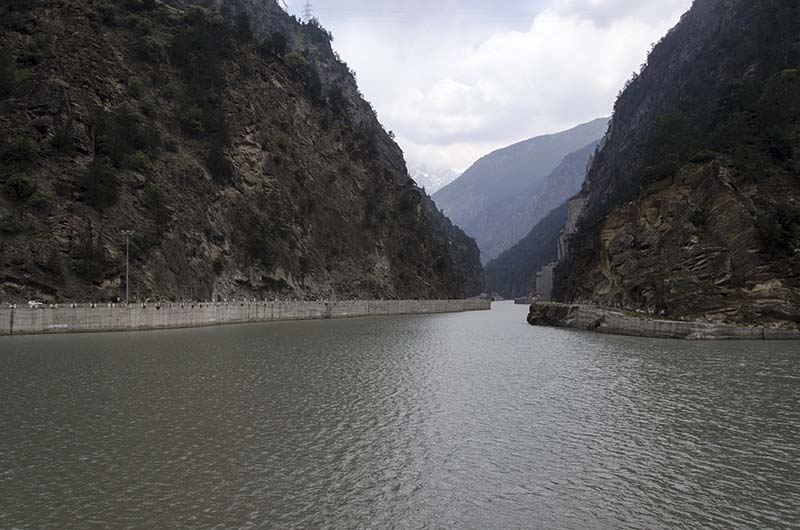 Then came the beautiful town of Sangla.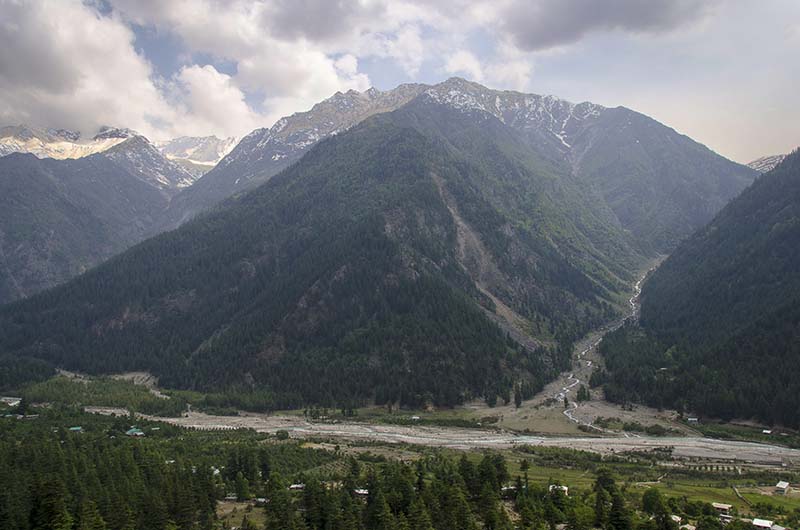 Sangla to Chitkul
Road until Sangla was good but then turned really bad after that until Chitkul.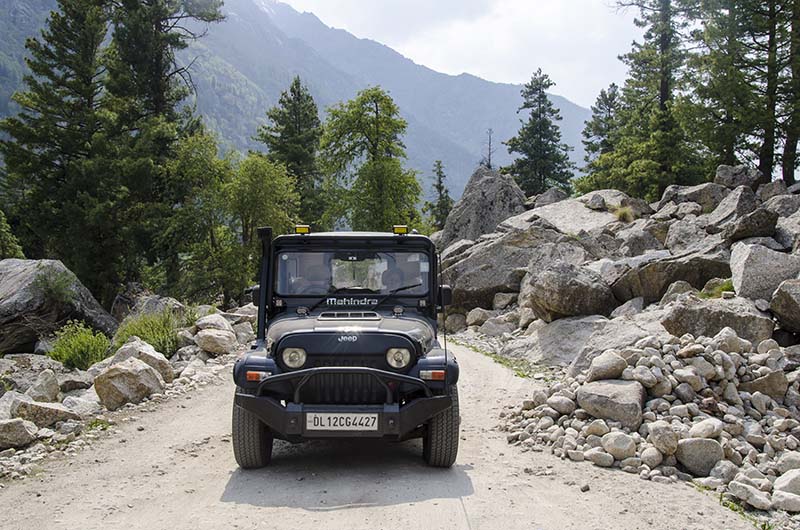 We reached Chitkul at about 3 PM. Hotels out here are now in plenty and you can find a place to stay under any budget. I do not know what came over me but I decided to check out the HPPWD guest house. This proved to be a really bad choice and turned into a sour experience. It kind of actually ruined my stay at Chitkul.
HPPWD Rest House – Chitkul
HPPWD rest houses are a great place to stay and specially for people traveling on a budget. These government run hotels / guest houses will never cost you too high; and are always very well maintained. Best advantage however in my opinion is of location. No matter where you go, an HPPWD rest house will always be at the most scenic spot. This theory I have found to be correct with most of the rest houses that I came across; with an exception of the rest house at Chitkul.
I have posted a more detailed review of this guest house at HPPWD Guest House at Chitkul – Why You Must Avoid It
The Caretaker
To be quite honest, I ended up staying at the rest house completely out of confusion and for trying to be nice. It was not my first visit to Chitkul. I have been here a few times before as well but never stayed at the rest house because Chitkul is one of the places where I did not like the location of it. Other hotels and guest houses are better located so I always opted to stay there. This time however, I decided to check out the rest house and the night here turned out to be one of the sour ones of my trip.
One of the common factors about all the rest houses is that the caretaker will be missing at most of them. Second common factor is that they will take some convincing before allowing you to stay even if you had previous booking. This however is not the case in Chitkul. Caretaker here will always be available and will let you stay at the very first ask. Same thing happened with me. The caretaker readily agreed to let me stay and first showed me a room at the ground floor.
The VIP Room
My intention was just to see how the rooms were but the caretaker was so eager for my stay that I ended up feeling a little bad if I didn't. The condition of the room he first showed me was really bad and there was no way I was going to stay there. He I think sensed it by the way I reacted and immediately said that he will give me the "VIP Room" at the first floor. When I asked him to show me the so called VIP room, he told me that he is getting it cleaned and ready. I in the meantime decided to go get something to eat as I was practically starving at that time.
Somewhere in this entire confusion and waiting to see the room with our luggage still at the rest house; it kind of became an agreement with the caretaker that we were going to stay there. Even though I did not formally say yes to to it.
After walking around for an hour, I returned to the rest house and below are a few pictures of what was waiting for me in the name of VIP room.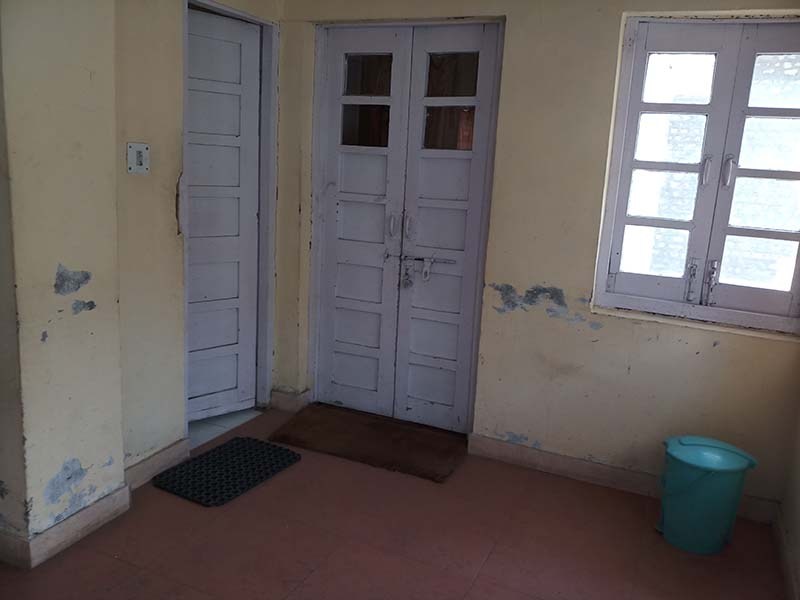 The Price for Being Nice
I wanted to say No and go look for a different hotel; but did not want to rob the caretaker of a few hundreds he could make. By his eagerness, I could make out that he was really desperate for the money. I decided to then ignore the condition of the room and stay nonetheless as I was anyways going to be gone the next morning. He charged me Rs. 700 for it and I did not negotiate down. I asked him about food and he said he can cook for me for Rs. 150 per person if I wanted to. I only asked him and said nothing else. Then I went out again for a late evening walk; and ate at one of the local restaurants rather than asking the caretaker to cook.
And then the following drama broke out the next morning.
The Miserable Morning
The condition of the bed was similar to that of the room. The bed-sheets, pillow and the blankets had a weird smell in them and my night was a very uncomfortable one. Somehow the morning arrived and another surprise awaited me. There was no water in the washrooms; not even a single drop. When I asked the caretaker, he said it was because of a broken pipe which he was trying to fix. After waiting for about 2 hours, the problem was not fixed; and I ended up doing my morning business in one of the dirty washrooms at the ground floor; which I guess was used by the caretaker and some other local people as well.
I packed up my stuff and when I handed over the Rs. 700 as room rent, the caretaker asked me for another Rs. 300 for food for 2 people. I asked him what food; and he said the one he cooked for us. I told him that that I never asked him to cook and never ate; to which he started arguing with me. He spoke in a weird way; and I could barely understand what he was saying in a thick muffled voice; but could make out that he was throwing insults at me; in sentences like "Ham aap Delhi walo ki tarah baatein banana nahi janta"; "Ham pahadi log aap Delhi walo ki tarah beimaan nahi hote"; "Ham sidhe saade log hain yahan, aap shehar ke log aake chalakiyan karte ho" etc.
Avoid The Rest House
I never asked him to cook for me and even if he did, he never even invited me to come and eat. I was there at the rest house all evening and night; and never for even once that guy told me that my food was ready. But he just wouldn't listen and kept calling city people as "beimaan sheher ke log".
I swear I could have slapped him right there but knew that it would cause trouble for me only. I just gave him the 300 bucks he asked me and walked out of the dreaded place. If you are planning to visit Chitkul then this is one place that I must ask you to avoid. There are plenty of hotels here and you could stay at either of them; but do not under any condition stay at the HPTDC rest house Chitkul. It is a very shabby, poorly managed and broken down place with a horrible caretaker who is desperate for money. Do not stay here.
The Evening at Chitkul
Anyways, the food and the money drama happened in the morning the next day. For this evening, we checked in unaware of what was to come next; and decided to take a stroll in the village. The only good part that came out of our stay here was that we ran into Khushboo again. Yes the solo girl rider. She too was staying at this guest house and like us, regretted it. We were actually the only ones staying at the rest house.
That evening, after putting our luggage in the shabby rooms of the guest house, we went out for a walk in the scenic town of Chitkul.
Hindustan ka Aakhri Dhaba at Chitkul. The board that over the last few years have become the very symbol of this tiny village. There isn't much to this dhaba though. I went down to have my dinner here but they could not serve me anything except for a cup of tea.
After a long walk, we ate at one of the local dhabas and arrived back at the hotel after it was dark. It can get really cold at Chitkul so I suggest that you prepare well if it is on your itinerary. The mountains around form a ridge and the winds can get really high. As soon as the sun went down, temperature dropped like crazy. So much that we had difficulty walking back to the guest house from the dhaba where we stopped at for dinner. Our hands went numb and noses went red just in a few minutes.
The Night at Chitkul
The moment we stepped inside our rooms, the first that we did was to switch on the heater in the room immediately. It was actually very cold and you can take it from a guy who is up in the hills way too often. The night at Chitkul was the coldest of our entire trip and it was hard to believe that it can get so here in the month of June. Once we crawled under the blankets, there was no coming out until the next morning. Sleep however came hard that night because of the stinky blankets and uncomfortable mattress. We went to sleep nonetheless with no idea that the next morning we would have to run around asking about no water in the washrooms.
That was the end of our Day 2 of the trip at my favorite hill station, Chitkul. For next part of this travelogue, please read Chitkul to Kalpa – A View of the Majestic Kinner Kailash.
Let me run down a few important things about this journey in case you were planning to travel to.
I will begin with the distance and time chart.
Narkanda to Chitkul Distance: 184 Kilometers; doable in about 6 – 7 hours.
Narkanda to Sangla Distance: 160 Kilometers; doable in about 5 hours
Narkanda to Jeori – 89 Kilometers; doable in 3 hours
Narkanda to Sarahan Distance: 100 Kilometers; doable in 3 hours
Narkanda to Chitkul Road
The road condition from Narkanda to Chitkul is a mix of good, bad and ugly. The good part will be mostly till Jeori after which it will become average. The ugly part is a small stretch between Karcham and Sangla; and then some sections between Sangla and Chitkul.
Narkanda to Chitkul Bus
There is no direct bus between Narkanda and Chitkul. There is however a bus that travels from Shimla to Sangla that you can board for this journey. This bus starts from Shimla at about 7 AM and arrives at Narkanda at around 10 AM. You can board this bus, arrive at Sangla; and then look for a shared cab or private bus from Sangla to Chitkul.
Alternatively, you can also board any bus that is going to Reckong Peo from Narkanda. There are two buses from Reckong Peo to Chitkul that you can can travel by then; one starts at 9.30 AM and another one at 12 noon.
A lot of people however do not go all the way till Chitkul and stay at Sangla instead which has better choices in terms of hotels and guest houses.
Narkanda to Sangla
Narkanda to Sangla Distance by Road: 160 Kilometers; doable in 5 hours.
Narkanda to Sangla Bus: 10 AM departure from Narkanda, 4 PM Arrival at Sangla
Narkanda to Sangla Road Condition: Good till Jeori, Average till Karcham; and some bad sections between Karcham and Sangla
Journey Ahead: Chitkul to Kalpa – A View of the Majestic Kinner Kailash
Conclusion
Please click on the link above to read next part of this travelogue. I hope the information above on traveling from Narkanda to Chitkul was of help. If you have any other questions; or need any further details; please feel free to ask in the comments section below; or at our Community Forum; and I will be glad to answer.