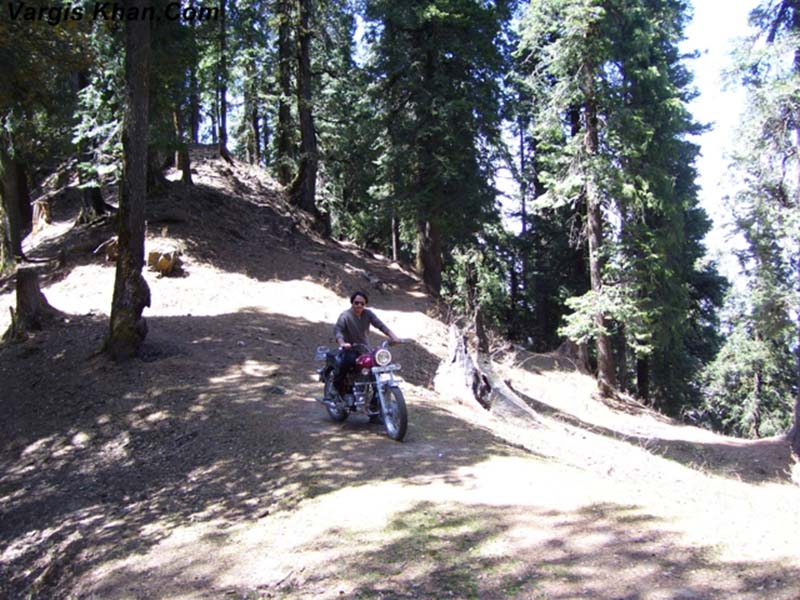 This post is in continuation of a previous one and a part of my Narkanda Road Trip travelogue. We traveled from Delhi to Narkanda on Day 1 and then went from Narkanda to Hatu Peak on Day 2, as a part of our local sightseeing in Narkanda. During our 4 days of stay in Narkanda, I in fact visited Hatu Peak three times. Why? Because it is just so scenic and the view you get from the top is simply amazing.
Hatu Peak and the temple are probably the biggest attraction of Narkanda. And it not just people visiting Narkanda that you will find here. It is also a lot of locals and people who were headed to other destinations like Sarahan and Chitkul but took a detour from Narkanda to Hatu peak on the way.
There is a motorable road that goes all the way to the top of the peak. The drive is narrow and gets a bit scary at times. But once you reach the top, you realize that it was all totally worth it.
Before I begin the travelogue, let me post a little bit of information about Hatu Peak and the temple.
About Hatu Peak
At an elevation of 3400 m (11,152 ft), the Hatu peak in Narkanda is the second highest peak in the Shimla district. It is surrounded by a dense forest of conifers, oaks, and maples and provides a panoramic view of the valley around. It is connected to Narkanda by a tarred road which makes it one of the highest motorable peaks in Himachal Pradesh.
About Hatu Temple
At the top of the peak is a small wooden temple called Hatu temple. This temple is said to be dedicated to Goddess Kali. Another legend states that Hatu Mata is actually Mandodri, the wife of demon king Ravana.
People come in great numbers on the first Sunday of Jyeshtha to pay ritual here. There is an ancient stove-like formation of rocks near the temple. It is said that it was used by the Pandavas brothers to cook their food during their Agyaat Vaas.
Also Read: How to Plan a Trip to Narkanda – A Complete Travel Guide
How to reach Hatu Peak from Narkanda
So based on the details above, there are two ways that you can reach Narkanda, either by your vehicle or on foot.
Narkanda to Hatu Peak Distance
Distance from Narkanda to Hatu Peak is a total of 8 kilometers by road; and easily doable in about 15 to 20 minutes. This distance however shortens furthers if you were trekking through the woods.
Narkanda to Hatu Peak Road
The journey by road is quite a simple one. Ask any of the locals in the town and they can point you in the right direction if you were unable to spot the road that goes to Hatu. The only thing that you should keep in mind is that this road is very narrow, barely wide enough for one car.
If there was another vehicle coming from the opposite direction then you will be in quite a bit of a situation. You will have to back up until you find a wide enough spot to cross. If you were on a motorcycle then you still will have to be very slow. The road is a steep climb with sharp turns at several places.
Narkanda to Hatu Peak Trek
There are two ways to do this trek. Either you can just walk 8 kilometers along the road; which you can of course do on your own. Another way around is to trek through the forest for which I will strongly advise that you hire a local guide. Do not attempt this on your own as you may get lost in the forest. Just pay a little amount to any of the locals here to be your guide for the day.
Also Read: Tourist Places to visit in Narkanda
Taxi from Narkanda to Hatu Peak
If you wish to, then you can rent a taxi in Narkanda itself to drive you to the peak and bring you back. There are no shared taxis running on this route so it would have to be a private taxi. The cost will depend on your negotiation skills but expect it to be between Rs. 500 to Rs. 1000.
Hatu Peak Weather
Make sure that you are carrying a jacket while going to the Hatu peak. It may be warm and pleasant in Narkanda but at top of the peak, it will definitely be windy and cold. If you were thinking of camping at the peak for the night then you must bring a warm sleeping bag; good quality tents to keep the wind out and woolens as well to stay warm.
During winter, the Hatu peak remains completely snowed out and it will probably be impossible to get to the top.
Hotels at Hatu Peak
There are no hotels at top of the peak. You will have to stay in Narkanda town, visit Hatu and return back to Narkanda.
Hatu Peak Camping
Like hotels, there are no camping sites at top of the peak but there are a few on the way; about 3 kilometers before the top. I will also advise against self-camping at the top. It gets very cold and windy at night. It is also a forest so the risk of wild animals too remains. Better to either stay near any of the campsites or at the hotel in Narkanda.
Also Read: How to Plan a Trip to Shimla
Narkanda to Hatu Peak
So coming back to the travelogue now and continuing from Day 1 when we reached Narkanda from Delhi.
Good Morning and Bad Tea
I got up early the next morning and decided to go for a little walk, leaving Shoyab still sleeping in the hotel. Our hotel owner was still fast asleep and I wanted to get some early morning tea. That actually was the primary reason for my idea of walking. I found one of the restaurants open and serving tea so I ordered a cup.
Tea and coffee in Narkanda were the worst ones I ever had in my entire life; and not just in one hotel. The first hotel I asked for tea served me what tasted like sweetened boiled water so I decided to try a different hotel. There too I was served with hot boiling sweet water with a few drops of milk.
So I tried a third hotel. The result remained the same so I finally asked the same guy for some coffee. It turned out that the coffee was an even horrible case than the tea.
Every restaurant that I tried in Narkanda, offered me what looked more like a cup of boiling water than a cup of tea or coffee. After roaming around for about an hour and disappointed, I came back and found Shoyab already out of the bed. Our hotel owner was up already so I asked him for tea with my hopes up that at least he will serve me something better.
Disappointed again I was. Yet again I was served with hot boiling water.
Also Read: When is the Best time to visit Shimla
Local Sightseeing in Narkanda
The plan for today was local sightseeing. After a couple of hours and heavy breakfast, we both decided to go visit the Hatu peak first.
Trek to Hatu Peak
"Hatu Peak is located at a distance of 8 km from Narkanda. The road is surrounded by pine and spruce trees. On top of the hill, the ancient Hatu Mata temple is located. The peak offers a spectacular view of the entire Himalayan ranges, snow-clad mountains, and in depths are the dense forests, green fields, and apple orchards."
This is what I had read about the Hatu peak before we went to Narkanda.
"So 8 kilometers then, huh? We could walk that easily. We got all day."
These were our exact thoughts and we both were fully ready to walk the distance. We got out of the hotel and started to walk towards Hatu Peak. We had barely gotten out of Narkanda town and taken the road towards Hatu when an old man noticed us and suggested that hiking is just a waste of time.
Also Read: Shimla Manali Trip Itinerary
And that there isn't much that we will enjoy other than getting tired. We took his advice, got back to the hotel, and started to ride up on my bike.
Once at the top, I immediately knew why Hatu Peak was so famous. The view of the valley and Himalayan peaks from here was amazing.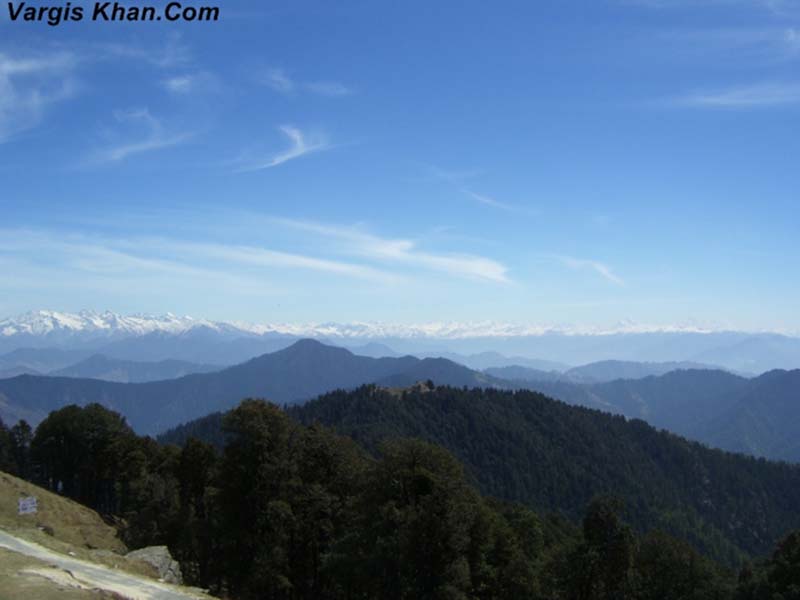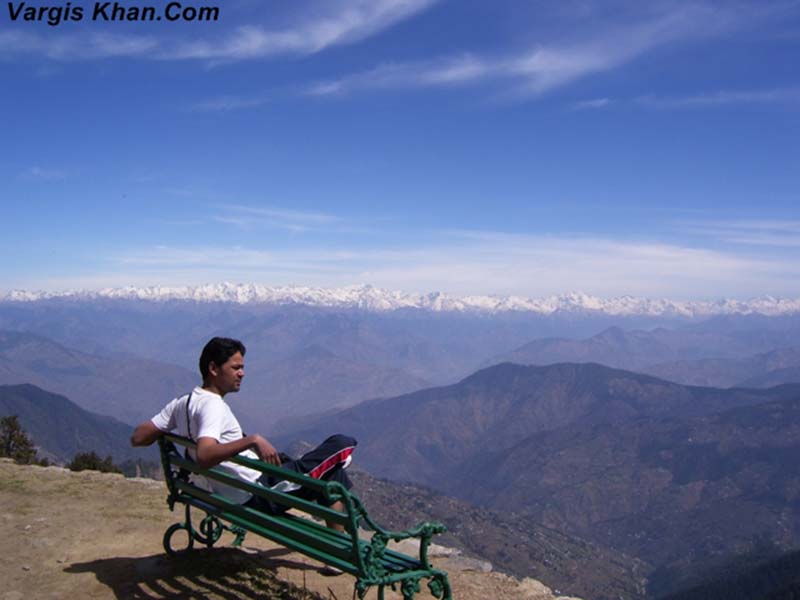 Hatu Peak to Narkanda
Standing here, I only had one thought in mind, I want to see the sunrise from here. I spoke to Shoyab and he too agreed to come back here early morning tomorrow.
We must have spent at least two hours up there at the top. There was nothing to do really. We just sat in the shade of a tree and talked about whatever came to mind.
For a moment we decided to trek a little further towards Jor Bagh. When I asked a local up there, he told me not to go on our own as we may get lost in the forest so we just gave up the idea and sat there at Hatu; enjoying the beautiful views all around.
After a while, we started to feel hungry as it was time for lunch. Slowly we rode back down to Narkanda and stopped at a restaurant to eat something.
Once back at the hotel, there wasn't much for us to do except to enjoy the natural beauty from our hotel window, watch TV and play chess.
Journey Ahead: Snowfall in Narkanda – Day 3
Conclusion
I hope the information above on traveling from Narkanda to Hatu Peak was of help. If you have any further questions; please feel free to ask in the comments section below, or at our Community Forum; and I will be glad to answer.