Traveling to Spiti valley in August is not usually considered as the best of ideas. This is due to several factors which I will talk about in this article. But despite these reasons, majority of the tourism here happens in the months from June till September. So if you were wondering whether or not you can travel to Spiti in August, the answer is a definite yes. You must however keep in mind that this is also the time when monsoon here is at it's full swing. On several days in the trip, you will be traveling with water beating down on your helmets or windscreens and must prepare accordingly.
On a positive side though, if you asked me my favorite time for a visit to Spiti or anywhere else in Himalayas for that matter; it would definitely be the time of monsoon or the time immediately after it. Biggest reason behind this is that rains brings life in the valleys that you will not find here at any other time. Lush green hills with flowers of numerous colors blossoming all around is a sight that you will only get when its raining up there. For the adventurous type as well, this is the time when you will have plenty of fun experiences that you will talk about for several months to come.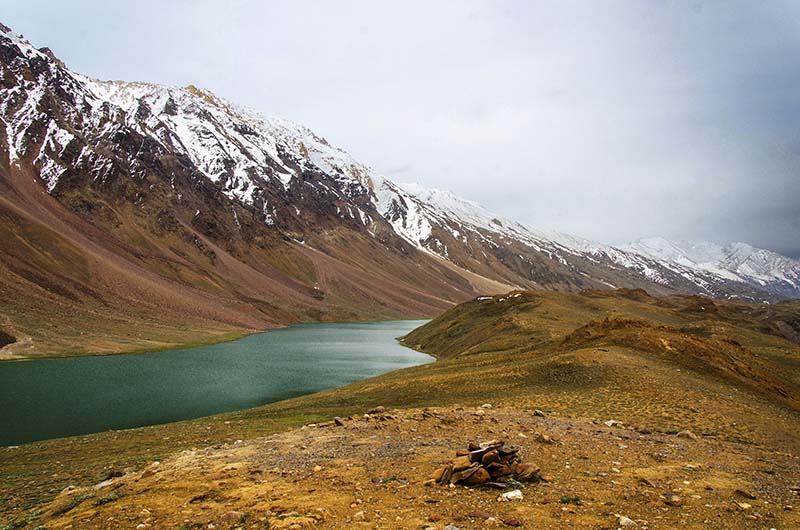 One of the foremost questions that I get asked about visiting Spiti valley during monsoon is about which side gets affected the most. Whether a person should be planning from Shimla or Manali. To be honest, monsoon effects the entire route equally and the risk of landslides will exist no matter which side you went from. But since you are going in the month of August, you should actually be planning to travel on the entire Spiti circuit and not just one part of it.
To being with, and for a brief overview, traveling from Shimla to Kaza will have you cover a total distance of about 500 kilometers; depending upon the places covered. This journey will take you at least 2 days to complete with a night halt at Reckong Peo. This route remains open for all 12 months except for occasional roadblocks caused by extreme weather; like if it snowed too much or rained too heavy. However even in cases like this, authorities clear the road and restore connectivity just as soon as they are able to.
Also read: How to Plan a Trip to Spiti Valley
Manali Leh highway on the other hand is only slightly over 200 kilometers; a journey that you can easily complete in about 8 to 9 hours. This single day journey however will see you crossing two high altitude passes; Rohtang La and Kunzum La; both of which are notorious for receiving high amounts of snow each year. Because of these passes, this route remains accessible only from late May till early October. For rest of the months, you cannot reach Kaza from Manali side; because both Rohtang and Kunzum remain snowed out and blocked.
Of these two roads, Shimla Kaza highway is considered easier; and is better in terms of road conditions. Manali Kaza highway however is all broken once you cross Rohtang Pass. So with Monsoon on, road condition between Manali and Kaza deteriorates a little more than Shimla Kaza route. Water in nallahs increases and you will come across slush at a lot of places. Landslides however can occur anywhere on the entire circuit including Kinnaur, Pin and Sangla valley as well. Even the stretch between Chandigarh to Shimla sometimes get blocked.
How to Plan a Trip to Spiti Valley in August
So keeping the above in mind, mentioned below are a few tips that you should consider while heading to Spiti in monsoon season. I will provide some details on what you should expect followed by a suggested itinerary. If after reading the article you have any other questions; you may ask in comments towards the bottom of this page.
Is Spiti Valley Open in August
Yes, Spiti valley is all open in August. Both the roads leading to Kaza from Shimla and Manali remain accessible; barring occasional road blocks caused by rain which get cleared in a few hours or a day at most. Apart from the two highways, internal roads towards other tourist destinations like Chitkul or Pin valley too are open at this time. All hotels and guest houses remain operational in August; and you will have no trouble finding a place to stay. Other tourism related activities like eating joints, bike rentals, taxi services or adventure sports too are available. For people planning  to travel by public transport, you can complete the trip either by a Bus or shared cabs and you will find these on almost all routes in August.
Monsoon Season in Spiti
Surprisingly, it is not actually supposed to be raining in Spiti valley at all. Yes you read that right. Spiti valley is in a rain shadow area; which means that in an ideal world situation, there should either be no monsoon here at all, or just a little bit at most. But as I said, that would be the situation in an ideal world which it isn't anymore, all thanks to global warming. Now there is no telling whether or not it will rain, when and where. Historically though, your chances of encountering rainfall is more on the way to Spiti, rather than in Spiti. As you travel through Shimla, Kinnaur valley and Manali, you will definitely be getting wet in August. But while you are in Spiti, it will mostly be dry all around.
Motorcycle Trip to Spiti in August
If you are traveling on a motorcycle, it would be wise to carry clothes and all your belongings in water proof bags and even then, wrap those bags in plastic sheets or tarpaulin before you rope them on motorcycle. Always carry extra plastic bags and tarpaulin just in case the one you are using gets torn. Keep your electronics, wallet and important documents wrapped in a plastic sheet all the time. Carry a good quality rain suit because you definitely do not want to continue riding in such cold temperature while you are soaking wet.
Changing clothes every time you get wet is also practically not possible. Your shoes too must be water proof. Pack clothes that are light in weight and will dry fast enough. If you can, do carry an umbrella as well. Before you start on your trip, get your motorcycle serviced and the entire wiring checked to ensure there is no wear and tear that may cause short circuit in rain.
Check your tires before you start on the trip. If the tires are old and worn out, replace them. Ride in a lower gear very slowly through the slush. Ride through the tracks made by four wheelers and trucks as the slush is less there.
Traveling to Spiti in August by Car
If you are traveling in a car, avoid putting any luggage on the roof as far as you can but if you must, then put stuff that is not at risk of getting ruined by the rain. For example your camping gear if you are carrying any or Jerry cans for fuel if you haven't filled those up already. If you are roping any bags up there, then ensure that everything is tightly wrapped in plastic and there is a thick tarpaulin covering the roof. Take out all electronic items, papers, wallets etc before you mount the bags on the roof.
Protect your Camera
One electronic device that gets used the most on trips like this and is at risk of getting ruined is your camera. Buy a rain-sleeve for your camera if you can. If not, then ensure that you keep it protected from not only rain but also moisture. Do not carry your regular DSLR bag; rather buy a waterproof bag for your camera and accessories.
Driving Tips for going to Spiti in August
One thing that you need to be prepared for is driving through slush and water crossings in August. There are several areas where rain plays havoc creating a lot of slush, like Rohtang Pass, area between Reckong Peo and Nako ; or the entire Manali Kaza route for that matter. Heavy rains can wash away parts of narrow road leaving vehicles struggling through slushy bends. Taking your car across such stretches can be a challenge and you need to be extra careful while doing so.
While crossing a nallah in a car, please stop for a minute, step out, inspect the crossing and then take your car across very carefully. If you are still unsure then wait for a little while for another car to arrive and follow its lead. Stay in the first gear, do not half clutch and cross over in a single go while maintaining the momentum. If there is slush around, then ask your fellow travelers to step out of the car so that they can help push the vehicle if you get stuck.
Accelerate slowly to ensure that your car doesn't skid. You really need to go easy on the gas to avoid your wheel spinning. Avoid any sudden movements on the steering, accelerator or brakes as this may send your car spinning. If you are highly doubtful of your driving skills and are not feeling too comfortable with the idea of driving on such roads, then I suggest you hire a driver who is a local from Manali.
Keep Buffer Days in your Itinerary
Next concern is of landslides caused by rain and to tackle that, you must keep a couple of days in buffer. There is a high possibility that certain part of the highway may close down for a few hours or even a couple of days because of landslide in which case you will have no choice but to go to the nearest town and wait it out. You also need to be careful while driving through areas that you see effected by rain or have a lot of dirt or mud around because it is not always a major landslide but smaller ones too. Some stones may just slide down from the top damaging your vehicle and injuring you. Good part however is that BRO has put up warnings in areas where this may happen. If you see a board that reads "shooting stones", stay alert.
Clothes for a trip to Spiti valley in August
Now let us talk a bit about what kind of clothes you should be carrying. For a detailed version of this information and some other tips, please read Clothes for Spiti Trip – What to Pack? In short, trick for packing clothes for Spiti valley is that you got to bring clothes that you can wear in layers. For the month of August, you should be packing the ones that will dry fast; I am thinking Polyester. Carry a few regular summer wear like shirts and T-shirts but make sure that you are only bringing clothes that can be worn on top of one another. Do not pack all the tight ones. Carry a few light woolens and a heavy windproof and waterproof jacket.
If you have enough space then bring in an Umbrella as well, it may come in handy for walking around while keeping you safe from both rain and the sun. For footwear, your regular sports shoes will do but a pair of sandals can come in real handy too. Even for bike rides, bring in rubber sandals that can cover your entire foot, specially on the front side. For example, like the Crocs Sandals. Benefit with these is that since they are rubber material, you do not have to worry about getting them wet. And since they are covering your entire foot, you can also wear them while getting across those water streams.
Water Crossings
This is believed to be one of the major challenges while traveling to Spiti in monsoon season and quite rightly so. All the water streams on the entire route will be well fed by melting snow and rain. Be ready to handle and cross a lot of these rivulets. Just to give you an idea, the last time I visited Spiti valley in August, I counted 93 water crossings between Manali and Kaza, of which 67 were on the 60 kilometers long Batal Gramphoo stretch; yes that is roughly one water crossing every kilometer. This number also includes the small water crossings and the water puddles as well but you will have to cross those too anyways. On this day of journey when you get to Manali and were on a motorcycle, your shoes will not dry all day long.
Biggest concern will be between Manali and Kaza but there are a few large water crossings on rest of the way as well; like Malling Nallah for example. If you are unsure of your driving and riding skills, then let someone else get across first and follow the lead. At large water crossings, stop for a minute and take an idea of depth and flow before attempting to cross. If you were hesitant, then wait for a local car to arrive and follow it.
Packing Your Stuff
If you were traveling by car then you got nothing to worry about in this aspect actually. Just do not put anything on the roof of the car and you will be OK. If however you were on a bike trip, then there are two things I would recommend you to bring. First are the large polythene bags; the type they give out with clothes when you go shopping in malls or showrooms. Second thing is a few meters of that large black polythene cover you can get at the hardware stores. When packing your bags, first wrap all your stuff in polythene bags and then pack it.
Finally, wrap your bags in the black polythene before roping it on motorcycles. This will keep your bags protected from both water and dust. Even if it did not rain, you will still be crossing water streams so water proofing everything will be important.
Best Vehicle for Spiti Trip
Without any doubt, an SUV with good ground clearance is the preferred vehicle for a trip to Spiti. It doesn't necessarily have to be a 4×4 but good GC is must. I have seen people complete the circuit in hatchbacks as well but do not bring those to Spiti in Monsoon season. You cannot even think about driving a Sedan like Honda City to Spiti unless you totally hate your car and want to get rid of it.
Public Transport in Spiti Valley in August
There is a daily bus from Shimla to Kaza that travels through Rampur, Reckong Peo, Pooh, Nako, Tabo, Dhankar. From Manali, there are two daily buses to Kaza. Chitkul has a daily bus from Reckong Peo and there is also a daily bus from Shimla to Sangla. Pin Valley, Kibber, Komik, Langza, Hikkim are all connected with daily buses from Kaza. All the above mentioned buses will be completely operational in the month of August. If for some reason, the timings of the bus were not matching your schedule, then you can always opt for shared taxis which too will remain available. For sightseeing around Kaza, you can also rent a motorcycle from Kaza.
Snow in Spiti valley in august
Snow in Spiti valley will mostly be all gone by the month of August. Whatever little snow you will find will either be at the top of Kunzum Pass or Rohtang Pass. Chances of catching a live snowfall will be extremely rare unless you were very lucky. You will definitely however get to see plenty of stop at top of the peaks nearby.
Chandratal in August
Camping at Chandratal begins towards late May or early June and remains operational until early October. So if you were visiting Spiti valley in August, you can definitely add a night stay at Chandratal in your itinerary. There are plenty of camp sites there but all of them will be at a distance of about 3 kilometers from the lake. Camp sites and even self camping on the banks of Chandratal is prohibited by law.
Lahaul Spiti in August
Adding this point here because a lot of people get confused between Lahaul and Spiti. A common belief is that Lahaul Spiti is the same area which is actually incorrect. Lahaul valley is the region around Keylong, Udaipur, Jispa, Darcha whereas Spiti is the area around Kaza and Chandratal. These are two completely different valleys of Himachal but yes, you can definitely visit both in the month of August. Do keep in mind though that to explore Lahaul valley as well, you will have to add additional days in your travel plan and then head towards Keylong from Kaza. Or first cover Lahaul valley from Manali and then go to Kaza.
Spiti Valley Trek in august
Being very honest, August is not really the time to go trekking anywhere in Himalayas, not just Spiti. Reason once again will be the rain which can very well ruin your entire trekking experience. If you however want to trek around a bit then you may do so by going to the nearby villages of Kibber, Komik, Langza etc from Kaza. There are several other treks and trails from these villages that you can venture upon if you have time. Chances of rain in Spiti are anyways less so it would be better if you kept the trekking part of your trip limited to Spiti only.
Hotels in Spiti Valley in August
As I mentioned previously in the article, all hotels and guest houses in the month of August will be operational. Spiti circuit is on a very well populated areas and you will continue to come across hotels throughout the trip. Whether or not to book in advance is your choice completely. I am myself more of an on the spot negotiation guy; but if booking in advance gives you the peace of mind then you may chose to do so. For cost estimate, keep a budget of about Rs. 1200 – 1500 per day for accommodation. You may find cheaper hotels than this at some places but assume this number to be on a safer side. For budget travelers, staying at HPPWD guest houses wherever you can will be a great way to cut down on total expense of the trip.
Spiti Valley Climate in August
It will be raining around Shimla, Kinnaur, Sangla Valley and Manali but will mostly be dry at Spiti. Days will be moderately warm and you can easily walk around in just a T-shirt. Nights however will still be very cold and you will definitely need blankets to sleep in.
Spiti Valley Temperature in August
Temperature at day will be around 15 to 20 degrees Celsius. At night however, it will drop down to between 5 to 10 degrees Celsius.
Spiti Valley Road Trip Itinerary
In the end, let me recommend an itinerary that you can follow for your road trip. For the sake of this article, I will assume that you are traveling from Delhi. If your journey was starting from a different place, then only the travel on Day 1 and last day will be different, rest of the details will still apply.
Delhi to Shimla / Narkanda – Day 1
Shimla / Narkanda to Chitkul – Day 2
Chitkul to Kalpa – Day 3
Kalpa to Nako – Day 4
Nako to Mudh Village (Pin Valley) – Day 5
Mudh Village to Kaza – Day 6
Kaza to Kye Monastery / Kibber / Komik / Chicham / Langza / Hikkim / Tashigong to Kaza – Day 7
Kaza to Chandratal – Day 8
Chandratal to Manali – Day 9
Manali to Delhi – Day 10
The itinerary above is keeping in mind that you do not travel too much or too less on any given day. Journey on Day 1 and 10 of course will be the longest as you travel from and to home; on rest of the days it is an average of 5-6 hours of travel at most.
Also read: How to Plan a Trip to Pin Valley?
Conclusion
I hope the information above on visiting Spiti valley in August was of help. If you have any further questions; or need any further details; please feel free to ask in the comments section below; or at our Community Forum; and I will be glad to answer.