Continuing from the previous article explaining sightseeing around Kibber, Chicham, Gette, and Tashigang; in this article, I will talk about how to plan a visit from Kaza to Komic, Langza, and Hikkim. All these villages are within a short distance from Kaza and if you started early, you can cover the entire region in a single day, unless you are planning to stay at any of these tiny hamlets. How to get here and what to see is what we will discuss in this article.
There are several ways that a trip to all these villages around Kaza can be planned. The most common way is to make it a day trip. You start really early in the morning from Kaza and spend an entire day driving around from village to village. By the end of the day, you would have covered an approximate of 125 kilometers and would have witnessed views that are hard to find elsewhere on Spiti Circuit.
About a decade ago, no tourists ever came this way, except for a few Israelis maybe. But in recent years, as tourism in Spiti Valley went on the rise, a lot of people have now started to come to these villages as well. As a result, accommodation choices in the form of homestays also became available.
So yes, if you wanted to spend a day or two in the village, you can do that as well. It is, in fact, one of the greatest ways to truly experience how life in Spiti Valley is. You stay with a villager in their home, learn about their culture, share their food and listen to their stories.
Kaza to Komik, Hikkim and Langza
If you want to really witness the beauty of Spiti Valley, then I will highly recommend spending a day in Kaza and see these remote areas. Let me first post a map of the route that you will be covering for a better understanding.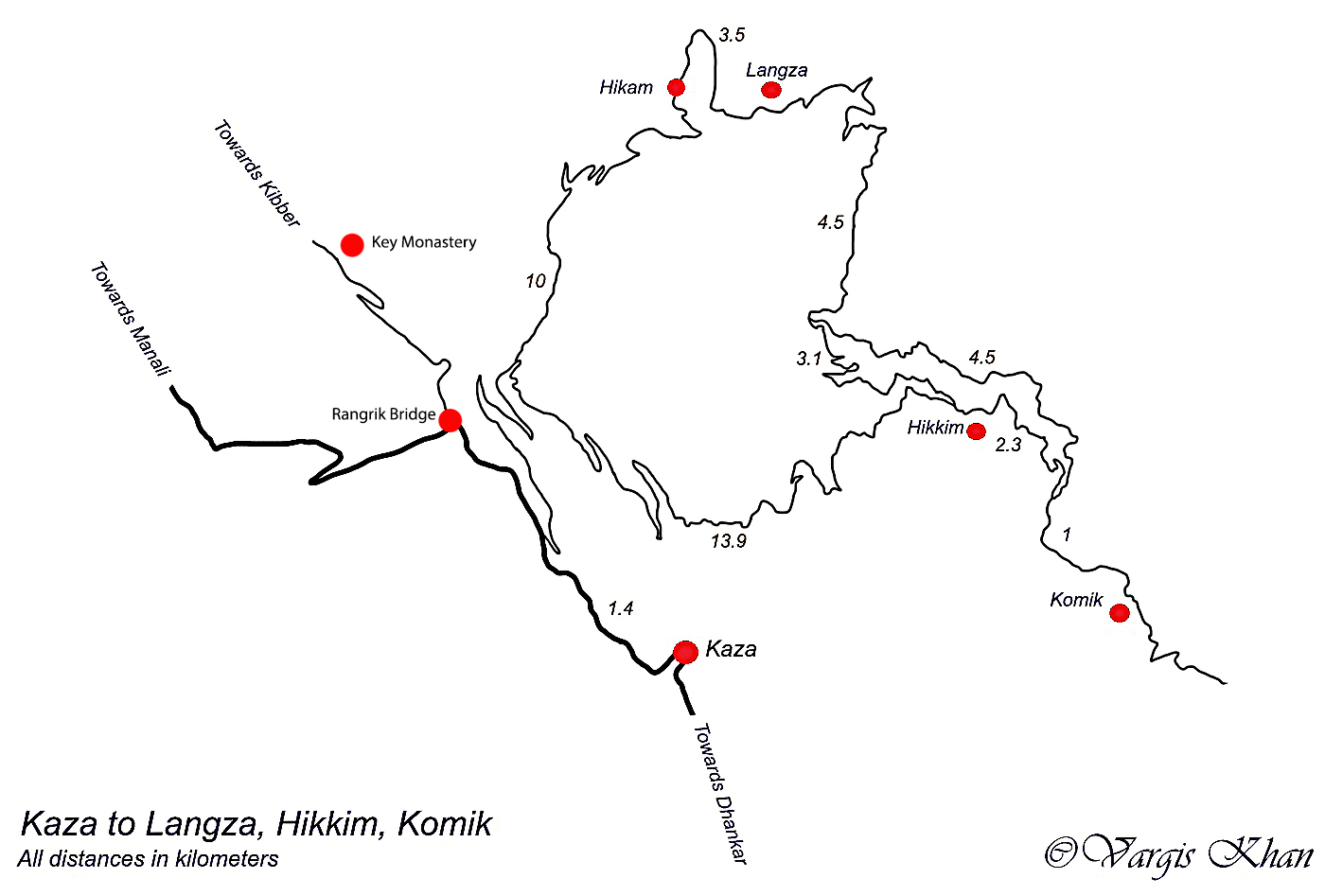 As you can see, you can actually drive to all three villages in the form of a circuit. From Kaza, first go to Hikkim, then Komic, then Langza and finally drive back down via Hikam Village. Or you can do it the other way around as well.
Also Read: How to Plan a Trip to Spiti Valley – A Complete Travel Guide
The entire circuit will be a drive of about 40 kilometers and can take you anywhere between 3-4 hours, depending on the time you spend in each of the villages. Once you have driven back down on the highway, you can then continue to Key Monastery and then drive straight to visit Kibber, Chicham and Tashigang Village.
Here is how your journey will turn out to be.
Kaza to Hikkim – 15 kilometers
Hikkim to Komic – 3 kilometers
Komic to Langza – 10 kilometers
Langza to Kaza – 16 kilometers
In winters this village becomes a hot spot for spotting Snow Leopards. Below is a detailed description of the route mentioned above.
Kaza to Hikkim
Your first destination of the day will be Hikkim Village. In order to get there, you will start driving from Kaza towards Manali. About 1.5 kilometers out of the town, you will notice a road to your right going uphill. This is the one you need to turn on. The road is an easy one to miss so please pay attention. If you weren't unsure, ask any of the locals. If you reached a bridge to your left, you had gone too far and will have to turn back.
The road will climb up steeply and is a narrow and winding one. Drive on it for about 4 kilometers until you reach a bifurcation again. The road to your right will be going to Hikkim and the one straight ahead to Langza. From here on, turn right, drive for about 10 kilometers and you will arrive at Hikkim.
Also Read: How to Handle Acute Mountain Sickness in Spiti Valley
Hikkim
Hikkim Village is located at an elevation of 4,400 meters (14,400 ft) and about 16 kilometers from the town of Kaza. It is just a small village, only a handful of houses, and is best known for its post office.
The post office here came into existence on November 5, 1983, and now is famed as the world's highest post office. While this claim is not really true, it can definitely be put 'among the highest post offices in the world'. It has now become the Hikkim's prime attraction and attracts hundreds of tourists each year.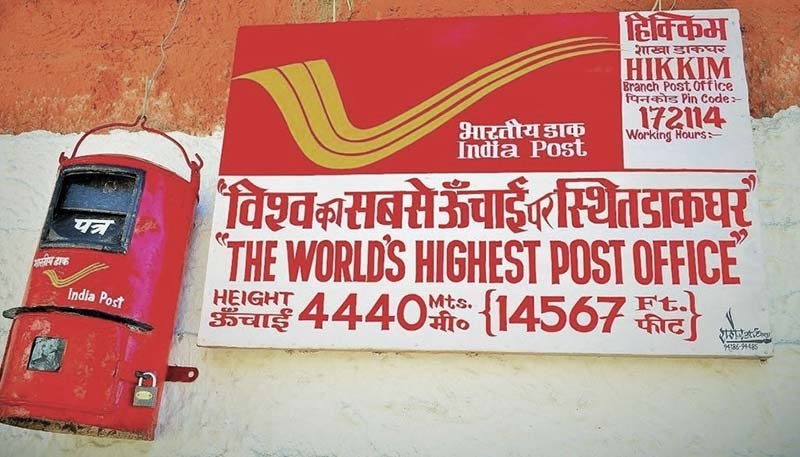 Other than the post office, the village also has a small monastery that is worth visiting. Until a few years ago, Hikkim also had the world's highest polling station before it was moved to the nearby Tashigang Village nearby.
Hikkim, like the other villages nearby, is rich in fossils. Langza is commonly known as the fossil village but you can very easily find those in Hikkim as well, provided that you know what you were looking for.
But the natural beauty of the place will definitely be the topmost item. It offers great views of Chau Chau Kang Nilda peak. Farming is the primary source of living of the villagers here. The green patches of fields amidst the barren brown mountains of Spiti really present a beautiful sight.
There will hardly be any people around, just you and the mountains. The peace and tranquil out here is like nowhere else. For more details on what you can see here, I will recommenced reading, How to Plan a Trip to Hikkim Village.
Hikkim to Komic
After spending some time at Hikkim, you will continue driving for another 3 kilometers and reach the village of Komic. Also known as Kaumik and Komik, this small village will probably be the highlight of your journey towards this part of Spiti valley. The name Komik literally means "Eye of the Snow Cock". Located about 19 kilometers from Kaza and at an altitude of 15,027 feet, it is often called the highest village in the world or highest motorable village in the world, a claim which is, of course, disputed and largely incorrect.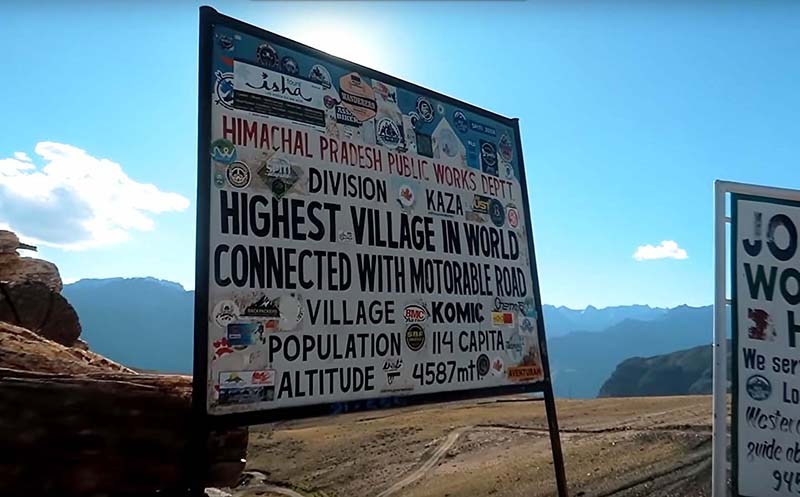 Komic Village
Apart from its natural beauty; Tangyud Monastery, built like a fortified castle on the edge of a deep canyon overlooking the town of Kaza, is the primary attraction of Komik. This monastery is considered to be over 500 years old and one of the highest altitude gompas in India. Women here are not allowed to enter the monastery at the time of prayers which I found a little weird.
This village is also known for being rich in fossil life. Several ancient fossils have been found here that villagers keep to show and even sell to tourists. For more details, please take a look at How to Plan a Trip to Komic Village.
Komic to Langza
As you can see from the map above, there are two roads that you can take from Komic to Langza. You can either drive back through Hikkim village or you can take the alternate route around and overlooking Hikkim. Both of these are dirt roads and the distance is almost the same as well so it does not really matter which one you take.
The total drive between the villages is about 10-11 kilometers and will take you anywhere between 15-20 minutes to complete.
Langza
Langza is divided into two parts; Langza Gongma meaning "Upper Langza" and Langza Yongma meaning "Lower Langza". It has a population of about 160 odd people in 30-40 houses.
Also Read: What Clothes to Pack for Spiti Valley Trip
Like other villages in this region, even this small village is also famous for ancient fossils. The difference, however, is that Langza has recorded the highest number of fossils due to which, it is also known as 'Fossil Village. They even have a Fossil center here where you can see some marine fossils and get more information about them.
This village also offers a magnificent view of Chau Chau Kang Nilda peak. The literal meaning of the name of this peak is "Blue moon in the sky".
The primary attraction however at Langza is a grand Buddha statue overlooking the village. The sight of Lord Buddha sitting in the lap of mighty Himalayas all around is a sight to behold. You can notice it right from the road as well.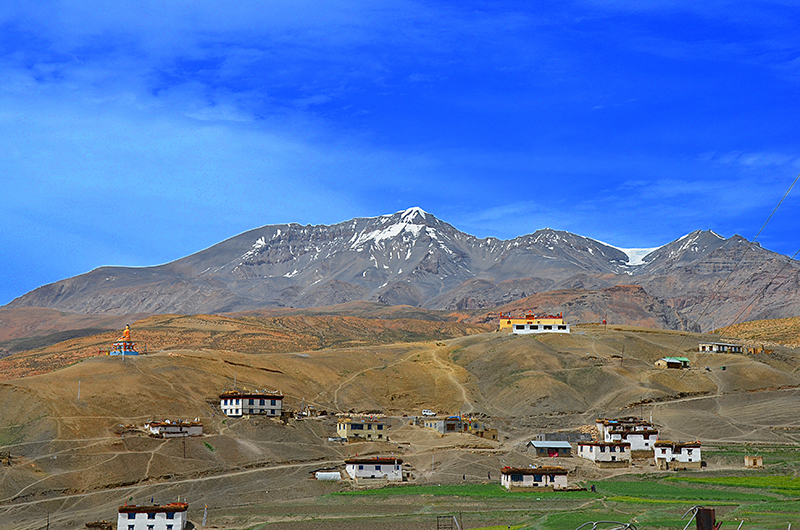 Right behind the statue is the village monastery, known as The Lang Temple or Gompa. It is believed to be over 500 years old and home to all the deities of Spiti Valley.
There are two lakes near Langza by the name of Tsonyeti and Chumo Tso. But for visiting the lakes, you will have to stay here and take a local as your guide. It will take you a couple of hours to reach the lake and another couple of hours to get back to Langza.
If you are planning to stay here, the only available option is of a homestay. People here are very hospitable and will allow you to stay in their homes as a paying guest for a very nominal charge. For more details, please read How to Plan a Trip to Langza.
Langza to Kaza
After spending some time in Langza, you will drive back down to the highway; turn left and reach back Kaza. Or you can turn right and then proceed towards Kibber Village which visiting Key Monastery on the way. For more details on this, please read How to Plan a Trip from Kaza to Kibber, Chicham, Gette, and Tashigang.
Komic to Demul
Another way that this journey can be planned is that rather than going from Komic to Langza and back to Kaza, you continue towards Demul, another tiny and remote village of Spiti Valley. To do this, an ideal way would be that from Kaza, you first go straight to Langza. After Langza, drive to Hikkim, then Komic and then Demul. After spending some time in Demul village, you will then drive back down to Kaza Shimla highway and reach Kaza. The journey will still be in the form of a circuit but a larger one. Take a look at the map below to know what I am talking about.
See the road turning right in the image below, with a board next to it? That is the one connecting Komic to Demul.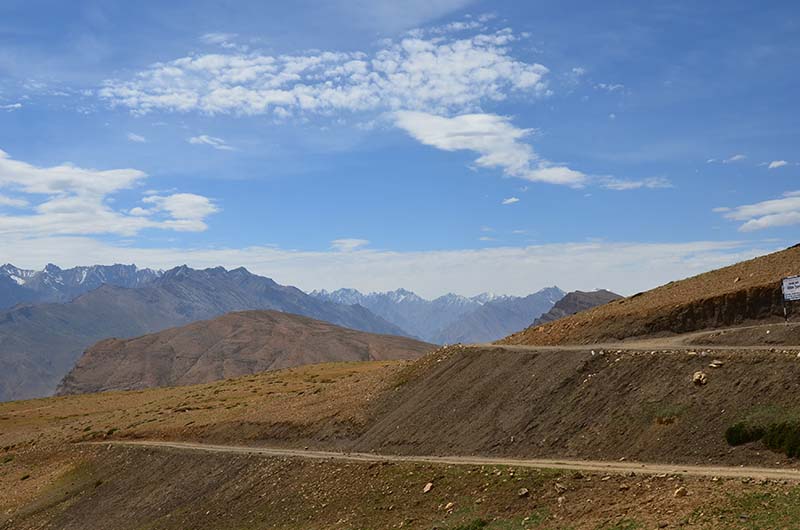 The distance between Komic and Demul is about 25 kilometers on a narrow dirt road. Road conditions on this direct road between the villages is a little bad.
Also Read: Best Time to Visit Spiti Valley
The only downside of traveling this way will way that you will not be able to cover the villages towards Kibber because you will come in the exact opposite direction.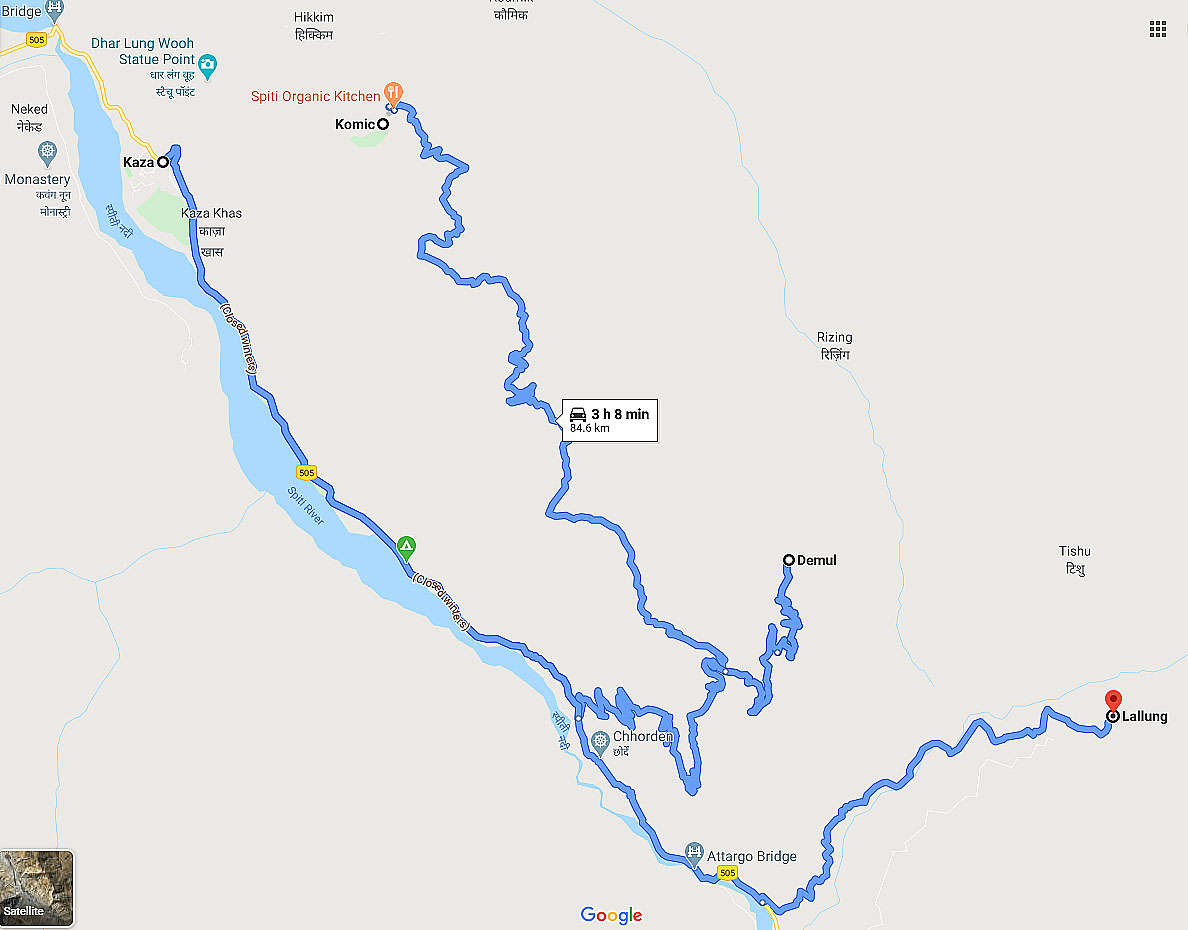 Demul Village
Demul Village is best known for its unique homestay system. They have a person in the village that is responsible for managing the homestays. When I was there, it was a person by the name of Angrup Funchok. He is known as the coordinator of Demul. Once you arrive at the village, this is the person you will meet first of all. He will allocate you a house to stay and that will become your residence in Demul for that day. You cannot choose a homestay on your own.
If you wish to stay for more than a day, then you will have to change accommodation the next day. That is correct. No villager can play host for a certain tourist for more than a day. This ensures that there is no negative competition among the villagers and everyone gets an equal share of income from tourism.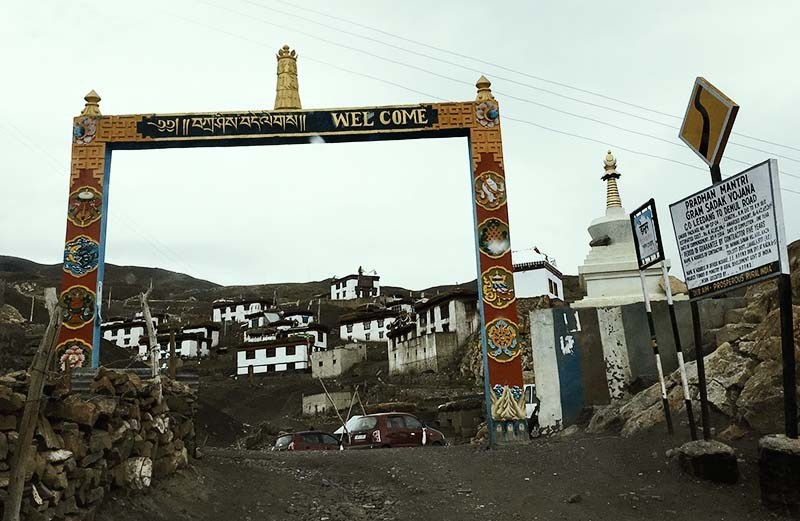 The best thing to do around Demul Village will probably be to trek to Balari Top. Also known as Palari Top, it is the highest vantage point from where you can get an incredible panoramic view of the entire Spiti Valley. Standing here, you can view 18 villages of Spiti Valley, the confluence of Spiti, Pin and Lingti rivers, Dhankar Gompa and a view that you will never forget.
The trek from Demul to Balari Top takes about 3 hours. The ascent is gradual but the long walk can be taxing if you are not into trekking. Do not forget to bring a pair of good trekking shoes with a good grip if you intend to try this trek.
There is also a small but beautiful temple in the village that I will recommend visiting. Just take a stroll around the village, see some sights and visit the temple. For more information, please read How to Plan a Trip to Demul Village.
Road Conditions
The road on this circuit is a mix of good and bad. At some places, you will find tarmac and dirt trail at others. The good part, however, is that even the dirt trail is not a bumpy or broken one. As long as you go slow and carefully, your drive will remain smooth. The only part of the road that I will call bad is between Komic and Demul.
Where to Stay



There are no luxury hotels in any of these villages. The only choice of accommodation is small guest houses or homestays. If you are planning to stay here, it would be wise to let the owner know and book in advance as not many tourists go this way and calling in advance will allow the owner some time to prepare for your arrival.
Homestays are the best and most cost-effective way of accommodation in Spiti Valley. The locals here are quite welcoming to tourists. If you wish to stay here at night; you can speak with them and they will let you stay in their home for a very nominal charge.
You should keep your expectations however very low. Your stay and food would be very basic but comfortable and delicious. You should also remember that you are staying in the home of a villager so do not expect any fancy rooms or cuisines.
For more information on homestays in all these villages and their contact information, please read Complete List of Homestays in Spiti Valley.
Camping
If you are bringing your own camping gear; you can set up your tent but ensure that you are doing so within the village; closer to a home and after seeking permission. I will again stress the fact that this is a wildlife sanctuary and you should not go camping in the middle of anywhere. All these villages have their own small monasteries and you can also inquire with the monks if they are willing to lend you a room in the monastery.
Where to Eat
There is a small eatery in Komic Village which really happens to be one of my favorite restaurants because of the amazing views surrounding it. Other than this, there are no other restaurants anywhere in other villages. If you were planning a day-long drive, please ensure that you are carrying enough food and water with you.
If you were staying overnight though, then you will be eating at your homestay only. The food served will be basic but delicious enough. While you were here, please speak with your host and request them to cook for you a local dish.
Bus Service / Public Transport
There is a bus from Kaza to Komik at 5 PM everyday. This bus first goes to Langza, then Hikkim and finally at Komic. So you can actually use it to get down at either of the three villages. The bus halts at Komic for the night and then comes back to Kaza the next day at 7 AM via Hikkim and Langza.
For Demul, there is a daily bus at 5 PM from Kaza. The same bus then comes back to Kaza the next day at 7.30 AM. For more details, please read Spiti Valley Bus Schedule.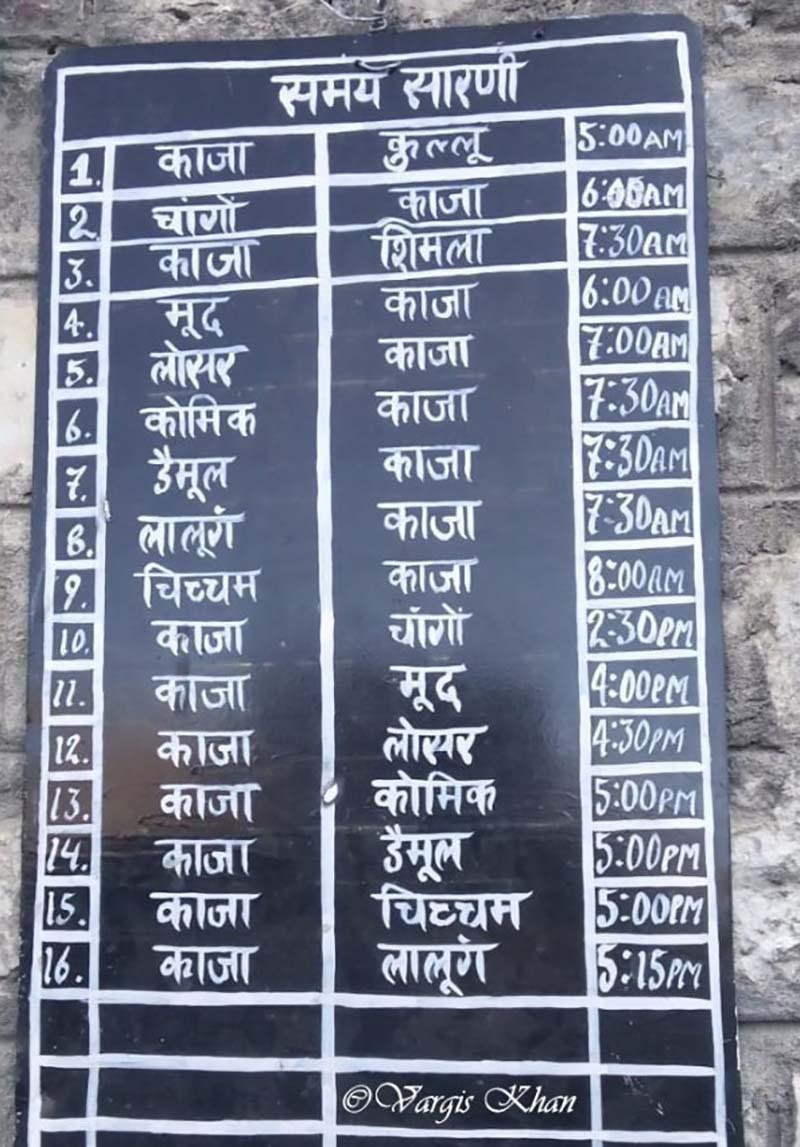 If you want to travel in the earlier part of the day; you will have to inquire and wait for a shared taxi on the highway. The frequency of these taxis too, however, is not that much.
If you want to hire a private taxi; you can do so from Kaza and it will charge you about Rs. 2000 – Rs. 3000 per day covering all the villages. If only a drop to Kibber is on your mind, charges will be around Rs. 600 – 800.
Mobile Network and Data Connectivity
BSNL has the widest coverage in Spiti Valley but even that does not work in any of the villages. You will remain completely off the network as long as you are here.
Conclusion
I hope the information above on planning a trip from Kaza to Komic, Hikkim, Demul and Langza was of help. If you have any further questions, please feel free to ask in the comments section below, or at our Community Forum, and I will be glad to answer.