No matter how you read it, the name of this road will sound far from regular. If you call it the road to Spiti valley, you will be talking about a non-stop journey full of surprises, fun, and adventure. If you call it the Hindustan Tibet road, you will be talking about a glorious and historical route which once served as the link between the two ancient nations of Hindustan and Tibet. But it is not the talking part where the real fun lies. No, it is the traveling on this route which is an experience in itself. An experience that will help you create memories that will last a lifetime and the ones that you will cherish forever.
Also Read: How to Plan a Trip to Spiti Valley – A Complete Travel Guide
There are two different roads that we are talking about here if we look at it literally. The old Hindustan Tibet road is now known as National Highway 5. It is a 660 kilometers long stretch that starts from Firozpur in Punjab and ends at Shipki La pass at Spiti. I am saying ends at Shipki La Pass but that is just for the Indian side of it. The road doesn't really exist the same anymore but I am sure that when it did in ancient times, it must have extended well beyond Shipki La Pass into Tibet.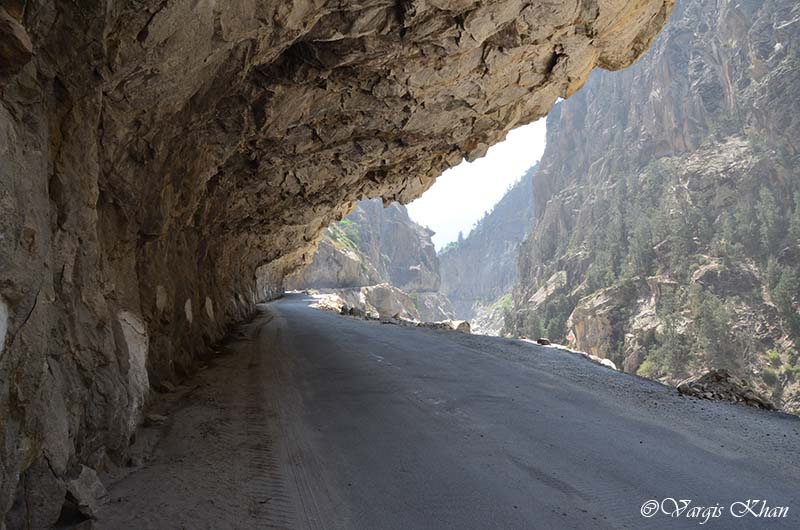 Travel in Spiti Valley
The road to Spiti valley, on the other hand, is commonly referred to a section of the road between Shimla and Manali and via Kinnaur and Spiti Valleys. The road between Manali to Kaza is actually not part of the Hindustan Tibet road but it is only the part between Shimla to Shipki La pass which is. The entire route from Shimla to Manali or vice versa is actually the Spiti circuit.
But as I said, this is not the reading part that is fun. It is experiencing the journey that you must do. Of course, you do not have to start from Firozpur but can do so from either Shimla or Manali. You will then travel for about 650 kilometers with one of the most iconic and well known routes of our country. It will take you through the beautiful valleys of Shimla, Kinnaur, Sangla, Pin, Spiti, Lahaul and Manali and by the time your journey ends, you would already have made a decision to return as soon as you can and explore more.
For your first time though, how can you plan a trip on the Spiti valley road is what I will be discussing in this article. I will talk about the route, towns that you will be crossing, places that you should see, time that you will need and an example of an itinerary.
Also Read: How to Handle Acute Mountain Sickness in Spiti
Spiti Valley Route
If I talk about the whole of Spiti Circuit, below is how the entire journey will look like. You will start from Chandigarh, reach Shimla and then continue traveling to Kaza. From Kaza, you will then reach Manali and then finally back at Chandigarh, hence closing the entire circuit.
Chandigarh – Kandaghat – Shimla – Narkanda – Rampur – Wangtu – Tapri – Karchham – Reckong Peo – Pooh – Khab – Nako – Sumdo – Tabo – Dhankhar – Kaza – Losar – Kunzum Pass – Batal – Gramphoo – Rohtang Pass – Manali – Kullu – Bhuntar – Mandi – Bilaspur – Swarghat – Rupnagar – Chandigarh
And there you have it. This is the entire Spiti circuit for you. You can either travel from Shimla side or Manali depending on your own preference. This journey will have you traveling over a distance of about 1,050 kilometers over a period of 7 to 9 days.
Let me break down this entire area in terms of which part of Himachal you will be in while traveling.
Kandaghat: Solan Valley
Shimla, Narkanda, Rampur: Shimla District
Reckong Peo: Lower Kinnaur Valley
Nako: Upper Kinnaur Valley
Tabo, Dhankhar, Kaza, Chandratal, Batal: Spiti Valley
Manali: Kullu Valley
In the above route, from Karchham, you take a diversion towards Sangla and Chitkul which falls under Sangla Valley. Just before Kaza, you will take another diversion towards Mudh Village which falls under Pin Valley.
So Spiti Valley is actually the area after Nako and Until Batal. It is, in fact, the least populated district in all of India.
When Does Spiti Valley Open
Contrary to common belief, Spiti valley actually remains open for tourists throughout the year. There are two ways that you can enter the valley, either from Shimla or Manali. The stretch from Manali to Kaza actually remains open for all 12 months, even during peak winters. It is the road from Manali to Kaza which gets closed after it starts to snow. Reason behind this is that from Shimla to Kaza, there is not even a single high altitude pass in between; whereas from Manali to Kaza, you will be crossing two high altitude passes, Rohtang La and Kunzum La. Both of these passes are known for receiving high amounts of snow each year due to which, the road gets blocked in winters.
So if you were traveling between June to October, you will be able to complete the entire circuit easily. However, from November to May, you can only reach Spiti via Shimla and return the same way.
Also Read: What to Eat in Spiti Valley
When is the Best time to visit Spiti Valley?
When to travel on the Spiti circuit will entirely depend on what you were looking for; but the months of June and September are considered to be the best time for a journey on this road. Weather at this time is pleasant with warm and sunny days and moderately cold nights. The biggest factor, however, is that all of Spiti is open for tourism at this time. The entire Shimla – Kaza – Manali stretch remains accessible so you will easily be open to finish the circuit. Going in June or September will mean that you either went before Monsoon or after; and hence, completing the journey without risking the rain anywhere. Other areas like Sangla and Pin Valley can also be reached in these months.
Road Condition of Spiti Valley
Spiti valley has always been notorious for its bad roads.  I remember I once read somewhere that the word "road" is just a relevant term when it comes to Spiti. Situation, however, has changed much in recent years. Condition of the road in Spiti valley has at least now gone from bad to being average, at least for the most part of it. Starting from Chandigarh, until Rampur via Shimla and Narkanda is a smooth run all the way. From Rampur to Reckong Peo, the road remains to be a mix of average and good. After Peo, things deteriorate a little but just in small patches and the road remains a mix of good and bad. It once again turns super smooth as you get closer to Khab and Nako.
After Nako and until Kaza, it is a narrow stretch that is average at best. You will however still be able to travel comfortably on it. Nightmare starts as soon as you leave Kaza and start to travel towards Manali. That is when the journey truly turns into a joyride. The entire journey from Kaza to Gramphoo will have you travel on a badly broken dirt trail with lose stones, slush and numerous water crossings on the way. From Gramphoo to Manali across Rohtang Pass is again mostly good. The final stretch from Manali to Chandigarh is a mix of good, average and bad but mostly average.
Best Vehicle for Spiti Valley Trip
Now there are really two sides of deciding which car or motorcycle is best for the trip. Let me first talk about motorcycles because the logic there is a bit simple. If you are planning to ride solo than any bike is good enough for Spiti as long as it is not badly beaten up, not too old and is very well serviced. It means that you can actually go to Spiti on even a 100CC bike if you have maintained it well. However, if you are riding with a pillion, then you must choose a motorcycle with a larger engine. You should remember that it is not just you and your friend on the bike but also all the luggage that you will be dumping on it. Motorcycles like a Royal Enfield will be an ideal choice in this case.
If you are going by car, then the most important thing will be the ground clearance of your vehicle. If your plan is to reach Kaza via Shimla and return the same way, then any car is good enough. You can easily travel in your hatchback or Sedan as well but you will have to make sure that it is well serviced and maintained. If you are planning to cover Manali Kaza stretch, then best would be to chose an SUV that has ground clearance of at least 200MM.
Also Read: What to Buy in Spiti Valley
Accommodation & Other Facilities
Now let me talk about availability of basic facilities on the route.
Spiti these days is a well known tourist destination and you will find ample of hotels throughout the journey. You do not necessarily have to book in advance but can do so if it gives you peace of mind.
Medical Assistance can be a little hard to find once you have crossed Kinnaur Valley. Until Kinnaur, you will remain in a well populated area and will easily find clinics and dispensaries en route. After Reckong Peo, there is no medical assistance available until Kaza; and then after Kaza, the nearest hospital is in Manali.
The story is the same in terms of petrol pumps as well. Until Reckong Peo, you will keep coming across gas stations at regular intervals. After Peo, the next petrol is in Kaza and then in Manali. You do not, however, need to carry spare fuel. A tankful at Reckong Peo will easily see you in Kaza and then another tankful in Kaza will suffice for the journey till Manali.
Mechanics are available only at major towns en route like Rampur, Reckong Peo, Kaza, etc. In Kinnaur valley, you can find mechanics easily for small fixes but in Spiti Valley, you will only find one in Kaza and nowhere else.
Time needed for Spiti Valley
How much time you need to complete the circuit will entirely depend on where you were coming from. However, 7 days is an ideal time if you were starting from Chandigarh and 9 days if you were starting from Delhi. You can make a trip in a lesser number of days as well but that will be a little rushed and will not allow you much time for sightseeing. If you can add more days then it will definitely help you to explore more areas.
Also Read: Festivals of Spiti Valley
What clothes to pack for the trip?
Weather of Spiti valley is actually very tricky and unpredictable. Tricky in terms of how it can fluctuate at different times and different places. Standing in the sun, you will feel hot. The moment you move in to shade, you will start to feel cold. Wind here can rise anytime and when it is at its best, you would be looking for a blanket to crawl under. The moment the wind stops, it will be pleasant again.
So when you pack clothes for Spiti valley, you need to make sure that you are doing so in layers. What I mean by this is that pack clothes that you can wear on top of one another, in layers. Do not pack all cottons or light woolens but at the same time, do not bring all heavy clothes as well. Your regular cottons, some light woolens, pair of thermals and a heavy windproof jacket will be sufficient. Do not also forget to pack warm socks and good quality gloves. When you buy a jacket, make sure it has a hoodie that can protect your head, ears, and neck.
Also read: Clothes for Spiti Trip – What to Pack?
Of course, if you were planning a trip to Spiti in winter, then you must pack all your heaviest woolens. This is the time when the temperature will be constantly under 0 degrees and you will have to stay prepared.
Spiti Valley Itinerary and What to See
In the next part of this article, I will explain in detail how you can plan your journey on the route. I will run down the entire circuit explaining the journey from place to place and while doing so, I will also explain what all places you can see en route. Please click on the link below to continue reading the next part of this post.
Road to Spiti Valley – Conclusion
I hope the information above on the road to Spiti valley, also known as the Hindustan – Tibet road was of help. If you have any questions or need any other details; please feel free to ask in the comments section below, or at our Community Forum; and I will be glad to answer.