When to visit Spiti valley? This will definitely be the first question on your mind when you plan to visit a place like Spiti. This is definitely not your usual weekend getaway and a trip to Spiti means that you will have to take some time out, plan meticulously and try to make the best out of your time and money. You got to make sure that the time of your trip is the best time to visit Spiti Valley so that your trip can remain enjoyable, safe and hassle-free.
Hopefully, after reading through the article below, you will have a clear answer to this question.
The majority of the tourism to Spiti valley happens in the months of summer. However, a lot of people travel there in dead of winter as well. Contrary to common belief, Spiti valley actually remains accessible by road throughout the year.
When is the best time to visit Spiti valley depends on your preference, places you wanted to include in your itinerary and which route did you intend on taking. Several other factors like mode of travel and budget etc too come into play, but mostly it will depend on what exactly are you looking for and how you plan to travel through the valley. In this article, I will give a month by month breakdown explaining what you can expect in a particular month.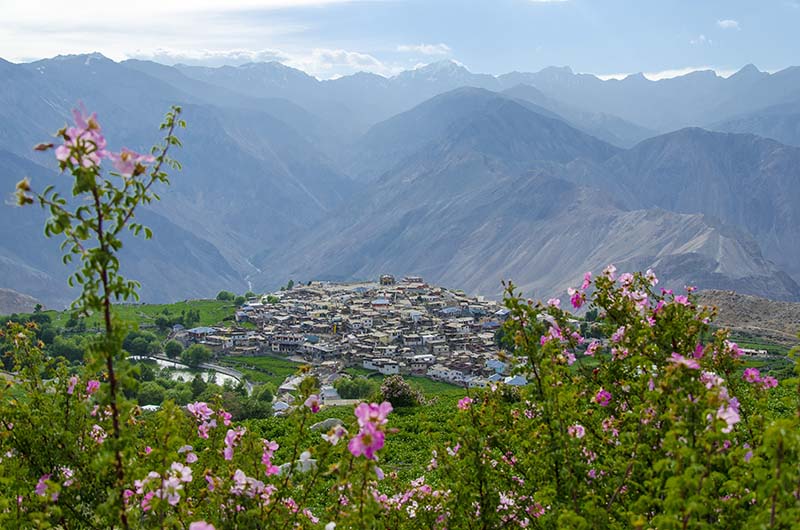 The most common way of a journey to Lahaul and Spiti valleys is to complete it in form of a circuit; meaning you start from one place and exit at another. This particular circuit lies between Shimla and Manali so you can enter Spiti from either of these two places.
From Shimla: Shimla – Narkanda – Rampur – Jeori – Reckong Peo – Nako – Tabo – Dhankar – Kaza
From Manali: Manali – Rohtang Pass – Gramphoo – Batal – Losar – Kaza
Spiti valley is accessible from Shimla side throughout the year however from Manali; it is accessible only for 5 months, from June till September. So if you are planning from Shimla, from June till September, you can complete the circuit by exiting from Manali. However from late October till early May; you can only drive up to Kaza from Shimla and will have to return the same way. There is no high altitude pass between Shimla and Kaza however when it comes to Manali; you will cross two high altitude passes, Rohtang and Kunzum Pass. Both these passes remain close from anytime in October till May (depending on the weather) so a journey from Manali to Spiti valley can only be done from June till September.
Also read: How to Plan a Trip to Spiti Valley – A Complete Travel Guide
Please note that even though you can travel to Spiti from Shimla throughout the year, in peak winter the entire valley remains under a thick sheet of snow so a road journey will not be only difficult but also very challenging.
As I mentioned above, the best time to visit Spiti valley depends on what your preference is. If it is snow you are after, then the best time would be to go sometime in February or March otherwise July till September would be an ideal time to visit Lahaul & Spiti.
Spiti Valley In January
Not a good time to go at all. Winter is at its full swing and there is heavy snow all around, starting right from near Shimla until Kaza. Chances of catching a live snowfall, roads being closed and getting stranded somewhere are highest during this time. The road from Manali to Kaza remains closed at this time so the only way to get into the valley is to travel from Shimla however the road goes through some regions that experience heavy snowfall due to which it is best to avoid traveling at this time. There is not much of accommodation options available too in January.
Also read: Clothes for Spiti Trip – What to Pack?
Spiti Valley in  February & March
If it is snow that you are after, then the best time would be to go from sometime mid Feb till March. There is a high chance of catching snow near Shimla, Narkanda, Kufri, Sarahan, Nako and Kaza at this time. Please do carefully plan your accommodation though because this is not really the tourist season and most of the hotels at this time remain closed.
Spiti Valley In April & May
Snow starts to melt away by Late March or early April. Hotels and guest houses too start to open up by this time however tourists are still few in numbers. If it is solitude you seek with not a lot of people around, then this is the best time to go. Chances of catching snow will be very less however the weather will still be extremely cold. Accommodation will still be limited and you will not be able to complete the circuit as well. You can hope to find whatever is left of the snow in the months of April and May but it is also the time when roads are in worst condition.
Spiti Valley In June till September
The complete Spiti circuit remains open at this time. You can start your journey from Shimla and end at Manali or vice versa. While Spiti does not experience much rain, almost next to none for that matter; roads leading to the valley can still close due to landslides in monsoon. Kunzum pass opens in late June and it takes some time for BRO and PWD to improve the road conditions from Kokhsar till Kaza. The entire patch from Kokhsar to Kunzum, especially till Batal is a nightmare to drive on. Add monsoon to this and you will get the idea.
Landslides often occur in this region and you may have to wait for a few hours for the road to reopen and turn back and return the next day. Road from Shimla however does not have that large of a risk of closing down, even though it is equally bad. But even after all this, you can still comfortably complete the journey and enjoy the valley.
Also read: Spiti Valley Route Guide
Chandratal is open during this time so you can add that too to your itinerary. Hotels are all fully functional so finding accommodation would be child's play. If travelling in June or early July, your trip will pretty much be event-less. However, monsoon would have arrived around Shimla and Kinnaur valley by late July bringing in chances of landslides along with it. Best to keep a couple of days as buffer while planning your itinerary in July or August. By September, monsoon would have gone and the valley would be colorful all around which makes it an ideal time to be travelling here. Temperature however would start to dip by late September or early October; so ensure that you are carrying heavy woolens at this time. During September, Kunzum and Rohtang too remain open so you can complete the circuit as well.
Spiti Valley In October till December
A trip to Spiti gets one sided during this time because Kunzum pass remains closed till June. You can start from Shimla, travel till Kaza and return taking the same road back.. The region starts to receive snowfall sometime in late December so until then; it will just be cold winds that you will experience which makes it a bad time to be travelling to Spiti. Most of the hotels are in the process of closing down in October so choice of accommodation is just a few hotels and guest houses still operational.
Also read: Festivals of Spiti Valley
Best time to visit Spiti Valley by road
From June till September is probably the best time to visit Spiti by road. This way you will be able to complete the circuit and will not be limited to just visiting from Shimla to Kaza.  Places like Chandratal and Kunzum Pass are also accessible during this time only.
Also read: An Ideal Itinerary for Spiti Valley
Best time to visit Spiti Valley for photography
This will depend on what exactly you like to shoot. If a valley covered under a thick sheet of snow is on your mind, then you must go in January or February. For lush green hills, you must visit in August. If the colors of autumn interest you, then plan it by late September or early October.
Best time to visit Spiti Valley on a Budget
If you are on a budget, you must plan your trip between June and September when it is the peak tourist season. All the hotels are operational during this time and you will easily be able to find a budget accommodation. You will also not have any trouble at all finding public transport services during this time.
Best time to visit Spiti Valley on Bike
The months of April, May, June and September would be best to visit Spiti valley on Bike. From January till March, the weather will be cold with chances of snowfall and black ice on the road which is not really an ideal situation to be riding around on a bike. Some people do make a winter ride to Spiti but not everyone can do that without getting hurt. July and August would bring the season of monsoon with chances of rain, landslides and slush which again is not ideal for a bike ride. From October to December, you can indeed ride to Spiti valley but the weather would then be cold. These three months in my opinion are worst time to be going to Spiti valley. There will not be much greenery anywhere on the route; there will be no snow as well and you will just be riding through cold winds and an overall dull landscape.
Best time to visit Spiti Valley
So if a safe, uneventful trip, lush green hills and colors of Spiti is on your mind; then June, early July and September is the best time to visit Spiti Valley. If you are feeling adventurous and heavy snow is what you want to see, then Feb & March is the best month to go. Please do keep in mind that life in Spiti in winter is really not that easy. Water freezes everywhere including in pipes and taps; which means there will be no running water and you will have to depend on water in buckets.
I hope this information on best time to visit Spiti valley was helpful. If you have any further questions; please feel free to ask in the comments section below; or at our Community Forum; and I will be glad to answer.