When I first heard the name of Mud Village in Pin Valley, my immediate thought was that why would anyone want to name their village as Mud. That just didn't sound right and does not paint a very good picture of a place. It was only after I visited Spiti and Pin Valley is that I found out that the name of the place was actually Mudh Village, pronounced as Moodh. It is just that it got known and spelled over the internet as Mud. I laughed out loud because the word Mud is not really very tourism-friendly for a place to be named as.
Also Read: How to Plan a Trip to Spiti Valley – A Complete Travel Guide
But the correct name of the place is not the only thing that I realized during my first trip there. I also got to know about how amazingly beautiful and a traveler's delight this small village is. The view from the village is really one of a kind and one that must be witnessed. It is really hard to describe in the words so I will just post a picture below.
Actually, if I am, to be honest, even this picture does not do justice to the actual sight. It is far more grand and majestic than what my camera was able to capture.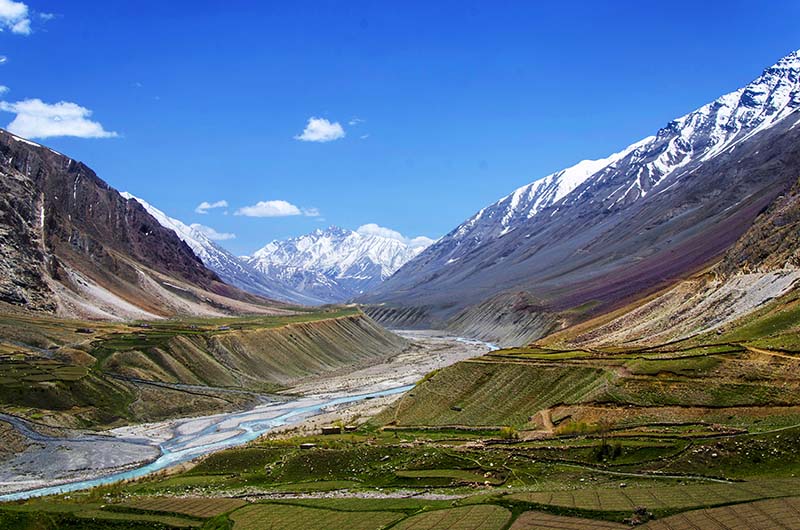 About Mud Village Spiti
It would not be wrong to call Mud Village (or Mudh Village) as the heart of Pin Valley. It is definitely not the biggest village in the valley; that credit goes to the nearby Sagnam Village. But in terms of tourism, Mud is the one that serves as the destination for everyone coming to Pin Valley. I think the biggest reason behind this is that it is the last village and the road ends here. So everyone coming this way plans to go as far as the road goes, stay there for the night and return the next day. All the other towns fall on the way. The second reason is of course of the view that you get from here.
Mud Village is a small village located in Pin Valley at an altitude of 3700 meters (12,139 ft.) It is one of the 17 villages of Pin Valley and is a cluster of about 40 odd homes and a few guesthouses. It is connected with the rest of the state and the country with a motorable dirt road. The villagers here depend on farming (and now tourism as well) for their livelihood.
The entire region including Mud Village was mostly unknown until recently. Their first touch with the tourism industry and rest of the world was possibly when Bollywood arrived here with their cameras to shoot a few sequences of John Abraham starrer 'Paap'. The song 'Intezaar' was shot here with Udita Goswami wandering the valleys in and around Mud Village.
Also Read: How to Plan a Trip to Pin Valley
Where is Mud Village?
Mudh Village is located at a distance of 50 kilometers from Kaza, 65 kilometers from Tabo and about 51 kilometers from Dhankar. Shimla is approximately 440 kilometers from here and Manali at about 250 kilometers. The road to the village branches off from the main Shimla Kaza highway at Attargo Bridge and then travels deep inside Pin Valley for 34 kilometers before ending at Mud Village.
Also Read: What Clothes to Pack for Spiti
How to reach Mud Village
In order to get to Mudh Village, you will first have to reach Spiti Valley. This can be done in two ways. The first and the easier way is to take the route to Spiti Valley via Shimla which remains open throughout the year. You start for Spiti from Shimla and then travel through Narkanda, Rampur, Jeori, Pooh, Nako and Tabo to either arrive at Kaza or head straight to Mud Village. Traveling this way, from Shimla, it will take you at least 2 days to cover if rushed and 3 days if done at leisure.
The second way is to take the route to Spiti Valley via Manali which remains open only from Mid May to Mid October. You start from Manali, travel across Rohtang Pass and Kunzum Pass to arrive at Kaza. From Kaza, you will then continue to Attargo Bridge and then to Mud Village. This too is a journey of at least 2 days if rushed and 3 days if done in a relaxed manner. You will also have to also procure a permit for Rohtang Pass before coming this way.
Bus services too on both these routes are regular. Frequency is a little less but a daily bus is available from both Shimla and Manali for Kaza. For a more detailed version of this information, please read How to reach Spiti Valley by Road, Bus, Train or Flight.
Tabo to Mud Village
Now assuming that you were coming from Shimla side, you will first reach Tabo. 32 Kilometers after Tabo, you will reach a place called Attargo Bridge. It is hard to miss because this is where Spiti and Pin Rivers merge into each other and there is also a hydro plan just before the bridge. I will post a picture.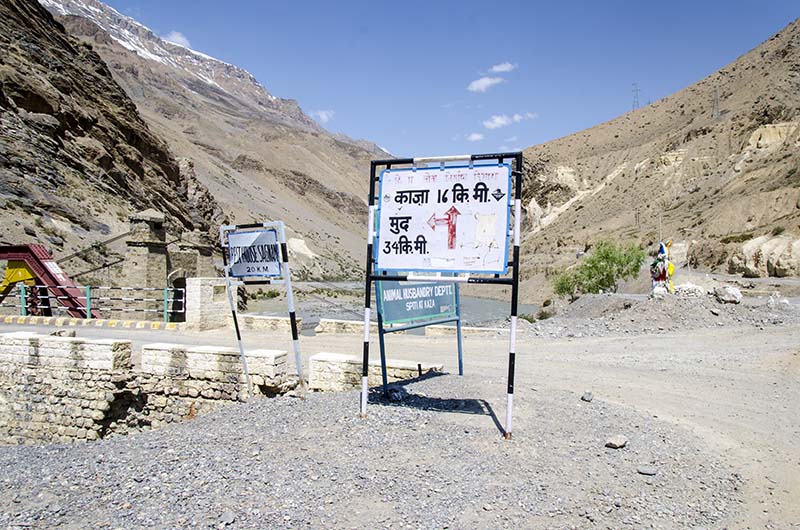 Turn left here, cross the bridge, and follow the road that will lead you straight to Mud Village. Pin River will accompany you throughout the journey and the scenery will be awe-inspiring. You will first reach Sagnam Village which that has a branch of Himachal Pradesh Gramin Bank and a couple of guest houses. 14 kilometers from Sagnam is Mud Village where the road ends.
Also Read: How to Handle Acute Mountain Sickness in Spiti Valley
Kaza to Mud Village
You will follow the same route even if you were coming from the Kaza side; reach Attargo Bridge and then cross it over to enter Pin Valley.
Kaza to Mud Village Bus
If you were traveling by public transport, then there is a daily bus from Kaza to Mud Village at 4 PM that you can board. This bus reaches Mud by 6 PM, halts there for the night and then travels back to Kaza at 6 AM the next day. So even for the return journey, you can use the same Bus.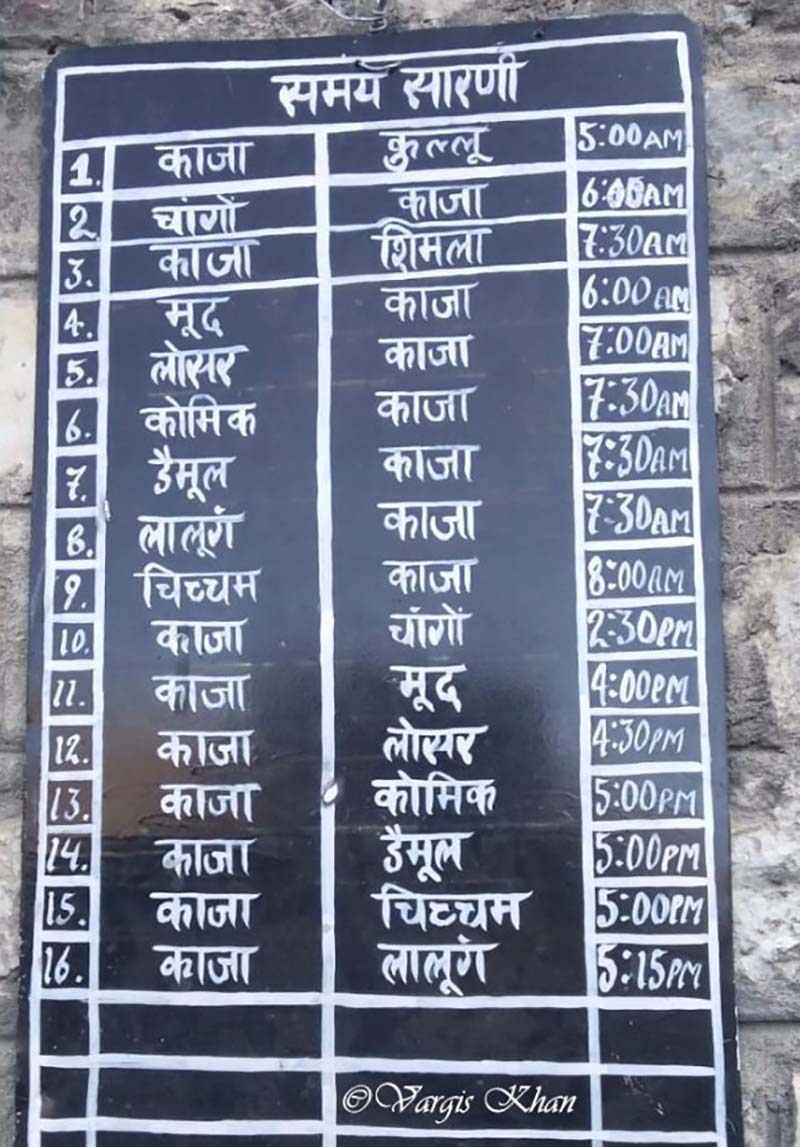 Things to do in Mud Village
Mudh Village is just a small village and as such, there is not really much to do or see here. But in my opinion, that is exactly what you should visit here for. Just spend a couple of days doing nothing and relax with a great view right in front of your eyes. It is really a great spot to spend some time in peace and rejuvenate yourself.
The natural beauty of the place will, of course, be its greatest attraction. The village sits quietly on the banks of Pin River surrounded with snow-capped peaks. Other than enjoying the vistas, trekking will be the next best thing to do here. Listed below are some of the best treks heading out of Mud Village.
Also Read: How to Plan a Journey on Spiti Circuit
Bhaba Pass Trek
I must first mention here that this is not your casual one day walk or an easy trek. Bhaba Pass forms the ridge between Kinnaur Valley and Spiti Valley. So this trek means that you cross over from the lush green of Kinnaur to the cold desert of Spiti Valley or vice versa. The vistas you get on the way will just sweep you off your feet.
The usual way of doing is trek is to start from Kafnu in Kinnaur and end at Mudh Village but you can do it the other way around as well. Ideally, it is a 7 days trek and will require that you are physically fit and have some prior trekking experience. There are several operators in Mudh Village itself that will love to be your guide for the adventure.
The maximum altitude you will reach during this trek is 16,100 ft walking a total distance of about 50 kilometers. The best time to attempt this trek is between June to September (or early October). While walking from one point to the other, you will witness an amazing change landscape, topography, culture, lifestyle, religion and even language spoken. If you were into trekking and had the time, this is one trek that must be attempted.
Also Read: How to Plan a Trip to Kinnaur Valley
Pin Parvati Pass Trek
This is the second and even more challenging of the two treks heading out of Mud Village. Parvati Pass is the mountain range dividing the Spiti Valley and Parvati Valley. So on one side, you have the lush green of Parvati Valley and the cold barren brown of Spiti on the other.
This is a difficult trek that lasts for a total of 11 days. It starts from Barshaini near Manali from where you trek to Kheerganga, then to Tunda Bhuj, Mantalai Lake, cross the summit and reach Mudh Village. This is the ideal way of doing it but of course, you can start from Mud as well and do it the other way around. You can hire a travel guide for this from Mud Village itself.
The maximum altitude you reach during this trek is 17,457 ft. walking a total of about 100 kilometers. The terrain is rugged due to which, it is best recommended to seasoned trekkers. You must have experienced at least 2 high altitude treks before attempting this one. The best time for Pin Parvati trek is from June to September.
Also Read: How to Plan a Trip to Parvati Valley
Walk around in the Village
OK enough with the scary and challenging treks. If you did not have the time and were not into trekking, then you can just walk around in the village. In the first picture that I posted in this article, you can actually walk down all the way to the river across the fields. There is a water crossing on the other end of the village that actually looks like a waterfall and is a good spot to click some pictures. You can also pay a visit to the village gompa.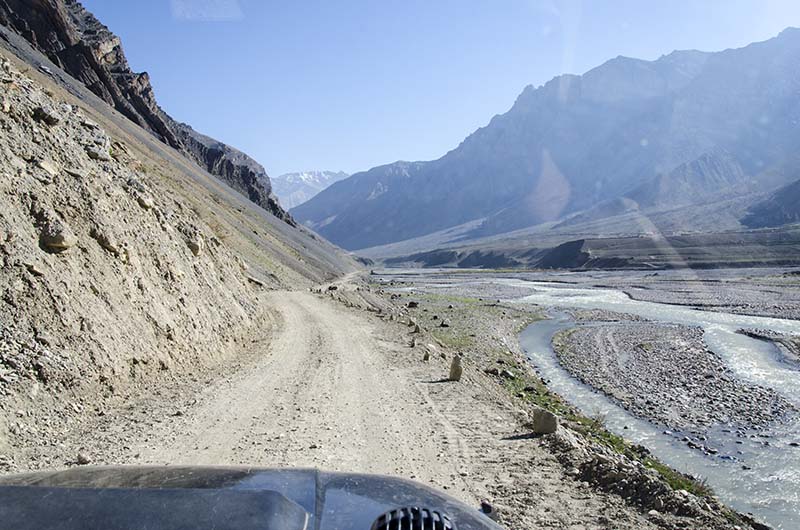 Spiti and Pin River Confluence
This is not really in Mud Village but near the Attargo Bridge before you take the turn towards Pin Valley. It is a great sight as both these rivers merge into each other.
Kungri Monastery
This is also not in Mud Village but on the way between the villages of Gulling and Mikkim. It is the second oldest monastery in Spiti Valley, built around 1330, and is noted for its sword dance by the Buzhens of Mud village on the right bank of the Pin River. You can actually even stay overnight in the monastery if you wish to.
Pin River Beach
About 3-4 kilometers after Attargo Bridge, you will come across a spot where the river gets very wide and its banks turn into a beach-like area. You can leave your vehicles on the main road, walk down a little and walk right to the river. With the snow-capped mountains in the background, it is a great spot to click some pictures. The spot in the picture below is what I am talking about.
Also Read: Shopping in Spiti Valley – What to Buy in Spiti Valley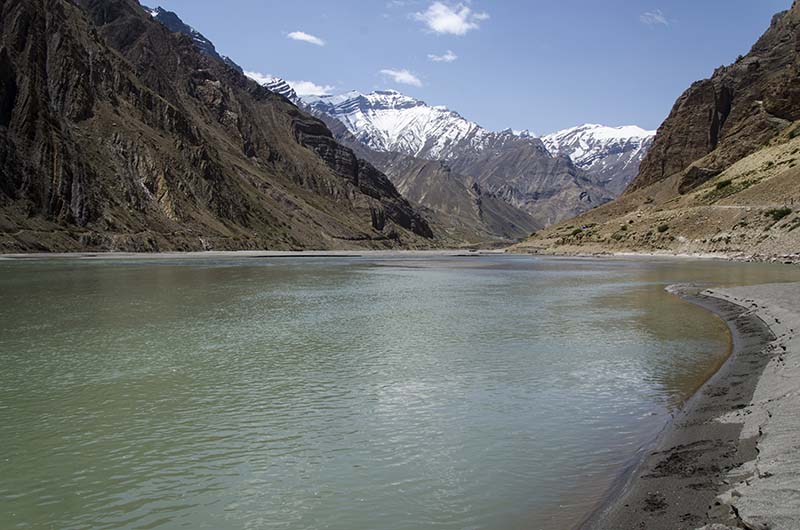 Wildlife
This, of course, remains the prime attraction of Pin Valley. Take a walk through the valley and if you were lucky, you may spot an Ibex or someone else from the wonderful animal life here.
Pin Valley National Park
If wildlife is what you were after, then a trip to Pin Valley is incomplete unless you have visited Pin Valley National Park. Established on 9 January 1987, this Park forms a natural habitat for a number of endangered animals including the snow leopard and Siberian ibex, Tibetan Gazelle, Woolly Hare, and Chammurti Horses. In summer, rare birds such as the Himalayan snowcock, chukar partridge, snow partridge, and snow finch can be spotted here.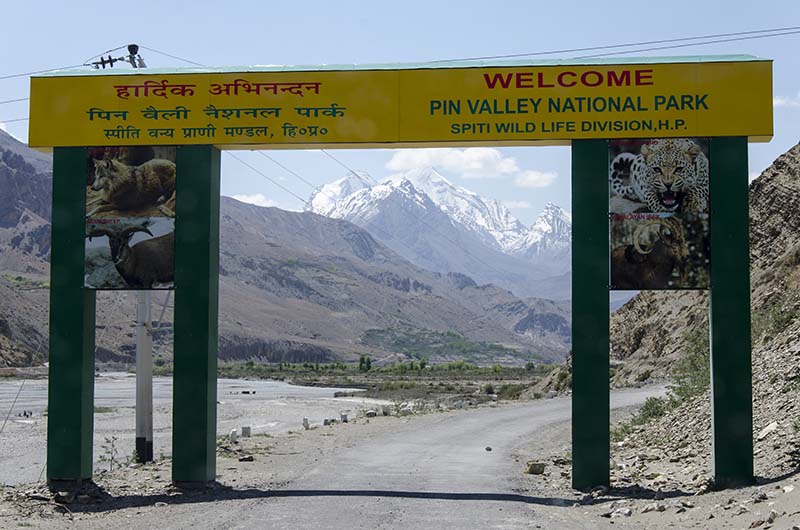 The elevation of the park ranges from about 3,500 meters (11,500 ft) to 6,000 meters (20,000 ft) and it is spread over an area of 9700 square kilometers approximately. There are no roads in the park though and the closest you can get by road is near Mikkim Village. You will have to hire a local guide to take you through the park and trekking here on your own is not at all recommended.
Also Read: How to Plan a Trip to Pin Valley National Park
In the end, I will say that for a regular tourist, the outstanding vistas are what you visit Mud Village for. You will get to see the beautiful Spit River, Pin River, their confluence, stunning landscape and many natural sights that will have you reaching out for your camera immediately.
Mud Village Weather
I am writing this article on Mud Village in the month of December. I just checked and the temperature in the village right now is a freezing -22° Celsius. In the coming days, it is expected to get even colder and drop down to -30° Celsius in January. This should give you an idea of how extreme things get here. Cold, harsh, unpredictable and unforgiving are a few words that best describe the weather of not just Mud Village but the entire Spiti Valley during the winter season.
Things get a little pleasant in the summer season though. After April, it starts to warm up and by July, it actually gets so hot during the day that you will not even need a jacket. By night, however, it will again get colder. The average temperature at this time ranges between -25° during the day to 10° at night.
The entire Spiti Valley is in a rain shadow area which means that it either does not rain here at all or rains very little. The nearby areas of Kinnaur and Manali, however, receive heavy rain each year. Landslides caused by incessant rains in these areas are very common which can make reaching Spiti Valley a little tough.
One thing I must mention here is that the sun in Spiti Valley is very harsh. So harsh that if you were not well protected and covered, it can give some serious burns. So before you come here, find a sunblock lotion of the highest SPF and apply it regularly. Also carry a lip balm, cold cream, and moisturizer.
Best time to visit Mud Village
Keeping the above weather description in mind, I think it is safe to say that the best time to visit Mud Village will be anytime from Late May to Mid September. Weather at this time will be very pleasant and the entire Spiti Circuit will remain open. You can start your journey from Shimla and end at Manali, or vice versa, and can also cover other places en routes like Sarahan and Sangla Valley.
One of the best things to do in Pin Valley is to go trekking and even for that, the months of June to September are the best. I have talked about trekking in Pin Valley in detail further in the article.
A lot of people have now started to visit Spiti Valley in the winter season as well but I will not recommend that as your first trip. If you are coming here for the first time, best plan your trip between May to September. Once you have familiarized yourself with the region, you can then plan again to come back in winters.
For a more detailed version of this information, please read When is the Best time to Visit Spiti Valley?
Where to Stay in Mud Village
About a decade ago or so, finding a place to stay in Mud Village would have been a task impossible. But with the recent increase in tourism in Spiti Valley, new hotels and guest houses have started to come up here as well. This actually is becoming a favorite mode of passive income for the locals here. Accommodation in Pin Valley is available in two forms, homestays and guest houses.
Mud Village Homestay
Tara Homestay was possibly the first homestay in Pin Valley. It is a good place to stay. The owner is a very warm and friendly person and has good arrangements to entertain his guests. He actually also has made arrangements for the Internet there. He has 5-6 rooms available I think but the only problem is that not all of his rooms have attached washrooms. A few rooms have shared washrooms and that is why I did not stay here.
Also Read: Tara Homestay Review
There are numerous other homestays available if you did not want to stay at Tara. There is an Ibex Homestay (which actually is a guest house and not homestay) right in front of Tara that has the best view in the village. It is a great place to stay. If not Ibex, then just take a walk in the village and you will find numerous other homestays.
Also Read: Ibex Homestay Review
Hotels in Mud Village
There are no hotels in Mud Village. The only options to stay are the homestays cum guest houses that I posted pictures of above.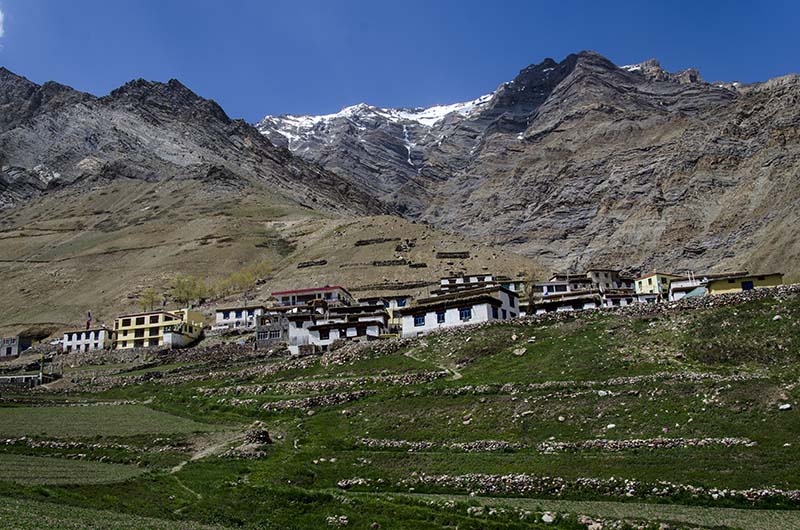 Where to Eat
The best place to eat would be at your homestay only. There are no restaurants or dhabas here. The only eatery I saw was a small tea stall. But the food served at the homestays and guesthouses is quite good and you will not be disappointed. Tara Homestay has a Balcony kind of arrangement where you can eat with a great view in front of you. I used to have my tea and lunch on the roof of Ibex Homestay and it felt great.
Do keep in mind though that the menu at these homestays is not a large one and food too will be basic. So please do not expect anything fancy but whatever will be served will be delicious enough.
Also Read: Food to Try in Spiti Valley – What to Eat in Spiti
Mobile Network & Data Connectivity
There is no network available in Mud Village or elsewhere in Pin Valley. I was carrying an Idea and Jio SIM, one of my friends had Vodafone and another one a BSNL connection but none of us got any network here.
Tara Homestay has a dish antenna installed on their roof for satellite internet so that is the only place where you can get internet connectivity here.
Also Read: Mobile Network in Spiti Valley and Data Connectivity
Permits
Indian citizens do not have to get a permit for visiting Spiti. Just carry a valid government-issued Identity card and that will suffice. The only permit you would need is the Rohtang Pass Permit but that too only if you were starting from Manali. If you were coming from Shimla side and traveling from Kaza to Manali, then you don't need Rohtang Permit as well.
Foreign nationals are however required to obtain a Permit for visiting Spiti Valley from either Manali, Shimla, Kaza or Reckong Peo. For more details on it, please read How to get an Inner Line Permit for Spiti Valley.
Itinerary for Mud Village
If you were thinking about how you can include Pin Valley and Mud Village in your itinerary; then I will share an example of an itinerary that you can follow. For the sake of explaining the route, I will assume Delhi as your starting point. However, even if you were coming from a different city, only the journey on first and the last day will change. The rest of the details will still apply.
Delhi to Shimla / Narkanda – Day 1
Shimla / Narkanda to Sarahan – Day 2
Sarahan to Chitkul – Day 3
Chitkul to Kalpa – Day 4
Kalpa to Nako / Tabo – Day 5
Nako / Tabo to Dhankar / Dhankar Lake to Mud Village – Day 6
Sightseeing in and Mud Village – Day 7
Mud Village to Kaza – Day 8
Sightseeing in and around Kaza – Day 9
Kaza to Chandratal – Day 10
Chandratal to Manali – Day 11
Manali to Delhi – Day 12
If you did not have so much time to spare, then remove any of the places that you would rather skip.
If you had already reached Kaza, then you can start early in the day from there, cover Pin Valley making it a day trip; and return to Kaza by evening.
If you wish to go trekking into the Pin Valley National Park; then you would have to spend at least 2-3 days in the village for the same.
Other Tips
The nearest petrol pump is in Kaza.
The nearest mechanic as well is in Kaza.
There is a Himachal Pradesh Gramin Bank in Sagnam Village but no ATM. That is available in Kaza only.
In terms of medical assistance, you will either have to Kaza or the primary Health care center in Tabo.
Conclusion
I hope the information above on visiting Mud Village was of help. If you have any questions, or need any other details, please feel free to ask in the comments section below; or at our Community Forum; and I will be glad to answer.