Can we visit Leh Ladakh in October? The answer to this question is definitely yes. A lot of people travel to Ladakh in October and you can as well. But you must also know that October is not really the tourist season in Ladakh and there will be a few challenges that you must be prepared for.
Tourism in Ladakh has been on the rise in the last few years. What once was considered a destination for bikers and adventure lovers now gets considered for family vacations as well.
Earlier, a limited number of people visiting Ladakh used to plan their trip between June to September. But now as this number is going up, the window of time for visiting Ladakh is also getting broader.
So if you were thinking that you will be the only one in Ladakh in October then you are wrong. There will be quite a handful of people around. I know I said that it is not the tourist season but it is not the off-season as well.
Hotels, restaurants, roads, and pretty much everything will still be open. In fact, visiting Ladakh in October has quite a few perks of its own that you will not get in the earlier months.
How to Plan a Trip to Leh Ladakh in October
If you too did not get a chance to visit Ladakh in the year so far and are thinking to go now in October, then mentioned below is complete information on how you can do so.
For planning a trip in any other month of the year, you can take a look at How to Plan a Trip to Leh Ladakh – A Complete Travel Guide. To organize your trip to Ladakh, book a taxi, rent a bike, or get the best hotel rates, you can contact Kunal @ 9910402252. From luxurious hotels to budget stays, he can help get you the best rates possible.
How to reach Ladakh in October
First things first. What is the best way to reach Ladakh in October? This will entirely depend on the dates of your travel. Of the two roads leading to Leh, the one from Manali gets closed for the year in October and Ladakh becomes accessible by road only via Srinagar.
Manali Leh Highway in October
If you are planning to travel from Manali to Leh in October, the safest time to do so is the first week of the month. The highway remains open until mid and sometimes even late October but it is not considered safe for tourists.
The high-altitude passes on the way start receiving snow in September itself and by October, it can be enough to block the road entirely.
If you could not travel in early October, then it is of utmost importance that you reach Ladakh via Srinagar and return the same way.
Baralacha La is usually the first high-altitude pass to receive snow on the Manali route. After Baralacha, there are 3 more passes you will need to cross before you make it to Leh. If the road ahead closes, you will get stuck in between.
There have been instances when tourists were stranded on the highway or were turned back because the road was snowed out. Even if it does not get blocked entirely, the threat of Black Ice will always remain. Accommodation at places like Jispa, Sarchu, and Pang will be difficult to find as well.
If the dates of your travel are after 10th October, it would be best to keep the Manali Leh highway out. If you still want to take a chance then ensure you get complete information about the weather and road conditions first. Take a look at this thread Manali Leh Highway Status where I keep updating the most recent status of the road.
Srinagar Leh Highway in October
The road from Srinagar to Leh remains open in October and can be traveled upon without much trouble. The only place that you would have to be careful about is the high-altitude pass of Zoji La. It would definitely have received snow in October.
Due to bad road conditions, crossing the pass can become challenging if there was snow on the ground. Before you cross Sonamarg, just ask around how the road at Zojila was.
Travel slowly and carefully and you will be OK. Srinagar Leh road remains open well until November in fact. On rare occasions, like in 2018, it was open even during early December.
By Bus
Like all other tourist-related activities, the availability of public transport gets scarce in Ladakh in October. Either there will be no transport available at all or it may not be on schedule due to extreme weather or a possible roadblock.
The chances of this happening are more towards the end of October. If you were planning to use public transport, it would be best to cancel the trip for now and plan it for next year.
The Leh to Manali Bus operated by HPTDC gets withdrawn towards mid of September so that will definitely not be available in October. Y
our only option would be the bus service provided by HRTC but chances are that this bus as well will not be available after September. Just assume that after 30th September, there will be no bus available from Leh to Manali or vice versa.
However, if you went via Srinagar, the JKSRTC bus from Srinagar to Leh will still remain available. It operates throughout the month of October except for rare occasions when snowfall can block the road at Zojila.
By Flight
The flights to Leh remain available for all 12 months but are prone to cancellation in winter. It has happened to me twice that I booked a flight to Ladakh in the winter months but it got canceled at the last minute. Once the return flight from Leh to Delhi was canceled so I had to cancel the Delhi to Leh flight as well.
The chances of this happening are more between November to March and very less in October. If your flight remained on schedule, you can reach Leh by Air in October and rent a local cab for sightseeing.
The only challenge in reaching by flight will be of AMS in Ladakh which I have covered further in the article.
Local Commute
All the internal roads in Ladakh will remain in October and public transport will remain available as well. For your local commute, you can either board a bus or a private taxi. If you were traveling by your own vehicle, you can drive to any part of Ladakh as long as you have a permit for it.
Where to Stay
As you probably would already have guessed by now, you will have no trouble finding a hotel anywhere in Ladakh in October. The place where you may struggle a bit is Manali Leh Highway.
Chadar tents and campsites on this route start wrapping up in October so you may not find so many places to stay. But the rest of the Ladakh will not be a problem.
Whether or not to book in advance is entirely your choice. I will recommend booking your stay in Leh City. But for the rest of the places, you can negotiate an on-the-spot deal.
Places to visit in Ladakh in October
This then brings us to the next question. What to see in Leh Ladakh in October? The answer is everything. The entire region remains open in October and you will be able to cover all the places on your itinerary. Let us take a look at them one by one.
Nubra Valley in October
Nubra Valley remains open for tourists in the month of October. You will be able to reach here easily via Khardung La and explore the valley completely.
You can visit all the local villages like Diskit, Hunder, Sumur, and Panamik, and travel as far as Turtuk or Siachen Base Camp. Hotels too will be all up and running in all the villages.
The only catch is that there could be a snowfall at Khardung La blocking the road for a few hours or a day. But other than that, there will be no other hitch in your plans.
You can either travel by your own vehicle or book a private taxi. If traveling on a budget, you can either board a Bus or shared cab from Leh Bus stand, both of which will be easily available in October. For more details, please read How to Plan a Trip to Nubra Valley in Ladakh.
Pangong Lake in October
Yes, you will be able to travel from Leh to Pangong Lake in October easily. There could be a snowfall blocking the road at Chang La but only temporarily. The bus service to Pangong from Leh remains operational throughout October. Shared cabs too can be boarded from the Leh Bus stand.
The campsites at Pangong start to wrap up for the season in October and are mostly all gone by early November. You will however have no problem finding a place to stay in October.
If you wish to stay at a cemented hotel, you can look for accommodation in the villages of Spangmik, Man, or Merak.  You can find a place to stay here in January or February as well as a matter of fact. For more details, please take a look at How to Plan a Trip to Pangong Tso Lake.
Nubra Valley to Pangong Lake Direct Route
There are three ways that you can travel from Nubra Valley to Pangong Lake or Vice Versa. The first way is that you go back to Leh and then travel from there to Pangong Lake via Chang La the next day. This route will be open in October as we just discussed.
The second road is Wari La Pass which is the toughest of all three routes. It is a very remote road that only a few tourists or locals travel on.
Wari La also starts receiving snow in October and there is a high chance that it may not get cleared immediately. It would be wise to ask around in Nuba Valley before attempting Wari La in October.
The third way is the Shyok road which is the shortest and now also the easiest. By this route, you can make it to Pangong from Nubra in just about 6 hours. In October, this road will remain open and safe to travel as well.
There is no public transport available on Wari La and Shyok road though. For more details, please read How to Travel Directly from Nubra Valley to Pangong Lake.
Tso Moriri in October
Like Pangong and Nubra Valley, Tso Moriri will also remain open in October. You can arrive here either directly from Leh via Chumathang or directly from Pangong Lake via Chushul.
There are plenty of guesthouses and homestays at Tso Moriri (Karzok) where you can stay for the night. In fact, accommodation choices at Tso Moriri are better than even Pangong. For more details, please read How to Plan a Trip to Tso Moriri.
Tso Kar Lake will be open in October as well. If you were coming from the Manali side, you can visit Tso Kar while coming to Leh by taking a short diversion from Debring. The other way, if you reached Leh by flight or via Srinagar, is to take the road across Tanglang La and visit Tso Kar via Debring.
The third way is to reach here from Tso Moriri via Sumdo and Polo Kongka La and then continue to either Leh or Manali. For a visual presentation of the routes I explained above, please see The Most Comprehensive Road Map of Entire Leh Ladakh.
Pangong Tso to Tso Moriri Direct Route
This is the road that you take to travel directly from Pangong Lake to Tso Moriri via Chsuhul, Loma, Nyoma, Mahe, and Sumdo. On the way, if you had an additional day, you can also cover the small yet beautiful village of Hanle. For more details, please read How to Travel directly from Pangong Tso to Tso Moriri.
This entire route will remain open for tourists in October. Accommodation on this stretch is available at Man, Merak, and Hanle.
You can look for a homestay at Loma, Nyoma, and Mahe. Mostly, however, it is Hanle that people break their journey for the night. From Pangong, you reach Hanle on Day 1, stay there for the night, and move on to Tso Moriri the next day.
Leh to Kargil Route / Sham Valley
Now we are referring to the highway between Leh and Kargil which the locals usually refer to as Sham Valley tour. The places that you visit on this stretch are Gurudwara Patthar Sahib, Magnetic Hill, Indus Zanskar Confluence, Lamayuru Monastery, Maitreya Buddha, Moonland, Mulbekh, Alchi, Likir, and several others.
For a complete list, please take a look at Places to Visit on Leh to Kargil Route. All these places remain open for tourists for all 12 months and they will be in the month of October as well.
Zanskar Valley in October
Zanskar Valley gets a little tricky in October. It may or may not be open and you will have to find out about it in advance before including it in your itinerary.  Chances however are that it will be open at least in early October.
The only time it could be inaccessible by road is if there was early snow and you were traveling toward the end of October. For more details, please take a look at Zanskar Valley Travel Guide.
Leh Local Sightseeing
Last but not least, let us also briefly talk about Leh City. A common notion is that Leh remains buried under snow during the winter season which is not actually right.
There are frequent snowfalls but it does not completely turn white. Most of the year, it remains dry. In October, the weather will be cold and there could be snow in the city but it will remain open for tourists.
All the local sightseeing places like Leh Palace, Shey Palace, Shanti Stupa, Hemis Monastery, Thiksey Monastery, and the local market will be open and can be visited. For a complete list, please take a look at Places to Visit in Leh City.
Snow in Ladakh in October
If the idea of a live snowfall is on your mind then chances are that you may catch one here in October. It starts to snow at the high altitude passes by mid-September and you may witness a light spell of snow while traveling to Ladakh in October. If not a live snowfall then you will at least get to see plenty of snow around at the top of the passes.
Weather of Leh Ladakh in October
The weather in Ladakh will be terribly cold throughout the month. Sun may remain gone for an entire day and there will be a chance of snowfall even in Leh City. Days will be dry and cloudy and nights will be freezing. It will be slightly better towards the beginning of the month but will then keep getting colder with each passing day.
October is the month of the autumn season and in places like Nubra Valley, Sham Valley, and Suru Valley, you will see plenty of golden orange, giving a magical touch to the landscape.
The average temperature in Leh City in October ranges between a maximum of max 14°C and a minimum of -1°C. At places like Pangong and Tso Moriri, this will be even lower by several degrees. At the top of the passes, even during the day, the temperature will remain close to 5°C.
Clothes to Pack for Ladakh in October
Thermals and woolens at this time are a must. Carry your clothes in a way that you can wear them in layers. For example, wear thermals/warmers first and put on regular cotton clothes above them. Then wear a woolen sweater followed by a thick windproof jacket on the top.
This way, you can put on the clothes as you feel cold and remove them in layers when you start to feel warm. Gloves, woolen socks, and a woolen cap that can cover both your head and ears are a must. Please take a look at Clothes for Ladakh Trip: What to Pack for more details.
In terms of shoes, your normal sports shoes will do just fine but make sure you are carrying woolens socks as well to keep your feet warm.
Your packing will also vary if you were traveling to Ladakh with family. If you had kids in the group, please make sure that you plan on keeping them completely covered at all times.
Some other things to carry will be a pair of sunglasses, some basic medicines, a sunblock lotion, cold cream, lip balm, moisturizer, a pain relief spray or balm, and other toiletries based on your needs.
Things to do in Ladakh in October
Other than sightseeing at all of the places I mentioned above, let us take a look at some of the other things that you can do during your Ladakh October trip.
Leh Ladakh Bike Trip in October
Is a bike trip to Ladakh possible in October? Yes, it is. But you will have to go via the Srinagar Leh route and return the same way. The only way to include Manali in the trip is if you were traveling early in the month and the weather gods really favored you.
If you were catching a flight to Ladakh, you can still rent a bike in Leh and then use it for local sightseeing. The rent usually is between Rs. 1000 to Rs. 2000 depending on the type of bike you chose. Even scooters like Activa are available for rent if you want to use those for your local commute in Leh City. You can use it for visiting the local market, Leh Palace, Shanti Stupa, etc.
Photography
This one I believe goes without saying. Whether you were a serious photographer with a huge DSLR or someone with a fancy cellphone, Ladakh will offer you great opportunities to clicks hundreds of pictures during your trip.
Festivals in Ladakh in October
Diskit Gustor Festival is celebrated in the Diskit Monastery of Nubra Valley in the month of October. It is a grand festival that thousands of people attend. For more information on festivals in Ladakh and their dates, please read Festivals of Ladakh: A Colorful Celebration of Life and Ladakh Festival Dates.
Camping
Pangong Tso and Tso Moriri are the two best places to go camping in Ladakh. There are a few campsites in Nubra Valley as well where you can stay. All these options remain available in October. Some other places where you can find camps are Pang and Sarchu on the Manali Leh route, Sham Valley, and Srinagar Leh highway.
If you were camping your own tents and rest of the gear, the entire Ladakh is a vast camping ground for you. Just make sure you bring in the best quality sleeping bag to keep you warm in below 0 degrees temperatures. You can also rent camping gear and sleeping bags in Leh city as well. For some more tips on camping in Ladakh, please take a look at How and Where to Camp in Ladakh.
Rafting
I know there are a couple of tour companies in Leh that can arrange rafting for you if you were up to brace the cold waters of the Zanskar River in October. Just ask around in Leh and you will easily find a rating agency. I will personally not recommend going rafting in October.
Trekking
Ladakh is home to several trails leading deep into the Himalayas. Stok Kangri Trek is probably the most famous one but there are several others as well. Sham Valley Trek and Markha Valley Trek are the two other well-known ones. An easy one would be from Lamayuru to Alchi. In Zanskar, the trek to Phuktal Monastery is another relatively easy one that can be done in 2-3 days. For even longer duration and exploring deep into the Himalayas, you can go on a snow leopard expediting.
Experience the Local Culture
Experiencing the local culture of Ladakh should be next on your list. Ladakh is a mix of Tibetan, Indian, Kashmiri, Buddhist, and Muslim cultures and is really unique.
Try Different kinds of Food
You must also try eating out at the restaurants in Leh and try some local dishes. For more details on this, please read What to eat in Ladakh – Foods you must try in Ladakh.
Shopping in Ladakh
Shopping should also be on your list. Though the markets will not be at their best in April since it is just the beginning of the tourist season, you can still buy some local stuff as a souvenir. Please read Shopping in Ladakh – What to buy in Ladakh for more details on this.
Other than this, just relax, do plenty of sightseeing, have fun with your friends and family and enjoy life to the fullest; that is what you should be doing during your trip to Leh Ladakh in April.
Road Connectivity and Conditions
The inner roads in Ladakh remain open throughout the year because the Indian Army uses them for their movement in the area.  There could be a road closure post snowfall at any of the high-altitude passes on the way but this is temporary; mostly lasting a day or two. As soon as BRO is able to clear the road, it gets opened again for vehicular movement.
Even in the months after October, you can plan a visit to places like Nubra Valley, Pangong Tso, and Tso Moriri.
Bad sections will mostly be limited to the top of the passes like Khardung La and Chang La; Zoji La if you were traveling via Srinagar.
Inner Line Permits
Let us also briefly talk about the Inner line permits that you need for local sightseeing in Ladakh. It is a mandatory document and without it, you cannot travel beyond Leh City. It can be obtained either in person from DM office Leh or applied for online. For complete details and related charges, please take a look at How to Obtain Inner Line Permit for Ladakh.
Mobile Connectivity in Ladakh in October
The first thing to know about mobile connectivity in Ladakh is that only postpaid phone work here. This rule remains applicable even after it was declared as a union territory. A prepaid phone will only be good enough to click pictures, nothing else.
BSNL has the widest coverage and will work in most of the areas in Ladakh. It has great reception in Leh City, Nubra Valley, and between Leh and Kargil. You will get a network even at Pangong and Tso Moriri but it will be weak. Voice clarity can be bad but you will at least be able to send a text message out.
Airtel works very well in Leh city with 4G data connectivity and in Nubra Valley with 2G/3G data. It does not get reception at Pangong or Tso Moriri or any other area though.
Jio has good reception and 4G connectivity in Leh. In Nubra Valley, you will get 3G data with good voice calls.
Vodafone and Idea will only work in Leh City. For more information on this topic, please read Mobile Services in Leh and Other areas of Ladakh.
Medical Assistance
The hospitals in Leh City remain open for all 12 months. So yes, in case of an emergency, you can visit and consult a doctor in any of the hospitals.
There is no hospital in Nubra Valley, or at Pangong or Tso Moriri. But in case of a medical emergency, you can approach the nearest Indian Army post for assistance.
For a visit in October, I will highly recommend that you carry some basic medicines for cold, flu, and fever along.
Acute Mountain Sickness
Altitude sickness in Ladakh is both a risk and a threat. Several tourists have lost their lives because of AMS, including a friend of mine. The chances increase even more when you are catching a flight to Leh. To ensure that you do not suffer from AMS, take plenty of rest and spend at least the first two days in Leh City only.
This way, if your condition started to get worse, you can go see a doctor and even get hospitalized if needed. Since there are no hospitals elsewhere, traveling to any other place on Day 1 or 2 will be a risk. Even my friend died at Pangong Lake because his condition deteriorated at night and by the time they brought him back to Leh in the morning, he was already dead.
For a very detailed version of the information on AMS and tips on how can you tackle it better, please read How to Handle Acute Mountain Sickness in Ladakh.
Itinerary for Leh Ladakh in October
Mentioned below are a few examples of itineraries that you can follow for your trip to Leh Ladakh in October. I will suggest a few different examples of itinerary depending on the mode of your mode of travel and the places you wanted to cover. I am suggesting a travel plan that will cover all of the tourist attractions in Ladakh. You can however add or remove places based on your preference and time in hand.
By Air
If reaching Ladakh by Air, below is an example of an itinerary that you can follow.
Arrive in Leh. Rest and arrange Permits – Day 1
Leh to Lamayuru to Leh – Day 2
Leh to Diskit – Day 3
Diskit to Leh – Day 4
Leh to Pangong – Day 5
Pangong to Leh – Day 6
Leh to Tso Moriri – Day 7
Tso Moriri to Leh – Day 8
Fly Out – Day 9
The above plan was suitable for someone traveling by Bus or shared cab. If you were going to rent a private taxi or motorcycle, you can modify it to a plan like below.
If you were renting a motorcycle of booking a private cab, then you can modify the plan to something like below.
Arrive in Leh. Rest and arrange Permits – Day 1
Leh to Lamayuru to Leh – Day 2
Leh to Diskit – Day 3
Diskit to Pangong Tso – Day 4
Pangong Tso to Hanle – Day 5
Hanle to Karzok (Tso Moriri) – Day 6
Karzok to Leh via Tso Kar – Day 7
Fly Out – Day 8
Manali to Leh by road in October
If you wanted to travel from Manali to Leh then the plan can be like below.
Delhi to Manali – Day 1
Manali to Jispa – Day 2
Jispa to Pang – Day 3
Pang to Leh – Day 4
Leh – Day 5
Leh to Diskit – Day 6
Diskit to Pangong – Day 7
Pangong to Hanle – Day 8
Hanle to Karzok – Day 9
Karzok to Leh via Chumathang or Tso Kar – Day 10
Leh to Kargil – Day 11
Kargil to Srinagar – Day 12
Srinagar to Jammu – Day 13
Jammu to Delhi – Day 14
Srinagar to Leh by road in October
If you wanted to start from Srinagar, the itinerary can be like the one mentioned below.
Delhi to Jammu – Day 1
Jammu to Srinagar – Day 2
Srinagar to Kargil – Day 3
Kargil to Leh – Day 4
Leh – Day 5
Leh to Diskit – Day 6
Diskit to Pangong – Day 7
Pangong to Hanle – Day 8
Hanle to Karzok – Day 9
Karzok to Pang via Tso Kar – Day 10
Pang to Jispa – Day 11
Jispa to Manali – Day 12 (Skip this day if you were short on time and go straight to Manali from Pang)
Manali to Delhi – Day 13
Other Tips
Mentioned below are some other tips that can be of help in visiting Leh Ladakh in October.
Plan your stay
Finding accommodation in Leh City will not really be a big challenge. However, it is better to inquire and plan your stay at other places like Nubra Valley, Pangong, and Tso Moriri. Most of the hotels and guest houses start to wind up for the year in October and you may have trouble finding a place to stay in remote areas of Ladakh; especially if within a budget. It wouldn't hurt to even book your accommodation in advance.
Keep your Itinerary Simple
While traveling in October, plan your itinerary in a way that you are only covering the major tourist attractions and avoid going to areas too remote. Reach Leh, cover Nubra, Pangong, and Moriri and return.
I would advise against planning for remote regions like the Chushul route, going towards Marismik La, Horla, and Charchagan La areas. Just keep these off your itinerary.
Due to the ending season, you may not even get permits for these places and even if you did, the chance of getting stranded due to weather or a break down will be greater in the offseason.
Prepare for cold
Oh yes, the winter has arrived and Ladakh is one of the coldest regions in India. The weather here is treacherous, unpredictable, and extreme. You must prepare yourself both physically and mentally for the cold days and nights you are about to experience.
Keep Buffer Days in Your Itinerary

This is very important. Do not bound yourself to strict timelines and keep at least 2 days as a buffer. It will definitely snow at the high altitude passes in Ladakh and you got several to cross. It is a possibility that you were visiting Nubra valley and cannot return from there as planned; because the road across Khardung La was blocked due to recent snowfall. Or maybe you were at Pangong while it snowed at Chang La.
You must keep a couple of days in hand for situations like this. If all went well and according to the plan, you can use these days in the hand to either rest in Leh, or explore some other areas. Or you can come back home and rest a while after you returned from the trip.
Avoid a bike trip
A bike trip to Ladakh in October isn't really the best idea. Low temperatures combined with cold winds is not the ideal climate to ride a bike through hills. Prefer to travel by car if at all possible.
Avoid starting early in the morning
The temperature at night in Ladakh drops below freezing point and as a result, it forms black ice on the roads which can be extremely dangerous. As a practice and precaution, do not start early in the morning. Wait for the sun to come up which will melt the black ice and then proceed as planned.
Advantages of visiting Ladakh in October
With the above being said, there are of course a few benefits of traveling to Ladakh in October. There aren't many really but I will list down a couple.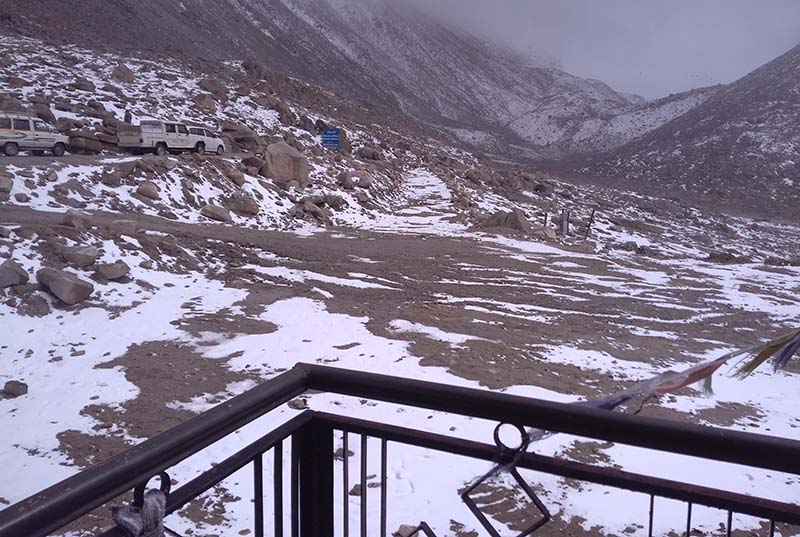 Lesser number of people
A lot of people travel to Ladakh looking to get away from the crowd; seeking solitude and tranquility. The fact cannot be denied that even Ladakh these days can get a bit crowded in peak tourist season. If you want to go to a place with fewer people around then Ladakh in October is the place to be.
Good Deals on Accommodation
This is not guaranteed but can be a great advantage if you are able to talk yourself into it. Most of the hotels at this time are winding up and there aren't many customers around so a bit of negotiation may get you accommodation cheaper than expected.
Better Treatment
With the number of tourists getting sparse and fewer customers, you will be treated well at any hotel or restaurant you visited.
Less number of water streams
This will apply if you were planning a road trip. Crossing water streams is one of the biggest challenges while traveling to Ladakh. During opening months or in monsoon, the water level in these rivulets rises and makes it even difficult to get across.
This will not be a problem in October though as the snow stops to melt like in summer; and thus reducing the water levels. Most of the small water streams just vanish by October.
Challenges of Traveling to Ladakh in October
After advantages, let me also list down a few disadvantages of traveling to Ladakh in October. These are actually directly related to the tips that I mentioned previously in the article.
Cannot cover Manali to Leh route
The road from Manali to Leh is one of the prime attractions of a road trip to Ladakh. If traveling in October, unless you were traveling in the first week of the month, chances are that you will have to completely exclude it from your itinerary and stick to the Srinagar route.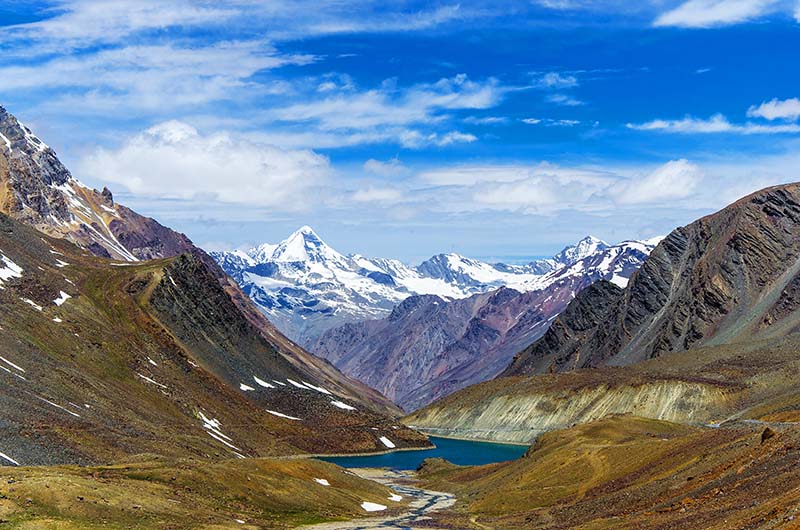 Greater chances of getting stranded or stuck
With the increased chances of snowfall, there will always be a risk of you getting stuck or stranded at any of the places in Ladakh. If there is a roadblock, you will have no other choice but to wait it out till the weather clears and BRO is able to free the road of snow.
Will be Cold
While we all want to visit Ladakh, not everyone is capable of handling cold weather well. Days in October here may be moderate but evenings, mornings, and nights will definitely be very cold.
Maybe a bit expensive
The cost of living goes up in Ladakh in winter and you may even end up paying more than the actual charge for basic facilities and sundries.
Black Ice
A great risk during a road trip. While no water in rivulets will be a great advantage, it will create an even bigger risk of black ice or a completely frozen water stream on the roads.
Leh Ladakh in October – Conclusion
I hope the information above on visiting Leh Ladah in October was of help. If you have any further questions, please feel free to ask in the comments section below or at our Community Forum and I will be glad to answer.