The month of September is about to end and along with it; the tourist season in Ladakh. One of the most frequent questions that I am getting asked these days is whether or not it is OK to plan a trip to Ladakh in October. Most of the people ponder upon this from the point of safety while others wonder if they will be able to cover all the places in their itineraries; considering that it starts to snow in Ladakh by sometime in September or early October. If you too did not get a chance in the year so far and thinking to now visit Ladakh in October, then mentioned below are some general tips that can be of help in order to plan your trip better.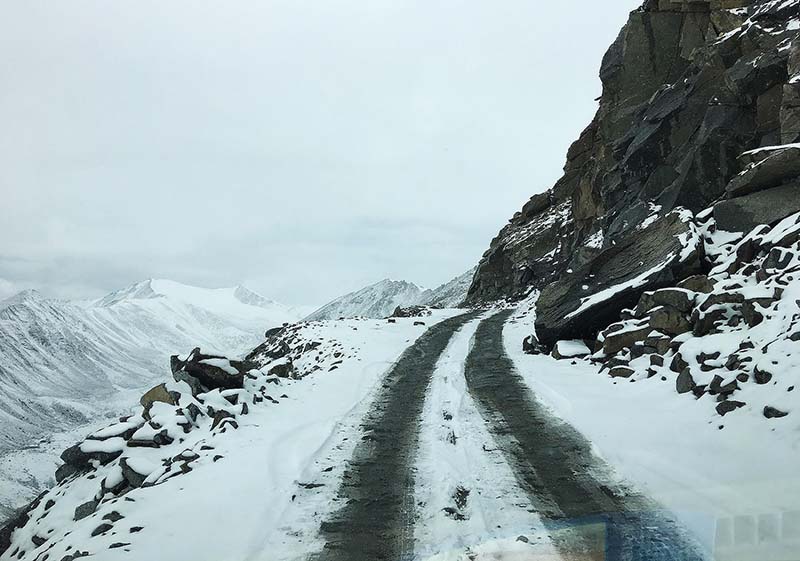 Beyond any doubt, October is off-season when it comes to tourism in Ladakh.Cold starts to settle in and chances are that Khardung and Chang La top have already experienced the first snowfall of the season. The picture above was taken in September 2nd week this year near Khardung La top.
By October, locals start to prepare for the harsh winter ahead; number of tourists in the region gets sparse by each passing day; and all business related to tourism start to wrap up. Of the two roads leading here, one gets declared closed for the year and Ladakh becomes accessible by road only via Srinagar.
This however does not imply that a trip to Ladakh in October cannot be planned. It can definitely be done but with a few precautions that I will recommend further in the article. The inner roads in Ladakh remain open throughout the year because Indian Army uses them for their movement in the area.  There could be a road closure post snowfall at any of the high altitude passes on the way but this is temporary; mostly lasting a day or two. As soon as BRO is able to clear the road; road gets opened again for vehicular movement. Even in the months of October and after; you can plan a visit towards places like Nubra Valley, Pangong Tso and Tso Moriri.
Please note that Inner line permit was reintroduced in Ladakh effective 2017. If you want to visit any further than the city of Leh; for example towards Nubra or Pangong; you will need to obtain an inner line permit from DM office Leh. Please take a look at the article below for instructions on how to get this permit.
Also read: How to Obtain Inner Line Permit for Ladakh
How to Plan a trip to Ladakh in October
I will break this article in three parts. First I will suggest a few important tips, then discuss some pros and cons of visiting Ladakh in October.
Try to plan your trip in early October
If possible at all, then you should plan your visit in first 10 days of October. This is beneficial in several ways but most important would be that in first few days, you can still consider to include Manali Leh highway in your itinerary which is not advisable at all if traveling after October 10th. You can take the Manali road to reach Ladakh and then return via Srinagar. Weather too, though cold, would not be extremely cold in early October.
Plan only via Srinagar
If however you could not plan your travel in early October, then it is of utmost importance that you reach Ladakh via Srinagar and return the same way. Baralacha La is usually the first high altitude pass to receive snow on Manali route and once October starts, it can get blocked / closed any time. After Baralacha, there are 3 more passes you will need to cross before you make it to Leh and if the road ahead closes, you will get stuck in between.
Plan your stay
Finding accommodation in Leh City will not really be a big challenge even in October; however it is better to inquire and plan your stay at other places like Nubra Valley, Pangong and Tso Moriri. Most of hotels and guest houses start to wind up for the year in October and you may have trouble finding a place to stay at remote areas of Ladakh; specially if within a budget. It wouldn't hurt to even book your accommodation in advance.
Also read:
Recommended Hotels and Guest Houses in Leh
Camp Sites and Guest Houses at Pangong Tso
Keep your Itinerary Simple
While traveling in October, plan your itinerary in a way that you are only covering the major tourist attractions and avoid going to areas too remote. Reach Leh, cover Nubra, Pangong and Moriri and return. I would advise against planning for remote regions like Chushul route, going towards Marismik La, Horla and Charchagan La areas. Just keep these off your itinerary. Due to the ending season, you may not even get permits for these places and even if you did, chance of getting stranded due to weather or a break down will be greater in off season.
Prepare for cold
Oh yes, the winter has arrived and Ladakh is one of the coldest regions in India. Weather here is treacherous, unpredictable and extreme. You must prepare yourself both physically and mentally for the cold days and nights you are about to experience.
Clothes to Wear in Leh Ladakh in October
Thermals and woolens at this time are must. Carry your clothes in way that you can wear then in layers. For example, wear Thermals and put on regular cottons above them. Then wear a woolen sweater followed by a thick windproof jacket on the top. This way, you can put on the clothes as you feel cold and remove in layers when you start to feel warm. Gloves, woolens socks, woolen cap that can cover both your head and ears are a must. Please take a look at the article below for more details on how to pack clothes for a trip to Ladakh.
Also read: Clothes for Ladakh Trip: What to Pack
Keep Buffer Days in Your Itinerary

This is very important. Do not bound yourself to strict timelines and keep at least 2 days as a buffer. It will definitely snow at the high altitude passes in Ladakh and you got several to cross. It is a possibility that you were visiting Nubra valley and cannot return from there as planned; because the road across Khardung La was blocked due to recent snowfall. Or maybe you were at Pangong while it snowed at Chang La. You must keep a couple of days in hand for situations like this. If all went well and according to the plan, you can use these days in the hand to either rest in Leh, or to explore some other areas; or maybe to rest at home for a while after you returned from the trip.
Avoid a bike trip
A bike trip to Ladakh in October isn't really the best idea. Low temperatures combined with cold winds is not the ideal climate to ride a bike through hills. Prefer to travel by a car if at all possible.
Avoid starting early in the morning
Temperature at night in Ladakh drops below freezing point and as a result, it forms black ice on the roads which can be extremely dangerous. As a practice and precaution; do not start early in the morning. Wait for the sun to come up which will melt the black ice and then proceed as planned.
Postpone for next year if planning by Public Transport
Like all other tourist related activities; availability of public transport too gets scarce in Ladakh in October. Either there will be no transport available at all or it may not be on schedule due to extreme weather or a possible roadblock. Chances of this happening are more towards mid to end of October. If you were planning to use public transport, it would be best to cancel the trip for now and plan it for next year.
Leh to Manali Bus in October
The Leh to Manali Bus operated by HPTDC gets withdrawn towards mid of September so that will definitely not be available in October. Your only choice would be the bus service provided by HRTC but that too is only available in early October. Just assume that after 15th October, there will be no bus available from Leh to Manali or vice versa.
Pros of traveling to Ladakh in October
With the above being said, there are of course a few benefits of travelling to Ladakh in October. There aren't many really but I will list down a couple.
Find plenty of snow
If the idea of a live snowfall is on your mind then chances are that you may catch one here in October. It starts to snow at the high altitude passes by mid September and you witness a light spell of snow while traveling to Ladakh in October. If not a live snowfall then you will at least get to see plenty of snow around.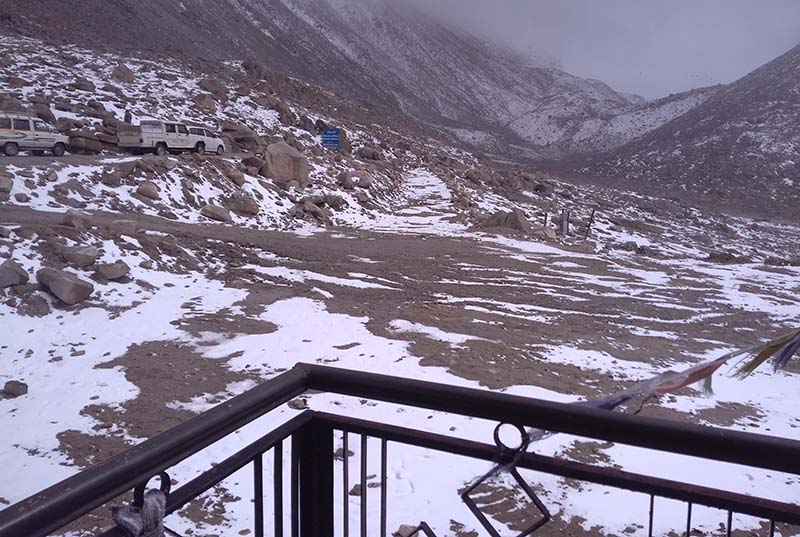 Less number of people
A lot of people travel to Ladakh looking to get away from the crowd; seeking solitude and tranquility. The fact cannot be denied that even Ladakh these days can get a bit crowded in peak tourist season. If you want to go to a place with fewer people around than Ladakh in October is the place to be.
Good Deals on Accommodation
This is not guaranteed but can be a great advantage if you are able to talk yourself in to it. Most of the hotels at this time are winding up and there aren't many customers around so a bit of negotiation may get you an accommodation cheaper than expected.
Better treatment
It was never the way before but off-late, a lot of people came back to me stating that the hotels in Ladakh favored foreign tourists more than Indians; that they were more interested in attending their calls. I have honestly never faced this myself but this will hardly happen in the month of October. With number of tourists getting sparse and less customers, you will be treated well at any hotel or restaurant you visited.
Less number of water streams
This will apply if you were planning a road trip. Crossing water streams is one of the biggest challenge while traveling to Ladakh. During opening months or in monsoon, the water level in these rivulets rises and make it even difficult to get across. This will not be a problem in October though as the snow stops to melt like in summer; and thus reducing the water levels. Most of the small water streams just vanish by October.
Cons of Traveling to Ladakh in October
After advantages, let me also list down a few disadvantages of traveling to Ladakh in October. These are actually directly related to the tips that I mentioned previously in the article.
Cannot cover Manali to Leh route
The road from Manali to Leh is one of the prime attractions of a road trip to Ladakh. If traveling in October, unless you were traveling in the first week of the month, chances are that you will have to completely exclude it from your itinerary and stick to the Srinagar route.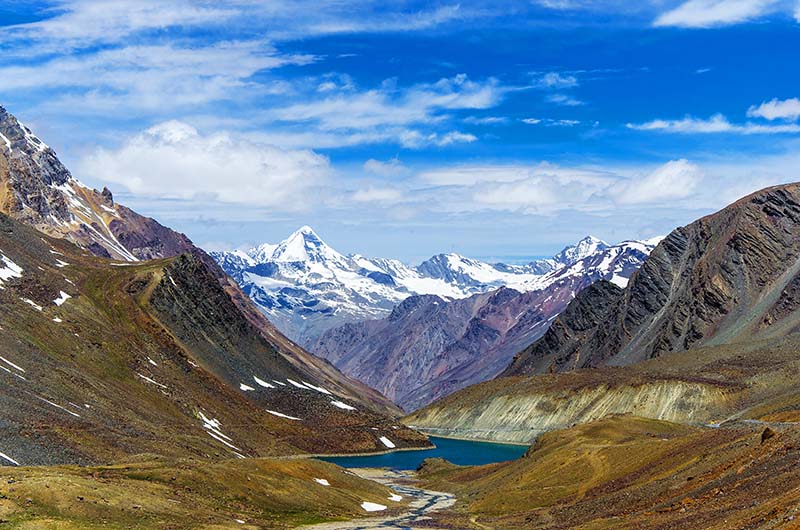 Greater chances of getting stranded or stuck
With the increased chances of snowfall, there will always be a risk of you getting stuck or stranded at any of the places in Ladakh. If there is a road block, you will have no other choice but to wait it out till the weather clears and BRO is able to free the road of snow.
Will be Cold
While we all want to visit Ladakh, not everyone is capable of handling cold weather well. Days in October here may be moderate but evenings, mornings and nights will definitely be very cold.
May be a bit expensive
Cost of living goes up in Ladakh in winter and you may even end up paying more than the actual charge for basic facilites and sundries.
Black Ice
A great risk during road trip. While no water in rivulets will be a great advantage, it will create even a bigger risk of black ice or completely frozen water stream or black ice on the roads.
Other Reads:
Below are links to a few other articles that I believe can be of help while planning a trip to Ladakh in October.
How to Deal with Acute Mountain Sickness in Ladakh
How to Plan a Trip to Ladakh with Infants or Children
Mobile Phone Services in Ladakh
Conclusion
In the end, I will say that October is not really a great time to be visiting Ladakh. It is better to plan in other months but if you must and can visit Ladakh in October only, then you can definitely do so keeping the things I mentioned above in mind. I hope this information was helpful. If you have any further questions, please feel free to ask in the comments section below or at our Community Forum and I will be glad to answer.