If you had even suggested anyone of a Ladakh family trip about a decade ago, they would have just laughed in your face and called you crazy. Why? Because Ladakh back then was not considered to be a family place. It was nicknamed a biker's paradise and a heaven for adventure junkies. The harsh weather, challenging terrain, and difficulty to reach kept it out of the list of tourist destinations in India for a long time. Fortunately, that is no longer the case.
Ladakh in the last few years has become the very face of tourism in India. Everyone wants to go to Ladakh these days; either on their own, with their friends or families. It is no longer a place that is best enjoyed from the seat of a motorcycle. You can get here either by your own vehicle, bus, or flight; depending on your own convenience. What is more? People have even started to plan their honeymoon in Ladakh.
Also Read: How to Plan a Trip to Leh Ladakh – A Complete Travel Guide
But the question then is that whether is it safe to plan a family trip to Leh Ladakh? Can you bring your kids or your elders here without posing any kind of risk to their well-being? And if yes, then what is the best way to plan a Leh Ladakh trip with Family? What is it that you must take care of in order to ensure that your trip remains safe and hassle-free?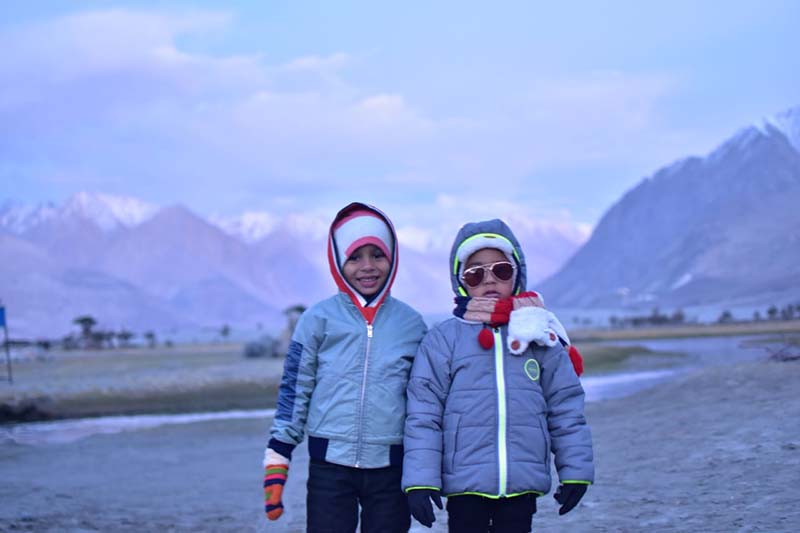 Is Leh Ladakh Dangerous?
First things first. Is Leh Ladakh a safe place to visit with your family or is it dangerous? I wouldn't really go to the extent of calling it a dangerous place as such but the fact cannot be denied that tourists have indeed died in Ladakh. A friend of mine died there in September 2019 and it was his 10th trip to Ladakh. So yes, the safety issues in Ladakh are very real but only if you were not prepared or acted irresponsibly.
Also Read: Taxi Rates in Leh Ladakh
How to Visit Ladakh with Family
So how do you prepare yourself for a Ladakh trip? The rules are very basic and simple actually that I will run down in the article below. Take care of these are you are OK to go. Ignore these and you may run into trouble. The biggest driving factor behind all this talk is that Ladakh is a high-altitude cold desert that requires some getting used to and puts certain stress that your body must be capable of handling.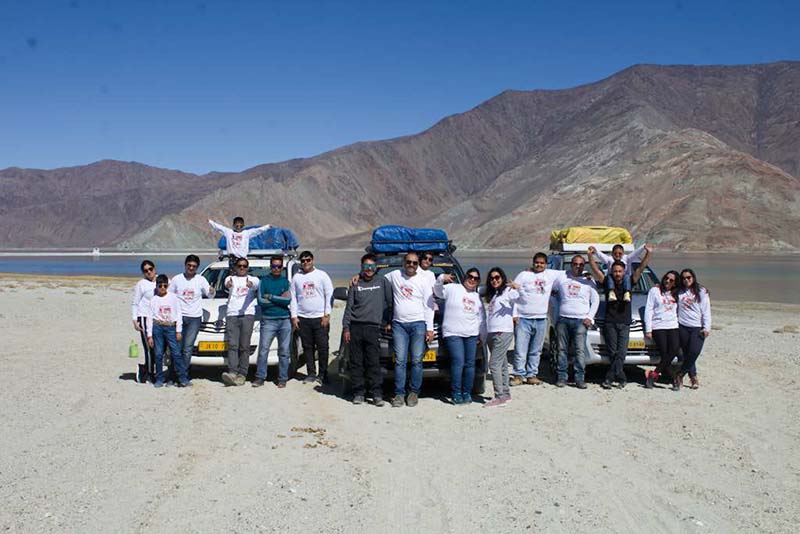 Plan your Ladakh Family Trip between May and September
You must plan your trip from May to September. Why? Because this is when the weather of Ladakh remains to be really enjoyable. The roads will be all open and you won't risk getting stuck anywhere.
Of these, the months of May, June, and September will be the best because then you are eliminating the risk of the monsoon season as well. The only catch is that while traveling in May, you may have to keep the Manali Leh route out of your plans.
All tourist activities also are operational in these months so your family will be able to enjoy to the fullest. Any before than May or after September will mean that you are bringing your folks to extremely cold weather, a deserted town, and will run a risk of getting stuck somewhere due to snowfall.
Acute Mountain Sickness
Acute Mountain sickness, or simply known as altitude sickness, is very real and you cannot make the mistake of not paying attention to it. It can get very serious and can even take life. The friend I was talking about above in the article died because of AMS.
While traveling with your family, you must take the journey slow and allow everyone in the group enough time to adjust to the high altitude. To know more about what AMS is and what its symptoms are, please read How to Handle Acute Mountain Sickness in Ladakh.
No Babies
Medically speaking, the lungs of a baby of less than 1 year of age are not grown or mature enough to handle altitude sickness. So planning a trip to Ladakh with an infant or a toddler is a complete no.
My strong recommendation is that you do not bring a child less than 3-4 years of age though. The logic is quite a simple one. Your kid should be grown enough to tell you if there was something wrong and if they weren't feeling well.
Secondly, a child younger than that on a trip to a place like Ladakh will only be an unnecessary risk and a liability. Your entire time will be spent attending the kid and you won't enjoy your vacation. Ladakh isn't going anywhere, it will be there next year as well but it definitely isn't worth risking your child over.
If your baby was born premature or has a heart or lung condition, it is highly advised that you do not bring them along on the journey or at least consult a doctor before you do so.
To get more information on this aspect, please read How to Plan a Trip to Ladakh with Kids.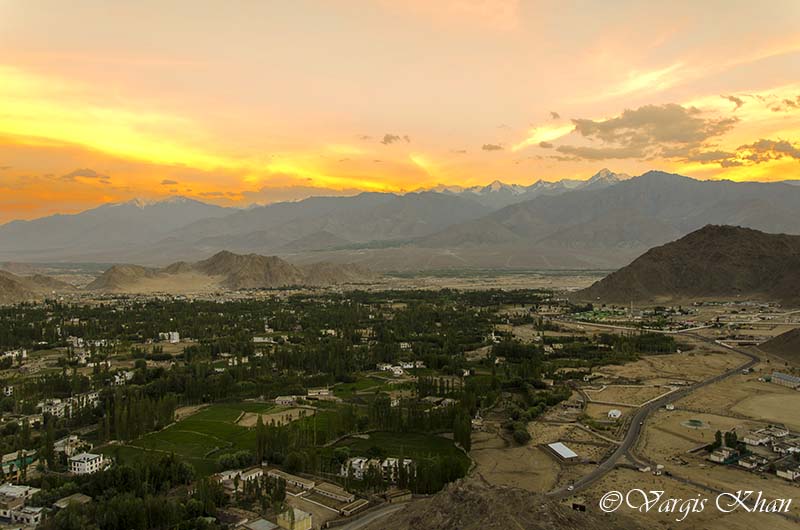 Consult a Doctor before a Ladakh Family Trip
If you were traveling with elders in your group, it is of utmost importance that you look into the medical history (if one) and consult a doctor before you decide to take the trip. Do not ask anyone or look over the web for an answer.
Once you have consulted your doctor and have their OK to travel to Ladakh, please ensure that you are carrying all of your prescribed medicines on your Ladakh Family Trip. Some other basic medicines for headache, vomiting, upset stomach, etc will be of huge help while staying at places like Pangong.
Also Read: Precautions to take while visiting Ladakh with Elders
Medical History
Can a person with a medical history visit Ladakh? There is really no straight answer to this question and only a doctor will be able to answer it after a thorough checkup. But if you are suffering from chronic heart disease or respiratory ailment like Asthma, then I will not recommend going to Ladakh at all. There are numerous other places in India that are actually more beautiful than Ladakh.
Do not take the risk. If something went wrong, there will be no medical help for miles around and you may end up losing your life. This is what happened to my friend. He was an asthmatic and collapsed near Pangong Lake. There was no medical help around and he was long gone before they could bring him back to the hospital in Leh.
Also Read: What to see in Leh Ladakh
Carry some Basic Medicines Along
You should bring some basic medicines along like for headache, upset stomach, body ache, fever, flu, common cold, etc. A few band-aids, anti-septic lotions, nasal drops, and pain relief sprays can be of huge help. Lip Balm, cold cream, and moisturizer will be required as well.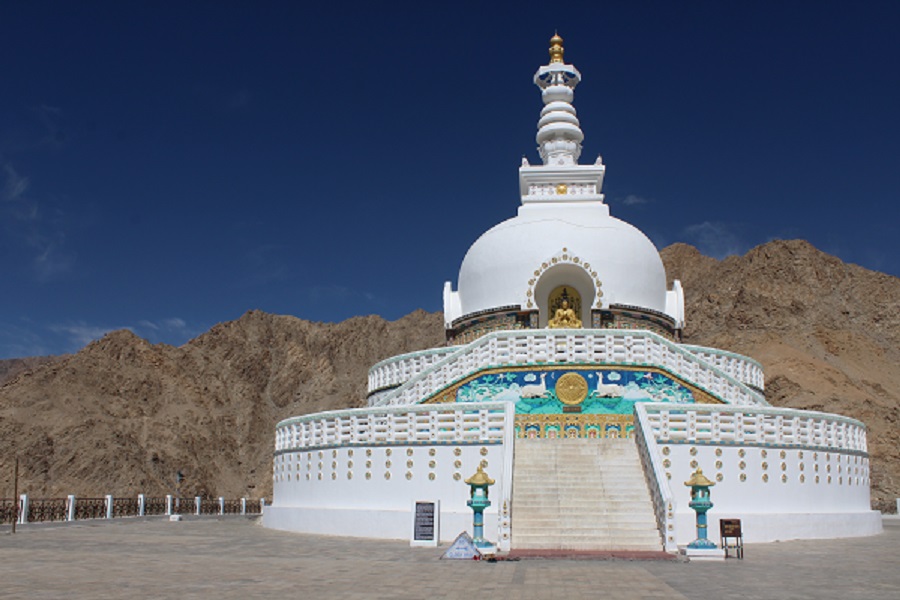 Prepare for the Cold
No matter what time of the year you are planning your trip in, you must prepare for cold weather during your trip. The weather of Ladakh is very unpredictable and the temperature can drop significantly without warning. I have seen snowfall in Ladakh even in the months of July and August at high altitude passes.
During summer, days will be very warm and nights very cold and your packing should be sufficient to handle both kinds of weather. If traveling early or late in the season, you should prepare yourself to handle temperatures close to 0. For more details, please read What kind of Clothes to Pack for Ladakh Trip.
Prepare for the Sun
The sun in Ladakh is very harsh and can give some very serious sunburns. Find a sunblock lotion of the highest SPF and apply it regularly. Keep yourself covered and protect against the sun. This will apply both in the winter and summer seasons. Do not also forget to pack a good and light pair of sunglasses (especially in the winter season).
Take the Journey Slow
By this, I mean allowing your body time to acclimatize and not rushing anywhere in the journey. There are some very simple rules around this.
If planning to reach by road, give at least 4 days for the journey.
If planning to reach by air, take complete rest at the hotel for the first 2 days.
Start your sightseeing by first visiting the places around Leh and then Nubra Valley.
Keep Pangong and Tso Moriri towards the itinerary. Do not go there first.
Do not go by the distance in Ladakh. The mountain roads take double the time to cover a distance than the plains. Keep your average distance between 150-200 kilometers per day; no more than that.
Also Read: Foods to try in Leh Ladakh
Bookings
I am not really an advocate for booking hotels in advance. I would rather like to reach the destination, find a hotel per my liking, negotiate an on-the-spot deal, and check in. This, however, is better suited for a solo trip or with friends. When traveling with family, the last thing you want is to hop from one hotel to another after traveling the entire day. Do some research, read some reviews, and see if you can book your hotel in advance.
Seek a Travel Agent
This is another thing that I usually do not recommend. In my opinion, It is always better to manage your trip on your own but it doesn't apply to everyone every time.
If you aren't too sure of the region, don't have time to do research, or feel that you may miss out on a few things if you went on your own, then it wouldn't hurt to contact a local travel agent and book him for your Ladakh Family Trip. But yes, do a thorough search and book a reliable agent. You do not want to book just any random guy and have him ruin your trip.
Also Read: Shopping in Leh Ladakh
Eating Habits while visiting Ladakh with Family
Drink lots of water and keep sweet biscuits or chocolates to munch on while traveling. Avoid salties like chips as they tend to dehydrate your body. Eat a lot of fresh fruits and light food. Don't overeat, especially before long drives.
Keep your child in check
Exhaustion is one of the primary triggers of acute mountain sickness. If your kid was running and jumping around all the time, they will tire themselves, will run short of breath, and may suffer from altitude sickness. Keep them under check and do not allow running around all the time.
Also, keep an eye on any symptoms of AMS in your kid. If your child suddenly starts acting up, complains of body pain, headache, throws up, refuses to eat or drink, you know they are suffering from altitude sickness.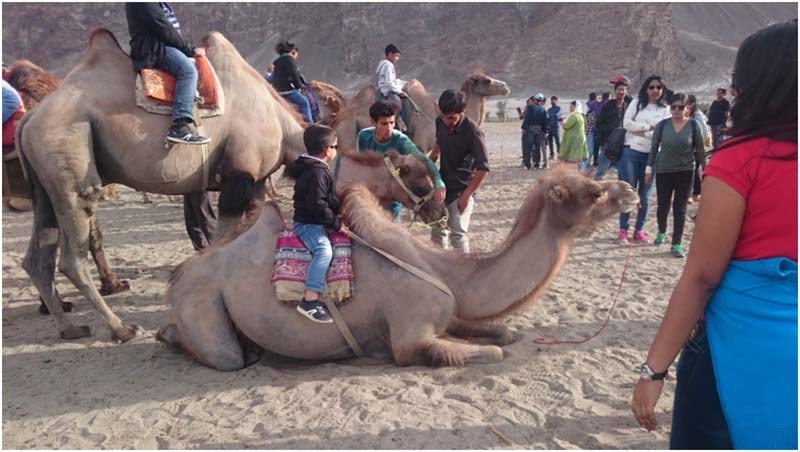 Ready to Cook food Items
For your Ladakh trip with the family, do carry dry snacks, a hot water thermos, ready to eat Poha and Upma. You can make it in the car also. Packets of ready-to-cook soup will come in real handy and will be a relief in cold weather. If you were planning to stay at a homestay, you can give them the ready packets to cook for you. If you are a pure vegetarian, this will be a lifesaver.
Washrooms
Do carry toilet rolls and Pee Safe (for ladies) as it is not easy to get clean toilets always.
Also Read: Family Trip to Ladakh – Fun, Adventure and Much More
Medical Emergency
In case of any medical emergency, please reach the Leh Memorial hospital; also known as Sonam Norbu Memorial Hospital. They are a good hospital and well equipped as well. If however, you needed medical aid while traveling or anywhere else than Leh, then please head towards the nearest Army Medical Camp or a post that you could find.
Stay on the Main Tourist Routes
Do not be too adventurous and venture on routes that not many people travel on; like Wari La, Marsimik La, towards Photi La, Kakasang La, etc. Keep your itinerary limited to places like Nubra Valley, Pangong Tso, and Tso Moriri and travel on the main roads only.
A lot of people move on these roads in the tourist season so in case you needed help, it won't be too hard to find. On the other hand, if you went too remote (or took a shortcut somewhere) and something went wrong, you will be stuck for good and that too with your family.
Ladakh Family Trip – Conclusion
I hope the information and safety tips I shared above about a Ladakh family trip were of help. If you have any questions; or need any other details; please feel free to ask in the comments section below, or at our Community Forum, and I will be glad to answer.