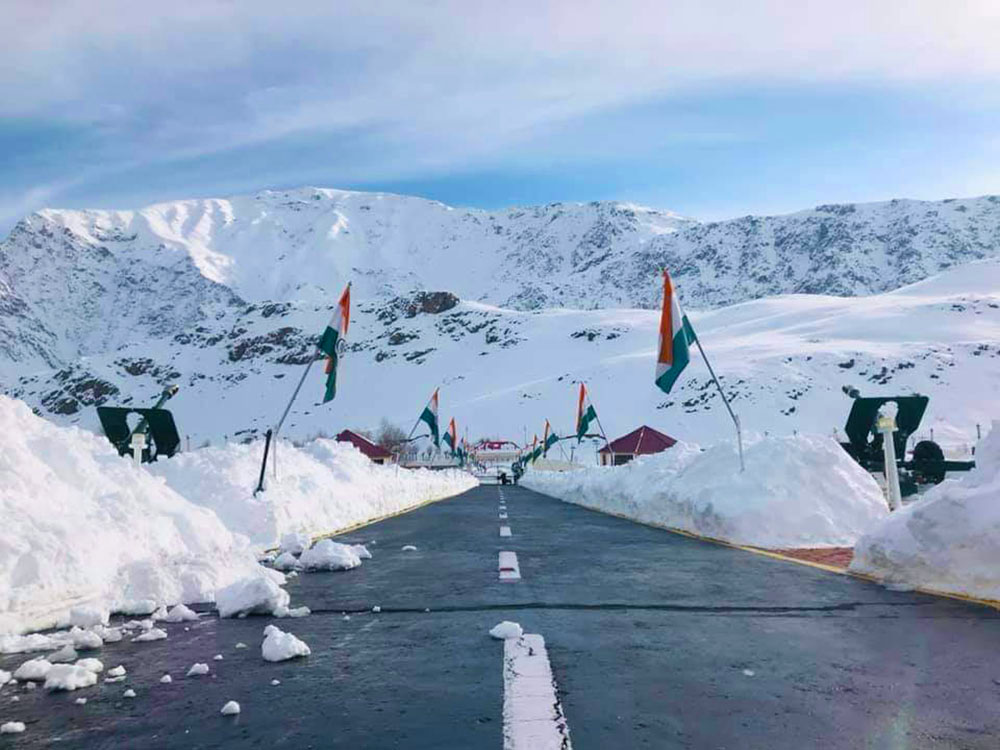 The idea of a winter trip to Ladakh may have seemed difficult a few years ago but not anymore. It now remains open for tourism for all 12 months. You will be able to easily find accommodation, hire a taxi and may even rent a bike for local sightseeing. Your Ladakh winter trip itinerary can include all that is to see in Ladakh with the exception of a few places that we will discuss in this article.
A common myth is that Ladakh gets completely shut down during the winter season and it is just snow and snow all around.  The fact however is that almost all the internal roads in Ladakh remain open even during peak winter.
Also Read: How to Plan a Trip to Leh Ladakh – A Complete Travel Guide
Sometimes a heavy snowfall may block the high-altitude passes but then BRO clears the road as soon as they can. As a matter of fact, parts of even the two highways leading to Ladakh still remain open for Army vehicles. It is just the civilian traffic that comes to halt completely due to safety reasons.
Leh Ladakh in Winter
A road trip to Ladakh is definitely not an option in the winter season. Your only way in and out is by flight. The earliest you can make a road trip is towards late April and the latest by late October. From November to Mid-April, catching a flight to Leh city is the only option open.
Once you arrive in Leh, you can hire a cab to show you around. The weather will of course be freezing with the temperatures dropping as far down as -25 degrees celsius at night. So you need to make sure that you are well prepared to handle such extreme cold.
Some people also look to rent a local bike for sightseeing. This is only a good idea when you have sufficient biking experience and you know how to handle a bike on snow and slippery roads. If not, then hiring a local cab is what you should do.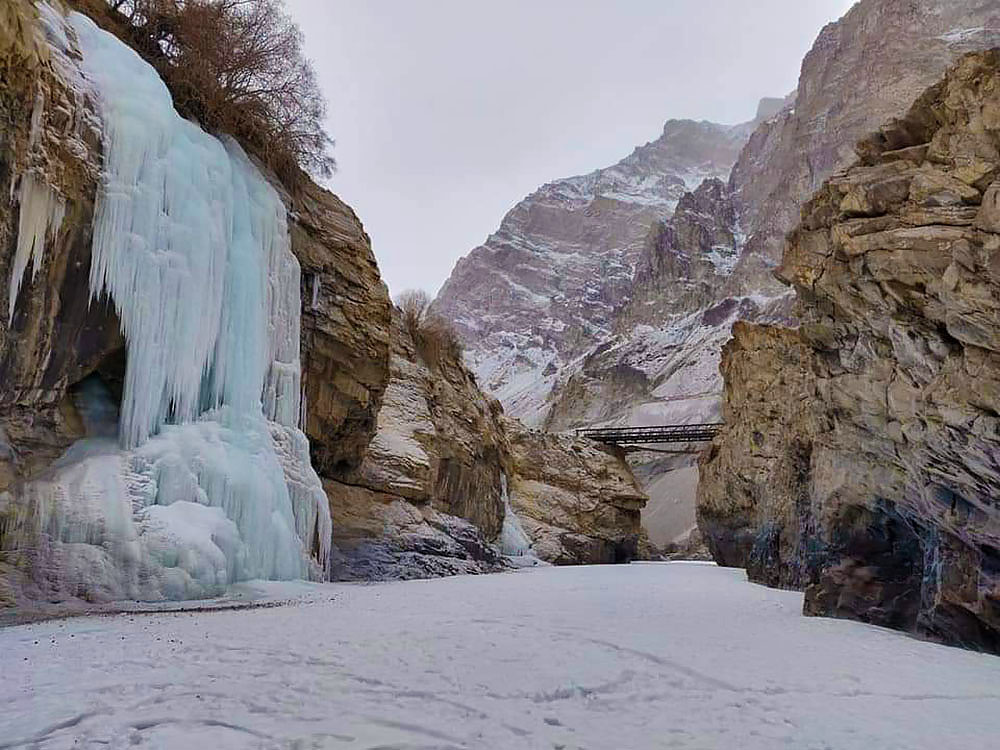 Can You Visit Pangong Tso in Winter?
The answer is that yes, you can. The road from Leh to Pangong Tso remains open in winter as well. Chang La Pass may sometimes get closed due to snowfall. But even if that happens, the road will open again as soon as BRO is able to clear the way.
During the months of January and February, Pangong Lake is completely frozen, enough to hold the weight of an SUV (trust me this is true). This will probably be the most rewarding view of your trip.
You can either start early from Leh, visit Pangong and come back by nightfall or make it an overnight trip. There will however be no camping site at the banks of Pangong. You will have to find accommodation at Tangste, Spangmik, Man or Merak.
Food and facilities at this time will be very basic but the locals will provide you with hot water and a gas heater for the room.
Also Read: How to Plan a Trip to Pangong Lake from Leh
Can you visit Nubra Valley in Winter?
Nubra Valley as well remains open in the winter season. The only exception would be if Khardung La is temporarily closed due to heavy snowfall. If that happens, you will have to wait for BRO to clear the way, and then you can make your trip to Nubra valley.
You can either cover Nubra valley and return to Leh the same day or stay for a day or two in the valley. Accommodation here as well will be limited during the winter season as most of the hotels and guesthouses close doors at this time.
You should plan to stay at either Diskit or Hunder. These places are your best option of finding a place to stay as compared to the rest of the valley.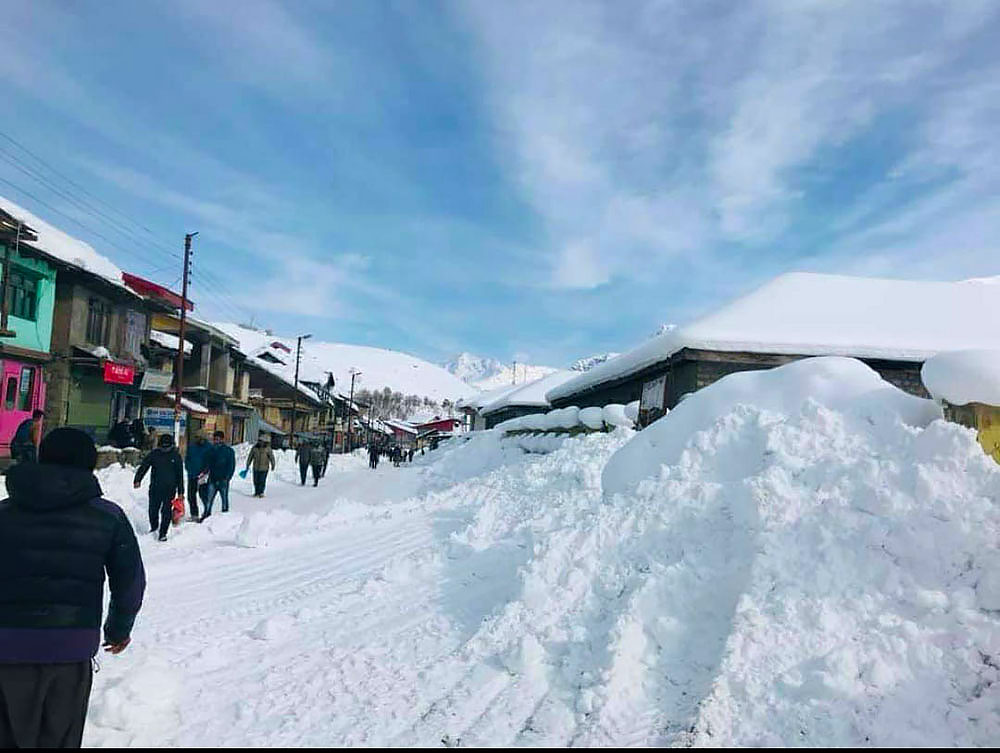 Can you Visit Tso Moriri in Winter?
The answer yet again is yes. You can visit Tso Moriri in winter from either of the two routes, Leh to Tso Moriri or Pangong Tso to Tso Moriri.
Like Pangong Tso, Moriri too is completely frozen in winter and presents a magnificent sight. Unlike Pangong Tso which is a saltwater lake, Moriri is a sweet water lake and you will find a lot of vegetation and may find even wildlife around it. It is a sanctuary of migratory birds and a wetland reserve as well so well worth spending some time.
It is best recommended to make it a day trip. Start early so you can comfortably make it back to Leh by evening. If you are able to find accommodation at Karzok, you may choose to stay.
There is a hotel by the name of Hot Spring Resort in Chumathang which is pretty much the only option to stay in this area in winter. If you are not able to find a hotel in Karzok, this hotel is where you should be headed to. It is located right next to a hot water spring so definitely worth a stay.
Also Read: How to Plan a Visit to Tso Moriri from Leh
Can you visit Hanle in Winter?
This is the second route to Tso Moriri that I referenced above. You can choose to go to Moriri directly from Pangong Tso via Chushul as well.  You can continue from Pangong to Hanle via Man, Merak, Chushul, and Loma.
Break the journey in for the night and continue to Tso Moriri the next day via Loma, Nyoma, Mahe, and Sumdo. There are two guest houses in Hanle. One is the observatory guest house which is not actually open for civilians. The other one is Sonam Guesthouse where you can stay.
It is a decent enough place operational in the winter season as well. In Hanle, you must pay a visit to the highest altitude observatory in India.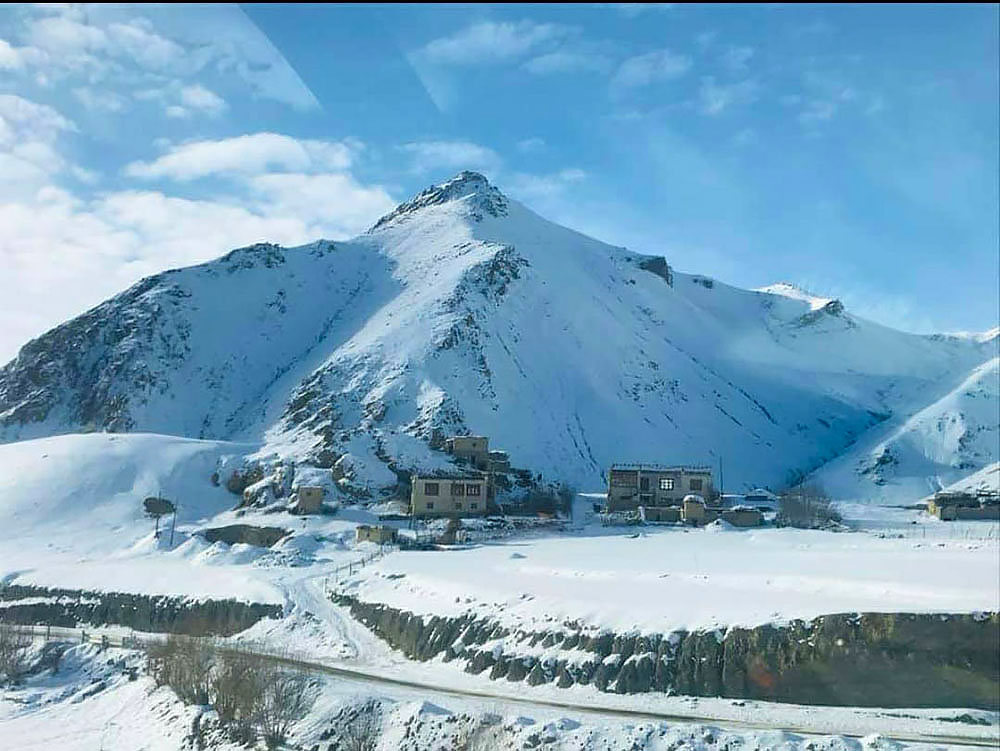 Other Places to visit in Ladakh in Winter
Apart from the ones I mentioned above, there are several other places that you can include in your visit. A drive on the Srinagar Leh highway is highly recommended. You can either make it a day trip, drive as far as you can, and return to Leh by evening.
If you have the time, you can make it a 2 days trip as well, with an overnight stop at Kargil. The road between Leh and Kargil remains open in peak winter. So reaching Kargil should not be a problem at all.
Some other places that you can visit on the Srinagar Leh highway are Magnetic Hill, Gurudwara Patthar Sahib, and Indus and Zanskar confluence. While in Leh, you can visit Leh palace, Shey Palace, and Shanti Stupa. There are several monasteries both in Leh and on the Srinagar Leh highway that you also visit.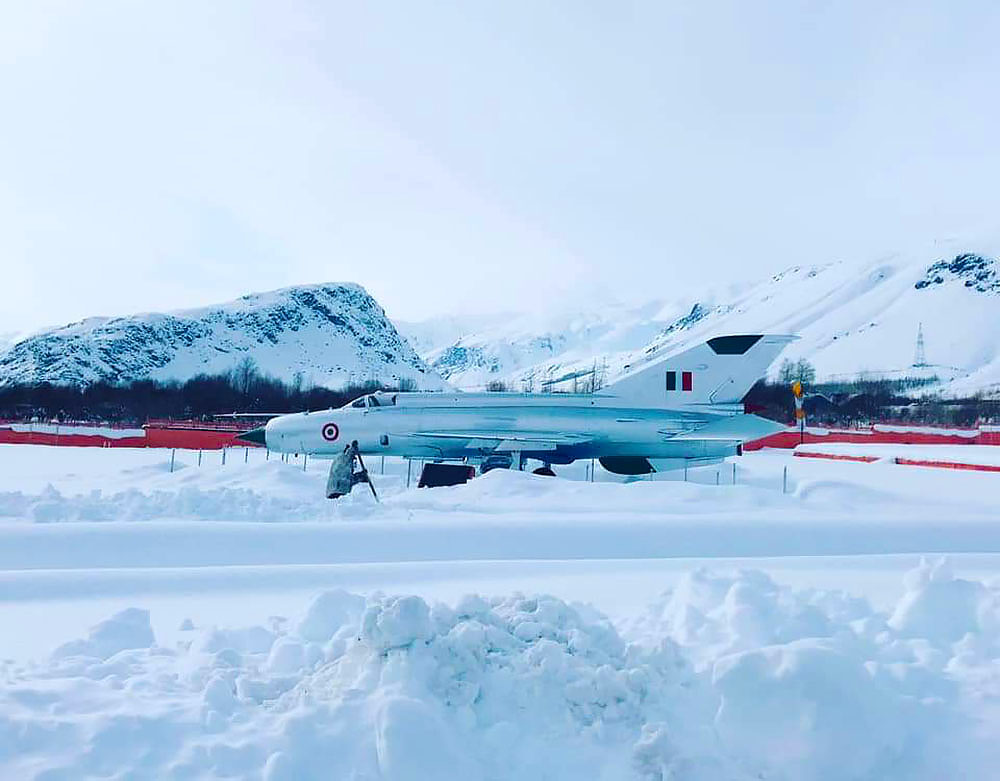 Ladakh Winter Trip Itinerary
Having said that, the big question again is what would be an ideal itinerary. Well, it depends on how many days you have in hand but I will provide a basic Ladakh winter trip itinerary that you can follow. You can make adjustments to it as per your requirements, i.e., days available and places of choice.
Day 1: Arrive in Leh
All the flights to Leh land there early in the morning so you will have an entire day that you can spend in the city. This will allow you to adjust to the high altitude and the cold weather.
Spend this day at the hotel itself and arrange your inner line permits. If by evening you are feeling all right, you can visit Leh Palace and Shanti Stupa.
Day 2: Leh
I will recommend that you spend the second day as well in Leh. But if you are short on time, you may remove it and move on to day 3. You can use this day to obtain permits if you did not get them on Day 1. You can walk around in the city, visit the local market and get used to the high altitude and cold weather.
Day 3: Leh – Sham Valley – Kargil
Take a drive on the Srinagar Leh highway. Visit Magnetic Hill, Indus, and Zanskar confluence at Nimmu, Gurudwara Patthar Sahib, the monasteries of Alchi & Likir, and Basgo Palace. Stay for the night at Kargil.
Day 4: Kargil – Leh
I am keeping this itinerary as broad as possible so added a day here for Kargil. If you do not wish to visit Kargil, remove this day and you would have returned to Leh on Day 3 itself. If you stayed in Kargil for the night, you can also continue to Dras to visit the Kargil War Memorial before returning to Leh.
Day 4: Leh – Khardung La – Diskit / Hunder
Visit Nubra Valley and stay overnight at either Diskit or Hunder. See sand dunes and Bactrian camel in Hunder and the monastery in Diskit.
Day 5: Diskit / Hunder – Panamik – Khardung La – Leh
On this day, you can return to Leh after paying a visit to Panamik. The hot water springs in Panamik are definitely worth a visit. If the Shyok route was open, you can continue straight to Pangong Lake from Nubra Valley without going back to Leh.
Day 6: Leh – Pangong Tso
If you had to come back to Leh from Nubra Valley on Day 5, then you can drive to Pangong via Chang La Pass this day. Stay overnight at Tangste or Spangmik.
Day 7: Pangong Tso – Leh
 You will return to Leh taking the same route via Chang La Pass. If the road ahead to Hanle was open, then you can keep going straight instead and stay for the night in Hanle.
Day 8: Leh – Tso Moriri
If you stayed in Hanle on Day 7, then you will take the Loma, Nyoma, Mahe, and Sumdo to reach Tso Moriri from Pangong Lake. If you however came back to Leh, then you can travel to Tso Moriri today via the Chumathang route.
Day 9 – Tso Moriri – Leh
You will return to Leh on Day 9. Ask around in Karzok and if Tanglang La Pass was open, you can also cover Tso Kar and More plains on your way back.
Day 10 – Fly Back Home
You will catch an early morning flight and return home, marking an end to your trip.
This is 10 days itinerary that covers all tourist places in Ladakh that you can visit. If you were short on time, you can remove a few days from in between. You can skip the rest day in Leh, do not make the Kargil trip for 2 days, and travel directly between Nubra Valley, Pangong Lake, and Tso Moriri.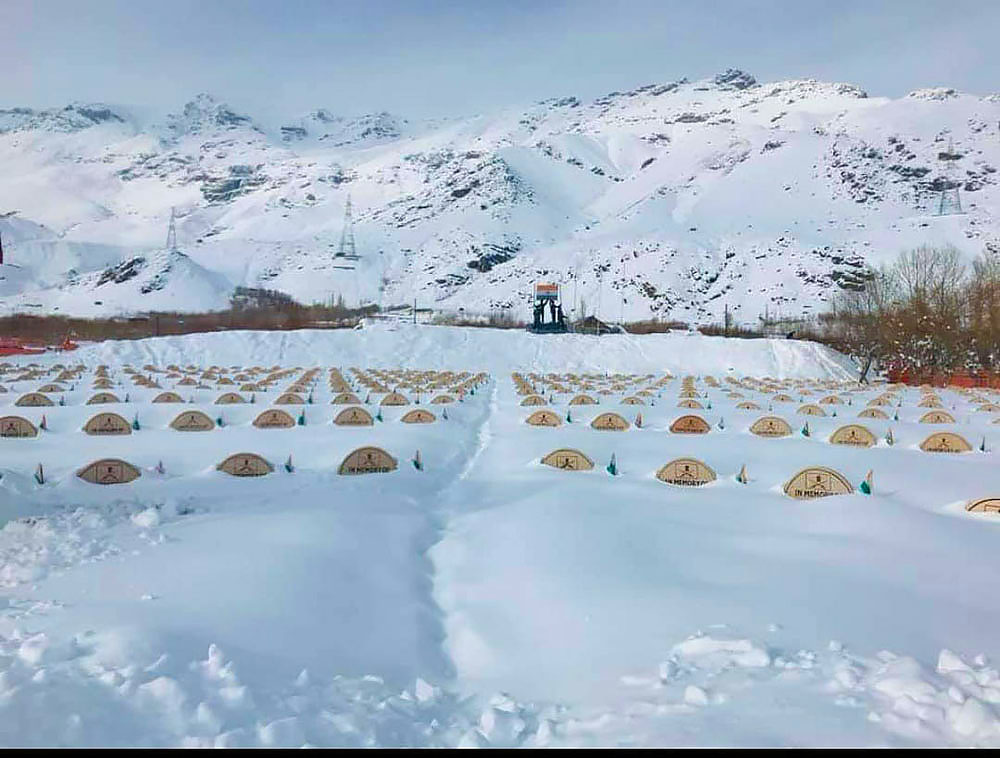 Ladakh Winter Trip Itinerary – Conclusion
My advice would be that you keep a couple of days as a buffer and book your return tickets accordingly. There is a high chance that you may get stuck at either of these places due to snowfall. If that happened, your entire plan will change and you may miss your return flight.
I hope this information on Ladakh Winter Trip Itinerary was of help. If you have any questions, please feel free to ask in the comments section below or at our Community Forum, and I will be happy to answer.