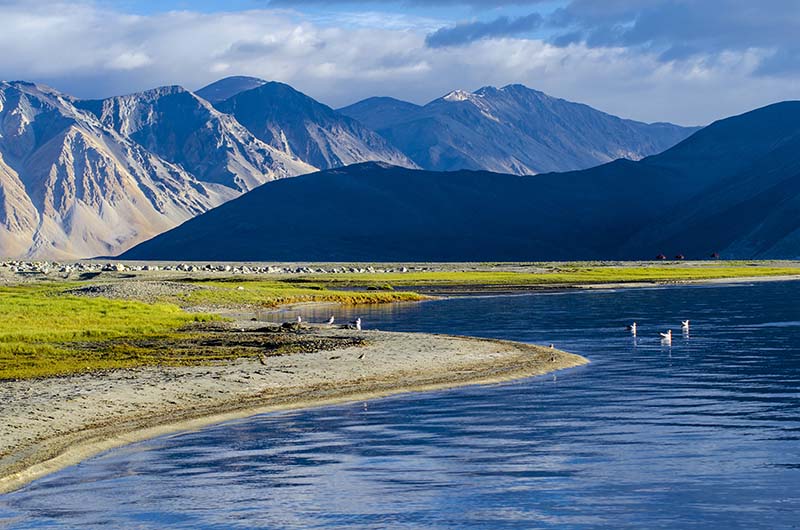 What is there to see in Leh Ladakh is always the first question that comes to mind for anyone planning a visit to this little piece of heaven. There are two reasons why this can be a little confusing to a lot of people. The first reason is the lack of information. One Google search can indeed give you a long list of articles telling you what to see in Leh Ladakh but for someone visiting here the first time, half of these lists will not make any sense.
Why? Because in order to visit all these places, you should know how to incorporate them into your travel plans. Otherwise, what you have in hand is a long list of ingredients with no recipe, which brings us to our second reason.
Also Read: How to Plan a Trip to Leh Ladakh – A Complete Travel Guide
In case you didn't already know, Ladakh is the second largest district in India in terms of area, after Bhuj in Gujarat. What this means is that the list of places to visit in Ladakh is going to be quite a lengthy one and you will definitely need some time to visit them all. But not all of us have the liberty to spend weeks away from work and our regular lives.
In this case, apart from knowing what to visit in Ladakh, it is also important to know how to plan them in an itinerary so that you are able to cover most of the places and make the most out of your time. How you can do so is what I will be discussing in this article.
What to see in Leh Ladakh
Itinerary for Ladakh
For the sake of an easier understanding, the way I am going to explain it is in the form of an itinerary. I will first lay down a travel plan that you can follow and then I will run down the list of places to visit in Ladakh trip day by day. For the sake of the itinerary, I will assume Delhi as the starting point but even if you were coming from a different city, only the journey on the first and last day will be different. The rest of the details will still apply.
Delhi to Jammu – Day 1
Jammu to Srinagar – Day 2
Sightseeing in Srinagar – Day 3
Sightseeing in Srinagar – Day 4
Srinagar to Kargil – Day 5
Kargil to Padum – Day 6
Padum – Day 7
Sightseeing in Padum and nearby areas – Day 8
Padum to Kargil – Day 9
Kargil to Leh – Day 10
Leh – Day 11
Sightseeing in Leh – Day 12
Leh to Diskit (Nubra Valley) – Day 13
Diskit to Turtuk – Day 14
Turtuk to Panamik – Day 15
Panamik to Pangong (via Shyok) – Day 16
Pangong to Hanle – Day 17
Hanle to Karzok (Tso Moriri) – Day 18
Karzok to Leh (via Chumathang) – Day 19
Leh to Sarchu – Day 20
Sarchu to Manali – Day 21
Manali to Delhi – Day 22
Itinerary Variations
Now I know what you are thinking, "Dude, are you crazy? I don't have 22 days for this". And I agree. Even I have never been to Ladakh straight for 22 days. But it is just an itinerary for the sake of listing down all the tourist places in Ladakh; more like a comprehensive list actually. Depending on how many days you can afford, you can remove days and places from it.
Like, for example, I have kept 2 days of stay in Srinagar but that is just for someone who is planning to cover a bit of Kashmir as well in their trip. If you have no intention of doing so, you can take these two days out. Similarly, I have included 6 days from visiting Zanskar Valley from Kargil but if you do not want to, you can cut those days short or skip it altogether.
The above itinerary will have you stay in Le for 2 days after reaching there but you can reduce it to just 1 day. Just feel free to take days out at your convenience and you will have your final itinerary and list of tourist attractions in the Ladakh desert. For people flying directly to Leh, you can follow the itinerary from Day 11 to 19.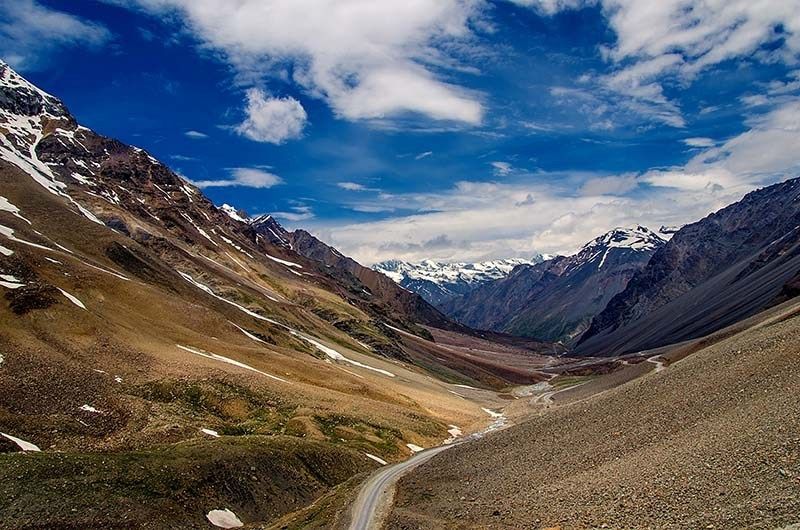 Sightseeing in Leh Ladakh
Now let us take a detailed day by day look at our itinerary while discussing what to see in Leh Ladakh as you travel. The reason why I am starting the journey from Srinagar and ending at Manali is that it is better for high altitude acclimatization and it saves you the hassle of worrying about Rohtang Permit. A third reason could be that it keeps the excitement level and enthusiasm for the trip alive until the very end.
But if you want to start from Manali then you can follow the same itinerary the other way around. You will read Day 22, 21, and 20 as your day 1, 2, and 3. Then Day 11 of the itinerary will become your Day 4 and Day 19 will be Day 12. And then you will complete the circuit taking the Srinagar route to return home.
If you need my help in drafting your final travel plan to Ladakh, feel free to ask in the comments section below.
Day 1 – Delhi to Jammu
Total of 590 kilometers of journey. Travel time of 12-13 hours
An early start from Delhi is highly recommended.
Take the route via Karnal, Ludhiana, Jalandhar, and Pathankot to reach Jammu
There will not be any sightseeing involved on this day. It will just be a long and monotonous drive to Jammu.
Day 2 – Jammu to Srinagar
Jammu to Srinagar is a total of 270 kilometers and the journey can easily take you 9 to 10 hours to complete.
Natural beauty is what you will be enjoying this day as you cross the scenic towns of Udhampur, Patnitop, and Anantnag on the way.
The only place noteworthy on this day is the Jawahar Tunnel located about 20 KM from Banihal and 104 KM. from Patnitop. It is 2.5 kilometers long and serves as the entrance to Kashmir Valley by road.
Arrive in Srinagar by evening and stay for the night.
Day 2 – Jammu to Srinagar via Mughal Road
An alternate way to do this journey is to travel via Mughal road. The route than would be Jammu, Rajouri, and Bafliaz, Peer ki Gali Pass, Shopian, and Srinagar.
This is approximately 340 kilometers and will take you about 10-11 hours to complete.
It is the more scenic of the two routes to Srinagar from Jammu. You will be traveling via the historic Mughal Road and crossing the pass of Peer ki Gali on the way. This entire route is actually a tourist attraction in itself. Traffic too on this route is very less. The Pass of Peer ki Gali is absolutely stunning.
To know more, please read How to Plan a Journey on Mughal Road.
What to see in Srinagar
Srinagar is one of the major tourist cities in our country and there is a long list of places to visit here and things to do. How many can you see will entirely depend on how much time you are going to spend here. I have kept 2 days for sightseeing in and around Srinagar but you can skip it if exploring Kashmir is not on your plans and you are headed straight to Ladakh.
Srinagar usually does not get included in the list of what to see in Leh Ladakh because it is actually Kashmir. But if you can spare a day or two, I will highly recommend spending some time here.
Assuming that you are planning to stay in Srinagar for just one evening, below is a list of places that you will be still able to see.
Evening in Srinagar on Day 2
Dal Lake: You don't even have to go anywhere for this. There are a lot of hotels located around the lake and you can actually find accommodation near it only. Just ask anyone and they will point you in the right direction.
Houseboat: Depending on your budget and preference, you can either stay at a hotel or look for accommodation in a houseboat in Dal Lake. Personally, I would recommend staying at a hotel.
Shikara Ride: While you were at the lake, you can also go for a Shikara ride in it. Enjoying sunset sitting in a Shikara in Dal is an amazing experience.
Pari Mahal: About 10 minutes of drive away from Dal is the Pari Mahal, an ancient monument. This is another awesome spot to catch a great sunset view over Dal.
Nishat Bagh and Shalimar Bagh: Both these Mughal Gardens are located right next to Dal Lake and remain open a little after sunset so you can also visit these.
Hotel Grand Valley Inn is a hotel that I really like staying at. It is located quite close to Dal Lake and from here; you can easily cover all of the above-mentioned places easily. Read Hotel Grand Valley Inn – A nice place to stay in Srinagar for a complete review.
Day 3 & 4 – Sightseeing in Srinagar
If you do want to stay in Srinagar for an additional day or two then you can cover a lot of places.
Spend Day 3 in Srinagar City visiting Dal Lake, Nigeen Lake, Shalimar Bagh, Nishat Bagh,  Pari Mahal, Shankaracharya Temple, Hazratbal Mosque, Chasm-e-Shahi, and the local market. In the evening, visit Challi Point near Dal Lake and spend some time there. You can actually have your dinner at Challi point only.
On Day 4, start early and arrive at Gulmarg. Visit Maharani Temple, Golf Course, St. Marys Church, and go for a Gondola ride in Gulmarg. Return to Srinagar by evening.
Also Read: How to Plan a Trip to Srinagar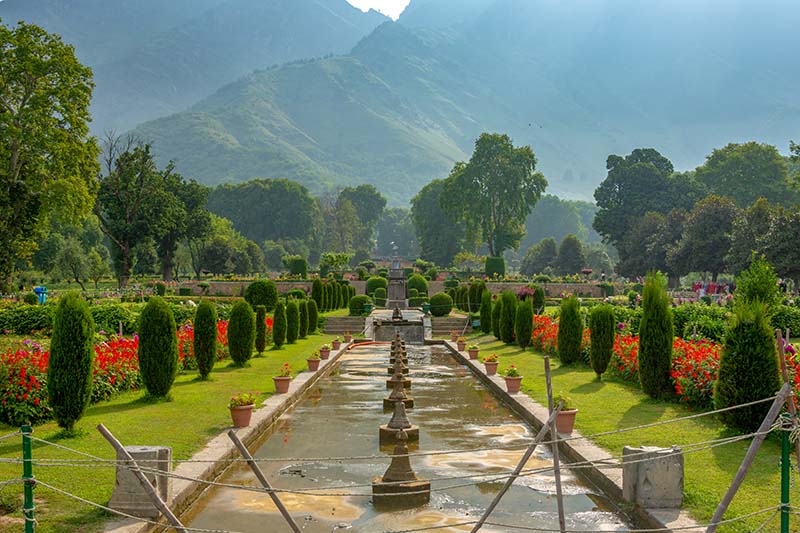 Tourist places between Srinagar to Leh
After spending some time in Srinagar, you will not continue traveling towards Leh town. But before you got there, you will also be covering Zanskar Valley on the way. The plan from here on is to go to Kargil, cover Zanskar Valley, and move on to Ladakh.
Among the places to visit from Srinagar to Leh, the natural beauty of the place will be the first thing that you will enjoy. The slow transformation from the lush green valleys of Kashmir to the barren brown of Ladakh is purely magical. Between Srinagar and Kargil, you will see vistas that you will make you realize why Kashmir is called as a paradise.
Apart from the natural beauty, Magnetic Hill, Gurudwara Patthar Sahib, Indus, and Zanskar Confluence, Kargil War Memorial, Tiger Hill, towns of Sonamarg and Drass; monasteries of Likir, Alchi, Basgo, and Lamayuru are some of the places to see from Srinagar to Leh. Let us take a look at how and on which day you can visit these places.
Also Read: Places to See on Srinagar Leh Highway
Day 5 – Srinagar to Kargil | Places to visit between Srinagar and Kargil
The distance between Srinagar and Kargil is about 205 kilometers that can easily be covered in 6-8 hours depending on your breaks, sightseeing, and traffic.
A little after Srinagar, you will reach the beautiful town of Sonamarg. If you have time, you can spend a day here and trek to Thajiwas Glacier.
The mighty Zoji La at an altitude of 11,575 feet (3,528 meters) will be the next in the list, your first high altitude pass of the journey.
After Zoji La, you will reach the town of Drass; possibly the coldest inhabited place in India.
Just before Drass, take a quick break and visit the Kargil War Memorial, also known as Dras War memorial.
See Tiger Hill in Drass. This is the mountain the Pakistani Army tried to capture and lost in Kargil War
Overnight stay in Kargil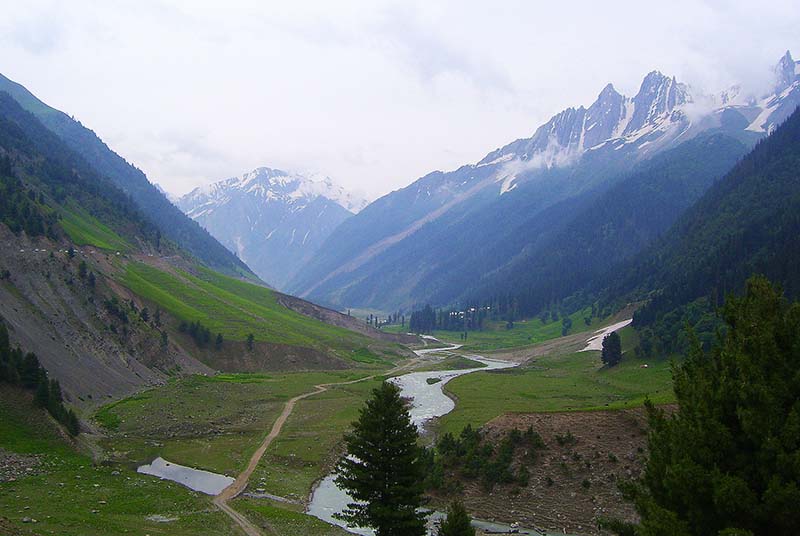 What to see in Kargil | Sightseeing in Kargil
There are really no tourist places in Kargil at all. If you asked me, even the town is not that scenic. It is just a major stopover that serves as the center point between Srinagar, Leh, and Padum. Otherwise, it is only a small town that got famous due to the war of 99. But on the upside, there are several hotels here to choose from for your overnight stay.
Just drive around in the town and you will easily find one fitting your requirement.  If you were wondering about what we can see in Kargil then the answer is nothing really. Reach Kargil, relax, and prepare for your next day's journey.
What to see in Zanskar Valley
After Kargil, you will now take a deviation and cover Zanskar Valley on the way. Drang Drung Glacier and Pensi La Pass are two of the biggest attractions of Zanskar Valley. This is actually the only place where you will get to see a glacier up lose in your entire Ladakh journey. I have planed a total of 4 days in Zanskar Valley but if you were short on time, you can either remove it altogether from the journey or cut it short to two days only.
Day 6: Kargil to Padum
230 Kilometers of total distance but will take you about 10 to 11 hours.
Get an early start from Kargil so you also have some time for sightseeing on the way.
Shortly after Kargil, you will enter the lush Suru Valley.
A few kilometers after Sankoo, you will cross the Suru River over to its right side and if the weather is clear, you will also get your first glimpse of Nun and Kun peaks. Nun is forever covered in snow, a white peak whereas its next-door neighbor, Kun is barren black.
A couple of kilometers after Parkachik village, you will get views of Parkachik glacier, another tourist attraction in Suru valley.
5 Kilometers from Rangdum is the Rangdum Gompa. Located on a small hill, this monastery looks like a fortress and was used as one by Dogra armies of General Zorawar Singh.
After Rangdum, you will drive up the Pensi La Pass.
From the top of Pensi La, you will get a clear view of Drang Drung Glacier.
You will also notice a small body of water near the road atop Pensi La. These, in fact, are two small lakes called Ta Tso and the Lang Tso lakes.
After Pensi La, drive straight to Padum.
Overnight stay at Padum
What to see in Rangdum
Rangdum Gompa is the only place to see in Rangdum really and that too is about 5 kilometers out of the town. Apart from that, there isn't anything that is word spending time in Rangdum. It would be better to head straight to Padum and a day or two there.
What to see in Padum
Sightseeing in Padum mostly involves visiting the monasteries in the nearby villages. By doing so, you will also be exploring the entire valley, visiting the villages, and interacting with the locals. Some of the most popular monasteries are Dzongkhul Monastery, Phuktal Monastery, Sani Monastery, Bardan Monastery, Karsha Village & Monastery, Pibiting Monastery, and Stongdey Monastery. Other places that you can visit are Sani Lake near the monastery and Zangla Palace. For more details, please read Travel Guide to Sightseeing in Padum Valley
But this would require you to stay in Padum for at least 2 to 3 days. If you were spending just one evening then there isn't anything to see really. Just relax in the town, take an evening walk and return to Kargil the next day. But assuming that you are spending 2 days in Padum like I suggested, below is how you can spend these 2 days.
Day 7 – Rest day at Padum and Visit Zongkhul Monastery
Rest and relax in Padum for the first half of the day.
In the second half of the day, visit Dzongkhul Monastery. A return journey will take about 2-3 Hrs
Overnight at Padum
Day 8 – Sightseeing in Padum
Visit Stongdey Monastery early in the morning for some great views of Zanskar Valley.
Also see the old monastery in the village of Tsa-zar, midway between Stongde and Zangla.
See the waterfall at Sheela village while returning from Stongdey.
Visit Zang La Fort
Spend your evening at Karsha Monastery and get stunning views of the valley during sunset.
Overnight at Padum
If you had 3 days in hand then I would highly recommend trekking to Phuktal Monastery. Your stay, in this case, would be in a local village for 1 night and in the monastery itself on the second night. For more details please read How to Plan a visit to Phuktal Monastery.
Day 9 – Padum to Kargil
On Day 9, you will return to Kargil the same way that you came via Rangdum. If any of the sightseeing places I mentioned above were left out, cover those on this day. Arrive in Kargil by evening and relax. There are places to visit in Kargil as such so if you wish to, just take a walk through the town in the evening before retiring to your hotel.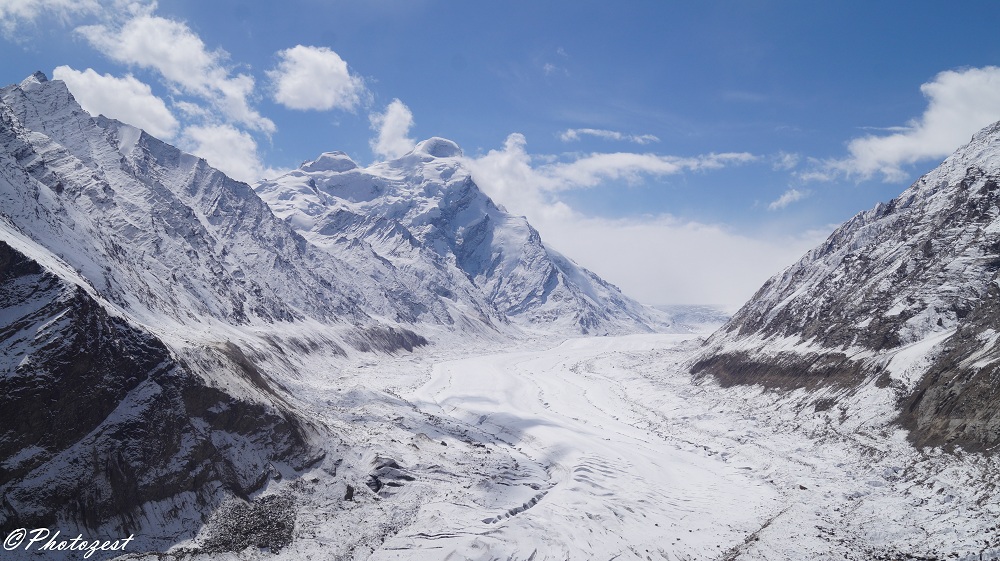 Places to visit between Kargil and Leh
You will now finally reach your destination, the town of Leh on Day 10 of your journey. The distance between both places is not that great and you can easily cover it in about 5 to 6 hours. But I will strongly urge you to take an early start on this day because there are a lot of places that you will see on this route.
As a matter of fact, this stretch of 230 kilometers from Kargil to Leh has probably the highest number of places to visit than anywhere else. So, start as early as you can and get ready to click tons of pictures.
Day 10 – Kargil to Leh
The route that you will take will be Kargil – Mulbekh – Namika La – Fotu La – Lamayuru – Hangro Loops – Khalsi – Khaltse – Uleytokpo – Nimmoo – Leh
See the grand 9-meter high statue of Buddha, known as Mulbekh Maitreya.
Cross the two high altitude passes of Namika La at 3,700 meters (12,139 ft) and Fotu La at 4,108 meters (13,478 ft).
See the Lunar Landscape and the monastery in Lamayuru.
Drive-up the Hangro Loops, a series of 18 hairpin bends/loops; driving on which is quite an experience.
See the Indus Zanskar River Confluence at Nimmu.
Pay respect at Gurudwara Patthar Sahib, one of the highest Gurudwaras in the world.
Last but not least, experience the magic of Magnetic Hill. This is a stretch on the road that is believed to have magnetic powers; such that it can get your vehicle into motion on an uphill slope even with the engine turned off.
What to see in Leh City
Now that you have arrived in Leh City, let us take a look at how you will be spending your two days here. Most people think of Leh just as the base to explore Ladakh and a place to collect their permits from. But there is a whole bunch of tourist places in Leh town that you can visit. I have kept 2 days for Leh in the itinerary but if you were short on time, you can skip one of the two. One day stay in Leh however is really mandatory because you would need time to arrange for your permits to visit other areas in Ladakh.
For people flying into Leh directly, this is where your trip and itinerary will begin. For you too, it is very necessary to spend at least 2 days in Leh to acclimatize better.
Day 11 & 12 – Leh City
Arranging the permits will be your priority # 1 on Day 11. Reach the DM office in Leh in the morning after getting your permits. If you aren't sure about the procedure to get the permits, please read How to Obtain Inner Line Permit for Ladakh.
After that, take a drive towards Leh Palace, Stok Palace, Shanti Stupa, and Hall of Fame.
Spend your evening in the local to buy some souvenirs.
On Day 12, take a monastery tour visiting the local monasteries of Thiksey, Hemis, Stanka, etc. While you were visiting here, you can also cover the famous 3 Idiots school. If you had time, you can also drive to the nearby monasteries of Alchi, Shey, and Likir.
Another option on this day would be to book a rafting tour in Leh City and enjoy white water rafting in River Indus or Zanskar.
A third choice would be to visit Sham Valley, which will take up the entire day. To know this part of Ladakh in detail, please read How to Plan a Trip to Sham Valley.
If you were visiting at the right time, you can attend the local Ladakh Festival or Sindhu Darshan Festival. To know more about these festivals and their timings, please read Festivals of Ladakh and their Dates.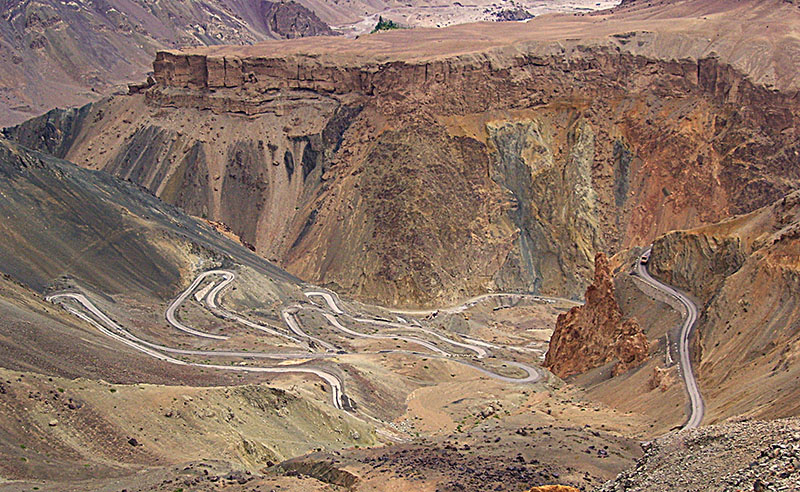 What to see in Nubra Valley
After spending 2 days in Leh City and visiting the places here, you will now move forward towards Nubra Valley. This name was hardly known to anybody until a few years back but with the rise in tourism in Ladakh, Nubra Valley is now one of the major tourist spots of our country. Thousands of people visit Ladakh each year and everyone goes towards Nubra Valley. It is at an even lower altitude than Leh City which makes coming here a good choice for acclimatization purposes as well.
There are 4 major tourist spots in Nubra Valley; Diskit, Hunder, Turtuk, and Panamik. The majority of the tourist places in Nubra valley are in these towns only. Over the next 3 days, you will be covering and exploring all of these places. For someone who was short on time, you can cut the trip short to just 1 day. From Leh, come to Diskit and go to Pangong via Shyok. If you could manage to spare some time, I will highly recommend spending at least 2-3 days in Nubra.
Diskit is the biggest town in the valley followed by Hunder, Sumur, and Panamik closely behind. Take a look at this Map of the Ladakh Region that I created some time ago and will help you understand the roads and routes here.
What to see in Diskit
Diskit is the biggest town in Nubra Valley and also its administrative headquarters. It has the largest number of accommodation choices. The town of Hunder too is located about 10 kilometers from here due to which, the majority of the tourists come to Diskit from Leh.  Below is a list of tourist places in Diskit town.
Diskit Monastery
Maitreya Buddha, a grand 32-meter statue of Buddha, located close to the Diskit Monastery.
Lachung Temple, a beautiful temple located near Diskit Monastery.
The total distance between Leh and Diskit is about 120 kilometers and can easily be covered in 5 – 6 hours. I will still recommend taking an early start from Leh so that you can avoid the traffic at Khardung La and reach Diskit by late afternoon. This way, you will be able to spend your evening in sightseeing in Diskit.
Day 13 – Leh to Diskit
If you are following the itinerary in the exact manner that I planned it, then you will be heading straight to Pangong from Leh and then to Tso Moriri. In case you are wondering about petrol pumps on such a long stretch, please read Fuel Availability in Leh Ladakh – How to Manage. This post should help you understand how you can effectively manage fuel for your vehicle for the next 5-6 days.
Start early from Leh to avoid traffic at Khardung La.
Your first tourist place for the day will be the high altitude pass of Khardung La at a height of 5,359 meters (17,582 feet)
Drive down to the village of Khardung and Khalsar. Take a break at either of the places to grab something to eat.
Enjoy your first view of the Shyok River.
From Khalsar, take the road towards your left and continue to Diskit.
After checking into a hotel, visit the monastery, see Maitreya Buddha and Lachung Temple and take a walk through the village.
Overnight at Diskit.
What to see in Hunder
On Day 14, you will venture further into Nubra Valley and drive about 100 kilometers to Turtuk Village, the last village on the Indian side of the border. Hunder is about 12 kilometers from Diskit and you will be covering it while going towards Turtuk. Listed below are the tourist places in Hunder that you should visit.
Hunder Sand Dunes located between Hunder and Diskit villages.
See Bactrian Camels and enjoy a Camel Safari.
Visit Hunder Gompa
What to see in Turtuk
Considering the fact that it is a small village located only about 15 kilometers from the border, you would think that Turtuk would hardly have anything to offer to its visitors. But you will be wrong. This quaint little town does have a few other places of interest apart from its natural beauty.
Turtuk Polo Ground
Balti Heritage House
Visit the 16th Century local mosque and the Monastery
Visit the local museum
Ruins of an old Brokpa Fort
Turtuk Waterfall
Thang Village
Depending on what time you arrived here from Diskit, you can divide visiting these places between Day 14 and 15.
Day 14 – Diskit to Turtuk

I am explaining this day from the point of exploring the valley and providing details. But if you were short on time, you can skip Turtuk entirely and go straight to Pangong from Diskit. Or you can make a day trip to Turtuk and return to either Diskit or Panamik by evening.
Diskit to Turtuk is about 100 kilometers and the road is mostly average.
Your entire day will be spent in traveling and covering all the tourist places in Hunder and Turtuk so please ensure you get an early start from Diskit, possibly by 6-7 AM.
Take the road from Diskit, travel all the way till Turtuk. Find a hotel, check-in, and continue driving to Thang Village. It is the last point until where tourists are allowed. From here, the border is only 2 kilometers away.
Overnight at Turtuk Village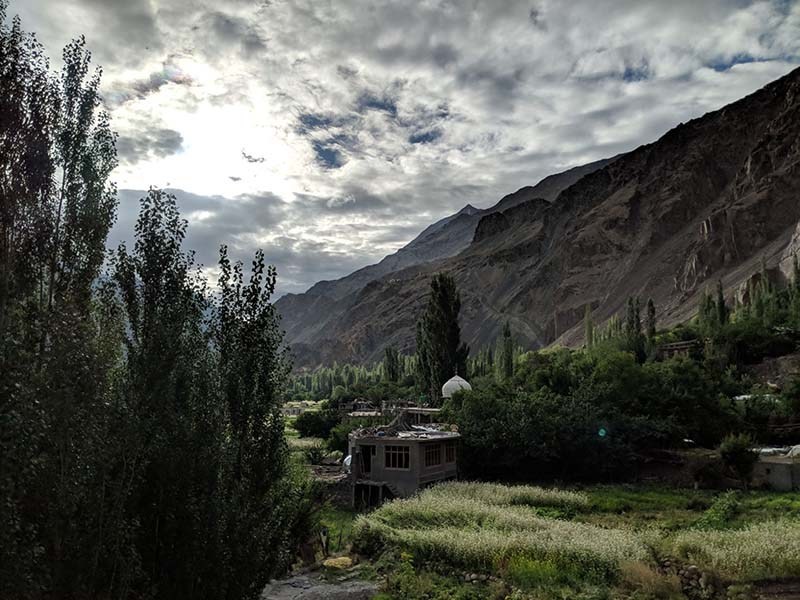 What to see in Panamik
After Turtuk, your next destination in Nubra Valley is another serene village, Panamik. After Diskit and Hunder, it is the third most visited village in Nubra Valley.  Turtuk to Panamik is about 150 kilometers and will easily take you 5-6 hours. Before leaving Turtuk, I will recommend going on an early morning trek to the waterfall. If possible, do not go on the trek alone and have a local accompany you.
Listed below are tourist places in Panamik that you can see once you get here.
Hot Water Springs in Panamik.
Yarab Tso Lake
While coming towards Panamik, you will also cross Sumur Village on the way. If you had some time in hand, I will recommend taking a break here. The 140-year-old Samstanling Monastery is definitely worth a visit. Another tourist spot is the Zamskhang Palace in the village of Kygar near Sumur. It is believed to have been the residence of the kings of Nubra in ancient times.
Day 15 – Turtuk to Panamik
Go for an early morning trek to Turtuk Waterfall and return by 8 – 9 AM.
Drive back to Diskit and then to Khalsar.
From Khalsar, take the road towards Panamik via Sumur.
See Samstanling Monastery in Sumur on the way
Visit the hot water spring in Panamik after checking into a guest house.
Apart from the places I listed above, another tourist attraction will be the Shyok River, Nubra River, and Siachen River that you will see in Nubra Valley. If you did not know it already, both these roads via Diskit and Panamik lead to the Siachen Base Camp. A visit to the Base Camp is possible but you will need some high-end contacts and will have to pull some strings to get you the permit.
What to see at Pangong Tso
It is now time to bid adieu to Nubra Valley and go to the famous Pangong Tso; the lake that has become the very symbol of Ladakh in the last few years. This lake itself is the biggest tourist attraction of Ladakh so enjoying the natural beauty of the region is what you will be doing here. Camping on the banks of Pangong is an activity that the majority of the tourists look forward to. Reach the lake via Agham Shyok road, check into a campsite, and spend the evening relaxing and taking a walk next to the lake. That is your only agenda for the day.
Sunset at Pangong Lake is quite a sight to catch so make sure that you have your cameras ready to click some great pictures. The next day, get up early in the morning before the sun came up and take a walk next to the lake. At this time, the waters are perfectly calm with no waves and you will be able to capture great shots with perfect reflections of the hills in the water.
Early in the morning, you will also be able to view and click pictures of the wildlife around Pangong including the beautiful Brahmi Ducks and a few other birds. For people interested in stargazing capturing shots of star trails, Pangong is a great place to do so.
Day 16 – Panamik to Spangmik (Pangong Tso) via Shyok Road
There are three ways to travel from Nubra Valley to Pangong Lake. The first one is the road via Agham which is the shortest of all. Second is the route via the high altitude pass of Wari La which is the most challenging of all. The third way is to go back to Leh and travel to Pangong the next day. Of all these three, I will highly recommend that you travel direct from Nubra to Pangong direct; thus saving a day that you can use to explore some other area.
From Panamik, travel back to Khalsar but this time, rather than taking the road towards Khardung La, take the one towards Agham Village.
The total distance between Panamik and Spangmik is about 180 kilometers that can easily be covered in 6 hours.
At Spangmik, accommodation is available in the form of campsites, cottages, and as paying guests. There are a couple of guesthouses as well in the villages of Man and Merak.
Depending on your preference, you can say at either Spangmik, Man, or Merak. If you like to be in a quieter place with fewer people around, go all the way to Man / Merak and stay there.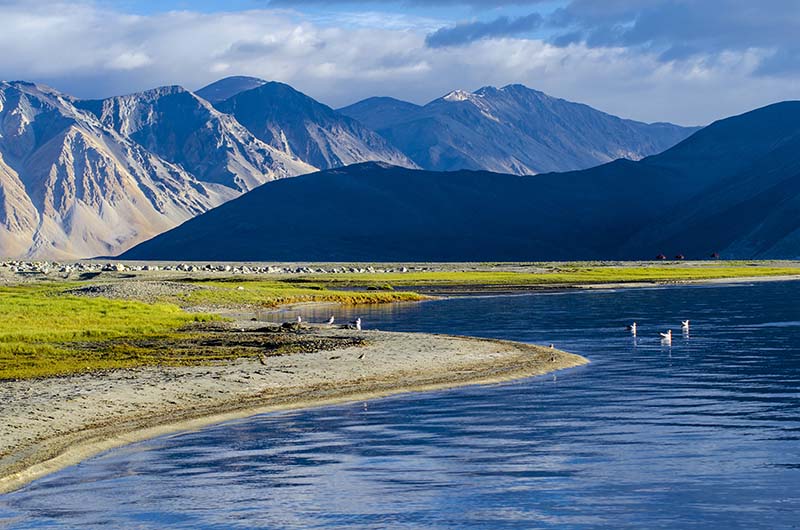 What to see in Chushul
You will now venture further into Changthang Valley of Ladakh and travel towards the India China border. Your destination for Day 17 will be another last village on the border, Hanle. This probably is the most scenic drive of your entire trip as you travel right next to Pangong Tso through the villages of Man and Merak until Chushul and then continue to Hanle via Loma.
There is a war memorial in Chushul that is a must-visit. A little after Chushul is the pass of Rezang La. There is another war memorial at top of the pass which you should visit. Both these places stand witness to the 1962 India China war and the lives of Indian soldiers lost here. The Rezang La Pass is where the Indian Army made the last stand.
What to see in Hanle
Like Chushul, Hanle too is a silent little village with not much to see or do. Just enjoy the scenic beauty and peace as you take a walk through the village.  The biggest attraction of Hanle is its night sky. The skies here are so clear and amazing that it is hard to even describe in words. This is the reason why the Indian Astronomical Observatory is built here. While you are in the village, you can also pay a visit to the Hanle Monastery and take a ride/drive to the Photi La Pass.
Day 17 – Pangong to Hanle via Chushul
For this part of the journey, I will again recommend that you take a look at the Ladakh Road Map again to be able to understand it better.
The total distance to travel on this day is about 170 kilometers but travel time will be around 7-8 hours due to frequent breaks and bad roads.
Ride or drive on the dirt road next to Pangong to arrive at Chushul first.
After Chushul, take the road via Tsaga to reach Loma.
Register yourself at Loma Check post, and take the road to your left to reach Hanle.
From the check post, the village is about 50 kilometers.
Beware of the dogs in this area.
What to see in Karzok (Tso Moriri)
In case you were wondering, Karzok is the name of the village located on the banks of the Tso Moriri Lake. Very few people know about it because it is really the Tso Moriri lake that is the primary attraction.
The natural beauty of Karzok village and its setting on the banks of the beautiful blue lake of Tso Moriri is what you will visit here. There is not much else to see in the village except for a small monastery. On the way, you will also be crossing the high altitude pass of Namshang La.
There is another smaller and unknown lake called Kiagar Tso that you will see on the way. It is located between Namshang La and Karzok.
Day 18 – Hanle to Karzok (Tso Moriri)
The total distance on this day will be about 150 kilometers but travel time will easily be 6-7 hours due to bad roads.
From Hanle, return to Loma check post.
Stop, register yourself again, and take the road towards Nyoma.
Continue traveling to Sumdo via Mahe.
After Sumdo, you will drive up the Namshang La Pass and reach Karzok shortly after.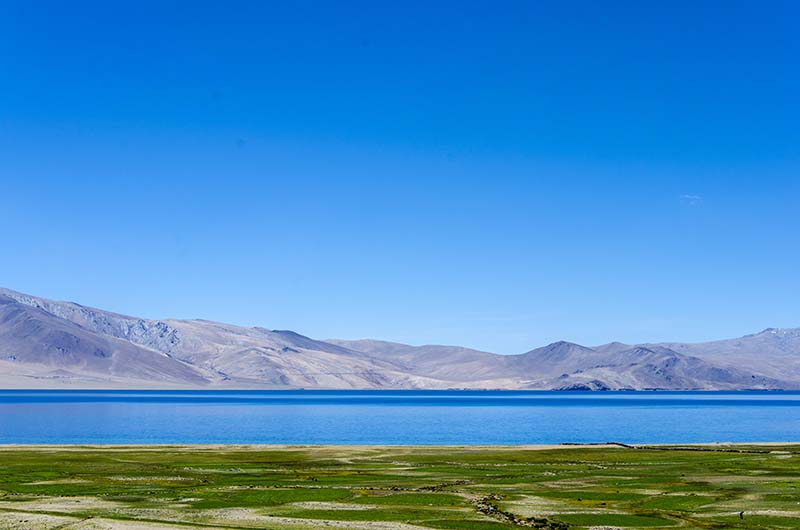 What to see in Chumathang
Chumathang is best known for its hot water spring. There is also a small hotel near Chumathang where you can stay, right next to the hot water spring. Not a lot of people stay here though. Chumathang is mostly just a stopover for people traveling from Leh to Tso Moriri directly. The road between Karu and Mahe is pretty awesome though and offers some great views.
Day 19 – Karzok (Tso Moriri) to Leh via Chumathang
The distance between Leh and Karzok is about 210 kilometers and it can be done in 5 to 6 hours.
From Karzok, you will have to travel all the way back to Sumdo and then Mahe, via Namshang La.
After Mahe, turn left and then arrive at Karu via Chumathang.
From Karu, you will turn right and reach Leh.
What to see on Manali Leh Highway
Manali to Leh route has a long list of tourist attractions. So long in fact that I actually covered it in an entirely different article. Adding all that information here on this page would have just rendered this one post endless. For a list of places that you can cover in these two days, please take a look at Complete List of Tourist Attractions on Manali Leh Highway.
Day 20 & 21 – Leh to Sarchu to Manali
The distance between Manali and Leh is a total of about 430 kilometers. The journey can easily be completed in 2 days.
I broke it down at Sarchu for Day 20 but if you wanted to, you can also stay at Pang, Jispa, or Keylong.
If you want to cut it down to a single day, be prepared to drive for at least 17-18 hours. If you started from Leh by 4 in the morning, you will reach Manali by 8 or 9 PM.
I will strongly advise against attempting it in a single day though because then the sightseeing part on this route will get omitted entirely as you will just be rushing for the most part of the journey.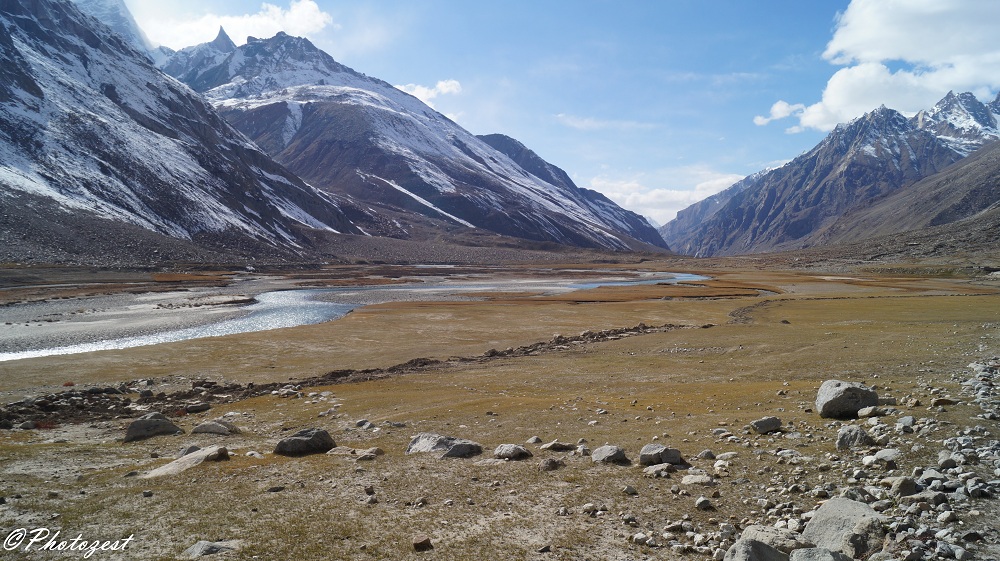 What to see in Manali
Manali is among the most visited tourist destinations in India. This place deserves at least a week dedicated to it. There is a long list of places here that I have covered in Tourist Places to visit in Manali. If you were just going to stay here for a night and be on your way to Delhi the next day, there isn't much you can see anyway. But if you were planning to spend a day or two in Manali, take a look at the article above and decided which places you wanted to cover.
Day 22 – Manali to Delhi
There is not much to write about this day except for that this is going to be a long and monotonous journey back home.
Manali and Delhi are around 550 kilometers apart so it is of utmost importance that you get an early start.
Travel time will about 14 -15 hours.
That is it. This is your answer to the question of what to see in Leh Ladakh. It will be an awesome journey to one of the remotest parts of India but an amazingly beautiful one. Depending on the time you have in hand and your itinerary, you can pick places from this post and plan your sightseeing accordingly.
What to see in Leh Ladakh – Conclusion
I hope the information I provided above on what to see in Leh Ladakh was of help. If you have any questions or need any other details, please feel free to ask in the comments section below, or at our Community Forum and I will be glad to answer.