We have been higher, but never so desolate or remote and steep as Wari La Pass. Did we get nervous? Yes. Were we scared? Yes. Did we struggle? Yes. And yet we want to come back again and again for that adrenaline and endorphins.
Here's our experience.
We took the Agham route to reach back Leh from Nubra Valley. The road till Agham is OK. There was a bit of broken tarmac in a few places and a patch where they are laying a new one. From Agham to Tangyar, the road is a mix of bad and broken tarmac.
Once you come to Tangyar and go up about a kilometer or so, you will find a bridge that takes you to the other side of the river that you have been traveling all along so far. This is when your view will change, and you will start climbing up in the beautiful valley up to the pass.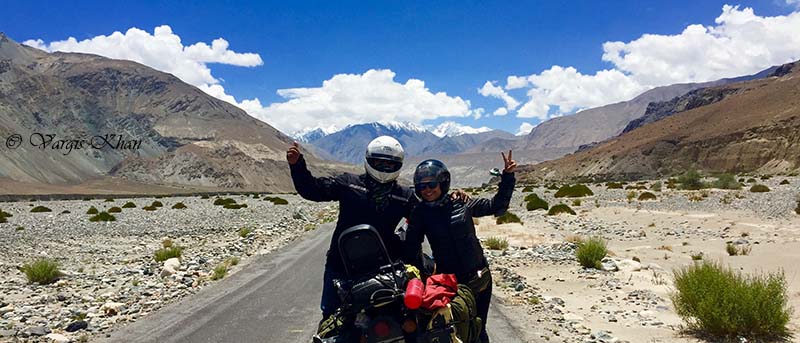 Wari La Pass Route
The route of the journey was as mentioned below.
Hunder (Nubra Valley) – Khalsar – Agham – Tangyar- Wari la – Sakti – Karu – Leh
The road from Tangyar up till the top of the pass is all gravel and broken tarmac with quite a few water crossings, mainly due to melting snow. These crossing can be challenging, menacing, or just a puddle depending on the time of the day and time of the season you happened to be there.
If it's cold and early in the season, the snow won't melt at that rate as when it's a little hot and later in the season.
During the last 15 kilometers till Wari La top, you will constantly be in the lower gears. You will feel that the air is thin. Your bike will be struggling for oxygen and so will you.
It will soon become evident that the famous low-end torque which has always been RE's forte would have reached its limit. Even when u you keep twisting that throttle; the bike will just scream harder but won't get that pull.
This will continue and get worse in the last 5 kilometers. By the way, I was on a fairly new Royal Enfield Standard 500 with only 10,000 km on the odometer; in case you were wondering which bike we were riding. This is something we haven't faced in any of the high passes be it Khardung La or Tanglang La.
The Climb
Now, not only the bike but you will also struggle due to thin air. On top of that, add in the fact that in the last 25-30 kilometers, you wouldn't have seen a single soul or anything man-made.
Then you pile that up with the knowledge that the next human establishment is the Sakti town on the other side of the pass; which is another 28 kilometers from Wari La Pass top.
With the bike struggling to climb, all these thoughts were rushing through my head. I was with a pillion with full luggage mounted on the bike and this is when I started getting the creeps.
What happens if I get a flat tire? Or if the bike refuses to climb any further? The ultimate cherry on the top of this misery will be the bike running out of fuel because we had just hit the reserve a couple of kilometers from Tangyar.
Anyone planning a trip from Leh to Nubra – Turtuk – Wari La should plan for carrying extra fuel from Leh itself. The petrol station in Diskit town is not reliable. They didn't have petrol for straight 3 days when we were there.
The Machine
With all this playing into my mind, there came a point where we decided to take a break as the situation wasn't getting any better. The thoughts building up in the brain weren't good either.
The bike was nearly saying that it wouldn't make it to the top and needed some rest. We were in the first gear for quite a bit and the throttle was almost all open. This is when I remembered my mechanic showed me a screw on the carburetor and told me to twist 2 turns if I feel that bike is not climbing, and that's exactly what I did.
The air at that point was so thin that dismounting the bike and opening the toolbox for the screwdriver was a task in itself. The incline was so steep that even after resting the bike on the side stand, I still kept it engaged in the gear to restrict any movement.
On top of this, I also pushed a rock behind the rear tire so it doesn't roll back. Maybe this was me panicking but looking at how steep the road there was, it just felt like the right thing to do.
Also Read: How to Prepare your Motorcycle for Ladakh Trip
The Top
We soon realized that the longer we stay the worse it will get as the low oxygen will start playing in on the mind and body. The only way to get over this was to keep moving.
Wifey said that the top shouldn't be that far, and as per her calculation, we should be there very soon. This statement did put some courage in. I had a few gulps of water and we started again.
She was right! I think we would have hardly ridden a couple of kilometers and we were at the top, and oh boy! What a feeling that was. It can't be explained. She quickly dismounted, clicked a couple of pictures of Wari La Pass top and we started our descent.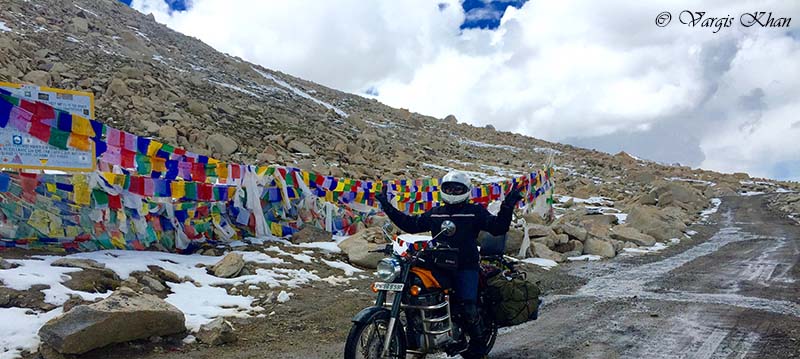 To our pleasant surprise, the road on the way down was plain good tarmac, barring a few really bad kilometers. The views were just amazing. This is when the accomplishment factor kicks in and your body releases happy hormones.
We also found some yaks on the way down. They just ran like crazy seeing us coming, like they haven't seen anything like us before. And while they ran, I was just hoping that one of them wouldn't bump into us.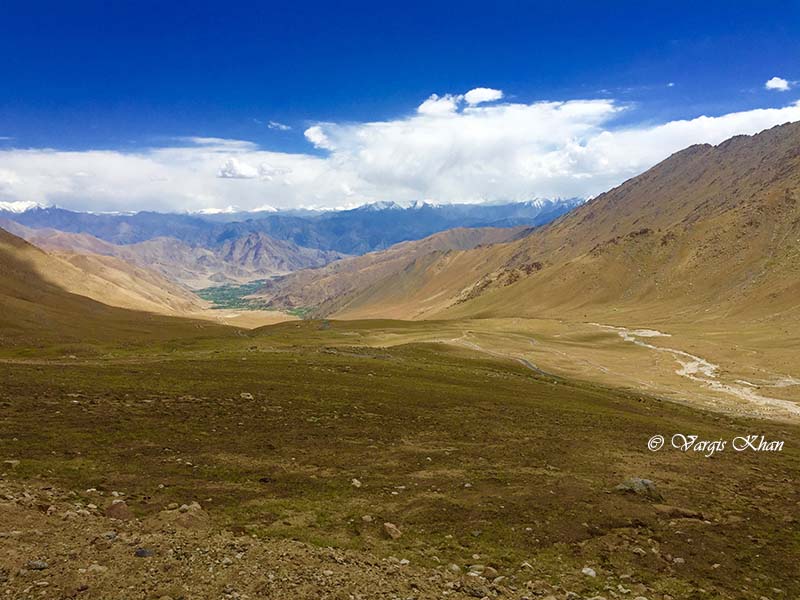 The Fuel Story
Wait, there is more to this. The petrol story is still not over. Well, to be honest, I didn't care about it after we reached the top of the pass. I knew I can do about 50 and that would be enough till Sakti. Then in Karu, we can fuel up again. So I stopped bothering about it and enjoyed the view on the ride down.
However, we actually did run out of fuel. And as we trust that someone was watching and blessing or would have heard my wife's prayers, we rolled just to the entrance of the pump in Karu. I pumped my fists in the air like I have won a medal or something.
Did I tell you wife and I did argue on our climb up and quite often I heard her mumbling something? I thought that she was cussing me. I have learned after getting married that ignoring is a men's best resort to avoid more of that.
Finally, I asked her about all the cussing and whether she was feeling good now that we have reached Karu. And that is when she told me that she was actually reciting Hanuman Chalisa and wasn't just mumbling meaninglessly.  Well, Jai Bajrang Bali!
Wari La Pass – Conclusion
Got questions about traveling to Wari La Pass? Feel free to ask in our Community Forum or in the comments section below. The journey across the Wari La became the highlight of our Ladakh journey and I recommend traveling here to everyone. Just make sure that your motorcycle is capable enough of handling the challenge.