If you wanted to truly experience the culture of a region; perhaps the best way out is to visit there at a festive time. Festivals are a time of merry-making when the true heritage, beliefs and values of a place and its people come to the front. Ladakh is no exception to this theory. A common thought is that Ladakh is a barren wasteland; where the prominent colors are the brown of the mountains; white of the snow and blue of the lakes. To some extent it holds true but would you be surprised if I told you that Ladakh is way more colorful than you ever imagined? Attend any of the festivals of Ladakh and you are bound to be mesmerized by the colorful celebration of every aspect of life here.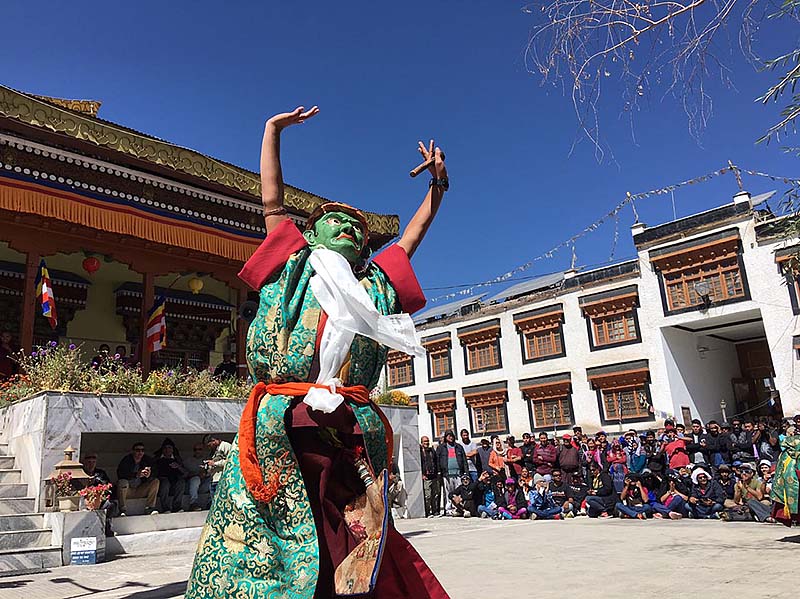 Festivals are the times when the entire silent town of Leh transforms into a focal point of culture, color, festivity, musicals, dance performances, and recitals performed by various tribes.  Being here at time of any of the festivals is a great opportunity to witness the celebration that is bound to leave you mesmerized.  It also presents a perfect opportunity to learn more about the rich Buddhist culture here; glory of which I believe is prominent is all of the festivals of Ladakh.
Festivals in Ladakh are organized on basis of occasions such as birth, marriage, commemoration of head lamas (who found the monasteries), harvesting, flowering and Losar or New Year. More festivals are held during winter than summer but for tourists; there are plenty in peak tourist season as well. Open courtyards of the monasteries become the venue of these festivals where recitals, prayers, masked dances, folk songs are performed by monks in vibrant and colorful silk garments. This is the time when spirituality, entertainment, enjoyment become the very aura of Ladakh.
Also read: 10 Reasons why you should NEVER visit Ladakh
In this article, I will list down some famous festivals of Ladakh with the month they are held in. If you are planning your trip to Ladakh in any of these months; make sure that you attend the festival as well in order to get a true feel of Ladakhi culture.
Losar Festival
Losar is considered to be the most important festival in Ladakh. This festival marks beginning of the new year and is celebrated with  enthusiasm and in a colorful manner.  A blend of cultural events, rituals, holy fire, chants, recitals and performances in vibrant robes are some of the key highlights of this festival. The stage fight between good and evil and Ibex deer dance are the noted attractions of all. There is no set date of this festival as it is based on Lunar calendar but it happens in the month of December; followed by month long celebrations which sometime even last till March. People from all over Ladakh take part in this festival; of all age groups and tribes. Pictures of Alpine Ibex are painted on the walls and a procession of fire is organized by the locals to bring in good luck and prosperity.
Dosmoche Festival
It is a 2 day long festival held in the month of February in almost all the monasteries in the region. Prayers are offered for well being, safety and prosperity of Ladakhi people by performing sacred mask dances. In Leh, performances are held in Old Chapel near Leh Palace. This festival was started by Royal family of Ladakh to eradicate evil and is one of the two major festivals, other being Losar. During the festivals, Idols made of dough are burnt to ward off the evil spirits of previous year; and to ensure well being of people in new year. The key highlights of this festival are decoration of Leh palace, Chhams, religious music performances and its rituals.
Ladakh Festival
It is probably the biggest and one of the most popular festivals of Ladakh. It is a grand celebration that attracts performances from all over the region; displaying an amazing cultural diversity. Performers from all over Ladakh come together to showcase an array of cultural events, impressive dance and traditional music performances, in colorful vibrant robes and masks. Some popular sports like Polo and Archery are also held during this time. It is one of the must attend festivals for any tourists; especially if you are even slightly interested in photography.
Also read: 11 Things you must NOT do in Ladakh
The festival is held in the month of September and lasts for a full two weeks; coming to an end at Polo ground. In this two weeks, a religious procession is held, moving from one monastery to another as people dance and celebrate the harvest season.
Sindhu Darshan
It is another popular festival in Ladakh which is held each year in June for three days; to pay respect to Indus river. The festival is celebrated on full moon nights and is noted for not only commemorating Indus; but to also pay respect to soldiers who risked their lives while protecting the nation. Senior Lamas commence the festival on first day by offering Buddhist prayers followed by a reception of all participants on the banks of Indus at Shey. A bonfire is also lit at night on the banks. Cultural programs and prayers follow on 2nd and 3rd day as thousands of people gather to experience the celebrations.
Matho Nagrang
Matho Nagrang is a two day celebration in Matho Monastery in the month of March; during which monks dressed like Ladakhi God and Goddesses perform sacred dances and rituals. This festival is very popular among locals and they gather in thousands at the Monastery. During this festival, two oracles return after spending a month long isolated meditation. Two mask dancers accompany them as they make appearance in the courtyard; making future predictions. This festival is popular because the villagers too can consult the Oracle about their lives, solutions to their problems and what future holds for them.
Hemis Tsechu
This two day long festival is held in Hemis Monastery in the month of July and is also one of the most popular festivals of Ladakh. The time of the celebrations is also the birth anniversary of the Guru Padmasambhava. Mask dances by the lamas of Hemis monastery are held and the festival is concluded with a sacrificial offering on second day. The amazingly vibrant silk costumes used by Lamas as they dance along with long horns and musical drums during their performances are a feast for eyes.
Yuru Kabgyat
This festival is held in Lamayuru Monastery for two days in the month of July. The festival is noted as not only people from India but also from China, Japan and Bhutan participate in it. Mask dances by performers are held for two days and the festival is concluded by a sacred ritual of demolition of the statue; marking the liberation of inner demons and purification of one's soul.
Also read: A Complete List of Tourist Attractions in Ladakh
Phyang Tsedup
This festival is held in Phyang Monastery for two days either in the month of July or August. It commemorates the teachings of Lord Buddha by mask dances and dramas, also known as "Chhams". A pilgrimage to Thangka of Skyabje Gombo is also an important part of this festival.
Thiksey Gustor
This festival is held by monasteries of Thiksey, Spituk, and Karsha in different months. Recitals, chants and charms are offered to gods by the monks of the respective monastery which marks the beginning of the festival. This is followed by a ceremony of offering liquid to invite gods of four quarters to come and witness the mask dance. A sacred ritual is performed on second day by "Black Hat" dancers and a dough cutting ceremony of the sacrificial cake, also known as "Torma" concludes the festival.
Stok Guru Tsechu
This festival is held in the month of March in Stok and Spituk Monastery; a week before Matho Nagrang festival. Mask dances; chhams, music performances, rituals are a part of this festival too but what really sets it aside is that the rituals are performed by common people. For this festival, two common people are chosen by Lamas to be properly cleaned and receive the spirit of the deities.
Yargon Tungshak
This festival is held either in the month of February or March in Nubra Valley. It is noted for its Mask Dance in colorful attires; performed on beats of drums and long horns which brings the sleepy valley of Nubra to life.
Galdan Namchot Festival
This festival is celebrated all over Ladakh in the month of either November or December and is a 2 day affair. It commemorates the memory of Tibetan saint-scholar, Tsongkhapa. In order to pay respect to the saint, all buildings in Ladakh including monasteries, houses and public buildings are lit up. People celebrate the festival by traditional cuisines and presenting "Khatak", a traditional scarf to each other. This festival marks the start of new year celebrations in Ladakh and lasts till Dosmoche festival.
Also read: How to Deal with Acute Mountain Sickness in Ladakh
Saka Dawa Festival
This festival is held in the month of either May or June and celebrates the enlightenment of Lord Buddha. The day of this festival is believed to be the day when Buddha achieved awakening. During this time, animals are set free and locals refrain themselves from killing and eating animals.
Stongday Gustor
This festival is held in Zanskar Valley in the month of June.
Karsha Gustor
This festival too is in Zanskar valley; at Karsha Monastery in the month of July. Karsha, home to about a 100 monks is the largest monastery in Zanskar Valley. During the time of this festival, the entire valley turns vibrant and colorful. Black hat dance and Chhams are the key attractions of this festival.
Festivals of Ladakh
Depending on which month you are planning your trip in, make sure that you attend any festival falling at the same time. You will not only be entertained but will also learn a lot about the culture here; click some amazing photographs; witness some amazing dances by Lamas and have a great time. If you know of any festival that I missed adding to the list above, please be kind enough to comment and suggest so I may add it to the article.
For exact dates of the festivals in coming years, please read Ladakh Festival Dates
I hope the information above was of help. If you have any further questions, please feel free to ask in the comments section below; or at our Community Forum and I will be glad to answer.