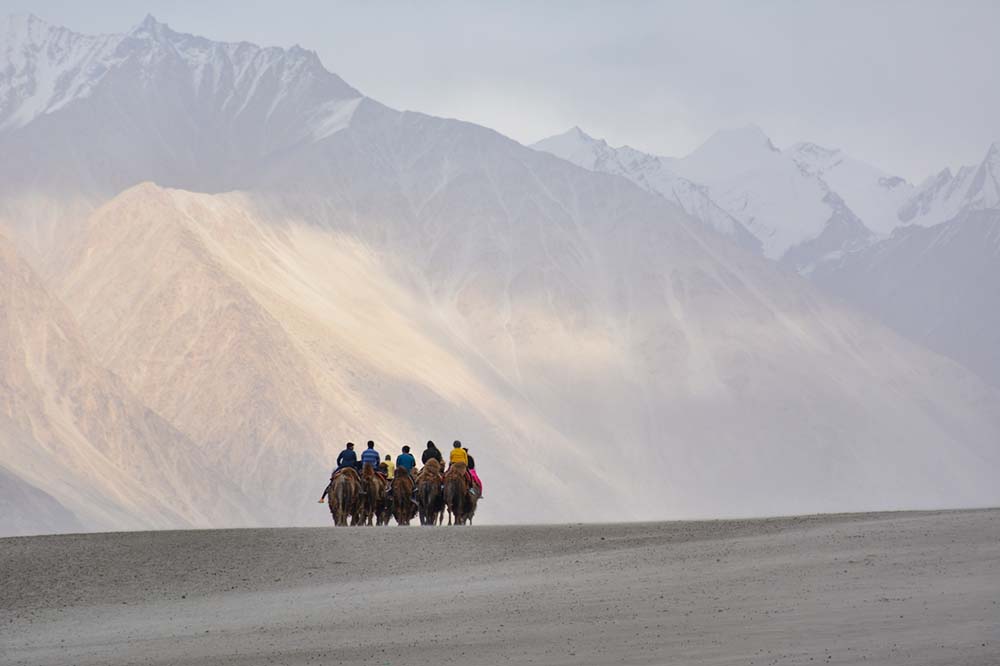 Ladakh has much to offers to its visitors. Its stunning landscape, high altitude passes, beautiful lakes, snow-capped peaks, and mesmerizing valleys are enough to keep your gaze and your camera occupied for as long as you stay here. One such prime highlight of a trip here is the charming Nubra Valley. You have not really visited Ladakh unless you have been on a drive from Leh to Nubra Valley.
Of all the tourist places in Ladakh, Nubra Valley is probably the most easily accessible of all. A well-maintained metalled road takes you across the high altitude pass of Khardung La and deep inside the valley of Nubra. Out here, you see some of the most beautiful vistas you have ever seen and experience a culture that you will not elsewhere in the country.
In this post, I will provide a complete travel guide on how you can plan a trip to Nubra Valley from Leh, including details like how to reach, where to stay, what to see, public transport, and itinerary planning. For information on other areas of Ladakh, please take a look at How to Plan a Trip to Leh Ladakh – A Complete Travel Guide.
About Nubra Valley
Nubra Valley is located at a distance of about 100 kilometers from the city of Leh, on the other side of mighty Khardung La. Its original name is believed to be "Ldumra" meaning "Valley Of Flowers". Now also known as the Orchard of Ladakh, the Valley receives visitors throughout the year, though the peak tourist season is between June to September.
Diskit is the capital of Nubra valley and is located about 120 km from Leh. Until 2010, it was open for civilians only until Panamik and Hunder. But after the boost in tourism in Ladakh, the last accessible points were moved ahead to Warshi and Turtuk, opening more areas in the valley for tourists.
The main road access to Nubra Valley is over Khardung La pass which is open throughout the year. An alternative route, opened in 2008, crosses the Wari La from Sakti to the east of Khardung La, connecting to the main Nubra road system via Agham and Khalsar along the Shyok River.
A third route, made operational in 2013, connects the valley from Pangong Tso side, via the villages of Durbuk and Shyok.
Inner Line Permit for Nubra Valley
Nubra Valley is considered a part of the inner line, areas closer to the border. Hence an Inner line permit is required in order to visit here. It can either be obtained in person from the DM office Leh or you can also apply for it online. Please read How to get an Inner Line Permit in Ladakh for more details.
For foreign nationals, this permit is known as Protected Area Permit. This can also be obtained both in person as well as online but will need the involvement of a registered travel agent. Please read How to obtain a protected area permit for Nubra Valley for further information. 
Nubra Valley Map
Below is a detailed map showing the different routes you can take to reach Nubra Valley from Leh and the villages in the valley.
The map below also includes areas that are not actually within Nubra valley. Only the area from Khalsar to Turtuk and Warshi is the Nubra valley. Region towards Agham, Karu, Sakti, Shyok Village, Wari La isn't considered a part of the Nubra. I included this in the map only to highlight an alternate route that you can take to visit there.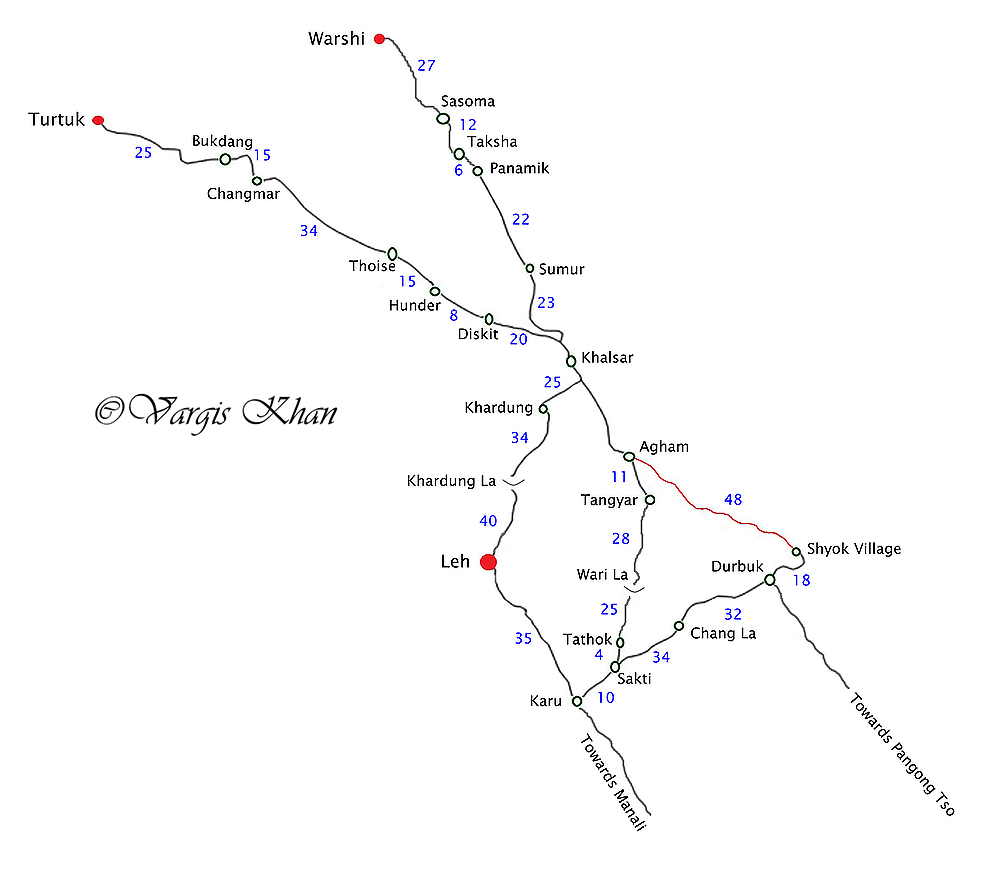 How to reach Nubra Valley from Leh
There are three routes that you can take to reach Nubra Valley from Leh. The most common route is over Khardung La Pass that can see you completing the journey in 5-6 hours. The second road is over Wari La Pass which is the longest and the third connects Pangong Lake to Nubra Valley.
Route 1 – Leh to Nubra Valley via Khardung La
This route is the most known, popular, easiest, and quickest one. The majority of the tourists travel this way to reach Nubra valley, You take the road from Leh towards Khardung La, reach Khalsar crossing the village of Khardung on the way, and continue towards Nubra valley.
Please also ensure that you always carry multiple photocopies of your permit as you would be required to submit them at several check-posts.
Leh to Khardung La = 39 km
Take an early start from Leh so that you have time to explore the valley and take sufficient breaks on the way. Your first destination will be to reach Khardung La top via Phyang and South Pullu. The road is pretty good except for a few bad patches due to melting snow near the top of the pass.
Despite the fact that gain in altitude is high in a very short distance and time, you would hardly feel anything in terms of altitude sickness. You will be required to submit a copy of your permit at South Pullu. At the top of Khardung La are an army base and a small cafeteria that offers free black tea.
It is a good place to sit with a cup in your hand and beautiful Himalayan peaks all around you. Take photos next to several signboards reading "Khardung La, 18,380 ft, Highest Motorable Road in the world"
There is also an Army souvenir shop that sells hats, caps, t-shirts, and kitchenware noted "Khardung La" in case you want to buy something that would remind you of the visit.
Also read: How to Travel to Ladakh with Children
Khardung La to Khardung Village = 31 km
The road on the descent towards Nubra has always been in a bad condition till North Pullu. As a matter of fact, there is no tar on the road for the first few kilometers, just a dirt road full of puddles. It mainly is due to melting snow which results in a continuous flow of water on the roads. Caution is advised while driving/riding here.
Once you reach North Pullu, you may again have to submit a copy of your permit. There is a small restaurant as well here. So in case you were hungry, you can take a break and get something to eat.
After Pullu is the scenic Khardung Village which is a great spot to get some good pictures. The vista presented by small green fields in midst of barren snow-capped mountains is awe-aspiring.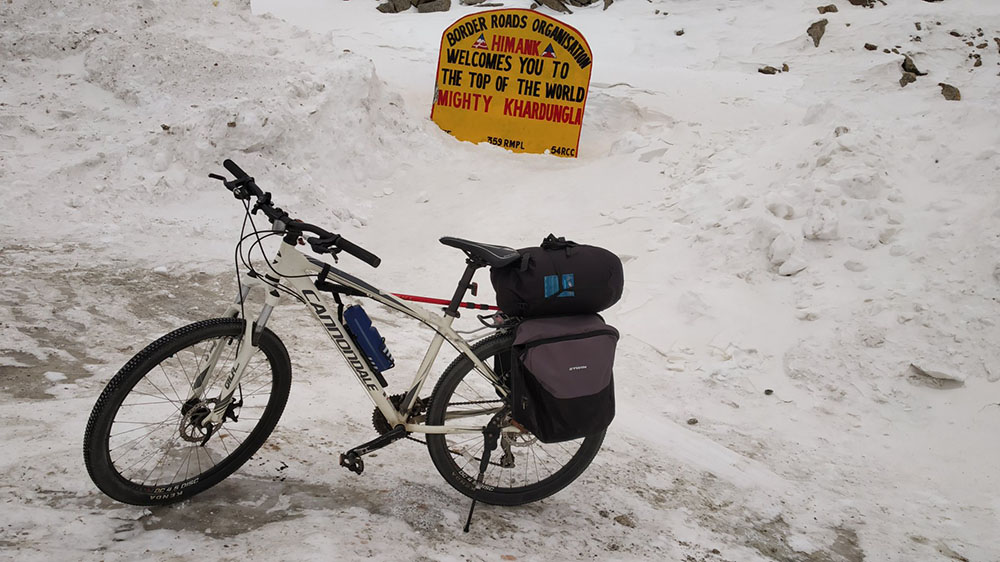 Khardung Village to Khalsar = 23 km
The road from Khardung to Khalsar is a smooth one. It won't take you long to cover these 23 kilometers.
Near Khalsar Village, Nubra Valley starts and the road will bifurcate. The one on your right goes to Sumur, Panamik, and Warshi while the one on the left leads to Diskit and Turtuk.
Both these roads run right through Nubra Valley and a drive on both is highly recommended. I will first explain the road that goes towards the right to Panamik and Warshi and then the one going towards Diskit, Hunder, and Turtuk.
Khalsar to Sumur = 24 km
The road after Khalsar and throughout Nubra Valley remains in good condition and shortly you will realize why Nubra Valley is so famous. Greenery will start coming more in the picture of a cold desert and it would start looking like an oasis. While at Sumur, visit the 150-year-old Samstanling Gompa that this village is famous for.
Also read: Mobile Networks and Data Connectivity in Ladakh
Sumur to Panamik = 24 km
A drive further 20 km will take you to the village of Panamik, another town where a lot of people prefer to stay while visiting Nubra Valley. There are several budget guesthouses and homestays available here.
Panamik has a 250-year-old Ensa Gompa but the primary attraction is its hot water spring. Locals have constructed bathrooms around the spring and there is a proper bathing arrangement in case you want to take a drip.
The trek to the famous Yarab Tso Lake also starts near Panamik Village. It will take you about an hour and a half for a round trip to the lake.
Also read: A Comprehensive List of Places to See in Ladakh
Panamik to Warshi = 39 km
Warshi is the last village on this road where tourists are allowed. It is also the least populated area before Siachen Glacier. This very road continues and around 16 kilometers from Warshi is the Indian Army base camp for Siachen Glacier.
The road conditions will pretty much remain OK until Warshi, you may hit a few bad patches though. If you have the permits for Siachen Base Camp, you can continue further down this road.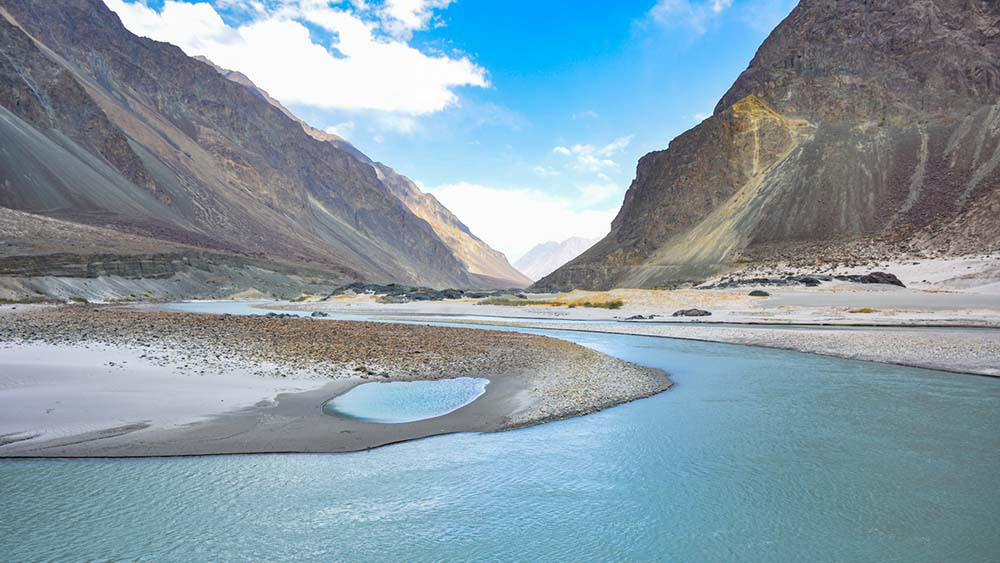 Warshi to Diskit = 95 km
Since you can not go any further beyond Warshi, you will now have to backtrack 90 km towards Khalsar, the point where the road bifurcated and you took the right turn. There are no other interconnecting roads and you really have no choice but to go back all the way.
After you have reached Khalsar, now take the left turn which will take you to Diskit, headquarters of Nubra valley.
The primary attraction of Diskit is the ancient Diskit Gompa which is believed to be from the 14th century. There is a statue of a Deity in the Gompa holding a mummified human forearm and head [believed to be of a Mongol Warrior] in its hand. It also presents a Panoramic view of Diskit village and the valley around from its roof.
A lot of people visiting Nubra Valley prefer to stay at Diskit because it has the largest number of hotels and guesthouses in the valley. Jio, BSNL, and Airtel work very well in Diskit with good data connectivity. There is also a daily bus and shared cabs from Diskit for other parts of the valley.
All of this makes Diskit a good spot to stay and use it as a base to explore the other parts of the valley.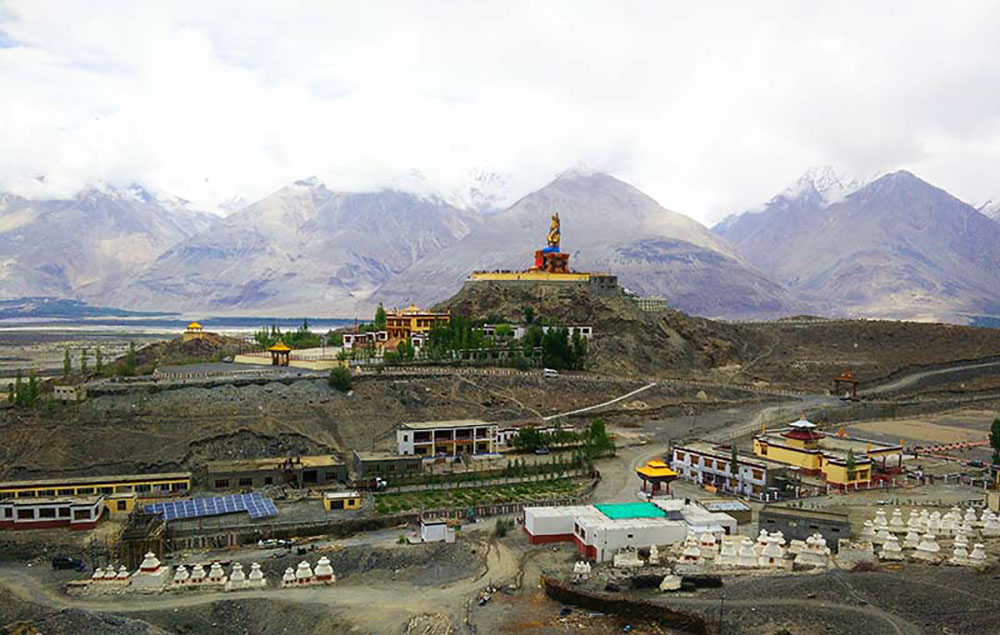 Diskit to Hunder = 9 km
9 kms from Diskit on a moderate road and amidst fruit orchids is the village of Hunder, famous for its sand dunes and camels. If you were staying at Hunder for the night and it was a full moon night, do not miss the sight that these sand dunes present under a full moon.
Another amazing thing you will get to see at Hunder is the Bactrian Camel, or commonly known as two-humped camels. Unlike the regular camels, they have two humps on their backs and are very rare. You can even get a ride on this camel. The camel safari in fact is one of the tourist attractions of the valley.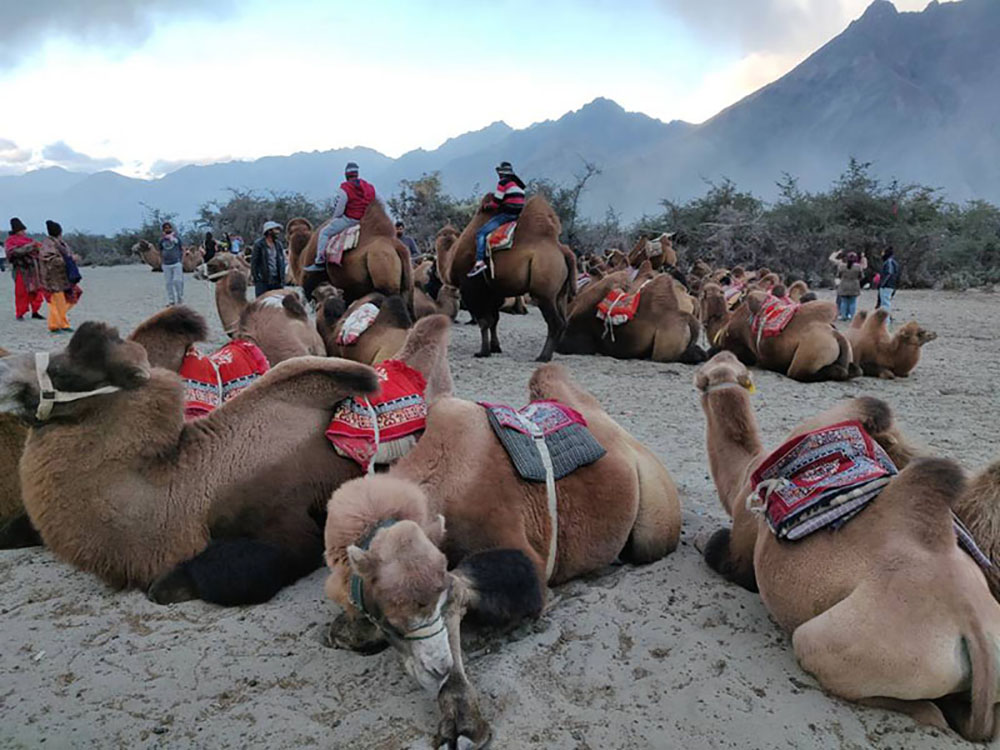 Hunder to Thoise = 17 km
Thoise stands for "Transit Halt Of Indian Soldiers En-route" to Siachen and is the Next village after Hunder. This is the only large piece of flat land in the area and serves as a military airfield. The airstrip there is a critical facility used to supply men and material to the Siachen glacier and other border areas on the Indo-Pak border.
Also read: Important Things That you Must Carry for Ladakh Trip
Thoise to Bogdang = 40 km
Also known as Bukdang, this is another small village en route. Upon entering this village, you will realize that the majority of the population has turned from Buddhist to Muslim. This region is mostly inhabited by Balti people. This entire area was taken over by the Indian army in 1971 before which it was a part of Pakistan.
Bogdang to Turtuk = 23 km
As you enter Turtuk, you will know what does the word 'contrast' means. Up until now, everything in Ladakh was barren and brown. But Turtuk on the other hand is all lush and green. The landscape will change completely, and you will find fields of apricots, apples, tomatoes, cauliflowers, and cabbages all around.
One of the gateways to Siachen Glacier, Turtuk is the last outpost in India after which the Pakistan-controlled Gilgit-Baltistan begins. The population here is mostly Muslims of Balti origin.  It was opened for Tourists in 2010 and people here primarily depend on agriculture and tourism for a living. For more details, please take a look at Turtuk Village in Ladakh.
It is a great place to spend a night and a good camping site too. Accommodation here is very basic in form of homestays and a few guesthouses. The scenery and the beautiful landscape of the village is its greatest attraction. There is also a waterfall here but you will need to trek for that a bit. Turtuk is also famous for walking sticks made from the horns of wild ibex.
Turtuk to Thang = 10 km
Thang is the farthest point of the Turtuk sector towards the LOC, after which it was all Pakistan. If you had the permits and the Army allowed you, you can travel till the last point which is barely 22 km from Pakistan-occupied Kashmir.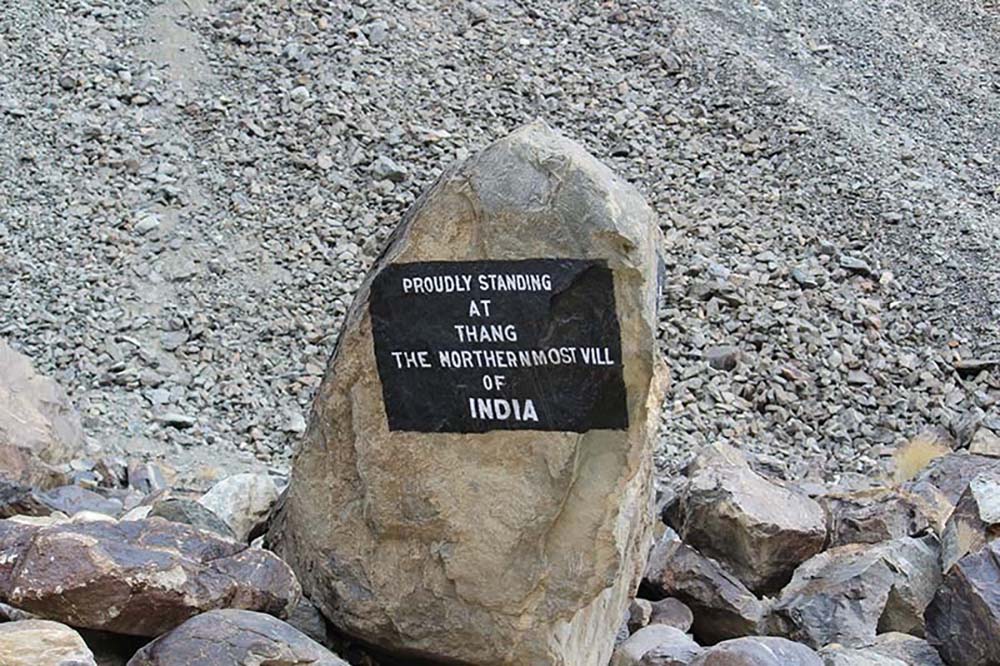 Route 2: Leh to Nubra via Wari La
To be honest this is not really a route that people take to reach Nubra valley but to actually get back from Nubra valley to Leh. It can also be a route to go straight from Nubra valley to Pangong Tso without coming back to Leh.
Off-late, this road is gaining popularity among the adventurous types due to the difficulty it presents. Some people chose to reach Nubra via Khardung La and return via Wari La.
Be advised though that crossing Wari La will be a challenge for both you and your vehicle. Of the three roads connecting Nubra valley to other parts of Leh, this route will is the toughest and longest.
You can also take a look at Nubra to Pangong Tso via Wari La where I have explained this route in detail. But for a brief overview, the route would be as mentioned below.
Leh – Karu = 34 km

Karu – Sakti = 15 km

Sakti – Wari La – Agham = 60 km

Agham – Khalsar = 26 km
Start early from Leh because this journey will take some time. Take the Manali Leh highway and reach Karu. The road will be good so shouldn't take long to get here.
At Sakti, you will notice a board pointing you towards Wari La and Agham. Turn here and after a little while, you will start ascending towards Wari La. Please be advised that Wari La is nothing like the passes you would have crossed so far in your journey and will really test you and your vehicle.
Upon crossing the pass, you will drive down to the village of Agham. From there, take the road towards Khalsar and continue to Nubra valley, as detailed previously in this article.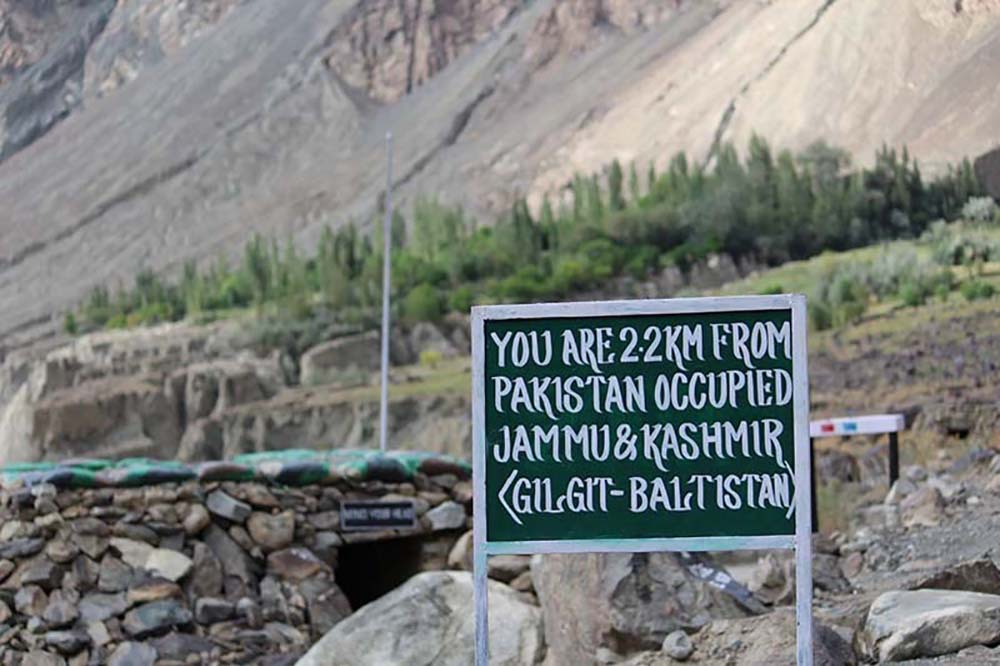 Route 3: Leh to Nubra Valley via Agham Shyok Road
This is also not really a route that you take to reach Nubra Valley from Leh. It is rather a way to get to Nubra valley from Pangong Tso or vice versa. The travel time by this road between both the places is merely 4-5 hours.  Please read Nubra to Pangong Tso via Agham Shyok Road for a detailed explanation of this route.
A recommended way of planning your Ladakh itinerary is to reach Nubra Valley by Khardung La road and then continue to Pangong Lake directly by the Shyok road. This will save you a day and you will not have to come back to Leh from Nubra Valley.
The entire distance of this road is a smooth drive and is doable by even Sedans and Hatchbacks. There are a few bad stretches in between and you may even have to get down from the car to clear the road ahead. But for the most part, it will be a smooth drive.
From Pangong, you can either return to Leh by Chang La Pass or continue further ahead to Hanle or Tso Moriri by Chushul road.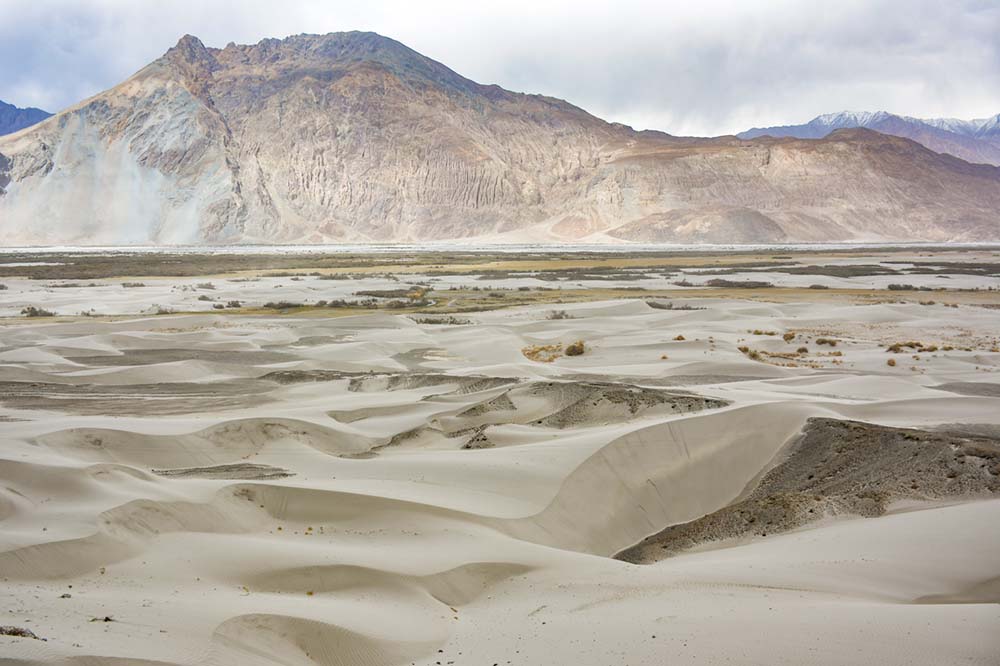 Where to Stay in Nubra Valley
Diskit is the headquarters of Nubra Valley and has the maximum number of hotels and guest houses. Even several locals here take tourists as paying guests for a very moderate charge. Hunder, Sumur, Panamik, and Turtuk also have a few decent enough guesthouses available so you can chose to stay at either of these towns for the night.
Where to stay will entirely depend on your itinerary. If you were going to stay just one night, I will recommend doing so in Diskit. It will make it easier for you to visit Diskit Monastery and Hunder that way. The next day, while returning to Leh or going to Pangong, you can make a short visit to Panamik Village.
If you were going to spend a day in Nubra Valley, my recommendation will be that you go all the way to Turtuk, spend a night in the village, and return to Diskit or Panamik the next day.
For more details on accommodation and contact details of several hotels in Nubra valley, please read Accommodation In Nubra – Hotels, Guest Houses and Homestays.
Best Time to Visit Nubra Valley
The best time to visit Nubra valley however will be between June and September when all the roads to and In Ladakh remain open. Guesthouses and hotels too are all operational this time. Internal roads like Shyok road and Wari La will also be accessible and will make it easy for you to plan your overall itinerary.
If not in these months, then the next best time would be April and May. The only catch is that the Srinagar Leh and Manali Leh routes may not be open yet and you may have to catch a flight to Leh.
Contrary to common belief, Nubra Valley actually remains open throughout the year. The road from Leh may temporarily close due to snowfall at Khardung La, but BRO usually restores the connectivity as soon as they are able to. So if you were planning a winter trip to Ladakh, even then you can include Nubra Valley in your itinerary.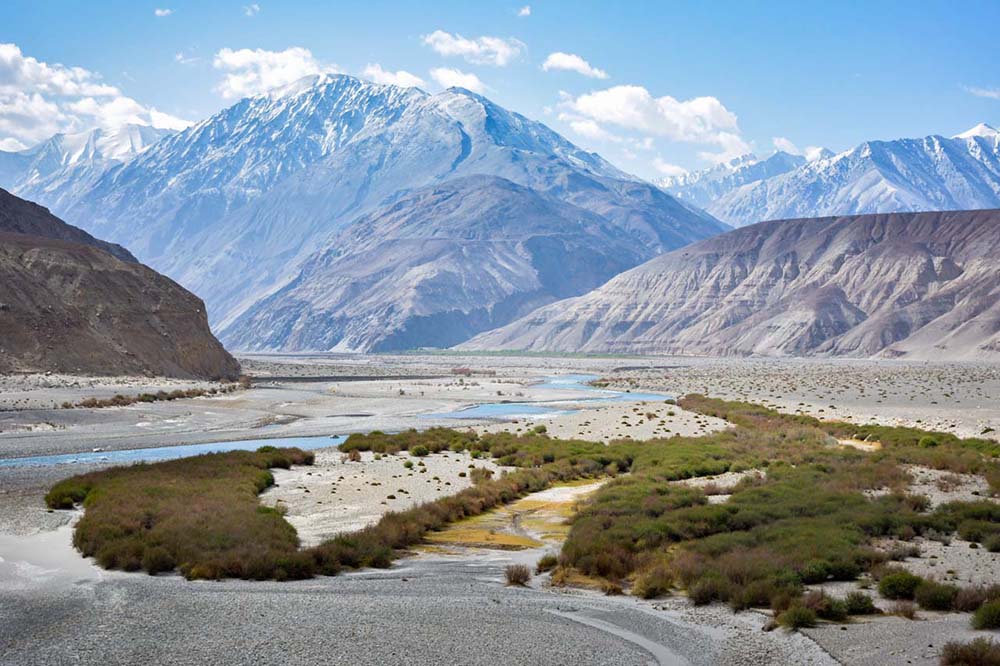 Places to visit in Nubra Valley
I have actually covered this information in detail in another article, Tourist Places in Nubra Valley & Things to Do that you can take a look at. But for a brief overview, mentioned below is a list of places that can be termed tourist attractions.
Khardung La Pass
Hunder Sand Dunes
Bactrian Camels
Maitreya Buddha in Diskit
Hot Water Springs in Panamik
Samstanling Monastery
Diskit Monastery
Yarab Tso Lake
Ensa Gompa
Hunder Gompa
Lachung Temple
Zamskhang Palace
Shyok River
Siachen River
Waterfall in Turtuk
Siachen Base Camp
If you want to cover all of these places, then you will need at least 3 days in Nubra Valley. If you just have one, you can cover Diskit Monastery, Maitreya Buddha, Hunder sand dunes, Bactrian camels, and Panamik hot water springs. You will see the rivers of Shyok and Siachen on the valley in and out of the valley. For a detailed overview, please visit the link I provided above.
Things to do in Nubra Valley
After sightseeing at the places I mentioned above, below is a list of some other tourist activities in the valley that you can enjoy.
Camel Safar in Hunder
Camping in Hunder / Diskit
Trekking to Yarab Tso and Turtuk Waterfall
Motorcycling (You can rent a bike in Leh for this)
Photography
Altitude Sickness
The elevation of Nubra Valley is actually even lower than the town of Leh. Diskit is at an altitude of 3,100 meters (10,170 ft) and Turtuk is at around 9,846 ft whereas Leh is at 3,500 meters (11,500 ft).
So the chances of anyone suffering from AMS here are very low. People are actually advised to visit Nubra Valley first in order to give their bodies time to acclimatize before moving on to other high altitude places like Pangong Lake and Tso Moriri.
For more information on altitude sickness, its symptoms, and tips on how you can avoid it, please take a look at How to Handle Acute Mountain Sickness in Ladakh.
Clothes to Pack
Actually, it would apply to what clothes you pack for your Ladakh trip, not just Nubra Valley. The trick is to bring clothes in layers that can be worn on top of one another. If visiting in the summer season, you will not even need a light jacket during the daytime, that is how warm it can actually get.
With that being said, the morning and night will still be very cold. The weather will depend on both the time of the day and the place you were at. For example, it will be very warm in Diskit and Leh but very cold at Khardung La top. If you were in the Sun, you will be feeling hot anywhere in the valley but the cold in the wind will have you reaching out for a jacket the moment you step into the shade.
To deal with weather like this, you should bring clothes that you can add or remove in layers as convenient. Do not bring all heavy woolens or all light cotton ones. Do not also pack tight clothes that you cannot put on top of one another. For more details on this topic, please take a look at Clothes for Ladakh Trip: What to Pack.
Mobile Network in Nubra Valley



Airtel and Jio have the best service in Nubra Valley. You will remain connected and will get good voice clarity and data connectivity.
After these two, BSNL will be the next in line. BSNL actually has the best network in all of Ladakh and you can get reception even in the remotest areas, where no other network will work. But the voice quality and data connectivity are actually not that good.
For more details on mobile reception in Ladakh, please read Mobile Network in Ladakh & Data Connectivity.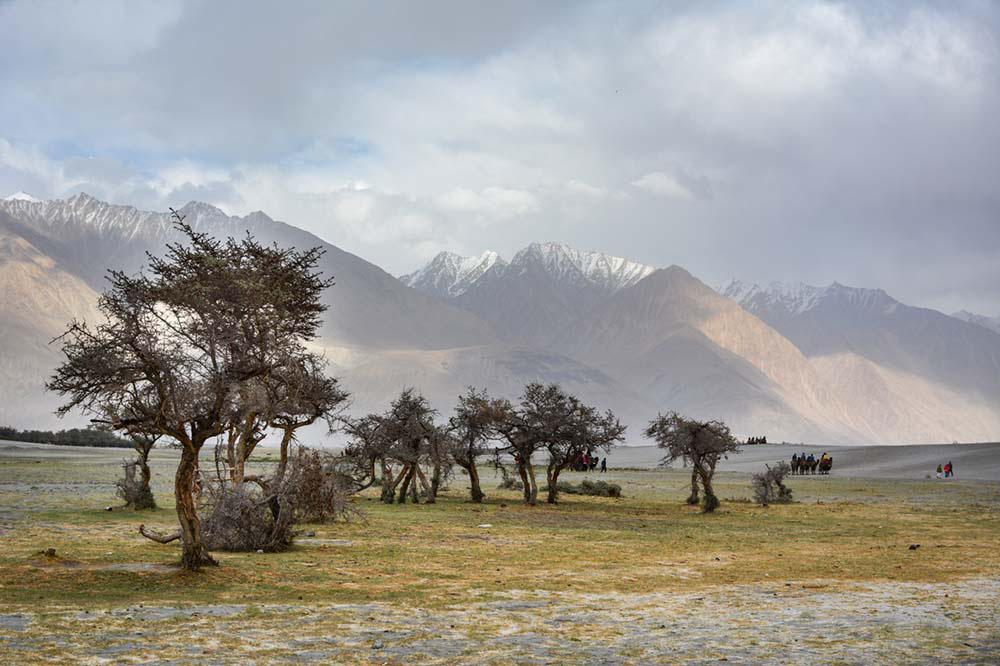 Minimum Time Required
If you went through the list of tourist attractions in the list above, you would realize that there are plenty of things to see and experience in Nubra Valley.  An ideal for Nubra Valley in my opinion is 3 days to cover all of the places. If not, then I will recommend at least spending one day in the valley.
Public Transport Services
There are regular buses and shared cabs between Leh and Nubra Valley. You can easily plan your journey even by public transport. The buses are limited and there may not be a daily bus available but shared cabs travel on the route every day. You can find one from the Leh or Diskit bus stand itself.
The fare per person for shared cabs between Leh and Diskit is about Rs. 500 per person. Between Diskit, Panamik, or Turtuk, it will be about Rs. 200 per person.
For complete details on the bus service including timings, schedule, and fare, please take a look at Leh to Nubra Valley Bus service – Fare, Schedule & Timings.
Leh to Nubra Valley Itinerary
The itinerary can be planned in several ways depending on what your next destination is and the time in hand. Below are a few examples.
For 1 Day
Day 1 – Leh to Diskit
Day 2 – Diskit to Panamik. See hot water springs and be on your way to Pangong Lake or Leh
For 2 Days
Day 1 – Leh to Turtuk. It will be a long journey so drive straight. Do not stop sightseeing in Diskit.
Day 2 – Walk around in Turtuk Village. Trek to the waterfall if possible. Drive Thang and return to Diskit. Visit Diskit Monastery, Hunder sand dunes, and stay for the night in Diskit.
Day 2 – Diskit to Panamik. See hot water springs and be on your way to Pangong Lake or Leh
For 3 Days
Day 1 – Leh to Turtuk. It will be a long journey so drive straight. Do not stop sightseeing in Diskit.
Day 2 – Walk around in Turtuk Village. Trek to the waterfall if possible. Drive Thang and return to Diskit. Visit Diskit Monastery, Hunder sand dunes, and stay for the night in Diskit.
Day 3 – Drive to Panamik and stay there for the night. Trek to Yarab Tso, drive until Warshi.
Day 4 – Return to Leh or move on to Pangong Lake
Things may get a little tricky if you were traveling by bus or shared cabs. If you just had 1 day in hand, then board a bus or shared cab for Diskit and stay there for the night. Visit Diskit Monastery, Hunder Sand dunes in the afternoon and evening. The next day, you will catch a bus or shared cab and return to Leh.
If you were staying for two days, then Diskit will still be your destination on Day 1. The next day, there is an afternoon bus for Turtuk from Diskit that you can catch to get there. Stay in Turtuk for the night and return to Diskit again by bus. From there, you can again catch a shared cab for Leh or move on to Panamik to spend another day in the valley.
Also read: Best time to Visit Leh Ladakh
Leh to Nubra Valley Road Conditions
Road conditions in Nubra valley are surprisingly smooth and maybe the best that you will come across in Ladakh. The only bad sections are between South and North Pullu if you are coming via Khardung La. On the Wari La route, the entire road from Agham to Sakti is actually bad. The Shyok road is a smooth drive all the way with a few bad patches in between.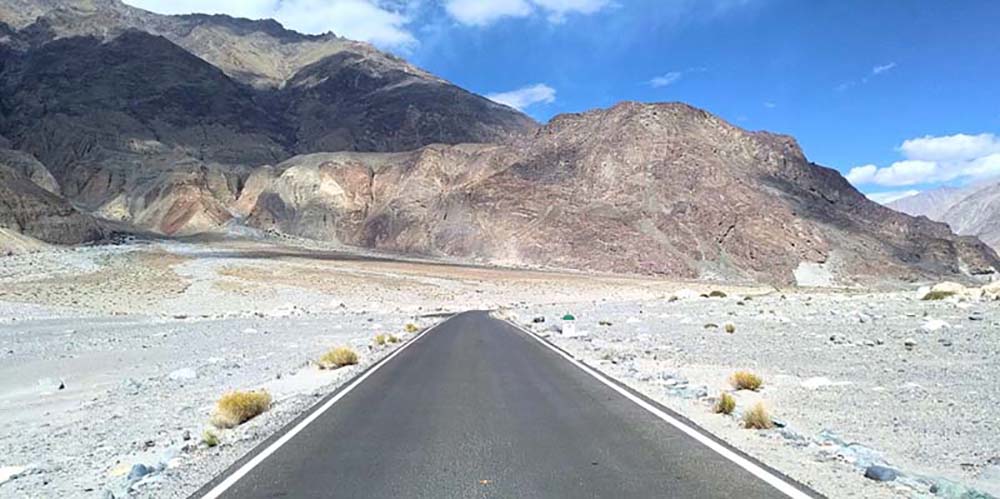 Best Vehicle
There is no best vehicle as such for visiting Nubra Valley. Except for the bad section between South Pullu and North Pullu, the road across Khardung La is a good one and even a hatchback and Sedan can be used for visiting here.
If you have an SUV then you can take either of the three routes I explained above. However if in a car with low ground clearance, then stick to the Khardung La road and Shyok route. Do not venture towards Wari La Pass.
The same applies to motorcycles as well. If on a 350 CC or 500 CC motorcycle in good condition, all roads are accessible. If on a motorcycle with a smaller engine or scooter, then better to skip Wari La entirely.
Towns or Villages in Nubra Valley
Mentioned below is a list of towns and villages located in Nubra Valley.
Khardung Village
Khalsar
Sumur
Panamik
Taksha
Sasoma
Warshi
Diskit
Hunder
Thoise
Bukdang
Turtuk
ATMs and Banking Services



There is no Bank or ATM in Nubra Valley or on the way. Debit or credit cards too are not accepted here. Please ensure that you withdraw and carry enough cash before you leave Leh for Nubra.
Petrol Pumps in Nubra Valley



There is a petrol pump in Diskit but I have found it to be not working half of the time. Either it was closed or there was no fuel available.
Just assume that there is no fuel station in the valley or on the way. Please ensure that you make proper fuel arrangements before you leave Leh, depending on your itinerary.
With that being said, you can actually get both Petrol and Diesel at the hotels and Dhabas at an increased price, usually 50% more than the market price. The quality of the fuel however cannot be guaranteed. For more details, please take a look at Fuel Availability in Leh Ladakh – How to Manage.
Hospitals / Medical Assistance
There is a hospital in Diskit where you can seek medical assistance. But for anything serious, you will have to rush back to Leh. The Army posts in between can also provide some help in case of an emergency.
Nubra Valley Altitude
Nubra valley is located at an average altitude of about 10,000 ft (3048 meters) which actually puts it at a lower altitude than even the town of Leh.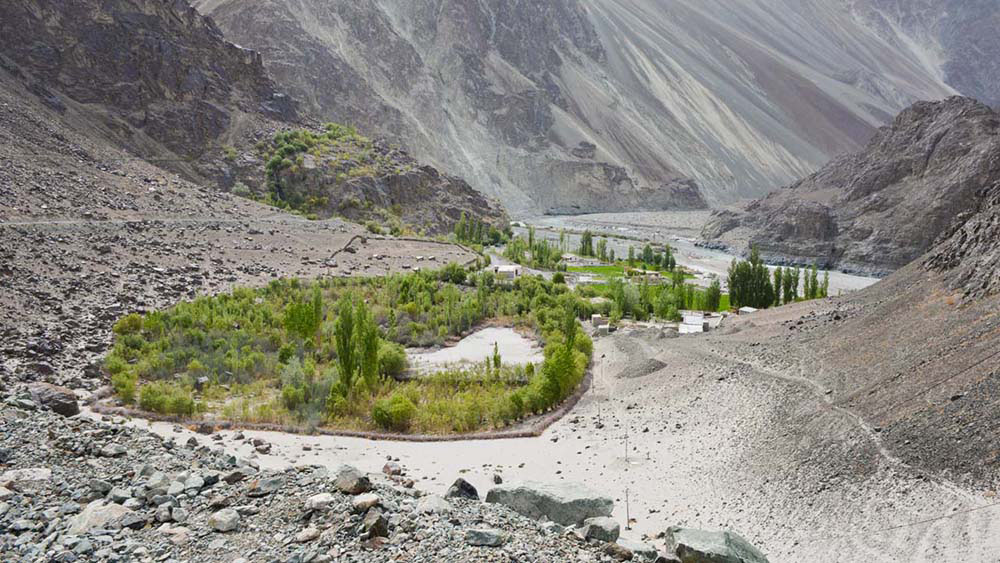 Conclusion
This I think covers most of the important aspects of planning a trip from Leh to Nubra Valley. I hope this information was helpful. If you have any further questions, please feel free to ask in the comments section below or at our Community Forum, and I will be happy to answer.