After several weeks of attempts and failures, I was finally able to put together this Leh Ladakh road map covering the entire region. I have created maps in the past as well but they were mostly broken down by areas; like for Nubra valley or Pangong Tso, etc. For a long time, I was trying to fit it all in on the same map and was finally able to do it. If you are planning to visit Ladakh by road anytime soon; then I am sure the map below can be of some help.
Click on the map below to view it in full size, or right-click and save it to your hard disk.
Once you click on the image, it will open the map in a new window. Look towards the bottom on the right-hand side for an option that reads "View in full size". Click there to see the large map. You can also download this map in its original resolution from the below link. Do not right-click and save pictures as; rather follow the download button on the top right-hand side. The original file size is about 3.8 MB.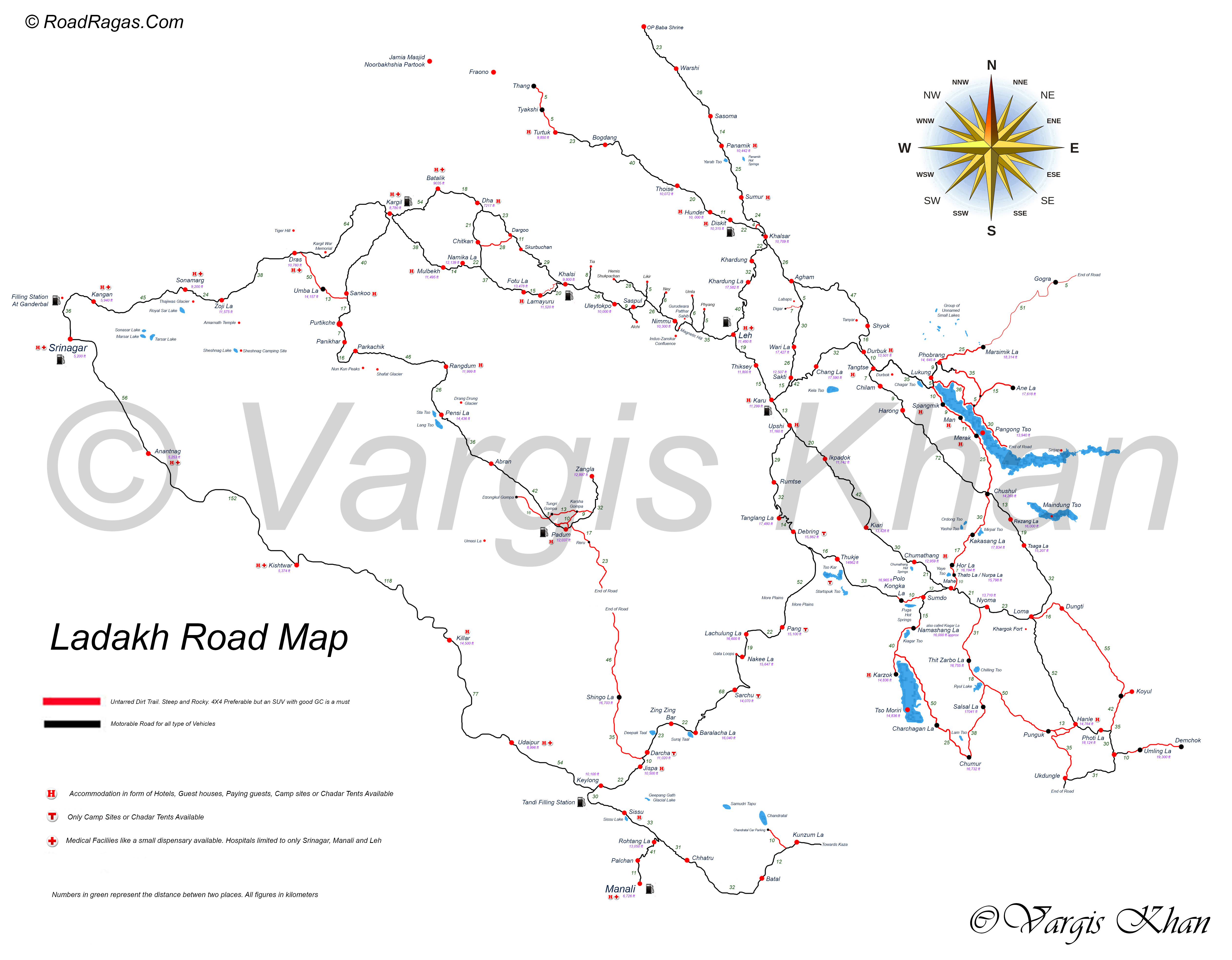 The map above coves a very large region and I have tried to include as many details as I could; due to which you will have to zoom in a bit to be able to read the text.
Ladakh Road Map
It includes both the highways leading to Ladakh, from Manali and Srinagar. I have also shown the road via Killar and Kishtwar that connects both Srinagar and Manali Leh highway. From Kargil, the road then goes deep into Zanskar Valley, Padum. There is a road under construction that will connect Padum to Darcha on Manali to Leh road; via Shingo La.
This road however is still under construction and cannot be used.  Other areas of Ladakh like Nubra Valley, Pangong, Tso Moriri, Changthang Valley, etc are all included.
Also read: How to Plan a Trip to Leh Ladakh – Complete Travel Guide
Please feel free to save the map to your phone while you travel. If you would like to use it with your blog or website, you are welcome to do so but please do provide credit and a link back to this page. Please do not also remove the copyright marks.
If you feel there is any information on the map that is not correct or outdated, please be kind enough to point it out so I can make corrections.
Conclusion
I hope this Leh Ladakh Road Map can be of use for your trip. If you have any further questions, please do ask in the comments section below; or at our Community Forum; and I will be glad to answer. Let me know if you need the map in a better resolution.