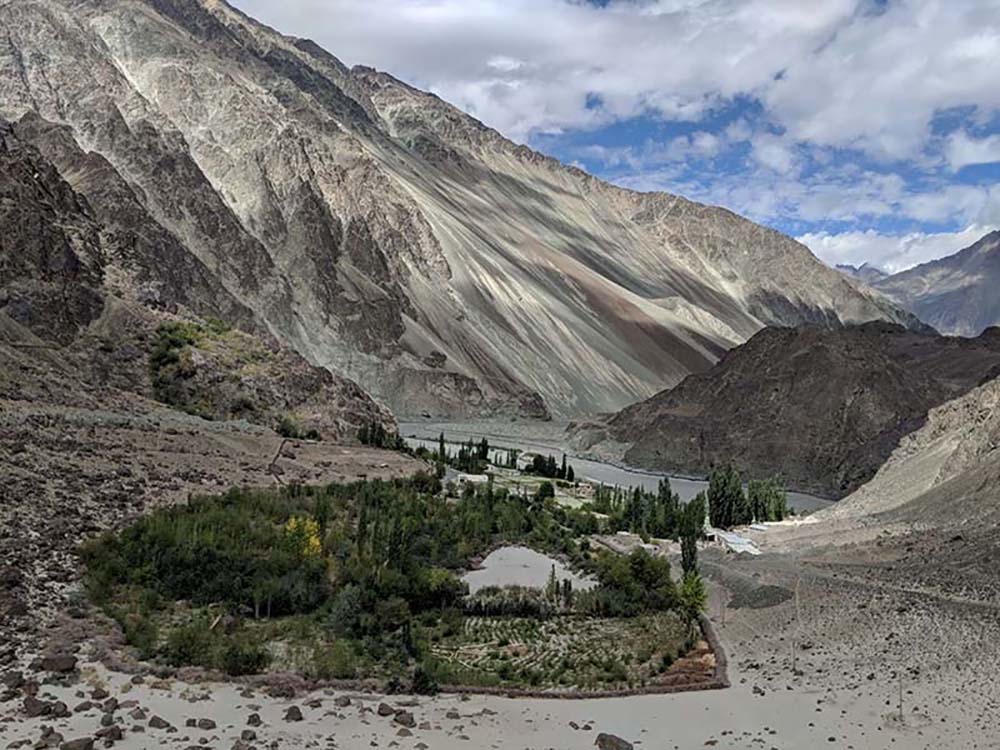 Ladakh in itself is considered to be an offbeat destination due to its remote nature and challenging terrain. But then there are several areas within Ladakh as well that are often termed as 'offbeat Ladakh'. These are places that are not yet as famous and do not receive as many tourists. One such place is the small yet charmingly beautiful village of Turtuk, located in the Nubra Valley of Ladakh.
Along with the villages of Changmar and Bogdang, it is among the newest areas in Ladakh to be opened for tourism. The first set of tourists arrived here in the year 2010 and since then, it has been a favorite destination among other curious travelers.
In the travel guide below, I will provide complete details on how you can go to Turtuk from Leh, where to say, what can you see there, and the best way to fit it in your overall Leh Ladakh itinerary.  For other details on visiting Ladakh, I will recommend taking a look at How to Plan a Trip to Leh Ladakh – A Complete Travel Guide.
About Turtuk
For a brief introduction, Turtuk is a small town located in Nubra Valley of Ladakh, at a distance of about 205 kilometers from Leh city. It is one of the only 4 Balti Villages under Indian administration; the other three being Tyakshi, Chalunkha, and Thang.
Turtuk is the last outpost of India at Thang after which Pakistan-controlled Gilgit-Baltistan begins. It also serves as one of the gateways to the Siachen Glacier due to which it was kept out of reach for non-local civilians.
In 2010, in order to promote tourism in the region and connect the people here with the rest of the country, tourists visiting Ladakh were allowed to travel till Turtuk and sometimes even Thang. By 2013, even foreigners were allowed entry to the village.
While the rest of Ladakh is a barren wasteland and a cold desert deprived of anything green, Turtuk is surrounded by lush green trees all around. Another contrast is in terms of its people. Ladakh is a Buddhist majority region whereas most of the people living in Turtuk are Balti Muslims.
The village is home to about 300 odd people who have experienced the word 'change' like none other in India. People here were Indians until 1947, then they were Pakistanis for 24 years until 1971 and now they are back to being Indians again.
Turtuk is one of the happiest places that I have been to. It is a place of stunning natural beauty and warm people that will welcome you with open arms. The village is also famous for several varieties of fruits that are grown here especially apricots.
History of Turtuk
Before we go on talking in detail about how you can plan a trip to Turtuk, let me provide a brief summary of the history of this place.  Turtuk was claimed by Pakistan after the end of British rule in the Indo-Pakistani War of 1947 where it remained for the next 24 years until 1971.
Under the command of Major Chewang Rinchen of Ladakh Scouts, the area was recaptured by the Indian Army and annexed into India. For this, Major Rinchen was awarded a Maha Vir Chakra but the struggle was far from over.
The local people were confused about their loyalties because they had been Pakistani for 24 years with some of them even having served in the Pakistani Army. Many of them also have relatives living across the Line of Control.
Due to all these factors and its close proximity to the border, the valley remained closed to visitors for the next 39 years. Things however slowly started to change.
Ladakh saw a major boost in tourism and the locals of Turtuk, weary of their long isolation, filed a petition for the remote but scenic valley to be opened up for tourists. And that is how the story of tourism in Turtuk began.
Turtuk Village
The village of Turtuk is basically divided into three different parts. The upper village is where the actual Turtuk was decades ago and later expanded to what the lower area now is.
Chutang: Chutang is located right next to Shyok River and is actually the center of the village now. All educational and cultural activities happen here. This is where the local school and health center are located.
During peak winter months, a lot of people move down here from the mountains to survive the cold weather. Chutang roughly translates to "river plain" and that is where it is located.
Yul: Yul is the area where most of the farming happens. It is lush green all around and is the oldest part of the village. Literal translation of the name is "Village".
Farol: Farol is where most of the guest houses in Turtuk are located. To get here, you will have to cross over a wooden bridge. There are a lot of buckwheat fields here and you can also view the K2 peak from here. The name literally means "the other side (of the river)".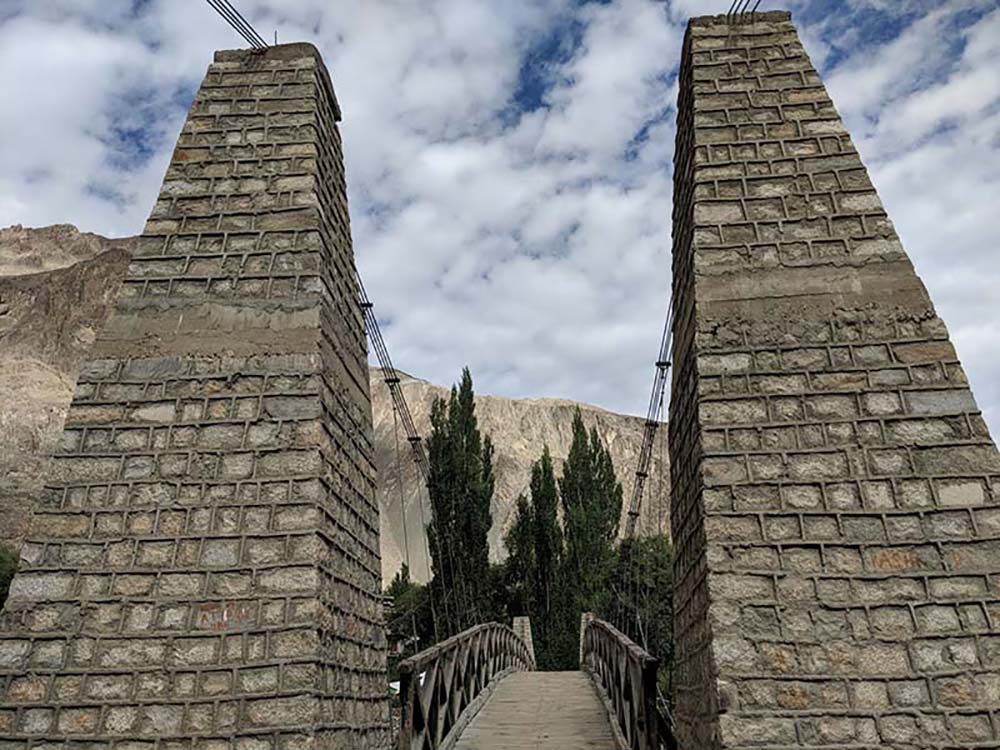 Permits for Turtuk
Your regular ILP will work for Turtuk village as well. You can get the permit either personally from the SDM office Leh or apply for it online.  For more details on how to get the permit, please read How to Obtain Inner Line Permit for Ladakh.
How to reach Turtuk
Turtuk is located in Ladakh so in order to get there, you will first have to reach Leh City. In case you are wondering about how to get to Leh, then I recommend that you take a look at this article How to reach Ladakh. Once you reach Leh you can travel to Turtuk by either your own vehicle or public transport. I will explain both of these options.
How to Reach Turtuk from Leh
Below is the route you will take from Leh city to arrive at the village of Turtuk if you were traveling by your own car or motorcycle, or a rented one from Leh City.
Whether or not you can complete this journey in one day entirely depends on how early you left from Leh, your speed, and your breaks. But yes, it is definitely doable and a lot of people (including myself) have completed the journey the same day.
Leh to Turtuk Route
The route will be as mentioned below.
Leh – Khardung La – Khalsar – Diskit – Hunder – Thoise – Skuru – Bogdang – Turtuk
The total journey will approximately be 205 kilometers and travel time of 8-9 hours. Take an early start from Leh, possibly by 6 AM, and you will also be able to avoid the traffic at Khardung La top. Leh to Khardung La is about 35 kilometers and you should reach the top in about 90 minutes at most.
After crossing the pass, you will then descend in the valley of Nubra and reach the village of Khardung first.  Take a short break at Khardung if you want to, and continue traveling another 22 kilometers to reach Khalsar.
A little before Khalsar, the road will bifurcate. The one to your right will take you to Sumur, Panamik, and Warshi. The one on your right will go towards Diskit, Hunder, and finally, end at Turtuk. This is the one you need to turn on.
Diskit / Hunder to Turtuk
Drive for another 22 kilometers and you will first reach Diskit, the headquarter of Nubra Valley and the largest town here. Next in line will be Hunder, famous for its dunes and double humpback camels.
All this time, Shyok River will be on your right as you continue straight from Hunder for 35 kilometers to reach Thoise. It is a military base and the name stands for Transit Halt of Indian Soldiers Enroute. Photography is restricted in this area so please be careful with your cameras.
As you travel from Hunder to Turtuk, the number of people will get lesser with each passing kilometer. But after Thoise, the civilization will almost vanish and you will hardly see anyone around.
Another thing you will notice is that the greenery will slowly start to increase and the landscape will turn from barren brown to lush green. Next, you will arrive at Bogdang, another village between Hunder and Turtuk.
You will cross the Shyok River a few times, come across a handful of houses on the way, see some tiny settlements and reach Chalunka. Until 1971, this village was the last village on the Indian side of the border.
After Chalunka, there is a large suspension bridge that will bring you down to the river bed of the Shyok River. Right after the bridge, you will be checked and registered at the army check post before continuing to Turtuk.
The road from Leh to Turtuk is mostly good all the way. There is a bad patch towards Khardung La top between North and South Pullu. Between Diskit and Turtuk, the road is average at best.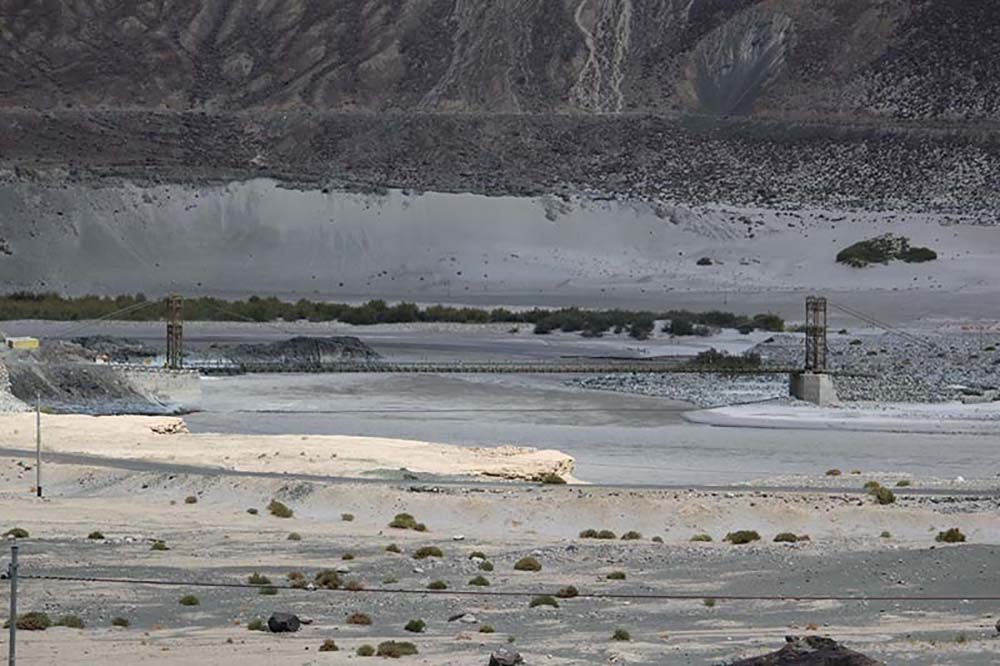 Leh to Turtuk Bus
A Bus for Turtuk leaves Leh every Saturday at 6 AM. Fare per person is Rs. 316. This bus will pass through Khardung La, Khardung, Khalsar, Diskit, Hunder and Thoise.
If you got down at Khalsar, you can use this Bus to travel to Panamik as well. The problem, however, is that this Bus is only once a week, on Saturdays. So if you cannot plan your itinerary in a similar manner, you cannot travel by this bus.
There is however another way that you can travel to Turtuk by Bus on any day of the week. The first thing that you will need to do is to get to Diskit. For this, you will need to first board a shared taxi from Leh Bus stand for Diskit.
The shared public taxi stand is next to the Polo ground. Most taxis leave between 7 – 8 am every morning to Diskit or Panamik. Fare is Rs. 400 per person. It is an extremely comfortable way to travel. Depending on what time you started from in Leh, this taxi will drop you at Diskit by 1-2 PM at most.
There is a daily bus from Diskit to Turtuk that you can board for the remaining journey. The fare is Rs. 100 per person. This Bus will arrive in Turtuk by 6 – 6.30 PM.
Also Read: Leh to Nubra Valley Bus service – Fare, Schedule & Timings
By Taxi
Last but not least, let us talk about how you can reach Turtuk from Leh City by taxi. A private taxi will be the most convenient, time-saving and comfortable way to travel but it can cost you a lot of money. If you were on a budget, then another way to travel will be by shared taxis. Let me explain both.
If you rent a cab for Turtuk, it would have to be a return journey and for 2 days. You cannot rent a taxi for just a drop to Turtuk.
Now depending on the type of cab you chose, the fare would be a total of Rs. 12,431 for cabs like Sumo, Bolero, and Eco Van. If you rent a Scorpio, Safari, or Tavera, it would cost you Rs. 13,709. For cabs like Innova, Aria, and XUV, the fare would increase to Rs. 14,431.
Also Read: How I traveled to Leh Ladakh by Public Transport
If you did not want to spend all that money on private cabs, you can opt for the shared taxis. The journey, in this case, would be similar to what I explained for the buses. Just walk up to the shared taxi stand near Polo ground early in the morning and look for a cab that can take you all the way to Turtuk. Fare per person approximately would be Rs. 600.
If you could not find a shared cab for Turtuk, board one going to Diskit which you will definitely find. From Diskit, either board the noon bus to Turtuk or look for a shared cab there. A shared cab from Diskit or Hunder to Turtuk will cost you about Rs. 700 – 1000 per person.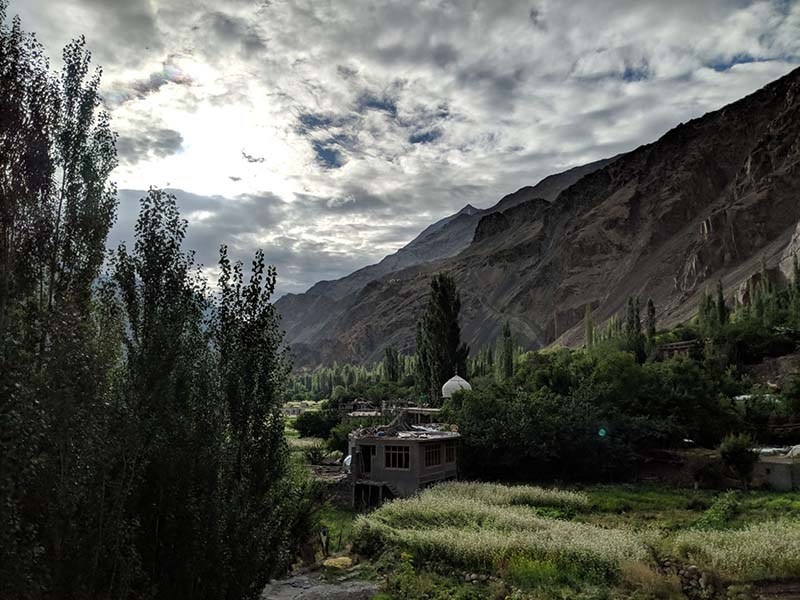 Where to Stay in Turtuk
Now that you know how you can reach Turtuk, let us talk about the choices of accommodation in Turtuk.
Hotels in Turtuk
There are no hotels in Turtuk. By that, I mean the grand luxurious ones. For accommodation in Turtuk, you will either have to opt for guesthouses, homestays, or a campsite and there are a few of them to choose from.
Homestay in Turtuk

Home Stay in Turtuk area available in plenty. The majority of the people here have extended their homes by a couple of rooms converting them into Home-stays.
Khan Home Stay is the one I stayed at during my first visit to Turtuk. It is owned by a gentleman named Sher Khan and he is a very friendly guy.
Another option is Ismail Homestay that a friend of mine recently stayed at. It belongs to a man named Ismail (obviously) who is a great host and will ensure that your stay with him is a memorable one. They also make woolen blankets which you can buy at a very reasonable price. You can contact him at 9419300430.
Another friend of mine stayed at Balti Homestay for Rs. 500, including dinner. As per him, "Owners of Balti Guest House in Turtuk, a gentleman named Abdullah and his brother were very hospitable people. The food served was basic but surprisingly delicious. For a price of Rs. 500 per person, I must admit that the stay was well worth the money" You can contact Abdullah at 094692 69426.
A couple of other homestays are Sang sang which will cost you Rs. 1000 per room for 3 people; Bagdoor or Bagdour Homestay for Rs. 700 per night with dinner; and Himalayan Point for Rs.500 per person with dinner.
Also Read: Exploring Nubra Valley – Leh to Turtuk and Panamik
Guest Houses in Turtuk
The second time I visited there, I stayed at Maha Guest House because Sher Khan was not in the village and his guest house was locked. However, I enjoyed my stay at Maha Guest House equally.
They have a little garden cafe which is very beautiful and peaceful. The rooms are comfortable and warm and the restaurant is decorated with thriving sunflower plants; providing a good ambiance.
The food was pretty decent and their apricot pancakes were truly amazing. It is located in the upper part of the village and will cost you about Rs. 500 – Rs. 700 per day.
Ashoor Guest House & Restaurant is another place in Turtuk that a reader has provided great feedback on. They have very comfortable rooms and English-style toilets. You can contact them at 980248153 or 9469286300. It is located on the main road and a stay here will cost you about Rs. 700  – Rs. 1000 per day.
Also Read: Mask Festival In Ladakh – A Few Glimpses
Camping in Turtuk
During my last visit, I noticed two campsites in Turtuk. One was by the name of Buckwheat Root Camp and another called Turtuk Holiday Resort.
I have checked the Buckwheat Root Camp and they have nice tented accommodation. It belongs to a gentleman named Ali. I did not stay with him because I was looking forward to a homestay but he still spoke to me in a very friendly manner and offered me a cup of tea.
The other campsite, Turtuk Holiday Resort also is a comfortable one. Since I haven't stayed at either of them, I cannot really comment on the quality of the food here. Expect the price here to be around Rs. 3000 – 4000 per day.
Self camping is an option in Turtuk but not in the middle of anywhere. If you were carrying your own camping gear, you will have to talk to a local villager and pay them a little to give you a spot to pitch your tent.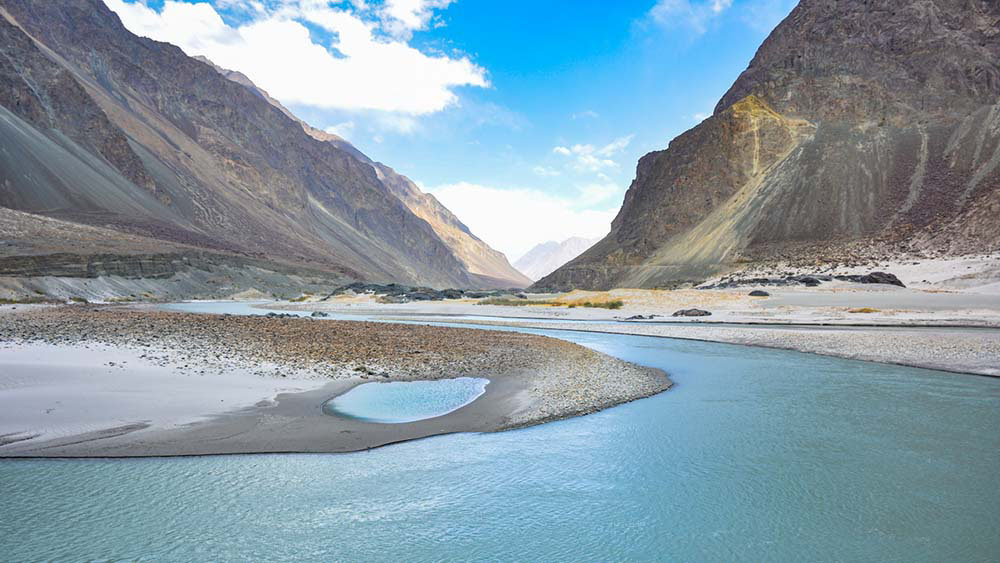 What to see in Turtuk
The natural beauty of the place is what you come to Turtuk for. The tranquility and calm of this region is something that city people like us hardly ever experience and that is the primary attraction of this small village.
It is practically a place that is standing still in time. Spend a day in Turtuk, and trust me when I say this, you will feel and live every hour of the day. Time here does not rush you buy. You will feel the clock ticking and the day moving ahead slowly at its own pace.
With that being said, there are a few places to visit in Turtuk that are worthy of note. I will list these spots and provide a brief description.
Thang
Thang is the farthest point of the Turtuk sector towards the LOC, after which it was all Pakistan. It is located at a distance of about 10 kilometers from Turtuk. The border from here is only about 2 kilometers. The ride from Turtuk to Thang too is quite pleasant.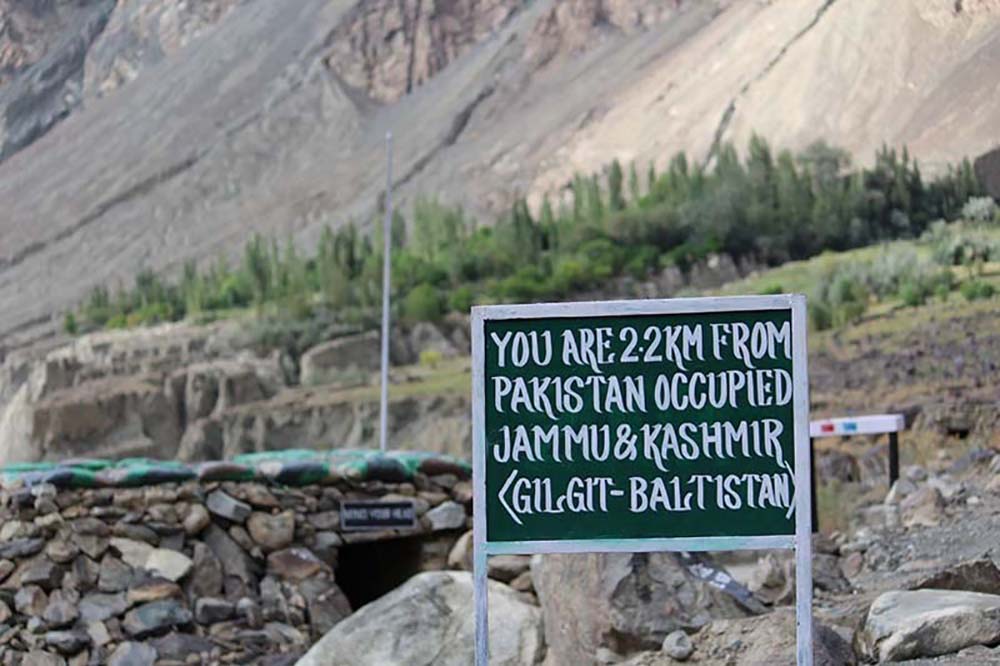 Turtuk Waterfall
There is a waterfall in Turtuk that I must recommend for everyone to hike up to. You will have to walk and climb a little bit but you will get a totally amazing view of the village from the top.
I went there early in the morning at 5:15 am and returned back to the homestay by about 8.45 am. Please note that you will have to be very careful as the trail is steep and gets a bit narrow at some places.
If possible, take a local from the village to accompany you. Once you reach the top, the view you will get is truly awe-inspiring. If the weather was clear, you may even catch a glimpse of K2 Peak, the second-highest mountain in the world.
Polo Ground
There is a Polo Ground in Turtuk which is said to be from 16th Century. If you were lucky, you could find some youngsters from the village enjoying a game of Polo and be a part of it or just sit out and enjoy the game.
Brokpa Fort
These are ruins of an ancient fort in Turtuk. Brokpas are known to be a 5000-year-old tribe of Ladakh.
Also Read: Tso Moriri to Pang – via Tso Kar and More Plains
Water Mill
There is a simple Greek-style watermill in the village that you can visit.
Natural Cold Storage
In Turtuk, perishables are kept inside little hollows. These are known to be naturally cold because of an underground glacial water stream. It is not really something that you would see on a daily basis.
Mosque

Pay a visit to the beautiful mosque of Turtuk. The mosque has some very fine carvings on its wooden ceiling and pillars. It is said to date back to medieval times and has been renovated multiple times over the years.
Turtuk Gompa
Though the majority of the population here is Muslim, there is a small Buddhist Gompa perched on a hillock above the village. If you had time, walk up to the Gompa. It is a pleasant hike and not too difficult.
From the top, you will get some amazing views including the snow-clad K2 peak. It will take you about half an hour to reach the Gompa. The waterfall is located close to the Gompa so you can actually cover both places at the same time.
Balti Heritage Home
It is a heritage house converted into a museum. There are 4 small rooms built in the old style with low roofs and small windows.
Inside the house, you will find on display a mix of centuries-old royal gifts, dresses, dishes, and furs. It is located in the upper part of the village and any of the locals can point you in the right direction. There is an entry fee of Rs. 50 to enter the house.
Balti Museum
This is another museum in Turtuk where you can learn the history of the Balti people and the whole dynasty. Out here as well, you will find centuries-old items on display. It is located in Farol, the area beyond the wooden bridge. There is no entry fee to enter this museum.
Also Read: When and How to rent an Oxygen Cylinder for Ladakh Trip?
What to do in Turtuk Village
Apart from visiting all the above-mentioned places, there is little else to do in Turtuk. But to be honest, you do not come to a place like this to do something. Rather, in my opinion, it is the exact opposite.
When I am in a tiny village like Turtuk, in the middle of nowhere, I would like to spend my time sitting ideally and doing nothing. But if you do want to be a part of something different, listed below are some experiences that you can have in Turtuk.
Things to do in Turtuk
Learn about an entirely different culture
Stay with a villager in their home and listen to their stories; observe their simple lifestyle.
Enjoy the beautiful Apricot and Walnut farms all around
Take a walk through the village and enjoy the beauty and silence of the place.
Stay at a campsite
Trek to the waterfall I spoke about above
Trek to the Gompa
Take a walk along the river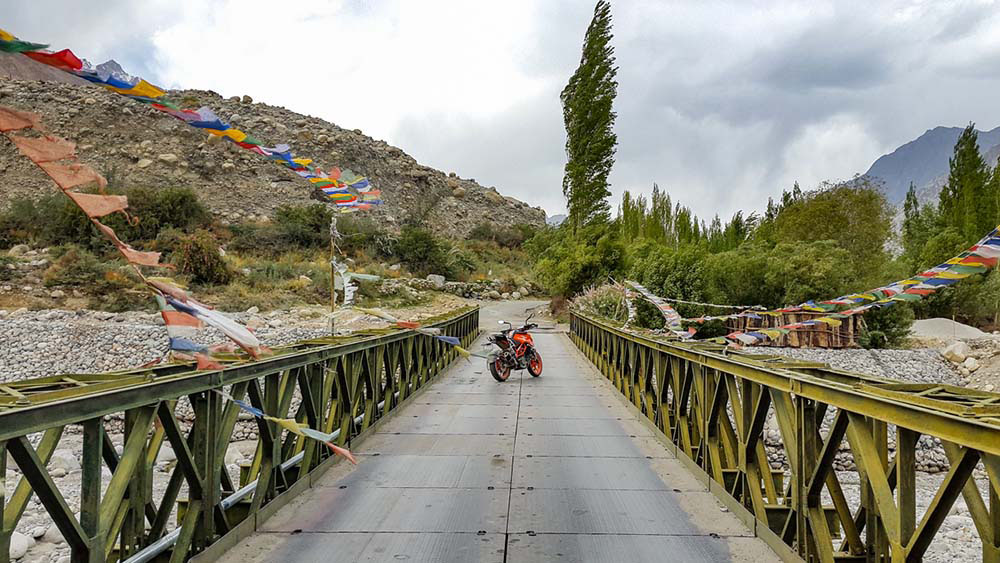 Turtuk Weather
Being a cold desert, the weather of Turtuk remains cold throughout the year. Even during the months of May, June, and July, the maximum temperature experienced will not be more than 20 Degrees Celsius.
This entire region is in a rain shadow area which means that it should not receive any rain at all. But thanks to global warming, it rains here now in the month of July and sometimes a lot.
Winters here are however very harsh. During the months of January and February, the temperature can go as far as -10 to -15 Degrees Celsius. It snows quite a bit in Turtuk during winters and sometimes the road across Khardung La can get blocked as well.
Best Time to Visit Turtuk
Now considering the weather conditions above, the best time to visit Turtuk is anytime between May to October which also is the best time to visit Ladakh. For a more detailed version of this information, please read When is the Best time to visit Ladakh.
By the end of May, the entire valley blossoms and turns lush green. The Apricot season is in the month of July. Autumn arrives in October and all that was green in September now turns golden orange, giving a magical touch to the entire village.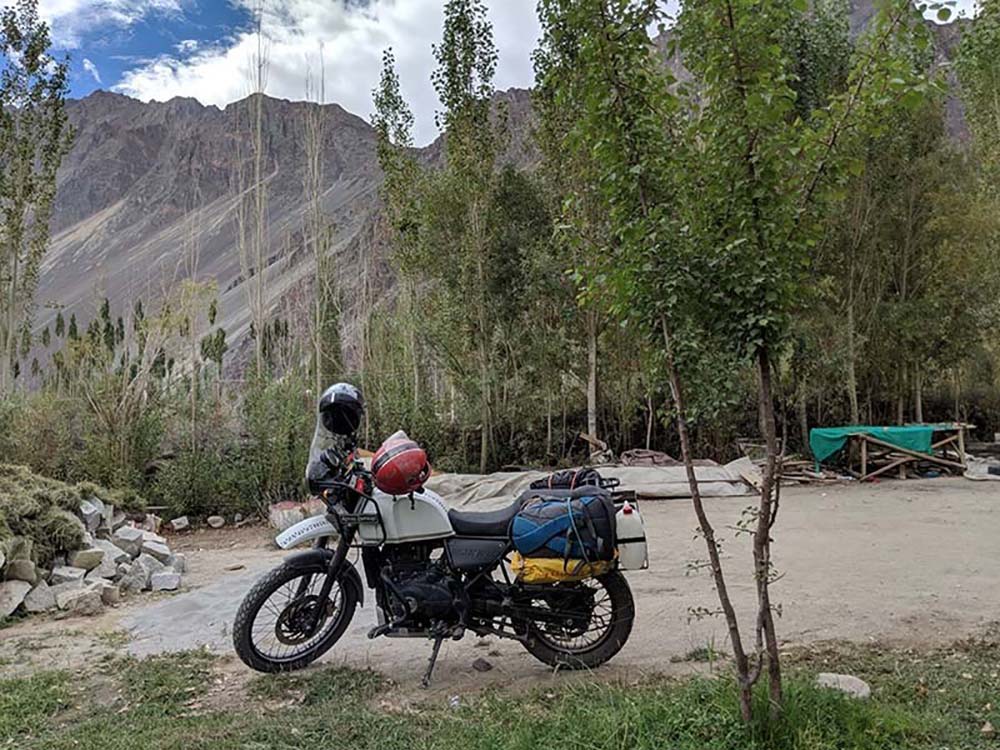 Bank / ATM / Petrol Pump
There are no Banks or ATMs in Turtuk. The nearest one is in Leh City.
There is no petrol pump here either. The nearest gas station is in Leh City. However, petrol and Diesel can be bought in Diskit, Hunder, and Panamik as well in Black for about 50% more than the market prices. There is a petrol pump in Diskit but I have rarely found it to be functional ever. If you run out of gas here, you will have to buy it in black only.
There are no mechanics in Turtuk. The nearest mechanic is in Leh City but you can get some minor work done in Diskit as well.
Medical Assistance
The nearest major hospital is in Leh City. There is no medical assistance available in Turtuk for something serious but for some minor ailments, you can get some help in Diskit.
There is also a health center in Chutang and a small hospital in Bogdang. It would be better to bring some basic medicines along like for fever, upset stomach, pain killers, etc. There is a lot of Army presence in the area so in case of an emergency, you can also approach them for help.
Mobile Network and Data Connectivity
There is no mobile network available in Turtuk. No matter which service provider you are with, your phone will be as good as a paperweight here.
Your only chance is an intermittent BSNL / MTNL network that will keep coming and going. Even if you have the network though, it will be nearly impossible to hold it long enough to make a phone call.
You may however be able to send text messages out though. BSNL and Airtel users, however, will get good connectivity in Diskit. For more details on this topic, please take a look at Mobile network and Data Connectivity in Ladakh.
Electricity and Other facilities
Electricity is available in Turtuk but only for a few hours a day; so please don't forget to keep your phone and other batteries charged. The timings when there is power available are from 7 PM to 11 PM daily. There is no Internet or Wi-Fi anywhere in the village.
No matter what kind of accommodation you chose or where you eat, please note that Turtuk is a very basic and simple village. Do not expect anything too luxurious or fancy out here. If you did, then you will be highly disappointed.
People and Culture
People here are Balti Muslims with a few Buddhist people living here as well. Baltistan in old times used to be a separate kingdom ruled by the Yagbo dynasty several centuries ago.
While most of Ladakh practices Buddhism as the main religion, Turtuk is a predominantly Muslim area. It is a village where you will see an entirely different culture and lifestyle in the way people look, behave and dress.
Some of the locals are descendants from Central Asia which adds an even further mix of culture to the place. You will find people here of Tibetan, Balti, and Kashmiri descent making the culture here a blend of many.
The primary languages spoken here are Ladakhi, Urdu, and Balti. Balti language is a fusion of Persian and old Tibetan.
What to Buy
Turtuk is known for its Apricots and that is something that you must buy before returning. Apart from the fruit, you can buy woodwork handicrafts. Walking canes are available to buy at several places.
Apricot seeds, oil, jam, juice, several varieties of organic dried apricot are some of the other products you can buy here. Apart from the Apricots, Turtuk is also the largest walnut-producing village in Ladakh.
The place is also known for its traditional woolen shawl. Apart from these items, you can buy some stone carvings of animals in the tea shop near the Mosque.
Most of the shopping in Ladakh would have to happen in Leh City only. For more details on this topic, please read Shopping in Ladakh – What to Buy in Ladakh.
What to Eat
Listed below are some of the dishes that you should try in Turtuk. Most of the food is grown in the fertile valley itself. Some of the local products range from cabbages to seabuckthorn, but of particular note are the apricots and buckwheat.
Brakoo & Muskat: These are dumplings made from Buckwheat and served with a sauce of ground walnuts, almonds, and spices.
Zan with Tsamig– This is a cake made of buckwheat and served with a mixture of greens and yogurt.
Kissir with Grangtur: These are pancakes made of buckwheat.
Apricot Pancakes
Buckwheat pancake with dry fruit or Apricot chutney
Thathuk (soup)
Yak Butter Tea
The best place to eat would be at your home-stay and guest house only. If you were staying with a family, you can talk to them and learn about their dishes and maybe bring a recipe to try back home.
There is a tea shop near the mosque where you should try a cup of tea early in the morning after morning prayers. Balti heritage house, Friends Cafe, and Balti kitchen are some of the other places where you can grab a bite.
For more information on different foods you can try having a taste of in Ladakh, please read Food that you must try in Ladakh.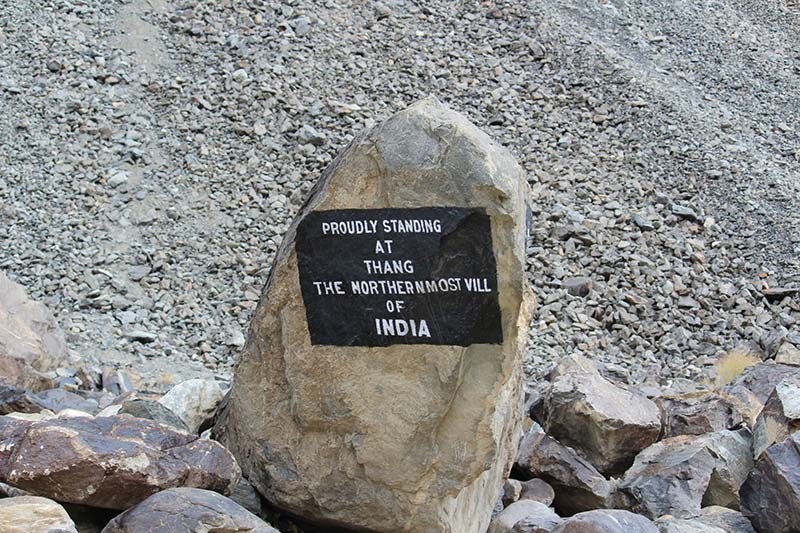 Leh to Turtuk Itinerary
After all the necessary information, let me explain how you can plan to include Turtuk Village in your existing Ladakh itinerary. I am not only talking about visiting Turtuk but rather, how you can travel from Leh to Nubra and other places in Ladakh while covering Turtuk on the way.
How much time you can give entirely depends on how much time you have in hand. But for adding Turtuk to your Ladakh itinerary, at least one day will have to be dedicated. If you are able to, I would highly recommend adding another day of stay in the village itself.
Day 1: Leh to Diskit
Take an early start from Leh so that you have enough time for sightseeing en route.
Drive on the road towards Khardung La.
After an uphill drive of 35 kilometers, you will reach the Khardung Pass top. Stop for a while, enjoy the vistas from one of the highest motorable passes in the world. Have a cup of tea in the Army-run canteen.
After a break, drive downhill into Nubra Valley and cross the village of Khardung on the way.
After 55 kilometers, you will reach the village of Khalsar. Take a break and grab something to eat at any of the Dhabas here.
At Khalsar, the road bifurcates. The one on your right goes to Panamik and ends at Warshi Village with the Nubra River on its left.
The one on your right goes towards Diskit village and ends at Turtuk with Shyok River on its right. Turn on this road.
Drive another 23 kilometers to arrive at Diskit village.
See the Diskit Monastery
See Maitreya Buddha, an impressive 32-meter statue of Buddha that was built in 1996 and sits facing Pakistan. It is located close to Diskit Monastery.
See Lachung Temple, a beautiful temple located near Diskit Monastery.
Overnight at Diskit
Day 2: Diskit to Turtuk
Start traveling towards Hunder, about another 10 kilometers from Diskit.
See Hunder Sand Dunes located between Hunder and Diskit villages. Presenting an amazing site of white sands, it is also among the top camping sites in Ladakh.
See Bactrian Camels and enjoy a Camel Safari. Also known as the two-humped camel, it is a very rare animal with a population estimate of only two million all over the world. These are found in Hunder and a camel safari in the dunes is one of the most popular tourist activities in Ladakh.
Visit Hunder Gompa
After sightseeing in Hunder Gompa, arrive at Turtuk Village and stay overnight.
Day 3: Turtuk
If you have some time in hand, spend this entire day relaxing in Turtuk. You can also trek to the waterfall.
Day 4: Turtuk to Panamik or Pangong Tso
After spending some time in Turtuk, drive all the way back to Khalsar via Hunder and Diskit. You can either travel to Panamik on this day and spend more time in Nubra Valley, or you can go straight to Pangong Tso via Shyok road.
Below is the distance of Turtuk from some of the nearby and major places in Ladakh.
Turtuk to Pangong: 250 Kilometers
Hunder to Turtuk Distance: 82 Kilometers
Diskit to Turtuk distance: 90 Kilometers
Leh to Turtuk Distance: 250 Kilometers
Turtuk to Thang: 10 Kilometers
Also Read: How to Travel from Pangong Lake to Tso Moriri Lake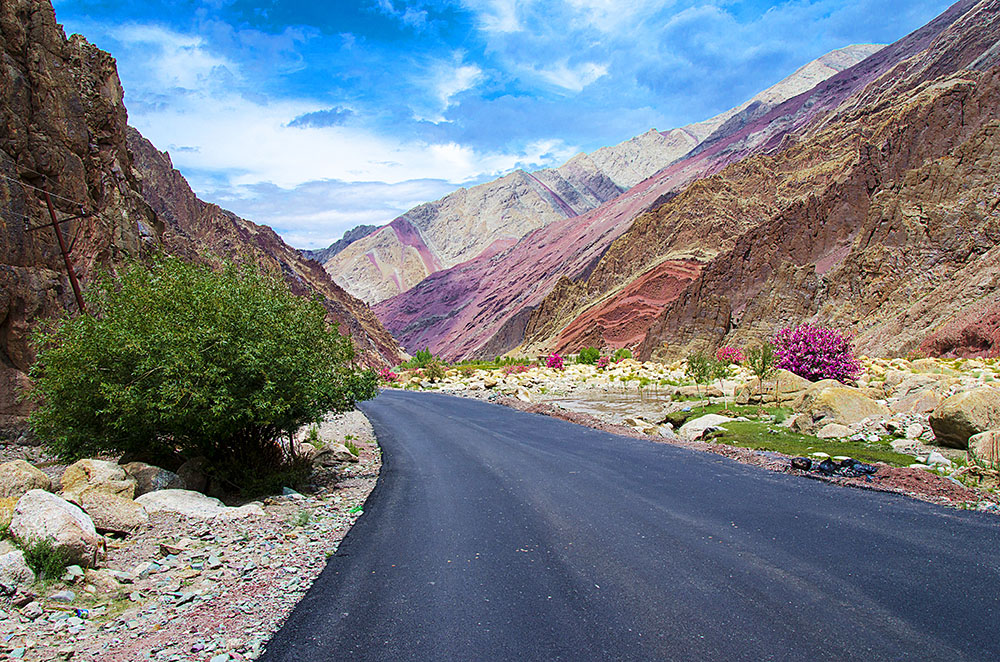 Other Tips
There is really nothing between Hunder and Turtuk so carry enough water to last the journey and some snacks as well if needed.
This is a Muslim majority region so if you happened to be here in the month of Ramzan, you will find yourself in a very sleepy and dull town as everyone here would be fasting and spending time in prayers.
Also Read: Turtuk Village & Thang | Exploring Offbeat Ladakh
Please be sensitive to the local customs of the place. Dress appropriately in full-length dresses and do not openly consume alcohol. Do not click pictures of people without their permission.
Please do not litter. You will not only pollute the place but will  also increase the burden on locals who you will find cleaning their village every morning.
Temperature in Turtuk
Below is a breakdown of Turtuk throughout the year
Turtuk in January 
Min. Temperature: -13 °C. Max.
Temperature: -2 °C.
Covered in the snow with chances of a snowstorm but a trip is possible. Can only be visited by a private taxi from Leh. Very little chance of finding public transport.
Turtuk in February
Min. Temperature: -4 °C
Max. Temperature: 1 °C.
Very cold weather and the region continues to receive snowfall.
Turtuk in March
Min. Temperature: -3 °C
Max. Temperature : 0 °C.
The weather continues to remain cold but the sky is clear during the day and the sun starts to shine bright.
Turtuk in April
Min. Temperature: -3 °C
Max. Temperature: 7 °C.
Turtuk remains covered in snow even in April. The temperature starts to rise but the chilly winds keep the days of the Turtuk region very cold, and the nights are even very colder.
Turtuk in May
Min. Temperature: 4 °C
Max. Temperature: 15 °C.
There won't be any snowfall in May but you may find a little snow on the ground. Summer arrives towards the end of May but even then, the weather continues to remain very cold and freezing cold at night.
Also Read: How to Calculate Minimum Budget for Ladakh Trip?
Turtuk in June
Min. Temperature: 8 °C
Max. Temperature: 18 °C.
The climate gets a bit humid in June and there could be some light rainfall as well. This is one of the best times to visit Turtuk.
Turtuk in July 
Min. Temperature: 7 °C
Max. Temperature: 17 °C.
There could be some heavy rainfall in the month of July. The month of July is the warmest month of the year in Turtuk and one of the best months to visit.
Turtuk in August
Min. Temperature: 8 °C
Max. Temperature: 18 °C.
Though days and nights in August are still cold, the overall weather is very pleasant and enjoyable.
Turtuk in September
Min. Temperature: 9 °C
Max. Temperature: 19 °C
September is considered to be the last month of tourist season in Turtuk because after this, it is the time of the winter season and snowfall.
Turtuk in October
Min. Temperature: 0 °C
Max. Temperature: 13 °C.
October marks the beginning of the winter season and by mid of the month, it can snow here anytime.
Turtuk in November
Min. Temperature: -2 °C
Max. Temperature: 10 °C.
The weather continues to get colder. Both the intensity and frequency of snowfall increase.
Turtuk in December
Min. Temperature: -4 °C
Max. Temperature: 8 °C.
It is not a good time to be in this region unless you were chasing snow and cold weather. Because of snow, Turtuk Village may even get isolated from the rest of Ladakh.
Also Read: Tourist Attractions in Ladakh: A Comprehensive List
FAQs
Listed below are some of the most commonly asked questions about Turtuk.
1. Is Turtuk worth visiting?
Yes, Turtuk is definitely worth visiting and spending some time in. It is one of the best places to see in Ladakh.
2. Where is Turtuk located?
Turtuk is located in Nubra Valley at a distance of 205 kilometers from Leh City.
3. Is Turtuk safe to visit?
Yes, Turtuk is a very safe place to visit provided that you do not take any unnecessary risks, abide by the rules, act as a sensible tourist, and do not put yourself in harm's way.
4. Why should you visit Turtuk?
You should visit Turtuk to experience an entirely different culture of Balti people, enjoy the serenity of the region, and spend some time in a place standing still in time.
Also Read: An Ideal Itinerary to Visit Ladakh in 7 Days
5. Does it snow in Turtuk?
Yes, it snows in Turtuk in the months of late December, January, February, and March.
6. When is Turtuk open for tourism?
Turtuk remains open for tourists throughout the year. You may not, however, be able to reach here during peak winters if too much snow blocked the route.
7. What is the altitude of Turtuk Village?
The village of Turtuk is located at an altitude of around 9,846 feet (3001 meters). It is the lowest altitude village in Nubra, due to which you will find a lot of greenery and plants there!
Conclusion
In Balti Language, the name Turtuk means "desire to stay" and it describes the village perfectly. It is a charming little hamlet that is bound to leave its effect on you.
I hope the information above on visiting Turtuk was of help. If you have any other questions, please feel free to ask in the comments section below or at our Community Forum, and I will be glad to answer.