Go back about 10 years or so and Ladakh was necessarily a place for adventure junkies or motorcycle enthusiasts. Those days however are of past. Tourism here is on rise and the number of people visiting rises with each passing year. People have now started to visit Ladakh with infants, toddlers and children under 2, 3 or 4 years of age. So if you were wondering whether or not it is doable then the answer is that yes it is. But you must keep in mind a lot of things and prepare accordingly; details on which I will provide in this article.
Before I continue writing this article any further, let me first mention that I am not a Doctor or a medical professional. I have no experience in the file and the details I am sharing below is just some practical knowledge that I have gained from all my trips to Ladakh in last few years.
Also Read: How to Plan a Trip to Ladakh – Complete Travel Guide
Age Limit for Ladakh

This is one of the most common doubts that people traveling to Ladakh with family have; so let me begin with addressing this question first. There is really no age limit for Ladakh as long as there is no medical history or condition involved. With that being said, personally I would not prefer taking a child along on a journey to a high altitude area like Ladakh unless they were at least a couple of years old. And you must not do it if the child is below 3 months of age.
As mentioned in the article HERE, Babies under 3 months of age do not have mature enough lungs to handle altitude sickness; so if your kid is yet under 3 months, trash the plan for another time. If your baby was born premature or has a heart or lung condition, it is highly advised that you do not bring them along on the journey or at least consult a doctor before you do so.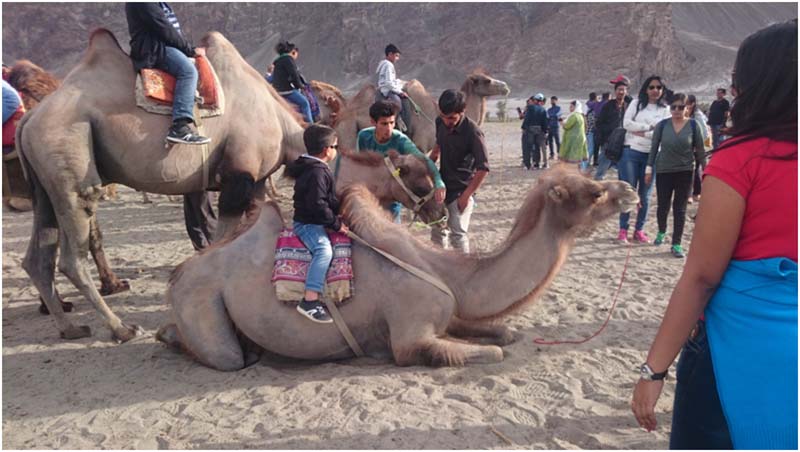 Ladakh with Toddler
Almost everyone who travels to Ladakh for the first time suffers from acute mountain sickness; with an exception of people who have been to similar high altitude areas before. Problem with traveling a child is that it is hard to identify signs of AMS with them. If your child is of a few years of age, they would still be able to tell you if they aren't feeling well; but if you went to Ladakh with toddler or infant, you will have to be strictly vigilant of their behavior all the time.
What is Acute Mountain Sickness?
Acute mountain sickness is a direct result of exposure to low oxygen levels due to gain in altitude. In order to compensate for low oxygen per breath, our body increases the breathing rate. This process of our bodies adapting to low oxygen and high altitude is called acclimation. In short, high altitude sickness occurs when our body is not able to get the amount of oxygen it needs from the air. It usually occurs at an altitude of 8000 feet or higher and anyone from adults to children can suffer from altitude sickness.
Depending on the symptoms, sometimes altitude sickness may be as simple as a headache; or as severe as a condition called HACE that can be fatal if not treated in time.
Also Read: Clothes for Ladakh Trip – What to Pack?
Leh Ladakh with Kid
Children have the same tolerance level for high altitudes as adults, with an exception of babies under three months of age, as discussed above. A better option would be to wait until your child is at least 1 year to 18 months of age. It will make things easier for both you and the baby.
If your baby has altitude sickness, he or she may vomit, appear more tired or irritable than usual, not sleep well, loss of appetite and seeming generally unwell. Being at a high altitude may make your baby tired and dehydrated. He may also have a headache and feel dizzy, although he won't be able to tell you how he's feeling. When it comes to babies, be mindful of the non-verbal signs. The symptoms of altitude sickness in babies can manifest immediately or after a few hours. Older babies may complain of dizziness, fatigue and other symptoms.
Leh Ladakh for Child
Now what I mentioned above was purely in terms of Altitude sickness but that is not all. There are a few other things as well that you will have to be mindful of as mentioned below.
Ladakh with Infants
In case of an infant,my first advice would be that Ladakh should never be your first trip with the baby. Travel to a few other places first, the easier ones. This way, you will get an idea and experience on how to travel around with the baby; and will also know how to take care of your infant better. If you are completely new to parenting, then Ladakh cannot and must not be your first vacation after child birth.  You should also get used to using baby gear while on the move like car seats for babies, baby carriers and booster chairs.
You must keep your baby hydrated at all times. Nurse your baby frequently or offer several additional ounces of formula or water daily while you remain at the higher altitude. Another problem could be putting your infant to sleep at high altitude. Keep them warm, comfortable and offer sips of an electrolyte solution to keep them hydrated. This will help the baby sleep. Your child may start to sleep in short duration but more often. This is normal as long as they are getting enough sleep everyday.
Last but not the least, you must also allow your baby time to adapt to higher altitude so plan a trip with frequent stops along the way. Do not rush through the journey and ensure that gain in altitude is gradual.
Pack Well
Items like Diapers or warm milk will not be available at all the places. You will be traveling through a remote region and you may struggle to find food that your Baby can eat. So please ensure that you are packing well and in sufficient. Another thing you need to know that at most of the places, you will not get a regular pediatric medical care. Leh is the only place in Ladakh where a well-equipped hospital is available. So before you start from home, visit a Doctor and bring along any necessary or precautionary medicines that they recommend. When it comes to adults, I always suggest to travel light; but if you are traveling with children, I would rather recommend that you bring anything that you think can come handy and you can carry comfortably.
Bring in plenty of snacks like chips, biscuits etc. that your child can keep munching on. If possible, bring an electric kettle along. Feeding ice cold water to a baby at night may not be a good idea and you can't wake up the hotel staff for warm water every time your kid is thirsty. It will also come in very handy if you were traveling with an infant when warm water will definitely become a necessity. You can use it to heat up some milk as well if needed.
Plan Your Itinerary Well



Your gain in altitude must be gradual or slow. If you were going to Ladakh by road, then I will strongly suggest that you take the Srinagar route to reach Ladakh and return via Manali.  Even while doing that, stay in Srinagar for a day or two so that your child's body can get ample time to adjust to high altitude. Srinagar Leh highway can be done in two days easily but with a kid, it is advised that you give it three days. Reach Sonamarg from Srinagar, stay there for the night, proceed to Kargil on day two and then to Leh on day three. Taking the journey slow is really the key here.
Also Read: Mobile Connectivity in Ladakh
Altitude sickness usually occurs at an altitude of 8000 ft or higher so the idea is to first stay a couple of nights between 8000 to 9000 ft and then gradually increase the altitude. If you are planning to take Manali Leh highway, then you must stay in Manali for at least a couple of days. On the next day, stay at Keylong or Jispa. I highly advise against staying at Sarchu or Pang because it is even at a higher altitude than Leh and most people suffer from AMS here. Also, do not include Tso Moriri while on your way to Leh as this lake is at even a higher altitude. Drive straight to Leh from Keylong / Jispa, stay there for couple of days and then plan to visit nearby areas accordingly.
Leh Ladakh With Children: Keep their Movement in Check
Children by habit move around a lot. They are bound to get excited when brought to a new and exciting place; and they may start to run around. If tired or get exhausted, they will be at risk of triggering symptoms of AMS and will fall short of breath. Control their movement and do not allow running, climbing or other exhausting activities.
Keep your Child Hydrated
Your body's fluid requirements are increased at higher altitudes and same will be the case with your child so you must keep them hydrated at all times. Ensure that they are consuming enough quantity of water or juice but also do not over-hydrate; and by that I mean to force the child to drink more water just because you want to keep them hydrated. If the child is not thirsty, do not force them. Another option would be to offer them some juice if they do not want to consume water.
Do not also force feed your child. Digesting food at high altitude can be a time consuming process with low oxygen and you keeping your babies movement in check. So if your kid is not hungry and don't want to eat, do not force them to.
Protect from Cold
Take extra precautions with the child in terms of protecting them from cold. Children tend to catch cold easily and if that happens, you will be in a bit of a situation because traveling to Ladakh means limited medical facilities and no medical facilities while on the road. Always keep your child well covered and carry an extra layer of woolens. Even in the months of June and July, weather of Ladakh remains cold and temperature will drop drastically at nights. Ensure that you do not let your child out early in the morning before sun is up; and do not let them stay outdoors once the sun starts to go down. Dry skin and chapped lips can happen due to the cold environment and dry air. Carry a cold cream, a lip balm and apply frequently.
Also Read: How to Plan a Visit to Nubra Valley
Protect from Sun
Harsh Sun would be another one of your concerns. Even adults can get serious sunburns in Ladakh if they weren't careful so you can image what would happen to a child if you left them uncovered. A sunscreen lotion with highest SPF will be one of the necessary items to pack. Ensure that your child is fully covered at all times. Bring full sleeve clothing to protect their arms, socks to protect their feet, gloves to protect their hands and a large enough hat to protect their face. Sun rays are really strong at high altitudes which may cause irritation in eyes with some children so using a shade would be a good idea.
Solid Food / Formula Milk / Fruits for Infants



When traveling with an infant, there are a few other things that you will have to consider. Is your baby breastfed; or on a formula / mixed fed diet? On the trip you will come to know that traveling with a breastfed baby is actually easier; except for the times when the child may ask for a feed at awkward times and places. If on a mixed diet then your baby will also start to depend more on breast milk and will reduce intake of solid food. You will also them to start refusing water as well and ask for milk instead. This is completely normal as long as you are nursing your child regularly.
Have you introduced solid food to your baby's diet? And if yes, how well have they taken it? Has your baby already crossed the initial poop related hurdles like upset stomach, lose motions, constipation etc after introduction of solid food? If your baby is of Formula milk then please ensure that you are carrying enough of it. You may also want to bring some packaged Baby food because fresh milk and vegetables are rare in Ladakh. The hotels mostly use the powder milk and fruits / veggies are mostly stocked for several weeks ahead. I would also advise asking your doctor about feeding Formula milk to your child at such an altitude because it is heavier than Breast milk.
Limit your Halt at High Altitude Passes
As I mentioned earlier in the article, you need to keep your trip to high altitude areas short. Do not stay at top of the passes for a longer duration. Stop there, click a few pictures and be on your way. Do not spend too much time on the top with a child.
Also Read: What to See in Ladakh
Medicine and Health
If your baby has an ailment related to heart or lungs then my advice would be to not bring them to Ladakh. Same applies in case of an infant born prematurely. Even if there is no medical history, consult with child's physician still about your kid's ability to tolerate the altitude. If there is a medical history involved, please do not forget to bring all the required details reports along.
You should also consider that your access to doctor or a clinic will be severely limited. If help wasn't available, even a simple toothache or upset stomach can turn into a major problem with a child. To be better prepared for this, consult your child's pediatrician before departure and carry any medicines recommended by the doctor. Some of the common medicines to bring are for fever, cough, cold, medicines to stop vomiting, breathlessness etc.
Diamox is a well-known medicine against AMS but please do not administer it your kid without asking a Doctor first. Diamox is a blood thinner and while it helps prevent altitude sickness and breathlessness, it can have its side effects as well. A homeopathic medicine called Coca 30 is available as well for altitude sickness which sounds like a safer option with kids but once again, ask a Doctor. Do not administer any medicines into your baby without professional advice.
ORS packets will be a great item to bring along specially if you were traveling to Ladakh with toddler. Have your child drink this with water to make sure that they are getting enough minerals even if they weren't eating like usual.
Home Remedies
Ginger can prove to be one of the best remedies for altitude sickness. Chewing on some raw ginger can also combat nausea, dizziness, and vomiting at high altitudes. What you can also do is to consume it mixed with water. Peel the ginger, grind it to extract the juice and mix it (1 tbsp) in 1 glass of water. Consume it in the morning before you start climbing up and then again midway if you begin feeling dizzy or nauseous.
Garlic is known for two things, both of which can be helpful while experiencing AMS. First is that it thins the blood and enhances the circulation. Second is that it helps the body use oxygen more efficiently; which reduces breathlessness at a high altitude place like Ladakh. All you need to do is to peel off 2-3 garlic cloves and start chewing on them. Breathing through camphor (Kapoor in Hindi) or garlic helps reduce breathlessness. Clove is another natural home remedy that helps the body to be more efficient while using oxygen.
Also Read: How to Obtain a Permit for Ladakh
Read Your Child's Behavior
You must keep a close watch on your child's behavior. It is not easy to identify symptoms of AMS in the baby as they are non-specific at first but some of the common symptoms are trouble eating or sleeping, becoming unusually irritable, crying too much in case of infant, change in skin color, headache, dizziness, fatigue or difficulty in breathing. If you notice any of these symptoms, your must immediately descend to a lower altitude. If you are visiting any of the nearby areas around Leh and the child continues to show symptoms of AMS, you must immediately return to Leh to get medical attention.
Vomiting a couple of times is normal for children so if that happens, you have no need to panic or worry. It doesn't necessarily have to be AMS; could just be motion sickness with all the driving up in the hills on winding roads. Just give some anti-vomiting medicine and that will do.
Do not Chase your Child
And I mean it in the best way possible. Please do not run after your child everywhere. I have seen parents (specially mothers) doing it. You are just making the trip less pleasurable for yourself and annoying for your kid. I am not saying that you should not keep them safe or protect them but do not overdo it. All of your are on a trip so let them enjoy themselves too. Do not get up and run every time your child starts to walk away from you. Do not try to sanitize everything around your baby.
Leh Ladakh with 1 year old
Biggest problem with a child that young is that they will not be able to tell you exactly how they were feeling. You will have to keep an eye on them at all times and be vigilant of their behavior. Pack plenty of Diapers as you may not get these at all places. Carrying an electric kettle would be greatly helpful. Keep your baby hydrated and nurse frequently.
Also Read: When is the Best time to Visit Ladakh
Leh Ladakh with 2 year old
It will pretty much be the same deal as I mentioned above but a bit easier. Carry plenty of snacks at all times that your kid can continue munching on. Restrict your child's movement and do not let them run around and exert. Keep them indoors early in the morning or as the sun starts to go down. Keep them covered and protect against cold and Sun.
Leh Ladakh with 3 year old
Keep them hydrated and continue serving water at regular intervals. Carry some milk and if you baby refuse to eat regular food, have them drink some mil and munch on snacks as much as they want. Keep your child covered at all times and do not allow them to exhaust themselves or stay outdoors during early or late hours.
Ladakh with 4 year old
You should be OK traveling to Ladakh with a 4 year old Child; or older than that. Just do not let them get too excited and keep their movements in check. I have this friend whose 5 year old Son almost ran off a cliff at Khardung La. With a child that old, they will be able to communicate better and tell you if they weren't at east.
Conclusion
I hope all this information was helpful; however I strongly suggest that you consult a doctor before taking your child along on the trip. These were just some general suggestions provided by someone who has no medical knowledge and is no way an expert on AMS. If you have any further questions, please feel free to ask in the comments section below; or at our Community Forum; and I will be glad to answer.