Nubra Valley is on the list of every traveler coming to Ladakh. Famous for the Sand Dunes, Double-Humped camels and small villages, it has many things to offer. You will be rewarded with some breathtaking landscapes, adventurous roads, and generous people. Nubra is a bundle of experiences and a long list of tourist attractions. One such must-visit place in the valley is the beautiful Diskit Monastery.
In a bustling town of Nubra, stands a statue that looks upon the valley from atop a hill. It is called Maitreya Buddha and is located near the monastery of the town of Diskit. It is a grand 32 meters high statue that sits facing down the Shyok River towards Pakistan, at an altitude of over 3,142 meters.
Together, the Maitreya Buddha and the monastery are among the greatest attractions of not just Nubra but all of Ladakh. If you were in the valley, you just cannot miss paying a visit at the monastery, wonder at the statue and feast your eyes on the amazing view that you get from there.
In this article, I will provide you with a travel guide for Diskit Monastery and the town. Please note that in this post, I am only talking about Diskit but if you want to get more details about visiting Ladakh, I will recommend you to also take a look at How to Plan a Trip to Leh Ladakh – A Complete Travel Guide.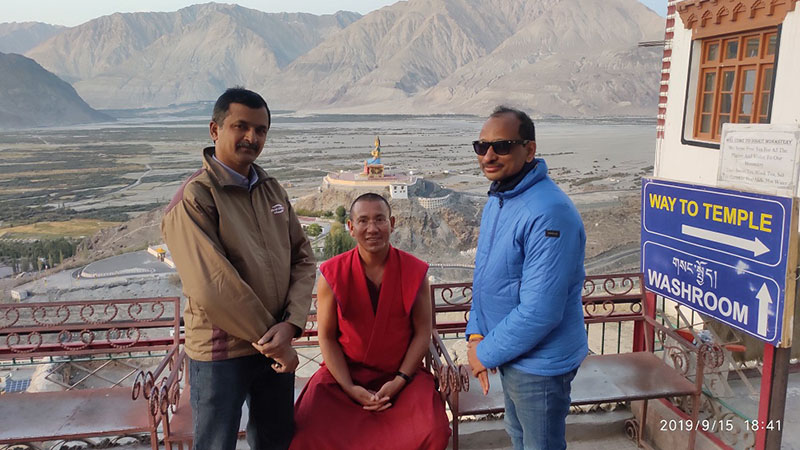 About Diskit Monastery
All the monasteries across Ladakh are uniquely elegant in their structure and appearance. Diskit Monastery is one such monastery situated on a hill, just above the flood plains of the Shyok River, on its right bank, at a height of 3,144 meters (10,315 ft) and facing the valley beneath. It was built in the 14th Century and is believed to be the oldest and the largest monastery in Nubra Valley. The monastery belongs to Gelugpa or the Yellow Hat sect of Tibetan Buddhism.
It was founded by Changzem Tserab Zangpo, the disciple of Tsong Khapa. The Maitreya Buddha statue has been attracting a lot of tourists in the past years, making Diskit Monastery a must-visit. The Buddha sculpture was consecrated by the Dalai Lama in the year 2010.
The wall paintings inside the monastery depict the stories, and the architecture is intricately beautiful. Once you reach the top of the monastery, the striking views would leave you awestruck. The green lands with the backdrop of dramatic brown mountains, it is a view to behold. The monastery is also home to about 100 monks.
Exploring Diskit Monastery Monastery
There is a motorable road that goes all the way to the monastery from the town, passing through mani walls and a large number of beautiful whitewashed chortens. The road ends at the parking area where you will leave your vehicle and climb a few stairs to enter the monastery. The first thing that you will be amazed to see is the marvelous Buddha Statue.
Diskit Buddha Statue
Commonly referred to as 'Nubra Valley Buddha Statue' or 'Diskit Monastery Buddha Statue', it is an impressive 32 meters (106 ft) tall statue located on top of a hill below the monastery. The construction of the statue started in April 2006 with three main reasons in mind – protection of Diskit, to prevent further war with Pakistan, and world peace. All the money was pitched in by the locals and about 8 kg of gold used to decorate the statue was received as a donation.
The construction ended in 2010 and the statue was consecrated by the Dalai Lama on 25 July 2010. It now sits facing down the Shyok River towards Pakistan, to avoid any war with the neighboring country.
Prayer Halls in Diskit Monastery
After you climb the stairs and pass through the gate, you will then enter the dimly lit monastery and walk through its network of connected paths, through the monk's quarter to arrive at the prayer halls, the Lhakhang, and Dukhang. There is also a map outside the monastery to help you navigate your way through.
Inside the prayer halls, you will see a statue of Cho Rinpoche (Crowned Buddha) and a huge drum roll that is said to wade off evil. In the chambers on the second floor, there are several images of fierce guardian deities.
Mongol Warrior Remains
Another famous (and rather shocking) thing to see inside the monastery is the statue of a protector deity (Kali) holding the head and arm of a medieval Mongol soldier. It is believed that soldier was, in fact, an evil demon that was killed near the monastery grounds but then resurrected itself several times.
Today, the wrinkled head and the hand of the demon are preserved in the hands of the protecting deity inside the temple to stop it from resurrecting again.
To be honest, I did not really like the idea of keeping a severed head and hand inside a monastery. To me, it looked like a symbol of violence in a peaceful place.
Lachung temple
Also located near the monastery is the small Lachung Temple, believed to be the oldest Buddhist temple in the Nubra valley. The temple houses a large idol of Tsong Khapa, a Tibetan Buddhist philosopher and teacher. Though small, it is a beautiful temple that is worth a visit.
Monastery School
There is a small school inside the monastery equipped with computer facilities, dictionaries, encyclopedias and English teaching materials that are used to educate the local kids from Diskit and nearby villages.
View of the Valley
Another great offering of the monastery is the panoramic view of the entire valley you get from its roof. It is one of the best views you can get not just in Nubra but all of Ladakh. Though the monastery closes at 6 PM, you can still come here at dusk and enjoy the sunset.
Diskit Monastery Festival
The festival of Desmochhey or Dosmoche is an annual festival that is celebrated in the Diskit monastery in the month of February. The festival is also celebrated in the monastery of Likir and Leh Palace at the same time. The mask dance by the lamas, known as Cham dance, is the highlight of the festival. People arrive in large numbers from the nearby villages to witness it.
It is also known as the "Festival of the Scapegoat" and is celebrated to avoid ill-fortune in the New Year. During the celebration, statues and idols are made out of dough and then thrown out to prevent disasters and to usher peace and prosperity to the people. For more information, please read Complete list of Ladakh Festivals and their Dates.
Diskit Monastery Timings
You can visit the monastery between 7 am to 6 pm. It is closed for one hour at 1 pm.
Diskit Monastery Entry Fee
The entry fee of Diskit monastery is Rs. 30 per person.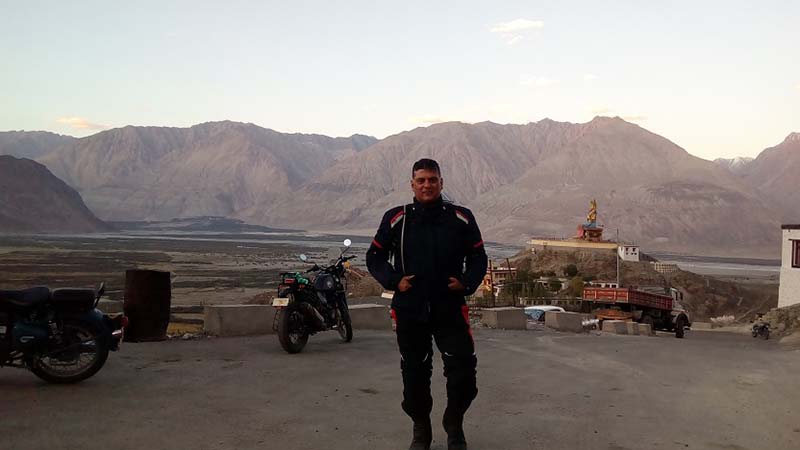 How to reach Diskit
For this part, I am assuming that you have already reached Leh and will explain how you can reach Diskit Monastery from there. If you, however, want to know about getting to Leh first, I will recommend you to read How to reach Leh Ladakh by Road, Flight, Train and Bus.
Diskit is connected to Leh via Khardung La road. Located at a distance of 114 km from Leh, and will take about 5-6 hours to reach. The route covers Khardung La pass, Khardung, Khalsar, and Diskit on the Diskit – Turtuk Highway.
By your own Vehicle
If you were traveling by your own vehicle, you will first drive up to the Khardung La Pass, once famous as the highest motorable pass in the world and located about 35 kilometers from Leh. Take a break at the pass and get a cup of tea in the Army canteen here. After Khardung La, the drive is all downhill for 75 kilometers to Diskit.
You will first arrive in the village of Khardung and then Khalsar. At Khalsar, the road will bifurcate. The one to your right will take you to Panamik and the one to your left will take you to Diskit and then Turtuk. Turn left, drive for another 21 kilometers and you would have reached Diskit.
Please note that Inner Line Permit must be obtained from Leh City before you can travel this way. Just before Khardung La Pass, you will be required to submit a copy of the permit. To know more, please read How to Obtain Inner Line Permit for Ladakh.
By Rented Motorcycle
The best and hassle-free way to reach Diskit is by your vehicle. The route is the same as I explained above, and the views will be best enjoyed if you can take as many breaks as you wish. But if you reached Leh by public transport, then renting a motorcycle for a trip to Diskit will be a good idea.
On the same trip, you will have experience of driving past the highest motorable road, snow-capped mountains and small villages. You can also extend your trip till Turtuk which lies 90 km ahead of Diskit while visiting Hunder in-between. Hunder is almost 8 km from Diskit and is famed for the silver sand dunes and two-humped camel.
If you are riding solo, 300 cc bike would be good for the trip, but if you're a duo, you can consider taking a 500 cc bike for crossing Khardung La. You can read about the cost you might incur if you choose this option, Leh Ladakh Motorcycle Rates.
By Bus
There was connectivity via buses from Leh to Diskit every Tuesday, Thursday, and Saturday until last year but it seems to have been reduced this year on. Now, to get to Diskit, you will have to board the bus for Turtuk on Saturday. Fare per person, however, will be Rs. 200 for Diskit.
There is a high possibility that another bus may get started for Diskit later this year every Tuesday or Thursday but I cannot confirm it. As of now, there is just one bus every Saturday. For more information, please read Leh to Nubra Valley Bus Service.
By Taxi
For private taxi, the fare depends on the cab you choose and the destination you opt for. A round trip from Leh to Nubra valley for 2 days will cost you Rs. 10 – 12k for Diskit and Hunder. If you wish to visit Turtuk village then fare may rise to Rs. 12 to 14k. If you would also like to include Panamik, the trip can be a 3 day around Nubra and may cost you around Rs. 18k to 21k.
You can also get shared taxis for Nubra Valley which is a much better and cheaper way to travel. There are daily taxis from Leh to Diskit that you can easily get from Leh Bus stand itself. Most of the taxis start in the first half of the day, early in the morning. Just reach the bus stand, ask around and board a cab going towards Diskit.
How to reach Diskit Gompa
Diskit Monastery is located on a hill-top, and the Buddha statue can be seen from far. There is a motorable road leading right to the monastery. If you weren't able to locate the road, just ask any of the locals and they can point you in the right direction.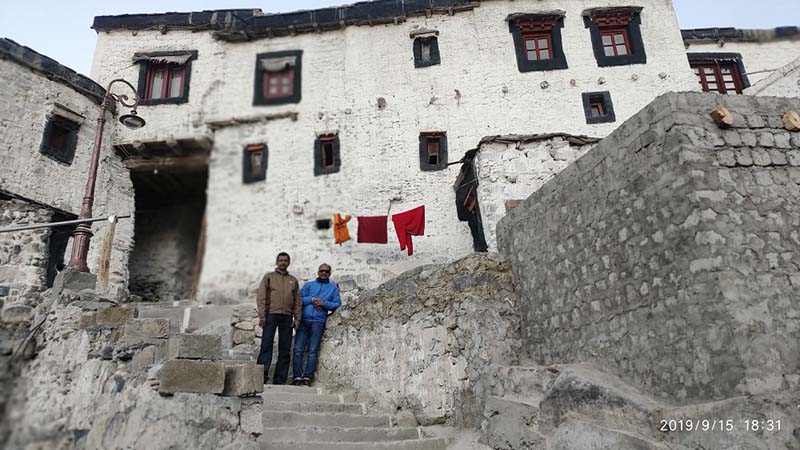 About Diskit
Diskit is the biggest town in Nubra Valley at an altitude of 3,142 meters, almost 114 km from Leh. It is settled among the banks of Shyok River and can be reached after crossing the Khardung La, the once highest motorable pass in the world. The valley is at a lower altitude than even Leh town which makes it a favorable climate for lush green vegetation, thus it is known as the 'Orchard of Ladakh'. It is one of the lowest points of all of Ladakh due to which people like to spend some time here in order to acclimatize better.
In the main bazaar of the town, you will come across cafes offering wi-fi, daily need shops and sharing taxi stands. You will meet the locals and witness their lifestyle within the small lanes of the town. Nevertheless, you will encounter beautiful scenes at every stroll.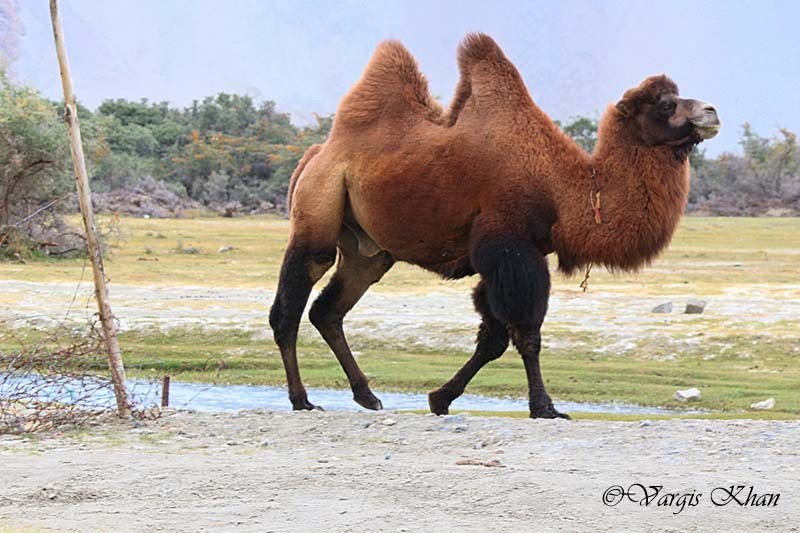 Places to visit in and around Diskit
Diskit in itself a beautiful small town that can be explored. You can stroll around the streets and hop around in the cafes. The local life is quite happy and wondrous to witness. Being the biggest town in Nubra, it is bustling with locals all during the day and will treat your eyes with the starry sky at night. Diskit Monastery is undoubtedly its best attraction providing startling views of the valley.
Hunder
Hunder is a small village 8 km from Diskit. It is renowned for the silver sand dunes and double-humped camels. One humped camel is usual in the deserts, but in the high altitude only you can come across double-humped camels. The village in itself is a hub for camping and resorts. It has some scenic views to offer and beautiful streets to stroll around.
You can head to the sand dunes and ride a camel over there or sip on a coffee around the canteen situated there. The sunset is something to look out for when in Hunder.
Turtuk
Turtuk is one of the most beautiful villages you will come across. Located 90 km from Diskit, it is the last village in the northwest part of Ladakh, in the region on Baltistan. Only four villages are there in the Baltistan region that is part of India. Adorned with apricot trees and farms, it has a monastery that is taken care of by locals which are Balti. The village houses two home turned museums which have stored the traditional cookware, clothes, equipment and much more.
It has some breathtaking views and dramatic mountains. You can sit along the banks of the river or walk around the small paths of the village. For more details, please read How to Plan a Trip to Turtuk.
Panamik
Situated 55 km from Diskit, Panamik village is famed for the hot springs. The hot water springs of Panamik are enriched with a high amount of Sulphur. It is believed that a dip in these Sulphur hot springs will cure various health ailments. It is a great day-trip location from Diskit, with lush green fields to be seen everywhere and a monastery to explore.
Also Read: Sightseeing in Nubra Valley -What to See in Nubra Valley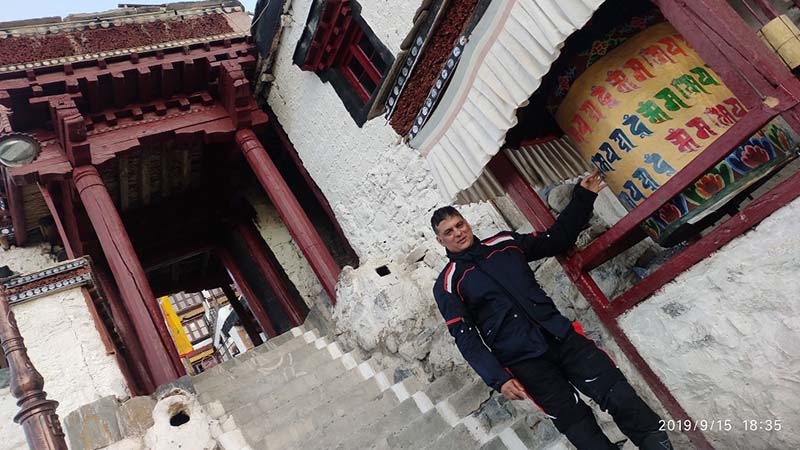 Things to do around Diskit
Below are a few other things that you can enjoy in Diskit.
Attend the daily Prayer at Diskit Monastery
Diskit monastery is adorned with intricate frescoes and wall paintings, which are a delight to the eyes. The prayer hall has huge drums for prayer ceremonies. Prayer at the monastery is a pleasure for the soul and heart. There are many instruments used in the prayer with monks chanting, which makes an utterly positive ambiance.
ATV Ride
A few kilometers from Diskit towards Hunder is a place where ATV rides are popular. It is a sport that will get your adrenaline rush back in the system while riding around the dunes. It is a fun activity to indulge in with the backdrop of spectacular brown mountains.
Camel Ride
You can get yourself a ride upon the two-humped camel in Hunder. Walking across the dunes, it will be an experience for your body to exert. Dunes in Hunder offer some phenomenal views with rugged mountains around. It is a picturesque place and a picture with camel wouldn't harm you for sure.
Riding on the roads
The roads around Diskit are pictorial, consisting of dramatic skies, with the backdrop of brown peaks piercing through the blues of the sky. The rides around Diskit would never be tiring, at every turn, you will encounter something different, more phenomenal.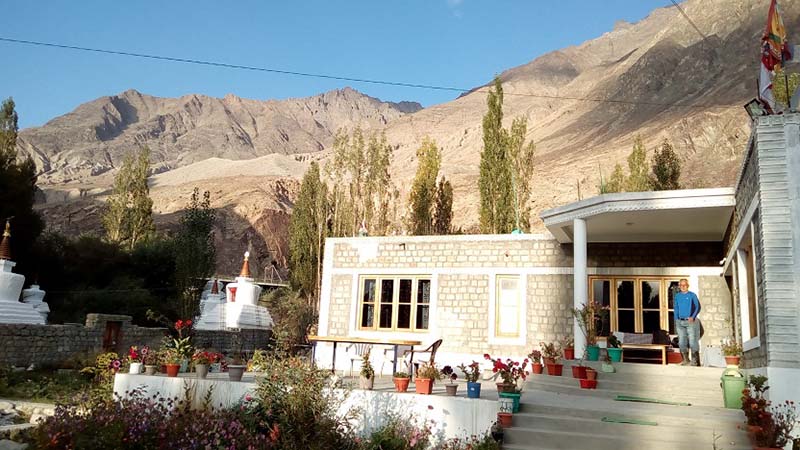 Where to stay in Diskit
There are many guesthouses and homestays in Diskit. Mostly run by the locals, you can find several clean and comfortable places to stay here. There are some hotels here as well which can provide you with basic amenities and services.
Diskit has the highest number of accommodation choices available in Nubra but you can stay at Hunder village as well which is not too far away. It has many camps, resorts, homestays to choose from.
From a budget point of view, keep a minimum of Rs. 1000 – 1500 per day for your stay in Diskit. For more details, please read Accommodation in Nubra Valley.
Where to Eat
There are almost next to none big restaurants in Diskit but you can find several small dhabas offering lunch, dinner, tea, and snacks. Other than this, there are some guest houses which have their small eateries for the travelers. All the basic food options are available at such eateries. You will not have a problem finding a place to eat here.
Best Time to Visit Diskit
May to September is a very good time to visit Diskit Monastery, as the weather is most favorable for traveling. All the roads in and around Ladakh are open around this time. Both the highways leading to Leh from Manali and Srinagar will be open as well so you will also be easily able to reach Ladakh by road.
From October to May, both the roads to Ladakh remain closed so the only option is to reach Leh by flight. You can visit Diskit at this time as well but the harsh weather, freezing temperatures, and unpredictability of the weather do not really make it a favorable time.
Once you get to Leh, you will have no problem reaching Diskit irrespective of the time of your travel. The road from Leh to Nubra Valley remains open throughout the year, for all 12 months. For more details, please read When is the Best time to visit Ladakh.
Mobile Network in Nubra Valley
BSNL postpaid and Airtel Postpaid will work in this region. Jio also has started its operations in Nubra Valley, so you might also get the connection of Jio postpaid. For more details, please read Mobile Network in Ladakh and Data Connectivity.
Diskit Monastery – Conclusion
I hope the information above on visiting Diskit Monastery and Diskit Town was of help. If you have any questions; or need any other details; please feel free to ask in the comments section below, or at our Community Forum, and I will be glad to answer.