In the previous article, I talked about how you can apply for and obtain an inner line permit in Ladakh from the SDM office in Leh. Continuing in the same series, in this post, I will provide a detailed description of how to get a Ladakh Permit online.
Please note that this article talks in detail about the online procedure only. If you want to know how you can obtain the permit in person after you have reached Leh town, I will urge you to read the previous part of this article at the link below.
Also Read: How to get Obtain Ladakh Permit in Leh
Until a few years ago, there was no online option available.  Applying for the permit at the DM office in Leh was the only way to get it. Then in order to promote tourism in Ladakh, ILP was completely removed in 2014. But it was reintroduced 3 years later in 2017. By then, the number of people visiting Ladakh had gone up significantly. Hence, to make the entire process easier, the online portal was launched.
While it did simplify the process a little and helped save some time, the overall impact was not that great initially. However, even the portal itself has evolved significantly since its launch 2 years ago. A few changes have been incorporated and in this post, I will provide a most recent step by step guide on the entire procedure.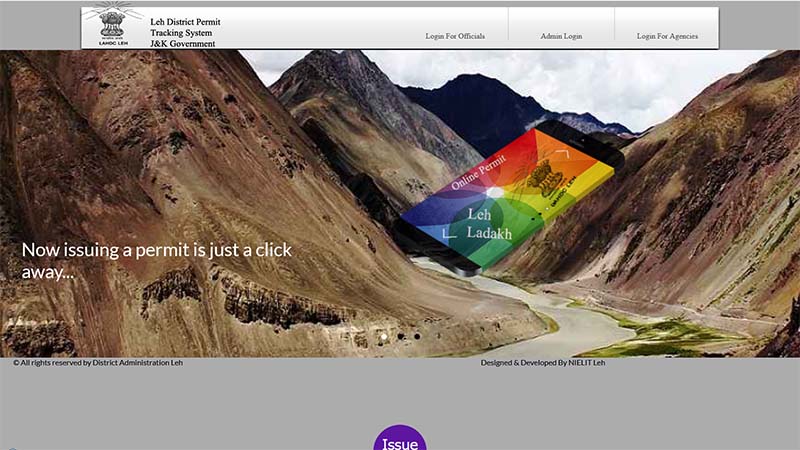 What is Inner Line Permit and why is it needed in Ladakh
For a brief introduction, an Inner Line Permit is an official travel document issued by the authorities to allow inward travel of an Indian citizen into a protected area for a limited period. This permit is actually not specific to Ladakh and is needed in several other places like Lakshadweep Islands and Arunachal Pradesh.
Since the entire Ladakh region, Ladakh is right next to Indo – China border, ILP remains applicable here to track the non-military and non-local movement in the area.
Also Read: How to Plan a Trip to Leh Ladakh – A Complete Travel Guide
Is Inner Line Permit Mandatory
Yes, it is a mandatory permit and everyone wanting to sightsee in Ladakh must obtain it. The permit is not required for traveling from Srinagar or Manali to Leh. So you can actually reach Leh town without any permit at all but will have to get one for visiting other areas like Nubra, Pangong, and Tso Moriri.
There is, in fact, no permit needed for even for sightseeing in Leh city and visiting places nearby like Magnetic Hill and Gurudwara Patthar Sahib.
Inner Line Permit is specific to only Indian citizens. If you are a foreign national, you would have to get a protected area permit and work with a registered travel agent. I have explained the complete procedure in a different article How to Obtain Protected Area Permit for Ladakh
Permits for Umling La and Hanle
Permit for Hanle cannot be applied online. For this, you will have to go to the DC office in Leh with a copy of your permit. On your existing permit, they will just stamp a remark that you also have permission to go to Hanle.
Umling La is off-limits for tourists. You will only be able to go till Hanle and no further. Permit for Umling La is neither available online nor in person.
Permits for Shyok Road and Wari La
You do not have to get a permit specifically for the Shyok route or Wari La road.  Your permits for Nubra and Pangong will work for both these roads as well.
How to get Ladakh Permit Online
Let us now go through the entire online procedure step by step to understand how you can apply for the permit online and obtain it.
The first thing you need to remember is that this page can be very slow and may take several minutes sometimes to take you to the next step. Just be patient and wait for a little while. Do not stop or refresh it.
Click on 'Apply for Permit' towards the bottom of the screen and then click on 'Domestic Clients'
On the next page, you will have to enter your personal details like Name, State, Gender, ID Type, ID Number, and address. Towards the bottom of the page, it will ask you whether you want to apply for a permit 'Directly' or 'Through Agent'. Click on 'Directly'.
Do not click on 'Through Agent' even if you were traveling with a tour company or travel agency. Just click on 'Directly' to get your permits
You will then enter your date of arrival and hit Submit after entering the Captcha.
The next page will tell you that you have been registered successfully. Click OK.
On the next page, you will be presented with two options. Either to select whether you want to apply for Individual Permit or for a Group Permit.
If you were traveling alone, hit on the individual option.
If you traveling in a group of 2 or more people, click on the Group option. It will take you to the next page where you will enter the details of people accompanying you on the trip. Depending on the number of people, click on the 'Add More' option at the top. It will continue adding rows and then you can enter the name, ID Type, and ID Number for the rest of the people traveling with you. Once you are done, click on Submit.
On the next page, you will see a list of 8 Circuits and you will be asked to select the ones that you want to get the permits for.
Charges for permits are based on the number of days and not places that you want to cover. So my suggestion would be that you select all of the areas to avoid any confusion here. Or if you are sure of your itinerary and the areas you want to cover, then select just those.
Towards the bottom of the page, you will select the dates and duration when you will be visiting these areas and click 'Apply for Permit'. The maximum duration that you can apply for the permit is 14 days.
On the next page, it will ask you to review and confirm the areas. Click on 'Proceed' after verifying.
On the next page, you will be presented with your permit. It will have your names, details, places you want to visit, dates of your travel, and the cost of the permit.
The Red Cross fee is Rs. 100 per person and environment Fee is Rs. 300 per person. Both of these are one-time charges.
The wildlife Fee is Rs. 20 per person per day. So this cost will vary on the number of people traveling and on the total number of days.
Review the details and click on Pay Now at the bottom of the page.
On the next page, it will tell you the terms and conditions of online payment. Read and click on 'Click Here to Pay Online'.
On the next page, you will make payment for your permit.
On successful payment processing, a receipt will be generated, each transaction will be identified by a unique identifier known as Collection ID. The payer is required to take printouts of Permit Receipt and Easy Collect Transaction Receipt. SMS and Email will be sent to Payer confirming receipt of payment.
It will give you reference # on the receipt.
Now once again, go to the home page at http://www.lahdclehpermit.in/
At the bottom, click on Apply for Permit and then 'Print Permit'
Enter your reference # on the next page, click submit, generated your permit, and take a printout.
Keep this printout handy as you are still not done.
Once you are in Leh, you will have to visit the DC office to get it stamped.
If you wanted to visit Hanle, tell the person stamping the permit and he will stamp "Permission for Hanle" on it.
If you were planning on traveling straight to Tso Moriri from Hanle, then please let the person know that you wish to travel from Pangong to Tso Moriri via Chushul. He will stamp the permit accordingly.
And that is it. That is the complete procedure to apply and make payment for your permits online.
Also Read: What Clothes to Pack for Ladakh Trip
Marsimik La Permit
Marsimik La is off-limits for tourists and you will not be allowed to go there. You cannot get a permit to go that way either online or in person.
Best way to get the Permits
Applying and getting the permits online is a great way, but it still does not save you the hassle and time of visiting the DC office and getting it stamped. The best way to get ILP, in my opinion, is to either pay a travel agent; or ask your hotel to get it on your behalf.
The per-person charge is Rs. 110 over and above the permit cost. Send them a scanned copy of your IDs and by the time you reach Leh, they will have the permit ready for you.
Also Read: How to Handle Mountain Sickness in Ladakh
Or once you are checked into the hotel, ask your hotel to arrange your permits. Pay the money, hand over your ID copies, and spend the next day sightseeing in Leh city while they get the permit on your behalf.
Timings of DC Office, Leh Ladakh
The office remains open from 9 AM till 5 PM, Monday to Saturday. However, the permits are only issued between 10 AM till 3 PM. On Saturdays, they can even refuse to accept any applications after lunch and will not even stamp your permit. The office remains closed on Sundays so you should plan your trip accordingly.
How to get Ladakh Permit – Conclusion
I hope the information above on how to get Ladakh permit online was of help. If you have any questions; or need any other details; please feel free to ask in the comments section below, or at our Community Forum, and I will be glad to answer.