Go back a decade or more and you hardly hear anyone talking about Ladakh. It was not even considered a place worth visiting; forget about being a tourist spot. It was just a name we heard once in a while; a land far away somewhere in our country. Fast forward to times like today and everyone now wants to visit Ladakh; all thanks to Bollywood. So much is the craze these days that people now have started to think of remote areas even in this remotest part of our country.  Everyone wants to come to Ladakh and explore the unexplored; go to areas that no one has been to; areas that are less traveled or visited. One of the queries that I have started to receive about Ladakh trip quite often now is on how to visit Siachen; either the glacier itself or at least the Base Camp.
If you too have been planning a trip to Ladakh; and wondering how to go about adding Siachen to your itinerary; then read on to find out.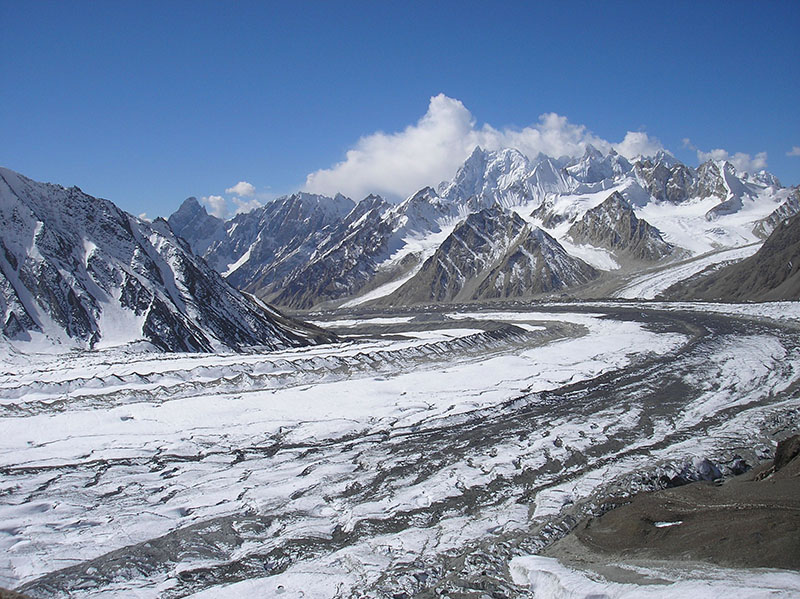 Image Credit: Wiki
What is Siachen
First of all, let me begin with some information on what exactly Siachen is. The Siachen Glacier is a glacier located in the eastern Karakoram range in the Himalayas, just northeast of the point NJ9842 where the Line of Control between India and Pakistan ends. At 76 km long, it is the longest glacier in the Karakoram and second longest in the world's non-polar areas.
More importantly however, at an altitude of 5,753 meters (18,875 ft) it is now the world's highest battleground. It is an active battle zone where Indian and Pakistani forces remain engaged in conflict all 12 months. The entire Siachen Glacier, with all major passes, is currently under the administration of India since 1984.
Also read: How to Plan a Trip to Leh Ladakh
It however is not really the matter of the constant battle out here. More soldiers have died at Siachen from the harsh weather conditions in the region than from combat.  A total of 869 Army personnel have lost their lives on the Siachen glacier; due to climatic conditions and environmental and other factors till date; since Indian Army deployed posts at Siachen in 1984.
So that is Siachen for you. It is not an adventurous place, not a tourist spot or an area where tourists are allowed. It is not a place where you go just for a challenge or to explore. Siachen is where you run a great risk of dying if you were careful, prepared, escorted and trained for it.
Source: Wiki
Siachen Base Camp
Siachen Base Camp is the base came or in layman terms, the army base from where Indian Indian Army mans the Glacier operations. This is where the road ends and treks to various army posts at Siachen glacier begin.
Where is Siachen Base Camp
Siachen Base Camp is located in Nubra Valley of Ladakh region. From the town of Leh, you will cross Khardung La to enter the valley; and drive through Panamik and Warshi villages to reach the base camp. Civilians as of now are only allowed till Warshi Village.
How to go to Siachen Base Camp
So unless you were into trekking and mountaineering professionally, Siachen Base Camp is as far as you go.  This is also where the road ends so you cannot really drive or ride any further. The trip from Leh town will easily take you about 10 hours to reach the base camp depending upon your speed. It is however the permission to go there which is hard to get. Your regular ILP in Ladakh will only get you as far as Warshi Village in Nubra valley.
Also read: How to Handle Acute Mountain Sickness in Ladakh
Siachen Base Camp Permission
The DC office Leh is not authorized and cannot issue any permits for visiting Base Camp. For this, you will have to get a permit from Ministry of Home Affairs (MHA) and the Ministry of Defence (MoD) with a very clear explanation on why you want to visit here. So in short, to get Siachen Base Camp permission, you really need to have good bureaucratic contacts in ministries and Indian Army.
There is however another way around this which is really the unofficial one. If you know an Indian Army official of high rank posted in Ladakh; or maybe a junior rank officer who can talk to the high rank on our behalf; you can get a permit issued to visit the base camp. For this, you will have to go to Partapur Army Camp, the brigade HQ of North Ladakh and try your luck. It is around 7 kilometers from Hunder.
Please note though that either way, it will be a day trip. You will first have to reach any of the towns in Nubra valley from Leh and stay there for the night. On Day 2, you will make a day trip to Siachen Base camp and return back to Nubra valley. On 3rd day you will return to Leh. There is no accommodation anywhere near the base camp and you will also not be allowed to stay there unless you were part of an conducted by Indian Army in which case they will make arrangements of your stay. Army conducts such kind of events or day trips to Siachen Base Camp and if you were lucky enough to become a part of such group, your trip to the camp will be organized by Army itself.
How to visit Siachen Glacier
Visiting Siachen Glacier however is an entirely different ball game than visiting Siachen Base Camp. For Base camp you can just drive all the way but for the glacier, you will have to trek 60 kilometers across the harsh terrain, through moraines, glaciers and deep crevasses. Not only you need to be physically fit for this, you also need to have ample of trekking and mountaineering experience. You also will need to have a medical check up done and a doctor to declare you fit for the task. Even the soldiers who get posted at Siachen Glacier spend several days at the base camp first before they go up to the glacier. Not far from the base camp is the Siachen Battle School where the soldiers train for several weeks before they are inducted at the glacier. So you can image the difficulty of the task.
Also read: A Comprehensive List of All Tourist Attractions in Ladakh
Siachen Glacier Permit
Almost impossible to get is what describes it the best. First of all, Siachen Glacier is not really a place where you can just get a permit and start trekking towards it. The only way to get here it to be a part of a trekking expedition and go with the entire group. These trekking expeditions get organized by Indian army most. Some other trekking expeditions too get organized after approval from government and Indian army but mostly it is the Army itself that arranges the trek.
Siachen Trekking Expedition
How to be a part of such trekking expedition? Well first of all the number of expeditions is severely limited, just 1 per year. That is correct, it is an annual thing. And then the number of people in the expedition is limited on top of it. A large number of people apply for these expeditions and I am really talking about people with plenty of trekking experience and high level contacts. Only the lucky ones get picked for the trek in the end.
The Army takes around 40 people, including its experts, two journalists, defense scientists, school cadets and civilian volunteers for this expedition. Of the civilian volunteers, a medical check up gets done at Leh and only people who pass this test are allowed to go to Siachen Base Camp. Then at the camp, these people get trained or about a week before they go to the glacier.
Organizations associated with defense forces, media persons, Rashtriya Indian Military College and Rashtriya Military School cadets participate in the trek every year. So for civilians and people like you and I, getting a permit for Siachen Glacier is almost impossible. If you would however still want to try your luck, then please visit the link below to read the entire procedure on how to apply for the expedition.
Also Read: How to Apply for Siachen Trekking Expedition
 Can Foreigners visit Siachen Glacier or Base Camp?
Not at all. If you are not an Indian citizen, you will not be allowed to go any further than Warshi village. That is the last point in Nubra valley that a foreign national can visit. Even for Siachen Base Camp, being an Indian citizen is the first qualifying condition.
Conclusion
I hope the information above on how to visit Siachen was of help. If you have any further questions; please feel free to ask in the comments section below; or at our Community Forum; and I will be glad to answer.