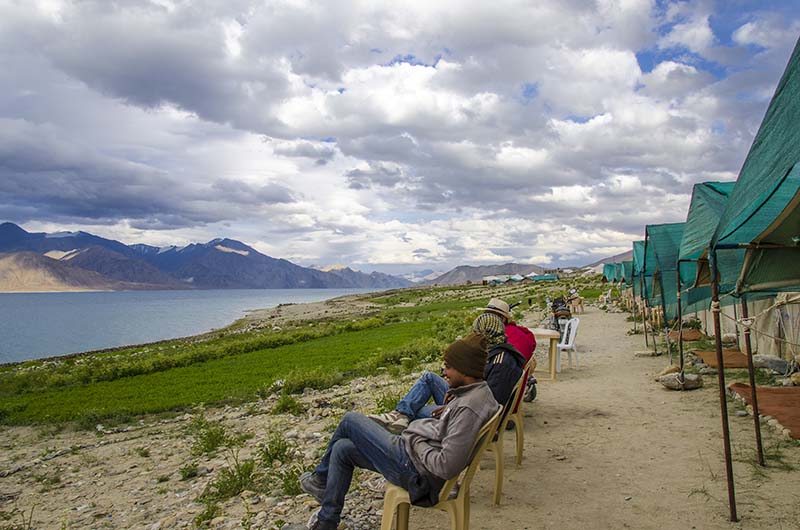 Is it necessary to carry an oxygen cylinder for Ladakh trip? To be honest there is no straight answer to this question. I have been to Ladakh numerous times in the last few years, both by road and flight. Thankfully, never have I had the need for an Oxygen cylinder. But the same cannot remain applicable for everyone.
Whether or not you will have to worry about Oxygen depends on several factors like how you are traveling, who you are traveling with, and if there is any medical situation involved.
In this article, I will provide some information on this topic followed by where you can rent an oxygen cylinder in Leh if required. If you need any other details about visiting Ladakh, please take a look at How to Plan a Trip to Leh Ladakh – A Complete Travel Guide.
Oxygen Cylinder for Ladakh Trip
Before I go any writing any further, let me first mention that I am not a Doctor and have no medical background. What I write below is only my limited knowledge as a non-medical person. The information I am sharing has been gained either from my own travels to Ladakh or from the web during my research on the topic.
Some of it is also based on the feedback received from numerous people that I have assisted on their trip. If there is any kind of medical situation involved like Asthma, high blood pressure, or coronary heart disease, I strongly recommend that you consult a doctor before going to Ladakh. Do not go just by my word.
I will first provide information on where can you find oxygen cylinders for rent in Ladakh and the price involved. Later I will talk about do you really need to carry an Oxygen cylinder for Ladakh and if yes, then why.
Should You Rent an Oxygen Cylinder in Leh or Bring your Own?
There are two ways around this. Either you rent an Oxygen cylinder from your hometown and carry it with you, or you first reach Ladakh and rent a cylinder there if required.
Both these options have their own pros and cons but I would personally recommend renting one in Ladakh for two reasons.
First of all, is the hassle of carrying the cylinder all the way. As a rule, you cannot carry an Oxygen tank on a flight due to safety concerns.
Carrying it on a motorcycle is of course out of question. So you can only consider doing so if you were traveling in your own car. Even then, it may become a space concern depending on how many people you have in the car with all their luggage.
Second is the uncertainty of whether or not you will actually need it. If you did not then it would become just an unnecessary hassle and additional cost as the rent.
The only upside of renting an oxygen cylinder from your hometown is that the rent per day will be a bit less. The prices are comparatively a bit steep in Ladakh.
Availability of Oxygen Cylinder in Ladakh
Next comes the question of where can you rent an Oxygen cylinder in Ladakh. There has been a definite boost in tourism here in the last few years. The fact however is that it is still largely a remote and sensitive region.
Leh town is the only place where you have the surety of finding a place to rent an oxygen tank. Diskit in Nubra valley is the second place where you can hope to find medical assistance in this aspect. Do not however count on it.
When I say medical assistance in Diskit, I mean there may be Oxygen cylinder available at a medical outlet where you can use it in dire need but cannot rent and carry it with you. Apart from these two places, I do not believe you will come across Oxygen cylinders elsewhere in Ladakh.
So in short, if you need to rent an Oxygen cylinder, you must do so from Leh itself.
Also read: A Complete List of Tourist Attractions in Ladakh
From Your Home Town
If you decide to rent one from your own home town then speak to any Doctor or chemist and they will be able to direct you to a place that provides this facility. The way it works is that they charge you some amount as security for the cylinder, and then some amount for the refill.
If your tank ran dry while still in Ladakh, you can always get it refilled in Leh. Once you return home, you can return the cylinder and will be refunded the security amount you paid earlier. You only pay for what is inside and not the cylinder.
Please also listen carefully while they tell you about how to use it. It will not hurt to even shoot a video on your phone while they are running you through the instructions; something that you can refer to later.
Oxygen Cylinder price in Leh
The price of an Oxygen cylinder in Leh will vary depending on the type, capacity, and time of travel. There are two options available.
The first one is a portable Oxygen Cylinder. Its capacity is 6 liters and has about 150 oxygen shots. This will cost you between Rs. 600 to Rs. 1000, depending on the brand.
Oxy99 is one that comes for about Rs. 650 and you can buy it online as well. Use and throw it away once the cylinder is empty.
The second one is the big Oxygen cylinder with larger capacity. Prices of these will differ at the time of your travel and capacity.  The largest one with about 1800 liters capacity will cost you Rs. 2500 in off-season and Rs. 3000 – Rs.3500 in tourist season, for 3 days.  It has enough oxygen to last for about 11 hours if used continuously.
Also read: Clothes for Ladakh Trip: What to Pack
A tank of about 800 liters capacity will cost Rs. 1500 in off-season and Rs. 2000 -2500 in tourist season. These can easily last for about 5-6 hours. The smaller ones of 200 & 400 liters capacity will cost between Rs. 1000 to Rs. 2000 depending on which one you chose and the time of the year. These can last for about 2-3 hours.
Which Oxygen Cylinder to rent for Ladakh?
Which one should you opt for? It will depend entirely on the person you want to rent it for. If you want to just keep it for peace of your mind for a healthy individual then a portable cylinder will do just fine. These are light and easy to carry around. You can just put them in with rest of your luggage and they will hardly take any space.
The bigger cylinders are of course large in size bulky to carry around. You will have to return them to the place where you rented them from after they are empty.
Plus point is that they have enough Oxygen to last for 3 days. Widely the portable ones are mostly not considered good enough and people tend to opt for the big cylinders.
If you are traveling with your elders, family or someone with a medical condition, then opt for a larger cylinder and not the portable one.
Where to rent Oxygen Cylinder in Leh?
After the recent boost in tourism, there are several places in Leh city where this facility is available. The "Oxygen Bars" at Changspa road is a great choice if you want to get some Oxygen while staying in Leh.
If you want to rent a cylinder for going towards Nubra Valley or Pangong Tso, then you can contact Mr. Mohammed Iqbal @ 9906991393. He runs a shop by the name of "Ladakh Oxygen shop" near main petrol pump. You can find all sorts of Oxygen cylinders for rent at his shop.
Do you need to Carry an Oxygen Cylinder for Ladakh Trip?
Whether or not you will actually need an Oxygen cylinder for Ladakh depends on several factors which I will list down below. So far, I have only come across a handful of people who had to use it.
For most healthy individuals, proper rest and acclimatization will do the trick. There are however certain situations where an Oxygen cylinder can be used as an added safety measure.
Also read: Mobile Phone Services in Leh and Other Areas of Ladakh
Medical Condition
This will be the first and foremost situation when you should consider carrying an Oxygen cylinder for a Ladakh trip. If you suffer from Asthma & COPD, Respiratory Infections, Heart Conditions, Breathlessness, hypertension, blood pressure, Migraine etc then you must carry an Oxygen cylinder.
But before even doing that, you must consult a doctor and make a decision on whether or not you should take this trip.
Traveling with your Elders
If you are taking your parents or other elders from the family with you on the trip, then you should consider carrying renting an Oxygen cylinder.
I do not mean any offense by it but age does take a toll on our bodies and a trip to Ladakh will definitely mean additional work for the body. Even a small walk can be exhausting for an elderly person here because of low oxygen levels causing breathlessness. An Oxygen cylinder can prove to be of blessing in a situation like this.
Traveling with Children
Remember when you were a small child and just could not sit ideal for a minute? Remember when all that you wanted to do was to run around and how you used to get excited about every new thing or place?
This is what kids do. They are overactive and will exert themselves quickly. You can consider an Oxygen cylinder in this case. It is not a must though as long as you are able to take proper care of your children and keep them from exerting themselves.
Also read: How to Plan a Trip to Ladakh with Children and Infants
Reaching Leh by Air
Catching a flight to Ladakh means that you will take your body from plains to an astounding 3500 meters in Leh. You are bound to get hit by AMS in this case and will have to allow time to your body to adjust and acclimatize.
I am not saying that you will have to  rent a cylinder but in case you were having extreme difficulties in breathing on your first day, you may have to visit the Oxygen Bars or a Doctor to intake Oxygen until your body adjusted.
Conclusion
In the end, before you go to Ladakh, please consider every aspect and prepare accordingly. Consider health of every member of your family or group who is accompanying you on the trip, and then decide whether or not you should rent a cylinder or not.
Also, do not think of an Oxygen tank as a cure for AMS because it is not. It can only be of help if you starting gasping for breath, due to low oxygen levels. It will never help cure AMS which is an entirely different beast altogether. To know more about what AMS is and what its symptoms are, please read How to Handle Acute Mountain Sickness in Ladakh.
I hope this information was of help. If you have any further questions, please feel free to ask in the comments section below or at our Community Forum, and I will be glad to answer.