Until a few years ago, if a person wanted to include both Pangong Tso and Tso Moriri in their Ladakh itinerary, a return journey to Leh in between was inevitable. What it necessarily means is that no matter which lake you went to first, you will have to return to Leh before traveling to the other lake. These were the times when there were either no interconnecting roads; and even if one existed, it was not open for general tourists. Now with recent increase in tourism in Ladakh, some of the lesser known routes are also starting to get traveled upon quite frequently. Authorities have opened more areas for tourists and now you can travel from one place to another without having to come back to Leh. One such road that I will provide details on in this article is the Pangong Tso to Tso Moriri route.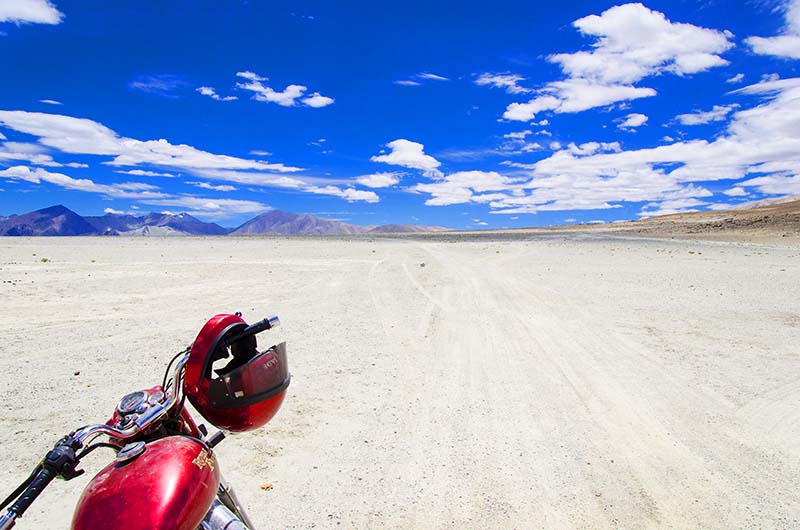 The direct route from Pangong Tso to Tso Moriri runs through a region called Changthang. This entire area is extremely close to the border and will take you through places like Rezang La and Tsaga, sites where Indian Army battled with Chinese forces for control of Ladakh region. Read Lest we Forget: The Heroes of Rezang La for more details. Due to the sensitivity of the region, only Indian citizens are allowed to travel across. Foreign nationals do not get permit for this route and are only allowed to travel as far as Pangong Tso.
This is also a very remote region with no phone facilities, cell phone reception, mechanics, gas stations, accommodation facilities and for most of the journey, not even a road. Even though this route is becoming known now, number of people traveling is still quite less.
If not well prepared, something even as simple as a flat tire can result in a catastrophe here; leaving you stranded in the middle of nowhere. So the question then is why to travel this way? It is primarily for two reasons. First you get to save a day which you would have otherwise wasted for your return journey to Leh from Pangong. This is extremely beneficial if you are short on time which is really the case for a lot of people. Not all of us are lucky enough to be away from our regular lives for weeks altogether; and lot of people try to squeeze in as many places as they can within a short period of time.
Second reason for traveling through Changthang Valley is that you get to explore more. You travel through the beautiful Changthang valley which is one of the most scenic places in all of Ladakh; can add more places like Hanle in your itinerary; journey through areas that even people who went to Ladakh haven't yet seen. With all the tourist rush in last few years, even several known areas in Ladakh can feel a bit crowded in peak tourist season. Almost everyone goes to see Nubra Valley and Pangong Tso but only a handful venture out towards Changthang. So if you want to witness the empty barren landscapes that Ladakh is famous for, give Changthang Valley a try.
Pangong Tso to Tso Moriri Route Map
In order to explain this better, I will post a map of the region that you will be traveling through. Please click on the image below to view the map in full size.
Pangong Tso to Tso Moriri Permit
This entire route is considered a part of inner line, areas closer to border; hence an Inner line permit is required in order to visit here. For foreign nationals, a Protected Area permit has to be procured before they can travel from Pangong Tso to Tso Moriri via Chushul. Inner line permit can either be applied for and obtained in person from DM office Leh or online. Protected area permit however needs to be obtained through a registered travel agent. Please read through the article below for more information on how to get these permits.
Also read:
How to obtain an Inner line permit for Ladakh?
Step by step guide to get an Inner line permit online?
How to obtain a protected area permit for Ladakh?
You must however keep a couple of things in mind. Mention the entire route on your permit. For example, do not just mention Pangong Tso, Chushul, Tso Moriri; rather mention all the villages en route. Like Spangmik, Man, Merak, Chushul, Tsaga, Loma etc.  Second important factor is that even after obtaining permits; you may still get turned back by Indian Army from any of the check posts.
Pangong Tso to Tso Moriri via Chushul
There are a few ways that this journey can be completed; a few different routes that you can take. The most important thing to know here however is that all the variations are completely isolated places with broken roads. I will highly recommend that you stick to the most common route which I will mention further in the article. Only deviate from this path when you are completely sure of where you are headed, your accommodation choices and your vehicle's capabilities.
Route of the journey will be as below.
Spangmik (Pangong Tso) – Chushul – Mahe – Sumdo – Karzok (Tso Moriri)
Alternate routes exist between Spangmik & Chushul and Chushul & Mahe. There are a couple of ways you can travel between these places.
Pangong Tso to Chushul
The first destination to reach from Pangong Tso is Chushul. Though small, this village has significance as one of the four officially agreed Border personnel meeting points between Indian and Chinese armies for regular consultations and interactions to help defuse face offs.At an altitude of 4348 meters, (14268 ft), Chushul has an Advanced Landing Ground airstrip that was used in the Sino-Indian War.
There are two ways that you can take to reach Chushul from Spangmik.
Spangmik – Man – Merak – Chushul ( 50 kilometers)
From Spangmik, start driving on the dirt track right next to the lake. It is an awesome and a very scenic drive. There is no road and you will continue driving on a dirt track for most part of this journey. See the picture below for an example of the road. Cross the village of Man and continue towards Merak where you will be required to produce your permits. After registering yourself, continue towards Khaltse and from there to Chushul. It is advised to follow the electricity wires that connect these villages to ensure that you do not take a wrong turn somewhere and end up in trouble with Indian Army.
There is no road here which makes it highly probable to get lost but as long as you stay on the dirt track and with the electricity wires, you will be OK. At Chushul, you can take a quick break and visit the Chushul War Memorial, dedicated to the heroes who lost their lives in battle with China.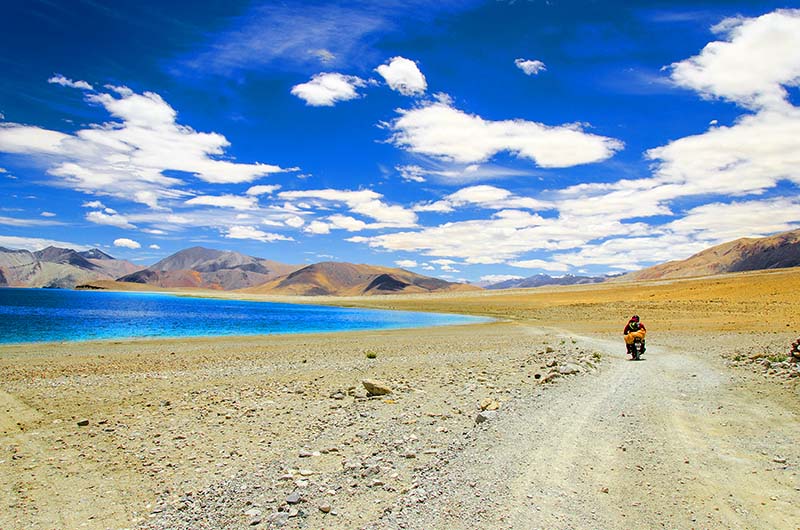 Spangmik – Lukung – Tangtse – Erath – Chushul [128 kms]
If you are not too keen about driving on a dirt track right next to the lake and would prefer a solid road instead, this is another route you can take to reach Chushul. From Spangmik, head back to Lukung and continue to the village of Tangste. From their you can turn left and take the road which is a straight drive to Chushul. However though, this route is longer by almost 80 kms and you will miss the chance of driving next to the beautiful lake.
Please refer to the map above to understand the roads better. Out of these two routes, the common and recommended one is via Man, Merak villages. If you are in an SUV, you can take either of the roads but if you are in a hatchback or Sedan, you must stick to the Erath road and avoid Merak one.
Chushul to Mahe
Once you have reached Chushul, your next destination will be the village of Mahe. Once again, there are two routes that you can take to reach there.
Chushul – Tsaga La / Chagga La – Tsaga – Loma – Nyoma – Mahe (125 Kilometers)

From Chushul, head towards the high altitude pass of Tsaga La, also known as Chagga La. As a matter of fact there are 3 high altitude passes that you will cross before reaching Loma but because the climb is not steep at all, you will barely notice the passes. At the village of Tsaga, you will again have to register yourself at the ITBP check post and this is also the first time that you will see a road ever since you left Pangong. Road from here is pretty good till Loma and it will not take you long to reach there. At Loma you will again be registering yourself at the Army check post.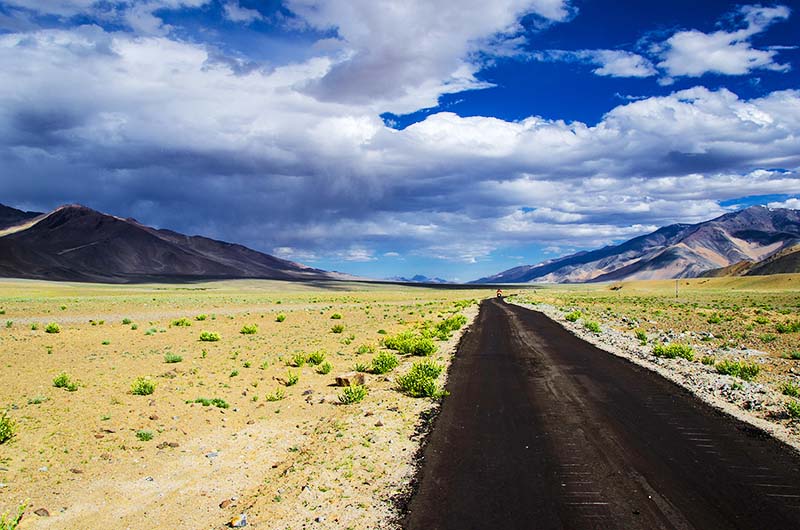 Please be very careful around the dogs here. Do not approach a dog in any case and if approached by a dog, please get inside your vehicle and be on your way ASAP. These dogs are not at all friendly and if you are on a motorcycle, they will chase you not just for fun, but to attack. If you stop here somewhere, please do not wander alone at the village. These dogs are highly dangerous, are not used to seeing a lot of strangers and are capable of killing someone, as I was told by the Army when I was at Loma. Read The Beasts of Changthang to know why I am saying this.
From the check post at Loma, take the turn on your right and continue towards Nyoma and Mahe. Road from here is a mix of good and bad, drive is scenic and it should not take your more than an hour and a half at most to reach Mahe, provided that your breaks are not too often.
Chushul – Mitpal Tso – Kakasang La – Horla – Yaye Tso – Mahe (77 kms)
From Chushul, you can either take the road through Tsaga, Loma and Nyoma to reach Mahe; or you can take a shortcut at Chushul which can save you approximately 40 kms. However this road is drivable only by 4×4 vehicles because of steep climb and severely damaged condition. At Chushul, ask the locals for directions and take the road towards Mitpal Tso. You will be crossing two high altitude passes on this route, Kakasang La and Horla, both of which are a steep ascent. Of the two, Kakasang La is notoriously difficult.
You will also come across four lakes before you reach Mahe; Mitpal Tso, Ordong Tso, Yashu Tso and Yaye Tso. Please register yourself at the Army Check post just after Chushul. Your inner line permit will suffice and no additional passes are required to take this road. However chances are that Army will not allow you to head this way and will rather send you on the road towards Loma despite the ILPs.
Of these two routes, the one via Tsaga is the easier one. Please attempt Kakasang La route only if you have a 4×4 car or a 350 CC above motorcycle with a solo rider.
Mahe – Sumdo – Namashang La – Karzok (63 Kilometers)
There is a check-post at Sumdo where you need to register yourself. Right next to that check-post, there is a bridge on your right. This is the road that you will have to turn on to reach Sumdo. Ask the locals if you are unable to spot the deviation.
Right after Sumdo, the ascent for Namashang La starts. The ascent is not that steep and road is not that bad. However a few kilometers after you have crossed Namashang La, there will be no road at all and you will travel on dirt tracks until Karzok. These tracks will get confusing several times and you will have to stop and think which way to go. Best way to travel around here is to either follow a cab (Sumo or Bolero run by locals] or to follow the track which seems to be the most prominent and traveled on.
The first lake you will come across to after Namashang La is Kiagar Tso. Continue on the tracks and 10 kms before Karzok you will come across a bifurcation. The dirt track will continue to go straight and you will notice a road going towards your left. Do not turn on this road as it goes towards Chumur. You may see a few boards reading that the road straight ahead is closed but keep heading straight on the dirt tracks to Karzok. Do not turn left, go straight.
So in order to summarize it, journey will be as below.
Pangong Tso to Chushul
This can be done in either of the two ways below.
Spangmik – Man – Merak – Chushul
Or
Spangmik – Lukung – Tangtse – Erath – Chushul
Chushul to Mahe
This can be completed in either of the following ways.
Chushul – Tsaga La / Chagga La – Tsaga – Loma – Nyoma – Mahe
Or
Chushul – Mitpal Tso – Kakasang La – Horla – Yaye Tso – Mahe
Mahe to Karzok
There is no route deviation for this one. Pretty much a straight run of 65 kilometers.
Route Variation: Loma to Hanle to Charchagan La to Karzok
From Loma, you can either continue straight towards Mahe of if you have time you can also break the journey at Hanle. Hanle is the last village on Indian border and is 55 kms drive from Loma. Road is pretty good and you can stay for the night at Hanle. Please read How to Plan a Trip to Hanle to know accommodation choices here.Next day, you will have to drive 55 kms back to Loma and continue your journey to Moriri from there. Please be advised that you have to mention Hanle on your permit if you plan to visit there. Also, Hanle is a photography restricted area so you will have to leave your cameras and other photography equipment at the check post at Loma. You can collect it the next morning while returning from Hanle.
Interestingly, there is also a direct route from Hanle to Karzok via Salsal La and Charchagan La. This however is the toughest of all the roads and only doable if you have a 4×4 Car and know where you are headed. This area is probably the remotest of all, mostly a dirt trail all the way across two really difficult passes. Getting permits for this route too is quite difficult. At a point on this road, you will barely be 25 kilometers away from Chumur where most of the Chinese incursions and Army stand offs happen. I will explain this route more in detail in another article.
Accommodation and Other Facilities :
Accommodations on this route are rare. You will not find a decent place to stay till Karzok . If you must break the journey in between for whatever reason, your best chance is to speak to locals at one of the villages and if you are lucky, they may arrange a place for you to stay. There are no guest houses or hotels however until Karzok. Another option is to head towards Hanle from Loma, if you have the permits. There is a guest house in Hanle and a couple of home stays run by locals where you can spend the night.
There is no petrol pump on this route hence it is absolutely necessary to tank up in Leh and carry some extra fuel in case you feel that your vehicle cant carry enough to complete the journey. Dhabas at Lukung also offer petrol at a steep price of Rs. 100 / liter so In case you are running short on fuel, you can tank up here.
There is no phone service, no pay phones and your mobile will remain out of coverage through out the journey.
Road Conditions
To be traveling on this route, a vehicle with high ground clearance is recommended. It will be very difficult to drive here in a hatchback or Sedan without the belly of your car hitting the ground at several places.
Spangmik – Man – Merak – Khaltse – Chushul: A complete dirt trail with some very bad patches in between. You will have to be very carefully following the tracks made by other vehicles, mostly army trucks, to know that you are headed in the right direction.
Chushul – Tsaga / Chagga La – Loma: A mix of good, bad and ugly, mostly bad. You will mostly be travelling on dirt trail until you get closer to Loma.
Loma – Hanle: Freshly laid tarmac, easy drive.
Loma – Nyoma – Mahe : Tarmac on the road, easy drive.
Mahe – Sumdo: Tarmac on the road, easy drive.
Sumdo – Namashang La – Karzok: Dirt trail once again for about 75% of the journey. You will have to be very carefully following the tracks made by other vehicles, mostly army trucks, to know that you are headed in the right direction.
Chushul – Mitpal Tso – Kakasang La – Horla – Yaye Tso – Mahe: A necessarily 4×4 vehicle route with steep ascent, nightmarish roads with big and sharp stones on the trail. Hardly anyone travels on this road because of the terrible drive and also of the fact that Army doesnt allow people to go this way. If you are traveling here, be read to be all by yourself for the entire journey. In case of a breakdown of any kind, you will be all by yourself and in trouble.
Conclusion

:
I hope this information was helpful. If you have any further questions, please feel free to ask in the comments section below or at our Community Forum and I will be glad to answer. If you have any further updates on the route, please do suggest and I will update it in the main article.