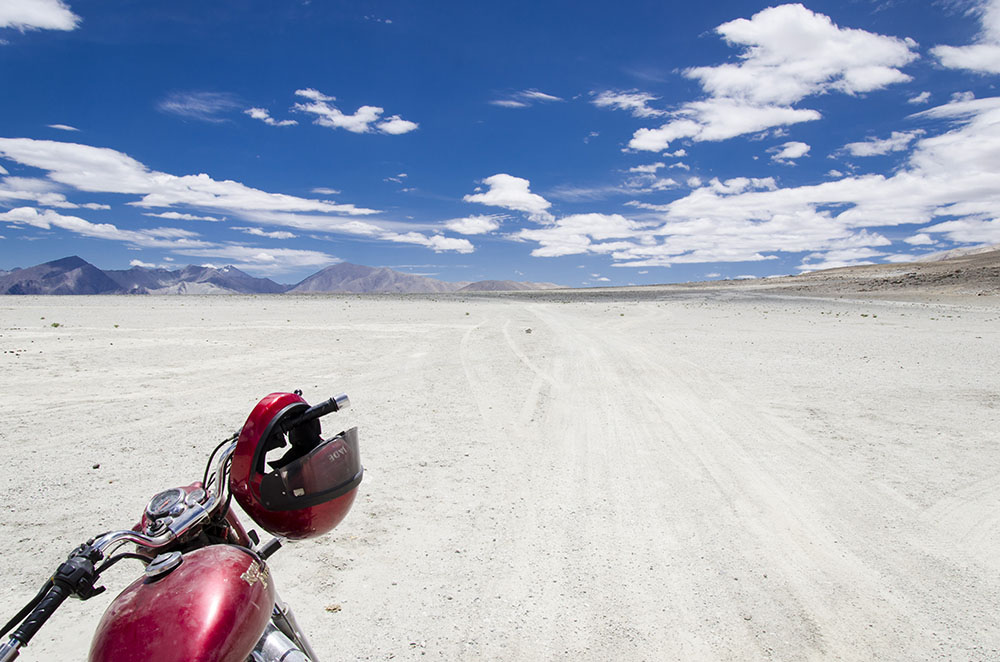 With the recent increase in tourism in Ladakh, some of the lesser-known routes are also starting to get traveled upon quite frequently. Authorities have opened more areas for tourists and now you can travel from one place to another without having to come back to Leh. One such road that runs quite close to the border is the Pangong Tso to Tso Moriri route.
Until a few years ago, if a person wanted to include both Pangong Tso and Tso Moriri in their Ladakh itinerary, a return journey to Leh in between was inevitable. What it necessarily means is that no matter which lake you went to first, you will have to return to Leh before traveling to the other one.
Also Read: How to Plan a Trip to Leh Ladakh – A Complete Travel Guide
These were the times when the interconnecting road was not open for general tourists for security reasons. Thankfully, now you do not need to return to Leh and go directly from one lake to another. In the process, you will cover some beautiful and remote areas of Ladakh that not many have been to.
Pangong Tso to Tso Moriri
The direct route from Pangong Tso to Tso Moriri runs through a region called Changthang Valley. This entire area is extremely close to the border and will take you through places like Rezang La and Tsaga La.
These are the sites where the Indian Army battled with Chinese forces for control of the Ladakh region once in the Indo-China war of 1962. Read Lest we Forget: The Heroes of Rezang La for more details.
Due to the sensitivity of the region, only Indian citizens are allowed to travel across. Foreign nationals do not get permits for this route and are only allowed to travel as far as Pangong Tso.
This is also a very remote region with no phone facilities, cell phone reception, mechanics, gas stations, accommodation facilities. For most of the journey, there will not even be a road. Even though this route is becoming known now, the number of people traveling is still quite less.
Inner Line Permit
This entire route is considered a part of the inner line, areas closer to the border. For Indian nationals, an inner line permit is required in order to visit here.  It can either be applied online or obtained in person from DM office Leh. Please read How to get an Inner Liner Permit in Ladakh for more details.
You must however keep a couple of things in mind. The inner line permit does not have the option for applying for this route or Hanle village directly. Once you have filled out the form and selected all of the places allowed, the permit would have to be stamped for Hanle and Tso Moriri, as in the image below. Without the stamp, it will not be deemed valid.
The image below is actually of two different permits that I cropped and merged into one image to post it here.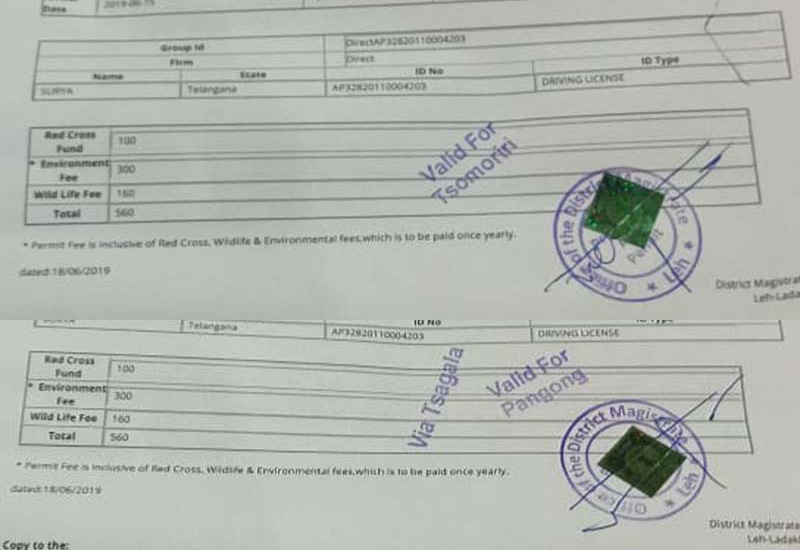 For security reasons, foreign nationals are not allowed to travel on this road. The farthest that you can go after getting a protected area permit is Pangong Lake. If you want to cover Tso Moriri as well, you will have to return to Leh and travel via the Chumathang route. For more details, please take a look at How to Plan a Trip from Leh to Tso Moriri.
Pangong Tso to Tso Moriri Route
There are a few ways that this journey can be completed by different routes. The most important thing to know here however is that all the variations are completely isolated places with broken roads.
I will highly recommend that you stick to the most common route which I will mention further in the article. Only deviate from this path when you are completely sure of where you are headed, your accommodation choices, and your vehicle's capabilities.
Pangong Tso to Tso Moriri Route Map
For a better understanding of the routes I have explained below, let me also post a map of the region that you will be traveling through. It is a comprehensive map that shows every possible road you can take to reach Pangong Lake and Tso Moriri. Please click on the thumbnail below to view the map in full size or save it to your hard disk.
If you need a map of the entire Leh Ladakh, please read A Complete Road Map of Ladakh and Zanskar.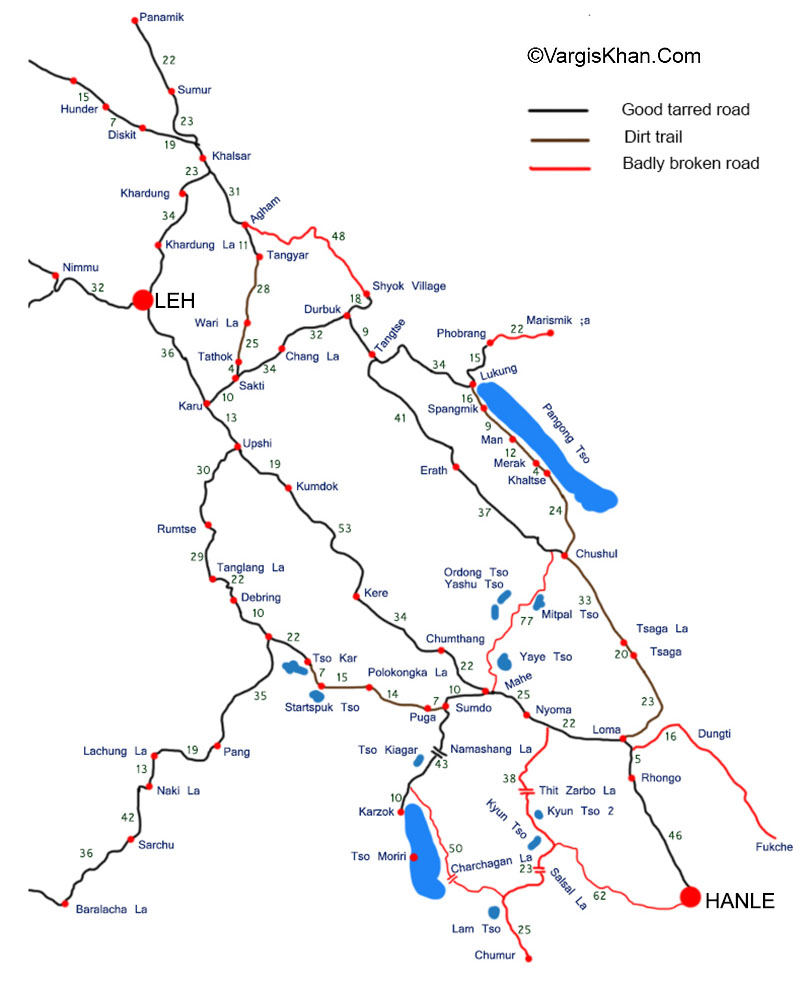 Route 1: Spangmik – Man – Merak – Chushul – Loma – Nyoma – Mahe – Sumdo – Karzok
This first route is shorter in distance and is the most used one. The majority of the tourists would prefer going this way only and I will also recommend that you stick to it. It is also the most scenic way to complete the journey.
Chushul
The first destination to reach from Pangong Tso is Chushul. At an altitude of 4348 meters, (14268 ft), Chushul has an Advanced Landing Ground airstrip that was used in the Sino-Indian War and a war memorial.
From Spangmik, start driving on the dirt track right next to the lake. It is a very scenic drive and you will get some amazing views of Pangong. There is no road and you will continue driving on a dirt track for the most part of this journey. See the picture below for an example of the road.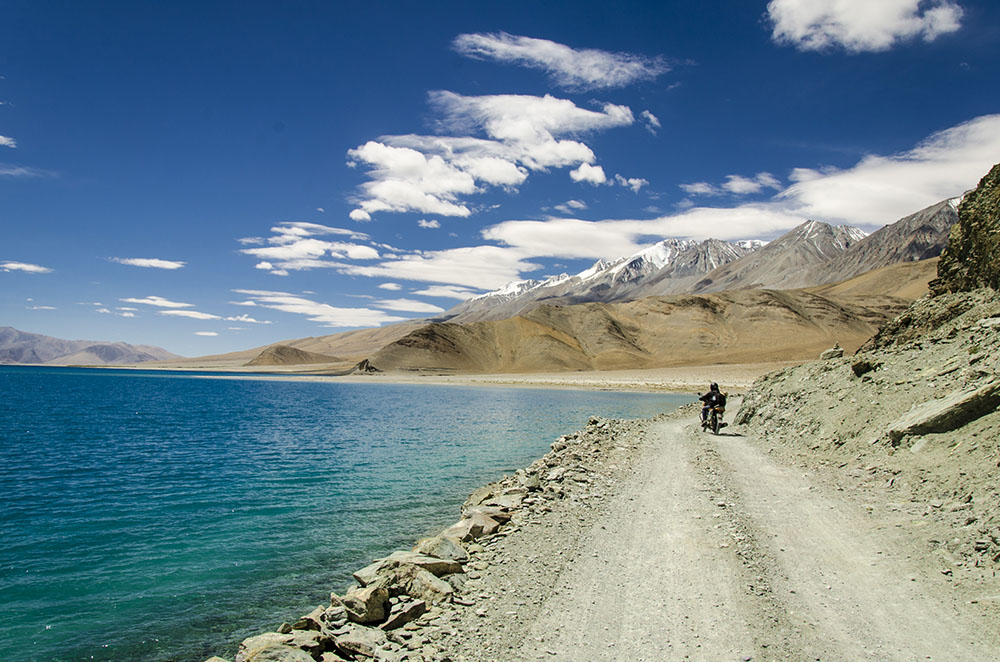 Cross the village of Man and continue towards Merak where you will be required to produce your permits. After registering yourself, continue towards Khaltse and from there to Chushul.
It is advised to follow the electricity wires that connect these villages to ensure that you do not take a wrong turn somewhere and end up in trouble with the Indian Army.
There is no road here which makes it highly probable to get lost but as long as you stay on the dirt track and with the electricity wires, you will be OK. At Chushul, you can take a quick break and visit the Chushul War Memorial, dedicated to the heroes who lost their lives in battle with China.
Also Read: Which is the Best Bike for Ladakh Trip
Tsaga
From Chushul, head towards the high altitude pass of Tsaga La, also known as Chagga La. As a matter of fact, there are 3 high-altitude passes that you will cross before reaching Loma. But because the climb is not steep at all, you will barely notice the passes.
At the village of Tsaga, you will again have to register yourself at the ITBP check post. This is also the first time that you will see a road ever since you left Pangong if you traveled via Man and Merak route.
Loma
The road from here is pretty good till Loma and it will not take you long to reach there. At Loma, you will again be registering yourself at the Army check post.
Please be very careful around the dogs here. Do not approach a dog in any case. If a dog approaches you, please get inside your vehicle and be on your way ASAP. These dogs are not at all friendly and if you are on a motorcycle, they will chase you not just for fun, but to attack.
If you stop here somewhere, please do not wander alone in the village. These dogs are highly dangerous, are not used to seeing a lot of strangers, and are capable of killing someone. Read The Beasts of Changthang Valley to know why I am saying this.
Nyoma & Mahe
From the check post at Loma, take the turn on your right and continue towards Nyoma and Mahe. The road from here is a mix of good and bad, the drive is scenic and it should not take you more than 90 minutes at most to reach Mahe.
There is a check-post at Mahe where you need to register yourself. Right next to that check-post, there is a bridge on your right. This is the road that you will have to turn on to reach Sumdo. Ask the locals if you are unable to spot the deviation.
Sumdo
A little later, you will arrive in the village of Sumdo. It can get a little confusing here about which way to go so ask the locals of the way to Karzok.
There is a small Dhaba near the place where the road turns towards Sumdo. Take a break, get something to eat, and be on your way.
Namshang La
Right after Sumdo, the ascent for Namahang La starts. The ascent is not that steep and the road is not that bad. However a few kilometers after you have crossed Namashang La, there will be no road at all and you will travel on dirt tracks until Karzok.
These tracks will get confusing at several places and you will have to stop and think which way to go. The best way to travel around here is to either follow a cab (Sumo or Bolero run by locals] or to follow the track which seems most prominent and traveled upon. The first lake you will come across to after Namashang La is Kiagar Tso.
Also Read: How to Handle Altitude Sickness in Ladakh
Karzok (Tso Moriri)
Continue on the tracks. 10 km before Karzok you will come across a bifurcation. The dirt track will continue to go straight and you will notice a road going towards your left.
You need to keep going straight. Do not turn left as that goes towards Chumur. You may see a few boards reading that the road straight ahead is closed but keep heading straight on the dirt tracks to Karzok. Do not turn left, go straight.
This is the most common way of traveling from Pangong Tso to Tso Moriri. The journey can get a little difficult at some places and there are a few water crossings as well on the way. But this is possibly the easiest and the most scenic route of all. If you truly want to enjoy the journey without being too adventurous and taking risks, follow the route I suggested above.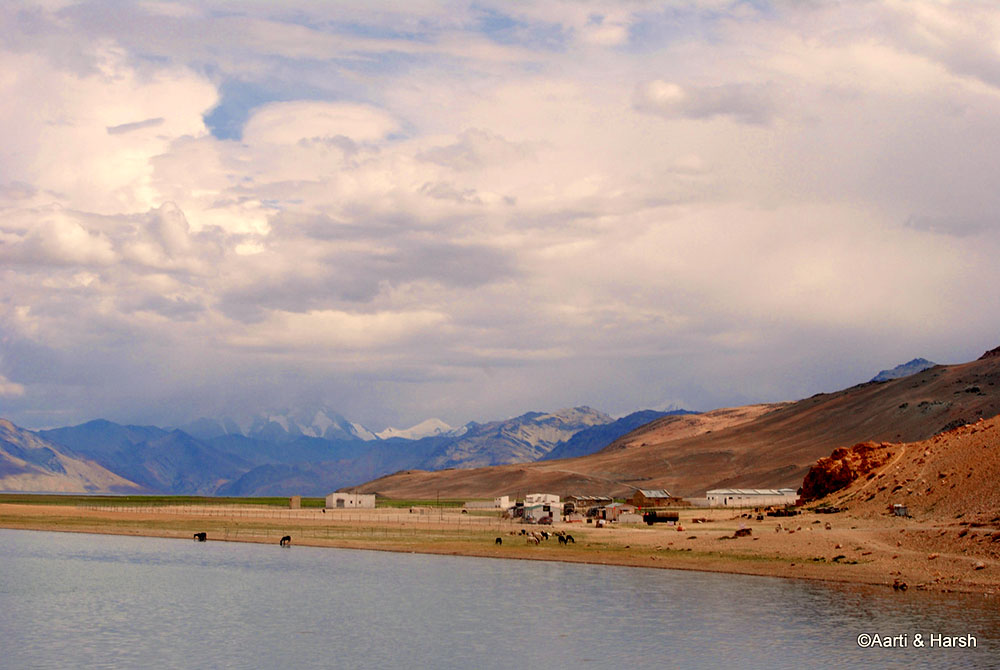 Route 2: Spangmik – Tangtse – Chushul
The only thing different in route 2 from route 1 is the journey between Spangmik and Chushul. The first road that I suggested above is a dirt road that travels right next to Pangong Lake. There is also a second road that you can choose for this journey.
It is a metalled road that runs a little away from Pangong and is mostly used by Army trucks. However, though, this route is longer by almost 80 km and you will miss the chance of driving next to the beautiful lake. The travel time is also longer if you went by this road.
But if you are not too keen about driving on a dirt track right next to the lake and would prefer a solid road instead, this is another route you can take to reach Chushul.
From Spangmik, head back to Lukung and continue to the village of Tangste. From there, you can turn left and take the road which is a straight drive to Chushul.
After Chushul, the rest of the journey will be the same as I mentioned above.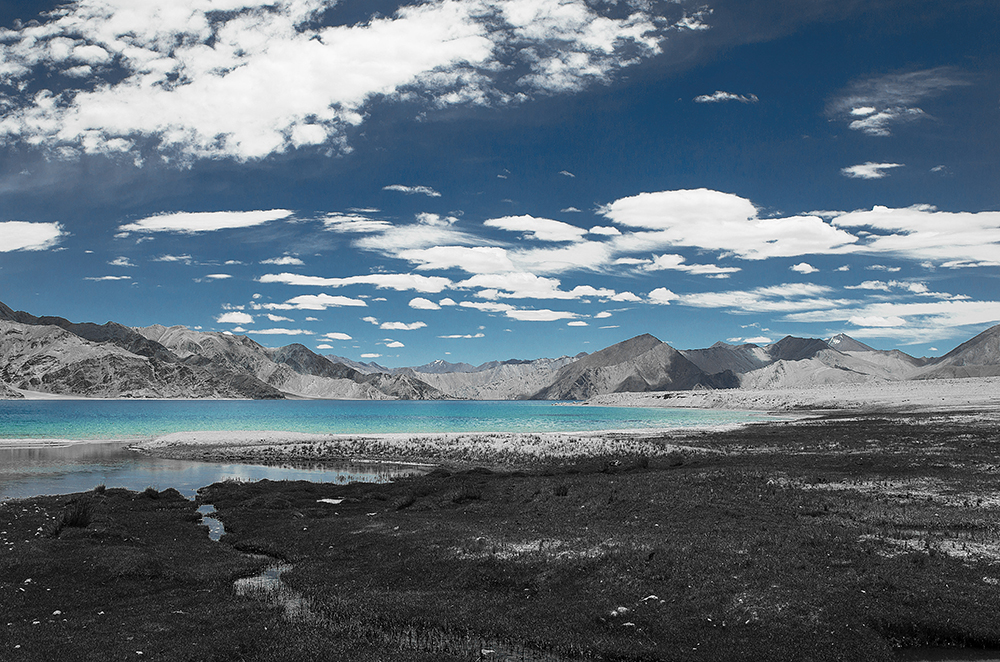 Route 3:

Chushul – Kakasang La – Horla – Mahe
From Chushul, the route I explained above runs through the villages of Tsaga, Loma, and Nyoma and then goes to Mahe. If you wish to, you can also take a shortcut that can save you approximately 40 km. It will get you to Mahe without having to cross all the above-mentioned villages.
However, this road is drivable only by 4×4 vehicles because of the steep climb and severely damaged condition.
At Chushul, ask the locals for directions if you were not sure of which way to go. You will be crossing two high-altitude passes on this route, Kakasang La and Horla, both of which are steep ascents. Of the two, Kakasang La is notoriously difficult.
You will also come across four lakes before you reach Mahe. These are Mitpal Tso, Ordong Tso, Yashu Tso, and Yaye Tso. Please register yourself at the Army Check post just after Chushul. Your inner line permit will suffice and no additional passes are required to take this road.
However, chances are that Army will not allow you to head this way and will rather send you on the road towards Loma despite the ILPs.
Of these two routes, the one via Tsaga is the easier one. Please attempt the Kakasang La route only if you have a 4×4 car or a 350 CC above motorcycle with a solo rider.
Once you reach Mahe, the rest of the journey will be the same as I explained with the first route.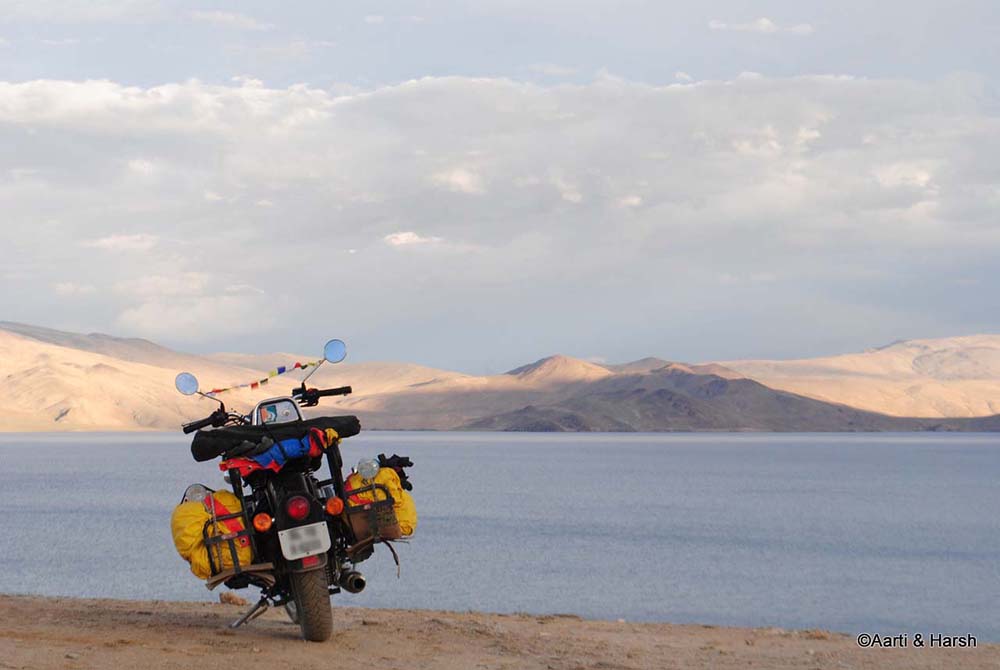 Route 4: Pangong to Loma to Hanle to Charchagan La to Karzok
There is also another road that you can take to reach Karzok from Loma. For this one, rather than going towards Nyoma, you can turn left and take the road toward Hanle and stay there for the night. Hanle is the last village on the Indian border and is a 55 km drive from Loma.
The road is pretty good and you can easily find a guest house there to break the journey for the night. Please read How to Plan a Trip to Hanle to know accommodation choices here.
Interestingly, there is also a direct route from Hanle to Karzok via Salsal La and Charchagan La. This however is the toughest of all the roads and only doable if you have a 4×4 Car and know where you are headed.
This area is probably the remotest of all, mostly a dirt trail all the way across two really difficult passes. Getting permits for this route too is quite difficult. At a point on this road, you will barely be 25 kilometers away from Chumur where most of the Chinese incursions and Army stand-offs happen.
I added this route here only as good to know information. Permits for this road are not given at all and you will be sent back from Hanle. This is more of an off-roading experience for someone who knows exactly where they are headed.
If you wish to only include Hanle in your journey and do not want to take the Charchagan La road, you will have to drive 55 km back to Loma the next day. From there, you can continue your journey to Moriri as explained in route 1. Please be advised that you have to mention Hanle on your permit if you plan to visit there.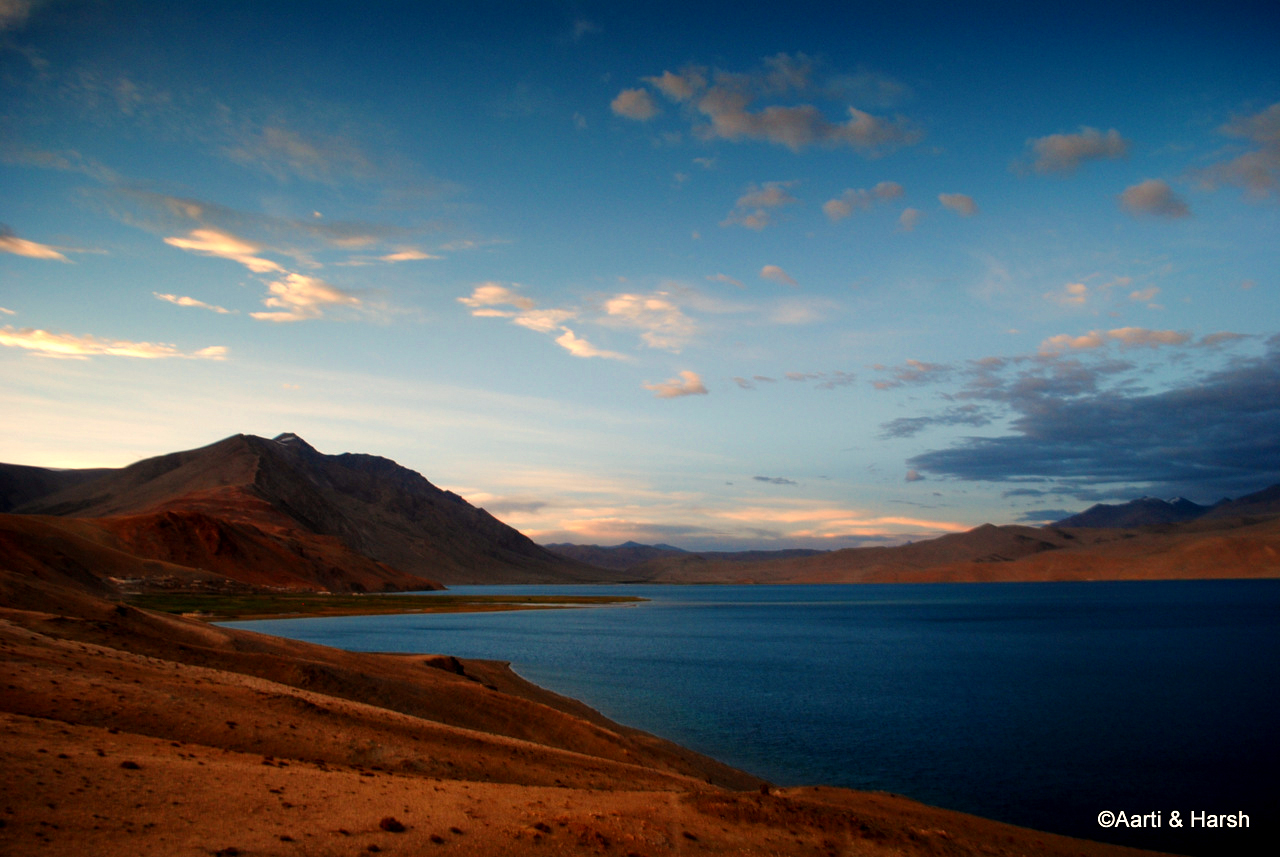 Route Summary
Of these, the first route is the most commonly used one, is the most scenic, doable by all vehicles, and is the one you should opt for. The second one is a longer version of the first and you should only do it if you want to avoid traveling on a dirt road.
I will not recommend attempting routes 3 unless you have already been in the area once and it was your second trip.
Route 4 is only good to know information and is not open for tourists.
Accommodation and Other Facilities
Accommodations on this route are rare. You will not find a decent place to stay till Karzok. If you must break the journey in between for whatever reason, your best chance is to speak to locals at one of the villages. If you are lucky, they may arrange a place for you to stay.
There are no guest houses or hotels however until Karzok. There is supposedly a government rest house in Loma where a friend of mine stayed but I cannot confirm where exactly it is.
Another option is to head towards Hanle from Loma if you have the permits. There is a guest house in Hanle and a couple of homestays run by locals where you can spend the night.
For a list of hotels and guest houses at Tso Moriri, please read Accommodation at Tso Moriri – Hotels, Guest Houses, Campsites, and Homestays.
Petrol Pump
There is no petrol pump on these routes. Hence it is absolutely necessary to tank up in Leh and carry some extra fuel. The Dhabas near Pangong Tso also offer petrol at an increased price. So in case you are running short on fuel, you can tank up there.
Mobile Network
There is no phone service, no payphones, and your mobile will remain out of coverage throughout the journey.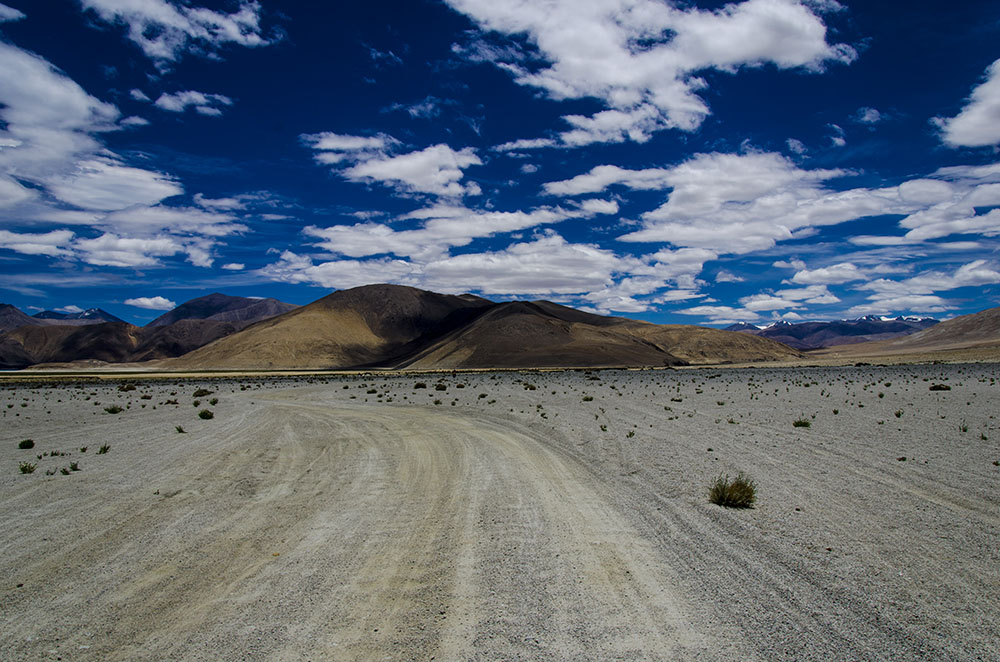 Pangong Tso to Tso Moriri Road Conditions
Mentioned below is a quick summary of the road conditions between Pangong Lake and Tso Moriri.
Spangmik – Man – Merak – Khaltse – Chushul: A complete dirt trail with some very bad patches in between. You will have to be very carefully following the tracks made by other vehicles, mostly army trucks, to know that you are headed in the right direction.
Chushul – Tsaga / Chagga La – Loma: A mix of good, bad and ugly, mostly bad. You will mostly be traveling on dirt trails until you get closer to Loma.
Loma – Hanle: Freshly laid tarmac, easy drive.
Loma – Nyoma – Mahe: Tarmac on the road, easy drive.
Mahe – Sumdo: Tarmac on the road, easy drive.
Sumdo – Namashang La – Karzok: Dirt trail once again for about 75% of the journey. You will have to be very carefully following the tracks made by other vehicles, mostly army trucks, to know that you are headed in the right direction.
Chushul – Mitpal Tso – Kakasang La – Horla – Yaye Tso – Mahe: A necessarily 4×4 vehicle route with a steep ascent, nightmarish roads with big and sharp stones on the road. Hardly anyone travels on this road because of the terrible drive and also of the fact that Army doesn't allow people to go this way. If you are traveling here, be ready to be all by yourself for the entire journey. In case of a breakdown of any kind, you will find yourself in a pickle.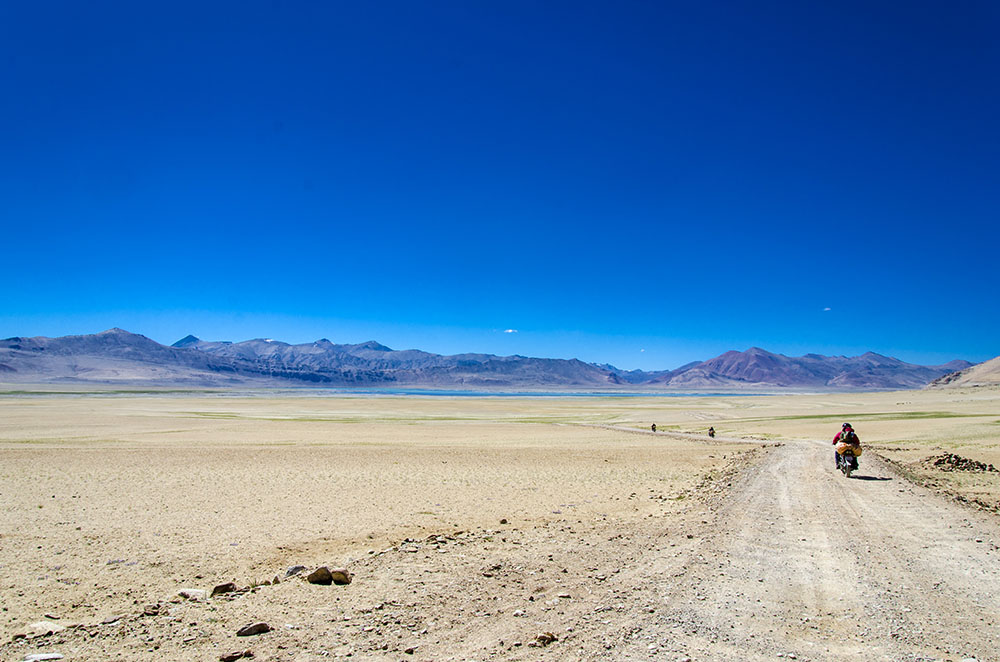 Pangong Tso to Tso Moriri – Conclusion
So the question, in the end, is why travel this way? It is primarily for two reasons.
First, you get to save a day that you would have otherwise wasted for your return journey to Leh from Pangong. This is extremely beneficial if you are short on time which is really the case for a lot of people.
The second reason is that you get to explore more. You travel through the beautiful Changthang valley which is one of the most scenic places in all of Ladakh. You can add more places like Hanle in your itinerary and journey through areas that even people who went to Ladakh haven't yet seen.
With all the tourist rush in the last few years, even several known areas in Ladakh can feel a bit crowded in peak tourist season. Almost everyone goes to see Nubra Valley and Pangong Tso but only a handful venture out towards Changthang. So if you want to witness the empty barren landscapes that Ladakh is famous for, give Changthang Valley a try.
I hope this information on traveling from Pangong Tso to Tso Moriri was of help. If you have any further questions, please feel free to ask in the comments section below or at our Community Forum, and I will be happy to answer.