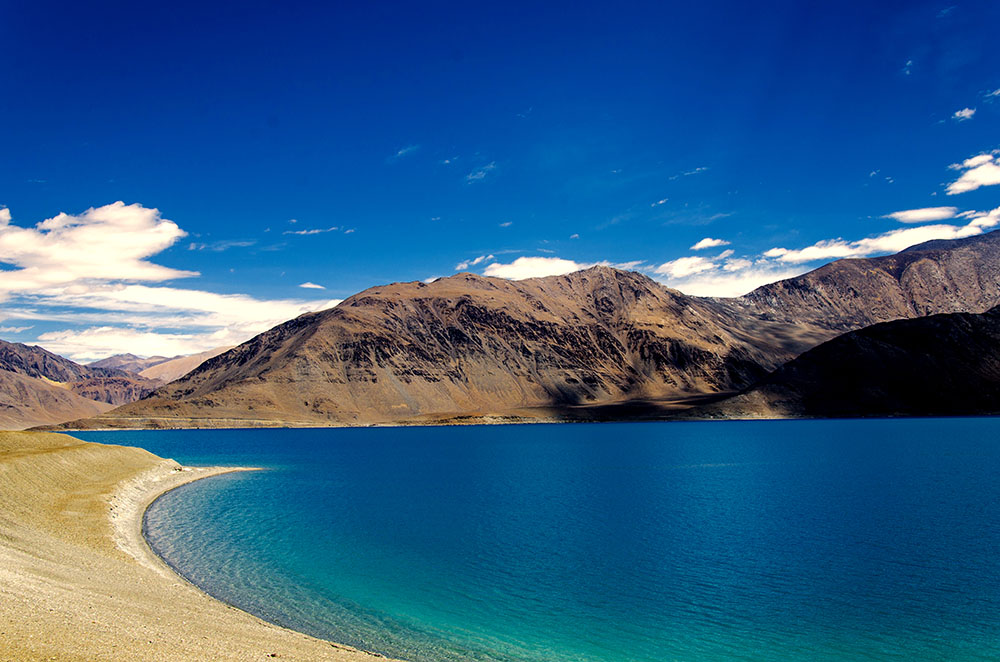 Traveling directly from Nubra Valley to Pangong Tso Lake can help you save a day on your itinerary. You would not have to come back to Leh and can spend more time exploring Ladakh. There are two different routes that can be taken for this journey. In this post, I will provide a road map of Nubra Valley to Pangong Lake route and explain the journey in detail.
With each passing year, more and more places are being opened for tourists. Places that were earlier beyond the reach of a civilian are now accessible to visitors. The roads connecting Nubra Valley and Pangong Tso are also among such areas.
While time is one of the most common factors, a lot of people prefer to travel on this road just to explore a new area or because someone told them that it was more adventurous. Listed below are a few important factors that I feel you must be aware of before traveling on the Nubra valley to Pangong Lake route.
Please note that in this post, I will only talk about the Nubra Valley to Pangong Lake direct route. If you want to get more details about reaching Nubra Valley or Pangong Tso, please take a look at How to Plan a Trip to Leh Ladakh – A Complete Travel Guide.
Nubra Valley to Pangong Tso
Not so long ago, if you wanted to include both Nubra Valley and Pangong Lake in your itinerary, it would require a minimum of 4 days to cover both. On day 1 you would go to Nubra valley, return to Leh on Day 2, reach Pangong on day 3 and arrive back in Leh on day 4.
Fortunately, you do not have to do so anymore. There are now 2 direct routes that can be taken for this journey, the Wari La route and the Agham-Shyok road.
The first one goes through two high-altitude passes (Wari La & Chang La). It is longer of the two and easily an 8-10 hours journey at the least.
The other route is via Agham-Shyok road. It involves no steep climbing, is on a smooth road, and can easily take you to Pangong Tso from Nubra Valley in 4-5 hours.
Let me first post a road map of the region and then I will talk about the route in detail. You can download the map directly from here. In case it comes out blurred, please download it in original resolution from this Google Drive Link.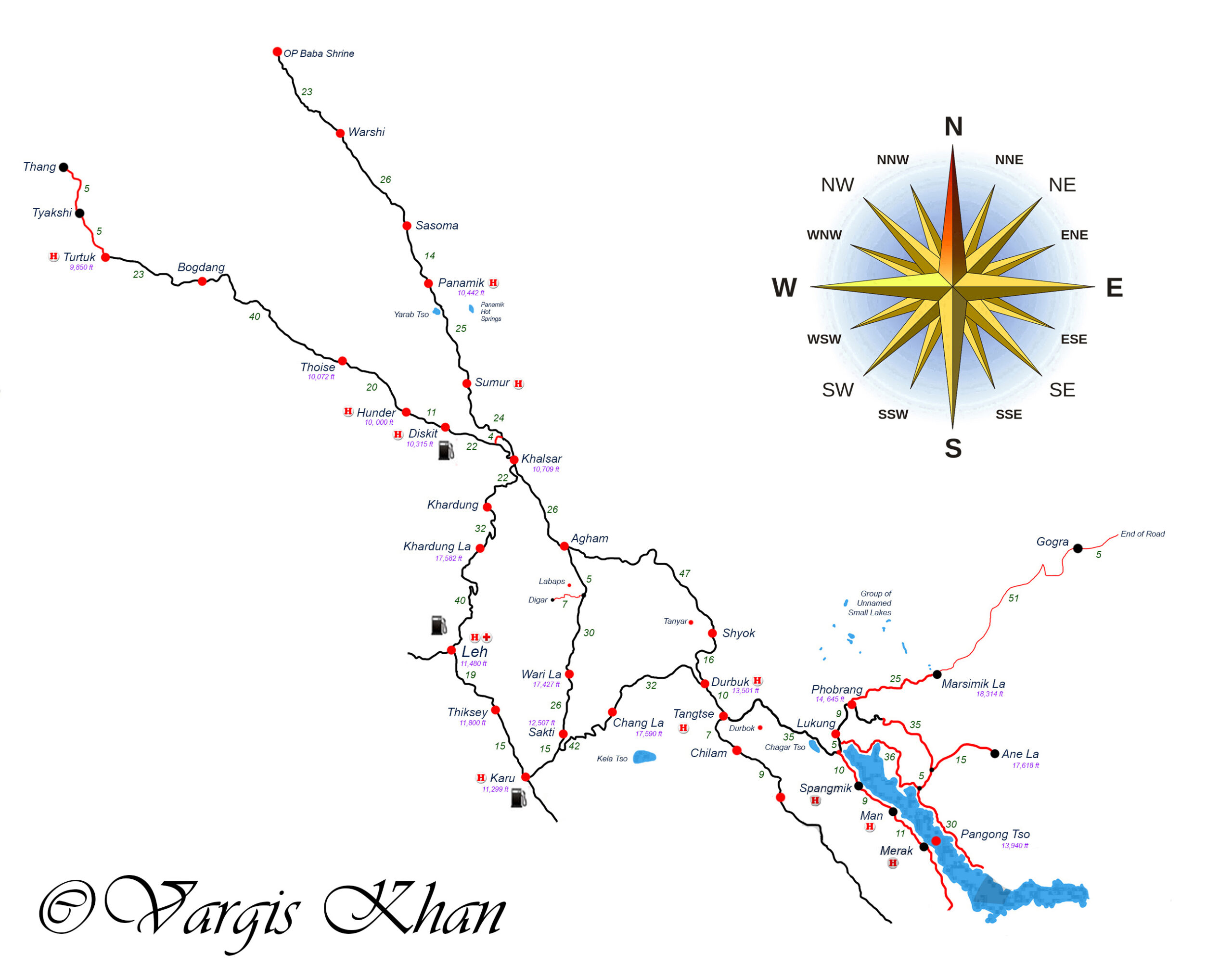 Nubra Valley to Pangong Lake Route
There are two direct routes between Nubra Valley and Pangong Lake.
Route 1: Diskit – Khalsar – Agham – Shyok – Durbuk – Tangtse – Spangmik (Pangong Lake) = 162 kilometers
Route 2: Diskit – Khalsar – Agham – Wari La Pass – Sakti – Chang La – Durbuk – Tangtse – Spangmik (Pangong Lake) = 222 kilometers
Nubra Valley to Pangong Lake via Shyok
Let us talk about the easier road first. This is a road that runs through the villages of Agham and Shyok and earlier was a true nightmare to travel on.  It was carved out sometime in 2010 I believe. Initially, for the most part, it was just a trail of dirt and rocks next to a river.
Sometimes the road will be underneath the water and river Shyok will be flowing all over it. Landslides and shooting stones were way too common on this road. There were several stretches with a steep ascent and loose rocks all over, sharp enough to cut through your vehicle's tires. There were numerous water crossings and some were quite deep & furious.
Even the local experienced taxi drivers once dreaded taking this route. Much however has changed now. In recent years, all thanks to BRO, this road is a smooth run all the way. It is also a very scenic route now. From Diskit to Pangong Tso, the travel time has now been reduced to merely 5-6 hours at most.
To travel on this road, from Diskit, you arrive back to Khalsar. After that, rather than going uphill to Khardung La, you go towards the village of Agham. From there, you continue to Shyok village and then exit on Leh Pangong road near Durbuk. For more details on this road, please take a look at Nubra Valley to Pangong Tso via Agham Shyok Road.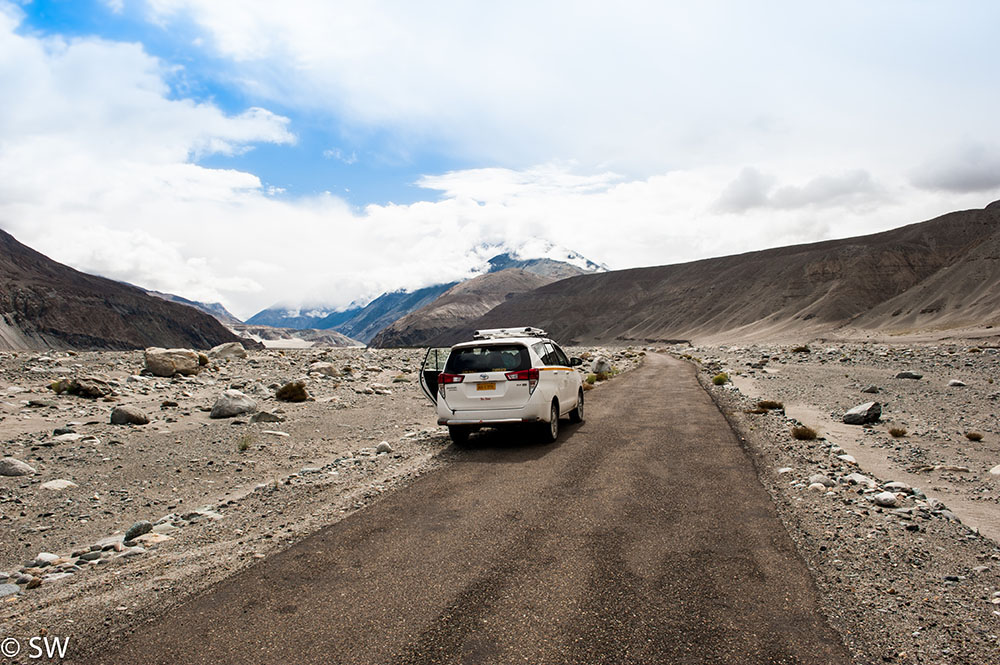 Wari la Route
For a more detailed write-up on this route, please take a look at Nubra Valley to Pangong via Wari La Pass. For a brief summary, on this route, you will cross 2 high-altitude passes, Wari La and Chang La. Of these two, Wari La is a more difficult pass and will really need an SUV to cross.
To travel this way as well, you will first have to drive back from Nubra Valley to Khalsar Village. Until Khalsar, the road is mostly good. It is the same route that everyone takes to reach Nubra valley so you will see a lot of tourist movement.
After Khalsar, as you proceed towards Agham, the road starts to get isolated and turns into a mix of good and bad patches. After Agham towards Wari La, you will mostly be on your own. The road will continue getting terrible as you get closer towards Wari La top.
The last 20 km of the ascent are really steep and will put a toll on both the vehicle and the rider/driver. The descent towards Sakti is a mix of good and bad. After Sakti, it is the same mostly good road that everyone takes to reach Pangong Tso from Leh.
A 4×4 SUV is highly recommended for this route but if you do not have a 4X4, at least travel in an SUV. Taking a Sedan or Hatchback on this road is not at all recommended as climbing up Wari La will become a big challenge.
If you are riding a motorcycle, then an Enfield would be the preferred choice. Even then, ride light and solo if you can. If you are on a lighter engine motorcycle-like 200CC, 150 CC then you must ride solo.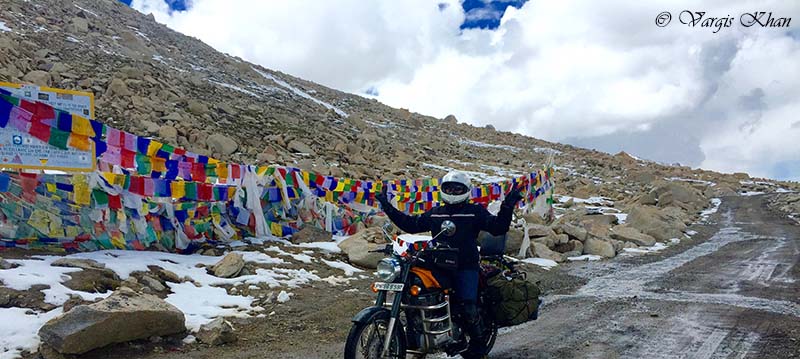 Nubra Valley to Pangong Lake Distance
If you take the Wari La route, the total distance of the journey from Nubra Valley to Pangong Tso will be slightly over 220 km depending on where you are starting from. If you however take the Wari La road, the distance from Khalsar is 130 odd kilometers and about 160 from Diskit and Sumur.
Permit Needed
You do not have to get any special permit for Wari La or Agham Shyok road. Your inner line permit for Nubra and Pangong will remain applicable for both these routes as well. Please read How to Obtain Inner Line Permit in Ladakh for more details on how to get this permit.
Travel Time
Traveling on the Wari La route, the total time of the journey would easily be 10 hours. You will be crossing two high-altitude passes out of which Wari La is a big challenge. It is nothing like the other high-altitude passes you would have crossed in your journey so far. The steep ascent on the last 20 km of the pass is enough to make any vehicle huff and puff.
The travel time on the Agham Shyok road however is considerably less. You can easily finish the journey in 5-6 hours this way. This is the most preferred road that tourists take to travel between the two places.
Nubra Valley to Pangong Lake by Bus
There is no bus service available directly between Nubra Valley and Pangong Lake. If you are traveling by public transport, you will have to go back to Leh and board a bus for Pangong Lake the next day.
The only other option that you have is to hitchhike. I know a couple of people who have done so. A lot of tourists travel on this road during the tourist season and you just need to find someone who is willing to take you along. There are no shared cabs available as well.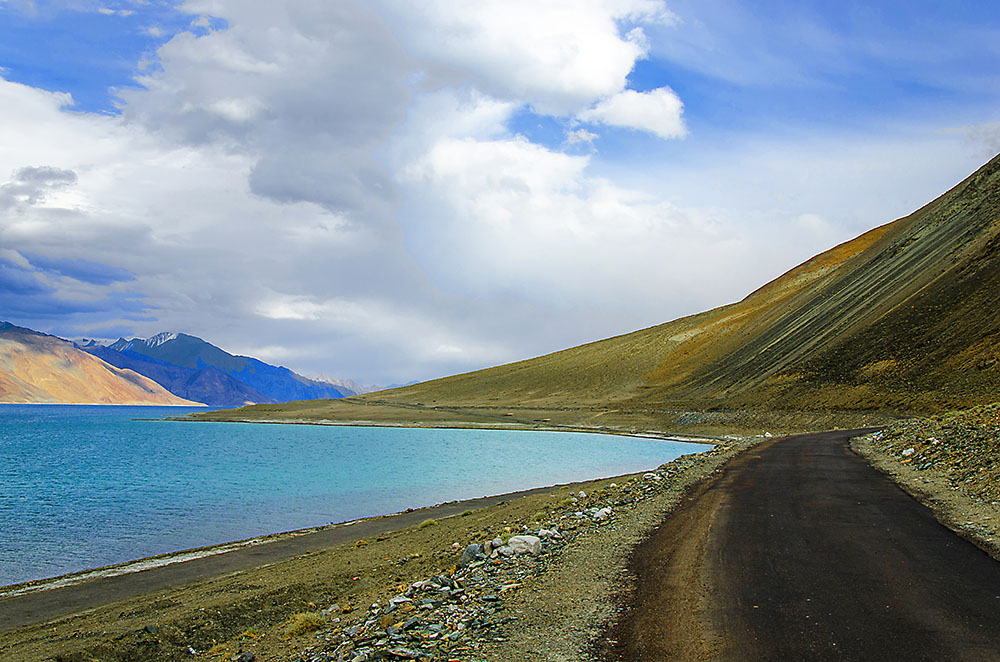 Conclusion
I hope this information on Nubra Valley to Pangong Tso route was of help. If you have any questions or need any further details, please feel free to ask in the comments section below or at our Community Forum, and I will be happy to answer.