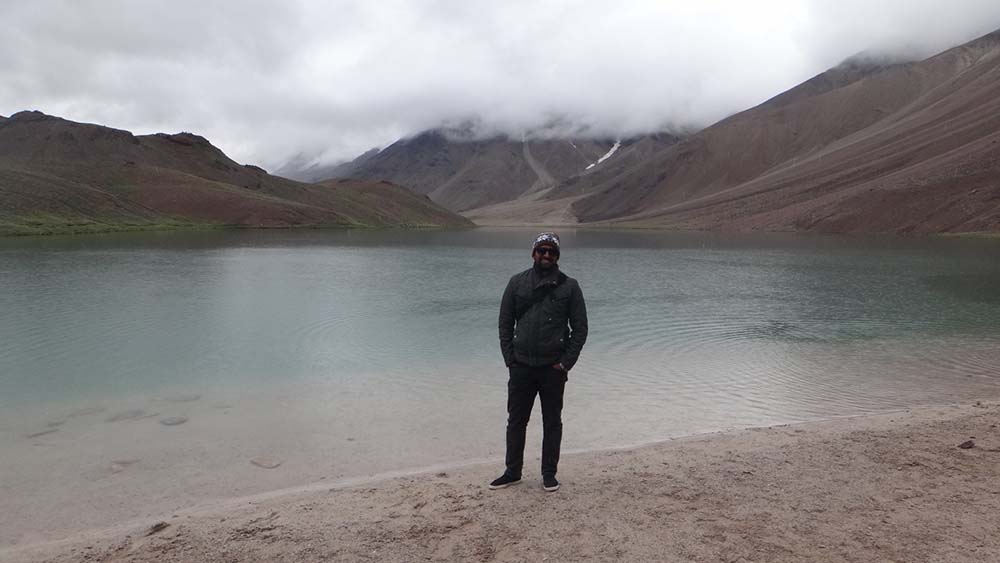 Splendid, Panoramic, Inquisitive, Trance, and Interesting – These 5 words sum up the ever fragrant road trip to Spiti Valley that we were a part of. Pinnacle of 15,000 ft, 2000+ km of a circuit, 160+ liters of fuel, 15+ destinations en-route, 9 days of travel & adventure, 3 travelers, and 1 fantabulous beast to drive us places. Hundreds of people with lots of stories, infinite memories, and whatnot.
So yes, it was indeed a journey of a lifetime. It was a journey to some mystifying places defying the moribund lifestyle that we follow on a regular basis these days. Heartbeat was echoing only one word, 'Spiti' which somehow started to sound as rhyming to "Peace".
Yes, we went in search of peace and found loads of it. The terrains were treacherous; the weather was hostile (too hot/cold). But the people were warm & welcoming and the food was just about delicious that would continue to remind you of your home!
Trip Duration: – June 24 – July 02
Done by: – Subbu, Gaurav, and Umang in a Maruti Swift Petrol that had clocked 100k already.
Road Trip to Spiti Valley
I returned from yet another interesting day at work only to pick up my bags and start this wonderful expedition in search of what I understood later as my own inner peace. The clock was ticking and I knew my first destination was close to 20 km away (Sec-49) where another fellow traveler was eagerly waiting for me. The rendezvous happened around 11 pm and that was when I met Umang for the first time and exchanged pleasantries.
My little beast was cozily parked in his parking space (thanks to him!). A call was made to our 3rd traveler, Gaurav, who had been expecting us (& waiting to complete his dinner in order to host us). East of Kailash is where we had to pick Gaurav up from.
Also Read: How to Plan a Trip to Spiti Valley –  A Complete Travel Guide
Little did the both of us know that there would be hot & fresh rajma Chawal, roti & paneer be ready for us at the midnight. With an initial sense of hesitation, we started to dig into & enjoy these yummy dishes (thanks to Gaurav's family members!).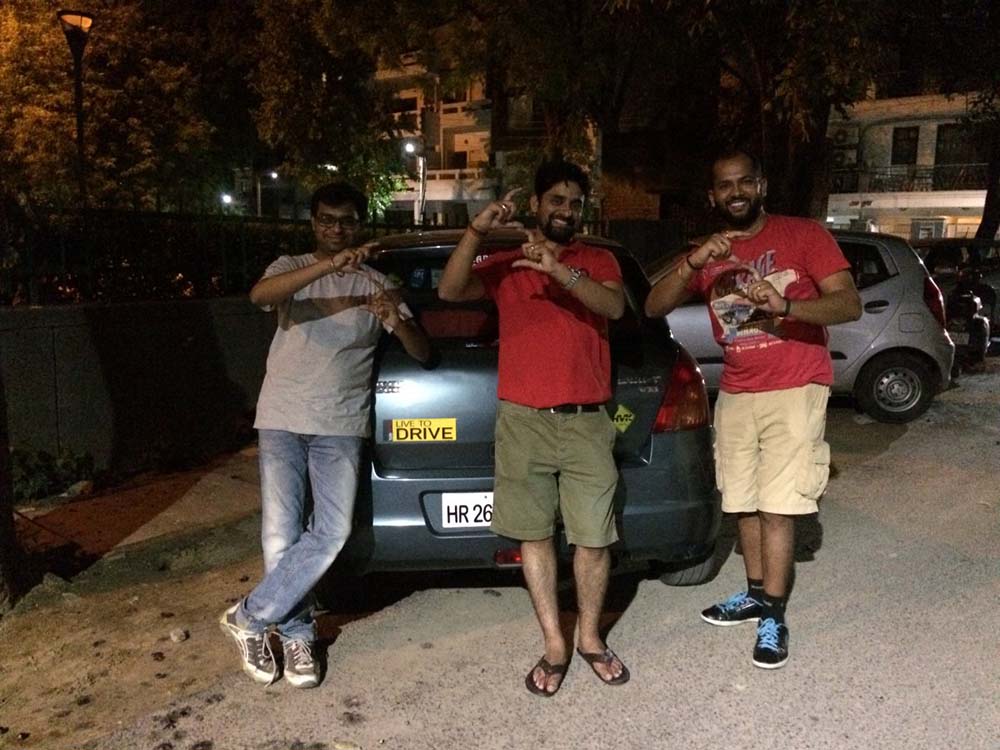 Day 1 – Delhi to Sangla
A full tummy ensured enough inertia for us to start from East of Kailash and we set out on our drive out of Delhi and into the mountains. By dawn, we had crossed the Himalayan expressway and steadily made our way through Shimla. At Narkanda is when we decided to have a pit stop to hog into some home-made Puri Sabji (yes, courtesy Gaurav).
Our journey continued through the hot & humid sections of Rampur, Jhakri & Jeori where we encountered a minor issue with the beast as if she needed a little break. Once we were all set, we made our entry into the Kinnaur valley!
Some artfully cut mountains paving their way to curvy roads welcomed us and we could experience a slight chill in the air as we moved closer to the snow caps. We made our way through Wangtu, Tapri, Karchham (dam with a confluence of water in 2 different colors) and ended day 1 in Sangla at Hotel Tridev Bhagati.
Route: Gurgaon – Shimla – Narkanda – Rampur – Jhakri – Jeori – Wangtu – Tapri – Karchham – Sangla (627 kilometers in approximately 20 hours)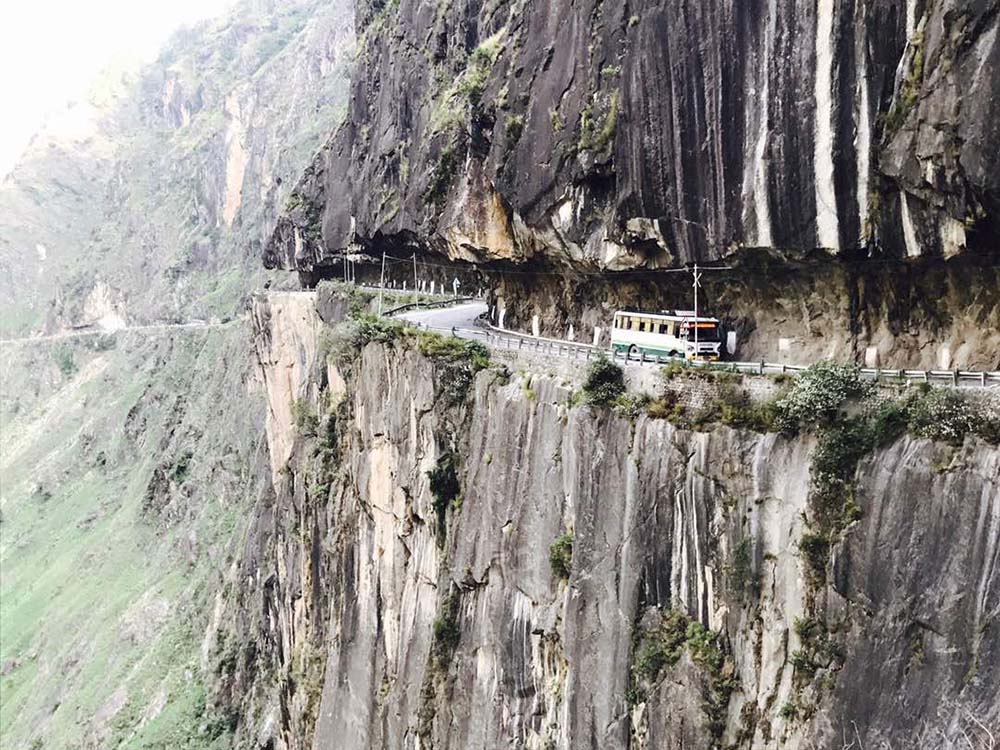 Day 2 – Sangla to Chitkul to Kalpa
A continuous & tiresome drive the previous day prompted us to start a little late in the morning. We picked up our journey towards Chitkul, the last village on the Indian subcontinent before Tibet starts calling it their land!
A stop at Rupin River View resort for breakfast was totally worth it. The restaurant offers stunning views of the valley and provides the best breakfast ambiance one could ask for. Our time at Chitkul was hosted by one Mr. Om Prakash Negi who happens to own the "Last Dhaba of India" and we helped ourselves to some snacks & tea.
A little dialogue was on with the security personnel manning an army post (they denied any further progression on that route as it required prior permissions). Off we made our way towards Karchham again but took the route towards Reckong-Peo and proceeded towards Kalpa, where we would spend the night at Hotel Kalpa retreat.
Route: Sangla – Rakcham – Chitkul – Karchham – Reckong Peo – Kalpa (70 km in approximately 8 hours)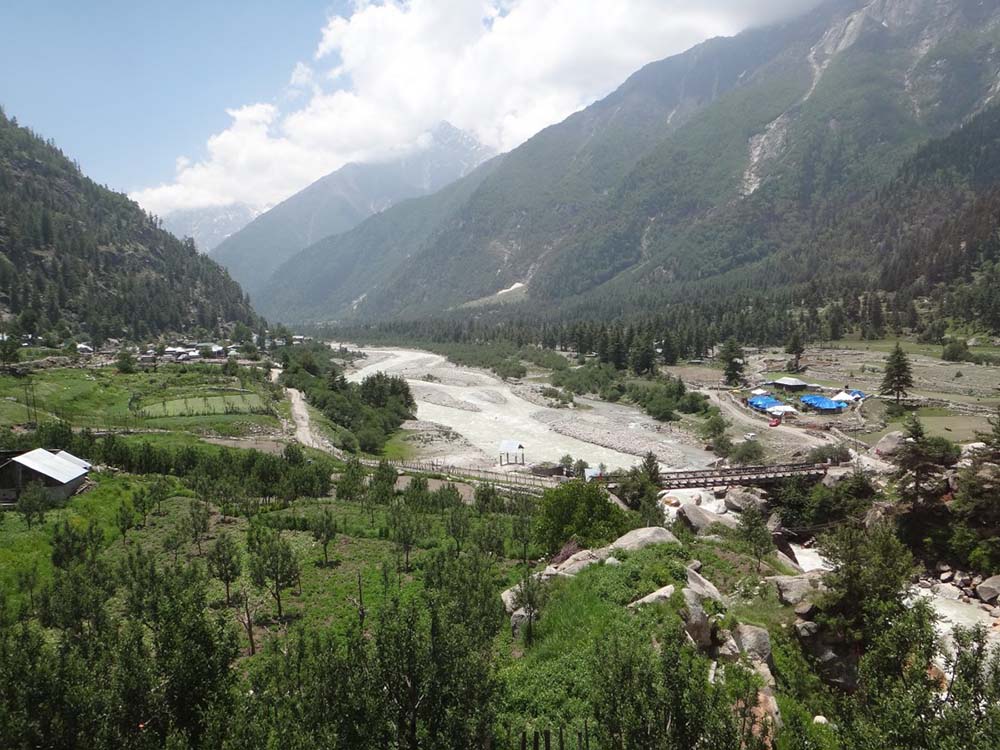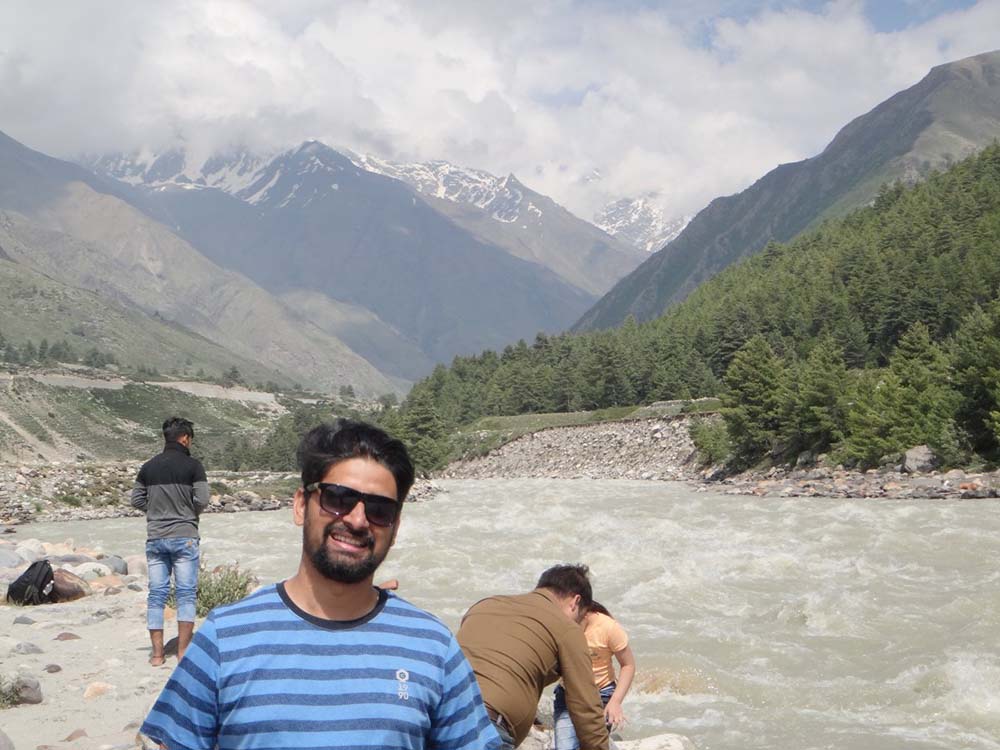 Day 3 – Kalpa to Tabo
A good night's sleep enabled us to start our day a bit early. Umang was up with his SLR shots of the sunrise. The clouds were not been his best friends though. They kept playing a cover early in the morning and did not allow him to capture the view that he was looking for!
We packed up & started our journey towards village Roghi to visit the well-known suicide point, which indeed was one! An age-old fort, offering a breath-taking view of the 'Kinner Kailash' was standing against the test of time which Umang & I visited. Gaurav opted to stay out of the trek due to a slight illness.
We set out our journey from Kalpa through Reckong-Peo, targeting to end our day at Tabo. The road leading to Tabo (via Nako) was one of the most treacherous routes in the country and it somehow proudly boasts about the same! Travel through Spillow, Pooh, Khab (where you can experience some scenic drives) eventually brought us to Nako.
The lake there could be avoided, although is a tourist's wish-list item. The helipad provides a 360-degree view of the astounding Himalayan ranges.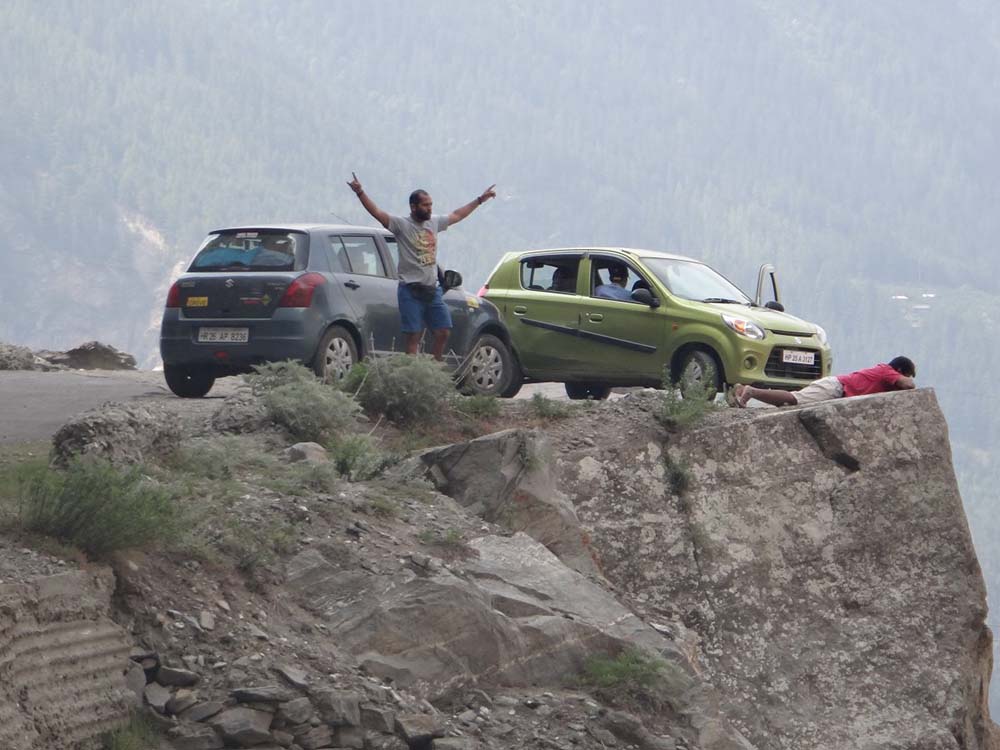 The Mummy of Spiti Valley
Off we gassed ourselves immediately towards Sumdo, where a little detour of 9 km would take us to a 5000-year-old mummy in Gue village. We experienced pitch black river water along the drive towards the village, which was a bit surprising! We reached the village around dusk and gave ourselves just about the right amount of time to visit the mummy.
The care-taker of the place, Tanzy Tandup turned out to be a tech freak. He shared his Facebook, Instagram, and other contact details and explained to us a little bit about the mummy & the surrounding monastery. Little did we know that we were only an ounce away from the international border with China (we came to know of this later!).
Also Read: The Story of the Mummy of Spiti Valley
We started our journey towards Tabo and en route, we encountered the first (albeit small) river crossing! We reached Tabo by night where Bittu Bhai was ready with his accommodation and homemade food. Umang found a wonderful terrace to shoot some SLR pics of constellations and the night sky. Gaurav accompanied his enjoyment, while I preferred to slip underneath the sheets for the night.
Route: Kalpa – Roghi (Suicide point) – Reckong Peo – Spillow – Pooh – Khab (confluence of Spiti & Sutlej Rivers) – Nako – Sumdo – Giu village (Mummy) – Tabo (190 kms in approximately 11 hours)
Day 4 – Tabo to Mud Village (Pin Valley)
A wonderful start to the day with a visit to the Tabo monastery and the surrounding places (including caves) before we set out our drive towards Dhankar. By afternoon we reached Dhankar which was waiting with its splendid views of the valley and light sense of chilled air, just enough for the warmers to be brought out!
The monastery was an awesome and serene visit and after much contemplation, we arrived at the decision of not trekking up to the Dhankar Lake. We then proceeded towards Mud village where we would halt for the night.
The drive to Mud village could be described as the best stretch on the entire circuit. The Pin valley offers some astonishing, refreshing views which would awe anyone out of their minds. The innocence around the air is simply unbelievable and you are sure to find your inner-self if you could indulge in these mystic musings. I did. This picturesque journey brought us into Mud village where we checked into Tara GH & homestay.
Route: Tabo (sightseeing) – Dhankar Monastery – Sagnam – Pin Valley -Mud Village (80 kilometers in approximately 7 hours)
I will let our pictures talk more about how was our day.
Day 5 – Mud Village to Kaza
A very early start saw us at the foothill of a glacier; which was slowly paving the way to a stream, thanks to the Sun god! An easy-level trek took us to the mouth of the glacier, offering some stunning views of the valley below.
We headed back to the hotel, finished breakfast, and set out towards Kaza, the financial spinner of this entire circuit. After reaching Kaza, we took stock of the fuel shortage and made some plans to accommodate the fuel shortage and overcome the same.
Post these discussions, we made our way towards Langza where the Buddha calmly rests amidst the snow-capped peaks; proceeding onto Hikkim (where the world's highest located post office is present) and moved on towards Komic.
We were looking to stay in Komic for the night. But the fuel situation down at Kaza forced a change of plans. We returned to Kaza for the night, refueled, and checked into hotel Neemaling for the night.
Route: Mud Village – Kaza – Langza – Hikkim – Komic – Kaza (Neemaling hotel) (80 kilometers in approximately 8 hours)
Day 6 – Kaza to Losar
A breezy day woke us up and we started our journey towards the Key, Kibber monasteries which have been well known in the valley. Both provided some breath-taking views of the valley and are a must-visit.
Village Chicham could be seen from a distance while returning from Kibber. We met a lot of other travelers during this time and exchanged stories with them. We came back down to Kaza and took a detour towards Losar (via Rangrik).
The drive to Losar was equally scenic and beautiful. It was dangerous and scary at some stages, but all of this only added to our excitement. The drive to Losar was made more interesting, thanks to the light but steady drizzle that followed us.
We reached Losar by evening and checked in to Hotel Khangsar. Here we actually started feeling the deadly cold of the Himalayan winds. An average quality dinner saw us closing the day sooner than we expected.
Route: Kaza – Key Monastery – Kibber – Chicham – Kaza – Rangrik – Losar (night stay) (90 km in approximately. 6 hrs)
Day 7 – Losar to Chandratal
As decided before, we made a very early start and our first halt was at the Kunzum La. What a mesmerizing place to be at! Awesome views of the valley and extremely close to the snow-capped mountains. You could sometimes feel the deficit of oxygen as well!
A parikrama around the Kunzum Mata temple should be done by every traveler in order to seek her blessings. Some pictures with the signboards and the temple were on the cards and we started our journey towards Chandratal Lake. It is really a dream destination as part of the road trip to Spiti valley.
The lake itself was wonderful, serene & fresh as ever! It offers excellent views of the mountain ranges around. A parikrama around the lake is strongly recommended, Umang ticked that off!
With this wonderful memory, we made our way towards Parasol camps where we were slated to spend the night. It was a wonderful experience, camping under the open skies, in the lap of snowy mountains. The food was very tasty and was filling.
We called it a day very early as we wanted to make a head-start by 5 am the next day. This is where we met Nilesh & family and they tagged along with us (in Skoda Rapid) in order to complete the toughest stretch (Batal to Gramphu) of the circuit together. It indeed turned out to be the toughest stretch of our sojourn!
Route: Losar – Kunzum La – Chandratal Lake (50 km in approximately 6 hours)
Day 8 – Chandratal to Chhatru to Chhota Dhara
The clock ticked 5 and as planned, we started off and experienced some of the worst road conditions ever, thanks to the overnight rains in the region. This was also going to be the most exciting day of our road trip to Spiti valley. The stretch from the camp via Batal to Chhatru was extremely difficult and equally challenging to cover. We finally reached Chhatru by around 10 AM and stopped for some breakfast.
This is where we came to know about the series of landslides and the subsequent road blockages along the way. The first road blockage was successfully cleared, thanks to the teamwork of many people like us who had 'Manali' as their destination for the night!
As we progressed 8 km ahead of Chhatru, we were forced to stop, again; thanks to a series of landslides that would later force us to spend the night in the car at Chota Dhaara! There were then a series of discussions in groups as to what the available alternatives were; as there was news that the blockage would take 2-4 days to clear.
Was going back via Kaza an option, little could we decide. I had hit rock-bottom as this would only mean being away from the office for another 2 days at least. We had no option as such.
There was a very weak signal in the BSNL network. We made calls to some people in our group to inform them of our whereabouts. We needed help and needed it urgently.
Route: Chandratal – Batal – Chhatru – Chota Dhara – Dorni Café – Landslide – Night stay in the car (60 km in approximately 6 hours)
Day 9 – Chhota Dhara to Gurgaon
This was the last day of our road trip to Spiti Valley. Apprehension, anxiety, eagerness, helplessness, wait – all summed up our morning; as we came to know that BRO personnel had worked on the repairs last night. A definite sigh of relief though. After a series of discussions, around 9:30 am we finally decided to start as a convoy of 7 cars towards Gramphu.
Again team-work was the stand-out hero which saw us all through some tough terrains. At around 11:30 am all of us saw a wonderful tarmac. We kissed the road as we arrived at Gramphu and were close to 50 km away from Rohtang!!!
All the 7 cars along with the people had posed for a photograph. We exchanged hugs, phone numbers, Facebook accounts, with a promise to be in touch as life progresses. Post this, we made our way towards Manali through Rohtang. Manali welcomed us with the weekend traffic as expected. We slowly made our way to the Old Manali highway where we stopped for a bite at 'The Fat Plate'.
We had decided that we would rev our way through to Delhi by driving through the night. Having seen some treacherous and dangerous terrain, the tarmac till Gurgaon did not bother us much as we were able to clock Manali-Delhi within 11 hours.
Route: Dorni Café – Gramphu – Rohtang Pass – Manali – Mandi – Sundernagar – Kiratpur sahib – Ambala – Delhi – Gurgaon (680 km in approximately 20 hours)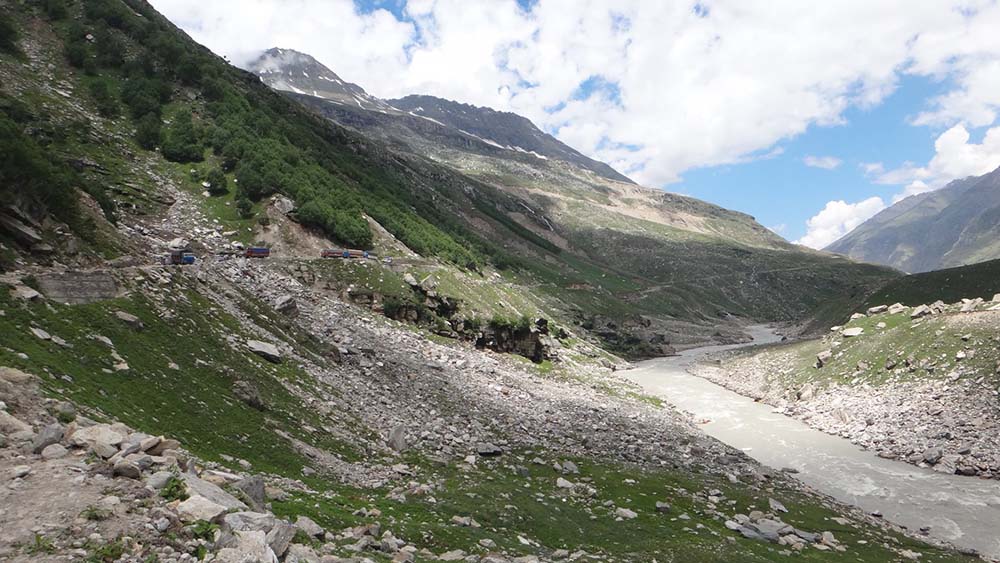 Road trip to Spiti Valley – Conclusion
A trip that got finalized hours before it was supposed to happen. It was also a trip full of uncertainties that prevailed along, a trip where mother nature would eventually have the last laugh. The journey brought 3 different human beings together and helped us discover our inner peace of mind.
It was a trip that could not have been more eventful; a trip that would stay with us for the rest of our lives. It was a trip that was meant to be, a trip that was – Spiti.
I hope the travelogue and information on the road trip to Spiti Valley were of help. If you have any questions or need any other details, please feel free to ask in the comments section below or at our Community Forum, and I will be glad to answer.