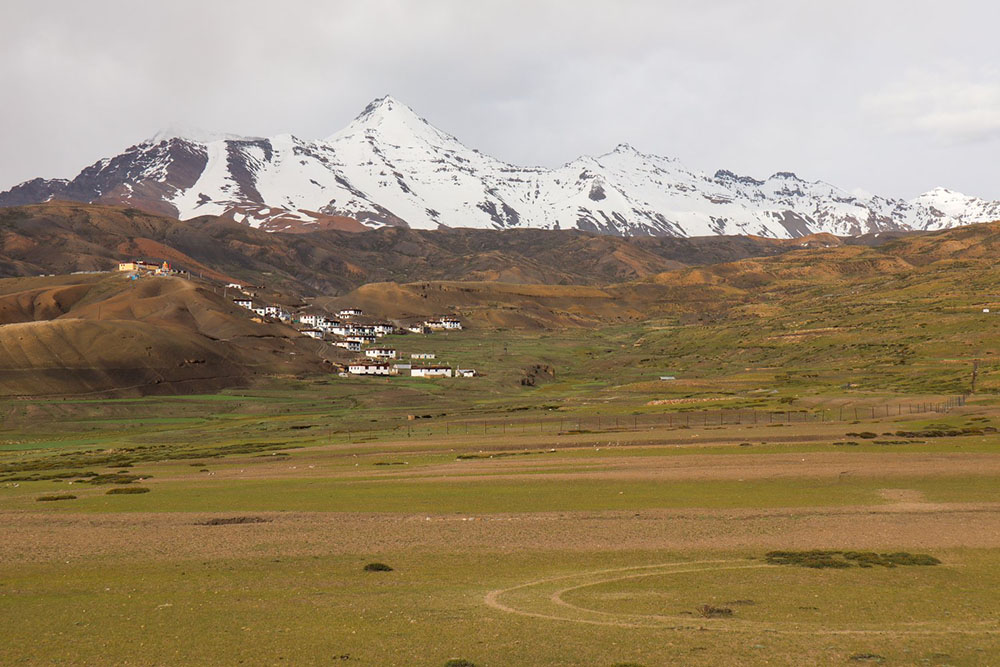 Spiti has a long list of tourist attractions. You can spend days or even weeks sightseeing here and will still not be done with the list. Some of these places are very well known like Kaza and Chandratal but there are numerous other places that are not so famous but should definitely on your itinerary. One such place hidden in the mountains of Spiti Valley is the tiny Langza Village.
For the majority of the tourists, a trip to Spiti means riding their bikes or cars from Shimla to Kaza and then to Manali. Not many spend time exploring what truly is Spiti Valley. They just pass through staying on the main highway and return home.
Also Read: How to Plan a Trip to Spiti Valley – A Complete Travel Guide
That is a fun experience as well but if time allows, you must spend a few days in Spiti and take some time to explore its remote villages. This is where you go if you want to really experience the natural beauty of the place and the culture here.
Drive through, see the vistas, talk to the locals, witness their lifestyles, listen to their stories, share a table with them and you will then have visited Spiti Valley in a true sense.
In the travel guide below, I will run you through some of the necessary details to plan a trip to Langza Village like how to reach there, where to stay, what to see, and an example of an itinerary.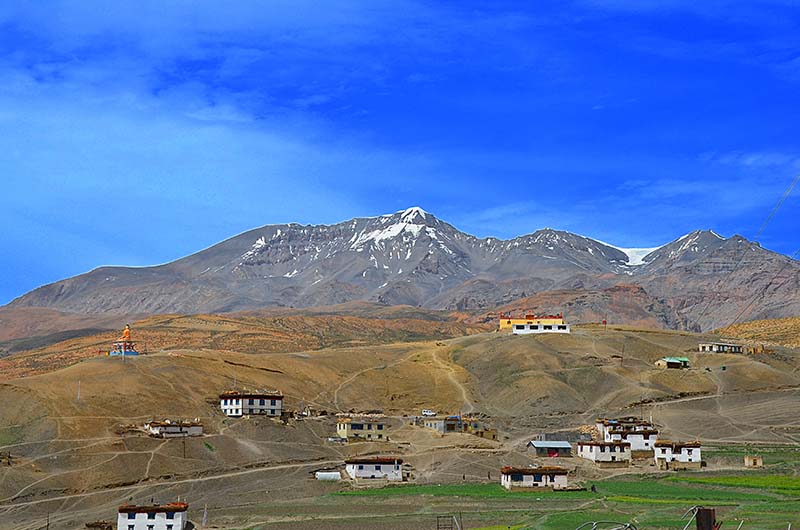 Langza Village Spiti Valley
The village of Langza is commonly referred to as the "Fossil Village" and sometimes also as the "highest village in the world". The claim of it being the highest is definitely questionable but the one related to the fossils is undisputedly correct. The village and its nearby areas are full of marine fossils; one of the many things that put Langza on the tourist map. We will discuss this more in detail further in the article.
The name of the village is believed to have derived from the words 'La' which means a mountain pass and 'Za' which is short for Zama, a form of clay pottery practiced in the village. Another theory states that the name comes from the word 'Lang' – the village temple.
It is a cluster of a handful of houses, home to about 150 people. Farming is the main source of income for the villagers followed closely by Mud Craft and now tourism as well to some extent. Due to its proximity to Tibet, the population of the village predominantly follows Tibetan Buddhism. The village is divided into two sections; Langza Yongma, the lower village, and Langza Gongma, the upper village.
Location
Langza Village is located in Lahaul and Spiti District of Himachal Pradesh at a distance of 16 kilometers from Kaza and 215 kilometers from Manali. Shimla is about 440 kilometers from Langza. The altitude of the village is 4420 meters (14500 ft.).
How to reach Langza Village
In order to reach Langza, one would have to reach Spiti Valley first. This can be done in two ways. The first and the easier way is to reach Spiti Valley via Shimla. This road remains open for all 12 months. You will start from Shimla, travel through Narkanda, Rampur, Pooh, Nako, Tabo, and Kaza to arrive at Langza. This way, you will travel about 440 kilometers which will take you 2 days at least.
The second way is to reach Spiti Valley via Manali. This route remains open only from Mid-May to Mid-October and closed for the rest of the year. You start from Manali, cross Rohtang and Kunzum Pass to reach Kaza and then Langza. The total distance covered will be 215 kilometers and you can complete the journey in a day.
If you were traveling by public transport, then there are regular buses available from both Shimla and Manali to Kaza and then Kaza to Langza.
From Shimla, there is a daily bus at evening 6.30 PM that reaches Kaza the next day in the morning; completing the journey overnight. From Manali, there are 2 daily buses in the morning that arrive at Kaza by evening. From Kaza, there is a daily bus available for Langza Village.
For more information on this topic, please read How to reach Spiti Valley by Road, Bus, Train, and Flight.
Kaza to Langza Village
Traveling either from Shimla or Manali, you will arrive in the town of Kaza, the headquarters of Spiti Valley. From Kaza, Langza Village is merely 16 kilometers and an hour's drive away. You start driving on Kaza – Manali highway and about 2 kilometers out of town; you will notice a road climbing up to your right. This is the one you need to take. From this point, the road climbs up steeply all the way to Langza Village. Take a look at the map below to understand the route better.
A trip towards this area is done in a circuit and while covering other villages as well. It means that you start driving up, cover the villages of Langza, Hikkim, and Komik in a circuit (like shown above), and drive down. Or you can also stay for the night in any of these villages.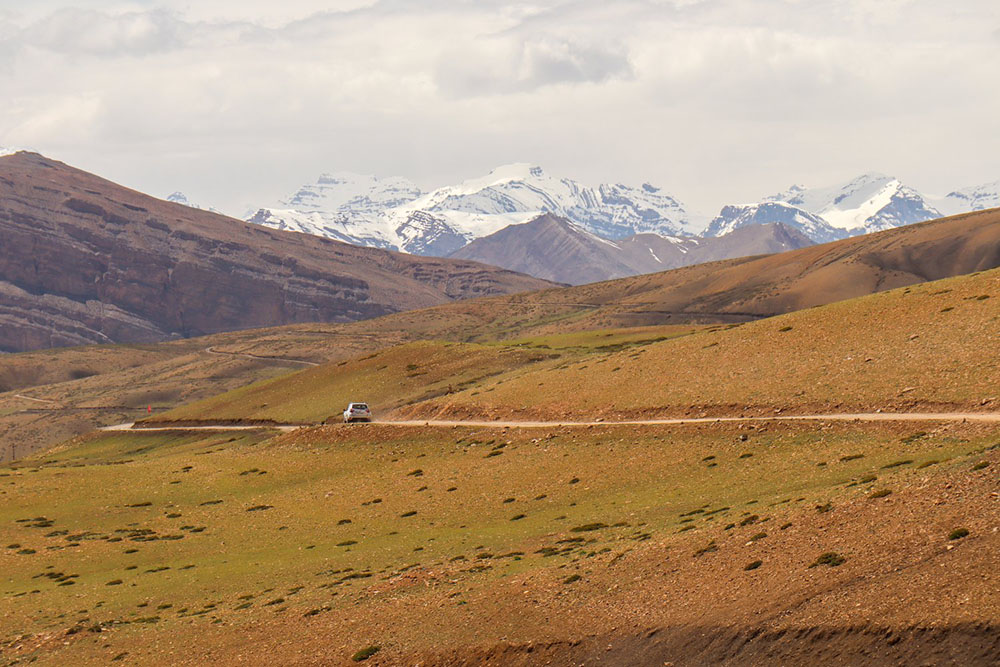 Kaza to Langza Village Bus
There is a bus available from Kaza to Hikkim at 5 PM every day. This bus actually goes all the way to Komic which is about 3 kilometers ahead of Hikkim. It takes about 90 minutes to complete the journey because it also covers Langza on the way. From Kaza, it will first go to Langza, then Hikkim, and then finally Komic.
The same bus then starts from Komic at 7.30 AM and travels back to Kaza via Hikkim and Langza. Fare is about Rs. 50 per person. For more information please read Schedule of Bus Service in Spiti Valley.
Please note that the village of Langza is a little walk from the road, a few hundred meters. So the bus will drop you on the main road and you will have to walk to the village.
By Train
The nearest train station is in Joginder Nagar, at a distance of 365 kilometers from Kaza. This is a narrow-gauge station and receives train a daily Toy Train from Pathankot railway station. The second option, and another narrow-gauge one, would be the Kalka Shimla Toy Train. The major nearest railway station, however, is at Chandigarh, about 500 kilometers from Kaza.
So you will first catch a train for Shimla, Joginder Nagar or Chandigarh and then reach Kaza by Bus. The best of these choices would be to get to Chandigarh by train and travel to Kaza by Bus. For more information, please read How to Reach Spiti Valley by Train.
By Air
Bhuntar is the nearest airport to Kaza but is only domestic and has limited flight connectivity. Chandigarh is the major and the biggest nearest airport. For more details, please read How to reach Spiti Valley by Air.
Weather of Langza Village
Cold, harsh, unpredictable, and unforgiving are the words that describe the weather of Spiti Valley in the winter season. I am writing this article now in the month of January and the temperature in the village is -20°C. It is expected to drop further down to -35°C in the coming few days.
This will give you an idea about how difficult life becomes here for a few months each year. The entire valley gets buried under a thick sheet of snow and everything freezes. Even something as basic as running water becomes impossible at this time and the villagers use dry pits for their morning business.
Summers are however pleasant times with warm days and moderately cold nights. Temperature between May to September ranges between 10°C to 25°C. It can get a little colder at night or towards the end of September but remains pleasant overall.
Spiti is in a rain shadow area which means that it either does not rain here at all or rains very little. The nearby areas of Shimla, Kinnaur, and Manali receive high amounts of rain each year. Landslides caused by incessant rains in these places become a common sight in these areas during the monsoon season.
Also Read: What Clothes should you pack for Spiti Valley Trip
Best time to visit Langza Village
Now based on the information above, I believe it is safe to say that the best time to visit Langza will be from May to September, which also is considered as the best time to visit Spiti Valley. Life in the village will be easier and you will be able to enjoy yourself more.
Moving from one place to another will be easy and you can also go trekking in the mountains around. But if you were looking forward to going trekking to find a snow leopard, then the months of January and February will be the best time for that.
Both the routes to Spiti Valley will be open at this time. You can go to Kaza via Shimla and return via Manali or do the journey the other way around. All internal roads will be open so you will also be able to visit all the other places in Kinnaur Valley like Sarahan and Kalpa.
The only catch is that in July and August, rains can sometimes cause havoc in the hills so please check the weather and conditions before leaving home. For more details on this topic, please read When is the Best time to visit Spiti Valley.
A lot of people also plan a winter trip to Spiti Valley but I will advise against it if this was your first time there. For your first tip, you should really plan a trip in summer. Once you have been here already and are familiar with the region, you can then return in the next winter.
For more details, please read When is the Best time to visit Spiti Valley.
What to see in Langza
Langza is a remote village hidden up in the hills and as such, it does not have much to offer to tourists except for its natural beauty. But it is this natural beauty that is beyond compare and makes it worth your money and while. A small group of white houses surrounded with patches of green fields and snow-capped peaks all around in the barren brown of a cold desert – it truly is a sight to behold.
To be very honest, you do not come to a place like Langza to do plenty of things or go from one place to another. Rather, you come here to do anything at all. You come here to slow your life down for a couple of days, enjoy the beauty of nature, listen to the silence, and relinquish yourself. It is one of those places that are perfect for some soul searching.
Also Read: Sightseeing in Spiti Valley – What to see in Spiti
With that being said, there are a few places to visit and things to do that are worth a note.
Langza Buddha Statue
This by far is considered to be the greatest tourist attraction of Langza Village. There is a grand Golden colored Buddha statue that sits at the top of a small hill overlooking the entire village and the surrounding valley. All the houses in the village are built below the statue, more like in its shadow and under its blessing. The statue is really huge and can be seen from far away as well as you approach the village.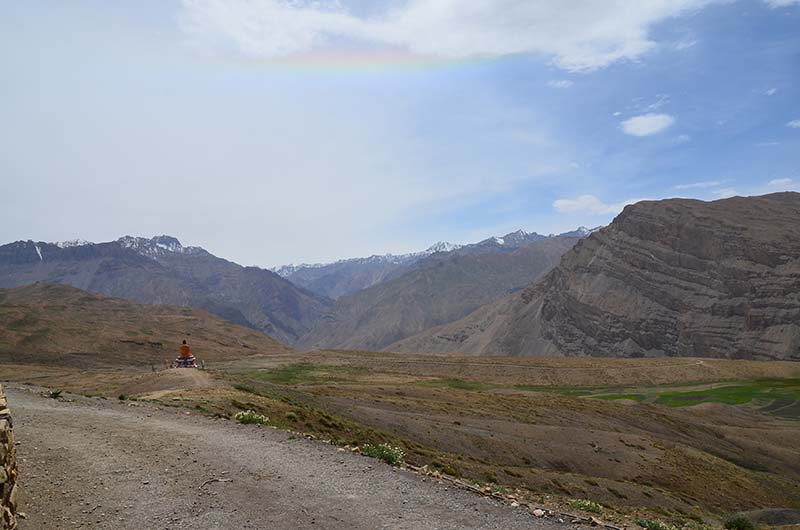 The Lang Temple or Langza Monastery / Gompa
The monastery in Langza is believed to be over 500 years old and is behind the giant Buddha statue. It is believed that the Gompa is home to all the deities of Spiti Valley.
Fossils in Langza
While we are talking about Langza, let us discuss the archaeological history of the place. Millions of years ago, this entire area is believed to be submerged under the Tethys Ocean. It was an ocean that existed in ancient times, before the face of the earth was different and the continents did not exist like the way they do now. For more details on Tethys Ocean, please take a look at this Wikipedia post.
Back then, two supercontinents, Laurasia and Gondwana, covered a large part of Earth's landmass. Then 50 million years ago, these two supercontinents collided and from it emerged the Himalayan range and the Tibetan Plateau as a result of the collision between the tectonic plates.
The Tethys Ocean was then no more and the Himalayas became the roof of the world. Fossils of marine creatures and plants once alive in the ocean are now found in the villages near Kaza under the sedimentary rocks.
Langza is one of the prime locations for finding these fossils. Most found here are the fossils of Ammonites, a marine animal of ancient times that went extinct around the same time that Dinosaurs did. The local word used for the fossils is 'Chaudua'. There is, in fact, a Chaudua center in the village. These fossils are also on sale in several shops in the village.
Also Read: How to Handle Acute Mountain Sickness In Spiti
Chau Chau Kang Nilda Peak
Chau Chau Kang Nilda peak, also known as 'Guan Nelda peak' is one of the highest mountains in the region. Its elevation is a staggering 6,303 meters (20,679 ft). There are several stories and folklore associated with this mountain due to which its name literally translates as snow-capped mountain princess of the sun and dawn. Another of its name translates as 'blue moon in the sky'.
The peak is visible from pretty much everywhere in the village. It looks majestic, especially towards dusk and dawn.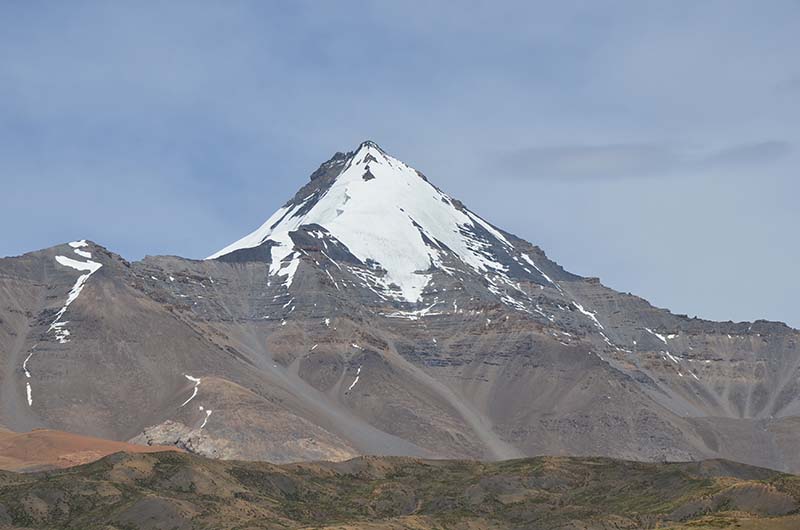 Tsonyeti and Chumo Tso
These are two twin high-altitude lakes located about 4-5 hours of trekking from the village. I am not really that keen on trekking so I did not go there even though my homestay owner really urged me to do so. But if you are into trekking and fit enough, then you can plan a day-long trip from Langza Village.
You cannot do this on your own though and a local guide will be required for this trek. Talk to any of the villagers and one of them will be willing to show you the way for the day.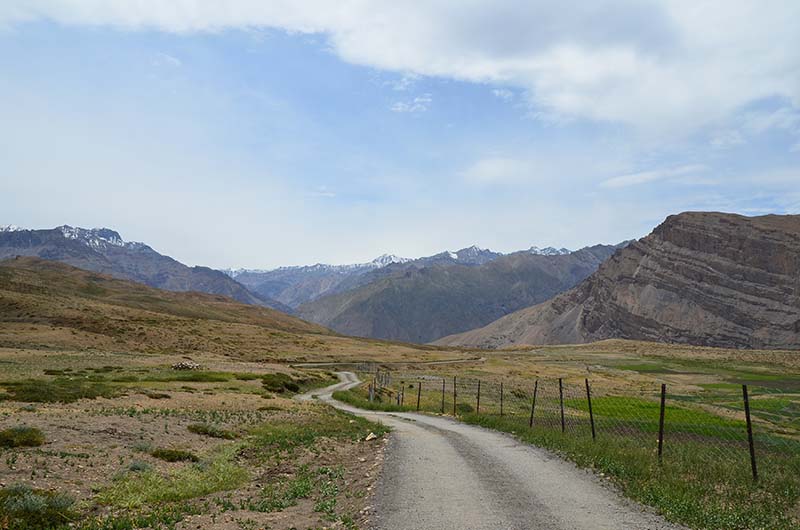 Things to do in Langza Village
What else can you do in Langza Village? Well to be honest nothing in particular. Apart from enjoying the natural beauty and taking a look at the places I mentioned above, there isn't much else to do here. But in that doing nothing, listed below are some activities that you can still enjoy.
Walk around in the Village
Just take a leisurely walk through the village while observing the lifestyle of the simple people here. Walk out of the village to a nearby location at a slight altitude and enjoy a birds-eye view of the village, pastures of green in the brown of Spiti.
Photography
This I think goes without saying. The whole setting of the village is bound to bring out the photographer in you, even if you yourself didn't know that it existed. It does not matter if you were a serious photographer with a huge DSLR hanging around your neck or just a cell phone amateur, you will find it hard to stop yourself from clicking hundreds of pictures here.
Also Read: Best things to do in Spiti Valley
The Night Skies
The night skies of Langza are a treat for the eyes. The pollution-free environment really makes it possible to view the countless stars each night as they lit up the sky the moment the sun goes down. You can view the Milky Way galaxy with the naked eye here. If you are into photography, you will have fun clicking star trails and long exposure shots.
Spot a Snow Leopard
Spiti Valley and the nearby Pin Valley are home to the grey ghost of the Himalayas; the elusive and mysterious Snow Leopard. It is the best place in the entire world to view this magnificent animal.
Hundreds of people arrive here each year and search the mountains to catch a glimpse of a Snow Leopard. Several locals in these villages are trained by the government to trek snow leopards and work as guides. It is one of the greatest adventures that Spiti Valley has to offer.
Experience the Culture and Lifestyle
People of Spiti live harsh and difficult life but are still very happy and content. While you are here, spend some time with the locals and listen to their stories. Zama pottery is a dying art that is practiced in the village and is worth observing. There are only a handful of people in the village who are still skilled in it and are trying to preserve their ancient art.
The nearby Guan Nelda peak has several stories related to it that the locals love to tell. You should also try spending some time in the monastery and talk to the Lamas. They can definitely pass on some of their wisdom to you.
Go Fossil Hunting
Fossil Hunting is one of the most favorite tourist activities in Langza. I am listing it as a tourist activity but it has a far greater significance in terms of science actually. The place is well known among archaeology researchers.
You can spend a day in the village and go around looking for some fossils. But you will need a local to guide you through that. To eyes like ours, it will just look like an ordinary rock and you will not be able to tell the difference. Some of the villagers also have these fossils on sale actually. Do keep in mind though that possession and collection of fossils are illegal in India.
Also Read: Key Monastery in Spiti Valley – A COMPLETE Travel Guide
Shopping
Listed below are some items that you can buy in Langza Village
Zama Pottery
Zama Pottery is a form of clay pottery that was once the main occupation of the villagers of Langza. A form of yellow and black clay is used for it which is easily available around here and has a tremendous amount of plasticity and strength.
The villagers used to make pots utensils, vessels, and other household items. These pots were used in almost everything like cooking, storing, and even storing local barley beer.
Now it is not practiced like before because of the change in climate and the clay becoming hard to find. Plastic and steel utensils are now easily available and are a preferred choice which has made Zama pottery a dying craft.
But some villagers still follow it as a form of livelihood though. However, what was originated as a functional need now slowly took the shape of a decorative product. Items that are made now are decorative types like pots, lamps, and stand. This is one of the best things that you can buy in Langza Village.
Fossils
Though I will advise against buying any fossils, you can definitely bring some home if you wish to. The price will be just a couple hundred bucks at most. The reason why I said you should not buy it is that it is illegal in the first place.
The second reason is that in doing so, tourists will eventually drain the valley out of many fossils and thus making it lose its significance. The fossils found here belong here and must remain here.
The villagers do not see the long-term impact of it and will urge you to buy some for some money but as a responsible tourist, you should humbly decline their request. Some of the villagers also sell mud replicas of the fossils, made by Zama Potter that we discussed above. Rather than buying the original fossils, buy the replica.
For more information on what you can buy during your trip to Spiti, please read Shopping in Spiti Valley – What to Buy in Spiti Valley.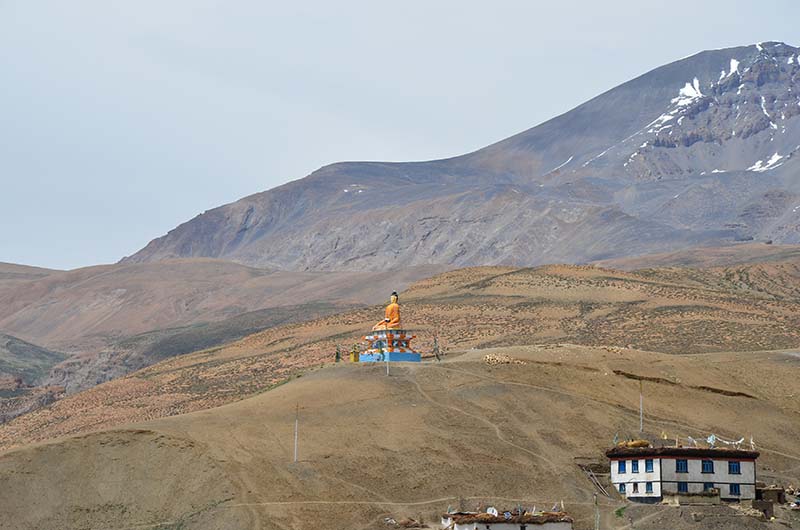 Where to Stay in Langza Village
There are no guest houses or fancy hotels in Langza or in any of its nearby villages. The way tourism is growing in this region, I am sure there will be one soon in the future but not yet thankfully.
The only choice of accommodation you have for now is in the form of homestays. Most of the villagers here have extended their homes by a couple of rooms that they rent out to tourists. You will be staying in their homes and will be breaking bread with them on their table.
Tenzi Homestay is probably the most known one. They have comfortable rooms with attached bathrooms and at very reasonable rates. I stayed here for Rs. 800 per day. Initially, they asked for Rs. 1200 but then agreed to Rs. 800 for the room. But after including the meals for one person, we again agreed for Rs. 1200. You can contact the owner @ 9459566627.
Another good homestay here is Lara's Homestay but this one is slightly on the costlier side. I was asked for Rs. 3000 per day and that is why I did not stay here as I was a solo traveler on a tight budget. I did see their rooms though and they were very nice with attached bathrooms and running water. You can contact them at 094185 37689.
A third one is Sonam Homestay which too is equally good. It can be a preferred choice for budget travelers like me. You can contact the owner of this homestay at 094187 57464. This one has a very homely feeling to it.
A few other homestays are as mentioned below.
Phan Dey Home Stay: 9418620454
Cho Cho Kang Niylta Home Stay: 8988209334 or 9459214648
Norkhyil Home Stay: 8988485081 or 8988110021
What and Where to Eat
There are no restaurants or eateries in the village. You will be eating at the homestay that you decide to stay at. The locals here are very warm and hospitable people who would love to invite you into their homes and share their dinner table with you. North Indian food like Dal, Chapati, Rice, Rajma, etc. is all available here.
The per-day tariff you will pay be will be inclusive of the meals as well but it will be better to clarify it with the owner before you check-in. The food provided too will be basic but delicious.
'Arak' is a drink that I will recommend you to try here. It is an alcoholic drink that the locals made on their own from barley to help them stay warm on the cold days. If you are OK with alcohol then try it out. You will feel the heat instantly. For non-alcoholic, you can try Barley tea.
Paranthas with butter, curd, or milk tea is the common breakfast. You can also ask for Tibetan Bread stuffed with egg or omelet. Lunch and dinner are generally Rajma dal, roti, rice, and cabbage. Some local food items that you can ask your host for are Thukpa, Tsampa, Momos, and Timo.
For more details on local food in Spiti, please read Foods to Try in Spiti Valley – What to Eat in Spiti Valley.
Mobile Network & Data Connectivity
There is no network available here except for BSNL and MTNL. However, even BSNL reception too is highly doubtful. I only got a very weak network on BSNL a couple of times but the call did not go through.
I tried sending texts but that did not work as well. Internet connectivity was of course out of question. Just assume that while you are in Langza Village, you will not have cellphone reception which is not that bad if you think about it actually.
Itinerary for Langza Village
Below is an example of an itinerary that you can follow for a trip to Langza Village. I am only suggesting the trip from Kaza onward. You can plan to cover this region in one day from Kaza or you can spend one night in the village and return to Kaza the next day.
Kaza to Langza Village – Day 1
Arrive in Kaza Village in the morning and check into your homestay
Take a walk through the village. Visit the Buddha Statue and the monastery
Talk to the locals and find out about where you can buy some Zama Pottery Souvenirs. Do some shopping.
Visit the Chauda Center in the village
Talk to the villagers, get a local guide and go on a Fossil Hunting Mission
Return to the homestay and enjoy your evening.
Do not forget to gaze upon the countless stars under a pollution-free, clear, and marvelous sky
Langza Village – Day 2
Start early and go for day-long trekking to Tsonyeti and Chumo Tso lakes. Return to Langza Village by evening
Langza Village to Kaza / Manali – Day 3
Start early in the day
Arrive at the village of Hikkim. Visit the monastery here.
Hikkim is famous for the highest post office in the world. Visit there and send a postcard home.
Drive to the village of Koumik and visit the monastery there
Drive down to Kaza
Alternatively, you can head straight towards Manali or Chandratal from Langza Village.
Acute Mountain Sickness
Langza Village is located at an altitude of 14,500 ft. which means that some people may suffer from altitude sickness here. If you were not feeling well and started to show signs of fever or uneasiness, it is best to not stay at the village overnight and return to Kaza.
There is no medical assistance available here and if your condition worsened in the night, you will be stuck. For more information on AMS is, please read How to Handle Acute Mountain Sickness in Spiti Valley.
Conclusion
I hope the information above on visiting Langza Village was of help. If you have any questions; or need any other details; please feel free to ask in the comments section below, or at our Community Forum, and I will be glad to answer.