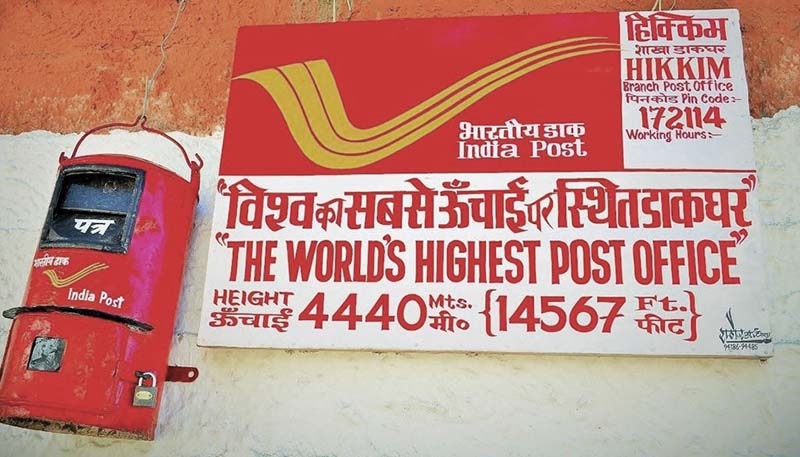 'There is a village in the hills that has the world's highest post office. I want to go there and send a postcard'. These are the words of Amitabh Bachchan from his movie '102 Not Out'. His character is that of a 'full of life' old man who is now 102 years old, has been diagnosed as terminally ill, and tells his last wish to his son, played by Rishi Kapoor. The post office that he was referencing in this statement is located in Hikkim Village of Lahaul & Spiti district in Himachal Pradesh.
Also Read: How to Plan a Trip to Spiti Valley –  A Complete Travel Guide
Is the village the highest in the world? It is definitely not. Is the post office the highest in the world though? Well, this claim too is disputable. What is for certain however is that a trip to this small unknown village of India is sure to bring a sense of adventure to you.
As you stand amidst a handful of houses, surrounded by mighty Himalayan snow-capped peaks, almost in the middle of nowhere, and look around you, all that you can do is to wonder and be amazed by the natural beauty of the place.
Is all the fuss about a post office though? No, that is just an added advantage; the face of tourism to be honest. What you truly visit Hikkim Village for is far greater than just sending a postcard home.
Where is Hikkim in India
Hikkim Village is located in the Spiti Valley of Himachal Pradesh. It is at an elevation of 4,400 meters (14,400 ft) and about 16 kilometers from the town of Kaza. Visiting Hikkim Village is usually a day trip, which means that you visit the village in the day and return to Kaza by evening. You can, however, stay in Hikkim as well overnight and move on to your next destination, if you wished to do that.
How to reach Hikkim?
The first part of traveling to Hikkim will involve you reaching Kaza town in Spiti either via Shimla (which remains open for all 12 months) or via Manali (which is only accessible from June to September).
If you started the journey from Shimla, you will travel via Narkanda, Rampur, Pooh, Nako, and Tabo to reach Kaza. The journey will be of 420 kilometers approximately and will take you at least 2 days with a night halt at either Rampur or Reckong Peo.
If you started the journey from Manali, then you will travel via Rohtang Pass, Gramphu, Batal, Kunzum Pass, and Losar to reach Kaza. This will be a total of 200 kilometers approximately and can be covered in 8-10 hours.
There are regular daily buses from both Shimla and Manali for Kaza. From Shimla's side, the bus will take two days to get to Kaza and from Manali's side; it is a one-day journey. Please read How to reach Spiti Valley by Road, Bus, Air or Train.
Road to Hikkim Village
In order to get to Hikkim Village, you will start driving from Kaza towards Manali. About 1.5 kilometers out of the town, you will notice a road going uphill towards your right. This is the one you need to turn on. It is a small road and can be missed so please ask the locals if you were unsure.
The road towards Hikkim is before the Rangrik bridge and Kye Monastery so if you reached either of these places, you have gone a little too far ahead. I will post a map below for better understanding. For the journey ahead, it is a complete circuit and you can either do it in the form of Kaza – Langza – Komik – Hikkim – Kaza or the other way around.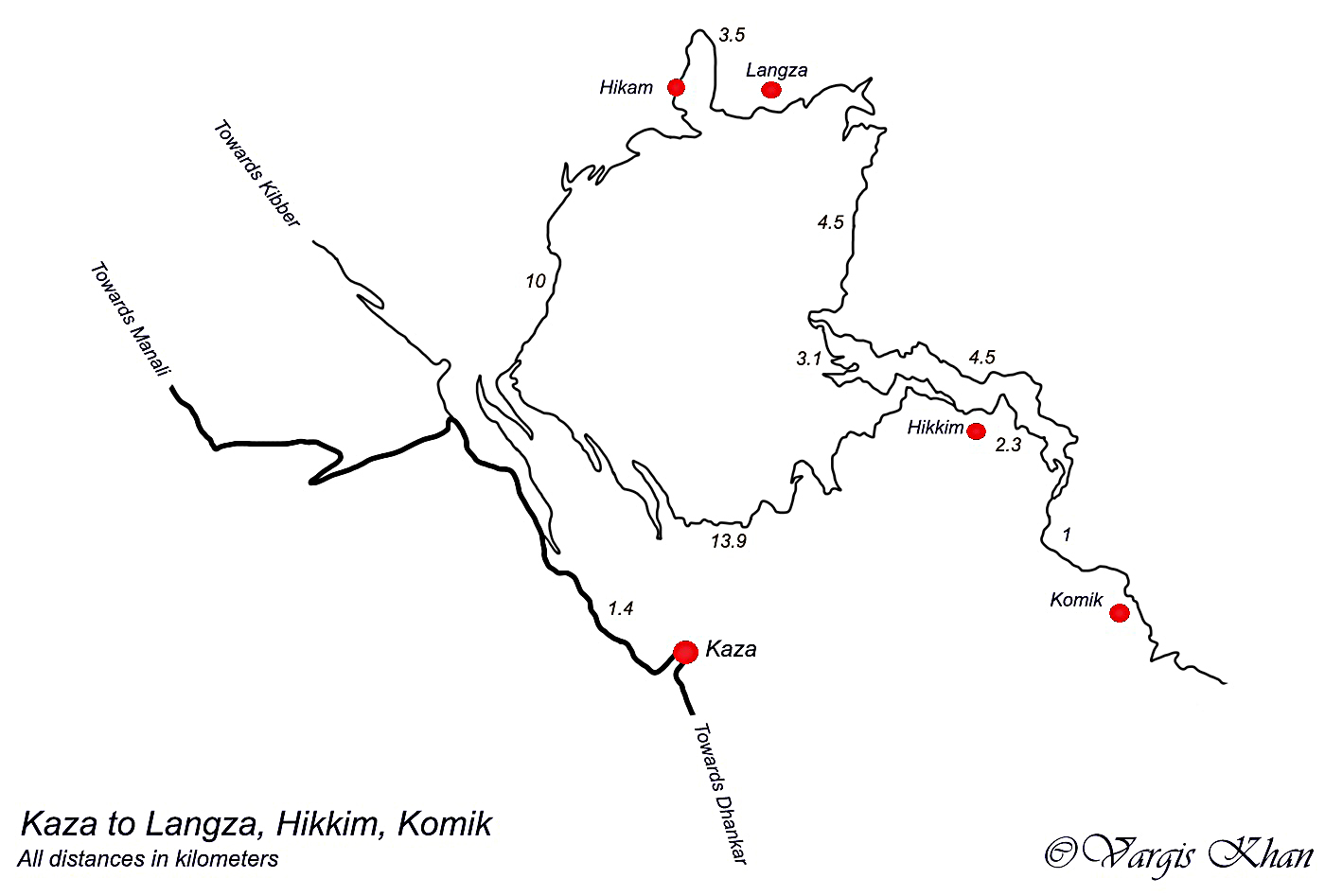 Rangrik Bridge is the point in the map above where the road turns left towards Manali. Kye Monastery is on the road that goes straight towards Kibber.
The entire drive from Kaza to Hikkim is a very scenic one and you will really enjoy the scenic beauty of the place. It will not be wrong to say that this is where the true beauty of Spiti valley lies. Do keep in mind though that the roads here are a little narrow and get steep at several points. Please drive carefully.
Kaza to Hikkim Bus
There is a bus available from Kaza to Hikkim at 5 PM every day. This bus actually goes all the way to Komic which is about 3 kilometers ahead of Hikkim. It takes about 90 minutes to complete the journey because it also covers Langza on the way. From Kaza, it will first go to Langza, then Hikkim, and then finally Komic.
The same bus then starts from Komic at 7.30 AM and travels back to Kaza via Hikkim and Langza. Fare is about Rs. 50 per person. For more information please read Schedule of Bus Service in Spiti Valley.
By Train
The nearest train station is in Joginder Nagar, at a distance of 365 kilometers from Kaza. This is a narrow-gauge station and receives train a daily Toy Train from Pathankot railway station. The second option, and another Toy Train one, would be the Kalka Shimla Toy Train. The major nearest railway station however is at Chandigarh, about 500 kilometers from Kaza.
So you will first catch a train for Shimla, Joginder Nagar, or Chandigarh and then reach Kaza by Bus. The best of these choices would be to get to Chandigarh by train and travel to Kaza by Bus. For more information, please read How to Reach Spiti Valley by Train.
By Air
Bhuntar is the nearest airport to Kaza but is only domestic and has limited flight connectivity. Chandigarh is the major and the biggest nearest airport. For more details, please read How to reach Spiti Valley by Air.
Delhi to Hikkim
So for example, if you were planning to travel to Hikkim from Delhi, you will first drive to Shimla and then continue on the road to Kaza via Rampur, Pooh, Nako, and Tabo. If you were short on time and wanted to go via Manali, then take the Delhi Manali highway via Chandigarh and then reach Kaza via Rohtang Pass, Batal, and Kunzum Pass.
If you were coming by Bus, then the easiest way would be to first board a Bus for Shimla. Then you will take the daily Bus from Shimla to Reckong Peo and then another bus from Reckong Peo to Kaza. Or you can first catch a Delhi to Manali overnight bus and then the daily bus to Kaza from Manali.
What to see in Hikkim Village

In this article, I am going to cover places to visit in Hikkim village only. If you want to get a complete list of tourist places on the entire Spiti circuit, I would urge you to please read What to See in Spiti Valley and its Vicinity.
Hikkim is just a small village, only a handful of houses, and as such, there isn't a lengthy list of places to visit here. The natural beauty of the place will definitely be the topmost item. Farming is the primary source of living for the villagers here. The green patches of fields amidst the barren brown mountains of Spiti really present a beautiful sight. There will hardly be any people around, just you and the mountains. The peace and tranquility out here is like nowhere else.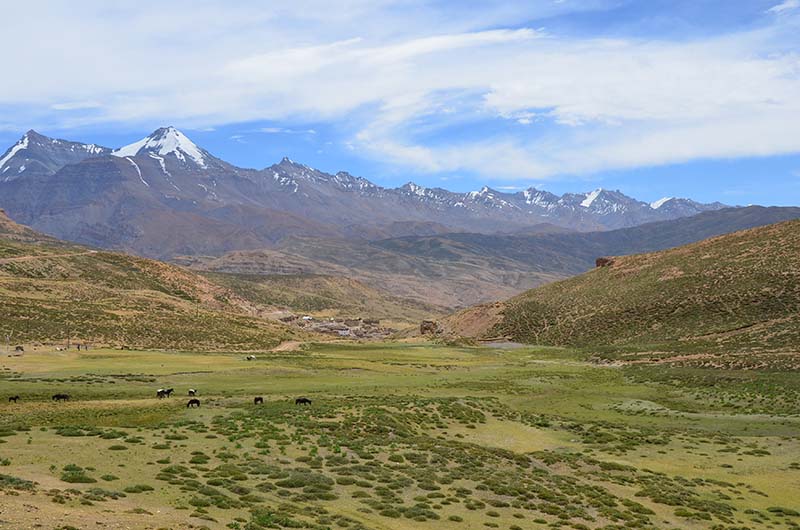 With that being said, there are a few places here worthy of note.
Highest post office in Hikkim
There are two aspects to it actually. Is Hikkim's post office the world's highest post office? This claim is disputable. But is it among the highest offices in the world? This is valid and true beyond any doubt.
Situated at an altitude of 14,400 ft, this post office came into existence on November 5, 1983. It has a total staff of 3 people, one postmaster, and two postmen. The postmaster, Rinchen Chhering, has been the postmaster for as long as the post office has been, a total of 36 years now. He was only 22 years old when he took the job in 1983 and the only one educated enough in the village to be considered for the post.
This small post office covers a group of about 7 small villages nearby; and also serves as the residential quarters for the postmaster who lives here with his entire family. It only remains operational for about 6 months and is forced to shut during winter months due to heavy snowfall.
Considering the fact that there is no cellphone signal or internet here, it is the only connection to the world for the residents of Hikkim and other villages nearby. The post office also maintains savings accounts for locals where villagers can deposit or withdraw money.
Also Read: What Clothes should you pack for Spiti Valley Trip?
Hikkim Village Monastery
Like all other villages here, Hikkim too has a small monastery. It is located at the far end overlooking the entire village. It is just a small monastery though that does not receive many visitors because most of the tourists would head straight to Tangyud Monastery; a larger and much better-known monastery located in the village of Komic.
But nonetheless, Hikkim Monastery too is definitely worth a visit while you were in the village. I personally had a very pleasant experience here. It was over a decade ago when not many people even knew about visiting Hikkim. We arrived at the monastery here after a day-long ride covering all the nearby villages.
We were all practically starving by the time we got to Hikkim. The monastery at that time was closed as the monks were gone to Kaza for a festival. There was only one monk present and I asked him if we could get something to eat. Believe it or not, upon knowing that we were hungry, he walked downhill all the way to the village, brought a couple of Maggie packets, and cooked them for us for free.
The only money he accepted was the price of purchasing the Maggie packets.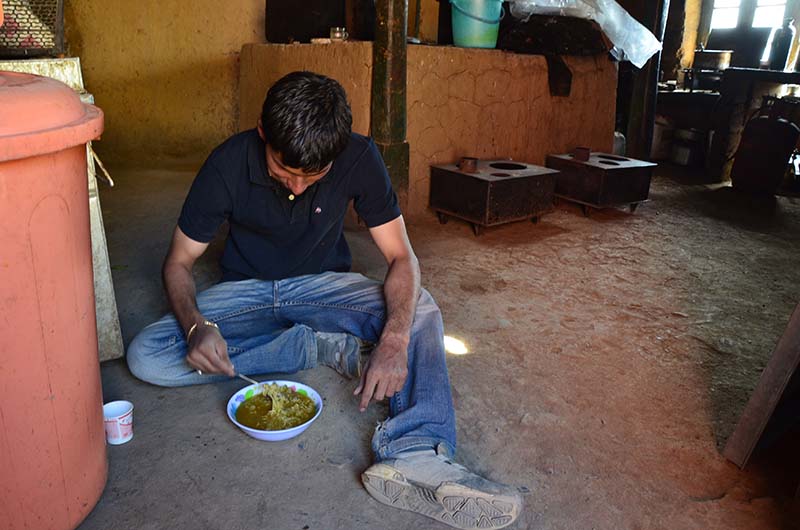 Fossils in Hikkim
Hikkim, like the other villages nearby, is rich in fossils. Langza is commonly known as the fossil village but you can very easily find those in Hikkim as well, provided that you know what you were looking for. Otherwise, a fossil will look like just another piece of rock to people like us. The villagers, however, have a few that they can show and can even sell you for a small price.
Also Read: Nako Village – The Beautiful Heights of Kinnaur
Hikkim Polling Station
Hikkim village was once the world's highest polling station and was recorded in the Limca Book of Records as such. This is a record that Hikkim held for a long time and lost it recently to the village of Tashigang, located only a few kilometers away.
Hikkim Things to Do
What else can you do other than visiting the monastery and the post office? Well for one, you can go around looking for some fossils but you would definitely need some local help, someone who knew what you should be looking for. Other than that, there really isn't much else to do around here except for just sitting at the small cafe and walking around in the village. But that is what you should exactly be visiting Hikkim for. Arrive here, spend a day or two in complete silence, talk to the villagers, learn about their lives and cultures, and relax in the lap of Mother Nature.
Also Read: Things to do in Spiti Valley | What to do in Spiti Valley
Photography

This will definitely be one of the topmost things to do in the village. The entire region is a paradise for anyone with even the slightest interest in photography. In every direction you look, you will be presented with dramatic landscapes that you will just love to shoot as much as you can.
Star Gazing
Thanks to the pollution-free skies, nights in Hikkim are lit with millions of stars. Skies like here are not something that we city folks get to see every day. For photographers, this will be the perfect opportunity to get some shots of the Milky Way and star trails.
Also Read: Bike Ride to Spiti Valley – Essential Tips for a Safe Ride
Send a Post Card from Hikkim Village

Let me first explain how the entire process works. You visit the post office and buy a postcard, which will cost you about Rs. 25, including all charges. The two postmen will then carry the mail to Kaza, on foot. From Kaza, the mail will then be loaded on an HRTC bus to Reckong Peo, then on another bus to Shimla, and then finally on a third bus to Delhi. From Delhi then, it will be distributed by rail or air depending upon its destination.
Why would you send a postcard from here? For fun really and also to support the local livelihood. A lot of travelers make it this far to Hikkim village to take pride in mailing their letters from one of the highest post offices on Earth. It is a feeling one of its kind.
Buy a postcard and then sit down in the middle of nowhere to write a message. Mail it over to your family or friends or even yourself. It serves as a small souvenir that you bought from Hikkim but only mailed to yourself.
To be honest, this post office really puts the village of Hikkim and other villages around it on the tourist map. Is it worth coming to Hikkim and send a postcard from here? My answer is that yes it is.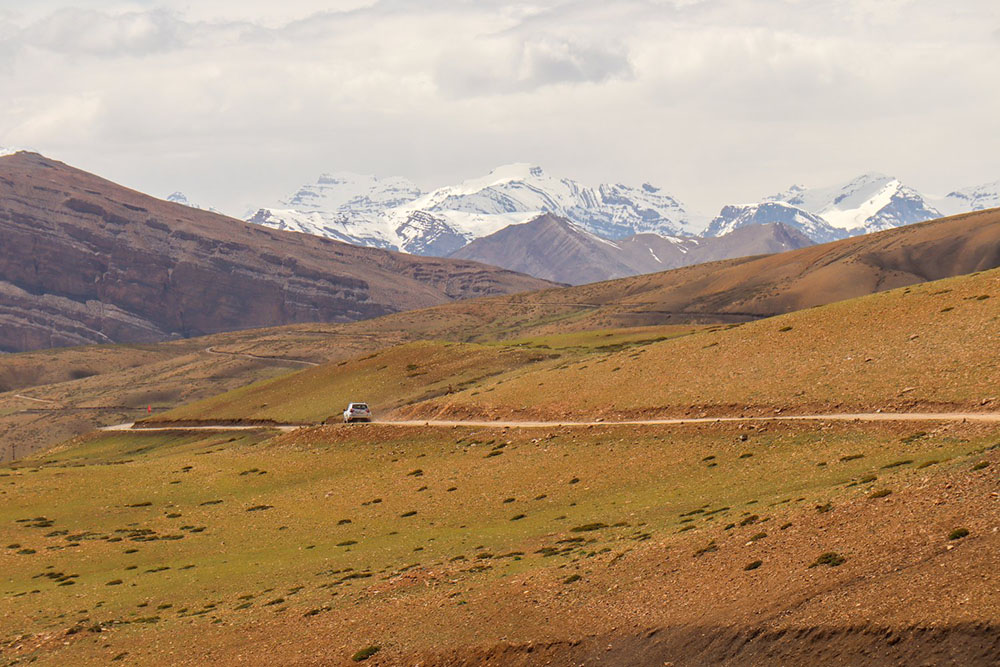 Where to stay in Hikkim?
Accommodation in Hikkim is limited to homestays only. One thing that you must keep in mind though that these are simple villagers and you will be staying in their homes. They will do everything they can to make your stay comfortable but you should too keep your expectations a little low. Do not expect luxurious hotel treatment.
Homestay in Hikkim
Tsedup's house is the only homestay/guest house that formally recognizes itself as accepting tourists. For a nominal charge, you will be provided with a comfortable bed, bathroom, three meals, one hell of a view. Meals will be very basic and simple but delicious enough. It is located close to the post office itself and you can contact them at 9873146404 / 9971799092.
If not Tsedup's house, you can try talking to other villagers as well. They are all very helpful people and would not mind accepting a guest for a night. If nothing worked, then you can talk to the monks at the monastery as well and crash there for the night.
Another homestay here is by the name of Hikkim Himalayan Cafe & Home Stay. Their number is 9459040980 or 8988078996.
What & Where to Eat
If you do not wish to eat at the homestays, then you can try the small cafe near the post office. They serve some local food items, snacks, and tea. While I was here for a day, it was my preferred place to have a cup of tea, which I drink a lot. They also sell some postcards and other stationery items.
Also Read: Kunzum Pass – Batal – Chandratal: A Day of Adventure
Hotels in Hikkim Village

There are no hotels in Hikkim. Homestay is the only choice of stay available here.
ATM / Banks
There are no ATMs or banks here. The nearest one is located in Kaza.
Mobile & Data Connectivity
There is no network here. Your cellphones will only work in and around Kaza and you will lose connectivity a couple of kilometers outside the town.
Hikkim Weather
Cold and harsh are the two words that describe the weather of Hikkim the best. Even in the months of May and June, you will need a jacket and woolens to survive here. The sun here is quite harsh and you will really need to keep yourself covered if you do not wish to get sunburned.
In the months of winter, the entire area gets buried deep under snow and gets cut off from the rest of the world. The temperatures at this time plunge down to as far as -25 Degrees Celsius.
Best time to visit Hikkim Village

Reaching Hikkim in winter will be almost impossible. The roads are bad, narrow, and get blocked by snow. The best time to visit Hikkim hence will be anywhere between April to October. In these months too, the best time will probably be May, June, and September when the weather remains to be at its best. Days will be pleasant with clear and sunny skies and nights will be moderately cold.
Highest Post Office in the World
The credit for the highest post office in the world actually goes to Mt. Qomolangma Base Camp Postal Service. This is a China post office at Everest Base Camp in Tibet at an elevation of 5,300 meters (17389 ft), much higher than the one in Hikkim Village.  The post office is only available from the end of April to August, every day from 10 am to 6 pm.
Other Tips
It is a steep downhill walk to the village from the main road.
You may get some reception with the BSNL network but do not count on it much.
Do not forget to carry a sunscreen lotion. I made that mistake and got bad skin burns that took almost a month to heal.
If you were planning a day trip going through the villages, do not forget to bring sufficient water and some snacks along.
If you were not traveling by your own vehicle and did not wish to board a Bus, you can also get a taxi to show you around all the villages like Kibber, Hikkim, and Langza, etc.
Another option would be to rent a motorcycle or an electronic scooter like Activa for a day.
Distance Chart
Last but not least, listed below is a distance chart showing the total distance from Hikkim to other nearby villages.
Hikkim to Kaza
A total of 16 kilometers on a narrow and steep road. The total journey will take you about 45 minutes to an hour to complete.
Hikkim to Komik
Komik is only 2 hours ahead of Hikkim and can easily be reached in 15 minutes.
Hikkim to Langza
Hikkim to Langza is a total of 9 kilometers and will take you 30-40 minutes to complete. The road is all a narrow and dirt trail with no tarmac.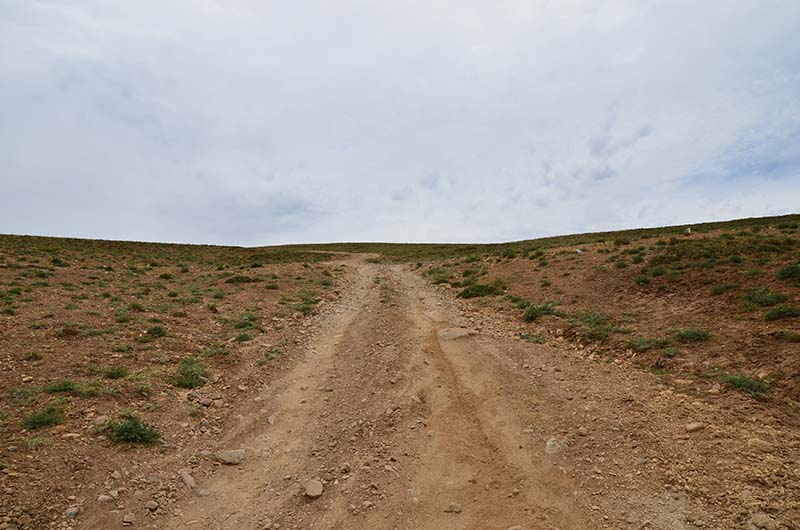 Hikkim to Manali
Hikkim to Manali is a total of 220 kilometers. Due to the poor conditions of the roads en route, the journey can take anywhere between 8 to 12 hours to complete.
Kibber to Hikkim

Kibber and Hikkim are located about 33 kilometers apart from each other. There is no direct road connecting the two villages. From Hikkim, you will have to drive down to Manali Kaza highway and then take the road to Kibber. Same way, from Kibber as well, you will have to drive down to Key Monastery and then take the road towards Hikkim. The journey is at least 90 minutes long.
Tabo to Hikkim

Hikkim and Tabo are about 70 kilometers. The journey will take you about 3 hours to complete.
Hikkim Altitude
Hikkim is at an elevation of 4,400 m (14,400 ft).
Conclusion
I hope the information above on visiting Hikkim Village was of help. If you have any questions or need any other details, please feel free to ask in the comments section below, or at our Community Forum, and I will be glad to answer.