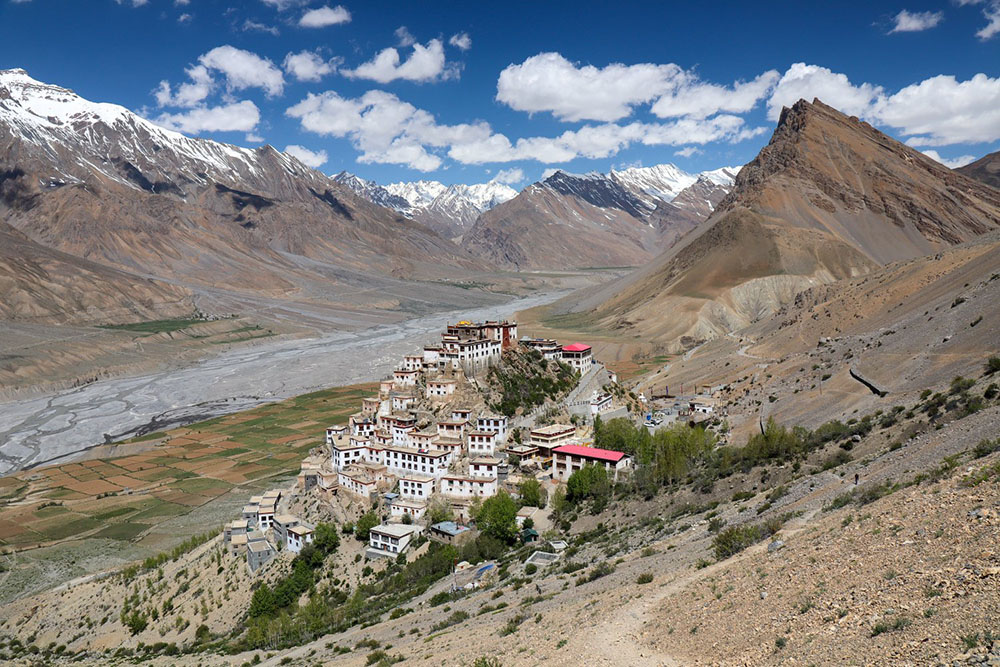 One of the greatest attractions of Spiti Valley and the one that attracts all kinds of tourists is the magnificent Key Monastery; also known as Kye Gompa. This is one place (and I think the only one) in Spiti Valley that gets visited by almost everyone that comes this way. Its close proximity to Kaza town really makes it easy to plan a trip here. It is the largest monastery of Spiti Valley and also gets spelled as Ki, Kee, or Kye Monastery.
In this article, I will provide a detailed travel guide on how you can plan a trip to the monastery and include it in your itinerary. For a complete travel guide on all of Spiti, please read How to Plan a Trip to Spiti Valley.
About Key Monastery
Kye Monastery was founded in the 11th century and has remained a Buddhist learning center in Spiti valley for over a millennium. It stands on top of a hill at an altitude of 4,166 meters (13,668 ft) and is home to several Lamas that get trained here.
The monastery consists of three floors. The first one is mostly underground and is used as storage. The ground floor has the assembly hall and living quarters of the monks. The first floor has other temples and places of worship as well as a library. The walls of the monastery are beautifully decorated with paintings and murals.
Throughout its history, Key Monastery has been attacked and ransacked multiple times but was always restored to its original glory. Today, it is the largest monastery in Spiti Valley and stands as a cultural symbol of the people of Spiti.
Each year, it is visited by a vast number of people including the ones interested in Tibetan Buddhism, architecture, Buddhist teachings, history, or just regular tourists wanting to get their photos clicked at a greatly scenic spot.
Where is Key Monastery
Key Monastery is located in Spiti Valley at a distance of 15 kilometers from Kaza Town, on the road that goes towards Kibber Village. Shimla is 435 kilometers from the monastery and Manali is at a distance of 190 kilometers.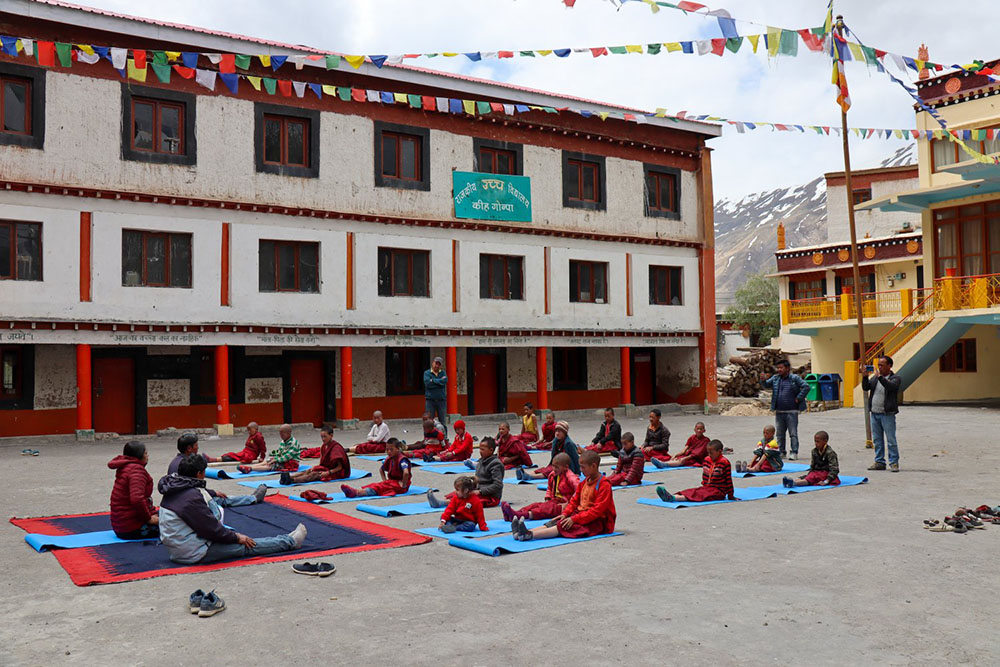 How to reach Key Monastery
In order to reach Key Monastery, you will first have to get to Kaza. Due to its high altitude, this journey can only be completed by road and there are two ways to do it. You can either go to Kaza via Shimla or you can take the Manali Kaza route.
The road from Shimla side remains open for all 12 months, except for the peak winter season when excessive snowfall may close the road temporarily for a few days. Traveling this way, you will start from Shimla and reach Kaza via Narkanda, Rampur, Pooh, Nako, Tabo, and Dhankar. The total journey will be 425 kilometers and will take you at least 2 days to complete with a night halt at either Rampur or Reckong Peo.
You can also travel to Kaza via Manali. This route is much shorter in distance but only remains open from late May to Mid October. You start from Manali and reach Kaza via Rohtang Pass, Gramphu, Batal, Kunzum Pass and Losar.
Distance traveled will be about 200 kilometers in a total travel time of 8-9 hours. Please note though that this road will leave you prone to altitude sickness and you will also have to procure the permit for crossing Rohtang Pass from Manali.
Also Read: How to Handle Acute Mountain Sickness in Spiti Valley
By Bus
There are daily buses from both Shimla and Manali for Kaza. The bus from Shimla takes 2 days to reach Kaza with a night halt in Reckong Peo. The one from Manali starts early in the morning and arrives at Kaza by evening. For more information please read Spiti Valley Bus timings and Schedule.
By Air
The nearest airports are located in Shimla and Buntar (near Manali). You can choose either of these airports depending on your itinerary but please note that the flights to and from both these airports are very limited.
The next best option will be the Chandigarh Airport that has far better connectivity. It is one of the most commercially operated airports and you will have no problem finding a flight in and out of Chandigarh.
Once you get to either of these three airports, you can rent a private taxi from the airport itself. Or you can also travel by Bus as I have explained above.
By Train
The nearest railway station is either in Shimla or Chandigarh. Shimla railway station has only one train that connects it to Kalka, the famous Shimla Kalka Toy Train. A better bet would be to catch a train for Chandigarh and then travel to Kaza from there by either taxi or a Bus.
For more information on this topic, please read How to reach Spiti Valley by Road, Bus, Taxi or Train.
How to reach Key Monastery from Kaza
Once you have arrived in Kaza, getting to Ki Monastery is fairly easy. Just start driving on the Manali Kaza Highway and you will reach Rangrik Bridge. Do not turn left and cross the bridge. Keep going straight towards Kibber. Let me post a map to explain better.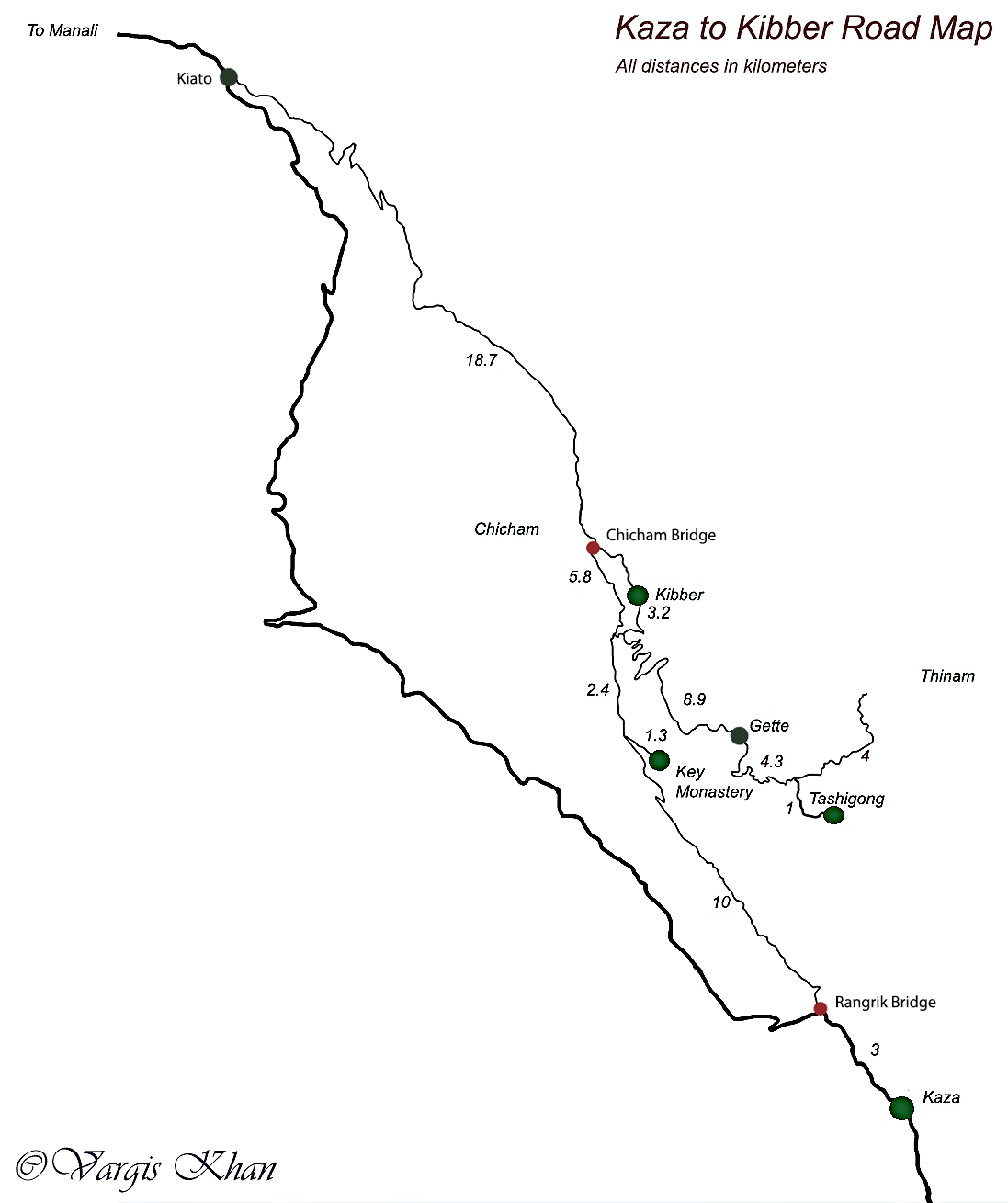 A little ahead, you will see this sight with the monastery located at a hilltop.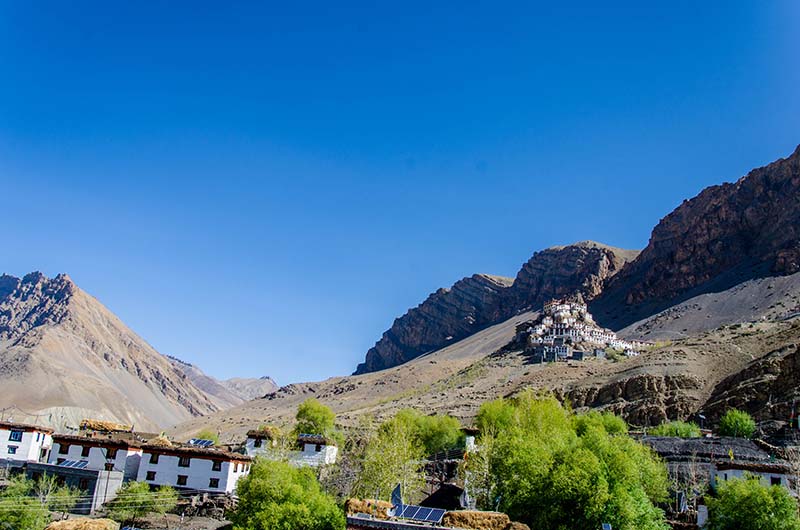 There are no direct buses to drop you from Kaza to the monastery. If you weren't traveling by your own vehicle, your best bet would be to hitchhike. A lot of tourists travel on this route in the season and either of them can drop you from Kaza to Key Monastery. Or they can at least drop you till the Rangrik Bridge and the monastery from there isn't too far.
Another option could be to board a shared cab from the Kaza Bus stand. Or just stand near the road and a shared cab will arrive shortly after. Most of these will be going towards Manali but can at least drop you at the bridge.
Also Read: Shopping in Spiti Valley – What to Buy in Spiti Valley
Where to Stay
The best part about Key Monastery is that you can actually stay here for the night at a very reasonable price. I stayed here for a night and paid only Rs. 200. What's more? I ate with the Lamas and they did not accept any money from me for the meals.
The monastery does not have a separate guest house or stay arrangements for tourists. You are provided accommodation in the existing Lama quarters. So you actually live and eat with the lamas which makes it a great learning experience.
In my case, for Rs. 200, I got a bed for the night, lunch, dinner, breakfast the next day, and several cups of tea. Not a bad deal at all. The food I had here was very basic but tasted extremely good. I do not think that I have ever seen such a delicate combination of taste and simplicity.
If not at the monastery, then the nearest available accommodation is in Kaza town.
Also Read: How to Plan a Trip to Demul Village in Spiti
What to do in Key Monastery
Now that you have arrived at Key Monastery, let us talk a little about what you should be seeing or doing here.
Exploring Kye Monastery
Built on a hilltop, this 11th-century architecture marvel is quite an attraction in itself and is built in 'Pasada' style of architecture.
After you enter the monastery gate and park your vehicle, you will climb a flight of stairs that will bring you inside a dark corridor that has beautiful Mani Wheels (prayer wheels) lined up in it.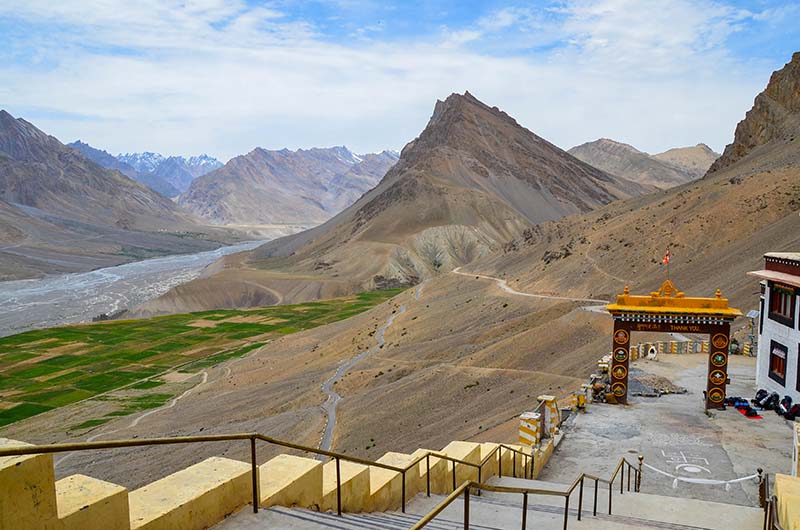 The building is marked by narrow corridors that lead to low rooms. There is a library on the top floor that is worth visiting. It has a number of ancient murals and manuscripts, including the images of Buddha. There is also an extensive collection of weapons of a bygone era that are on display. These weapons must have been used to defend the monastery when it was attacked numerously in ancient times.
The unique wind instruments that are put to use during Cham festival are also a thing of interest. Right outside the monastery, an amazing view of Spiti River and the valley is sure to amaze you.
Stay Overnight

As I explained above, accommodation is available at the monastery. It is surely not a luxurious stay but you will be comfortable and warm. Give up the hotel room and bed for a night and stay here. Trust me, it is worth it. You will cherish the experience and talk about it for years to come.
Try the Butter Tea
This is not your usual cup of tea and I agree that not everyone will like it but you must give it a try while you are here. It is locally known as 'Po Cha' and is made from churning tea, salt, and Yak butter. Yes, you read it right. There is no sugar in it.
Also Read: Food to Try in Spiti Valley – What to Eat in Spiti
Enjoy the Sunset
There is a spot behind the monastery where you can get a stunning view of the sun setting behind the silhouette of the monastery. Just go behind the monastery and look for a trail that goes up the mountain. If you weren't sure, ask any of the lamas.
Photography
This will be the next best thing to do. The monastery sits at a stunning location and will give you ample opportunities to get some excellent pictures. The sunset shots from the point I talked about above will be amazing.
At night, the pollution-free skies light up with countless stars, a sight that city folks like us rarely get. If you have an interest in photography and were carrying a capable camera, you will surely have your fund clicking some long exposure shots and star trails. During the winter season, it presents a stunning sight as the valley around it turns white.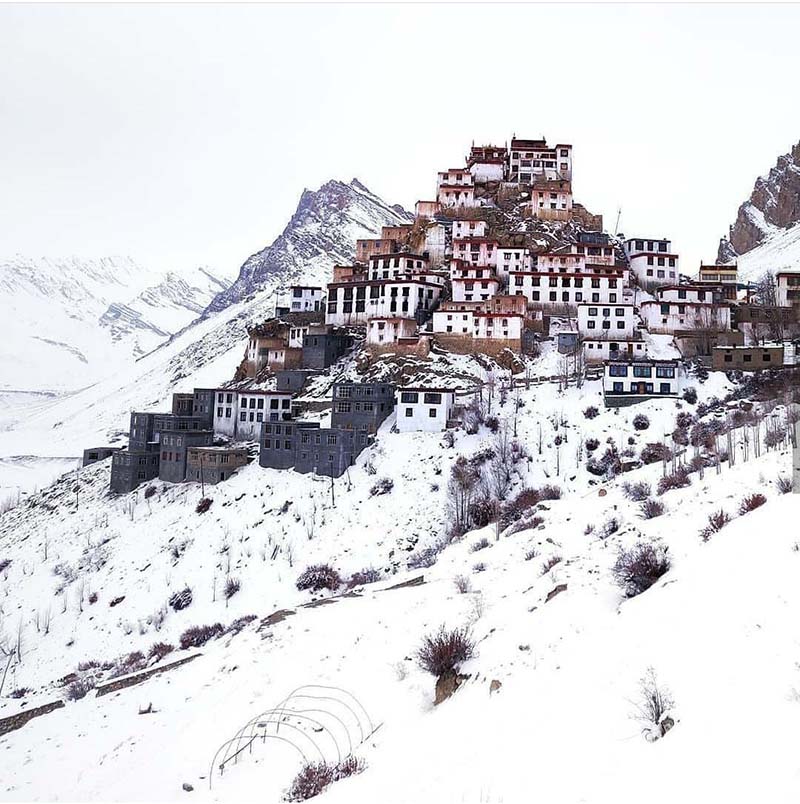 Be a part of the daily prayers and Rituals
Prayers are held twice a day in the monastery. This too is an amazing experience and requires no prior knowledge. Just join the lamas in the prayer hall, close your eyes, chant with them and get some inner peace.
Learn, Learn and Learn
There is just so much to learn here. I am not talking about Buddhism as such but life in general. Talk to the lamas and get some worldly wisdom. Observe how simple their lifestyle is and yet, how content they are. I spent one day here and already started to wonder if my life was better or of these Lamas.
Best time to visit Key Monastery
The best time to visit Key Monastery will be anytime from May to September, which is also the best time to visit Spiti Valley. Both the roads leading to Spiti remain open at this time. The weather too will be enjoyable with pleasantly warm days and moderately cold nights. Since this is the peak tourist season, you will also be able to cover all tourist attractions in Spiti Valley at this time.
Mobile Network
BSNL has the greatest coverage in Spiti Valley and that works well in the monastery. I was carrying BSNL and Airtel phones. BSNL was getting a weak signal but Airtel remained out of coverage. No other network works here.
Festivals
Ki Cham festival is celebrated in the monastery in the month of July. The festival is marked by Cham dances by the lamas, also known as masked dance.
These are performed in order to pray to the gods to provide good fortune and crops in the coming year. It is a time of vibrant decorations, colorful costumes, a lot of local music, and celebrations. The date of the festival changes each year in July.
Also Read: Festivals of Spiti Valley – A Complete List
Key Monastery in Winters
Yes, you can visit the monastery in the winter season as well. But since the Manali Kaza road remains closed at this time, you can reach only via Shimla and will have to go back that way.
In visiting in winter, please be prepared for freezing temperatures that can go as low as -20°C. Electricity too can be gone for days at this time and there will also be no running water anywhere. In short, the entire valley will be wrapped in ice with extremely harsh living conditions.
My advice would be that you do no visit Spiti in winters as your first trip. Go here in June or July for the first time and when you are familiar with the terrain, you can then plan to visit again in the winter season.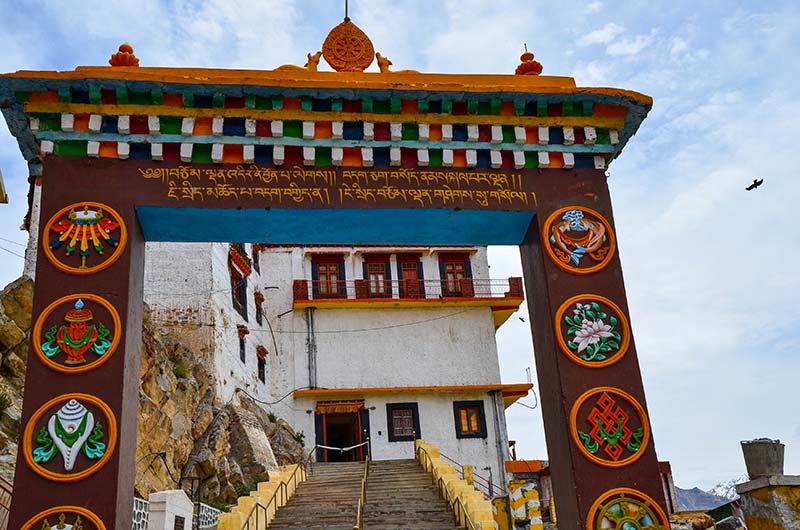 Timings & Entry Fee

The monastery remains open from morning 9 AM to evening 5 PM on all days. There is no entry fee at the monastery.
How to reach Key Monastery from Delhi?
The best way to reach Key Monastery from Delhi would be to take the Shimla route to reach Kaza and exit via Manali. If you were not driving on your own, then you can take a morning bus from Delhi ISBT for Shimla. From Shimla, catch the 6.30 PM bus for Kaza which will arrive in the morning at 6 AM. So your entire journey from Delhi to Kaza will be completed in 24 hours by Bus.
Conclusion
I hope the information above on visiting Key Monastery was of help. If you have any questions or need any other details, please feel free to ask in the comments section below; or at our Community Forum; and I will be glad to answer.