The first time I heard of the name of Gue village was when I traveled on the Spiti Circuit for the first time over a decade ago. We were staying at a guest house in Sarahan and I was discussing my itinerary with the owner of the guest house. This is when he mentioned of the Mummy of Spiti Valley and how I must include it in my travel plans. Imagine my surprise when I learned that there was an actual Mummy where I was headed to because to us, Mummies were something that was found only in Egypt and not in India.
Back then, the information available about Spiti on the web was very limited; and that is why Giu Village was not in my itinerary. Nevertheless, on recommendation of the guest house owner; I altered my travel plans slightly to accommodate a short trip to this mysterious village; and see what the fuss was all about. We stayed for the night in Nako Village and the next day, while going to Kaza, took the short 9 kilometers long detour to see the Gue monastery and the mummy in it.
Did we find the mummy? Yes, we did. It wasn't how I imagined it to be but nevertheless, it was a well-preserved body of a 500-year-old Lama with hair still on its head and teeth in its mouth.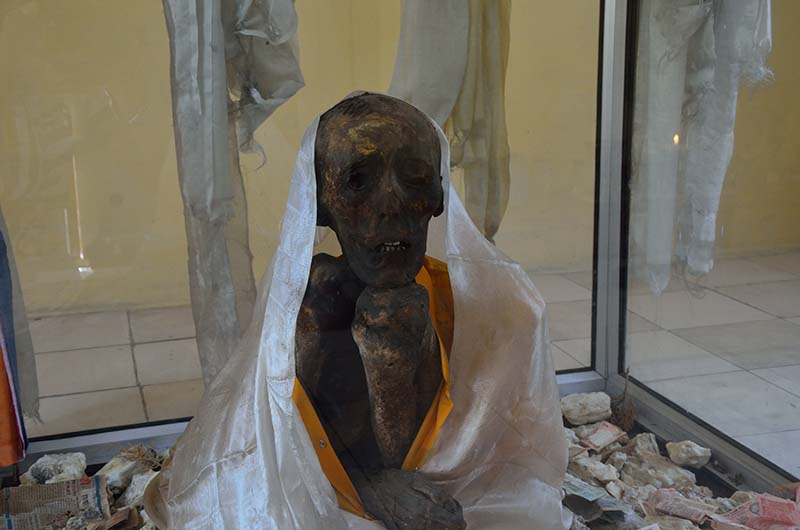 About Gue Village Spiti
Gue Village, also spelled as Giu Village, is a tiny hamlet located deep within Spiti Valley. The village sits right at the Indian – Tibet border and was once a part of the ancient trade route between the two countries. The border is only a few kilometers from here due to which, the entire region is a highly sensitive area. Tourist movement was not even allowed here until the late 90s and even today, foreigners are required to obtain an Inner Line Permit to get here.
Gue is located about 46 kilometers from Nako, 80 kilometers from Kaza, 340 kilometers from Shimla and 280 kilometers from Manali. The village falls between the villages of Nako and Tabo. As you drive downhill from Nako, you will notice to your right a large yellow gate made out of stone, marking the entrance to the village. From the road, a small road climbs up steeply for 9 kilometers ending at the village.
There is nothing that stands out about Giu Village. It is just another among the numerous other small villages of Spiti and Kinnaur. The entire region seems to be made out of black stone and isn't even that scenic, to be honest. A small water stream flows down along the road and even the water in that stream seems to be black in color. It is a combination of a few houses and a monastery sitting in what seems like black sand.
But what really puts this village on the tourist map is the mummified body of a lama that was discovered here in 1975; known as Gue Village Mummy, or Giu Village Mummy, or simply as the Mummy of Spiti Valley.
Also Read: How to Plan a Trip to Spiti Valley – A Complete Travel Guide
Gue Village Mummy Story
Let me give you a little background about the Mummy and who he was in real life, and then I will provide details on how you can reach Gue Village.
There are several theories about the discovery of the Mummy and surprisingly, no one can confirm which one is true. ITBP has its own version and locals tell an entirely different story. Either way, however, it was discovered by ITBP, brought to Gue Village and placed inside the shrine.
The ITBP version of the story is that they were clearing the mountains to build a road in 2004 and came across the tomb buried under the mountains. Before that, no one knew about its existence. The dug up the tomb and found the mummy in a sitting posture. Experts and authorities were called in and the mummy was then moved to Gue village under the protection of Himachal Government.
As per the locals, they knew about the Mummy way before the ITBP found it. It was earlier located in a different tomb at a different location and was visited by the local villagers. Then in 1975, an earthquake occurred and destroyed several parts of Spiti Valley. The old tomb of the Mummy too was destroyed and buried under. It was only between 1975 to 2004 that the tomb was lost. Before that, it was a shrine that everyone knew about.
Years later, in 2004, while ITBP was clearing that area to build a road, they found the damaged tomb and the Mummy inside it. Some say that they were digging trenches but either way, the Mummy was discovered and brought to Gue Village by ITBP soldiers. After that, the Himachal government undertook the maintenance and security of the shrine.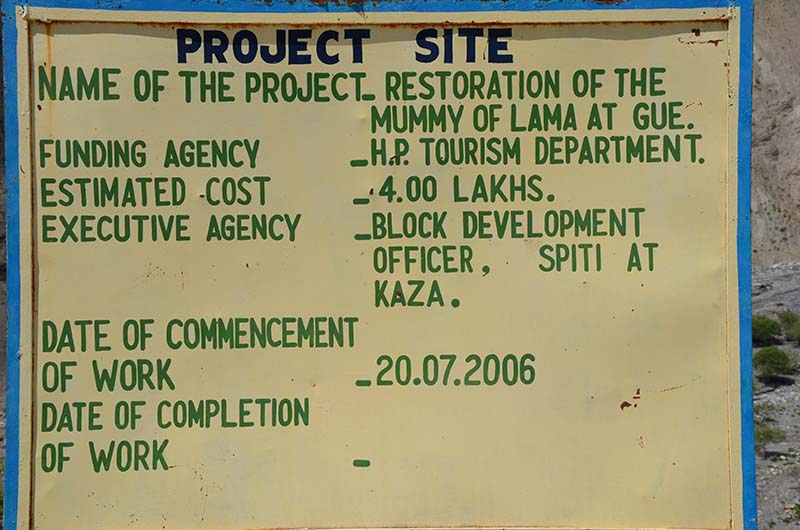 Sangha Tenzin
The theory around who this person was in life is also not confirmed. Fondly referred to as Mummy Lama by some villagers, the Mummy is believed to be of Sangha Tenzin, a monk from Gelugpa order. There are no official records to support the claim or the name but the locals are quite certain of it.
After the discovery, a team from Vienna visited the village and ran some tests. Carbon dating revealed the Tibetan mummy to be dating back to the year 1475, making it over 500 years old. It was also found that the monk was 45 years old when he died and mummified himself.
Like other aspects about the Mummy, there are multiple theories about how the Monk died at such a young age and why he mummified himself.
Also read: What to See in Spiti Valley
The Folklore
It is said that a long time ago, Giu was a prosperous village. Its prosperity came from its strategic location; it was an important trading village along the Silk route. The traders with their beasts of burden; carrying silk and other things from China to India used to rest in this Alpine village. But, good days do not remain always. Newer and less hazardous routes were discovered for trade, and Giu gradually lost its importance.
With less frequent traders, a lesser amount of money trickled in. To add more misery, the snow was less in one of the years. As a result, an infestation of locusts spread throughout the village and killed the crops. Out of hunger, the locals came weeping to the monk in the local monastery. Seeing the plight of the villagers, the monk assured them he will fast and pray to God; so that the woes of the villagers are forever gone. And so the monk prayed and fasted till death.
The Gods, being moved by the devotion of the monk, answered his prayers and brought rain to the parched fields. A rainbow appeared, signaling that Gods have kept his promise. The villagers mummified the mortal remains of the monk and kept it in a monastery. Till today, people visit the "Mummy Monk" and thus full filling the prophecy"Thou village shall never be forgotten".
Accidental Mummification
Another theory is that the monk probably got buried under an avalanche and his body was preserved in the ice. The mummification process happened on its own and he remained buried in the snow until the ITBP soldiers found him. This is however least likely to have happened because it doesn't explain the sitting posture, the tomb he was found in and a lot of other things but is a theory nonetheless.
Also Read: Cloths for Spiti Trip – What to Pack
Sokushinbutsu
Until I saw the Mummy of Sangha Tenzin; my assumption of a Mummy was a body embalmed and wrapped in a cloth-like material, like bandages. But I was surprised when I saw the body of Monk Tenzin; as he sat there bare body, wrapped in nothing, with his fist around one leg and chin resting on his knee. All those years had dried and darkened his skin, eyes were gone from the sockets; but his head was still intact with plenty of hair on it and surprisingly, he had all his teeth intact as well.
As I was to learn later, this process of self-mummification is called 'Sokushinbutsu'. The term refers to the practice of Buddhist monks observing asceticism to the point of death and entering mummification while alive.
During the process, a monk will slowly starve himself to death. They will start eating a tree-based diet, ingesting only roots, nuts and herbs; in order to completely use all of their body fat. Along with it, the monk will also eat small doses of poisonous cycad nuts and lacquer tree sap; which will help remove moisture from the body while they were alive; and will deter flesh eating bugs after they died.
They will also use candles to completely dry their skin. The entire process would take several months to complete; and by the time the monk would die, their body would be completely dry; and will have no fat or moisture at all. Their organs too would be so shrunken that the natural decomposing of the body will not take place at all.
That is how the monk Sangha Tenzin mummified himself while he was alive.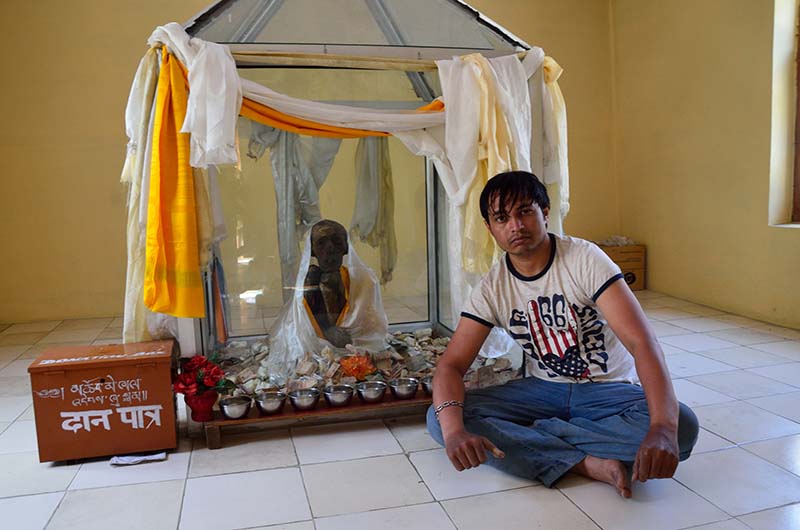 How to reach Gue Village
Gue Village is in Spiti Valley and can be reached either via Shimla or Manali. If you started from Shimla, you will travel through the towns of Rampur, Pooh, and Nako to reach Gue Village. The village is about 9 kilometers uphill from the main highway. There are several boards put up marking the entrance to the village so it will be hard to miss.
If you were starting from Delhi, your journey will look like this.
Delhi – Ambala – Shimla – Narkanda – Rampur – Jeori – Pooh – Khab – Nako – Gue Village
This entire journey will take you at least 3 days to cover. On Day 1, you will stay at Shimla for the night. On Day 2, you will break your journey on either Reckong Peo or Nako and reach Gue Village on Day 3.
If you were coming from Manali, then you will have to cross Rohtang and Kunzum Pass to reach the town of Kaza. From Kaza, you will then drive via Dhankar and Tabo to reach Giu Village.
The route will then be as mentioned below.
Delhi – Chandigarh – Manali – Rohtang Pass – Kunzum Pass – Losar – Kaza – Dhankar – Tabo – Giu Village
This too will become a journey of 3 days. You will stay in Manali for Day 1, in Kaza on Day 2 and reach Giu Village to see the mummy on Day 3.
By Bus
There is a daily bus between Shimla to Reckong Peo and then Reckong Peo to Kaza that you can board for this journey. The Kaza bound bus will, however, drop you at the main highway near the gate to the village. There is no public transport available for the last 9 kilometers and you will either have to walk the distance or hitchhike.
If you were coming from Kaza, you will board the daily bus that travels from Kaza to Reckong Peo. This bus too will drop you near the gate and you will walk the remaining distance to the village.
For more information on this topic, I will recommend you to please read How to reach Spiti Valley.
Gue Monastery Location
The monastery and the shrine where the mummy is placed is a little ahead of the village. Ask any of the locals after you reach the village and they will point you in its direction. The shrine remains closed at all times but you should not go back. The caretaker will be around somewhere and will open it for you. Just take a look and ask around.
Also Read: How to Handle Acute Mountain Sickness in Spiti
Where to Stay
There are no guest houses or hotels in the village. If you want to stay here, your only choice is to stay as a paying guest. Talk to the villagers and either of them will be happy to allow you to stay for the night for a small price.
Nako is the nearest place where you will find hotels and guest houses. Other than Nako, Tabo, Dhankar, and Kaza will be the next best place to stay.
Conclusion
I hope the information above on Gue Village and the mummy here was of help. If you have any questions or need any other details, please feel free to ask in the comments section below, or at our Community Forum, and I will be glad to answer.