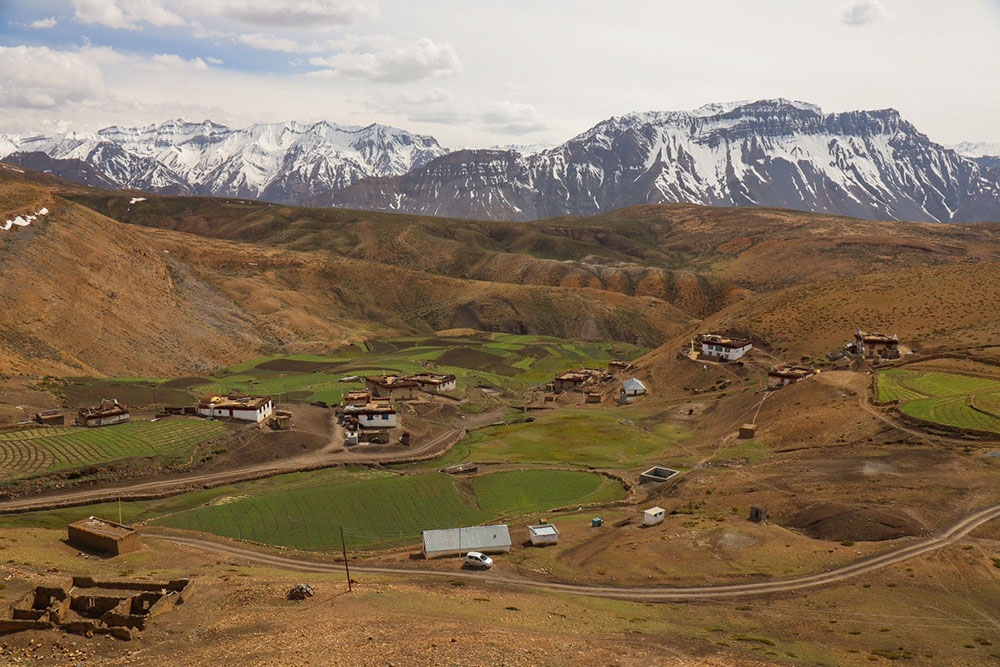 Continuing in my series of articles on the remote villages of Spiti Valley, in this post, I will talk about Komic Village near Kaza. Also sometimes spelled as Comic Village or Komik Village, it is located beautifully between the majestic peaks of Spiti Valley, a part of the belt that forms the tiny hamlets scattered in the upper hills around Kaza town.
The most common way of visiting these villages is by making it a day-long sightseeing tour but if you had the time, you can even stay overnight here as a paying guest. Read on to find out more.
If you want to truly experience the cultural and local life of Spiti Valley, in my opinion, spending some time in these villages is the best way. If you just travel to Kaza and went on your way, you will experience the road; and the landscape that comes along. That is quite a lot of fun as well; but the best way to know the culture of the valley and to see some even more amazing vistas, a visit to villages like Komik will well serve the purpose.
For a complete travel guide on visiting Spiti, please read How to Plan a Trip to Spiti Valley.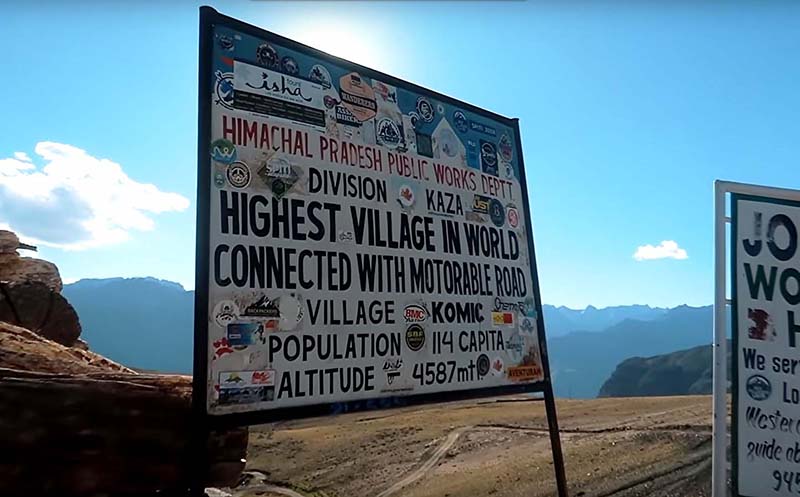 Komic Village
Komic Village, as you can see in the board above, is often credited as being the highest village in the world connected with a motorable road. While this claim is not really valid and highly disputable, it is still among the highest villages in the world and one of the most scenic ones. The correct altitude of the village is 4,520 meters (14,830 ft).
The name Komik in the local language literally means "Eye of the Snow Cock". The scenic beauty of Komic is beyond words and it is one of those villages that you just cannot miss visiting while you were in the valley. There has been a boost in tourism here in recent years that has helped the local economy a lot. Thousands of people arrive here each year to get a taste of both the natural beauty of Spiti and its culture.
Komik Village Location
Komic Village is located in Spiti Valley at a distance of 19 kilometers from Kaza, 220 kilometers from Manali, and 440 kilometers from Shimla.
How to reach Komic Village
In order to reach Komic, you will first have to reach Kaza in Spiti Valley. This can be done in two ways, either via Shimla or Manali.
If you started the journey from Shimla, you will travel via Narkanda, Rampur, Pooh, Nako, and Tabo to reach Kaza. The journey will be of 420 kilometers approximately and will take you at least 2 days with a night halt at either Rampur or Reckong Peo. This route remains open for all 12 months including January and February as well.
If you started the journey from Manali, then you will travel via Rohtang Pass, Gramphu, Batal, Kunzum Pass, and Losar to reach Kaza. This will be a total of 200 kilometers approximately and can be covered in 8-10 hours. This route is only open from late May to Mid October.
The route from Shimla is longer but remains open for all 12 months and is better in terms of high altitude acclimatization. This is an ideal way of starting a journey to Spiti. The route from Manali is shorter but is way more difficult due to the bad condition of the road. It is also only open from the end of May to early October.
There are regular daily buses from both Shimla and Manali for Kaza. From Shimla's side, the bus will take two days to get to Kaza and from Manali's side; it is a one-day journey. Please read How to reach Spiti Valley by Road, Bus, Air or Train.
Kaza to Komic
Once you have arrived in Kaza, you can drive up to Komic Village which will hardly take 60-90 minutes at most. Let me post a map of the route to explain it better.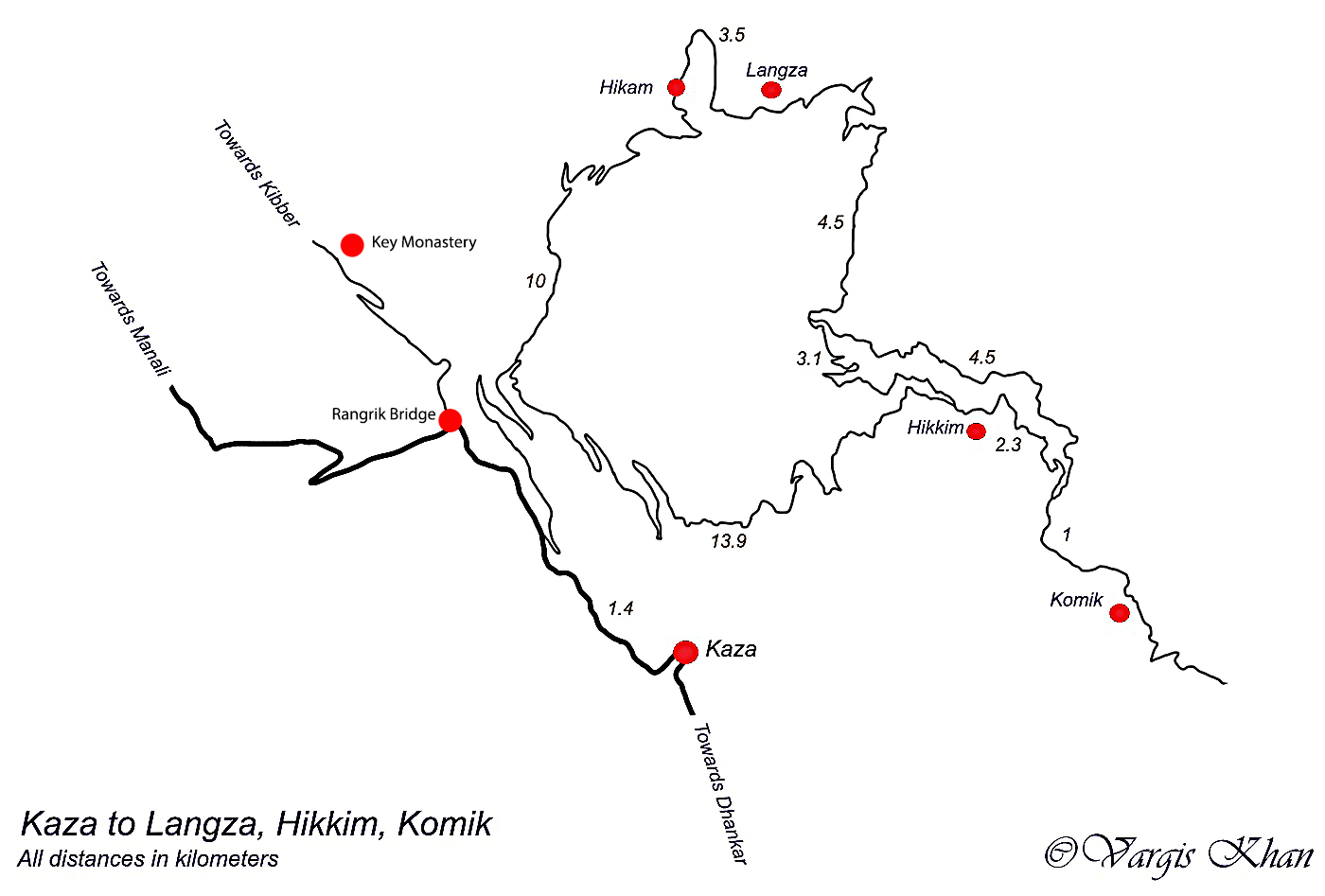 From Kaza, start driving towards Manali, and about 1.5 kilometers later, you will come across a road climbing up to your right. This same road goes to other villages like Hikkim and Langza as well.
As you can see in the map above, you can complete this journey is in the form of a circuit as well. You can first go towards Langza and drive back down via Komic and Hikkim or you can do it the other way around. It took me about 5 hours from Kaza to complete the entire circuit with plenty of breaks and sightseeing in between
Bus to Komic Village
There is a daily bus that starts from Kaza at 5.00 PM and reaches Komic via Langza and Hikkim by 6.30 PM. It stays in the village for the nights and then travels back to Kaza the next day at 7.30 AM following the same route.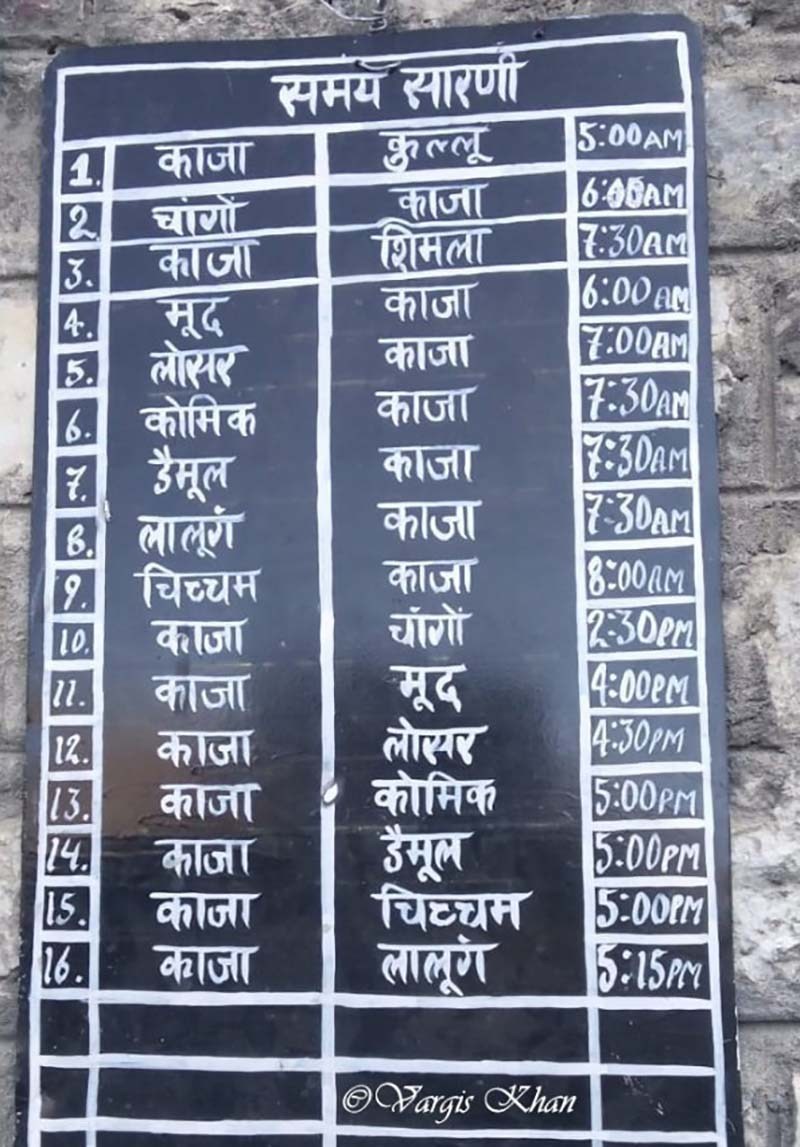 Where to Stay in Komic
There are no hotels or guest houses in Komic, and the only choice of accommodation available is in the form of homestays. Just talk to the villagers and anyone will be happy to let you stay as a paying guest for a nominal charge. Your stay will be very basic but comfortable. You also need to consider the fact that you are staying in the house of a simple villager so please do not keep your expectations high.
Tanpa Homestay here is probably the most known one. You can contact them at 9459483143. Another one is called Gompa's House near Tangyud Monastery (9873146404). A third one is called Padma Homestay and can be contacted at 9459357872.
A friend of mine stayed at the monastery in the village so that is also an option that you can try. Talk to any of the lamas and see if they will let you stay at the monastery overnight. This is the most budget-friendly option. My friend paid only Rs. 200 per day at the monastery.
If not in Komic, then you can try your luck in the nearby Hikkim Village. There is one homestay there by the name of Tsedup's house that can be contacted at 9873146404 / 9971799092. You can also stay at Hikkim Himalayan Cafe & Home Stay (9459040980 – 94598418090).
You can also try driving towards Langza Village, about 10 kilometers away. There are three homestays there as mentioned below.
Lara Homestay – 094185 37689
Sonam Homestay – 094187 57464
Phan Dhey Homestay – 094186 20454
Where to Eat
There is one small restaurant here that goes by the name of 'Spiti Organic Kitchen – World's Highest Restaurant' and is a good place to eat. It is located near the monastery. You savor not only good food but also amazing scenery. Other than this, there are no other eateries and you will be having your meals at the homestay only.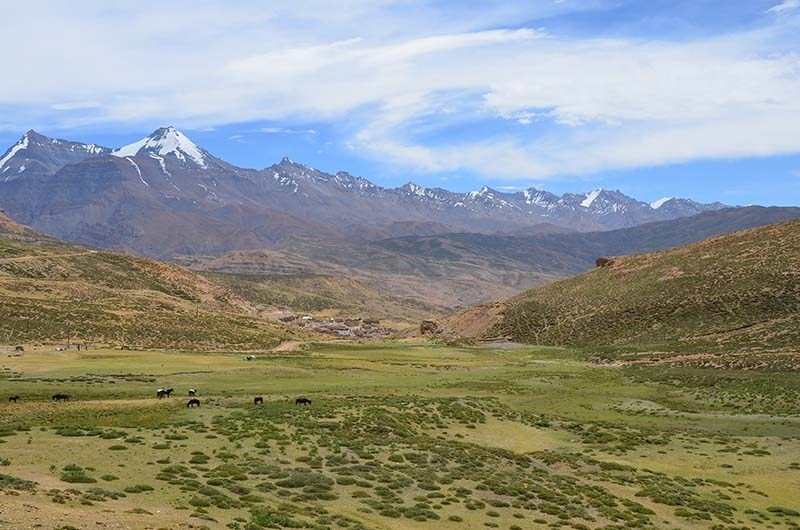 What to See in Komic Village

Komik is just a small village and as such, there is no long list of tourist attractions here. The natural beauty of the place is its greatest attraction. Irrespective of the time of the year you arrived here, the views you get from the village will just take your breath away.
Other than the landscape, listed below are some other places that are worth a mention.
Also Read: Sightseeing in Spiti Valley | What to see in Spiti Valley
Tangyud Monastery
Built like a fortified castle, The Tangyud Monastery is a small monastery located in the village. It is also referred to as the Komic Monastery and is one of the highest altitude gompas in the world. It is located on the periphery of the Kibber Wildlife Sanctuary.
The monastery was originally located in Hikkim village but then was shifted to Komic after the Spiti Earthquake of 1975 destroyed it. The ruins of the old monastery can still be seen while crossing Hikkim village.
One of the attractions of the monastery is a stuffed Leopard that hangs from its roofs on one of the rooms.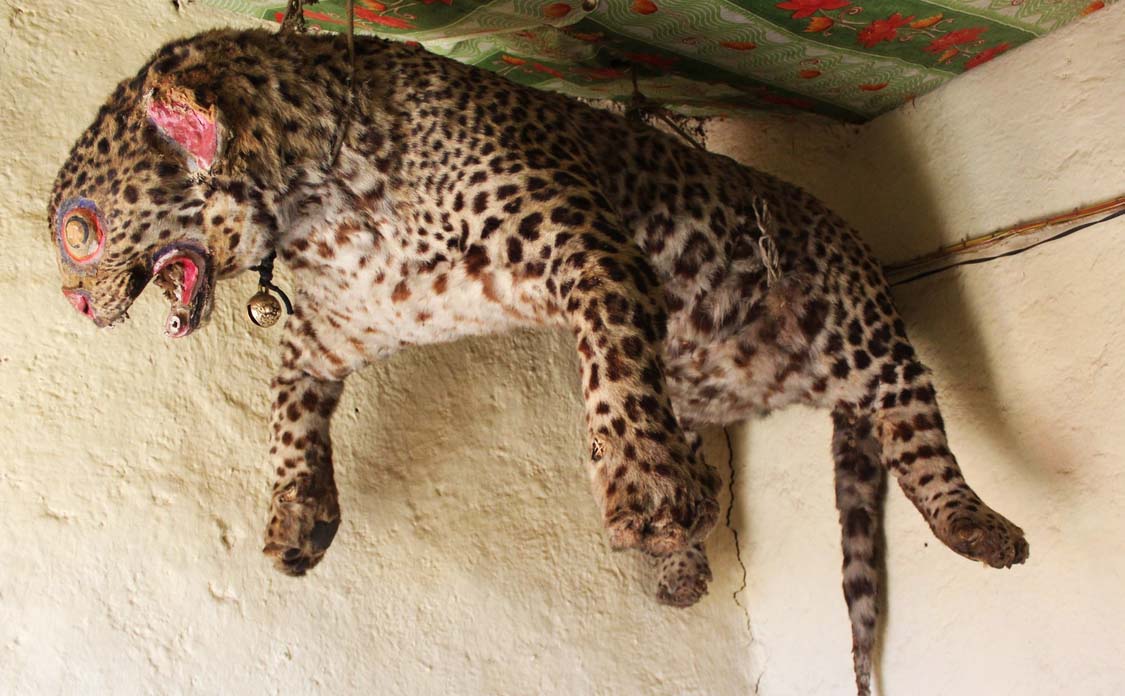 Please note that ladies are not allowed inside the main prayer sections of the monastery. I do not know why this rule exists but you will have to follow it.
If you speak to the monks, they will tell you that even before this monastery was made, there was already a prophecy about it in Tibet that a monastery in the shape of an eye of a snow cock would be built in Spiti.
The masked dances at Tangyud monastery, held around mid-October each year, are a big attraction for the locals.
Maitreya Buddha
There is also a grand Maitreya Buddha statue located in the Monastery known as Mahakaal (also spelled Mahakala Statue). It is located in the main prayer room where women and photography are both not allowed. There is a very interesting tale related to Komic Monastery and this Mahakaal statue.
A common belief is that the Tangyud Monastery is a newer one, moved from Hikkim to Komic but the villagers will tell you otherwise. The original monastery was in Komic only for centuries. Then a long time ago, due to a drought, the monks of Komic decided to move the monastery to a slightly lower village of Hikkim.
A new monastery was built in Hikkim but when it was time to shift, the Mahakaal statue refused to move and stayed at its foundation in Komic. Efforts continued for several days to lift and relocate the statue but all of them failed.
The villagers then decided to leave it where it sat and moved the rest of the monastery to Hikkim. Only one monk was left at the old monastery to continue the prayers.
In 1975, a devastating earthquake hit the Spiti region and leveled the monastery in Hikkim. This is the one that you will see the ruins of while traveling between the two villages. To everyone's surprise, the old Monastery in Komic however remained intact with no damage at all. The Mahakala statue too sat royally with not an inch of damage on it.
The monks took this as a divine sign that Komic was the holiest place for the monastery to be in. The old Monastery was then rebuilt into the new existing one.
Post Office in Hikkim
As you travel to or from Komic Village, you must also stop briefly at the post office in Hikkim. Situated at an altitude of 14,400 ft, it is famed as the world's highest post office. It came into existence on November 5, 1983, and covers a group of about 7 small villages nearby. It only remains operational for about 6 months and is forced to shut during winter months due to heavy snowfall.
Considering the fact that there is no cellphone signal or internet here, it is the only connection to the world for the residents of Hikkim and other villages nearby. The post office also maintains savings accounts for locals where villagers can deposit or withdraw money.
Also Read: How to Handle Acute Mountain Sickness in Spiti Valley
Marine Fossils
Komic, like the other villages nearby in this area, is rich in fossils. Langza is commonly known as the fossil village but you can very easily find those in Komic as well, provided that you know what you were looking for. Otherwise, a fossil will look like just another piece of rock to people like us. The villagers, however, have a few that they can show and can even sell you for a small price.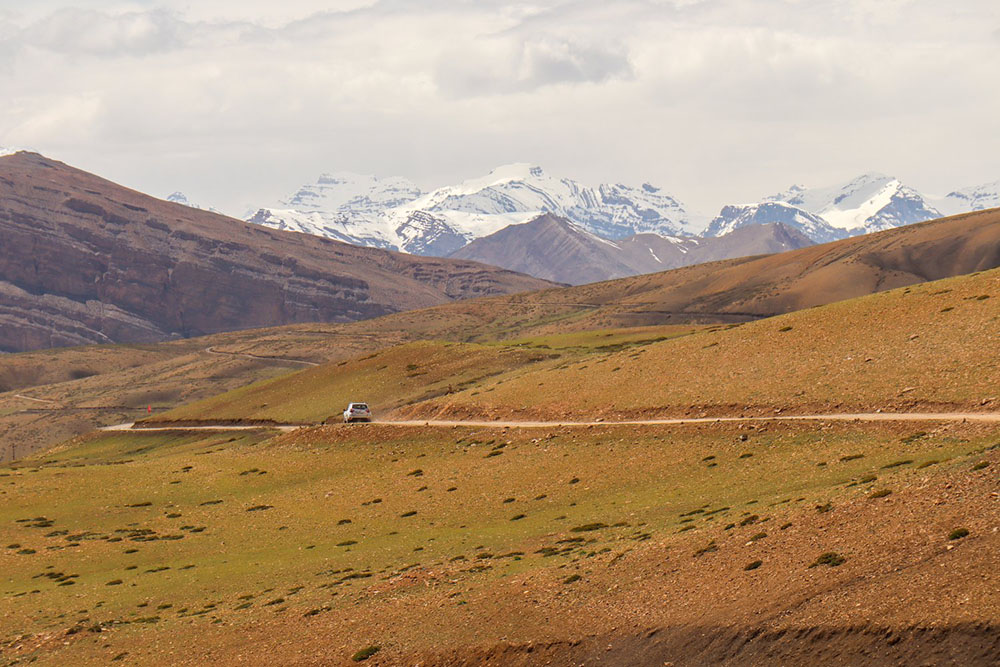 Wildlife
There is a wildlife sanctuary quite close to Komic Village. It is known as Kibber Wildlife Sanctuary (named after the village Kibber) and is home to several endangered animals like Snow Leopard, Ibex, and Red Fox. If you were lucky, you may get a glimpse of the local wildlife.
What to do in Komic
To be honest, you do not come to a place like Komic hoping to do a million things. Rather, you arrive at a place like this to do nothing. The best thing to do in the village will be to just sit down with a cup of tea in your hand and sip on it while enjoying the landscape. You come to villages like Komic to slow life down for a few days and rejuvenate yourself.
With that being said, listed below are a few things that you can enjoy in Komic Village.
Fossil Hunting
If you do not want to buy the fossils that the villagers have to sell, you can hire a local and spend a day finding some fossils yourself.
Take a Walk around the Village
The best thing to do in Komic village would be to just sit back, relax and take a stroll through the village. See the local vistas, visit the monastery, talk to the locals, learn about their culture and get a taste of how life in Spiti goes on.
Photography
This is one of my favorite things to do in Komic. It does not matter whether you were carrying a huge professional DSLR or just a cell phone camera, you will have loads of fun clicking hundreds of pictures here. From Landscape to wildlife to people, Komic is capable to cater to a wide range of photography enthusiasts.
Also Read: How to Plan a Trip to Kinnaur Valley
Be Amazed by the Skies and the Stars
That is right, you will definitely be amazed by the view that each night of Komic brings. The pollution-free sky lights up with millions of stars each night; a sight that city folks like you and I rarely get to see. If you were into photography and were carrying a capable enough camera, you will have fun getting some long exposure shots of the Milky Way and star trails.
Send a Post Card from Hikkim Village



Let me first explain how the entire process works. You visit the post office and buy a postcard, which will cost you about Rs. 25, including all charges. The two postmen will then carry the mail to Kaza, on foot. From Kaza, the mail will then be loaded on an HRTC bus to Reckong Peo, then on another bus to Shimla, and then finally on a third bus to Delhi. From Delhi then, it will be distributed by rail or air depending upon its destination.
Why would you send a postcard from here? For fun really and also to support the local livelihood. A lot of travelers make it this far to Hikkim village to take pride in mailing their letters from one of the highest post offices on Earth.
It is a feeling one of its kind. Buy a postcard and then sit down in the middle of nowhere to write a message. Mail it over to your family or friends or even yourself. It serves as a small souvenir that you bought from Hikkim but only mailed to yourself.
To be honest, this post office really puts the village of Hikkim and other villages around it on the tourist map. Is it worth coming to Hikkim and send a postcard from here? My answer is that yes it is.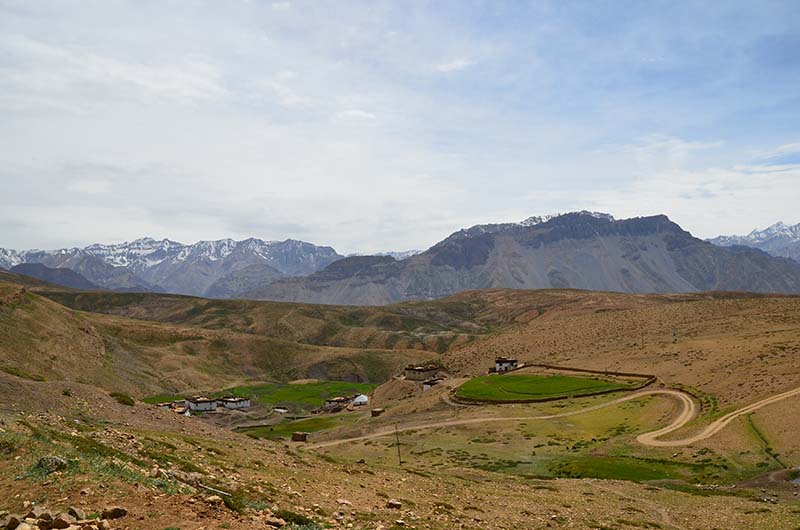 Weather

The weather in Komic Village remains cold throughout the year. Even in the months like May and June, you will need to woolens and jackets to survive here. During the winter season, the entire region gets buried under a thick sheet of snow and the temperature drops down to almost 20 degrees below zero.
During the summer, however, the temperature remains at around 10-15°C during the day and 5°C at night. The weather at this time is very enjoyable with moderately warm days and pleasantly cold nights.
Spiti is in a rain shadow area so it almost never rains here. If you were looking to spend a night in the village, make sure to bring plenty of woolens to handle the cold at night, irrespective of the month of your arrival.
Also Read: What Clothes should you pack for Spiti Valley Trip
Best time to Visit Komic Village



The best time to visit Komic is between the months of May and September, which is also the best time to visit Spiti Valley. The valley is completely and easily accessible at this time with both the roads leading from Shimla and Manali open. The weather too will be pleasant and since this is the peak tourist season, you will be able to cover all of the tourist places in Spiti Valley and Kinnaur.
A lot of people however make a winter trip as well to this region. The nearby Kibber Wildlife sanctuary is home to several snow leopards. It attracts a lot of wildlife enthusiasts and photographers each year; hoping to catch a glimpse of the elusive cat.
So if you wanted to enjoy a white Spiti or were hoping to go spot a snow leopard, the months of January and February would be ideal. But please know that winters in Spiti are extremely harsh. This is when then the temperature can drop to as low as -35°C. Electricity can remain gone for weeks and there will not be any phone connectivity as well. If the roads got blocked, you will be stuck here until the authorities are able to clear the snow and restore connectivity.
Hence, the best time to visit Komic village will be from June to September. You can plan in April and May as well but would then have to keep Manali Kaza Highway and Chandratal out of your Spiti Itinerary.
Mobile Connectivity

in Komik Village
BSNL has the widest coverage in Spiti Valley but even that does not work here. If you were on BSNL, Jio, or Airtel networks, your phone will work in and around Kaza town. But it will go off the network a few kilometers out of the town.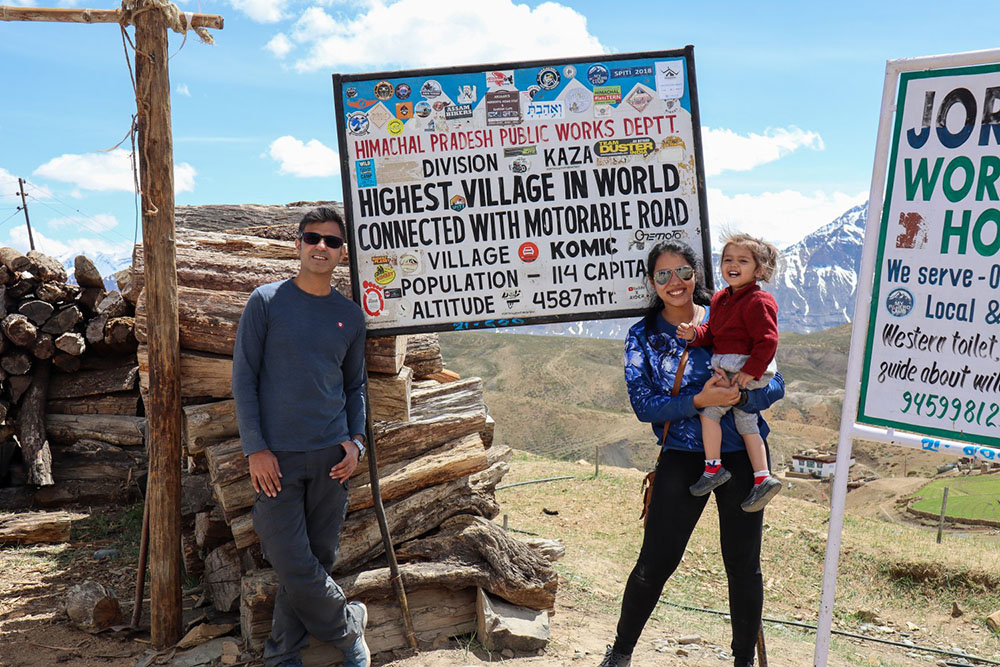 Highest Village in the World
Is Komic the highest village in the world? It actually is not. That is something that the locals just put up on a board to attract tourists and adventure junkies.
There are several other villages in India and Tibet that are at a higher altitude than this. One example is of Karzok Village in Ladakh at a height of 4,595 meters. Another one is the Koyul Village in Ladakh at a height of 4,660 meters. There are several other villages in Tibet that are at much higher elevations than this.
ATM / Banks

There are no ATMs or banks here. The nearest one is located in Kaza.
Conclusion
I hope the information above on visiting Komic Village in Spiti Valley was of help. If you have any questions; or need any other details; please feel free to ask in the comments section below, or at our Community Forum, and I will be glad to answer.