The entire Himalayan region is home to numerous lakes. Fed by glacial waters, these lakes vary from being quite large in size to just a tiny little dot of blue on the map. Some of the lakes are well known and famous while others are known to only a handful few. But one thing that is common among all of them is that they are all equally scenic. Even the lakes that are very small in size can be giants in natural beauty. One such hidden and hardly known lake in Spiti Valley is Dhankar Lake.
Dhankar Village is best known for its ancient and beautiful monastery. But not many people know of the existence of a small lake close to the village. Majority of the people would just visit the monastery and be on their way to Tabo or Kaza. But if you want to add an offbeat destination to your travel itinerary that not many people would have visited, then you must attempt Dhankar Lake trek. It is not extremely difficult and will not take much time either.
Please note that this article is in continuation of a previous one where I talked about how you can plan a trip to Dhankar Village. In this post, I will provide further details on how you can reach Dhankar Lake from the village.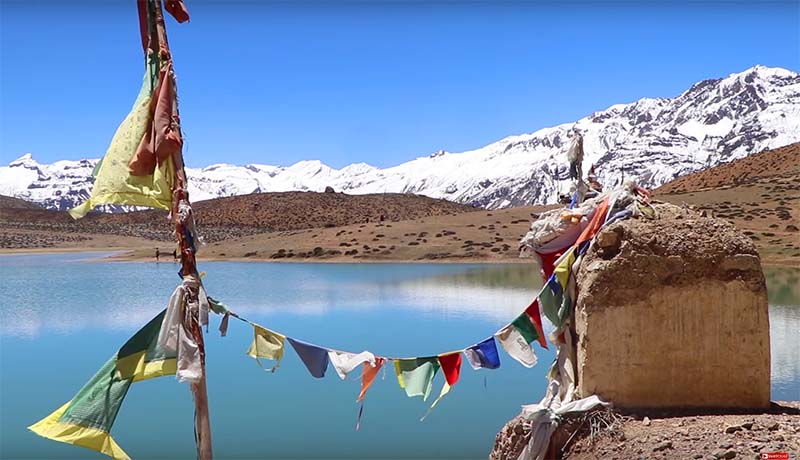 Dhankar Lake Travel Guide

Dhankar Lake is a high altitude lake located about 2 kilometers from Dhankar Village in Spiti Valley. It is a freshwater lake and can only be approached by an easy to moderately challenging trek. The lake is at an altitude of 4,140 meters and during the winter season, it freezes over completely.
Also Read: How to Plan a Trip to Spiti Valley – A Complete Travel Guide
It is a glacial lake and is fed by the water streams caused by melting snow. So depending on the water flowing in, the water level of the lake also varies highly throughout the year. If you visited here early or late in the season, you will find more than half of the lake dried up.
The mountains and the area around the lake is completely dry; and the only form of vegetation you will see here are some bushes and shrubs that are characteristic of the region. There is a small Gompa right next to it with prayer flags tied to wooden poles. Depending on where you were standing, the lake can appear blue or green in color from different angles.
About Dhankar Lake Trek
Not many people know about this lake and only a handful few would ever bother to visit it. Thousands of tourists travel on the Spiti Circuit each year but the majority of them would turn back from the Dhankar monastery itself. Lack of information and the 3 hours of trekking (round trip) discourages people from taking some time out to venture in its direction.
Then there is also the fact that you will have to leave your belongings somewhere in Dhankar for a few hours (if you weren't staying here overnight) which people would prefer not to do. Last but not the least, it is forbidden to camp at the lake; so people just give up on it entirely and continue towards their next destination after visiting the monastery and the palace-fort.
However, if you do decide to trek to Dhankar Lake, then you will be presented with a sight that is worth your while and efforts. The small lake sits surrounded with mighty peaks all around and is quite a beautiful sight in itself.
From its banks, you can also get a view of Manirang Peak, which, at a height of 6,593 meters is among the highest peaks in Himachal. You may not camp right next to the lake but it is spread over a large area and has several vast open spaces that are perfect for camping at a distance.
Also Read: How to Handle Acute Mountain Sickness in Spiti Valley
How to reach Dhankar Lake
The first part of this, of course, would require you to reach Dhankar Village. For this, you can either take the route to Spiti via Shimla which remains open for all 12 months. Or you can also take the Manali to Spiti route which remains open only from late May to Mid October. So for example, if you were coming from a place like Delhi or Chandigarh, your journey will look like this.
Via Shimla: Delhi – Ambala – Shimla – Rampur – Pooh – Nako – Tabo – Dhankar Village
Via Manali: Delhi – Chandigarh – Manali – Rohtang Pass – Batal – Kunzum Pass – Kaza – Dhankar
From both sides, the journey is ideally for 3 days. If you took the Shimla route, you should break the journey in Shimla on Day 1, Reckong Peo on Day 2 and reach Dhankar on Day 3. You can cover the distance in 2 days as well with a night halt at Rampur but it will mean that you traveled for at least 11-12 hours on both days.
From Manali side as well, you should do it in 3 days with night halts at Manali and Kaza. If you were short on time however, you can skip Kaza and reach Dhankar directly from Manali.
This, however, is for someone who is only targeting Dhankar Lake specifically which will be a very rare case. Ideally, if you are in Dhankar, it means that you are covering the entire Spiti circuit and will either be moving towards Kaza from here or towards Reckong Peo.
For more information on this topic, please read How to reach Spiti Valley by Road, Air, Train & Bus. Now let us take a look at how you will get to the lake after you have arrived at the village.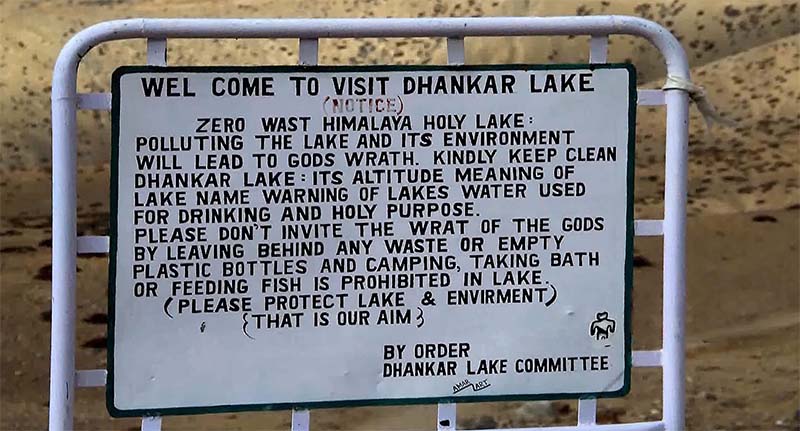 Dhankar Monastery to Dhankar Lake
There are two monasteries in Dhankar Village, the old and the new one. The trek to Dhankar Lake starts near the new monastery. If you were unable to locate the path then ask any of the locals around and they will be happy to point you in the right direction.
The path gets very narrow and steep at some places with loose gravel and slope on one side, so walk carefully. You will continue following the serpentine path caressing the mountainsides for a total of about 2 kilometers before reaching the lake.
Throughout the hike, you will keep gaining altitude significantly and the view will just keep getting better and better. From the monastery to the lake, you will end up climbing more than 1000 feet in about 90 minutes to 2 hours.
Depending on how fast you were climbing, you will be quite tired by the time you reach the lake; and will be surprised to find that there isn't even a single spot of shade where you can sit. There are absolutely no trees and the only shade you can find is behind some large rocks or the Gompa.
From the top, you will get an amazing view of the surrounding snow-capped mountains. If you climbed one of the mountains behind the Gompa, you will get a panoramic view of the village and the rivers, like in the picture below.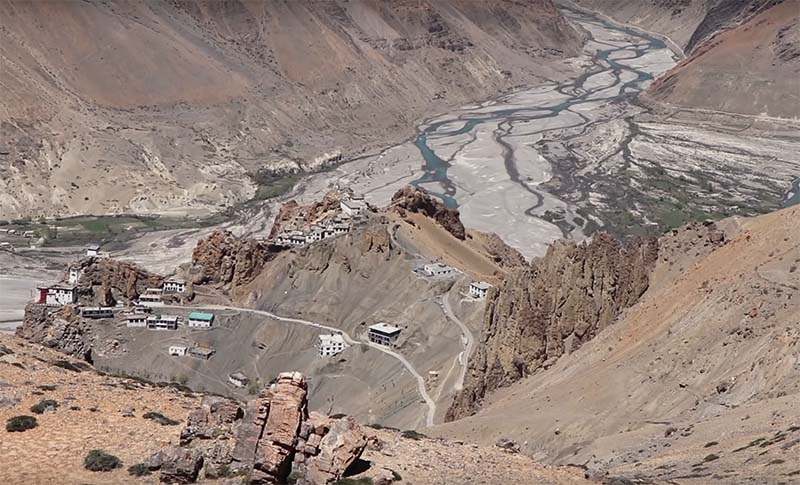 Spend some time at the lake, take rest, click plenty of pictures and start on your way back. You will have to be extra cautious while returning as the walk will now be downhill with an even higher chance of slipping on loose gravel. Do not rush, place your feet properly and walk slowly in small steps.
How to Reach Dhankar Lake from Kaza
If you were traveling from Shimla side, the best way to cover Dhankar Lake would be on the way. Just reach Dhankar Monastery, leave your vehicle parked there, trek to the lake, come back and be on your way to either Tabo or Kaza. It will take about 3 hours for a round trip to the lake. This is if you were short on time and could not stay back in Dhankar for a day.
If you can afford to spend a day in Dhankar, it will really give you sufficient time to enjoy the trek to the fullest.
If however, you reached Kaza directly or came from the Manali side; then you will have to drive back 34 kilometers to the monastery and the lake. If you were traveling by Bus, then you will have to catch the Reckong Peo bound Bus and get down near Dhankar road.
From the main highway, where the bus will leave you, it is an uphill drive of 9 kilometers to reach Dhankar. For this, you can either start walking, hitchhike or look for a shared taxi from the highway.
You can also rent a private taxi for a day-long sightseeing tour around Kaza covering Dhankar as well.
Also Read: Schedule of Bus Service in Spiti Valley
Dhankar Lake Trek Difficulty
The trek to Dhankar Lake can be classified as easy to moderately challenging. For its entire length of 2 kilometers, the walk is mostly uphill and is very steep and narrow at places. It can however easily be done with plenty of rest in about 90 minutes to 2 hours. Just walk slowly and carefully, take breaks whenever tired and you will be OK.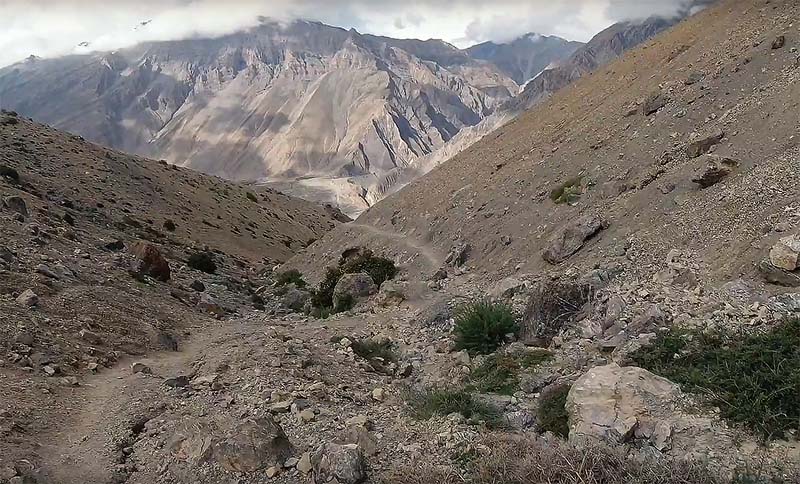 Best Time to Visit Dhankar Lake
The best time to visit Dhankar Lake is between May to September which is also the best time to visit Spiti Valley. Both the routes to Spiti Valley remain open at this time and you reach there either via Shimla or Manali. Since it is the peak tourist season, you will be able to cover all major tourist spots in Kinnaur Valley and Spiti Circuit. The weather too at this time is enjoyable with moderately warm days and pleasantly cold nights.
Public transport services also remain available at this time and you can travel using the bus and shared taxi services. All hotels and guest houses will be open; so finding accommodation per your taste and budget will also not be a challenge.
The trek can also be attempted during the winter season but it depends on the amount of snow on the ground.
Mobile Network
There is no network coverage at the Lake. If you were carrying a BSNL phone, you may get a signal at Dhankar Village but not at the lake. Airtel and Jio will only work in and around Kaza but not in Dhankar. Vodafone remains out of service in most of the Spiti Valley. For more details, please read Mobile Network in Spiti Valley and Data Connectivity.
Camping at Dhankar Lake
Camping is not allowed at the lake as it is considered sacred. Further, this area is home to a lot of wildlife and Dhankar Lake serves as a source of drinking water for them. Camping here will disrupt wildlife and can even put you at risk of getting attacked.
Time Required for the Trek
Depending on your fitness level, it will take you about an hour to 90 minutes to reach the lake; and then another hour to return.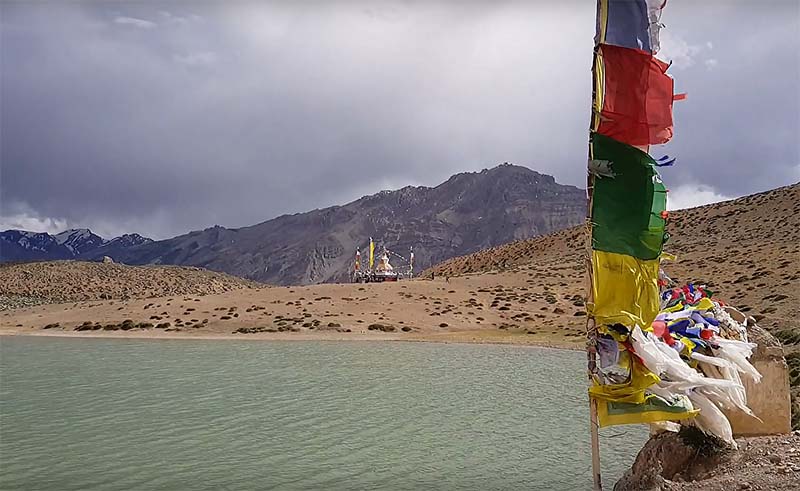 Other Tips
Mentioned below are some other tips that can be of help in planning a trip to Dhankar Lake.
Please make sure that you are wearing good trekking shoes with a good grip. Do not attempt the trek in floaters or sandals. Sports shoes will do as well as long as they have a good grip.
Sun is very harsh in these areas so wear a hat or a cap before during the trek. It will be better to carry a sunblock lotion and apply regularly to prevent sunburns. Since there are no trees anywhere on this route, you will remain in the sun for the entire duration of the trek.
There is absolutely nothing at the lake so carry water, snacks, etc. I will strongly advise against drinking from the lake so it is very important to bring your own water from the village.
Please do not litter around the lake or on the trek. Keep your empty water bottles, wrappers, bags with you and bring them back.
For someone reasonably fit, the trek is not too difficult. But you must consider the high altitude and lack of oxygen which will cause breathlessness. So do not carry too many things with you.
While I was there, I noticed a few trekkers from Mumbai urinating in the lake. Please do not do that. The lake is considered sacred by the locals and we must respect that. Please do not pollute the water.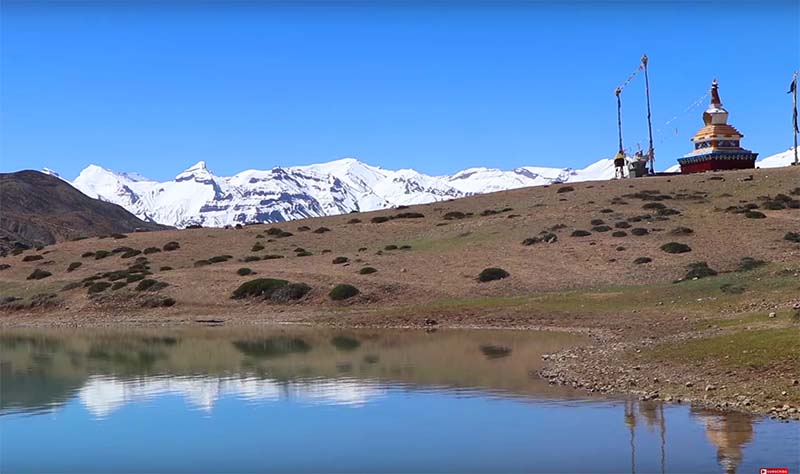 Conclusion
I hope the information above on planning Dhankar Lake trek was of help. If you have any questions; or need any other details; please feel free to ask in the comments section below, or at our Community Forum, and I will be glad to answer.