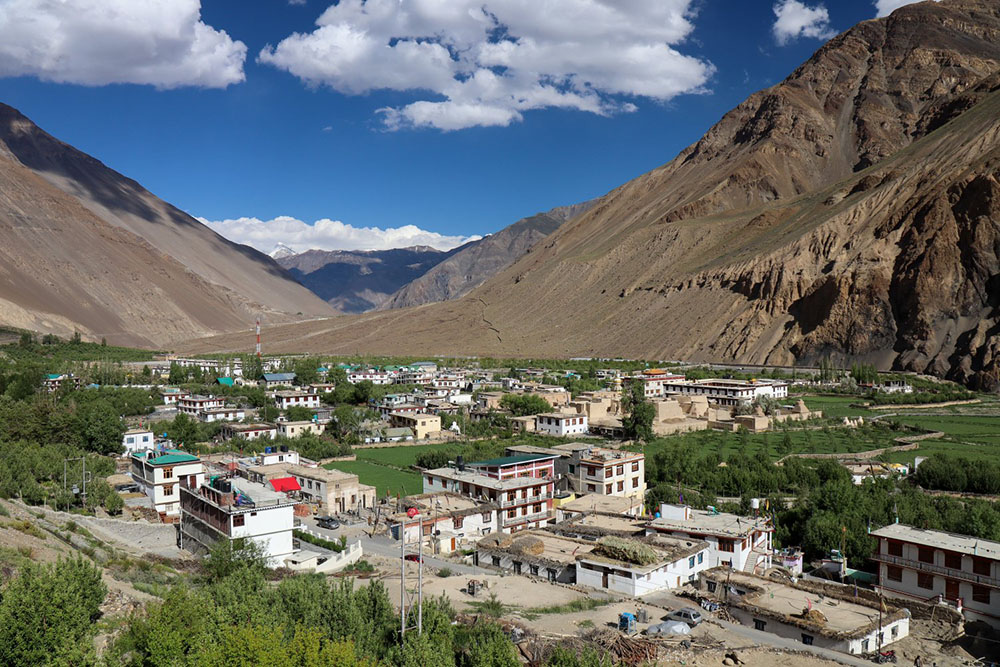 The true beauty and the very essence of Spiti are in its villages. Unless you have experienced those, you have only passed through the valley and not really seen it. Tabo Village is one such gem of Spiti Valley. In this article, I will provide complete information on visiting Tabo, including details like how to reach, where to stay, and what to see.
Also Read: How to Plan a Trip to Spiti Valley –  A Complete Travel Guide
The village is not really off the grid and you do not even have to go too remote to visit here. It is located right there on the main Shimla Kaza highway and can easily be covered while traveling to or from Kaza if you were short on time.
Or you can plan a day trip from Kaza and cover it with other nearby villages like Dhankar and Pin Valley. An even better way would be to spend a night at the monastery here and have a one-of-a-kind experience that will make your trip even more memorable.
About Tabo Village
Tabo is a small town located about 50 kilometers from Kaza on the banks of the Spiti River. It lies on the road between Rekong Peo and Kaza, around a monastery that is believed to be over a thousand years old. Even the Dalai Lama has expressed his desire to retire to Tabo since he maintains that the Tabo Monastery is one of the holiest. (Source: Wiki)
At an altitude of 3,280 meters, 10,760 ft, Tabo village remains cold throughout the year and experiences some extreme weather conditions and temperatures. Ever since the increase in tourism in Spiti Valley, it has been serving as a pit stop for people traveling to or from Kaza. Apart from its natural beauty and the monastery, it is also known for the caves in the surrounding hills which until some time ago were used by the locals as residential quarters.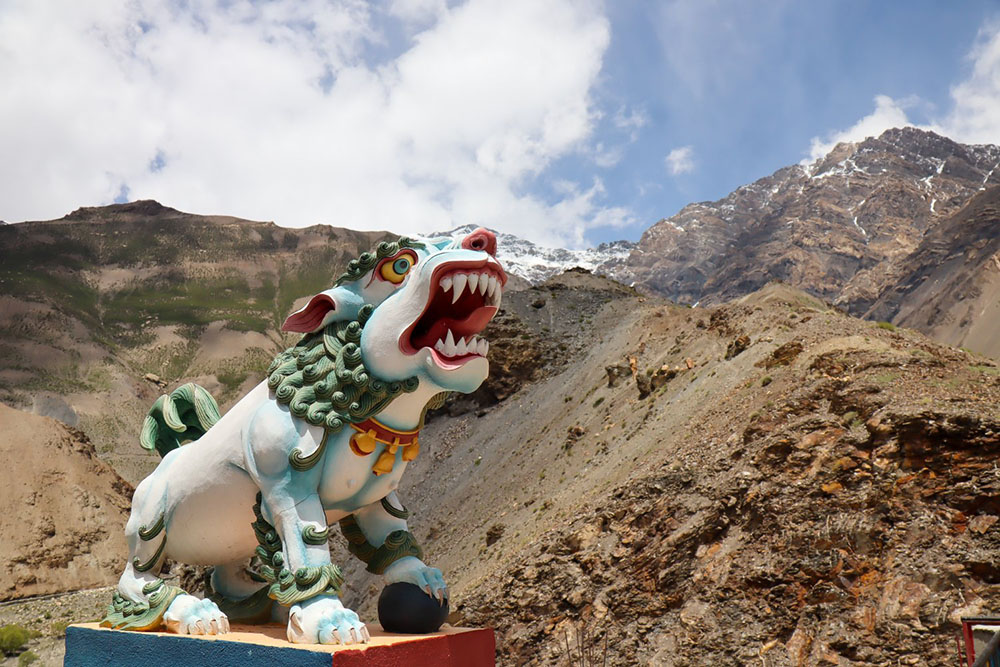 How to reach Tabo

There are two ways that you can reach Tabo. The first and the easier one is via Shimla which remains open all year long. The second route is via Manali which is a little tougher and remains open only from late May to Mid October. Assuming that you were coming from Delhi, the routes will look like below.
Shimla to Tabo

Delhi – Ambala – Shimla – Narkanda – Rampur – Pooh – Nako – Tabo
Traveling this way, it will be a total of 700 kilometers of a journey, depending on where you started from in Delhi. Ideally, it should be done in a total of 3 days with stops at Shimla and Kalpa. But if you were short on time, you can do it in 2 days as well but will have to drive for long hours on both days. This route remains open for the entire year except for peak monsoon and winter seasons when heavy rains or snowfall may temporarily block the roads.
Shimla to Tabo by Bus
If you were coming by Bus, then you will first board a bus for Shimla, then another for Reckong Peo, and then a third Bus from there for Tabo. It is actually the daily Reckong Peo to Kaza bus that you will catch and get down at Tabo.
Manali to Tabo

Delhi – Chandigarh – Manali – Rohtang Pass – Kunzum Pass – Kaza – Tabo
By this route, the journey will become a total of 800 kilometers that you can cover in 2 days with a night halt at Manali on Day 1. This route remains open only from late May to Mid October and remains blocked due to snow for the rest of the year. You will have to cross two high-altitude passes and the condition of the road between Manali and Kaza is really terrible.
Also Read: How to Handle AMS in Spiti Valley
Manali to Tabo Bus
For traveling by bus, you will first board the daily bus from Manali to Kaza. From Kaza, you will then board the Kaza to Reckong Peo Bus and get down at Tabo. There is no direct Manali to Tabo Bus available.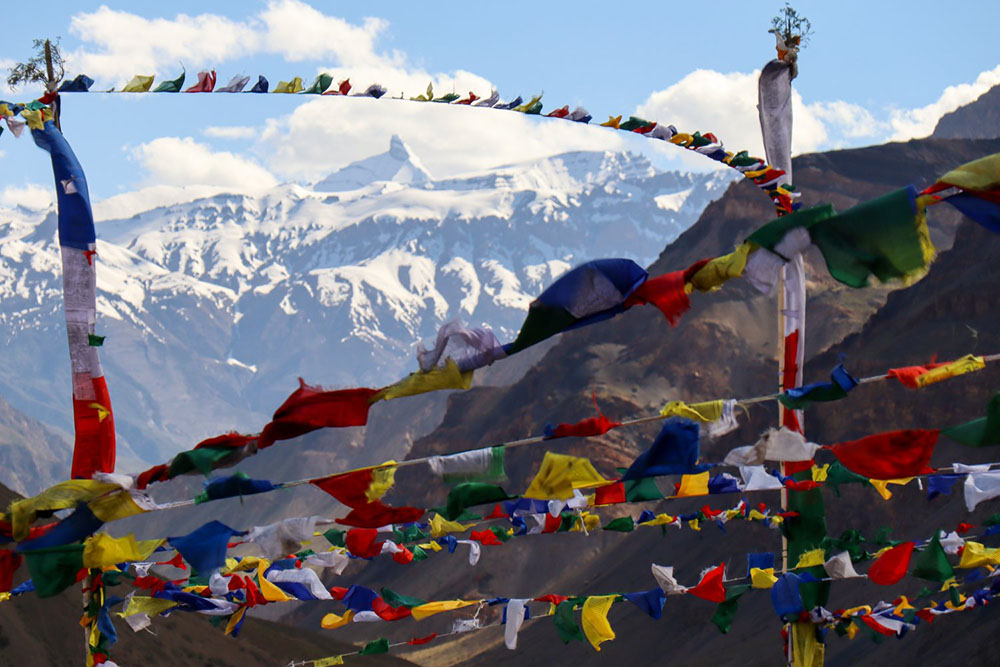 What to see in Tabo

If you asked me what is there to see in Tabo, then my answer would be 'not much'. It is just a small village sitting almost in the middle of nowhere and as such, there is no long list of places to visit in Tabo. But that is exactly the reason why you should visit here.
There are no maddening tourist crowds or markets for shopping here. What you do get is a silent and peaceful environment where you can stay for a few days and let all your worries and tensions fade away.
The natural beauty of the place is definitely its prime attraction. The villagers here depend on farming for livelihood and the green patches of their fields against the backdrop of the desert that Spiti is, presents a magnificent sight. With the Spiti river flowing on its one side and mighty snow-capped all around, the entire setting of the village is really picturesque.
Please note that in this article, I am only covering Tourist places in Tabo village only. If you also want to know about other places to visit near Tabo and on Spiti Circuit, I will recommend you to please read What to see in Spiti Valley and its Vicinity.
Tabo Monastery
The monastery in Tabo may not be as big as some of the other famous monasteries but is a giant in history and heritage. It is believed to have been established in 996 CE making it over a thousand years old now. All of its 9 temples and many stupas are made out of the mud and have been standing like this for their entire existence which is no less than a wonder in itself.
Photography is not allowed inside the monastery but you can take pictures of the complex from outside. The monastery is currently home to about 50 monks. Many festivals are held here during which the monks perform traditional Chham dances. The most popular festival is the Chakhar Festival, held every three years in either September or October. It is dedicated to the peace and happiness of all.
Also Read: Festivals of Spiti Valley
How to reach Tabo Monastery
The monastery is located right near the main highway and you will have no problem locating it as you pass by. If you were for some reason not able to figure it out, then you can ask any of the locals and they will be happy to point you in the right direction.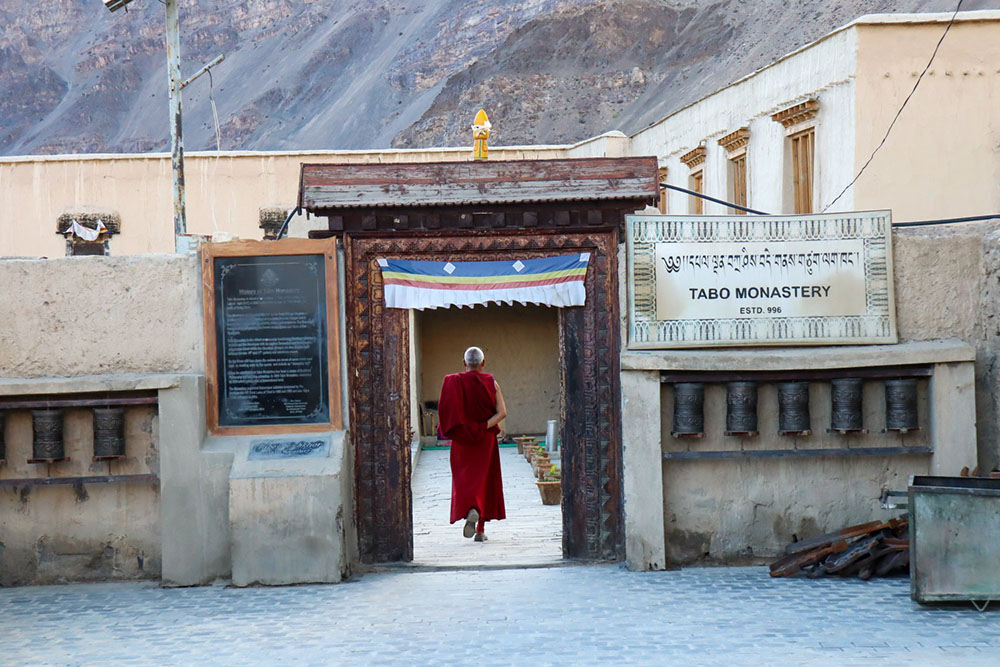 Tabo Caves
This will be the top item in the list of places to visit around Tabo. These are ancient caves scattered on the hill adjoining the village. No one really knows how old the caves are and if they are natural or man-made.
The theory however is that these were artificially excavated for monks and were initially used as assembly halls in ancient times. Later, people started to live in these caves to survive the harsh winter of Spiti. Even today, some of these caves are used by monks for meditation and are marked by prayer flags.
The caves are located just above the ancient Tabo Monastery, overlooking the Spiti River. Do not however mistake these caves as just some holes in the hills. They are well developed inside with smooth floors and walls.
The narrow entrance gives way to several small rooms with proper roofs and wide enough holes to allow sunlight and warmth to reach inside. It is truly a wonder not just in terms of architecture but also as a custom and tradition.
Also Read: What clothes to Pack for Spiti Valley Trip
There are traces of herds, seats, grain storage, smoke, and ashes from cooking and heating fires which clearly suggests that some of the caves were even turned into houses. One theory is that before the village was established, these caves were used by traveling monks as temporary residences.
A number of caves were even once part of the old monastery complex. One building here protects a cave known as Phoo Gompa, with recently restored early murals.
Entry to Tabo Caves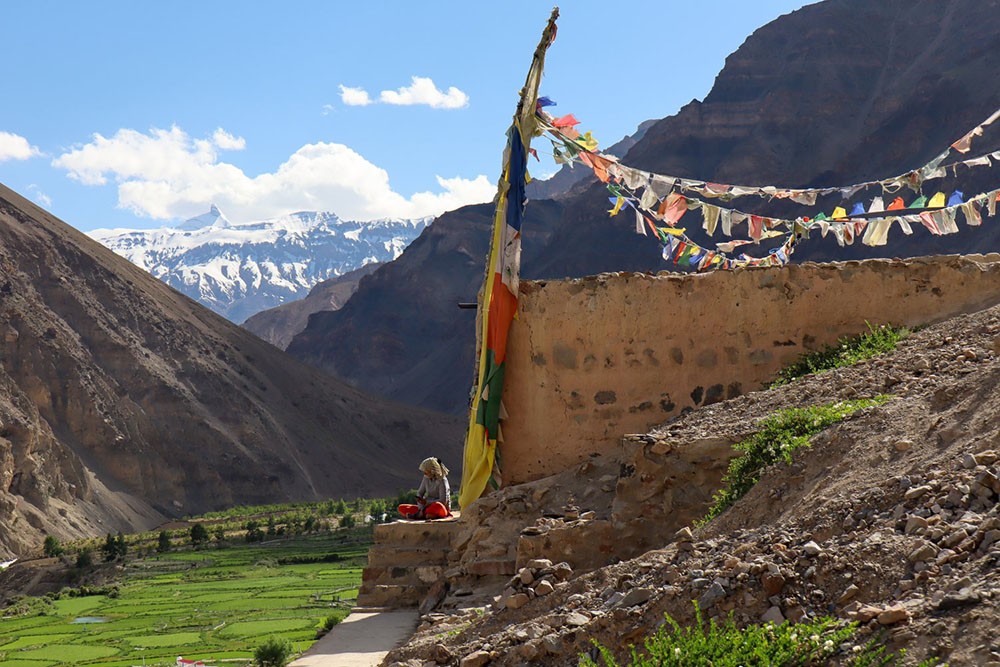 Monastery Museum
A new building is currently under construction as an extension to the old Gompa to house a collection of monastery artifacts and historical photos.
Monastery Library
The monastery also houses a small library of several rare books on Tibet and Buddhism. All the books are in English and are a great read if you want to learn more about Tibetan Buddhism.
Also Read: How to Prepare your Bike for Spiti Valley
What to do around Tabo
Apart from visiting the above listed 4 places, below are some of the other things to do in Tabo.
Stay overnight in the Monastery
The monastery in Tabo allows tourists to stay overnight for a very reasonable price. They have a guest house where you can stay for Rs. 500 for a double bedroom with an attached bathroom (meals not included). Before you decide to stay here though, please know that your stay will be very basic.
A friend of mine stayed here for a night and as per her, the experience was not a good one and she wouldn't recommend it. I am only adding this information here so that you know what you were getting into.
It, however, is a good option if you do not mind the discomfort for a night. You can observe the lives of the monks closely and sit down to chat with a few. It is also a good option for people traveling on a tight budget.
Star Gazing and Photography
The pollution-free skies of Tabo are truly a feast for the eyes. As soon as the sun goes does, they lit up with countless stars and present a view that city folks like us are not accustomed to at all. If you are into photography, then you will just love to click some shots of the milky way and capture some star trails.
Try an Apple
No, I truly mean it. There are apple orchards in Tabo that produce some really tasty, juicy, and crunchy apples. What's more? These are actually grown by the Lamas of Tabo Monastery. I had a few myself and once I got the taste, I was immediately requesting them to load an entire box in my car. This is one thing I will highly recommend. You must try the locally grown apples in Tabo.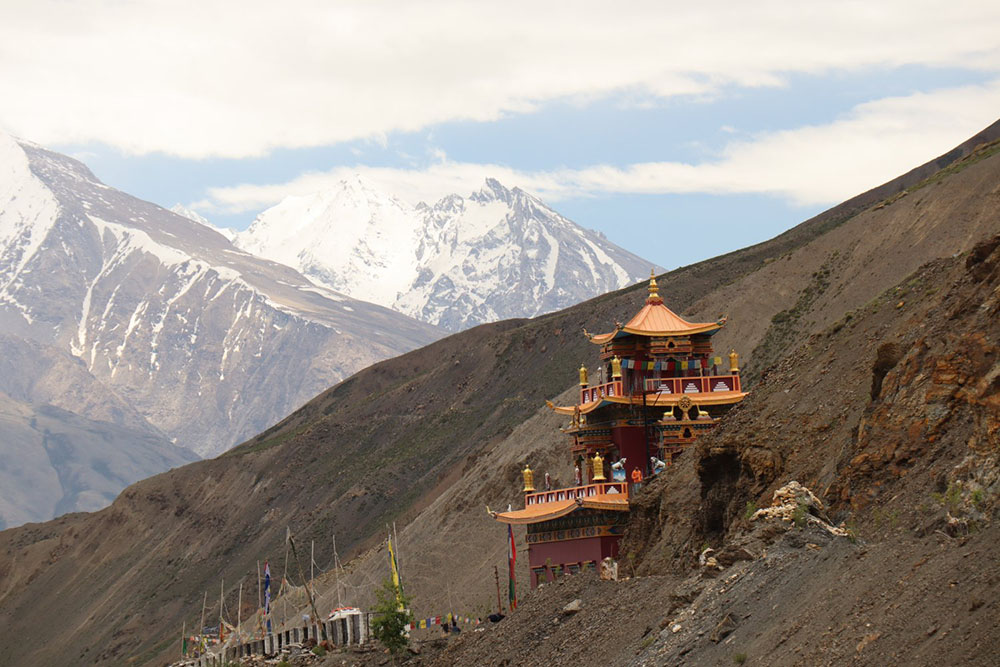 Where to stay in Tabo

Tourism in Spiti Valley has constantly been on the rise recently. Each year, thousands of people travel on the circuit between Shimla and Manali. As a result, each year new hotels and guest houses are coming up even in the remotest villages of Spiti. Tabo is no exception to this theory. No matter what your budget is, you will easily find a place to stay here for the night.
Stay in the Monastery
If you were on a strict budget, then I will recommend staying at the monastery guest house. That is probably the only budget stay available in Tabo.
Hotels in Tabo and Guest Houses
There are several hotels and guest houses here and most of them are right there on the main highway. Just take a look around the village and find one that suits your need and budget.
Also Read: How to Plan a Visit to Chandratal from Kaza
Homestay in Tabo
A lot of people like opting for a homestay rather than a hotel. It allows them to stay with a local in their house and experience the local culture better. There is one called Tabo Homestay close to the monastery complex that I know to be good. It is owned by a guy called Sonam and he is a humble person.
Another one I have been recommended is Phuntsok Homestay. You can contact them at 09418576181. There is another called Namsay Homestay that a friend of mine recommended. You can contact them at 09418600825.
In terms of budget, irrespective of whether you stayed at a hotel, guest house, or homestay, expect the price to be around Rs. 1500 to Rs. 2000 per day. If you are staying at a homestay, please clarify first whether their tariff includes meals or not, and if yes, then how many.
Mobile Network and Data Connectivity
Only BSNL works in Tabo. I was carrying BSNL, Jio, Airtel and only BSNL got reception, that too intermittent. Voice clarity was bad and I could hardly make any calls. There was no data reception at all. For more information, please read Mobile Network & Data Connectivity in Spiti Valley
Hospital / Medical Assistance
There is a primary health care center in Tabo but that only provides some basic medical help if needed. For anything a little more serious, you will have to rush to Kaza 50 kilometers away.
Petrol Pump / Mechanics
The nearest petrol pump is in Kaza. There are no mechanics as well in Tabo.
Shopping
There is nothing to buy here except for some handicraft items. For shopping, I will strongly recommend trying your luck in Kaza instead. For more information on what you can buy during your trip to Spiti, please read Shopping in Spiti Valley – What to Buy & Where.
Eating
The food here is average at best. There are several restaurants in the town with catchy names like Tiger's Den, Kunzom Top, The Third Eye but in terms of food, there is nothing special. Even at the homestays, the food was just about OK. Keep your expectations low in this aspect.
To know about what kind of foods you should try while in Spiti, please read Food Items to Try during your Spiti Trip.
Weather of Tabo
Cold, harsh, and unpredictable are the words that describe the weather of the entire Spiti valley the best. It remains to be cold throughout the year. Even in the months of May and June, you will need a heavy jacket after the sun starts to go down or before it comes up.
The weather gets even colder during winter and in the months of January and February, the entire valley experiences extreme temperatures like -20 degrees celsius.
Summers here are mostly pleasant though. The days are warm and sunny with clear skies. The only catch at this time is the sun which is very harsh. You must find a sunblock lotion of the highest SPF and apply it regularly if you do not want to get some serious sunburns.
Spiti is in a rain shadow area so it either does not rain here at all or rains just a little. The roads leading to Spiti via Kullu and Kinnaur however receive incessant rains, enough to cause landslides and block roads.
Best time to visit Tabo
Now based on the information above, I believe it is safe to say that the best time to visit Tabo is anytime between May to September. The roads will be all open and you can get here either via Shimla or Manali, depending on your preference. You can in fact start from one end of the valley and exit via the other, covering the entire circuit.
The weather will be pleasant enough and as long as you are carrying plenty of sunblock lotion, some cold cream, lip balm, and some woolens, you will really enjoy your trip.
A lot of people think of planning a winter trip to Spiti but I will warn against it if this was going to be your first time here. Visiting Spiti in the middle of the winter is for someone who has been here a few times before and is familiar with the area and the terrain.
If you are going towards Spiti for the first time, best do it between May to September only. Even during this window, the months of May, June, and September can be called the best.
Other Tips
Mentioned below are a few other helpful tips.
Tabo to Kaza Bus
The bus from Tabo to Kaza is actually the daily bus from Reckong Peo to Kaza. It arrives in Tabo by late afternoon and reaches Kaza by 4 PM. I will not really recommend waiting for this bus though. A better way would be to just board a shared cab or hitchhike. Kaza is only 50 kilometers from here and you will easily find a mode of commute, no point in waiting all day for the bus.
Tabo to Mud Village
If you were, however, planning to move towards Pin Valley, then it can get a little tricky. There is a daily bus from Kaza to Mud Village that starts at 4 PM from Kaza. It reaches Attargo Bridge at around 5 PM.
So my recommendation will be that you find a shared cab or a ride from Tabo that can drop you at the Attargo bridge and from there, you can board the Kaza to Mud Village Bus. For more information on Pin Valley, please read How to Plan a Trip to Pin Valley.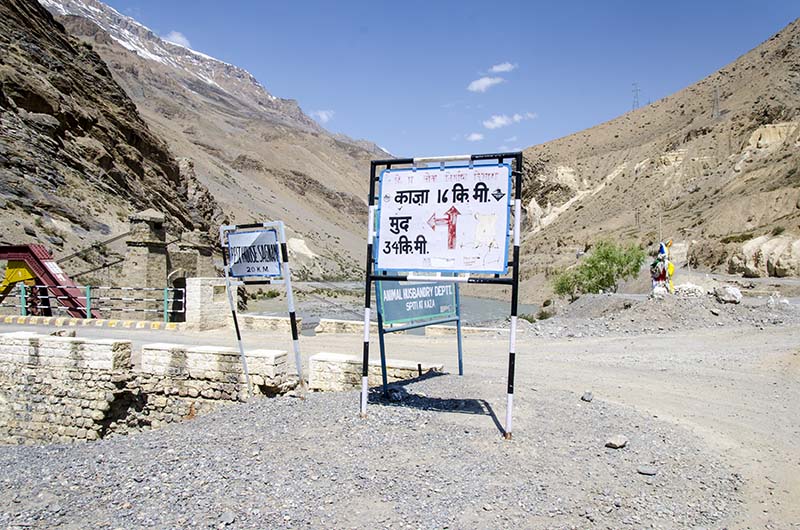 The Monastery
One thing that I did not like about Tabo Monastery was the expectation in terms of donation. I mean, it is donation after all. It is my wish whether I give or not and how much do I want to give.
At Tabo Monastery, the first time I was there, I was trapped into donating Rs. 1000. They really sweet talk you into it and put you in a situation when you just can't say no. I do not regret giving the money to the monastery but not like the way I was asked to.
The next few times, however, I knew what to expect and purposely avoided any talks in terms of donation. This resulted in me getting frowned upon which made no sense. Maybe it was just an experience I personally had but I thought to add it here nonetheless. They really expect you to donate and that too a good enough amount.
How to reach Tabo from Delhi
The best way to travel from Delhi to Tabo will be by your own vehicle. It will allow you to travel at your own convenience and cover other places on the way as well.
If you were traveling from June to September, then you can start from Shimla and exit at Manali. If you were traveling in any other month, you will have to reach via Shimla and return the same way. The routes will be the same as I explained above.
Delhi to Tabo Bus Service
There is no direct bus between Delhi and Tabo. You will first have to board a Bus for either Shimla or Reckong Peo. There are regular buses available from ISBT Delhi for both these towns. Once you get to Shimla or Peo, you can then board the HRTC Kaza-bound bus to get down at Tabo.
Festivals Celebrated in Tabo
There are several festivals held in the monastery each year. The masked dance by the Lamas, known as Cham Dance, is the highlight of all the festivals.
The most popular festival celebrated in Tabo is the Chakhar Festival, dedicated to peace, happiness, and prosperity for all. This is held every three years in September or October.
Conclusion
I hope the information above on visiting Tabo Village was of help. If you have any questions or need any other details, please feel free to ask in the comments section below, or at our Community Forum, and I will be glad to answer.