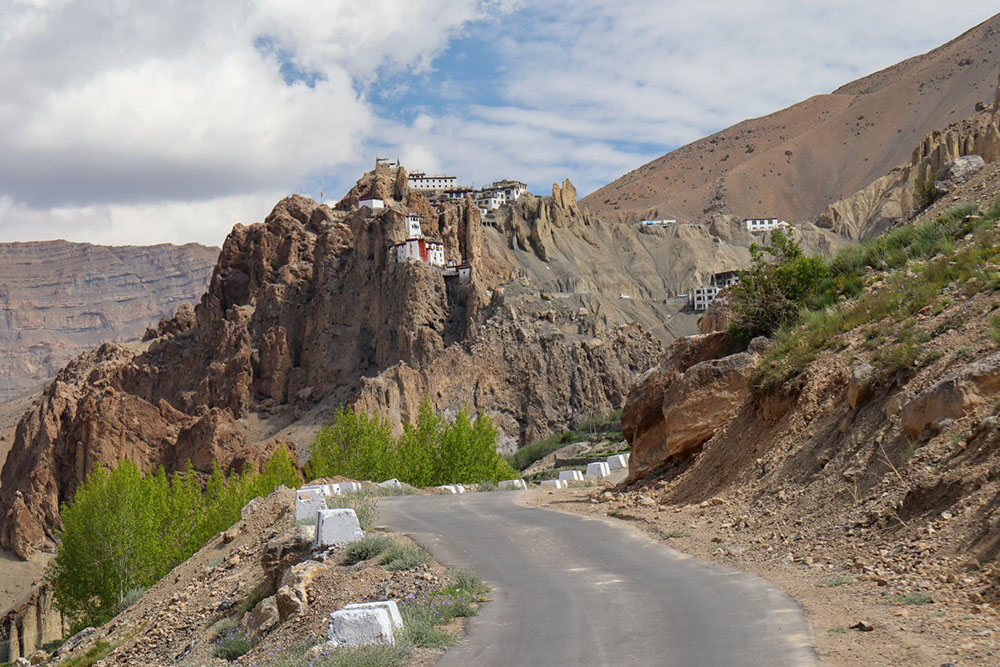 We know that Kaza is the headquarters and the biggest town in Spiti valley now. Actually, it wouldn't be wrong to call it the only town in the valley since the rest all are just small villages. But did you know that this was not the case always? In old times, this credit belonged to another. I am talking about Dhankar Village which may seem to have been forgotten now but was once the capital of Spiti Valley; the seat of power of the Nono kings who once ruled Spiti. Surprised?
Also Read: How to Plan a Trip to Spiti Valley – A Complete Travel Guide
Dhankar Village is located at a distance of about 34 kilometers towards Kaza. It is a small village, a group of just about 70 odd houses. At an altitude of 3,894 meters (12,774 feet), it is now best known because of the monastery located here but Dhankar was the capital of Spiti for many years until the needs of the modern days saw the capital shifted to Kaza.
The village is located on a ridge and that is possibly why it was the capital in earlier days because the location would have made it easier to defend it against an invasion.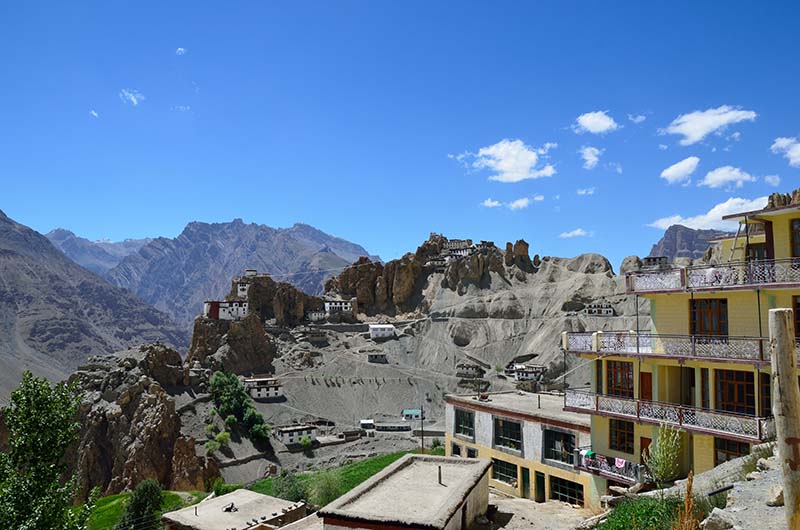 Dhankar Village Spiti
The word 'Dhang' means Cliff and the word 'Kar' means fort. So the very name of the village is 'a fort on the cliff. Capital anymore or not, Dhankar still holds great value in terms of religious significance and tourism. It commands a stunning view of the Spiti river, sky-touching mountains, and the entire valley around.
It is one of those offbeat tourist spots that is only known to unconventional travelers. The regular tourist crowd will never venture in its direction and that is what makes Dhankar so special.
The old Dhankar Monastery is a sight to behold due to the way it has been built. Another added advantage of visiting Dhankar is the small yet beautiful lake which is located just a short walk away. So if you are visiting Spiti Valley, Dhankar is a place that you must not skip.
Also Read: How to Handle AMS in Spiti Valley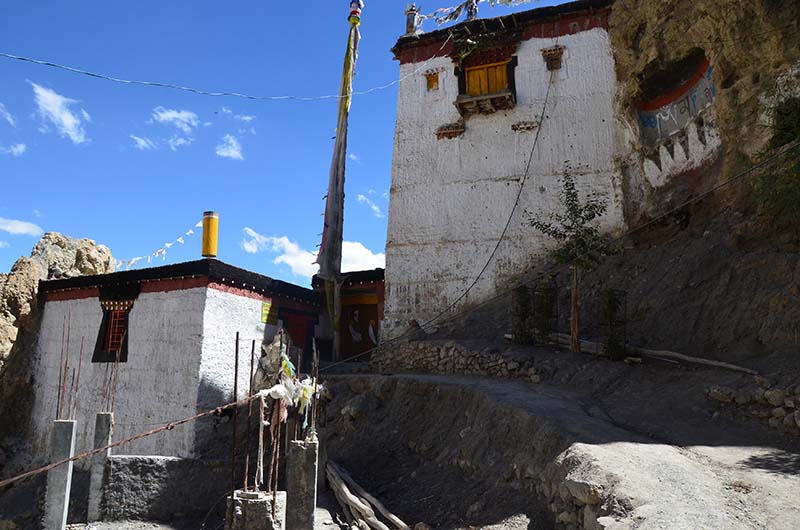 How to reach Dhankar Village
Dhankar Village is located in Spiti Valley at a distance of 39 kilometers from Kaza. As you travel from Kaza to Shimla, you will first reach Attargo Bridge and then Shichling. A little after Shichling, a road will climb uphill to your left. From this point, you will drive uphill for about 9 kilometers to reach Dhankar.
The village is not located on the main highway. The road ends there which means that after visiting Dhankar, you will have to drive back the same to the highway.
If you were coming from a place like Delhi or Chandigarh, you can take two routes to approach Dhankar Village and Spiti Valley. The first route is via Shimla which remains open for all 12 months, whereas the second route is via Manali and remains open only from late May to Mid October.
Via Shimla
Assuming that you started from Delhi, your journey via Shimla will look like this.
Delhi – Ambala – Shimla – Narkanda – Rampur – Pooh – Nako – Tabo – Dhankar Village
Traveling this way, it will be a total of about 700 kilometers till Dhankar, depending on where you started from in Delhi. It is ideally a 3 days journey but can be done in 2 days as well. For a 3 days itinerary, you will stay at either Shimla on Day 1, Reckong Peo or Kalpa on Day 2, and reach Dhankar on Day 3.
If you want to cover the distance in 2 days, you will have to start really early from Delhi and reach either Narkanda or Rampur on Day 1. From there, you can again start early on Day 2 and arrive at Dhankar.
Also Read: The Mummy of Spiti Valley
Via Manali
If you were coming via Manali, the route will be like below.
Delhi – Chandigarh – Manali – Rohtang Pass – Kunzum Pass – Kaza – Dhankar
The reason why this route remains open only between late May to Mid October is because of the two high altitude passes in between. After October, it starts to snow at both these passes and by January and February, it accumulates as high as 50 ft of snow.
Assuming that the road was open and you were taking this route, the journey can be done in 2 days with a night halt at Manali on Day 1. You will also need to ensure that you obtain a permit for Rohtang Pass without which, you will not be allowed to cross the pass.
An ideal way for the journey will be to arrive in Kaza on Day 2 and stay there for the night. From Kaza, you can then may a day trip to Dhankar on Day 3 while covering other nearby places as well.
How to reach Dhankar Village by Bus
Even if you were not traveling by your own vehicle, you can easily reach Dhankar by using public transport. There is a regular bus service in Spiti that keeps the valley connected both internally and with the outside world. The frequency of the buses is not that great but there is at least one bus available on daily basis to all areas of Spiti.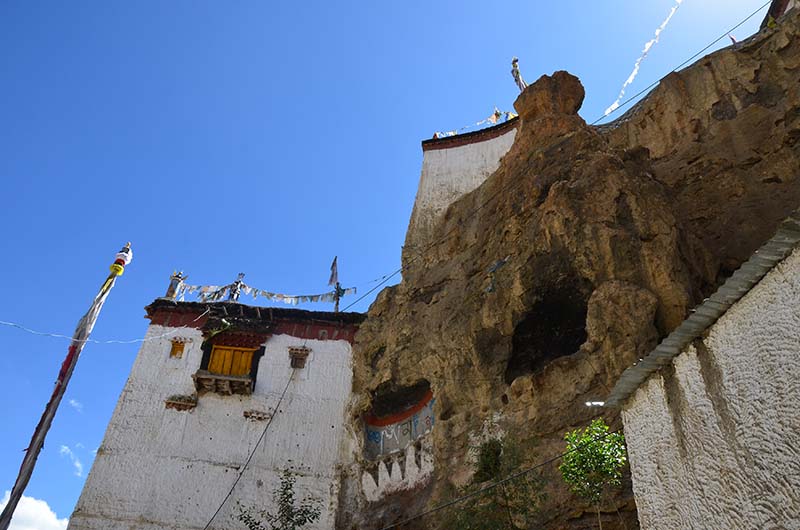 Shimla to Dhankar Bus
If you were coming from Delhi, you will first board a bus for either Shimla or directly for Reckong Peo. For both these places, buses are available from ISBT Kashmere Gate. From Chandigarh as well, you can easily find a bus for both Shimla and Reckong Peo.
Once you reach Shimla (or Peo), you will then board the Kaza bound bus that leaves early in the morning. This bus passes through villages like Rampur, Pooh, Nako, Tabo before reaching Kaza by evening. Traveling by this bus, you will get off at the point where the road towards Dhankar bifurcates. For the last 9 kilometers of your journey to Dhankar, you will either have to look for a shared cab or hitchhike.
Also Read: Schedule of Bus Service in Spiti Valley
Manali to Dhankar Bus
If you were planning to travel via Manali, even then the strategy will pretty much be the same. From Delhi or Chandigarh, you can first board an overnight bus for Manali which arrives early in the morning. From Manali, you will then board the 7 AM HRTC bus for Kaza which will reach Kaza by evening.
You will stay in Kaza for the night and the next day, the best thing to do would be to catch a shared cab for Dhankar. If not a shared cab, you can also catch the daily morning bus to Reckong Peo. This bus will drop you on the highway near Dhankar and then you can hitchhike for the rest of the way.
Dhankar to Kaza Bus
There is no direct bus between Dhankar and Kaza. You will have to travel down from the village to the main highway by either hitchhiking, shared cab or walking. From the highway then, you can board the daily Reckong Peo to Kaza bus, if you were on time. If not, you will have to look for a shared cab or hitchhike for the rest of the journey as well.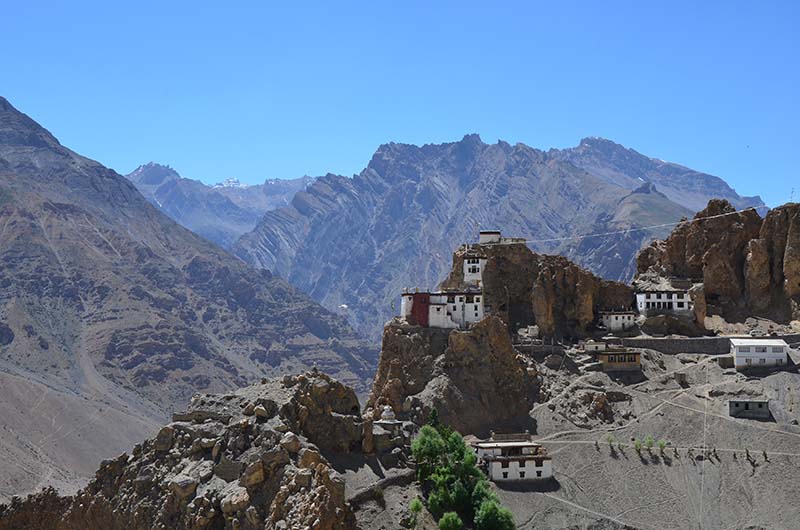 Places to visit in Dhankar
Dhankar is just a small village and as such, there is no long list of tourist places to visit in Dhankar. The natural beauty and tranquility of the place are its prime attraction. With that being said, there are a couple of places that are worth a mention.
Please note that in this article, I am covering tourist places in Dhankar Village only. I am not listing other tourist attractions in the rest of Spiti Valley. I have covered this information in another post What to See in Spiti Valley and Its Vicinity that I will urge you to read.
Dhankar Monastery
There are two monasteries in Dhankar, the new and the old one. Of the two, the old monastery is an ancient one and is definitely a wonder in itself. The word 'Dhang' means Cliff and the word 'Kar' means fort. So the very name of the village is 'a fort on the cliff' and the monastery definitely justifies it.
The complex is built on an approximately 300 meters (1000 ft) high edge of a mountain, overlooking the confluence of Spiti and Pin Rivers.
The monastery was built as a fort monastery and the whole setting is truly spectacular. A statue of Vairocana consisting of four figures seated back-to-back is among the notable sights at Dhankar Gompa.
The monastery also has various thangkas and a small museum. The views from this spectacular 1200-year-old Gompa are phenomenal. The lamas have now moved into the new monastery and no longer live in the old one.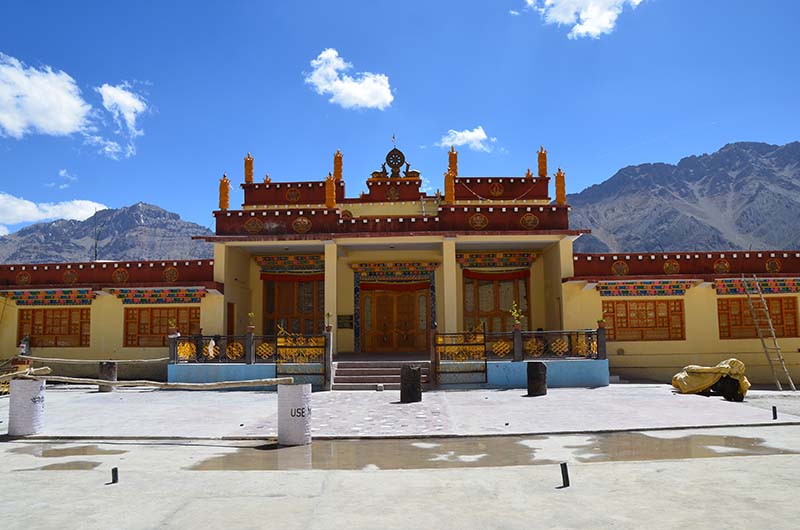 Dhankar Palace
Standing in ruins now, Dhankar fort is a mud-brick fort-palace located on the hilltop above the Gompa. During its days of glory, it once sheltered the entire valley's population against invasions and during times of war.
It is said that the whole design of the monastery and the fort was such that it enabled lamas and people to sit in the monastery or in the fort throwing stones at invaders. Even today, you can get a really wide and panoramic view of the valley from the fort.
Dhankar Tso / Dhankar Lake
Dhankar Lake is a high-altitude lake located about 2 kilometers away from the village. It lies at an elevation of 4,140 meters above the monastery and can only be reached after a steep and somewhat difficult walk. The trek to the lake starts across the road from the new monastery. It will take you about 2-3 hours to get to the lake, spend some time and come back.
Is the lake worth the effort? I would say that yes it definitely is. It is a freshwater lake and offers really beautiful reflections of the mountainscape and the Chortens. You can easily cover the lake while traveling towards Kaza. Or you can make a day trip and cover the lake with other tourist places in the area.
The lake is also a great spot for camping. There are however no campsites here so you will have to bring your own gear all the way. Standing on its banks, you can also get a magnificent view of Manirang Peak (6593 meters), one of the highest peaks in all of Himachal.
Also Read: How to Plan a Visit to Chandratal from Kaza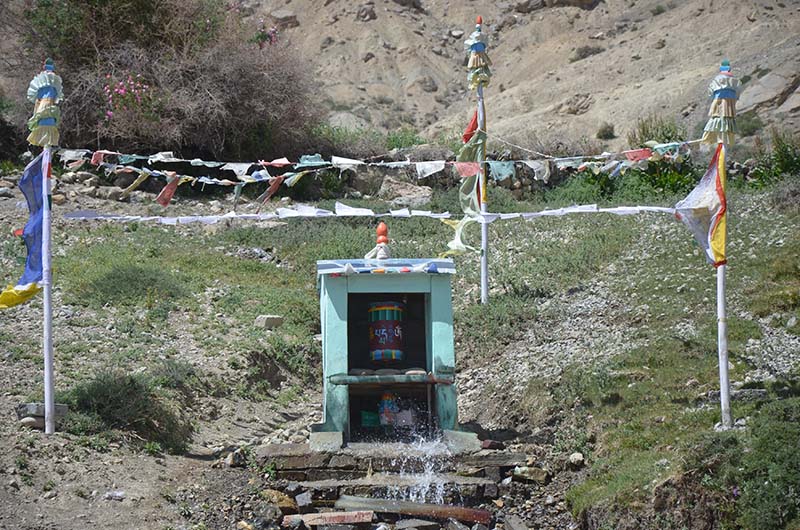 Things to do in Dhankar Village
Aside from visiting the above-mentioned places, there is not much left to do in the village but that is exactly what you should be visiting here for. You do not find a calm and serene place to relax often, especially in a country like ours where there are always people around, where there is always either the sound of the traffic or someone talking nearby.
But Dhankar is different; Dhankar is far away from all that. All that you get to see here is the confluence of two mighty rivers from the top of a hill. All that you get to listen to here is the calming silence accompanied by the sound of the monastery bells.
If you were up for a little brisk walk and did not mind the rough trail, you can definitely trek to Dhankar Lake. I will recommend doing it in the morning before the winds disturb the water. Early morning, when the waters are calm, you will get an amazing reflection of the nearby hills in the water.
Photography will be the next best thing to do here. For that as well, try to get some shots at either dusk or dawn. I am saying that because the sun is really harsh here in the day and tends to ruin the shots. The pollution-free skies at night will present you with countless stars to gaze at. It is also a perfect opportunity to get some pictures of the Milky Way and star trails if you were carrying a capable camera.
If none of that appeals to you then just sit back, relax, take a walk through the village, talk to the locals, listen to their tales, sit down with the monks, observe their lifestyles, discuss their views and get wise.
Weather of Dhankar
Cold, harsh, and unpredictable are the words that describe the weather of the entire Spiti valley the best. It remains to be cold throughout the year. Even in the months of May and June, you will need a heavy jacket after the sun starts to go down or before it comes up. The weather gets even colder during winter and in the months of January and February, the entire valley experiences extreme temperatures like -20 degrees Celsius.
Summers here are mostly pleasant though. The days are warm and sunny with clear skies. The only catch at this time is the sun which is very harsh. You must find a sunblock lotion of the highest SPF and apply it regularly if you do not want to get some serious sunburns.
Spiti is in a rain shadow area so it either does not rain here at all or rains just a little. The roads leading to Spiti via Kullu and Kinnaur however receive incessant rains, enough to cause landslides and block roads.
Best time to visit Dhankar Village
Now based on the information above, I believe it is safe to say that the best time to visit Dhankar is anytime between May to September. The roads will be all open and you can get here either via Shimla or Manali, depending on your preference. You can in fact start from one end of the valley and exit via the other, covering the entire circuit.
The weather will be pleasant enough and as long as you are carrying plenty of sunblock lotion, some cold cream, lip balm, and some woolens, you will really enjoy your trip.
A lot of people think of planning a winter trip to Spiti but I will warn against it if this was going to be your first time here. Visiting Spiti in the middle of the winter is for someone who has been here a few times before and is familiar with the area and the terrain.
If you are going towards Spiti for the first time, best do it between May to September only. Even during this window, the months of May, June, and September can be called the best.
Also Read: Festivals of Spiti Valley
Clothes to Pack for Dhankar Village

What kind of clothes to pack will depend on the time of your travel. If you were traveling between April to September, then some regular cotton clothes with light woolens and a good quality jacket will suffice. During the day, you will actually not need woolens and warm clothes at all. As the sun comes up in the sky, things get pretty warm and you will actually start feeling hot.
If you were planning a trip between October to March, you must pack all your heavy woolens. Thermals, good quality gloves, warm socks, muffler, and monkey cap will be an absolute necessity for a winter trip. You will be experiencing cold as you have never done before and your packing must really be accommodating.
The trick for packing clothes for Spiti, for any time, is to pack in layers. You should bring clothes that are not too tight and can be worn on top of one another. That way, you can add layers of clothes if you were feeling cold or remove layers if you were feeling warm. When packing clothes, you should also ask yourself if you can sleep in those clothes if required; and can you wear them all day long without getting uncomfortable.
Also Read: What clothes to Pack for Spiti Valley Trip
Where to stay in Dhankar Village

The monastery at Dhankar does not allow night stay and they have no provisions for it. I am adding this information first because it is one of the most common questions I get asked about Dhankar. If you want to stay at a monastery, then you should try your luck at either Tabo Monastery or Key Monastery.
Dhankar Homestay
With that being said, accommodation at Dhankar will not be a problem at all as long as you keep your expectations low. There are no fancy hotels or guesthouses here. The only choice of stay available in the village is a homestay.
There are a few of them here. Manirang Homestay and Tenzin Homestay are to name a couple and both of them are near the monastery itself. Just talk to the locals and they will be happy to allow you to stay in their homes as a guest.
Also Read: How to Prepare your Bike for Spiti Valley
Hotels in Dhankar
There are no hotels in Dhankar. There is a guest house by the name of Dhankar Monastery Guesthouse but that too is very basic. Other than this, there are only homestays available.
Mobile Phone and Data Connectivity
BSNL is the only network that will work in Dhankar and that too not regular. I have been in the village with BSNL, Jio, Vodafone, and Airtel phones and got network only with the BSNL phone. However, the network kept coming and going. When it held long enough for me to make a call, the clarity of the voice was really bad. However, I was able to send text messages out easily.
However, in case of an emergency, there is a landline phone available in the new monastery.
There is no data reception in Dhankar. Just assume that there will be no internet here at all, not even at its slowest speed. For more information, please read Mobile Network & Data Connectivity in Spiti Valley
Petrol Pump / Mechanics
The nearest petrol pump is in Kaza. There are no mechanics as well in Dhankar.
Shopping in Dhankar Village
There is nothing to buy in Dhankar village. For shopping, I will strongly recommend trying your luck in Kaza instead. For more information on what you can buy during your trip to Spiti, please read Shopping in Spiti Valley – What to Buy & Where.
Medical Assistance / Hospitals
There are no hospitals available in Dhankar. You will either have to go to the primary health care center in Tabo or to Kaza for any medical assistance.
Where to Eat in Dhankar Village
There are no fancy restaurants or eateries to try. Your best bet would be to eat at the homestay or guest house you are staying at. The homestays usually include meals in per day tariff but it would be wise to clarify this with the owner first. Ask if they will be serving food if the meal cost is included in the money you are paying for accommodation and if yes then how many meals. To know about what kind of foods you should try while in Spiti, please read Food Items to Try during your Spiti Trip.
Dhankar Village – Conclusion
I hope the information above on visiting Dhankar Village was of help. If you have any questions; or need any other details; please feel free to ask in the comments section below, or at our Community Forum, and I will be glad to answer.