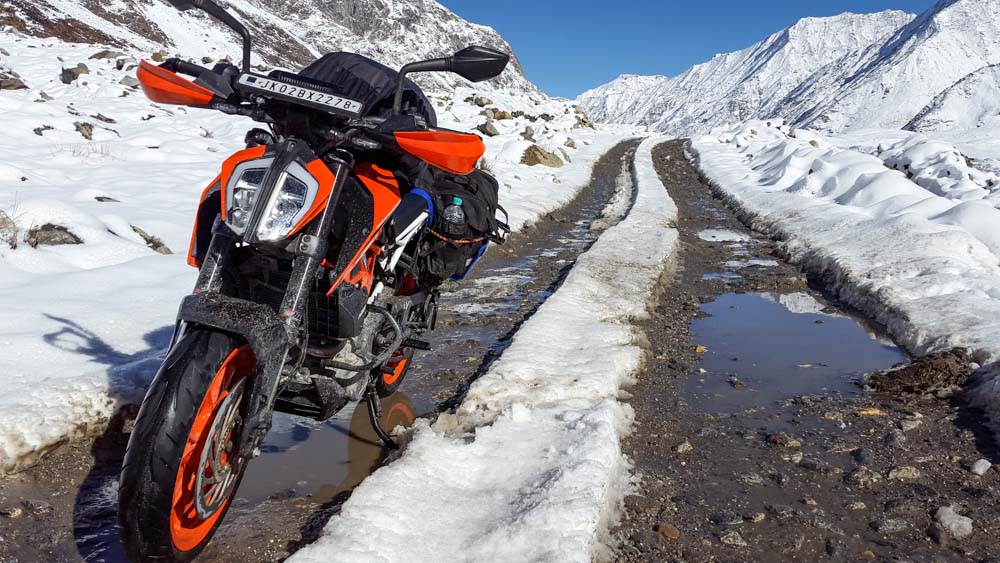 Can we go to Leh Ladakh in April? The answer to this question is a definite yes. April marks the beginning of the Spring season in the hills. With the changing weather, all the snow at high altitude passes starts to melt and BRO works rigorously to open the roads as early as possible.
Winter starts to fade away in April. The locals prepare for the upcoming tourist season. It may not be the best time to visit Ladakh but there are certain charms and benefits that only the month of April can offer you.
Things will not be as crowded as they get in the later months. The chances of finding budget accommodation will be higher and you will get to see plenty of snow all around.
How you can plan your trip to Ladakh in April and what are some of the things that you should keep in mind is what I will provide details on further in this article. For more details on visiting Ladakh other than in the month of April, you can also take a look at How to Plan a Trip to Ladakh – A Complete Travel Guide.
To organize your trip to Ladakh, book a taxi, rent a bike, or get the best hotel rates, you can contact Kunal @ 9910402252. From luxurious hotels to budget stays, he can help get you the best rates possible.
How to Plan a Trip to Leh Ladakh in April
 The first and most important thing here to know is that a road trip to Ladakh in April highly depends upon the weather conditions. Srinagar Leh highway is the first to get declared open in either April or early May, followed by the Manali Leh route in late May to early June.
So before you finalize your plan, wait until at least mid of March to get an update on the road opening. However, if you were planning to catch a flight to Leh City, you are free to plan at your convenience in April. Read on to find out more.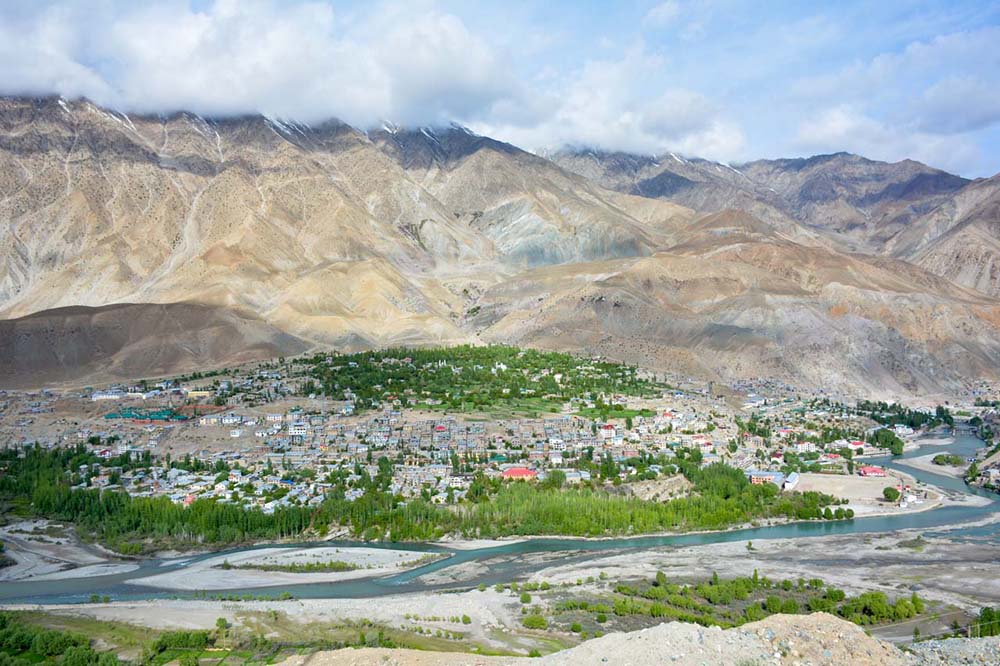 How to Reach Leh Ladakh in April
Let us first talk about how you can reach Ladakh in April. Your options in all probability will be limited to either catching a flight or driving on your own via Srinagar. Let us take a look at these options in detail.
Srinagar to Leh in April
Historically, the Srinagar Leh highway is declared open sometime in April, either towards the mid of it or the end. There have been instances when it opened even earlier than that, in March itself, but the chances of that happening are rare.
Even if the road did open early, it is always followed by temporary closures. Zojila Pass receives snow even in the month of April so it is highly possible that the road may get closed again for a couple of days until it was safe to travel again.
To be on the safer side, if you were planning to reach Leh via Srinagar in April, keep your plans towards the end of the month. Before you do that, make sure you check the status of the road and the traffic timings around Zojila Pass. You can refer to Srinagar Leh Highway Status, Road Conditions & Updates to get the latest word on it.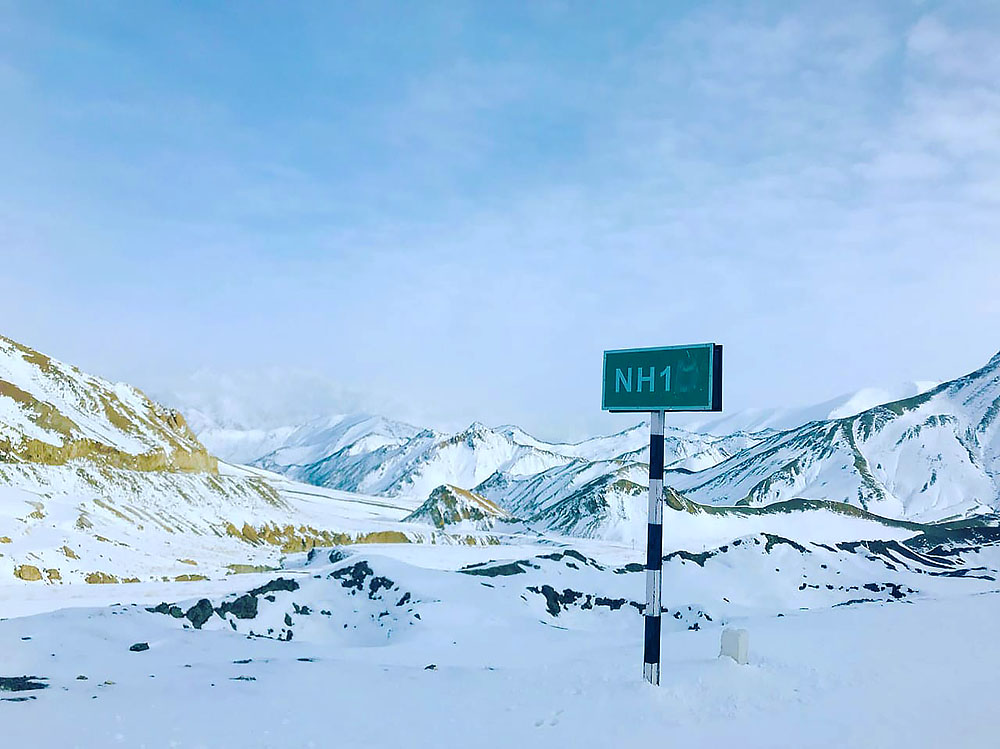 Manali to Leh in April
Manali Leh highway remains closed in April. Road clearing operation by BRO remains on throughout the month but civilian traffic is not allowed. There is absolutely no way that you can plan a journey on Manali Leh Highway in April. Even the Manali Leh Bus will not be operational until June 15th.
By Public Transport
There is no public transport available to Leh in April. Even if the Srinagar Leh route was opened early, the bus service will not resume at least until May due to safety reasons.
Private and shared cabs from the Srinagar side may become available but entirely depends on the status of the road and its condition.
By Flight



So your safest bet to travel to Leh Ladakh in April would be by Air. This is the only way you can be sure that your plans would not be at risk of getting canceled. If you booked a few months in advance, then you may even get a good deal on the flight tickets.
Local Commute
After you arrive in Leh, for your local commute, you can either hire a private taxi, rent a bike in Leh or travel around by public transport. A private taxi will be the most comfortable and easiest way to travel but it will also be the costliest. Take a look at Leh Ladakh Taxi Rates List to get an idea of how much it will cost you.
A bike is a good option if you have plenty of biking experience and you know how to handle it in the hills. It will also not cost you as much as a taxi.
Buses from Leh to other parts of Ladakh like Nubra Valley and Pangong Lake become operational in April. Even if there was no bus available, you should still be able to find a shared cab from the Leh bus stand.
The only catch is that the number of shared cabs becomes greater towards the end of the month. If you were traveling in the early part of the month, you may struggle to find both a bus or a shared cab.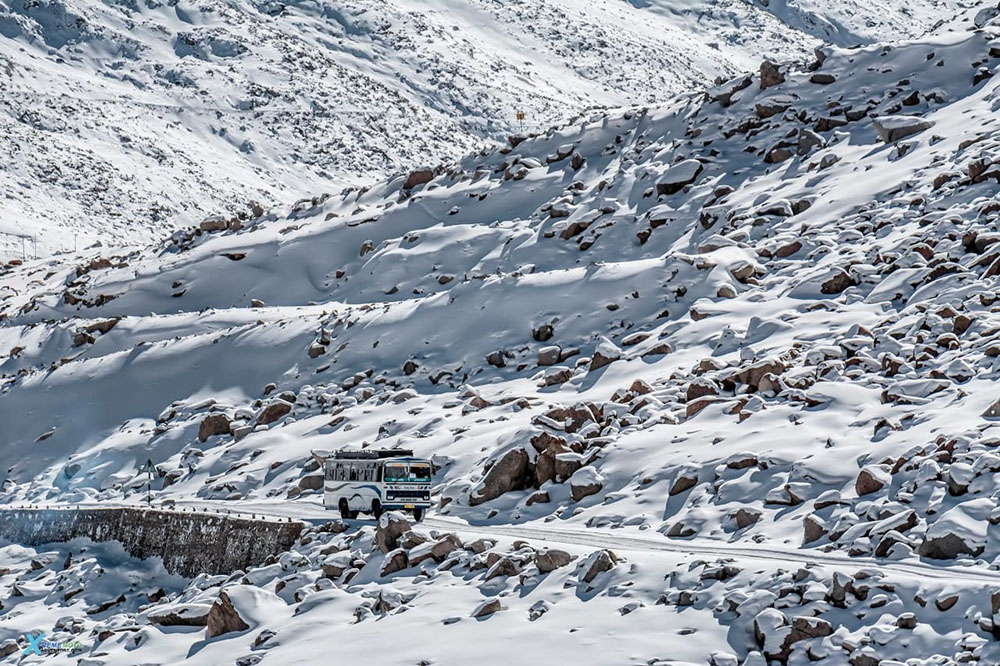 Where to Stay
The face of tourism in Ladakh is rapidly changing. Until a few years ago, the majority of the hotels and guest houses will remain closed in early April, both in Leh City and other areas of Ladakh. But that is not the case anymore.
If you were to visit Ladakh in April now, you will find the majority of the hotels up and running and will have no problem finding a place to stay.
Most of the hotels in Leh will start accepting guests in April. Depending on your budget, you may have to ask around a bit but will definitely find a place to stay to your liking.
As a matter of fact, since there will not be too many tourists around at this time, there is a great chance that you may actually get a good deal. The same logic applies to other places like Srinagar, Kargil, Sonamarg, and Drass as well.
Whether or not to book in advance is a personal choice entirely. If it gives you peace of mind, you may call in and book a room. Otherwise, you could just arrive here, find a hotel per your liking and negotiate an on-the-spot deal.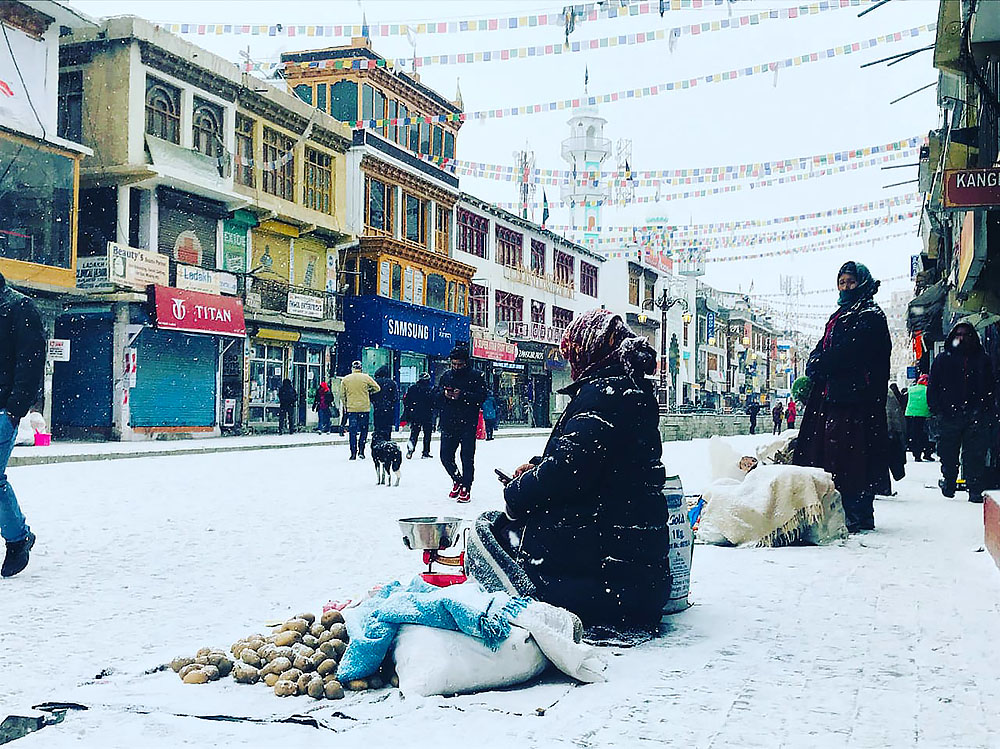 Places to Visit in Ladakh in April
Let us now talk about places to visit in Leh Ladakh in April. As I was just discussing, all the internal roads will remain connected so you can pretty much cover all of Ladakh and visit all the places you want to see.
The only hitch in the plan could be that if you were traveling in early April and if it snowed at any of the passes en route, the road may close temporarily and you may not be able to travel to your desired destination.
But the chances of that happening are quite less in April. Let us take a look at the places one by one.
Nubra Valley in April
Nubra Valley remains open in April completely. The critical road to Siachen Base Camp runs through Nubra valley due to which, Indian Army keeps it open all year long. Even if it snowed at Khardung La and the road shut down for a while, BRO will clear it and restore connectivity as soon as they can.
So during your Ladakh visit in April, You will be able to visit all the local villages like Diskit, Hunder, Turtuk, Sumur, and Panamik.
In terms of accommodation, I would recommend that you plan to stay at Diskit for the night. It has the greatest number of hotels in the valley and considering the cold weather, finding a good enough hotel that suits your needs will be easier here.
But this is just an option though. Even in other places like Hunder, Turtuk, and Panamik, you will easily be able to find a place to stay. For more information, please read How to Plan a Trip to Nubra Valley.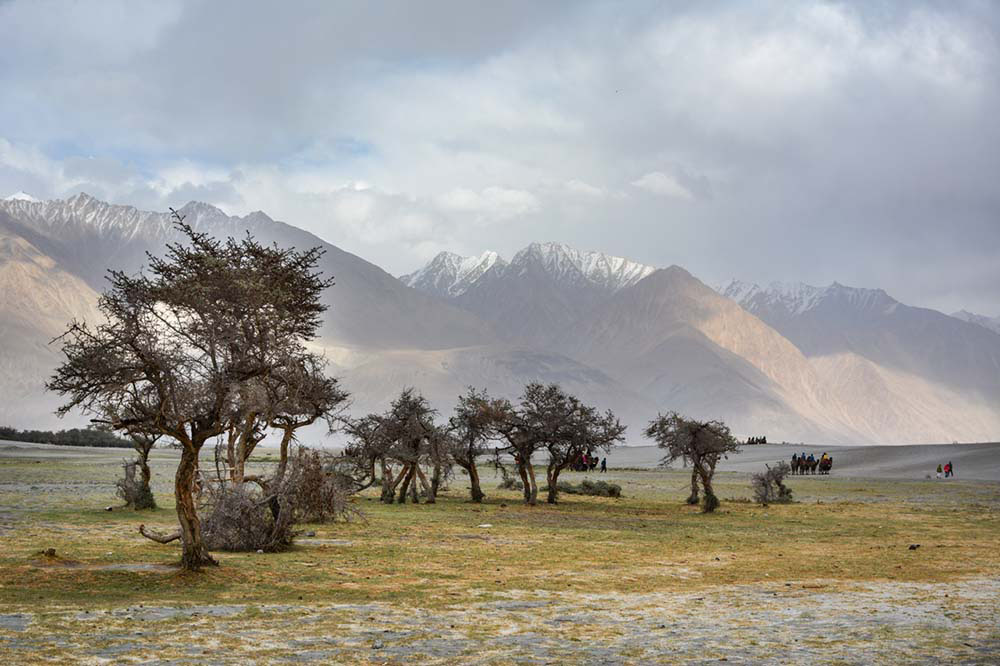 Pangong Tso Lake in April
If you were hoping for a completely frozen Pangong Lake, then you will not find it so in April. The Lake freezes over towards the end of January but starts to melt by the end of March. In April, it is more blue than white.
The good news, however, is that you will be able to visit here with no problem at all unless it snowed at Chang La and the road got closed temporarily.
In terms of accommodation, all of the campsites may not be available so early in the season. In this case, you will have to stay at a guest house in Spangmik, Man, or Merak villages.
But if you were visiting Pangong Lake at the April end though, campsites too will be operational and you will have no problem finding a place to stay.
The Shyok route is the one that connects Nubra Valley and Pangong Tso. Taking this road, you can travel directly between the two places without having to back to Leh City.
Earlier, this road used to remain closed until June but now, even this route will be open in April. You can reach Nubra and then go directly to Pangong from there. For more details, please read How to Travel from Nubra Valley to Pangong Directly.
Tso Moriri in April
Like Nubra and Pangong, Tso Moriri also remains open in April but it too will not be in a frozen state. Your chances of finding accommodation here are actually even better than at Pangong as there are a lot of guesthouses and homestays in Karzok.
Campsites in all probability will only be available only by the end of the month. For more details, please read How to Plan a Trip to Tso Moriri.
Visiting Tso Kar may not be possible this early in the season. The high-altitude pass of Tanglang La remains closed in April so you will not be able to cross it and get to the other side on Moore Plains, to reach Tso Kar.
You can get there though from the Tso Moriri side but will then have to go back to Karzok itself. There will also not be any accommodation available at Tso Kar at this time.
Chushul Route & Hanle
The route via Chushul is the one that you can take to travel directly to Tso Moriri from Pangong Lake without having to go back to Leh City.
You will travel from Pangong to Chushul via Man and Merak. After Chushul, you will take the road via Tsaga, Loma, Nyoma, Mahe, and Sumdo to arrive at Karzok (Tso Moriri). Please read How to Plan a Trip from Pangong to Tso Moriri for more details.
This route also remains open in April completely and you can easily travel on it if you had a car with good ground clearance.
Hanle is a small village that is located near Chushul. To get here, you will have to take the Hanle road from Loma, a stretch of about 50 kilometers.
An ideal way for the journey would be that you reach Loma from Pangong Tso and go to Hanle to spend the night. From Hanle, on the next day, you will then return to Loma and continue to Tso Moriri.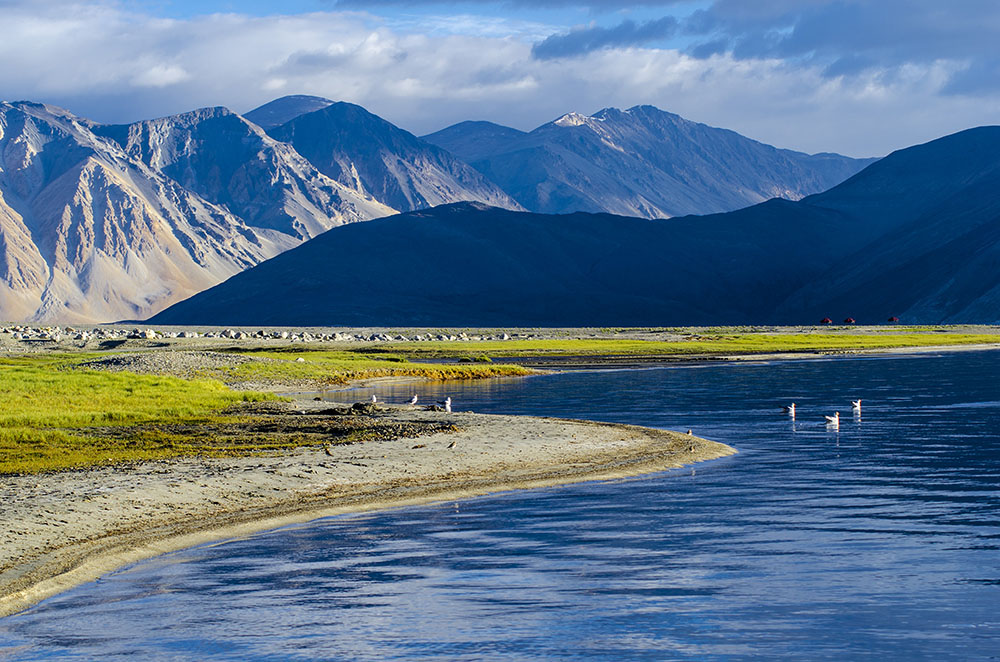 Leh to Kargil Route & Sham Valley
The road from Leh to Kargil remains open all year long. So yes, you will be able to travel on this road even if the Srinagar Leh highway was not entirely open.
You can catch a flight to Leh and then plan a road trip to Kargil while visiting places like Gurudwara Patthar Sahib, Indus Zanskar Confluence, Magnetic Hill, Mulbekh Maitreya, Moonland, and Lamayuru Monastery on the way.
Sham Valley also remains open at this time and you can easily plan a trip here as well during your travel to Ladakh in April. Hemis Shukpachan is the village where most tourists stay overnight in Sham Valley.
Umling La
You may not be able to reach Umling La Pass in April if traveling early in the season. Due to its altitude, the pass gets buried under the snow in the winter season. You may be able to get to Hanle but will have to keep Umling La out of your itinerary.
If you were traveling in the later part of the month, you may be able to cover Umling La as well depending on the weather and the road conditions.
Zanskar Valley in April
You cannot reach Zanskar Valley in April. You can get to Kargil from Leh but the road ahead to Padum will definitely be closed at this time. Since you cannot also take the Chadar trek route, there is absolutely no way to access Zanskar in April.
This, however, depends highly on the weather. If there was less snow in the winter, the road from Kargil to Padum can actually be declared open in April as well. But even at the earliest, it will only be after 15th April.
Snow in Ladakh in April
There are two ways to look at it. If you were hoping to catch a live snowfall in Ladakh in April then your chances are brighter if you went in the early part of the month.
At this time, there will be a good amount of snow on the ground, at the passes, and along the routes. If you were lucky, it may even snow while you were still there.
But if you went to Ladakh in April end, then the chances of snowfall are much less. If you were, however, thinking about finding snow on the ground; then you can go in any part of the month and will still find plenty of snow at the high-altitude passes.
There will be no snow in the lower areas like Leh and Nubra Valley though. The snow would be mostly all gone from the lower areas but there will still be plenty of it in the higher reaches. For more information on this, please read When is the Best time to visit Ladakh.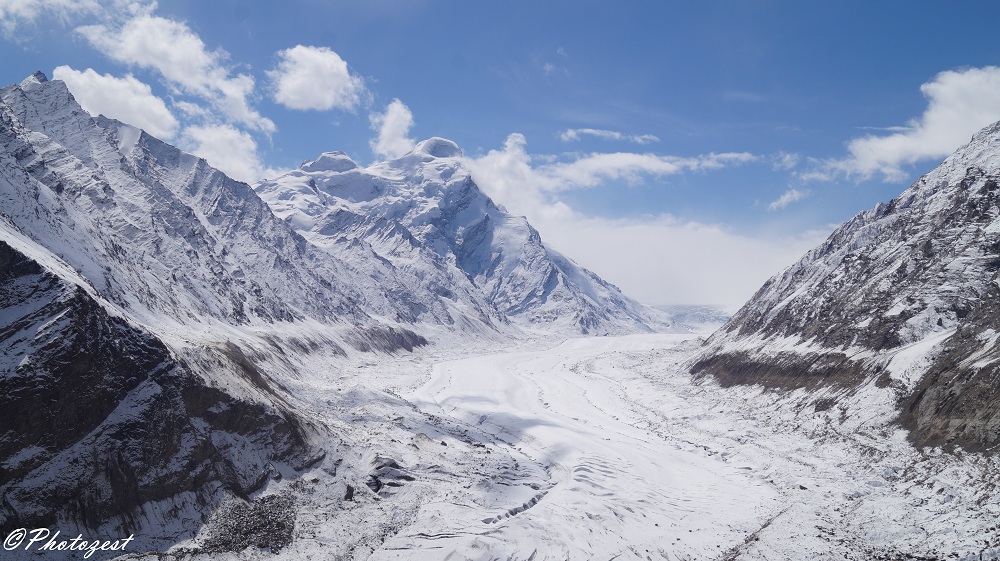 Leh Ladakh Weather in April
Leh Ladakh in the month of April will still be cold. It will not be on the extreme side like in the months of peak winters but still enough to leave you shivering. Days will be pleasantly warm but nights will definitely be freezing still.
It will also depend on the time of your visit. If you were visiting in early April, it will definitely be colder than towards the end of the month. The temperature will be around 10 to 15 °C maximum and 0 °C on the minimum side.
Other than the time of the month, it will also depend on which part of Ladakh you were in. The temperature around water bodies like Pangong and Tso Moriri will drop down to around -5 °C (or even further down) even in April.
Clothes to Pack
What kind of clothes to pack for Ladakh in April? There are two aspects to it. The first is that you will definitely need warm woolen clothes but the second side is that you cannot pack all heavy woolen only.
The weather in Ladakh at this time is a bit tricky in the way that it will be warm during the day and cold during the night. You will feel hot standing in the sun but will feel the chill standing in the shade.
If you were in the town of Leh, you will be comfortable but if you were at the top of a mountain pass like Khardung La, you will definitely be shivering.
So your packing must be in a way that you are able to handle all kinds of situations. For example, if it was me, I will pack a pair of thermals, regular cotton clothes, some light woolens, and a heavy jacket. I will definitely not pack any tight or body-hugging clothes.
What I did here was to pack my clothes in layers that I can wear on top of one another. If I was cold, I can just add another layer of clothes, and if warm, remove a layer until I was comfortable. Good quality gloves, warm socks, a monkey cap, and a muffler will also be required.
Some other helpful items can be a pair of sunglasses, lip balm, cold cream, moisturizer, and some regular cold, flu, stomach ache, and headache medicines. For more details on this, please read Clothes for Ladakh Trip – What to Pack.
What to do in Leh Ladakh in April
Other than visiting all of the places I mentioned above, there isn't much else left to do actually. Rafting in Ladakh in April is not possible because the water will be too cold and not suitable.
If you are into trekking, you can try a few treks in Sham Valley. Please read How to Plan a Trip to Sham Valley for more details on this.
You can also rent a motorcycle (if you reached by flight) and enjoy biking to your favorite places. There will be plenty of snow left at the top of the passes like Khardung La and Chang La.
If you were lucky, you may even catch a live snowfall in the earlier part of the month. So yes, if you were traveling with family, having some fun in the snow will definitely be a thing to try.
Experiencing the local culture of Ladakh is one of the best things to do here. It is a mix of Tibetan, Indian, Kashmiri, Buddhist, and Muslim cultures and is really unique.
You must also try eating out at the restaurants in Leh and try some local dishes. For more details on this, please read What to eat in Ladakh – Foods you must try in Ladakh.
Shopping should also be on your list. Though the markets will not be at their best in April since it is just the beginning of the tourist season, you can still buy some local stuff as a souvenir. Please read Shopping in Ladakh – What to buy in Ladakh for more details on this.
Festivals in Ladakh in April
There are no festivals celebrated in the month that I am aware of. There could be a local festival in any of the small village monasteries but not in Leh City or any other major tourist spot. For more information on festivals in Ladakh and their dates, please read the Details & Dates of Festivals in Ladakh.
Camping in Ladakh in April
Campsites in April will mostly be limited to either Pangong or Tso Moriri. There will be no campsites at this time on the Srinagar-Leh route and Manali to Leh will be closed anyway.
However, you can definitely pitch your own tent if you were carrying all the necessary gear. Just make sure you bring in the best quality sleeping bag to keep you warm in below-0-degree temperatures.
You can also rent camping gear and sleeping bags in Leh City as well. For some more tips on camping in Ladakh, please take a look at Tips for Self-Camping in Ladakh.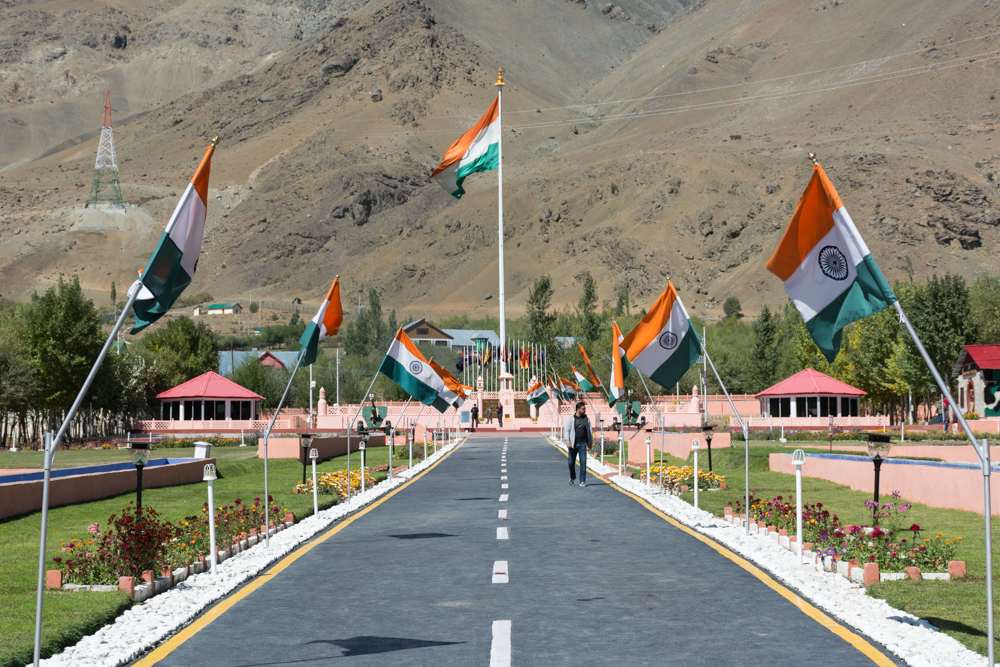 Mobile Network & Data Connectivity
BSNL has the largest network in Ladakh and works even in the remotest areas. The problem however is that the voice clarity may or may not be that good. The network is intermittent and will come and go as it pleases. Data connectivity would either be slow or not available at all.
Airtel and Jio work very well in Leh and Nubra Valley with 4G data speed. You will get reception even on Leh Kargil Road with these networks.
All other networks including Vodafone and Idea only work in Leh City. You will not get any service on these networks anywhere else in Ladakh.
The most important thing to remember is that only a postpaid phone works in Ladakh. If you have a prepaid connection, it will stop working the moment you land in Leh. For more details, please take a look at Mobile Network & Data Connectivity in Ladakh.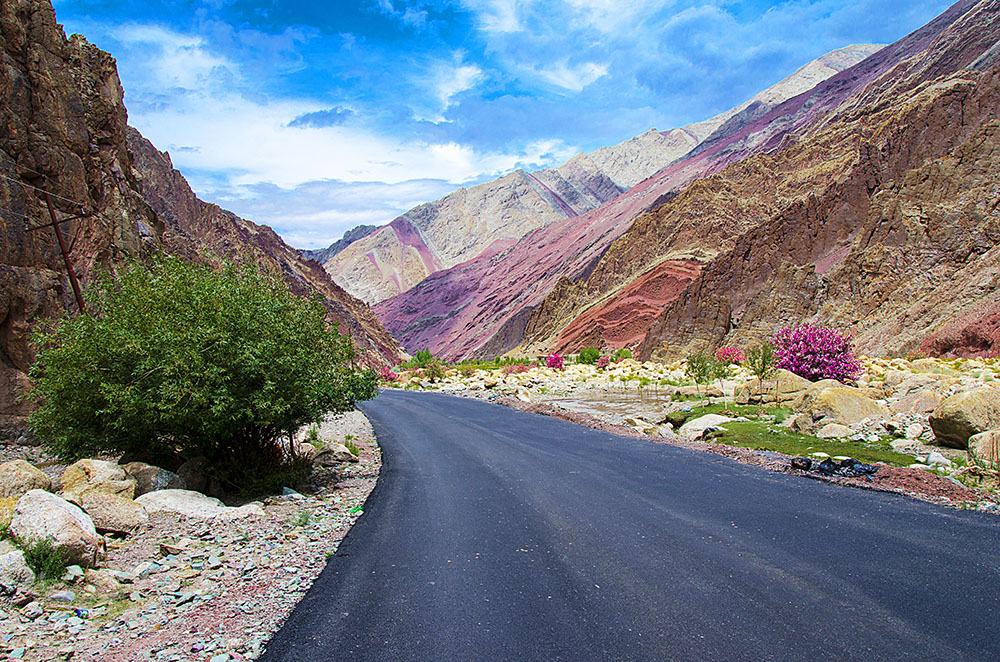 Medical Assistance
Leh has a large hospital that is capable of handling any sort of medical emergencies. I believe there is a small dispensary in Nubra Valley as well. Other than these two places, there are no hospitals or clinics anywhere else in Ladakh.
Hence, it becomes of extreme importance that you keep a close watch on how you were feeling. If you start to feel unwell, it will be in your best interest to get back to Leh and wait it out there. If your condition worsens, seek medical help immediately.
You should also carry a medical kit of your own. Include medicines for ailments like fever, cough, cold, body ache, headache, and upset stomach.
Carry a pain relief spray, an antiseptic lotion, lip balm, cold cream, moisturizer, sunblock lotion, and a few Band-Aids. In case of an emergency, you can also seek medical assistance at the nearest Army post.
Also read: Ladakh Checklist – What to Pack
Road Connectivity and Condition
Internal roads in Ladakh remain open and connected for all 12 months, except for the times when heavy snow may block the passes during the peak winter season. But in April, you will have no problem getting to any part of Ladakh from Leh City.
Manali Leh highway, of course, would be closed and since the Srinagar route would just have opened, it will be in its worst-ever shape. Melting snow would have created numerous water streams and slush all across.
The worst section, however, will be between Sonamarg and Drass in the form of Zojila Pass. You will have to tackle a lot of mud and slush while crossing over Zojila at this time. Between Drass and Leh, roads will be good with a few bad patches in between.
After you have reached Leh, roads towards Nubra Valley, Pangong, and Tso Moriri will be a mix of good and average. Bad sections will be limited to the top of Khardung La and Chang La. The presence of snow and water streams creating by melting of it will be in plenty on these routes as well.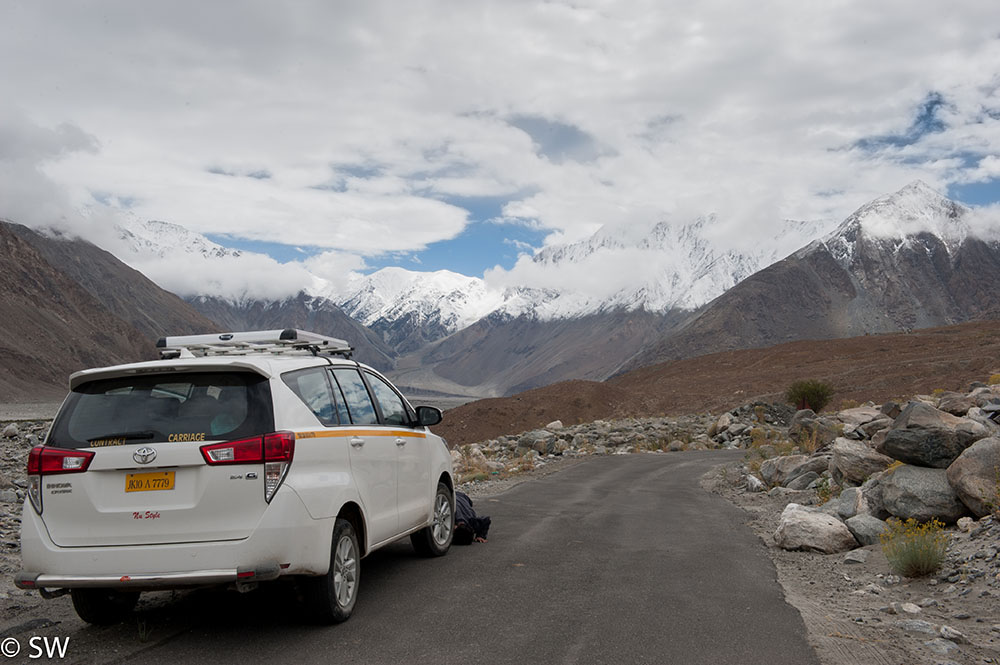 Itinerary for visiting Ladakh in April

With all of the above being said, let me suggest a sample itinerary that you can follow for this trip. Your final plan will of course depend on how many days you have in hand but it should at least give you an idea of how to plan your journey.
If reaching Ladakh by Air, below is the itinerary you can follow.
Arrive in Leh. Rest and arrange Permits – Day 1
Leh to Lamayuru to Leh – Day 2
Leh to Diskit – Day 3
Diskit to Leh – Day 4
Leh to Pangong – Day 5
Pangong to Leh – Day 6
Leh to Tso Moriri – Day 7
Tso Moriri to Leh – Day 8
Fly Out – Day 9
This of course is just a sample itinerary but it is one plan that you can follow irrespective of your time and mode of travel. The connecting roads between Nubra, Pangong, and Moriri may not be open in April in which case you will have to come back to Leh from each of these destinations.
If you hired a motorcycle in Leh or a private cab, you can follow this itinerary but in case the connecting roads are open as well, then you can travel directly between Nubra and Pangong via Shyok road; and Pangong and Moriri via the Chushul route.
If however, you were looking for a bus or shared taxi, then you will have no other choice but to return to Leh City every time. There is still no public transport available on Shyok Road, across Wari La or Chushul / Hanle route.
Leh Ladakh Road Trip in April
If you want to make it a road trip to Ladakh then there are two things you will have to keep in mind and both will heavily depend on the weather.
The first is that you must plan for the latter part of April. The second is that you must plan only via Srinagar. This too however can only happen if the weather was favorable and the Srinagar Leh route was declared open in April that year.
Below is the itinerary that you can follow. For the sake of this article, I will assume Delhi is the starting point.
Delhi to Jammu – Day 1
Jammu to Srinagar – Day 2
Srinagar to Kargil – Day 3
Kargil to Leh – Day 4
Leh – Day 5
Leh to Diskit – Day 6
Diskit to Pangong – Day 7
Pangong to Leh – Day 8
Leh to Batalik / Kargil – Day 9
Batalik / Kargil to Srinagar – Day 10
Srinagar to Jammu – Day 11
Jammu to Delhi – Day 12
Following this itinerary, when you reach Leh from Kargil on Day 4. You will do so via Lamayuru. But on your way back on Day 9, you can choose an alternate route via Batalik.
In case Shyok Road is closed at your time of arrival then you will have to return to Leh from Diskit on Day 7 and go to Pangong the next day. If you have more time in your hand, then you can plan a trip to Tso Moriri as well; either from Leh via Chumathang or from Pangong via Chushul.
Keep Buffer Days
While we are talking about the itinerary, let me also mention that you must keep at least 2 days in your travel plan as a buffer. This actually applies irrespective of your time of travel.
A trip to Ladakh will always have a bit of uncertainty factor to it. You may be visiting Nubra Valley or Pangong and the road across Khardung or Chang La may get snowed out, forcing you to stay back for a day or two.
To handle it better, you should plan your trip in a way that if you had to extend your stay in Ladakh by a couple of days, you would be able to do so without any problem back home.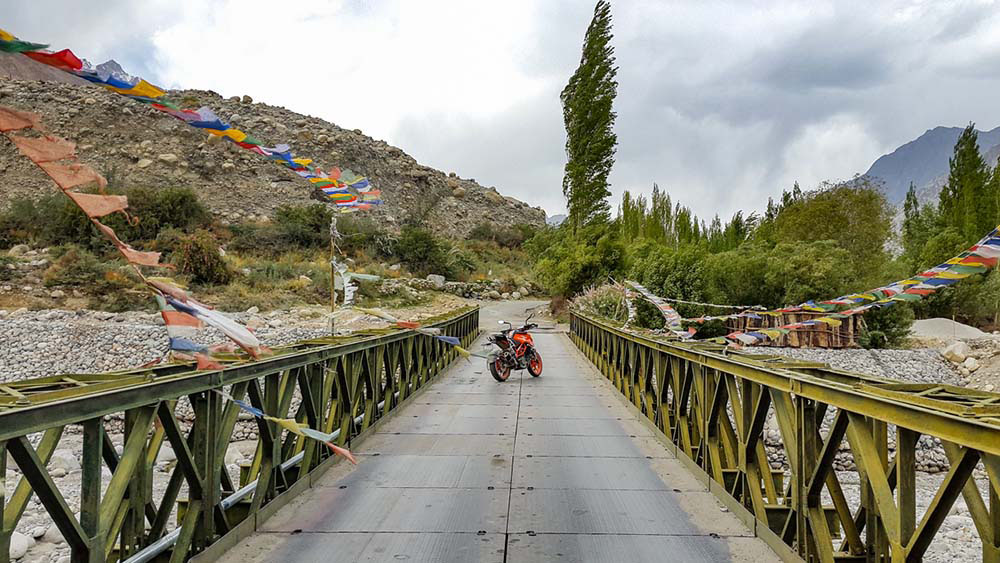 Honeymoon in Leh Ladakh in April
Yes, a lot of people have now started to consider Ladakh for their honeymoon as well. If you were thinking that too then my answer is yes you can do it.
The weather will be pleasantly cold. There will not be too many tourists around, making it a perfect place to plan for a honeymoon.
Just make sure that you call your hotel in advance, book your stay and inquire about facilities like hot water. I am sure squatting every morning over a dry pit on your honeymoon isn't what you would want to do.
Leh Ladakh Bike Trip in April
The itinerary I suggested above is perfect for planning a trip to Ladakh by motorcycle. Before you do so, please make sure that your bike is completely ready for Ladakh.
Get it serviced, learn some minor repairs yourself like changing tubes, and carry some spares. For more details, please read How to Prepare your Motorcycle for Ladakh Trip.
Pangong Lake Weather in April
Please note that the weather and temperature at Pangong are always a lot colder than that of Leh or Nubra Valley. The large water body forces the temperature to fall a few degrees below the average temperature elsewhere in Ladakh.
Add to it the fact that Pangong is at a much higher altitude than Leh city and you will know why the night at the lake becomes problematic for so many people.
The temperature at Pangong Lake in April will remain between 0 to 5 degrees Celsius during the day and will fall below 0 at night.
Conclusion
I believe that covers most if not all that you should know about visiting Ladakh in April. If you have any questions, you can contact me on Instagram and I will be happy to answer. You can also consider subscribing to my YouTube channel and asking a question there.