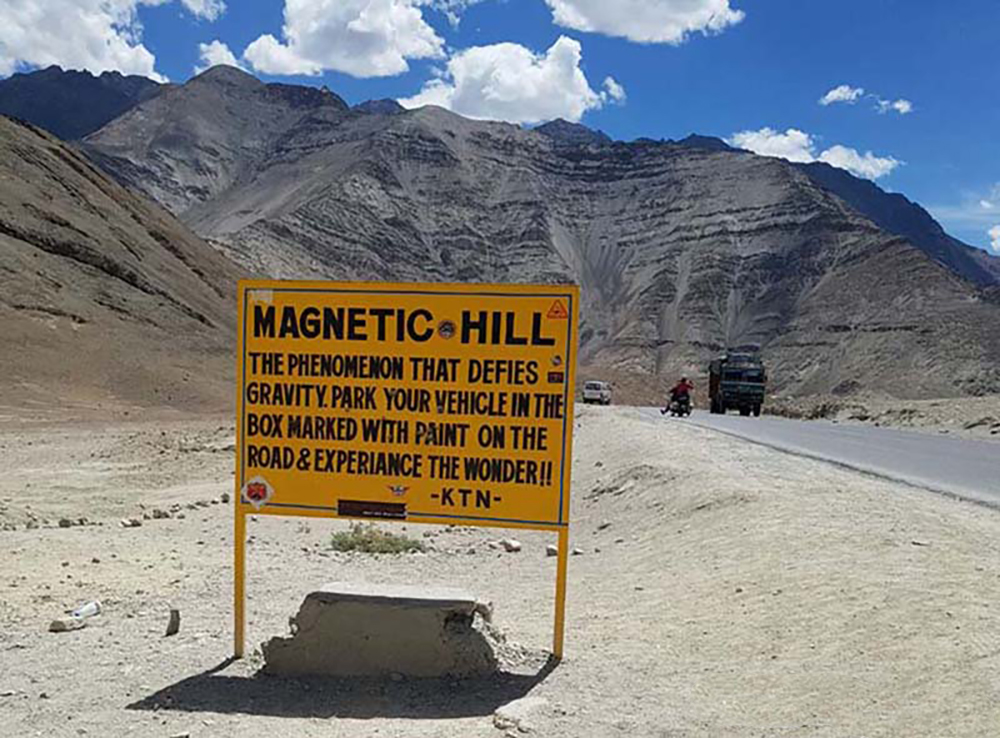 Out of the several enchanting places in Ladakh, there is one that has mystified people for a long time and still continues to do so. It is a small stretch of road located about 30 kilometers from Leh known as the Magnetic Hill of Ladakh.
On this particular part of the Srinagar – Leh highway, you would clearly see the road ahead going uphill. Yet if you turned off the engine and let your vehicle stand in neutral, it will slowly start moving on its own and gain speed. Mysterious? I agree.
I recently returned from a 2-months long road trip to Ladakh and Magnetic Hill was one spot where we had the most fun. We visited the area several times just to watch our car move on an uphill road by itself. It really is an intriguing phenomenon and would leave you thinking about how it was all possible.
Journey So Far:
This spot is also known as Gravity Hill and Gravity Defying Hill. It is one of the prime tourist attractions of Ladakh that attracts thousands of visitors each year. But is everything that you have heard about it true? Read on to find out. To read the previous parts of the travelogue, you can follow the links above.
What is Magnetic Hill in Ladakh
So what is the magnetic hill in Leh Ladakh exactly? Magnetic Hill is a small stretch of road on the Srinagar Leh highway, about 50 meters in length. You do not have to climb a mountain or get on top of a hill to witness it. It is right there on the road itself.
While traveling from Leh to Kargil, after 30 kilometers, you will reach a point where the road will run downhill for about 3-4 kilometers straight. After that, for only a short distance of about 50 meters, the road becomes flat. Then it appears to be going uphill for another 50 meters and then becomes downhill again.
The area where the road is flat is marked by yellow lines. If you park your car on these yellow lines and turn the ignition off, your car will still get in motion and cover that next 50 meters of the uphill road all on its own. After this, the road becomes downhill again and the car will continue to move and gain speed.
See the image below. This flat road is what is called the magnetic hill of Ladakh. It appears flat in the picture but actually has a very slight incline. The road runs straight like this for about 50 meters and then turns right, going downhill again.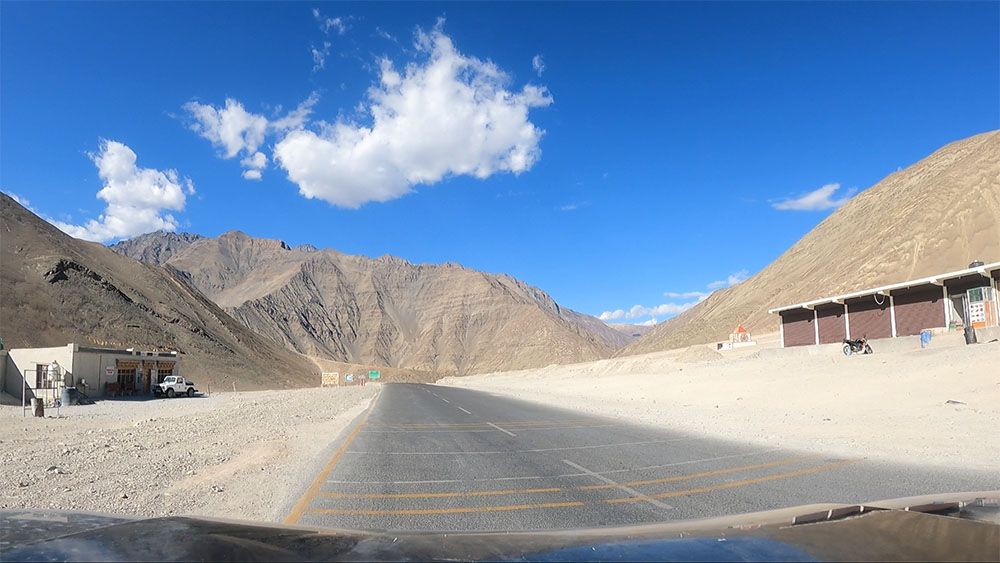 So the entire mystery is around this approximately 100 meters length of the road – 50 meters flat and 50 meters uphill. How a vehicle gets in momentum and climbs 50 meters of ascent without its engine running is the famous magnetic hill mystery.
Magnetic Hill Ladakh Video
If you want to know what I am talking about, take a look at the video below. This was shot when I was testing the effects of Magnetic Hill in my Mahindra Thar.
What is Ladakh Magnetic Hill Mystery?
What is the reason behind this effect? Why do cars move the way they do? Well, there are two different theories around it and a lot of superstitious beliefs.
As per the most common theory, a magnetic force so strong that it can pull cars uphill is believed to be behind this mysterious phenomenon. The large mountain right in front of the road is said to be the source of this magnetic force.
It is in fact so notorious that even the airplanes that fly over this region increase their altitude in order to avoid magnetic interference. Below is the description of the place on a board placed by the authorities.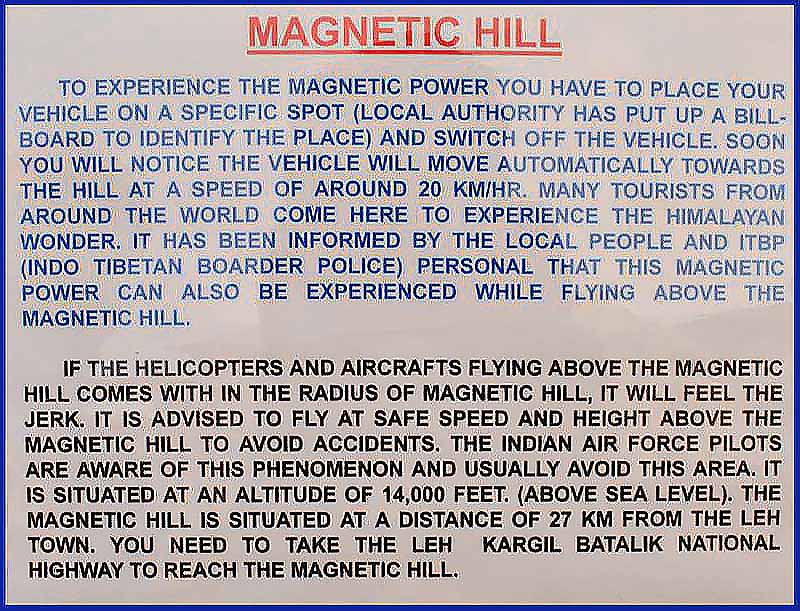 Every tourist driver that passes through here would kill the engine to let the tourists experience how the car still kept moving.
Some people are not aware of the mystery of the magnetic hill in Ladakh and just pass through here. But the ones that know about it will stop their cars to verify whether what they heard was true or merely a made-up tale.
As it usually happens with all places that have this kind of phenomenon attached to them, some people believe it and some just waive it as merely a story.
Some people blame the drivers for duping them stating that the vehicle was still in motion when he killed the engine. So it was quite obvious that it will continue to move.
Some other people did not realize where this exact part of the road was hence they stopped elsewhere. When their vehicles remained still, they believed the story of Magnetic Hill to be a fake one.
Also read: The Ghost of Gata Loops of Ladakh
Is Magnetic Hill Real
But let me clarify first that it does work. If you are at the right spot, which is in fact marked by BRO, your vehicle will start to move very slowly even after you killed the engine.
You will of course not feel the effect that much if you are on a motorcycle. You really need to be in a car for this to work. Park the car on the yellow lines on the road, give it a couple of seconds and it will definitely gain momentum.
I tried and tested it numerous times from different angles and in different ways. It worked every time and as long as I was on the yellow marker, the car moved in a certain direction. You can check out the video I posted above.
So yes it definitely works. How and why is a different story altogether that has nothing to do with a magnetic field and definitely nothing supernatural.
Magnetic Hill Explanation
There is a concept of optical illusion in neuroscience. In layman's language, it means that you either see something that is not there at all or you see things differently than how they physically are.
Gravity Hill is also one of the numerous optical illusions recorded. What it means is that a very slight downhill slope on the road would appear to be an uphill slope. Why it appears that way can actually be attributed to the obstructed horizon, either completely or mostly.
Our eyes and minds are used to using the horizon as a reliable reference, to be able to tell if a particular slope is straight or if there is a slant. Without the horizon, we will not be able to tell for sure.
If the horizon is obstructed, our minds get confused and can often perceive things to be horizontal or vertical when they are actually not.
This same concept works in aviation as well. Pilots up in the sky cannot see the horizon. If it weren't for the electronic equipment and gadgets, they would never be able to tell if the plane is flying straight, upwards, or downwards.
This illusion is much similar to that of the Moon Illusion where the moon appears to be much large on the horizon. The same phenomenon is noticed in Ames room Illusion where balls can appear to roll against gravity.
 Magnetic Hill Ladakh Optical Illusion
This same concept applies to the Magnetic Hill in Ladakh. This is purely a natural optical effect caused by the specific layout of hills that obstruct the horizon.
The hills on this stretch are naturally laid out in such a manner that they will deceive your mind, leading you to believe that you are going uphill.
The truth however is that you are on a downhill slope. This is the reason why cars slowly gain momentum. But since your eyes cannot clearly see the horizon, there is no way for your mind to contradict.
As a matter of fact, the entire stretch of 30 kilometers from Leh to Magnetic Hill is a downhill drive. It is only that stretch of about 100 meters that first appears to be flat and then uphill for a very short distance. See the picture below.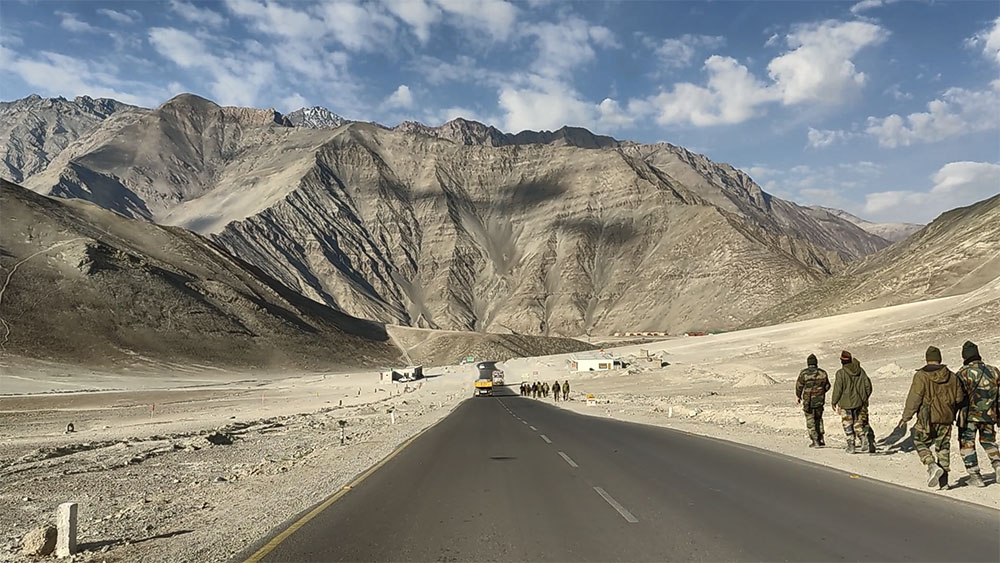 See how the road here is downhill all the way except for that short stretch that appears flat? That is the Magnetic Hill of Ladakh. After that, the road is downhill again.
Other Similar Phenomenon
There are several such mistakenly characterized Gravity Hills all over the world. Several roads appear to be going uphill while the slant is actually downhill. Tulsishyam in Gujarat, Electric Brae in Scotland, and Gansu in China are just a few examples of such places.
There are even rivers in the world that appear to be defying gravity and flowing uphill. Even this is again an optical illusion because the water is in fact flowing downhill.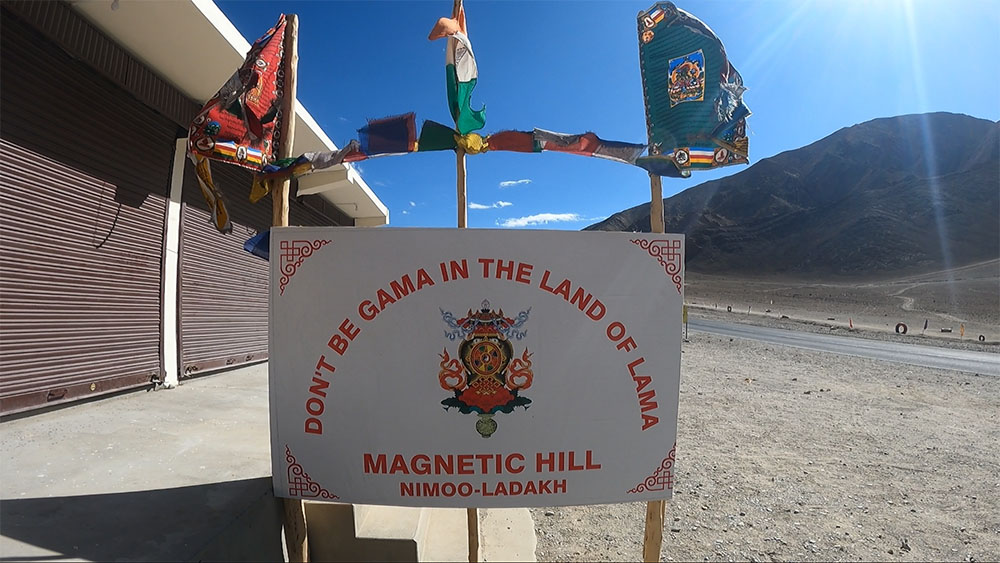 How to Reach Magnetic Hill in Ladakh
You can get to Magnetic Hill either from Leh or from Kargil. How can you incorporate it into your trip? This will entirely depend on your mode of travel and your overall itinerary planning.
If you were traveling from Srinagar to Leh (or Leh to Srinagar) you can spend some time at Magnetic Hill during your journey itself. You do not have to keep an extra day in your itinerary or take some time out to visit Magnetic Hill.
If you reached Leh by Air, the best way would be to hire a taxi for a day-long Sham Valley Tour. Two other major tourist attractions, Gurudwara Patthar Sahib & Magnetic Hill, are also located on the same stretch.
So you can start early from Leh, visit all these three places together, and continue to Sham Valley. On your way back, you can also visit the monasteries of Leh and Alchi.
Magnetic Hill Ladakh Location
If you were traveling in your own car, then you need to start driving towards Kargil. I will highly recommend an early start, possibly by 6 am if you really want to enjoy the spot and have fun testing it out.
During the rest of the day, Magnetic Hill gets very crowded. There will be a lot of tourists on the road amidst all the mid-day traffic between Leh and Kargil. You may not even get a chance to park your car on the spot and feel the effect properly.
So start early, by 6 am at most from Leh.  After about 23 kilometers, you will arrive at Gurudwara Patthar Sahib. Take a break, pay respect and you can also have breakfast here during the morning Bhandara.
After a break at the Gurudwara, continue driving for another 7 kilometers and you will reach Magnetic Hill. Spend some time, test it out in your car, and continue driving for 5 kilometers to reach Sangam Point – The Confluence of the Indus and Zanskar Rivers.
After this, it is entirely your wish if you want to continue further to Sham Valley, or the monasteries of Leh and Alchi. If not, turn around and drive back to Leh. This entire excursion will not take more than 3 hours approximately.
The condition of road is very smooth and it will not take you more than 30 to 40 minutes to reach Magnetic Hill from Leh. Magnetic Hill is marked on Google Maps so you can just follow the directions. Or you can just ask any of the locals and they will point you in the right direction.
By Bus
There is no direct bus or shared cab for Leh to Magnetic Hill. But during the tourist season (May to September), there is a daily bus available that travels from Leh to Kargil, operated by JKSRTC.
You can board the Bus from Leh bus stand and get down at Magnetic Hill. If not the bus, you will have to look for a shared cab going in that direction.
The point to note is that the journey will become difficult by public transport. You will have to stand by the road and wait for either a cab or someone to give you a ride.
Hence, a better way to plan this would be to either rent a bike or an automatic scooter in Leh. That way, your sightseeing will become easier and you will be able to move from one spot to another easily.
Leh to Magnetic Hill Taxi Fare
A private taxi from Leh to Magnetic Hill will cost you Rs. 1500 approximately. If you do not want to travel by public transport and do not want to ride a bike either, hiring a private taxi will be the next best thing to do.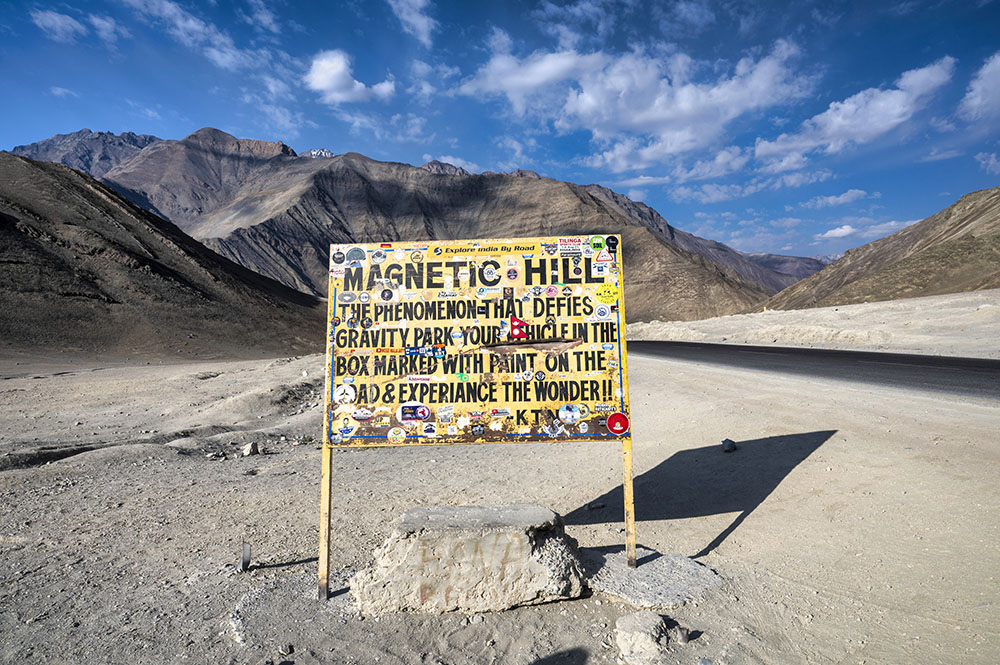 Best time to visit Magnetic Hill
The best time to visit Magnetic Hill is from May to September, which also is the best time to visit Ladakh. This is the tourist season which means that all the roads in Ladakh will be open and the entire tourism-related industry will be operational.
The weather too in these months is at its best with moderately warm days and pleasantly cool nights. For more details on this topic, please read When is the Best Time to Visit Ladakh.
Mobile Network
BSNL, Airtel, and Jio work very well in Ladakh. While I was at Magnetic Hill, I had good reception and data connectivity on both Airtel and Jio Sims. My friend had a BSNL phone and even that remained connected.
Vodafone and Idea may or may not work. They have good reception in Leh City but not in the nearby areas or on the Srinagar Leh highway. For more details, please read Mobile Network and Data Connectivity in Ladakh.
What to do at Magnetic Hill
Park your car on the yellow markers and watch it move on its own – that is all there is to do at Magnetic Hill. If you were traveling on a bike or public transport, you can watch other do that. There are a couple of restaurants near this spot so you can also get something to eat.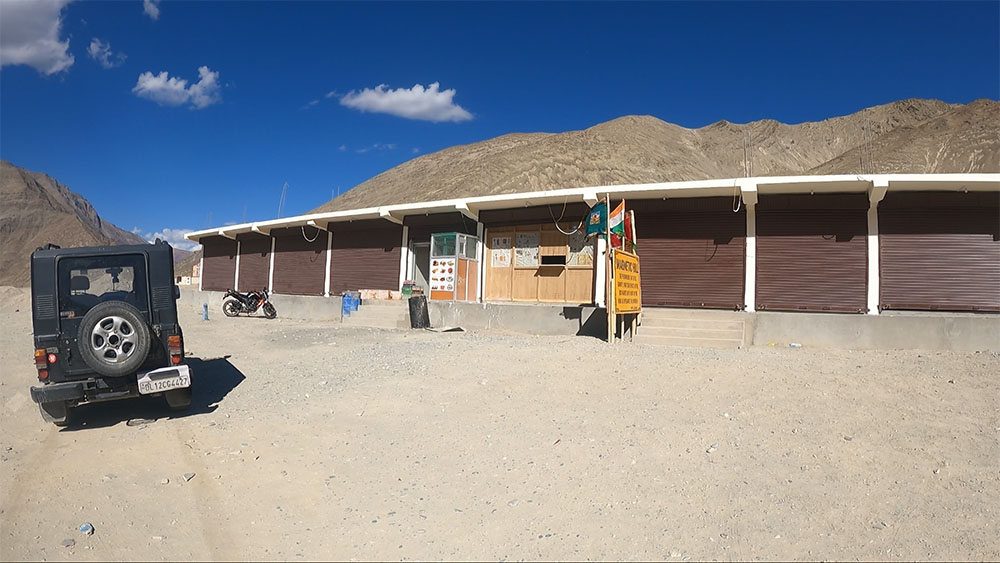 Other than this, there is not really much to do at Magnetic Hill. It is just a brief stop of 15 or 20 minutes to see the effect, click some pictures, and be on your way.
Where to Stay
The nearest hotels are located in Leh only. Magnetic Hill is just an open space, a spot on the road so there is no place where you can stay here.
Is Magnetic Hill Free
Yes, visiting Magnetic Hill is free. It is just an open space on the road and there are no entry or experimenting tickets applied. All that you need to do is to travel to the spot and experience the phenomenon.
Is Magnetic Hill Worth It
Totally. It is a fun and must-have experience for anyone visiting Ladakh. You can also incorporate other places like Indus Zanskar Confluence, Hall of Fame, and Gurudwara Patthar Sahib in your trip to Magnetic Hill to make it even better.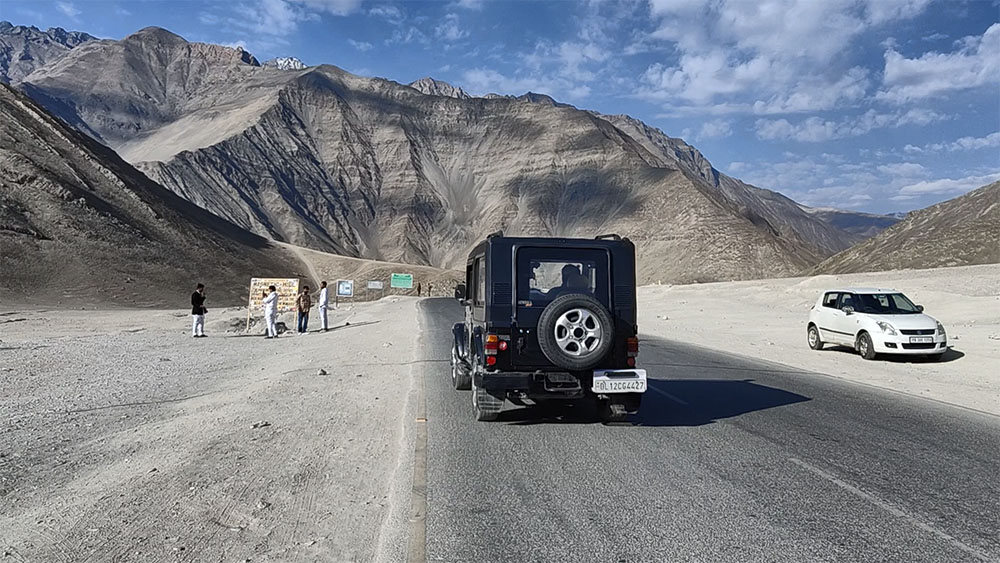 Leh to Magnetic Hill
Now returning to the travelogue, let me briefly talk about our visit to magnetic hill. It was our 3rd day in Leh and the 17th day of the trip overall.
The day started early, at 5.30 am. We first went to Sindhu Ghat which was a complete disappointment. The idea was to capture sunrise pictures from there but there was nothing special about Sindhu Ghat. It was just a small riverbank and nothing else. I have talked about this in the previous part of the travelogue.
We spent about 30 minutes at Sindhu Ghat clicking pictures and then left for our next destination for the day, the Magnetic Hill of Ladakh.
Langar at Gurudwara Patthar Sahib
Gurudwara Pathar Sahib has located about 23 kilometers away from Leh, on the Srinagar – Leh highway. At an altitude of over 12,000 ft, it is considered one of the highest Gurudwaras in the world.
It was built in 1517 in memory of Guru Nanak Dev, to commemorate his visit to Ladakh. You can visit the Gurudwara while either traveling from Leh to Srinagar or vice versa.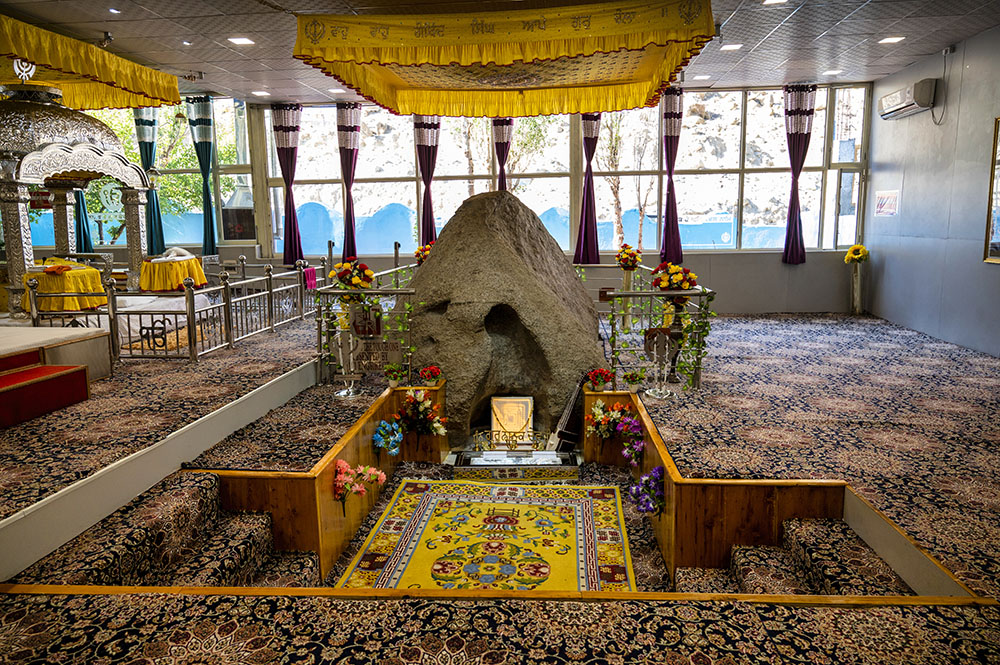 After a drive of about 25 minutes, we reached the Gurudwara. Even though it was not on our plans for this day, we still decided to take a break and seek blessings.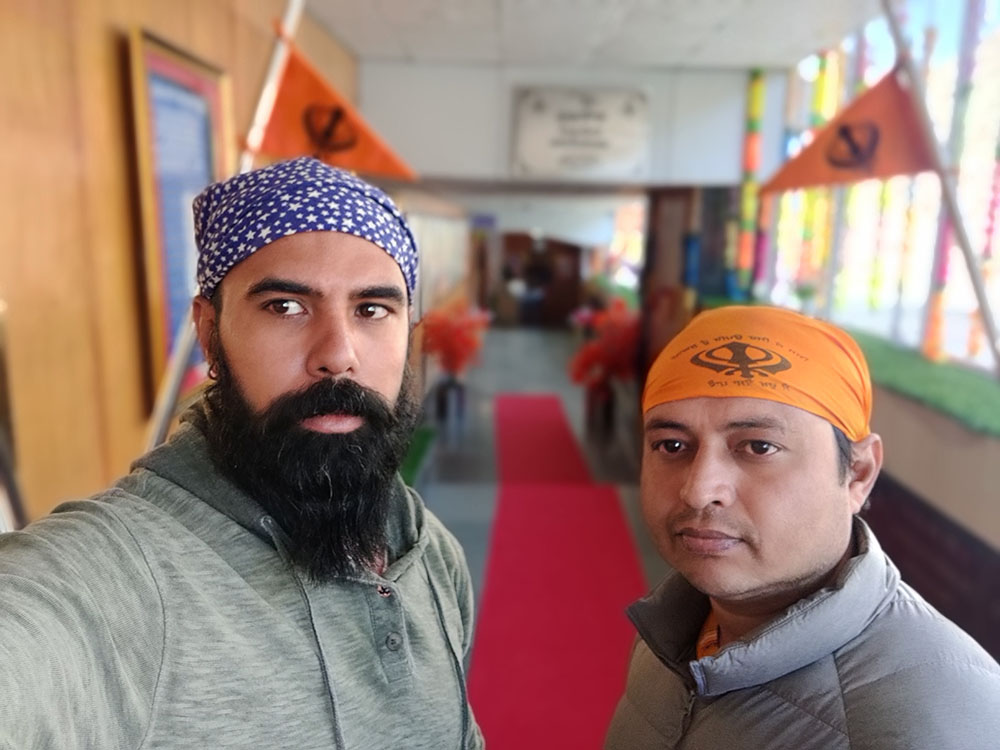 After paying respect at the Gurudwara, just as we were about to step out, we noticed that the Langar was about to be served. This was something that we could not resist, considering the fact that we started from our hotel at 5.30 am, without having breakfast.
Poori-Sabzi was on the menu for Langar that day. It was probably the best poori-sabzi I ever tasted, trust me when I say that. When I still close my eyes and think about it for a minute, I can still feel the taste in my mouth. That is how good it was.
Magnetic Hill
With our bellies full, we stepped out of the Gurudwara, drove for another 5 kilometers, and arrived at Magnetic Hill. Our plan to get here early in the morning to avoid the crowd worked very well. There was absolutely no one around except for us and a few army men.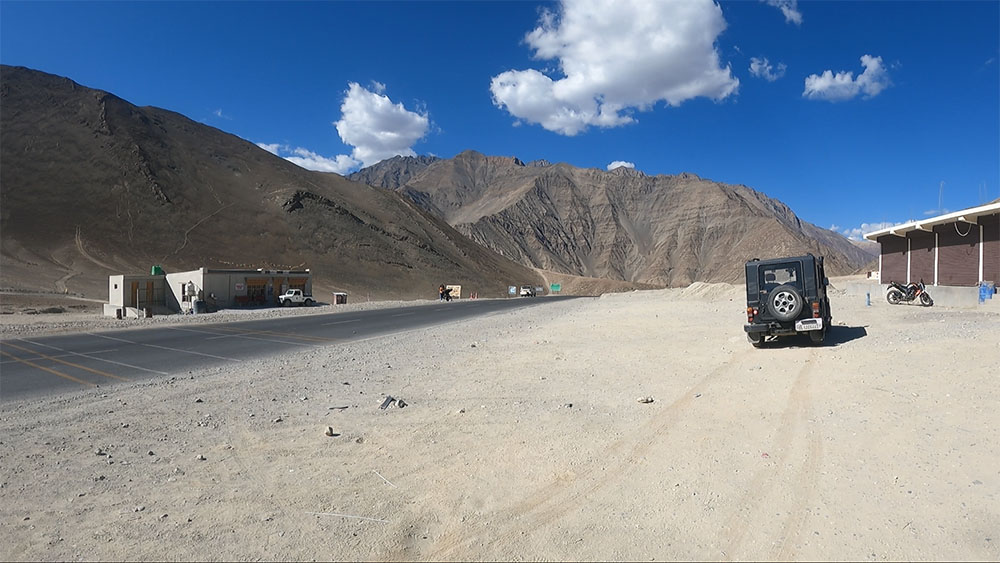 The next hour was spent at Magnetic Hill. We tried different ways to see the effects of Magnetic Hill. We parked on the yellow lines, a little behind or ahead of it, in the dirt on the side of the road, and in reverse as well. The charm of Magnetic Hill worked every time.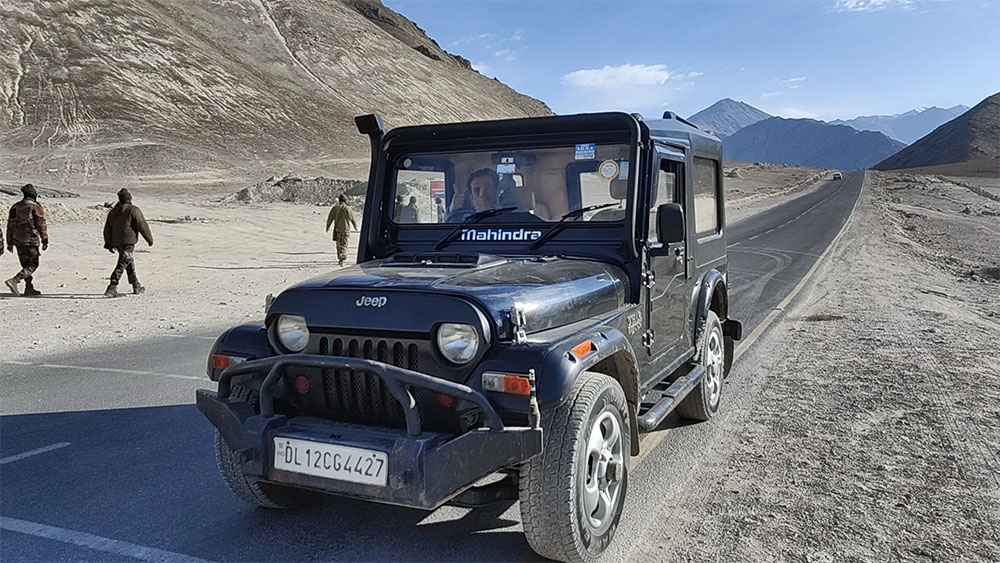 I will recommend taking a look at the video I posted above to know what I am talking about. Standing there, it was really hard to tell whether it was all really magnetic or just an optical illusion. Whatever it is, it really works and is sure to surprise you.
After spending an hour at Magnetic Hill, we turned around and back to our hotel in Leh. It was Monday and a working day for us. We were both carrying our laptops along, doing work from home on the road.
End of the Day
That was our sightseeing for the day. The plan next was to get back to work which we both did. In the evening, we were going to meet a local lady to collect my GoPro from her which I lost the previous day.
That is correct. We lost the camera at Shanti Stupa the previous evening and a local lady from Leh found it. She was kind enough to go through the videos on the camera, figure out who I was and the hotel I was staying at, and then call the hotel reception to notify us that she had our camera.
Our entire day was spent in the hotel only, on our office laptops. The plan for the camera was also postponed for the next day because the lady did not get time to meet us somewhere to hand over the camera.
So we met the lady on Tuesday and collected my GoPro from her. The next destination that we visited in Leh was the famous Leh Palace. Please click on the link above to continue reading the next part of this travelogue.
Conclusion of Magnetic Hill in Ladakh
The conclusion of Magnetic Hill is that it is all an optical illusion. When you visit Leh, stop at Magnetic Hill and be amazed. But not by the fact that your vehicle is moving on its own but by how your mind is getting tricked into seeing something exactly opposite to how it actually is.
I hope the travelogue, pictures, and information above the magnetic hill of Ladakh were of help. If you have any questions, you can contact me on Instagram and I will be happy to answer. You can also consider subscribing to my YouTube channel and asking your question there.
This error message is only visible to WordPress admins
Error: No feed found.
Please go to the Instagram Feed settings page to create a feed.