Ladakh, the very word creates an image in our minds of a mysterious land and people who have been there would agree that it certainly lives up to the expectations. Centuries ago Shah Jahan said that if there is a paradise on earth then it's in Kashmir. To that I say that he did not visit Ladakh or would certainly have changed his opinion. Or maybe he did and included Ladakh as well when he said the word "Kashmir". Out of the several enchanting places in Ladakh, there is one that has mystified people for long and still continues to do so. It is a small stretch of road located about 30 kilometers from Leh towards Kargil and known as Magnetic Hill of Ladakh.
Also read: How to Plan a Trip to Ladakh – Complete Travel Guide
What is Magnetic Hill in Ladakh
On this particular part of the Srinagar – Leh highway, you would clearly see the road ahead going uphill. Yet if you turned off the engine and let your vehicle stand in neutral, it will slowly start moving and can go up to a speed of 20 kilometers per hour on its own. This spot is also known by the names of 'Gravity Hill Ladakh' or 'Gravity Defying Hill Ladakh'. Mysterious? I agree.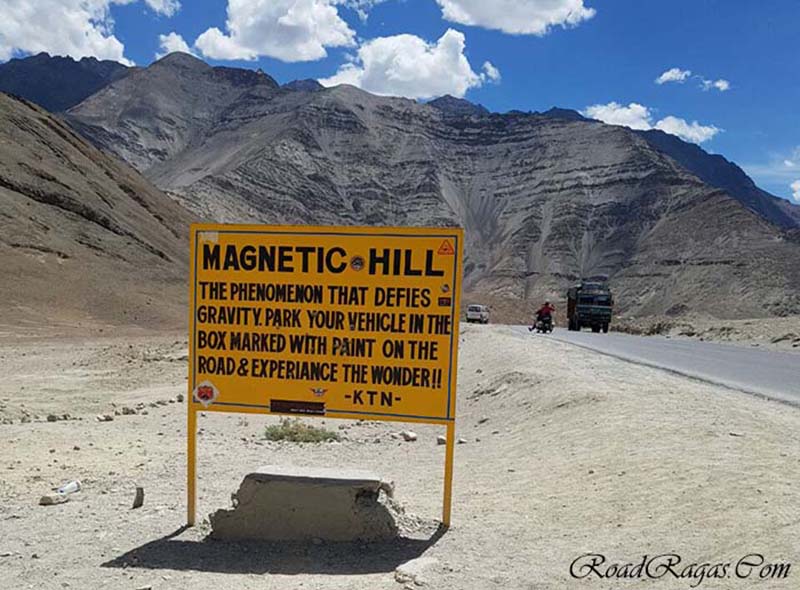 Ladakh Magnetic Hill Mystery
What happens at Magnetic Hill? Well, there are a few different theories behind it. As per the most common theory, what is believed to be at work behind this mysterious phenomenon is a magnetic force so strong that it can pull cars uphill. It is in fact so notorious that even the airplanes that fly over this region increase their altitude in order to avoid magnetic interference.
Every tourist driver that passes through here would kill the engine to let the tourists experience how the car still kept moving. Some people are not aware about the mystery of magnetic hill in Ladakh and just pass through here; but the ones who do know stop their cars to verify whether what they heard was true or merely a made-up tale.
Below is the description of the place on a board placed by the authorities.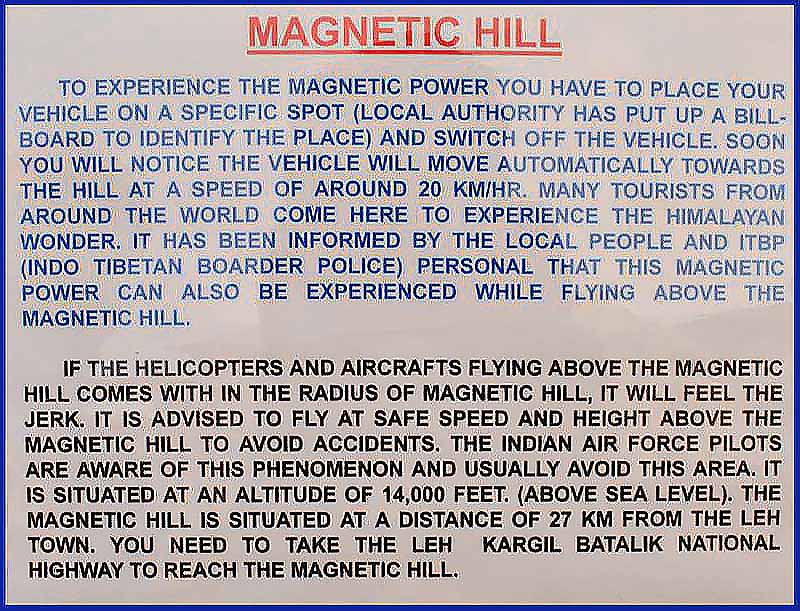 The Myth
If you however would speak to the locals about it, villagers in particular, they would tell you a different version of the story. As per them, here once lied a pathway that led straight to heaven. People who were deserving of it would automatically get pulled up; however the undeserving ones could never make it up the path; no matter how hard they tried. For them, this entire concept and area is supernatural.
As it usually happens with all places that have this kind of phenomenon attached to, some people believe it and some just waive it as merely a story. Some people blame the drivers for duping them stating that the vehicle was still in motion when he killed the engine. So it was quite obvious that it will continue to move. Some other people did not realize where this exact part of the road was hence they stopped elsewhere. And when their vehicles remained still, they believed the story of Magnetic Hill to be a fake one.
Also read: The Ghost of Gata Loops of Ladakh
Is Magnetic Hill Real
But let me clarify first that it does work. If you are at the right spot, which is in fact marked by BRO, your vehicle will start to move very slowly even after you killed the engine. I was there on my Royal Enfield and upon reaching here, I bought the speed to bare minimum so I don't have to put my feet down and then turned off ignition yet the motorcycle continued to move. We stopped and then waited for a car to arrive.
The folks in a Safari brought it to a complete halt but moments later their TATA Safari; a vehicle completely loaded with luggage and passengers; still slowly gained momentum. So yes it definitely works but how and why is a different story altogether; that has nothing to do with a magnetic field and definitely not supernatural stuff.
Magnetic Hill Explained – Truth Behind Magnetic Hill
There is a concept of optical illusion in neuroscience; which in layman's language means that you either see something that is not there at all; or you see things different than how they physically are. Out of the numerous optical illusions recorded, there is one of Gravity Hill; which means that a very slight downhill slope appears to be an uphill slope.
Why it appears that way can actually be attributed to obstructed horizon, either completely or mostly. Our eyes and minds are used to using the horizon as a reliable reference; to be able to tell if a particular slope is straight or if there is a slant. Without the horizon, we will not be able to tell for sure. The same concept works in aviation as well. Pilots up in the sky cannot see the horizon; and if it weren't for the electronic equipment and gadgets; they would never be able to tell if the plane is flying straight, upwards or downwards.
Also read: The Cannibal of Baralacha La
If the horizon is obstructed, our minds get confused and can often perceive things to be horizontal or vertical when they are actually not. This illusion is much similar to that of Moon Illusion; where the moon appears to be much large to the horizon. Or Ames room Illusion where balls can appear to roll against gravity.
The Illusion
This same concept applies to our Magnetic Hill in Ladakh. This is purely a natural optical effect caused by the specific layout of hills that obstruct the horizon. That short stretch of the road that appears to be uphill as a matter of fact is downhill; and this is the reason why cars slowly gain momentum. The hills in front of your eyes at this stretch are naturally laid out in such a manner that they will deceive your mind; and lead it to believe that you are going up. Since your eyes cannot clearly see the horizon, there is no way for your mind to contradict.
Other Similar Phenomenon
There are several such mistakenly characterized Gravity Hills all over the world. Several roads that appear to be going uphill while the slant is actually downhill. There are rivers that appear to be defying gravity and flowing uphill; which is again an optical illusion because the water is in fact flowing downhill. Tulsishyam in Gujarat, Electric Brae in Scotland and Gansu in China are just a few examples of such places.
Where is Magnetic Hill Located
The spot that is known as Magnetic hill is located on Srinagar Leh highway; about 28 kilometers from Leh City and 190 kilometers from Kargil.
How to Reach Magnetic Hill in Ladakh
The gravity hill in Ladakh is located between Leh and Kargil towns, on the Srinagar Leh highway. So the easiest way to reach here is to get to Leh town first and then visit Magnetic Hill.
By Air: The nearest airport is in Leh, that has regular flights to and from Delhi. From the airport, you can hire a taxi to take you to your hotel and then you can make a day trip to Magnetic Hill. On the way, you can also cover other places Gurudwara Pathar Sahib, Indus Zanskar Confluence, etc. They all are located on the same stretch of the road.
By Train: The closest major railway station from Leh is Jammu Tawi, at a distance of about 800 km from Leh. From the train station, you can hire taxis to get you to Leh via Srinagar and Kargil. This way, you will actually cover the Magnetic Hill on the way.
The other major railway station is in Chandigarh. From there, you can hire a taxi to get you to Leh via Manali.
By Road: This is probably the best and most preferred way to reach not just Magnetic Hill but all of Ladakh. Depending on your preference, you can either chose the route via Srinagar or take the Manali Leh highway to reach Leh town.
During the tourist season (May to September), there are regular buses available from both Srinagar and Manali for Ladakh. The buses are operated by JKSRTC and HRTC. You can board a Bus for Leh town from either of the cities and visit Magnetic Hill from there.
For more details, please read How to reach Leh Ladakh by Road, Flight, Train and Bus.
Leh to Magnetic Hill Route
Ask any of the locals if you weren't sure and they can point you in the direction of Srinagar Leh highway. Condition of the road is very smooth and it will not take you more than 30 to 40 minutes to reach Magnetic Hill from Leh. You can either visit just Magnetic Hill if you reached Ladakh by Air or cover this while traveling from Leh to Srinagar.
There really is not much of a route to explain or understand. The road from Leh is pretty straightforward. Reach near Leh airport or Hall of Fame and start driving towards Magnetic Hill. Gurudwara Patthar Sahib will also fall on the way if you wish to visit there as well while you came this way. Take a look at Ladakh Map – A Road Map of Ladakh for a visual representation of the journey.
Leh Airport to Magnetic Hill Distance
The total distance between Leh airport and Magnetic Hill is 25 kilometers.
Leh to Magnetic Hill Bus
There is no Bus available for specifically magnetic hill from Leh town. But every bus going towards Kargil and Lamayuru passes through here which you can board to reach Magnetic Hill and get down there. Shared taxis too are easily available from the Bus stand itself. Or you can also hire a motorcycle or automatic scooter like Activa to visit Magnetic Hill.
Is Magnetic Hill Open
Yes, Magnetic Hill remains open throughout the year. The road here never gets closed, even during peak winter.
Best time to visit Magnetic Hill
The best time to visit Magnetic Hill is from May to September, which also is the best time to visit Ladakh. This is the tourist season which means that all the roads in Ladakh will be open and the entire tourism-related industry will be operational. The weather too in these months is at its best with moderately warm days and pleasantly cool nights
The roads to Ladakh from October / November remain closed and the weather gets terribly cold which makes it a bad time to be planning a trip here.
For more details on this topic, please read When is the Best time to Visit Ladakh.
Where to Stay
The nearest hotels are located in Leh only. Magnetic Hill is just an open space, a spot on the road so there is no place where you can stay here.
Mobile Network
BSNL, Airtel, and Jio work very well in Ladakh. While I was at Magnetic Hill, my BSNL Sim was able to get reception. For more details, please read Mobile Network and Data Connectivity in Ladakh.
Other FAQs
Below are some most frequently asked questions about Magnetic Hill.
How far is Magnetic hill from Leh?
Magnetic Hill is located at a distance of about 27 kilometers from Leh town.
Does Magnetic Hill in Ladakh Defies Gravity?
In my opinion, no it doesn't. It is just an optical illusion that has become a great tourist spot in Ladakh by being termed as 'mysterious'.
Is Magnetic Hill Free
Yes, visiting Magnetic Hill is free. It is just an open space on the road and there are no entry or experimenting tickets applied. All that you need to do is to travel to the spot and experience the phenomenon.
Is Magnetic Hill Worth It
Totally. It is a fun and must have experience for anyone visiting Ladakh. You can also incorporate other places like Indus Zanskar Confluence, Hall of Fame, Gurudwara Patthar Sahib in your trip to Magnetic Hill to make it even better.
Is Magnetic Hill an Optical Illusion
Yes Magnetic Hill is an optical illusion created by an obstructed view of the horizon.
Conclusion
So when you visit Leh, stop at Magnetic Hill and be amazed but not by the fact that your vehicle is moving on its own but by how your mind is getting tricked into seeing something exactly opposite to how it actually is. If you have been there and would like to share your experience, please feel free to do so either at our Community Forum; or in comments section below.