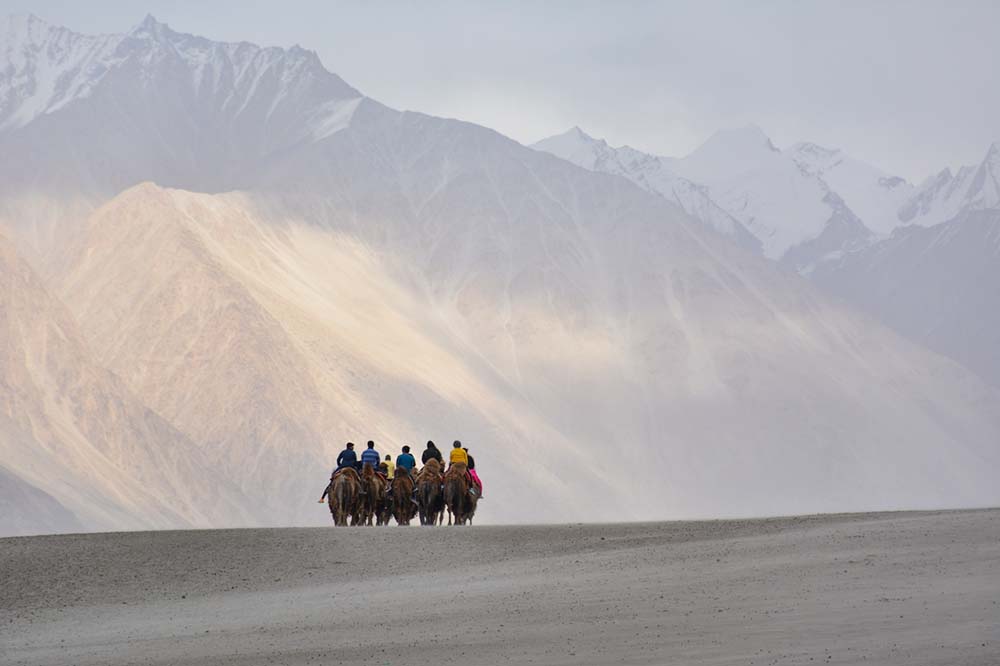 When you go to a place like Ladakh, you know that your packing has to be comprehensive and concise. You need to ensure that you do not miss an essential item but also not burden yourself with way too many bags. In short, what you pack should be conclusive of all but only essential things to carry for Ladakh trip.
Why does it become so important? It is because you will be gone for several days to an area known for its harsh weather and challenging terrain. A place where even some of the basic facilities like ATM, mobile connectivity, mechanics, fuel stations, eateries, and accommodation can still be scarce.
It becomes even more crucial when you are traveling with family or kids. You cannot miss a necessary item because it may become difficult to find on the spot. At the same time, you cannot be hauling way too many bags because that is just inconvenient.
So what should you pack for Ladakh? Below is a comprehensive list of these items; more of a checklist that you can refer to depending on the type of trip you are planning. For other details on visiting Ladakh, please take a look at How to Plan a Trip to Leh Ladakh – A Complete Travel Guide.
Ladakh Checklist – Things to Carry for Ladakh Trip
There is no doubt that not everyone would need or pack in the same manner. For example, what a lady would pack would be way different than what a guy would. Your necessary items in case of a family trip would not be the same as on a solo trip.  What you will pack for a bike trip will be different than if you were flying to Leh.
With that being said, there are still a few things that remain applicable in all cases. These are some general items that will be required in every case. Let us talk about those first.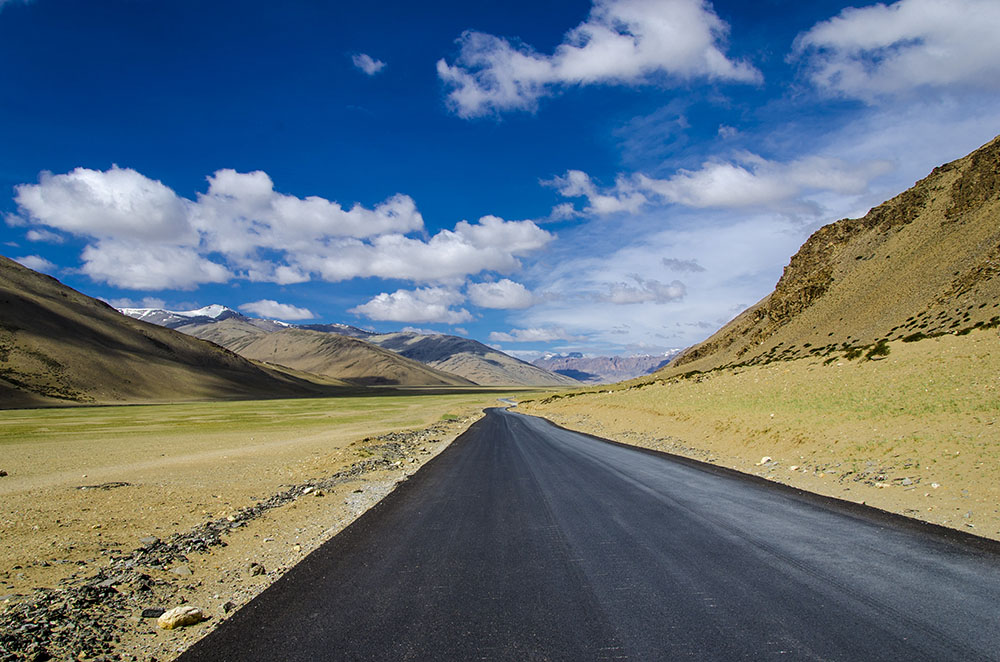 Clothes to Pack for Ladakh
What to wear in Leh Ladakh is one of the foremost questions asked so I will start with this. Your clothing for Ladakh has to be carried in layers. It cannot be all heavy woolens and at the same time, it cannot be all light cotton clothes either.
What it necessarily means is that you will be wearing one cloth over another. So it is important that you do not pack all heavy and woolen clothes; or clothes that are way too tight.
In Ladakh, weather is highly unpredictable. Standing in the shade will make you feel cold but you will be warm the moment you step in the sun. Temperature can change rapidly depending on the time of the day or the place.
So your clothes have to be in a way that you can put one over another if cold; and can take off layers if feeling warm.
For a trip in summer, you should pack plenty of your regular cotton clothes like T-Shirts and  Jeans. Carry a couple of pairs of thermals, some light woolens followed by a heavy windproof and waterproof jacket. Gloves (if possible waterproof), warm socks, and caps will be other necessary items.
If you are traveling in winter, you will of course have to carry all of your heavy woolens. The temperature at this time can drop to as low as -25 degrees celsius. So bring in all the warm clothes you got.
For a more detailed version of this information, you can also read What kind of Clothes should you pack for Ladakh Trip?
Other Accessories
After clothes come some necessary accessories that you must be carrying with you. Below is a list.
Sunscreen Lotion
Sun is quite harsh in Ladakh, so much that it will not just tan you but may even burn your skin. Carry a good sunscreen lotion with the highest SPF that you can find. Lotus is considered among the best brands when it comes to sunblock lotions.
Sunglasses
It is not just your skin that you need to protect against the sun but also your eyes which will get stressed easily due to Ultraviolet rays at such high altitudes. Carry a good pair of sunglasses that you can put on for a longer duration without starting to hurt your face or ears.
Gloves
Woolens gloves are a good idea but if you can, then try to find a waterproof one. If you are into a bit of photography, then you will need to carry two pairs. You need to bring a thick one and another one that sticks to your skin and would not have to be taken off every time you need to operate your camera.
Cap
Carry a regular cap that you can put on while walking around in order to protect your face from the sun. This can be used during the daytime.
For nights, evenings, and mornings, find a good monkey cap or Balaclava. It will protect your head, face, ears, and neck as well.
A muffler would be a good idea as well. If you would however not prefer a monkey cap then ensure that your jacket has a hoodie that you can pull over your head.
Sundries
After clothing and accessories, listed below are a few daily-use items that you must pack.
Cold Cream / Lip Balm / Moisturizer
I guess this one goes without saying. You are visiting one of the coldest regions in the country where the dry weather will cause your skin and lips to crack. Carry a good cold cream and lip balm and apply it on regular basis.
Mustard Oil
This falls under the category of one of the best things to carry for Ladakh trip and can be put to multiple uses. Apply it to your hair and scalp of course but apart from that, use it for your hands, arms, and face as well.
It works as a natural moisturizer and will help protect your skin. As a practice, after you apply oil to your hair, just rub it on your hands, arms, face, and a little on the inside of your ears and nostrils.
Other Toiletries
Tooth Brush
Tooth Paste
Comb
Soap (Paper soap if possible)
Toilet Paper (Don't ask me where or why you will need it but you may  :-))
Face Wash
Shampoo
Towel
Deodorant, if you use it.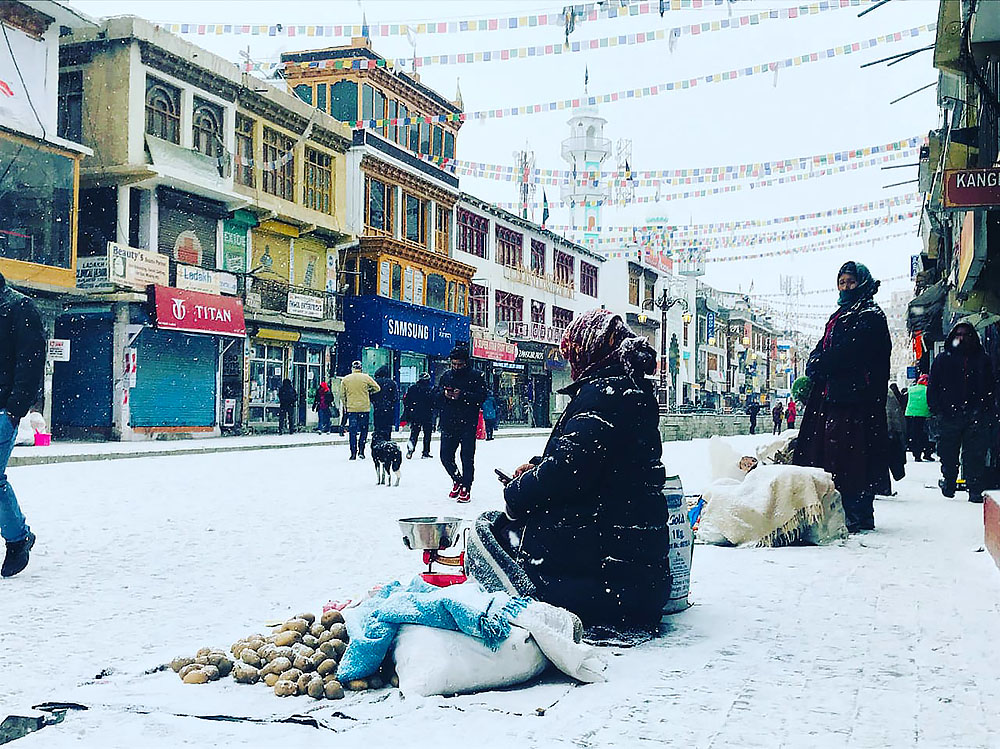 Eatables
Carry a few dry fruits from home. You can pack some almonds, raisins, and cashews. Things like chips and biscuits are these days available on most routes in Ladakh so it is not really a mandate to pack these. But if you can, add a few chocolates to your packing. Dry fruits and chocolates can work as instant energy-giving snacks.
If you are a strict vegetarian and cannot even eat in utensils that may have been used to cook non-vegetarian, then you should pack at least one pan and some disposable plates and spoons. Below are some other items that you can consider packing.
Sugar-free if you are diabetic or do not take regular sugar
Teabags
Coffee pouches
Fresh Fruit or packed fruit juice or both
A few packets of Maggie or Cup Noodles
Also read: What to see in Ladakh – A Complete List
Water
Water in Ladakh can be a little hard on the stomach for some people. If that is the case with you, then ensure that you are carrying packed mineral water with you throughout the travel.
Drinking water at regular intervals can also be helpful with AMS. So irrespective of how you are traveling, ensure that you are carrying a couple of liters of water and in-taking it regularly.
Traveling With Kids
Carrying some snacks becomes even more important if you were traveling with your kids. You got to pack items that you can give them to munch on. Carrying packaged water as well then will become a necessity.
Irrespective of the time of your trip, you need to bring enough clothes that can pack cover them from head to toe, in order to protect them from both cold and the harsh sun. I have covered this aspect of the journey in detail in another article, How to Plan a Trip to Ladakh with Kids, that I will urge you to read for some necessary tips.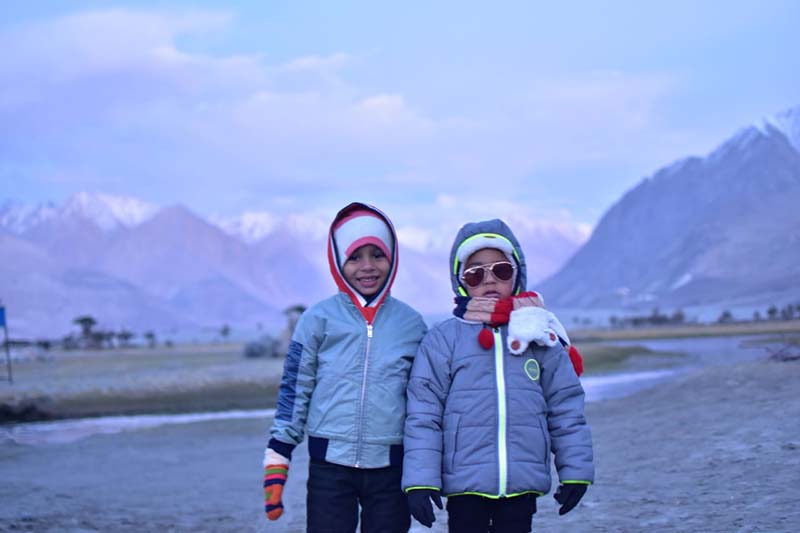 Medicines
Diamox works as a precautionary measure (not a cure) for acute mountain sickness. But please only use it that you are not allergic to sulfur medicines. The best would be to consult a doctor if you are unsure. Apart from Diamox, carry some other basic medicines for headache, upset stomach, fever, cold, and cough.
If possible, I will also recommend carrying a small pack of glucose. If the high altitude, long hours of travel, and mountain sickness start to take a toll, it can work miracles to keep you going by providing instant energy.
In all probability, AMS is bound to kill your appetite as well. Consuming some glucose will definitely come to the rescue in such a situation.
My recommendation will be that you create a small medicine box that includes the following items. I will list as as one of the most necessary things to carry for Ladakh trip.
Some basic medicines for fever, headache, upset stomach, body ache, etc.
Pain balm or sprays like Iodex, Moov, or Volini.
Few strips of Band-Aid
A bottle of Dettol
An antiseptic cream
A crepe bandage
Nasal drops can be extremely helpful if end up with a blocked nose after catching a cold
Electronics
Chargers of all your electronic devices
Spare Battery for your camera if you are into photography
Power Bank if you plan to use your phone camera a lot. Batteries die faster than the regular rate in a cold environment.
Car Charger will be a good idea if you are traveling by your own car or renting a private taxi
Spare memory cards if you are a trigger happy person clicking pictures at every turn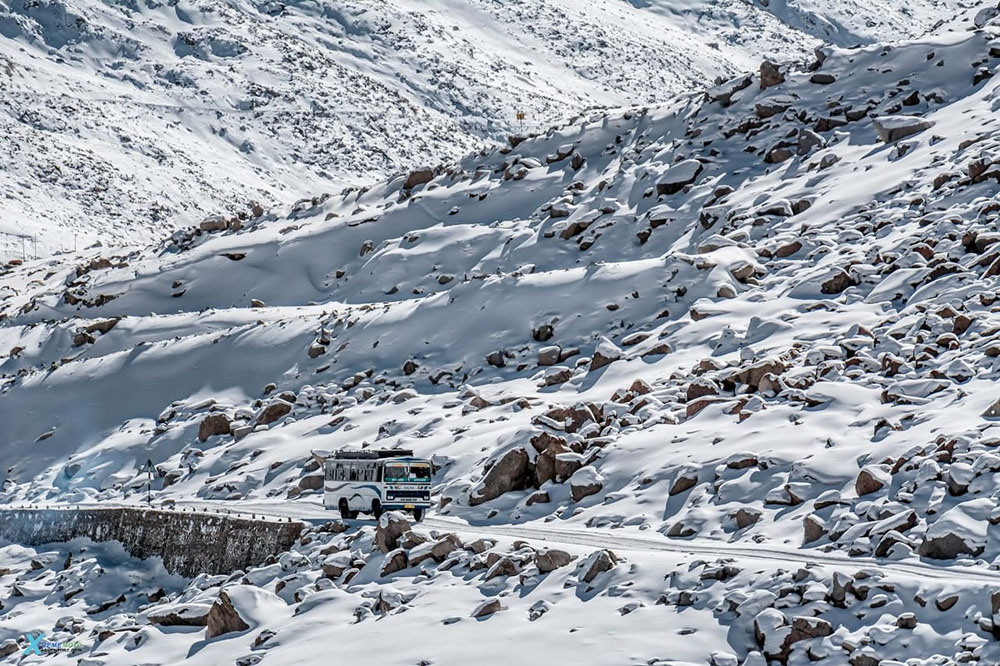 Documents
You need to carry at least one government-issued identity card like a driver's license, voter ID, Passport, or Aadhar Card. Please ensure that you are carrying both the original and a few photocopies of it. Other documents to carry will include the following.
Print out of your itinerary
Copies of your flight tickets if traveling by air
Hotel reservation slips if booked in advance
Write down some of your emergency contacts (name and phone numbers) on a piece of paper and keep them in your wallet. I am not talking about saving it as an emergency contact in your phone but actually write on paper.
Medical insurance if any
Multiple copies of your Inner line permit once you have procured it in Leh
Passport size photographs
Cash
ATMs in Ladakh are still a rare thing. There are a few in the town of Leh and that is about it. From the Manali side, there is no ATM after Manali and on the Srinagar route, the only one available is at Kargil.
Sometimes functionality of the ATM and availability of cash also is questionable here. So as a practice, make sure that you are carrying enough cash that can last until you reach the next ATM. There are no ATMs anywhere in Ladakh except for the ones in Leh.
Please also do not rely on credit cards. They may or may not be accepted in Leh. But for the rest of Ladakh, they will pretty much be just plastic without money.
Phone Connectivity
Only postpaid mobile connections work in Ladakh. As long as you have a postpaid connection, you will get reception for almost all networks in Leh city. But for the rest of Ladakh, only postpaid BSNL connections work at some places like Nubra Valley.
If you cannot stay off the grid and do not mind getting a new connection for the trip, you will have to get a BSNL / MTNL one. For a detailed version of this information, please read Mobile Phone Services in Ladakh and Data Connectivity.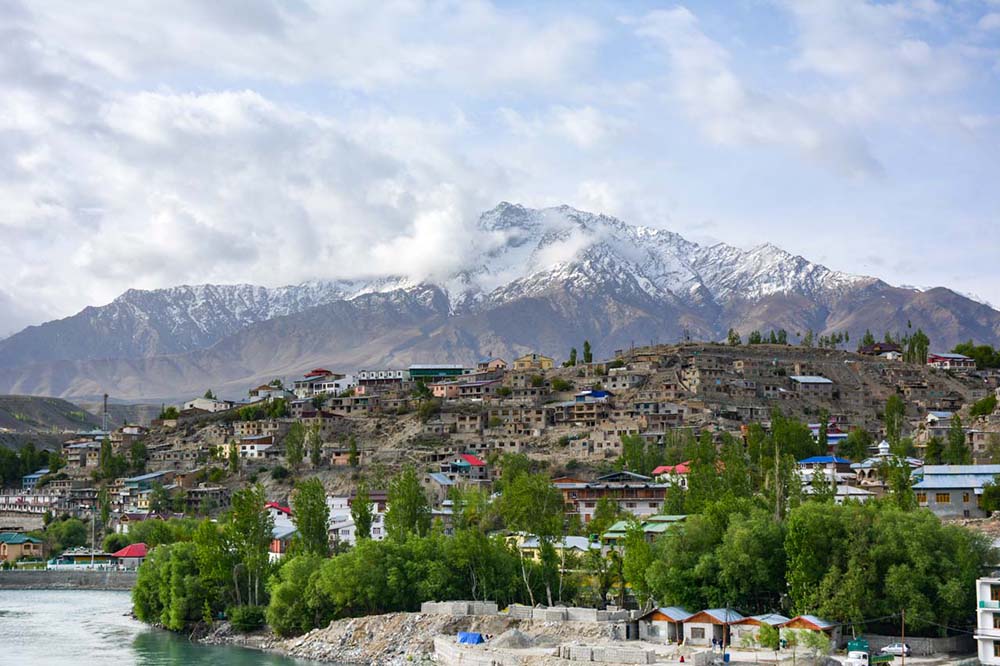 Things to Pack for Leh Ladakh Bike Trip
If you are planning a bike trip, I will recommend carrying the following items.
Spare key for your vehicle. Please also make sure that you do not pack it in your bags because if you get locked out of the car, then the spare key too would be useless.
Foot Pump and Puncture repair kit including tools to take the wheel out
Motorcycle Tool Kit
Spare fuse
Spark Plug
Spare tubes for both front and rear wheel (If your bike is not Tubeless)
Clutch, Brake, and accelerator cables
Chain Links
Engine Oil (About half a liter of it)
Screw Driver Set
Nylon Rope & Bungee Cords (Carry both)
Petrol Pipe: Can be used to take out petrol from another vehicle in case you run dry and someone else is ready to lend you some; enough to reach the next gas station
Documents: Carry all necessary documents including your driving license, RC, PUC, and Insurance certificate. Carry both original and photocopies of each.
Headlamp bulb
Rechargeable Torch
You will also need to ensure that you get your bike ready and serviced well in advance. For a more detailed version of this information, please take a look at How to Prepare your Bike for Ladakh Trip?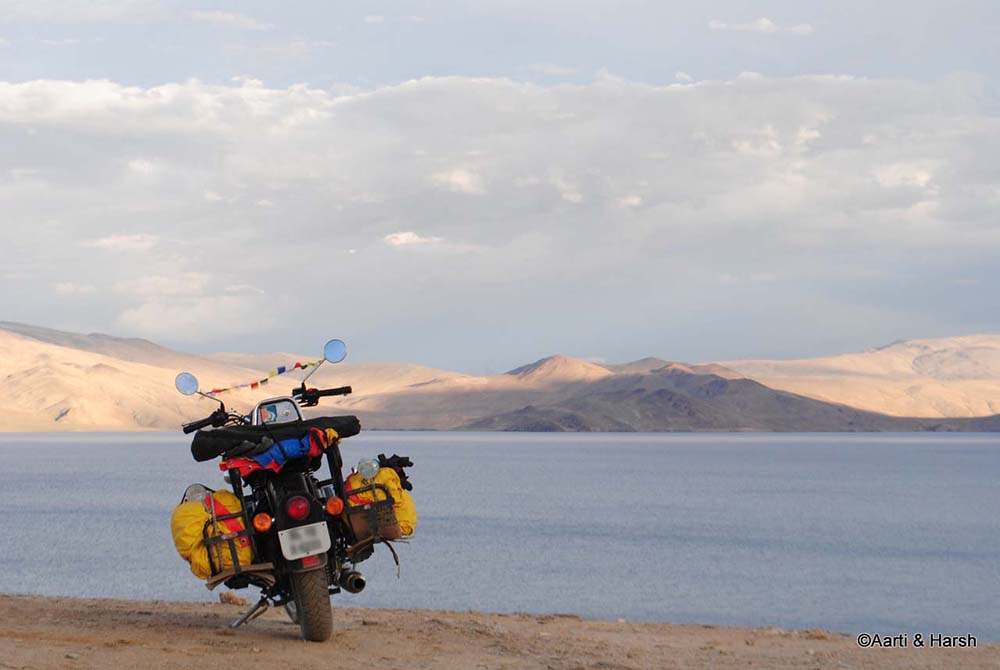 Photography Gear
If you are a photographer then do not forget to pack your
Lenses
Filters
Tripod
Memory cards
Rain cover
Batteries
Charger
Things to Carry for Ladakh Car Trip
If you are traveling by your own car, then you will need to get it ready for the tough trip ahead. You will also need to carry some essential tools and spares to ensure a hassle-free trip.
I have covered these two aspects in a different article How to prepare your car for Ladakh that I will request you to read. It provides information on how you can prepare your car and some tools/spares that you must carry.
Oxygen Cylinder for Ladakh Trip
Whether or not you should carry an Oxygen cylinder will depend on several factors. I have covered this topic in a different article that I will request you to please read How and Where to Rent an Oxygen Cylinder for Ladakh Trip. Details like when you should rent oxygen and where can you rent it from are covered in this post.
Other Items
A few other things to carry for Ladakh trip that are not absolutely necessary but can be helpful are mentioned below.
An extension cord can be helpful if are in a group or have multiple electronics to recharge. These can be used if you end up at a place with just one power socket, or a power socket at an odd place.
A notepad and pen
A few safety pins
A lighter or matchbox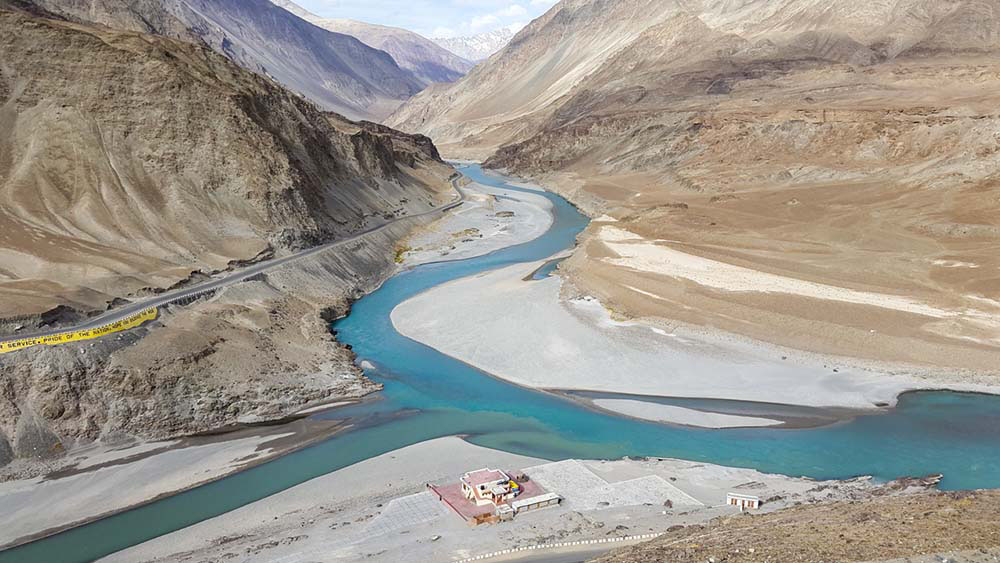 Things to Carry for Ladakh Trip – Conclusion
I hope the information above on things to carry for Ladakh trip was of help. If you have any further questions, please feel free to ask in the comments section below or at our Community Forum, and I will be happy to answer.