In this article, I will provide a complete list of tourist attractions in Leh city and its vicinity.  Most people traveling to Ladakh tend to focus more on what they can see around Leh, like Nubra Valley or Pangong Tso. But make no mistake, even the small Leh city has plenty to offer to tourists.
It is not just a place where you stop or make base while traveling to other nearby areas. There are several tourist places in Leh that are well worth a visit. Some are located within the town itself and for others, you may have to drive out a few kilometers.
Please note that this article only includes places that are either within the town or in its close vicinity, not areas like Nubra valley, Changtang valley, etc. For a complete travel guide on all of Ladakh, I will recommend taking a look at How to Plan a Trip to Leh Ladakh.
About Leh
Often called Mecca of adventure enthusiasts, the city of Leh has its own charm. It is a town like no other, anywhere. When you are in Leh, it is like being in the middle of nowhere with every basic amenity that a city can offer you.
The cold winds, harsh sun, patches of green in a cold desert, snowcapped peaks all around, amazing views of sunrise and sunset, the ringing of the bells in Monasteries, sound of Azaan from the loudspeakers of mosques, delicious food, lovely people, a unique mix of Tibetan and Indian culture; trust me, it is a town like no other.
Leh, once the capital of Ladakh and now its headquarters, is truly a dream destination. Below is a comprehensive list of places to visit in Leh and things to do.
Leh Palace
The first entry in the list of tourist attractions in Leh City has to be the Leh Palace. Overlooking the town of Leh, this palace was built by King Sengge Namgyal in the 17th century.
It continued to be the King's residence until mid 19th century. After the Dogra forces took control of Ladakh, Leh Palace was vacated and the Royal family was moved to Stok Palace.
The palace is nine stories high. You can get an amazing panoramic view of Leh and surrounding areas from its roof. You can also view the mountain of Stok Kangri towards the South from here while the Ladakh mountain range rises ride behind the palace towards the North.
The palace also holds quite a collection of ancient jewelry, ornaments, ceremonial dresses, and crowns. If you are someone interested in photography, this is the perfect spot to get some great captures.
The night view of the palace is quite charming too though you will not be allowed inside after sunset.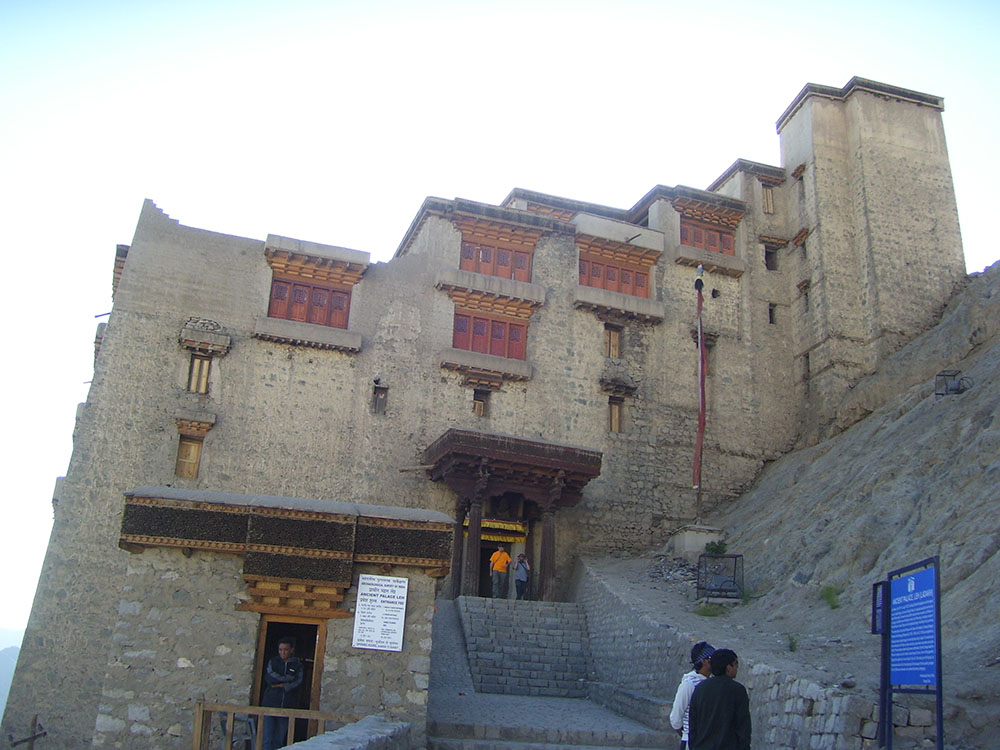 Sankar Monastery
It is located 9 km from Leh on the way towards Khardung La. You can either drive or take a walk but the visiting hours are limited to early morning and evening.
The place is well lit so an evening walk is advised. The walls of the monastery are richly painted with Tibetan calendar, mandalas, and rules for the monks.
An impressive figure here of Avalokiteśvara with 1,000 arms (all holding weapons) and 1,000 heads is placed in the monastery which is definitely worth seeing.
General Zorawar Fort
Further up from Leh palace and Namgyal Gompa is the fort built by General Zorawar Singh. Also known as the Riasi Fort, this was once the base of the Dogra rulers.
It houses a mosque, a natural spring, and a Hindu temple within its premises. A collection of coins, stamps, and other artifacts from the treasure of the ruler are also on display.
There is a road leading to the fort so you can choose to either drive or take a walk from Leh city bazaar which will take you approximately half an hour to reach the fort. Archa
Tsemo Castle
It is another ancient structure a little further up from Leh Palace. It was built by King King Tashi Namgyal in the 15th Century. A 20 minutes trek on a dusty zigzag trek will take you to the top of the cliff that houses Tsemo Castle.
The castle itself is not much of an attraction, to be honest. But the trek and the panoramic views you can get from the top are even better than what you will see from Leh palace. It is another great place to get some lovely captures of Leh and the surrounding mountain ranges.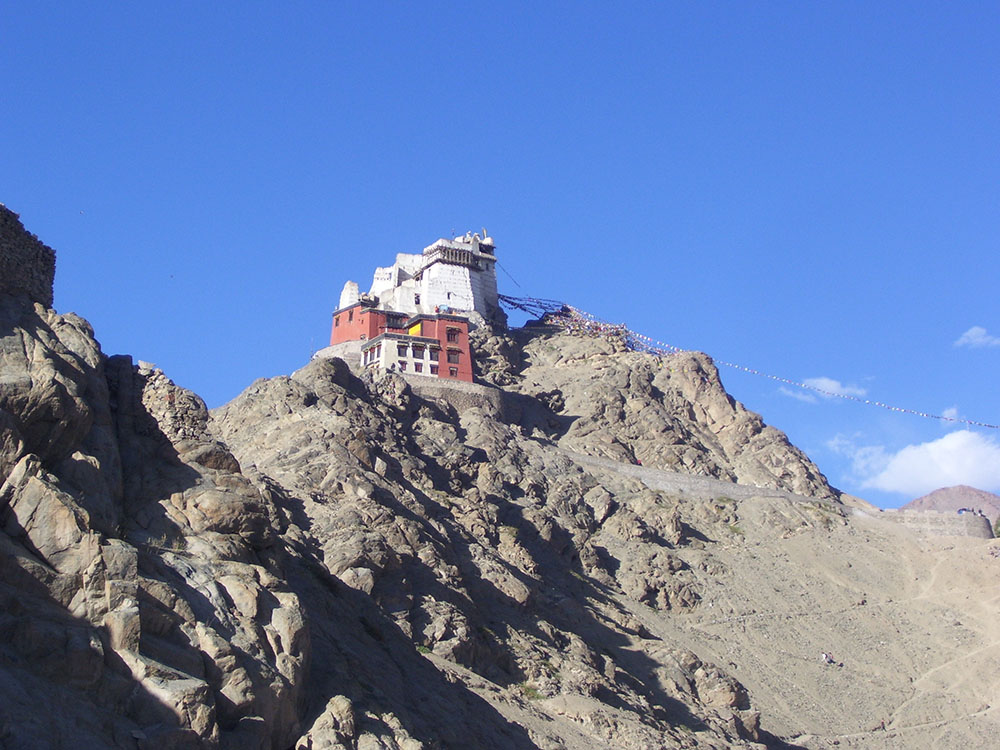 Namgyal Tsemo Monastery
Also known just as Namgyal Gompa, it is an ancient monastery located on the same hill as Leh Palace and Tsemo Castle. This small part that houses the Leh palace, Tsemo Castle, Namgyal Monastery on the same hills, and Shanti Stupa a little further on another hilltop, is locally known as the Khar.
Hall of Fame
It is another must-visit place while you are in Leh. Hall of fame is a museum constructed and maintained by the Indian Army, honoring the Indian soldiers who lost their lives during the Indo-Pak wars and also commemorating the Army's role in cloudburst relief in 2010.
In the Siachen Glacier section, You can find a lot of information related to how our brave soldiers survive in such extreme conditions. Some artifacts related to the Kargil war too are on display. A 30-minute film features various aspects related to the Kargil war.
Jama Masjid
A historical mosque, it was built in 1666-67 and has been rebuilt several times since then. The mosque was a symbol of agreement between the then king of Ladakh Deldan Namgyal and Mughal Emperor Aurangzeb wherein Mughals were to provide protection to Ladakhi King in return for a small fee.
It is considered to be the biggest mosque in Ladakh and is also noted for Shahi Hamdan Memorial, built to honor Mir Syed Ali Hamdani, a Muslim Sufi Saint.
Shanti Stupa
Built on a hilltop in the Changspa region, it is a white-domed stupa built by a Japanese Buddhist Bhikshu, Gyomyo Nakamura.
There is a road leading from Leh to Shanti Stupa so you can either chose to drive or first walk from Leh and then climb up some 500 odd stairs to the top.
It is another great vantage point offering mesmerizing views of Leh town with mountain landscapes in the backdrop and also a great spot to capture some amazing sunset shots.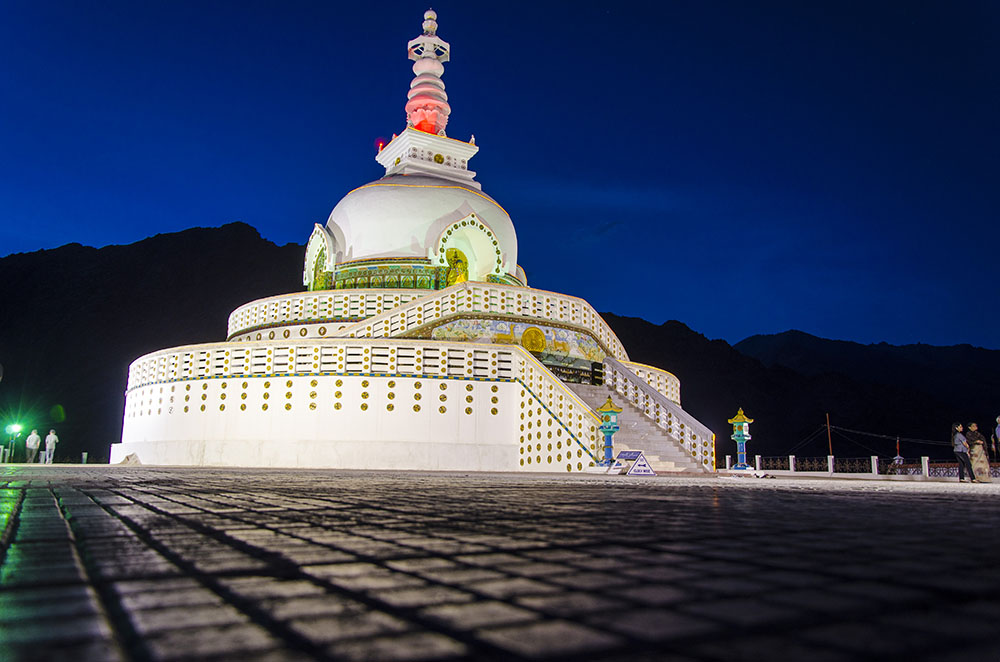 Shey Palace
Once used as a summer retreat by kings of Ladakh, this palace is mostly in ruins now. It was built in 1655 and is located in Shey Village, 15 kilometers from Leh on Manali Leh highway.
Shey Monastery
This monastery is located within the premises of Shey Palace and was also built in 1655. It is noted for a giant copper statue of a seated Shakyamuni Buddha gilded with gold.
Basgo Palace / Monastery
Located around 40 km from Leh is the small village of Basgo which in ancient times was considered a political and cultural center of Ladakh. The ancient Basgo Palace which also houses the Basgo Monastery is located here. It was built in the 15th century but the Monastery is believed to be even older than that.
Gurudwara Patthar Sahib
25 km from Leh on the Srinagar Leh highway is Gurudwara Patthar Sahib. It was built in 1517 to commemorate Guru Nanak Dev's visit to Ladakh.
It is noted for a huge stone that is believed to have Guru Nanak Dev's imprint on it and another stone that is believed to have the imprint of a demon he encountered here. Both these stones are on display here. For more details, please take a look at Gurudwara Patthar Sahib in Ladakh.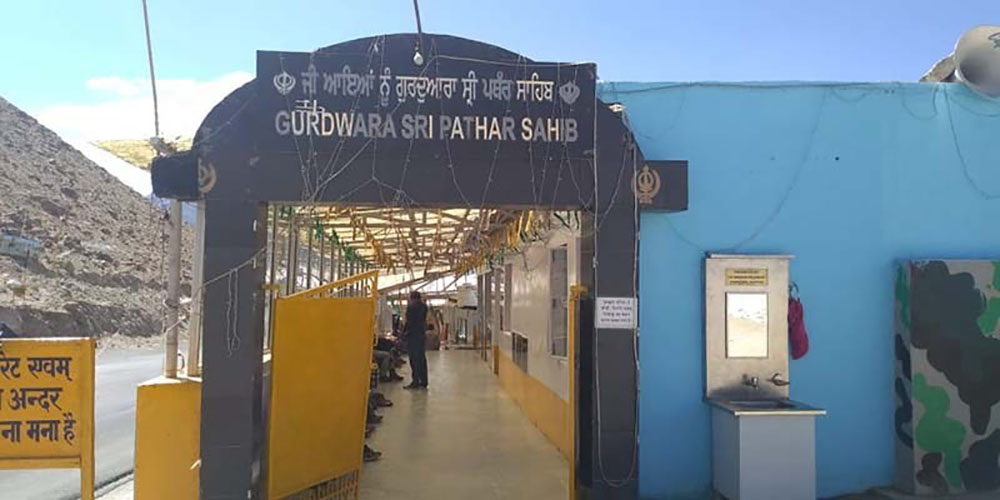 Matho Monastery
This monastery is located approximately 26 kilometers from Leh town, directly opposite Thikse Monastery. It is noted for a collection of thangkas dating back to the 14th century.
Stok Palace
It is the current residence of the former royal family of Ladakh. There is a museum within the palace that holds the shrine, crown, ceremonial dress, and jewelry of the Ladakhi king. The palace is located at a distance of 17 kilometers from Leh.
Likir Monastery
It is an ancient monastery built in the year 1065 AD and is famous for a 25 feet gold-covered Buddha Statue. There are also some artifacts here that are believed to have been created with butter but never melt.
The location of both the villages and the monastery is quite scenic and it is well worth a visit. This village is located about 9.5 kilometers from Srinagar Leh highway and to get here, you will have to take the diversion just about 10 kilometers before Saspul.
For more details, you can read Likir Monastery in Ladakh Travel Guide.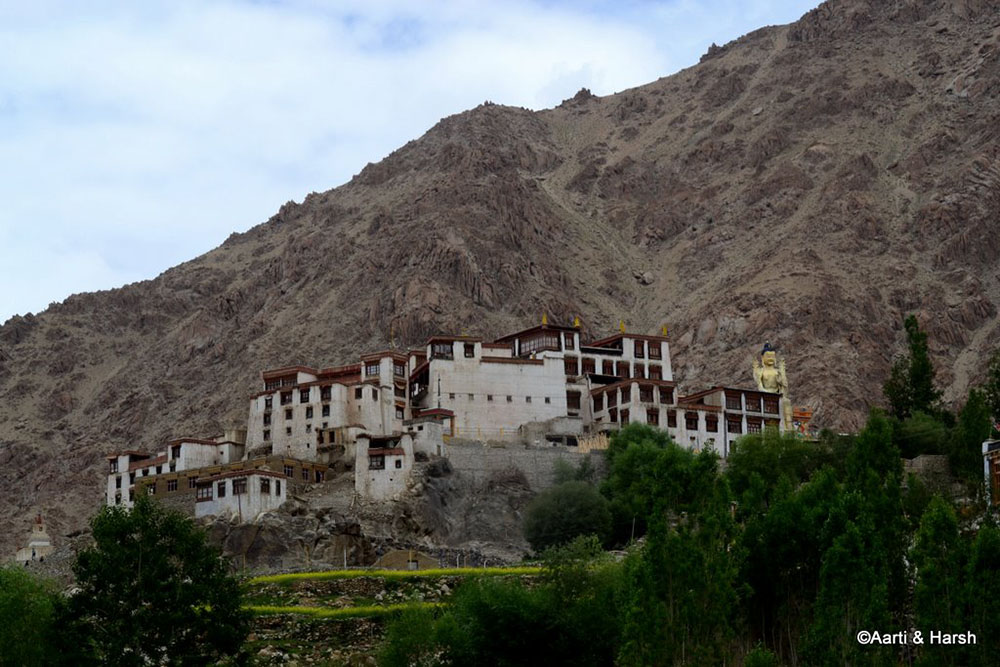 Alchi Monastery
Once you have visited Likir Monastery, return to Srinagar Leh highway and continue towards Saspul once again. Upon reaching Saspul, you will once again leave the highway, turn on the Alchi Bridge and continue for another 7 kilometers until the small village of Alchi.
This is another ancient Monastery in Ladakh, built sometime in the 10th century. There is a path from the monastery that leads down to the shores of river Indus if you want to take a walk.
This is a good place to stay as well in case you want to break the journey. There is a campsite here known by the name of Sumtseg Camps that is run by the monastery itself.
Stok Monastery
Around 2 kilometers from Stok palace is the 14th century Stok Monastery, noted for a library including all 108 volumes of the Kangyur, a 71 feet (22 m) high seated Gautama Buddha statue, and an annual ritual dance-mask festival.
Magnetic Hill of Ladakh
This is probably the most well-known place among all of the tourist attractions in Leh. The common belief about the place is that the hills here have magnetic properties. The magnetic pull will get any vehicle moving uphill even with the engine turned off.
There is a lot of folklore about the place as well which terms the entire phenomenon as supernatural. The fact however is entirely different. In brief, the placement of hills and the inability to see the horizon from this place create an optical illusion. The illusion makes a descending road look ascending.
So when you stop at this spot and turn off your engine, your car will itself start rolling down slowly but since the road appears going up, it will lead you to believe that the car is going uphill. For more details on this, you can take a look at The Truth Behind the Mysterious Magnetic Hill of Ladakh.
Nonetheless, optical illusion or not, it is still an experience to experience. Magnetic hill is located about 35 km from Leh on the Srinagar Leh highway. The road on this part is mostly excellent so you can go to Magnetic Hill and return to Leh in a matter of a couple of hours.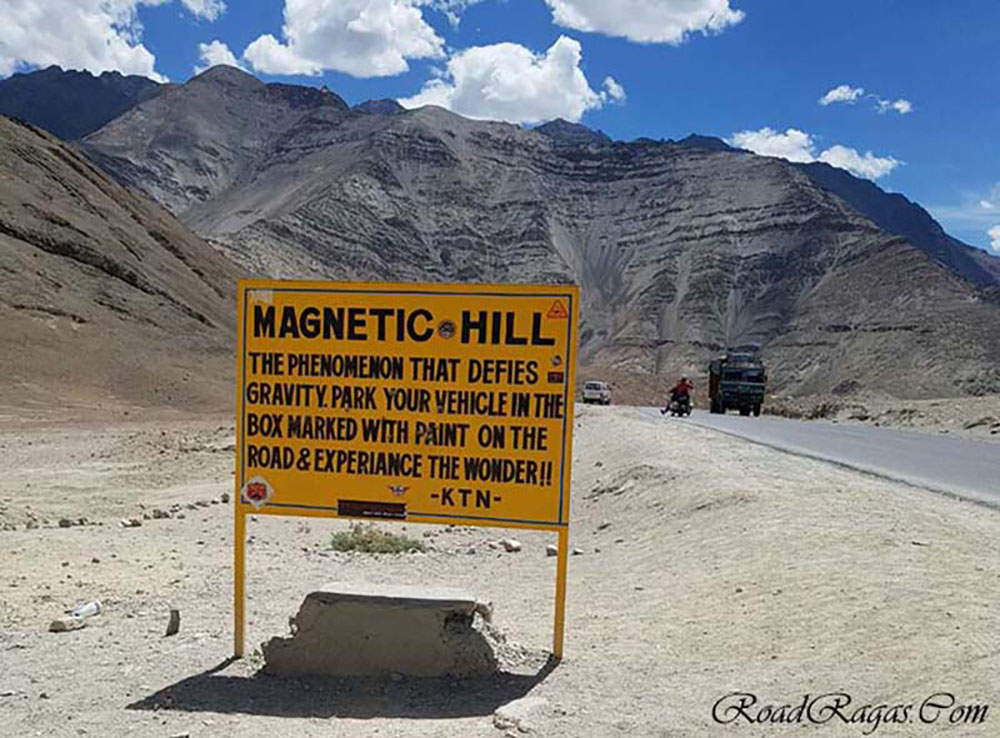 Indus and Zanskar Rivers Confluence
A little further from Magnetic Hill and slightly before the small village of Nimmu, you can see the confluence of the Indus and Zanskar rivers. This spot is locally known as Sangam Point and is among the top tourist attractions in Leh.
The two rivers merging into each other to form one, one with muddy waters and the other one with crystal clear waters, is quite a sight. It is a good spot for photography as well. For more details, please take a look at Sangam Point in Ladakh.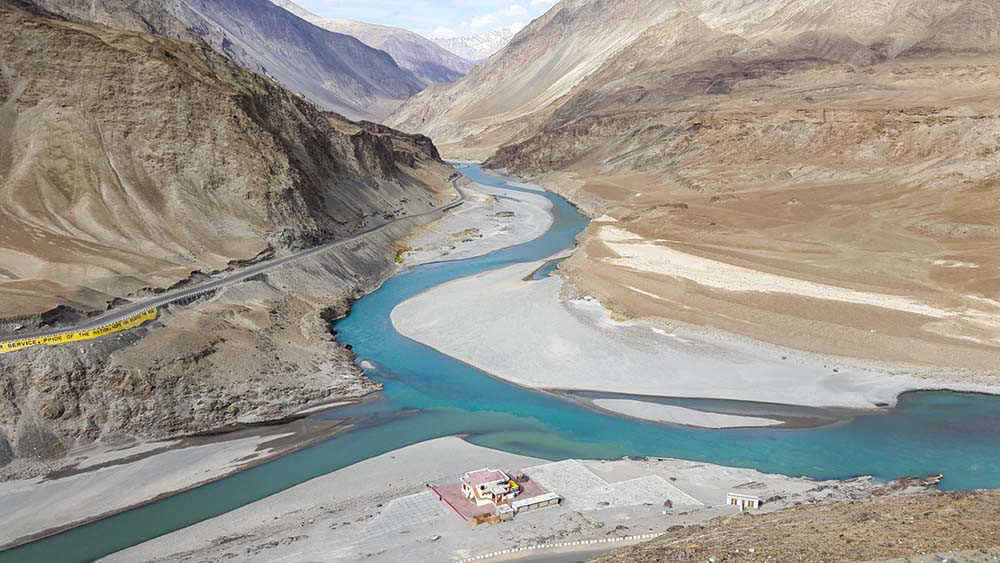 Thikse Monastery
This monastery is located on top of a hill in Thiksey village. It is approximately 19 kilometers from Leh town, at an altitude of 3,600 meters (11,800 ft).
Thiksey Monastery is the largest gompa in central Ladakh noted for many items of Buddhist art such as stupas, statues, thangkas, wall paintings, swords. It also houses a 15 meters (49 ft) high statue of Maitreya, the largest such statue in Ladakh, covering two stories of the building. For more details, please take a look at Thiksey Monastery in Leh Ladakh.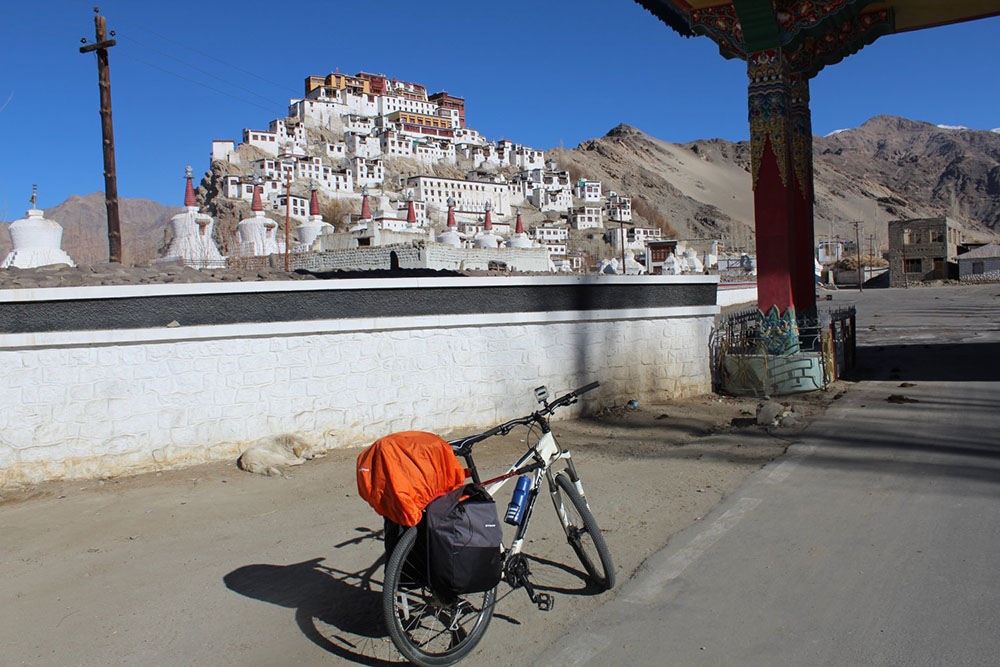 Phyang Monastery
Established in 1515, this monastery is located at a distance of 15 kilometers from Leh in the Fiang Village. It is noted for several sacred shrines and frescoes dating from the royal period.
The monastery is also home to a 900-year-old museum that has an extensive collection of idols including a number of fine Kashmiri bronzes probably dating to the 14th century, thangkas, Chinese, Tibetan, and Mongolian firearms and weapons.
Spituk Monastery
Also known as Spituk Gompa or Pethup Gompa, Spituk Monastery is located 8 kilometers from the town of Leh. It is noted for a giant statue of Kali that only gets unveiled during the annual Spitok festival.
Hemis Monastery
Established in 1672 AD by king Senge Nampar Gyalva, this monastery is located in the small village of Hemis, at a distance of 40 km from Leh town.
A good time to visit this monastery would be in the month of July when a colorful festival is held in the village. The monastery and village as well are close to Hemis National Park, home to the endangered snow leopard. For details, please read Hemis Monastery near Leh.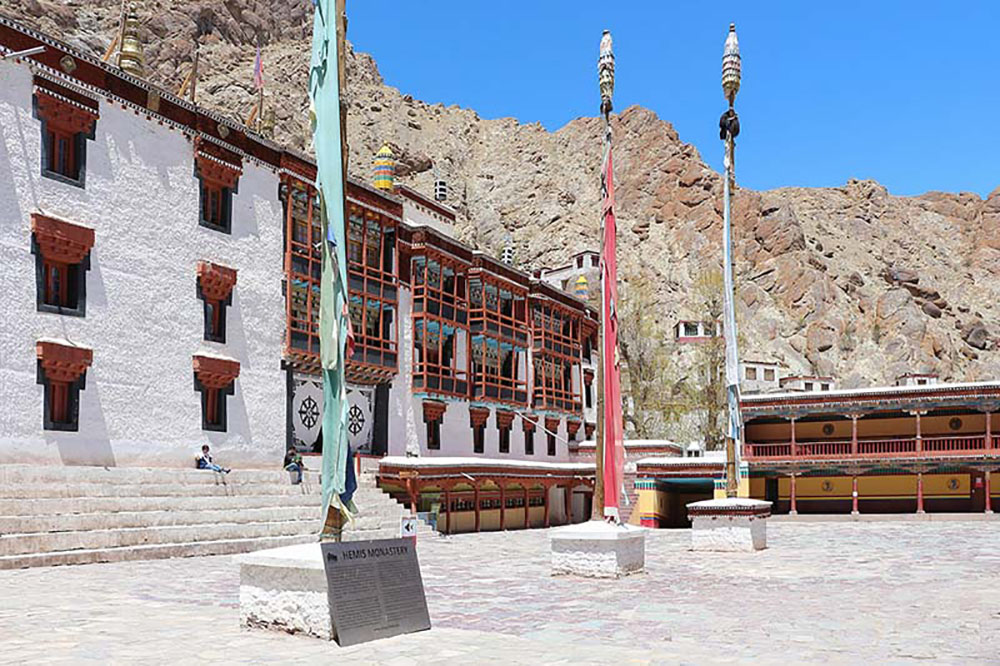 Sindhu Ghat
Sindhu Ghat is located 10 kilometers from Leh near Shey village. It is a peaceful river bank where you can spend some alone time and also get good sunset views. A 3-day annual festival known as the Sindhu Darshan festival is organized here.
Daatun Sahib
Located right behind the Leh Jama Masjid in Main Bazaar, Datun Sahib is a Meswak tree. It is believed to have been planted by Guru Nanak himself during his visit to Leh in 1516.
Leh Main Market
The main market of Leh is a great place to have a walk and do a little shopping. There are several items here that are native to either Ladakh or can only be found in Jammu Kashmir.
Mani Wall
Just near Nimmu village, you can see half a kilometer long Mani Wall, considered to be the longest in the world.
Sham Valley
If you have some time in hand, then a day trip to Sham valley is highly recommended. You can visit places like Magnetic Hill, Zanskar and Indus River confluence, Basgo Palace, Alchi Monastery, Likhir Monastery, and Gurudwara Patthar Sahib. I have written a separate article on How to Plan a journey to Sham Valley from Leh that you can read.
Stakna Monastery
The last entry in the list of tourist attractions in Leh City is the beautiful Stakna Monastery. The word "Stakna" literally means 'tiger's nose'. The monastery is named such because it is built on a hill shaped like a tiger's nose.
Located at a distance of 21 km from Leh town, it was built in the 16th century and is noted for a sacred Arya Avalokitesvara statue from Kamrup, Assam. For more details, please read Stakna Monastery in Ladakh.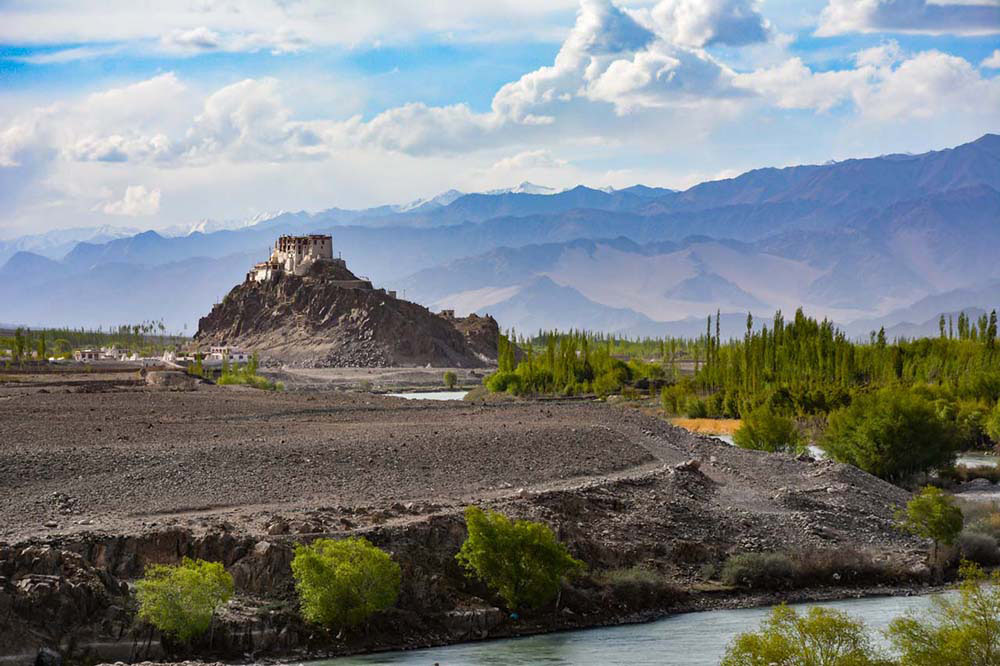 Tourist Attractions in Leh City – Conclusion
I hope this information above on tourist attractions in Leh and thins to do was of help. If you have any questions, please feel free to ask in the comments section below, or at our Community Forum, and I will be happy to answer.