Until a few years ago, the questions about a trip to Ladakh used to be more on adventure side; like what else can be explored, which new pass to conquer or which new lake to visit. The scenario has changed much now. "Evolved" is the word that I use for Ladakh in terms of tourism. Now it is a place that gets considered for even family vacations and honeymoon. So yes, the idea of shopping in Ladakh or some famous things to buy in Ladakh too has taken shape. And it is definitely not in vain which is why I used the word evolved. The markets of Ladakh too changed and grew along with the type of people of people visiting here. There are several things that you can buy here, information on which I will be providing on in this article.
Also Read: How to Plan a Trip to Ladakh – A Complete Travel Guide
When I first visited Ladakh over a decade ago, the only items on the shopping window were by the Indian Army. They had these small shops set up at most visited tourist places like Khardung La and Pangong Tso. Coffee Mugs, Hats, T-Shirts were some of the common items that were sold as mementos. I in fact still have the T-Shirt I bought the first time at the shop at Pangong Tso. It reads "Pangong Lake – I have been there" on the back with a picture of the lake printed. And that pretty much was it. Other than the Army run shops, not much was available to buy in Ladakh. Thankfully, that is not the landscape anymore.
Introduction
Ladakh occupies pride of place at the top of ever die-hard traveler's bucket list, and rightly so! This timeless land is famed for its otherworldly landscapes, picturesque natural beauty, vast open spaces, serene Buddhist monasteries, iconic Tibetan-Nepali-Kashmiri cultural heritage, and countless adventure opportunities. Is it any wonder that tourists are drawn like moths to a flame, thousands every year? When you visit Ladakh, the mighty Himalayan peaks, cold deserts, trekking routes, and saltwater lakes cannot be missed. However, just as essential to your trip is wandering through the incomparable markets and stores of Leh, Kargil, Zanskar Valley, and Nubra Valley. Don't even think about going back home without exotic gifts and cultural treasures, or your loved ones may never forgive you! These souvenirs will be a tangible reminder of your travels and will tempt you to visit Ladakh, time after time!
Also Read: What to See in Ladakh
Shopping in Ladakh
The bazaars of Leh will mesmerize you with the superior artistry and sheer range of artifacts on display. The markets are stocked with fine products all year long, and you will lose track of time as you drift from one store to another, lost in admiration. Even the most jaded shopper will be tempted to spend at least some if not all of their money!
Things to Buy in Ladakh
What to buy in Ladakh can be broadly categorized in three categories.
Artifacts
Small Day to Day Items
Personal

souvenir

s to remember your time in Ladakh
I will cover all these three categories in details.
Best Time for Shopping in Ladakh
Ladakh's peak tourist season is between the months of June and September. During this time, artists and traders from all over the region flock to the markets with freshly created wares – handicrafts, ornaments, household furnishings, and clothing and food items. It is a good idea to fit in dedicated browsing and shopping time into your itinerary. Otherwise, you will regret it until you are back in Ladakh again!
Famous things to buy in Ladakh – Artifacts

What artifacts should you keep your eyes open for? The most famous one, of course, is the Pashmina garments – shawls, stoles, and dresses. There is hardly a tourist who can resist the temptation of purchasing one of these! Apart from these, some of the items are the local Tibetan and Ladakh artisans create caps, sweaters, gloves, socks and hand-woven carpets and rugs. The traditional motifs and designs on these items make them much prized as souvenirs. Local handmade turquoise and silver jewelry are also classy and lovely. Also of incredible beauty are the magnificent Tibetan Buddhist items of religious significance – Thangka paintings, Prayer Wheels and Buddhist masks, to name a few. Another novel item produced only in Ladakh is the lip-smacking apricot jam.
Also Read: Clothes to Pack for Ladakh
Let me provide a little more information on all the items I listed above. I will also, later in the article, add information on where can you buy all these items in Ladakh.
Tibetan handicrafts
Ladakh has an enormous Tibetan population who settled here in ancient times. Some migrated here after the Chinese occupation of Tibet in the 1950s. These fascinating, friendly, warm and kind people add to the richness of the local culture. They open their homes and hearts readily to travelers. They share their cultural heritage by selling handcrafted treasures. Just a warning though – these are so beautiful that it is hard to control restrain yourself from buying the entire market!
These are the bestselling handicrafts:
Thangka paintings: These are eye-catching, intricately painted and are perfect for hanging on the wall. Gazing at these lulls your mind into a tranquil state, helpful to meditate in. These sacred objects are made of silk or cotton and depict the Gurus or a scene from the Buddhist legends.
Buddha statues: Of differing sizes, and each significant in its own way, these statues of the Buddha and Guru Padmasambhava are exquisitely sculpted.
Choktse: Beautifully carved wooden tables painted in stunning colors or varnished to perfection.
Objet d'art: Prayer wheels, flags, beads, masks, carved Chhang pots of brass or copper, bamboo baby cradles, Tibetan Ladakh Keychain, and work baskets.
Singing bowls: Crafted from copper and brass and carved intricately, these bowls are rumored to have healing powers when they are sounded.
Leh Ladakh Jewellery
While traveling in Ladakh, you'll notice the local women wearing mountains of turquoise and silver jewellery. Their sumptuous designs will beckon you like a siren song! You can purchase such jewellery in every Ladakh market – earrings and bracelets, neck pieces and rings and even anklets. These make a beautiful addition to your jewellery collection, and make excellent gifts for the women in your life! Just make sure that you verify the authenticity of the silver. Always check for the hallmark.
Pashmina
In the not too distant past, only aristocrats and rich merchants could afford to own a Pashmina product. It was a mark of the owner's status. Pashmina wool provides tremendous warmth, and yet it's super light and delicate to boot. You can imagine why it was so prized in the bone-chilling temperatures of Ladakh!
Today, Ladakh markets offer several products made of fine Pashmina wool – shawls, stoles, gloves, sweaters, socks, blankets and even caps. Before purchase, verify that it is, in fact, Pashmina in your hand. Real Pashmina is so fluid that an entire product can pass through the width of a finger ring!
Also Read: Mobile Services in Ladakh
Buddhist Artifacts
Tibetan Buddhism is the predominant religion in Ladakh, and you will find it well represented in every sphere of life here, even shopping! Perfect as gifts, you can pick your way through many interesting curios. The most eye-catching ones are of course the classic masks. Ranging from handheld to gigantic, these depict the history of Buddhism.
Ladakh Prayer Wheel
Another interesting item is the Buddhist prayer wheel. You might have noticed those cylindrical spheres you have to revolve while walking into a monastery. Well, these are simply ones that you can hold in your hand. Made from wood or metal, they are imprinted with holy chants.
Ladakh Prayer Flags
No photo of Ladakh is complete without colorful prayer flags fluttering the wind, against a bright blue sky. They are everywhere, outside monasteries, in stores and even on vehicles. The locals believe that you should not buy them for yourself. So, they make an excellent gift option. Available in all sizes, these can be of the vertical or horizontal varieties.
Ladakh Carpets and Rugs
To add a touch of splendor to your home, consider purchasing one of the Kashmiri carpets here! Intricate, and hand weaved with designs passed from generation to generation these are made from wool and silk. Their vibrant colors can truly lighten up a room, and their exquisite quality will put everything else you own to shame!
You can also browse through the markets to locate your perfect Ladakh rug. These thick, sturdy rugs are handmade by artisans and hung on the walls of the home to provide extra insulation from the cold. They are dyed with natural colors and embossed with striking, detailed patterns of flowers, dragons, and geometric shapes. No matter your budget and size requirement, you are sure to find a rug that you will love forever.
Also Read: How to Travel to Ladakh with Children
Small Day to Day Items
The things with artifacts is that these can cost you a little money sometimes which not everyone would be up for. Artifacts also are not everyon'e cup of tea. Like for example, a group of bikers would never want to buy Pashmina Shawls in Ladakh. They would rather bring back home some small items that they can easily carry around and are not costly.
Apricot everything
This will be the first common item that you can purchase here. Apricots are the only fruit that grows in the harsh climate and rugged terrain of Ladakh. This luscious and delicious fruit is packed with antioxidants and nutrients. In Ladakh, it is produced abundantly, and the locals use it to make organic jam, oil, and juice. Enjoy apricots freshly plucked off the bushes and sold in the markets. For loved ones back home, be sure to carry jam and dried apricots.
Crockery / Small Kitchenware
These will be mostly cups, plates and mugs that you can use in everyday life; like the set in the picture below. These items have something or some part of Ladakh printed on them; to remind you where they were bought from.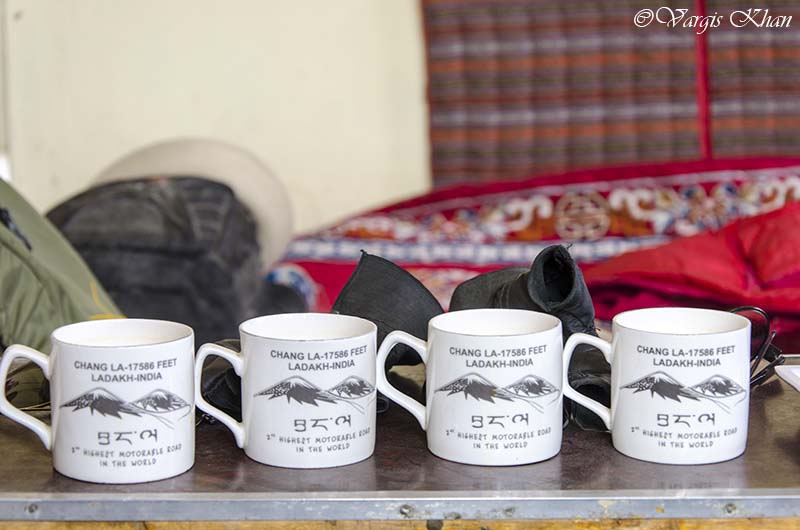 Kurtis, Shawls and Saris
This will be another not so so expensive items that ladies can buy in Ladakh. You will find some beautifully hand embroidered and machine embroidered clothing that you can buy from Leh market.
Also Read: Necessary Items to Pack for Ladakh Trip
T-Shirts / Hats / Accessories
These will appeal more to guys, group of friends or the biker lot. You can the same pattern T-Shirt for the entire group, or hats or small accessories like key-chains. Like in the picture below, this T-Shirt has a picture of Pangong Tso printed on the front and 'I Was There' on the back. You can buy this for the entire group and ride together; or click pictures.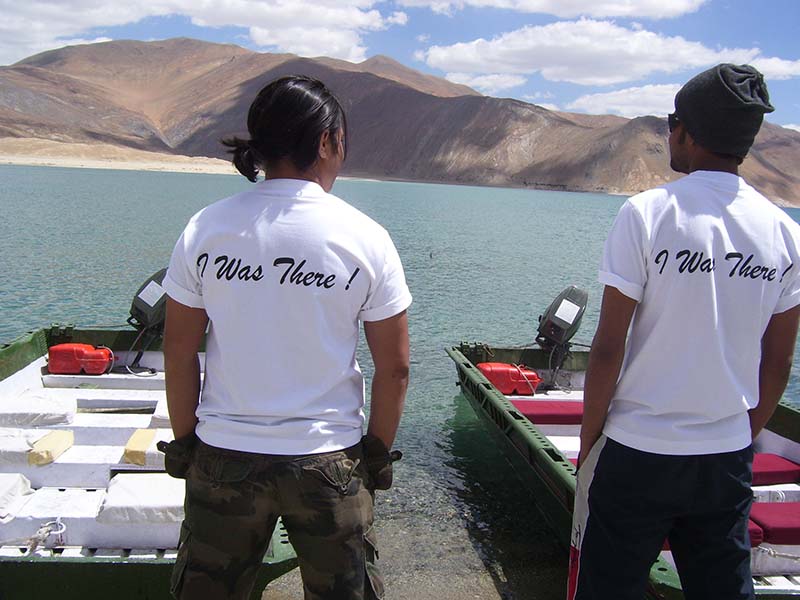 Chhang (Alcohol)
Chhang is the home brewed local beer of Ladakh. It is quite famous and a great item to try while you were there and to even bring back hom a few bottles.
Where to Shop in Ladakh
Ladakh is a shopping paradise. Wandering through the markets here will literally take you back in time. Ladakh has remained mostly untouched and has remained true to its roots. In fact, it's a good bet that most of the items you find are handcrafted exactly as they would have been five hundred years ago!
Ladakh markets have enough variety to satisfy even the most die-hard shopaholics. Take the time to explore them thoroughly. You will have a fascinating shopping experience unlike anywhere else in India!
Here are the main shopping places in Ladakh:
Army Run Stores
These are the best place to buy some cheap souvenirs. The stores are run by Indian Army to sell some day to day items and accessories. You will also find Army trucks stopped at several places and selling these small items (like in the first picture in this post)
Also Read: When to go to Ladakh
Leh Main Bazaar
This is the high street of Leh, bustling with locals and tourists alike. Large, family-owned shops rub shoulders with tiny, standalone markets stalls. Once you step in, you'll find it hard to leave! The Main Bazaar is an excellent place to purchase Ladakh and Tibetan handicrafts, antiques and curios, precious jewellery, Buddhist religious , and Pashmina products. If you have very little time to shop for souvenirs and gifts, this market is the right place. You will find everything you want in one place.
Must Explore Stores:
Tibetan Handicraft Community Showroom and Tibetan Handicraft Emporium
These two stores guarantee authenticity. All their products are lovingly and painstakingly handcrafted by local artisans. These are the best stores to shop for Ladakhi and Tibetan handicrafts, jewellery and artifacts. You'll find prices here a bit higher than other stores, but the sheer exquisiteness of quality makes it worth the extra bucks!
Ladakh Art Palace
Do you have a fine eye for jewellery? Are on the lookout to add the next exciting piece to your collection? Then a visit to this store is a must! The variety of antiques, jewellery, wares, and artifacts are mind-boggling!
Dalai Lama Charitable Trust Handicraft Emporium
Support the local Tibetan community by making at least one purchase here. The products here are all handcrafted by Tibetan artisans – woolens, paintings, shawls and much more. It is hard not to appreciate the talent and hard work of these artisans reflected in every product. Many of these traditions are on the brink of extinction, so encourage these artisans by definitely purchasing from here. Hardly difficult, since every product is so tempting!
Ladakh Apricot Store
Fallen in love with apricots and want to carry them home? Head to this store! Jam, oil, fresh apricots, dried apricots, you name them, it has them! Special mention goes to the lip-smacking jam.
Also Read: How to Plan a Solo Trip to Ladakh
Leh Moti Market
This is one of the oldest markets of the region, still in business. During the age of the Silk Route, precious stones, pearls, gems, and jewellery were sold here. That is how it earned its name. For high-quality traditional jewellery, this is the number one place. No matter your budget, you will definitely find an artifact or piece of jewellery you will lovingly carry back home!
Changspa (Leh)
This market is open only during summer during peak tourist season. Its stores, cafes, and restaurants provide everything a traveler could possibly need. The hotels here are pretty affordable as well. Not too far is a small outpost of the Indian Mountaineering Foundation. For trekking enthusiasts, this place is a one-stop shop for information and arrangement.
Cottage Industries Exposition
Sponsored by the Jammu and Kashmir Government, the entirety of the region's handicrafts can be found here under one roof.
Tibetan Market (Leh)
Set up in the 1950s by Tibetan refugees who fled the Chinese occupation, today this market has grown in size to become one of the largest in Leh. Numerous stalls line the streets, selling everything from Buddha idols to Prayer Wheels to Jewellery to woolens. The prices are also friendly to your wallet! When you want a breather, you can step into anyone the cafes here for a plate of yummy momos, topped off with Butter Tea. Doesn't it sound like heaven?
Shar Market (Leh)
This is the place you should head to if you want to purchase traditional Ladakh clothing. You can get truly creative with the items sold here. Many of them can be incorporated into your regular winter wardrobe, provided you can carry them off!
Here are the most-purchased clothing items:
Perak: Headgear for women made of fine lambskin and studded with turquoise
Goucha: A thick robe for men, usually made of sheep or yak wool. Tie it at the waist with a complementary Skerag sash
Kuntop: A shawl for women with a built-in bag at the bag! Local women carry provisions or even their babies inside.
Padum Market (Zanskar Valley)
Walk through here for silk carpets, handicrafts, and Pashmina shawls.
Also Read: Sightseeing in Leh City
Diskit Market (Nubra Valley)
The only market for miles around, you'll find the bare essentials here – Turquoise stones, Prayer Wheels, and Seabuckthorn juice.
Kargil Market
This is a prime place to purchase local ornaments, carpets, woolens, handicrafts, and the much loved Apricot jam. Make sure to visit the Kargil War Memorial close by and pay your respects.
Tips for Shopping in Ladakh
Haggle!
Prices are flexible, even if the sign says "fixed". Remember this at all times. Bring out your bargaining skills and get into a good, old-fashioned bargaining contest with the shopkeeper. Prices are generally inflated for tourists, especially foreigners. That being said, avoid bargaining at the government operated shops and Tibetan support shops.
Check authenticity
If you are purchasing precious jewellery – silver, pearls or turquoise, make sure you check the hallmark. Cheap Chinese made fakes sneak into the stock now and then.
Carry plenty of Cash
Most shopkeepers in Ladakh accept cash only. Also, ATM machines are not only rare but are frequently out of cash. Make sure you carry enough cash for the duration of your trip and keep some aside for shopping.
Write in a shopping slot into the Itinerary
Markets in Ladakh are huge, bustling, and you can endlessly explore. You need time to unearth the treasures lurking in the shops. Also, each purchase needs its own haggling time. Set aside at least two days of dedicated shopping time to make the best of the markets here.
What can you buy in Leh Ladakh – Conclusion
Shopping in Ladakh is unlike shopping anywhere else in the world. Don't believe us? Come experience this slice of heaven yourself. I hope the information above on shopping in Ladakh was of help. If you have any questions; or need any other details; please feel free to ask in the comments section below; or at our Community Forum; and I will be glad to answer.