Known as the "Land of High Passes" since ancient times, Ladakh has been one of the most breathtaking and magical locations in the world. The culture of the region is a perfect mix of Kashmiri and Tibetan and this fusion is visible in almost everything, right from the languages spoken to clothes wore and even in the list of foods to try in Ladakh.
Ladakh contains pretty much everything. The world's coldest desert? Check! Jewel-bright waters in endless lakes? Check! Glaciers standing cheek-by-jowl with sand dunes? Check! Mighty peaks from which flow sparkling rivers and streams? Check!
Ladakh is an isolated paradise, utterly untouched by modernity, unchanged for centuries. Its beauty, simplicity, and spiritual relevance, for Hindus, Buddhists and Muslims and other ethnic tribes only enhance the mystery and timelessness of this land.
If you were planning a trip to Ladakh anytime soon, below is a list of some of the foods to try in Ladakh and make your trip even more memorable. For details other than food, please take a look at How to Plan a Trip to Ladakh – A Complete Travel Guide.
Local food in Ladakh
Ladakh cuisine features some of the most iconic and delicious dishes of India. This mountain kingdom has been at the crossroads of trade between Tibet, Nepal, and Kashmir, and the delicacies here clearly reflect the varied cultural influences.
The dishes are mostly pieces of bread, dumplings, stews, and soups, which are both filling and capable of keeping the body warm in freezing temperatures.
Since the region is so remote, Ladakhi people are self-sufficient and grow most of their own grains and vegetables. It's common to walk into a little family-owned joint, which serves vegetables and meat harvested from their own farms and flocks.
Such organic food is supremely nutritious and consists mainly of barley flour, potatoes, beetroots, pumpkins, beans, and dry fruits, enhanced with liberal use of exotic Himalayan spices. For meat, the people lean towards mutton and chicken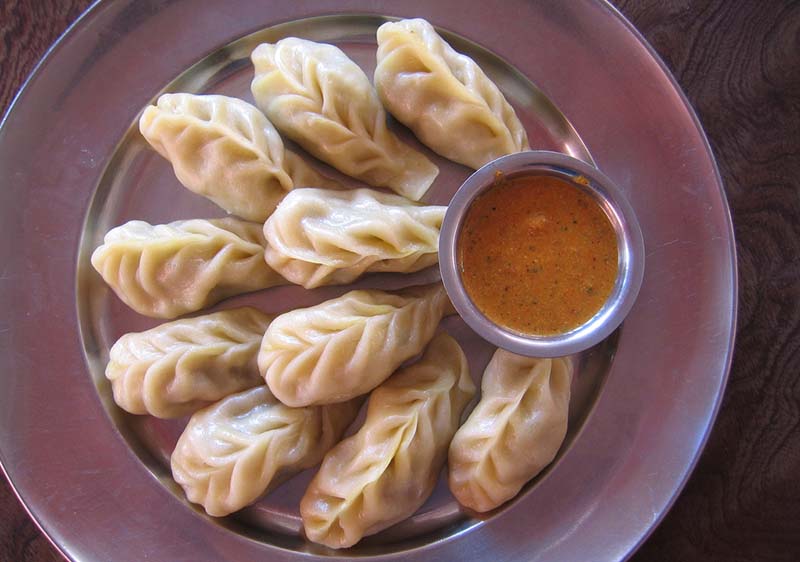 Image: Wiki
What to Eat in Ladakh?
The answer to the question above really is 'anything you wish'.  Leh City is a well sought-after destination, and there are ample amount of restaurants here serving all kinds of food.
If you want to stick to your regular meals then you will easily find several eateries serving all kinds of North Indian, South Indian, and Western dishes. There are plenty of Dhabas here too and you will have no problem getting a plate of Roti Sabzi, Daal Chawal, Dosa, or a bowl of Idli Sambhar.
But if you are up for something different then you are up for a treat. Here are some of the must-try Ladakh dishes without which your Ladakh trip will be sadly incomplete.
Also Read: What to See in Ladakh
Ladakh's mouth-watering cuisine will leave a lasting impression on you. Foods that you would want to try here are a mix of Tibetan and Kashmir.
When I say try, I really mean when you want to eat something different than what you do in everyday life. The dishes available are both vegetarian and non-vegetarian. The most popular items on the menu will be as mentioned below.
Cuisine of Ladakh – Tibetan Food
Chutagi
Skieu
Paba
Khambir
Momo
Thukpa
Tapu
Tigmo
Thenktuk
Mokthuk
Kashmiri Dishes –

Non-Vegetarian



Mutton Roghan Josh
Gushtaba (soft meatballs cooked in natural yogurt, white curry)
Rishta (Soft Meat Balls in delicious Gravy, Red Curry),
Tabak Maaz (Deep fried ribs of a lamb)
Kanti(small chunks of meat cooked with a lot of onions).
Seekh-Tuji – Marinated and freshly barbecued meat pieces eaten with chutney
Grilled Mutton called Tilli or Tekh
Marzunga Korma
Shami Kabab
Meeth Maaz
Kashmiri Pulao (Both Veg and Non-Veg) / Also known as Ladakhi Pulao
Kashmiri Dishes –

Vegetarian



Veg Dum Aaloo
Tamatar Zaman (Paneer)
Nundur Yakhin (Lotus Stem prepared in Yogurt)
Haak (Kashmiri Saag)
Kashmiri Pulao (Both Veg and Non-Veg)
Beverages
Cholak
Butter tea or Gur Gur Chai
Qahwa
Tangdur
Sea buckthorn juice
Kashmiri Chaai
Namkeen Chaai
Chhang (Alcoholic)
Foods to Try in Ladakh
Below is a brief explanation of Tibetan Items listed above.
Chutagi
This dumpling and vegetable soup is an iconic Ladakh dish. The bow-shaped dumplings are cooked in a soup consisting of carrots, potatoes, and spinach. Simply delicious and very filling!
Also Read: Clothes to Pack for Ladakh
Skieu
This is a wildly popular soup-based dish whose recipe has remained unaltered for centuries. Wheat flour and water are kneaded together to form thumb-sized pieces, which are then added to a stew comprising root vegetables such as turnips and carrots along with the meat. It is not uncommon to find momos added in as well. Ladakh people enjoy it morning, noon and night!
Paba
This staple food is the secret to the average Ladakhi local's incredible health and longevity. It is a traditional recipe, Roasted flours of peas, barley, wheat, buckwheat, and black beans are kneaded into the dough. This dough is then kneaded in a tiny bit of oil and eaten with sugar, buttermilk, or freshly harvested vegetables.
Khambir
This is a perfect accompaniment to the Butter Tea, soups, and broths. A pan-shaped, whole wheat bread, baked to perfection with a thick crust, it is incredibly filling. Leh has several bakeries which churn out this delicious local bread. Dip into a brew or slap on Apricot jam, the options are endless!
Also Read: Mobile Services in Ladakh
Momo
No die-hard foodie can think of momos without salivating, and we are no exception! Of Tibetan origin, momos are today served in every corner of India and have a dedicated fan following.
Trust us though, you haven't eaten a momo till you have tried one in Ladakh. The dough is stuffed with minced meats, cheese, and vegetables and then steamed till cooked.
They are then served with chutneys, chili sauce, or ketchup. Momos may also be served in a soup. Incredibly, this simple dish is so versatile that the combinations of stuffings are endless.
Also, every stall and restaurant has its own secret momo recipe. This unique, flavourful dish has rightly earned its place in the Food Hall of Fame.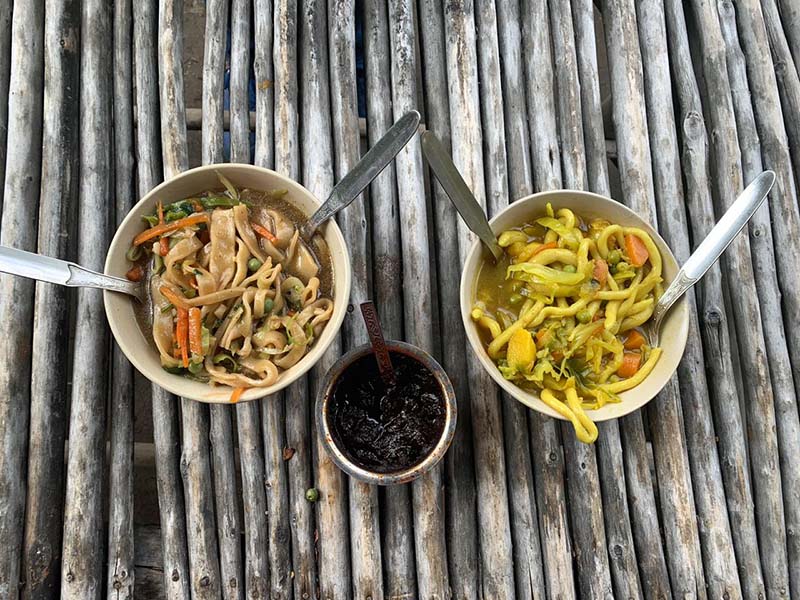 Thukpa
Ah, the Thukpa! Expect to encounter it during mealtime here, whether you try to or not. Luckily, once you have tasted it, you will return again and again. A Tibetan noodle soup, this is popular comfort food to warm you up, inside and out. In fact, the "Thuk" in the name means heart in Tibetan, since this spicy, hotdish is heartwarming.
Into chicken, mutton, or beef soup are added noodles, tomatoes, onions, garlic, and seasonal vegetables and served with spicy chutney. Dip into Thukpa with Khambir pieces for the perfect dinner!
You will see it in every small food join in Ladakh. Thukpa is served in every food joint in Ladakh, whether a restaurant or a little family-owned shop. It's another Ladakhi staple and is lovingly consumed every day.
Also Read: How to Travel to Ladakh with Children
Tapu
Grain flour of wheat, barley, or buckwheat is mixed with ground apricot seeds until a smooth texture is achieved. Then it is boiled in water to arrive at a unique, nutritious, and delicious dish.
Tigmo
One of the most popular snacks in Ladakh, this sweet, sour, and spicy concoction is sold in every food joint, big or small. This flavourful vegetable stew is perfect for any time of the day or night and can be eaten as a snack or a full meal.
Steamed pieces of fermented bread pieces are served alongside. Dig into a bowl of Gitmo as soon as you land in Leh – it helps you acclimatize to the tough mountain conditions.
Thenktuk
A Thukpa variant, this soup noodle dish goes easy on the spices. Of Tibetan origin, the gravy consists of mutton, chicken, tomatoes, onions, spinach, potatoes, radish, garlic, ginger, and cilantro.
The noodles are of the pull-out variety and mixed with wheat dough chunks. The unique fact about this dish is that Yak meat is often used here, which makes it iconic and a must-try for every food connoisseur.
Mokthuk
Crazily in love with Ladakh's soups and momos? What if you could have a dish that had both? The answer is Mokthuk, a nutritious, filling version of the Thukpa.
This delicious dish combines noodles, various vegetables, chicken, and mutton, along with momos dunked in the gravy, topped off with spices. Perfect for the cold weather and your taste buds!
Gushtaba
This dish came about as a result of the Kashmiri influence. Hot and spicy, it is often referred to as the "Dish of the Kings". Such is its importance that to refuse this dish in someone's home is considered a grave insult to the host.
What does this awesome dish contain? Minced mutton meatballs, sprinkled liberally with fennel, ginger powder, mustard oil, and red chilies. Finally, they are marinated in yogurt to arrive at a state of a perfect balance of taste.
Also Read: Necessary Items to Pack for Ladakh Trip
Side dishes
Below are some side dishes that are not part of the main course but are definitely worth trying.
Apricot Anything
Apricots are known for their anti-aging properties, so be sure to gorge on apricot products! This is the only fruit that can survive Ladakh's harsh landscape and weather.
Ladakh people enjoy apricot syrup, jams, and juices. The jam, in particular, is not only organic and nutritious but also every sweet tooth's dream!
Tsamik
A quintessential Ladakh dip, this sauce is prepared with coriander and mint leaves, onions, and radishes. Yogurt or buttermilk are added to these ground ingredients, and then chili powder and salt are sprinkled. The thick paste which emerges acts as a perfect Paba dip!
Holkur
Think multi-grain biscuits are a corporate invention? Wrong! They have existed in Ladakh for ages in the form of Holkur. Usually homemade, these biscuits also have sugar and nuts added. They are popular during tea time and breakfast. Combining them with Butter Tea is an excellent choice!
Also Read: When to go to Ladakh
Chhupri (Yak milk cheese)
A postcard of Ladakh will definitely contain the picture of an enormous, shaggy animal known as the Yak. This gentle giant is a source of milk and fur, and tourists also take rides on them.
However, did you know that the milk is treated with citrus fruits to arrive at a yummy Himalayan cheese? Known locally as Chhupri, this cheese comes in three flavors – plain, salty and sweet. Every market and stall in Ladakh sells pieces of Chhupri, which is a bit like Italian Ricotta cheese.
Chhupri is pretty versatile. It is added to Butter Tea, eaten with rice, or even snacked on. Chutneys are made with cheese, and tomatoes or even filled into momos. The possibilities are endless!
Phirni
This is Ladakh's answer to kheer! The technique to make this sweet traveled over from Iran and was readily incorporated into the Ladakh diet. Vermicelli and rice and boiled in milk. Then, raisins, pistachios, and cashews are added.
To top off this rich dish, saffron and cardamom are liberally sprinkled. A bowl of Phirni and the end of a meal acts as a perfect foil to all those spicy soups, momos, and stews!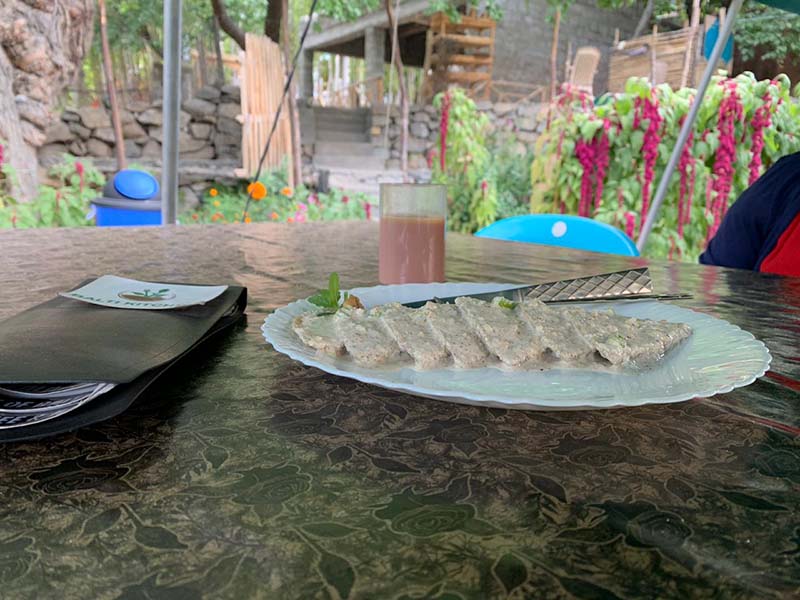 Traditional Food in Ladakh – Beverages
After the meals, below are some drinks that you should definitely have a sip of while visiting Ladakh.
Cholak
This is an interesting dish of only three ingredients – Chhang, buttermilk, and Tsampa. Roasted grains are mixed with salt water to make Tsampa. Later, Chhang and buttermilk are added. It brings to mind Bihar's staple drink "Sattu"!
Also Read: How to Plan a Solo Trip to Ladakh
Butter tea or Gur Gur Chai (also called Tsaza)
This signature drink of Ladakh has become quite popular with tourists. Locals, of course, can't live without it so it is constantly served at all social gatherings! Incredibly, this tea is pink in color, with a distinctive aroma.
For half a day, tea leaves are stewed in water. Then, boiling milk is added to this water, along with salt and fresh yak butter. The pink color is from the Himalayan salt used.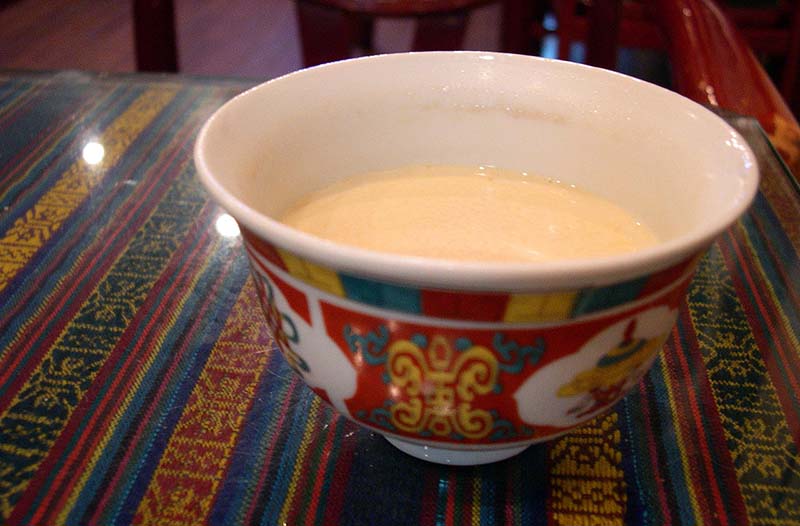 Image: Wiki
Every Ladakhi home has a wooden apparatus, passed down through the generations, just to create Butter Tea. Not only is it delicious, but the salt protects against altitude sickness, while the butter moistens lips against harsh desert winds. Not to mention the warm feeling in your chest and throat!
Want my advice? For an authentic taste, chat up a friendly local and drink this tea at his home, not at a market stall or restaurant.
Chhang
This is a traditional alcoholic brew, made with fermented millets. It is mildly intoxicating but works to keep the body warm quite effectively. Stored in wooden drums, Chhang is poured out from brass kettles.
Ladakhis take their Chhang pretty seriously. The oldest lady in the village is the quality tester. She tastes every new batch produced to approve or disapprove of it.
Also Read: Sightseeing in Leh City
Qahwa
This tea originated in Afghanistan but is today an indispensable part of every Ladakh household. A warm, mild drink of green tea leaves stewed with saffron, cinnamon, cloves, cardamom, and dry fruit pieces, may also contain rose petals.
For sweetness, honey is added. Exotic? Of course! Prepared in a traditional kettle known as a Samovar, it is a wonder drink, with anti-inflammatory properties. Qahwa tea powder is also available in local groceries, so you can buy and bring it home as well.
Tangdur
This refreshing, nutritious buttermilk is popular as a side dish or quick snack. A drink like this is not available anywhere except Ladakh; where vegetables such as cabbage, spinach, lettuce, chrysanthemum leaves; and sugar beets are added to buttermilk.
Sea Buckthorn Juice
Locally known as Leh berries, the Seabuckthorn plant was relatively unknown till some decades ago. This makes it the latest addition to the ever-evolving Ladakh cuisine. After discovering that the berries are both rich in Omega-3 Fatty Acids, and quite delicious, juices and jams made from the same became famous and popular.
Now, this nourishing berry is much sought after for its benefits to the skin and nails in particular. Ladakh boasts two juice bottling plants, one in Leh and the other in the Nubra Valley. These berries are native to Ladakh and do not grow anywhere else in the world. Make sure you try this refreshing juice for yourself!
Special Shout-out!
Langar fare
Gurudwara Pathar Sahib is one of the highest Gurudwaras in the world. Continuing the holy Sikh tradition of serving others, their community kitchen dishes out simple but delicious fare which is sure to remind you of your mother's loving preparations. Your list of foods to try in Ladakh is incomplete unless you have had langar at the Gurudwara.
Once you taste it, you will absolutely fall in love with the Rajma, so yummy it is!  This place is a favorite haunt of the Indian Army, especially during lunch hour.
Food you Should Try in Ladakh – Conclusion

Feeling weak with hunger? Longing passionately to dive headfirst into Ladakh cuisine for yourself? What is stopping you? Ladakh awaits you!
I hope the information and details above on foods to try in Ladakh were enough to get your mouth watering. If you have any questions or need any further details, please feel free to ask in the comments section below or at our Community Forum, and I will be glad to answer.