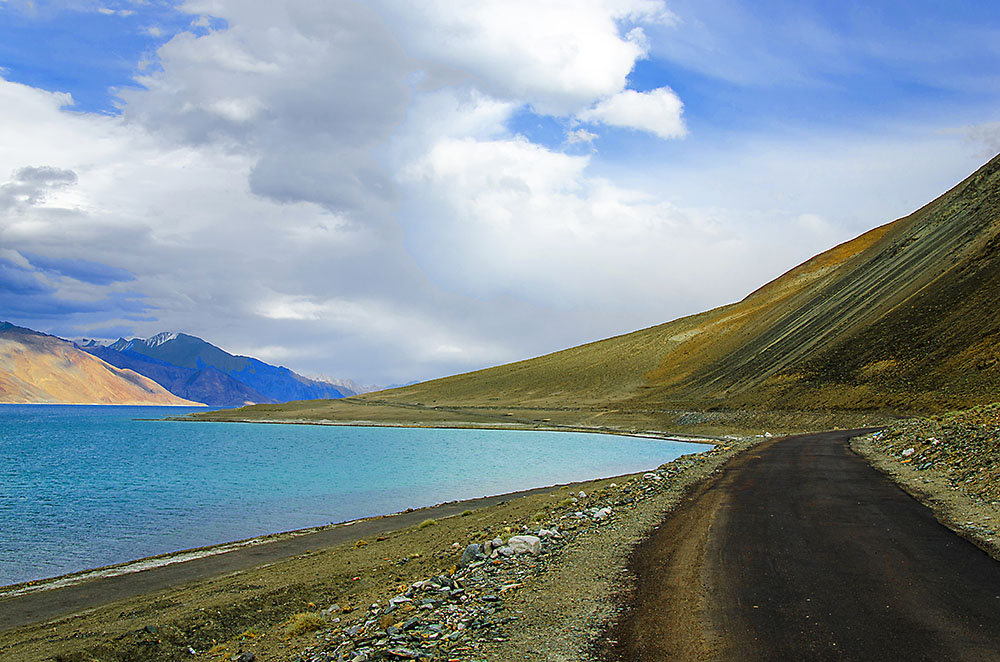 In my previous article, I talked about reaching Pangong Tso from Nubra Valley via Wari La. In this article, we will discuss the second route, the Agham Shyok Road, that you can take to complete the same journey. This is now the shortest and easiest road that you can take to travel from Nubra Valley directly to Pangong Tso or even if you were traveling the other way around.
A few years ago, say about a decade, when traveling to Leh was more for the adventurous kind, a common itinerary that people followed was to go to Nubra valley, come back to Leh, and then go to Pangong the next day. I followed the same when I first visited Leh.
There were two reasons behind this. The first and the foremost reason was that there was not much information available anywhere about different inner roads in Ladakh. So people would usually stick to the main roads. The second reason was there was not much civilian movement in the area so several of these inner roads remain out of the limit for tourists.
Much has changed now. Ladakh has gotten popular and tourism in the area is increasing with each passing year. Thanks to that, even government removed several restrictions like ILP and opened several new areas for tourists to visit.
Agham Shyok Road
One such road that did not even exist like 5 years ago is the Agham Shyok road, also simply known as Shyok road. It is named after the Shyok river that runs parallel to it and also Shyok village, which you will cross while traveling on this route.
Earlier, if you wanted to reach Pangong from Nubra, there was no other way but to return to Leh and go to the lake the next day. Or you could take the Wari La road which would save you some kilometers but you really got to have a strong vehicle to make it to Wari La top. Both these routes were time-consuming and would eat up an entire day.
To make it easier for the locals, tourists as well as the military, another road was constructed that runs along the Shyok river. It was considerably short and would cut down the time of journey between two places considerably. But was it really easier?  Time-saving, yes, but easier? Absolutely not.
It was one of the most dreaded routes of Ladakh and people were strongly advised to not travel on it. There were incidents when people's cars got so badly damaged here. So bad that they had to be brought back on a tow truck. More details on this are provided later in the article, the part that I wrote when I first published this article in 2015.
Current Status of Shyok Road
Much however changed since then. Thanks to the continuous efforts by BRO, the road now is a smooth run all the way and can get you to Pangong Lake from Nubra in under 6 hours. The below pictures should give you an idea of the current condition of the road.
Nubra Valley to Pangong Tso via Agham Shyok Road
Now let me talk about how you can plan your journey between the two places via Shyok road. Before I get into details of this road, let us take a look at the map of the region to understand the route better. The 48 kilometers long stretch between Ahgam and Shyok villages (highlighted in red) in the map below is known as Shyok road.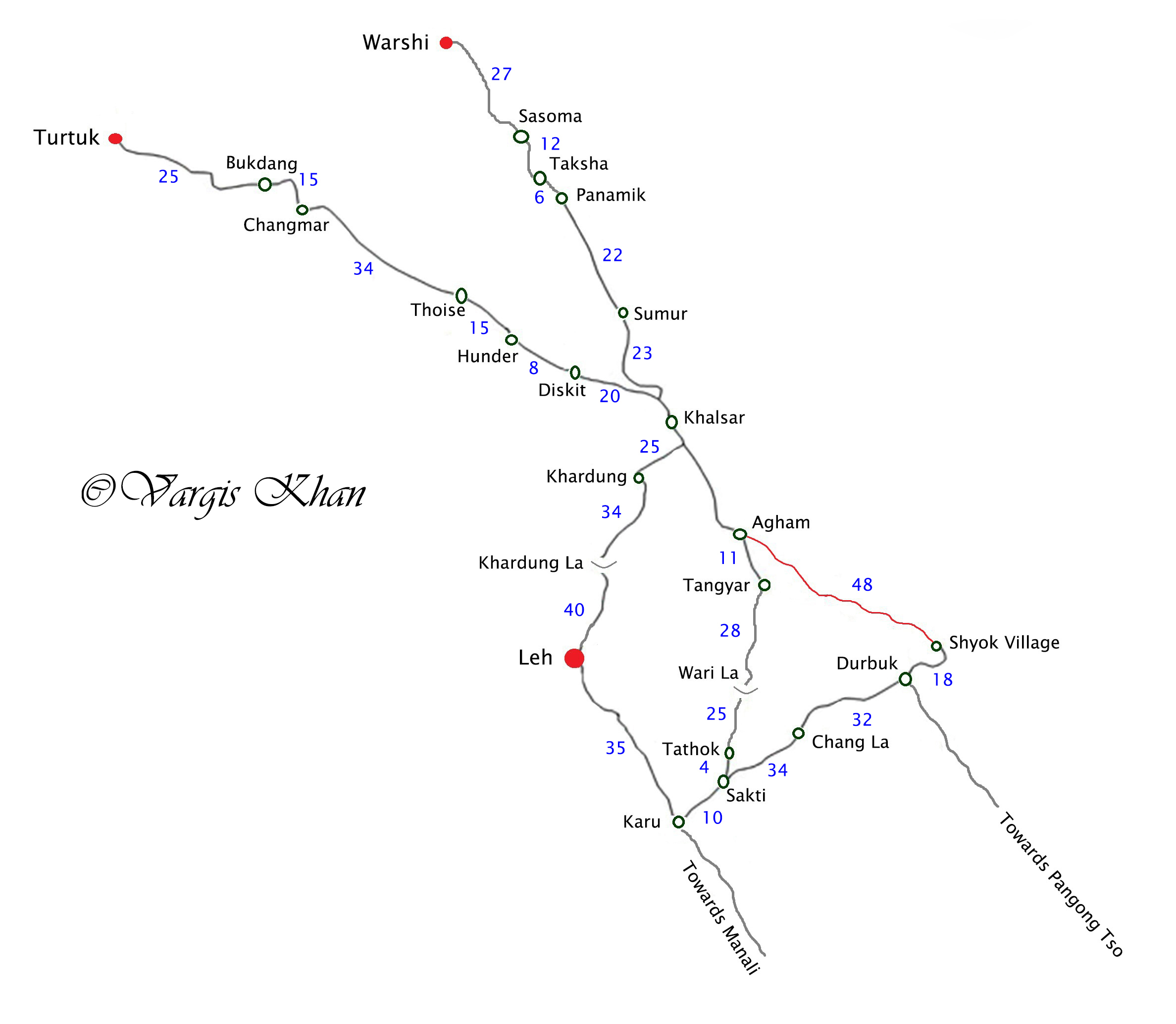 To explain the journey, I am assuming that you have arrived in Nubra Valley and are now ready to move on to Pangong. Depending on where you stayed in the valley, start driving back on the road towards Khardung La and reach Khalsar Village.
After crossing Khalsar, you need to take the road towards Village Agham, to your right. Do not go uphill on your left because that will take you back to Leh via Khardung La.
Once you reach Agham Village, you will again be at a bifurcation. The road to your right goes towards Wari La Pass so do not go that way. You need to turn left that would take you to Shyok village.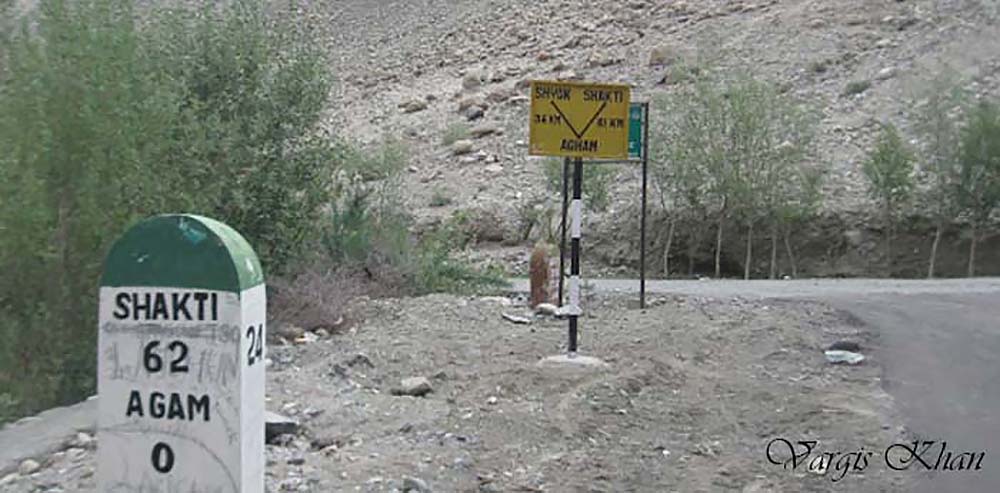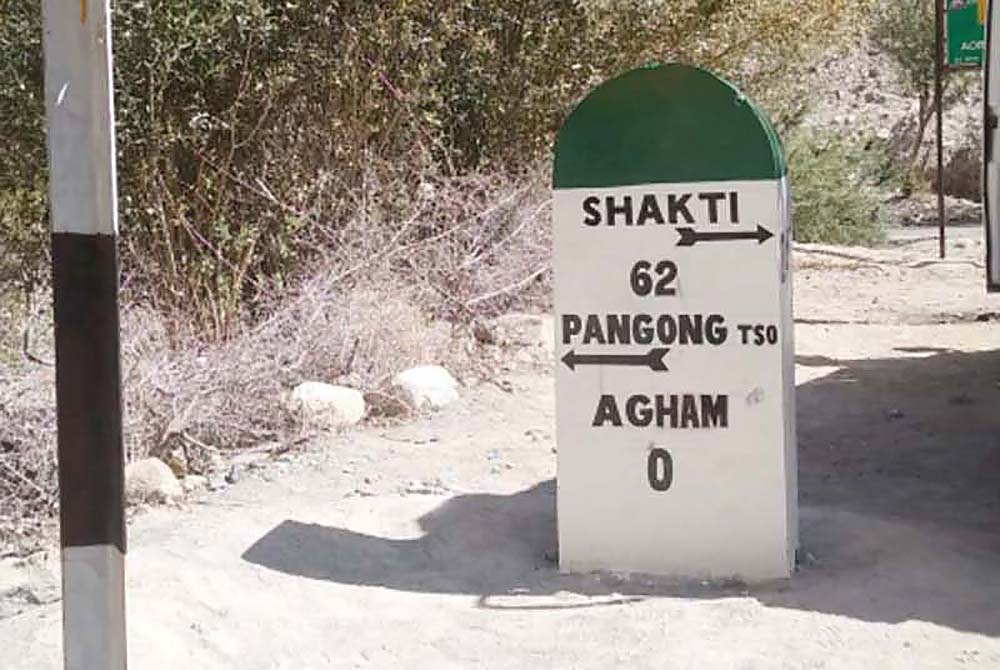 After Shyok Village, you will continue to Durbuk. From there, it is a straight run to Pangong Lake to your left.
Nubra Valley to Pangong Lake via Shyok Distance
The total distance between Nubra Valley and Pangong Lake via Shyok is approximately 160 km, depending on where you stayed in Nubra Valley. The 160 number that I quoted is from Diskit. If you stayed in Turtuk, it will add roughly another 90 kilometers to the total.
The total travel time is about 6 hours from Diskit, Hunder or Panamik. It is about 80 to 90 km and 4-5 hours less than the Wari La route.
Also Read: How to Plan a Trip to Pangong Lake from Leh
When is Shyok Road Open?
The road remains open from May to October. The thing that you need to keep in mind is that the Shyok river runs right next to the road at several places. When I say right next, I mean almost at the same level and parallel. Sometimes, due to the melting snow, the water level may increase and you will find the river right on the road. This can cause the road to be closed temporarily. Otherwise, it remains open during the tourist season.
A word of caution though. This is also a landslide-prone area and some parts of the stretch are enough to get your heart pounding. Falling stones from up above the hills is another big concern and safety risk. So please always be on the look out and drive carefully. Do not take breaks or stop right underneath a mountain. Make sure the area is safe and clear of any falling stones or rocks before stopping.
Public Transport on Shyok Road
There is no public transport available on this route yet. You will not find a bus or a shared cab. If you were traveling by public transport, the only choice you have is to hithhike. A lot of tourists travel on this road these days and you will have to try your luck.
If someone is willing to let you tag along, you are in luck. Otherwise, you have no option but to come back to Leh and catch a bus for Pangong the next day.
Also Read: Schedule & Timings of Bus Service in Ladakh
Why was it so Dangerous Before?
If you are wondering why was this road so dreaed before then continue reading. The part below is my actual post from 2014-15 when this road was newly opened to tourists. The part I mentioned above is what I added later after the road conditions improved.
From 2014-15
While the Wari La route is long and equally desolated, the Agham Shyok road is even more isolated. It is far more treacherous, if it can be called a road at all. For a while, it will run right next to the Shyok river, and then there will be a tremendous gain in altitude.
For the part when you will be traveling next to the river, you may have to cross the river several times. By that, I mean driving or riding right through the water and not over a bridge. If the water level in the river is high, the entire road would be claimed by the Shyok river.
In the months of July and August, when the snow is melting, there will be several streams of water that you will have to go through. To make it worse, this entire stretch is full of rocks. At some places, you would have to get down, remove rocks and clear the road to pass by. Loose rocks, big rocks, rocks underwater, stones sharp enough to damage your vehicle's tires, you name it and this road has it.
There are several sand dunes on the route too and at some places, you may have to drive through the sand.
As I mentioned above, this entire area is highly desolated and you would rarely come across another living soul. Even the local taxi drivers would sometimes refuse to take this route.
There are no services on this road anywhere and a breakdown would mean big trouble. If you are traveling alone, then there is no other option but to leave your vehicle and walk to the nearest source of help which would either be Agham or Shyok village.
Other Tips
After all said and done, there is no denying the fact that the road is highly scenic as well. If you have the slightest interest in photography, you would barely be able to keep your hands off your camera. If you are the adventurous type, this is a road that you would remember for the rest of your life. So if you are planning to travel on this route, below are a few suggestions I must make.
Avoid traveling alone as far as you can. You should be in a group of at least 2 to 3 vehicles. If your car gets stuck in the sand, or rocks somewhere and you cannot get it out and you are alone, you are done.
Take this road only if you are an experienced driver. Some of the curves and terrain are hard to handle and you do not want to risk your own safety or of people with you.
Be careful while removing clearing rocks from the road. Do not hurt your hands.
A 4×4 vehicle with good ground clearance is best for this route.
Do not even think about taking a hatchback or Sedan; unless you intend to bury your car in Shyok village and catch a flight back home.
If you are in a 4×2 SUV, it will still be a tough journey. You really need to be good at the wheel to manage.
Even a 4×4 SUV will cry out loud at some places; especially in July and August when the water level is high and Shyok river will be waiting to greet you right on the road itself.
Inquire about the road conditions ahead while you are in Nubra valley or at Agham village. If the locals ask you to not risk it, take their advice and return.
Motorcycles
For motorcycles, your bike really needs to be in a good condition to handle this terrain. I know the entire Ladakh is a difficult terrain but this road is an entirely different story altogether.
Get your bike checked in Leh before you start towards Nubra. Travel solo if at all possible. Travel light and leave your extra luggage back at the hotel at Leh if you can. Be very careful and ride slowly because if your bike slips, you can get some serious bruises and cuts.
Stop, get off your bike at the water crossings, inspect and then get across slowly and carefully. Water crossings here have some big and unstable rocks under the water so practice caution.  If you are on a rented bike, the rule is plain and simple, DO NOT go on this road.
Best Time to Travel on Agham Shyok Road
The next question is, when does this road open. Surprisingly, unlike several other routes, this road opens a little early, almost at the same time as the Srinagar Leh highway. I have known people who have done this route in late April and early May.
This brings us to our next question which is when is the best time to travel on Agham Shyok road. In my opinion, there is no best time really. But yes, July and August are the worst months to be here. As the snow melts in these months, there will be several water streams and a high chance that the Shyok river may run over the road as well.
If you want to cover this route, think about doing it in either May or June or after August. The road remains open until late October and closes almost at the same time as Srinagar Leh highway.
Agham Shyok Road – Conclusion
I hope this information on Agham Shyok road was of help. If you have any further questions or need any other details, please feel free to ask in the comments section below or at our Community Forum, and I will be glad to answer.