If you asked me, when is the best time to visit Ladakh? My answer would be it depends on you. Let me explain. The best time to visit any place in my opinion varies from individual to individual; and I am basing this on assumption that not everyone is looking for the same thing. Then factors like budget, mode of travel etc too come in the picture. Same logic applies to Ladakh as well.
A common belief about Ladakh is that it is only a summer place; and that it is completed isolated in winters. I would not really deny this completely because Ladakh does get under several feet of snow for half of the year; and most of the areas here remain inaccessible for several months. Yet the fact however is that it remains open for tourists throughout the year. Several people, if not thousands, go here even in peak winter.
Best Time to Visit Ladakh
Ladakh presents a different color in every season. Every month brings its own set of surprises, own set of delights. It has a little bit for everyone; from adventure seekers, to photographers, to people looking a bit of solitude to even families looking for a fun vacation. It is that forbidden mysterious land that opens its doors for visitors only for a few months and then shies away under a thick white sheet of snow. Deciding on the best time to visit Ladakh can be a little confusing so let me break it down month by month.
Also read: How to Plan a Trip to Leh Ladakh – Complete Travel Guide
Ladakh in April
Come April and everyone who is planning a trip to Ladakh that year starts to get anxious, waiting for the highways to open. Snowfall stops and summer starts to step in. BRO continues to work clearing the snow and both the roads remain closed for most of the month of April. It is towards the end of April that Srinagar Leh highway is declared open but that too is not really guarantee and sometimes the date can even get pushed up to early May. Hotels and guest houses start to open up preparing for the tourist season. The only way to reach Ladakh in April is by Air and it is not really an ideal time to go.
You do not get to see any snow yet the weather will be freezing cold, will have trouble finding a hotel or guest house, will end up paying more for accommodation and most of all, will miss traveling on Manali Leh or Srinagar Leh highway. By Late April, all the lakes including Pangong and Moriri have completely melted to their natural blue. Roads towards Nubra and Pangong are however open in this month however it may get closed temporarily if it snows at Khardung La or Chang La.
Ladakh in May
The month of May marks the beginning of Tourist season in Ladakh after Srinagar Leh highways opens either in late April or early May. Several hotels and guest houses become operational however there is still a lot of snow around, especially towards the top of the peaks. Roads at this time too are in a really bad situation as BRO starts the restoration work. Visiting Ladakh this time would mean that you either go there by Air or take the Srinagar Leh Highway for both getting to Ladakh and journey back home.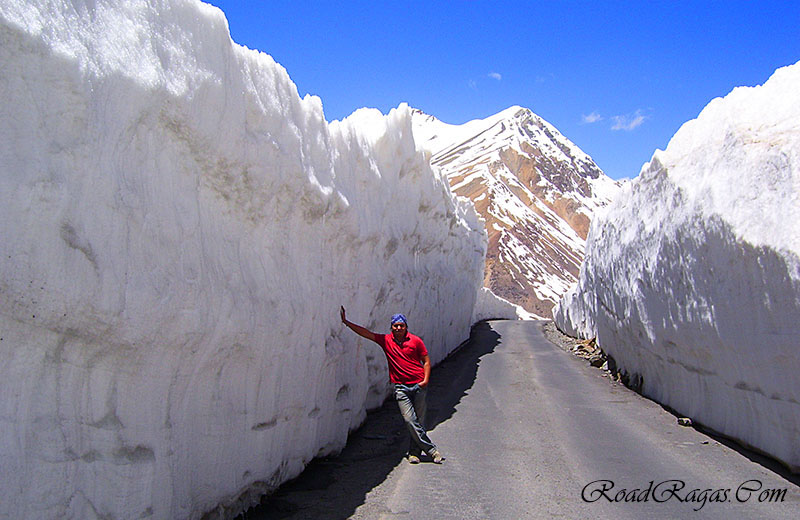 Ladakh in June
Tourist season by this time is at its full peak with the opening of Manali Leh highway in early June. All the hotels and guest house are completely functional. This is the time to go if you also want to catch some snow at the passes on Manali Leh highway. The roads however are still not completely restored and you may encounter a lot of rough patches on your way. You also will encounter a lot of water streams on the way as snow starts to melt down.
Also read: How to Plan a Solo Trip to Ladakh
Ladakh in July
This is one of the perfect months for Ladakh trip if you can make it in the first half before Monsoon hits the Himalayan region. Roads are in near perfect condition and all of Ladakh is open for visitors including some of the internal roads like Wari La route. Entire Ladakh at this time is filled with tourists and the valleys will present you with grand vistas all around.
Ladakh in August
If greenery is on your mind, then this is the time to go. You may encounter rain; however it will be limited to areas around Kullu, Manali; Srinagar and Sonamarg as Ladakh experiences very little rain (except for the unfortunate cloud burst incident). Once you cross Baralacha La on Manali Leh route and Zoji La on Srinagar Leh highway; you enter a rain shadow area where there is either very little or no rain at all. Traveling at this time will present you with lush green valleys; however be ready for a lot of slush, landslides, puddles and possibly also resulting roadblocks and even traffic jams.
Also read: A Complete Road Map of Entire Ladakh Region
 Ladakh in September
Month of September is a perfect time for Ladakh visit.  Monsoon is gone but greenery is still all around, Ladakh is blossoming with colors everywhere, hotels and guest house are all functional and roads are in near perfect condition. The entire Ladakh brims with astonishing beauty at this time. The only annoying part of traveling at this time the Raid-de-Himalayas rally which in my opinion is a disturbance to everyone except for the ones participating in it.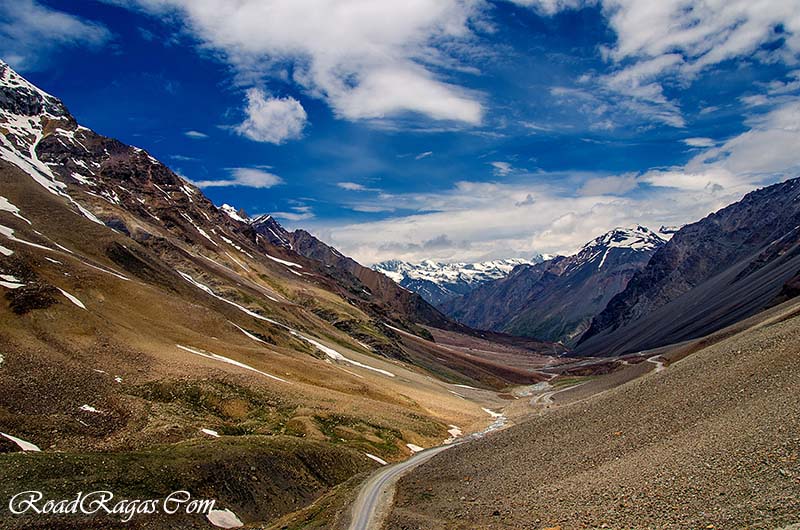 Ladakh in October & November
October marks the beginning of winters and cold starts to settle everywhere. High altitude regions already start experiencing zero degree temperatures at night and there is a high chance that it may snow anytime. Hotels and guest houses mostly would have closed already by late October and the top of almost high altitude passes would have received snowfall. Come November, the Srinagar Leh road closes and Ladakh gets totally cut off by road and only accessible by Air. Read the link below for more details on Ladakh In October.
Also read: How Safe is Ladakh for Tourists?
Ladakh in December to March
Winter is at its peak and temperature at nights can drop to as far as minus 20 degrees Celsius. January and February is the best time if you want to plan a trip to visit Ladakh in winter. All the lakes including Pangong and Moriri are completely frozen at this time. The famous Chadar trek too happens around this time. You cannot camp at Pangong at this time and will have to return to Leh after making a day trip to the lake. Running water will not be available anywhere as the water in taps too freezes. Hot water will be presented to you but in buckets. Electricity too is limited to only a few hours of the day. Not an ideal time to go unless you are capable of handling extreme cold.
So depending on what I described above, if one is to decide on the best time to visit Ladakh;
Best time to visit Ladakh by road
Srinagar Leh highway opens sometime in early May and closes by mid-November. Manali to Ladakh opens by early June and will close by Mid October. First few weeks of this time will present you with highly damaged roads that may even get temporarily closed.
Later few weeks towards closing will always pose a risk of snowfall at top of the passes which may close the roads again. So by road, you should choose a time when the roads are stable and you can cover both the highways. Start from either from Manali or Srinagar and end the trip at the other place; hence completing the Ladakh circuit. Anytime from Mid-June to Mid-September would be good enough for a road trip. How you can narrow this time more precisely is explained further in article.
 Best time to visit Ladakh on a Budget
If planning a budget trip to Ladakh, best time to go would be anywhere between July and September. All hotels are open during this time and you have a higher possibility of finding an accommodation within your price range. Public transport services too are all operational and you can easily find a Bus or shared taxi towards any desired destination. Go any earlier or later than this and you may struggle finding a budget accommodation and transport.
Also read: How to Plan a Trip to Ladakh by Public Transport
Best time to visit Ladakh for photography
It actually depends on what you are interested in shooting. If greenery is on your mid than your best bet would be August, during monsoon when the valley around Manali and Rohtang are at full blossom. Apart from this, best time to visit Ladakh for Photography in my opinion would be September. Monsoon would have just left the valley but you will still find plenty of green around Manali. Go to Suru and Zanskar Valleys and you will have grass and leaves changing colors from green to orange and even red as fall season progresses. Same is the case with Nubra valley as your proceed towards Turtuk. September in Ladakh means multiple colors all around under a deep blue sky and you will just love what you shoot at this time.
Best time to visit Ladakh on Bike
If traveling on Motorcycle or regular bike, Late June, early July and September would probably be the best time to go. Any earlier than this will see you struggle on bad broken roads. August will have you getting drenched in rain as Monsoon at this time is at its full swing which also means more furious water crossings. Any later than September and it will be too cold to be riding on motorcycles to Ladakh.
 Best time to visit Ladakh by Car
It depends on what do you exactly mean by Car and what would you rather prefer. If your Car is a Sedan or Hatchback; do not even think about taking it in any other month but September. By this time, there are no chances of any rain or landslides; water crossings are not that furious or deep, and road conditions are the best in this month. If you are in a 4X4 or SUV, then you can go anytime between June and September. If you want to go offloading and want to drive on broken roads, do it in May after Srinagar Leh highway opens or early June as soon as the Manali Leh highway is declared open.
Also read: Manali Leh Highway Route Guide and Road Map
Best season to visit Ladakh
Fall is the best season to visit Ladakh. Go there in September and witness the colors within the shades of grey of a cold desert under a deep blue sky. And it is not just the trees, leaves and flowers that you will find colors in, but also in the mountains.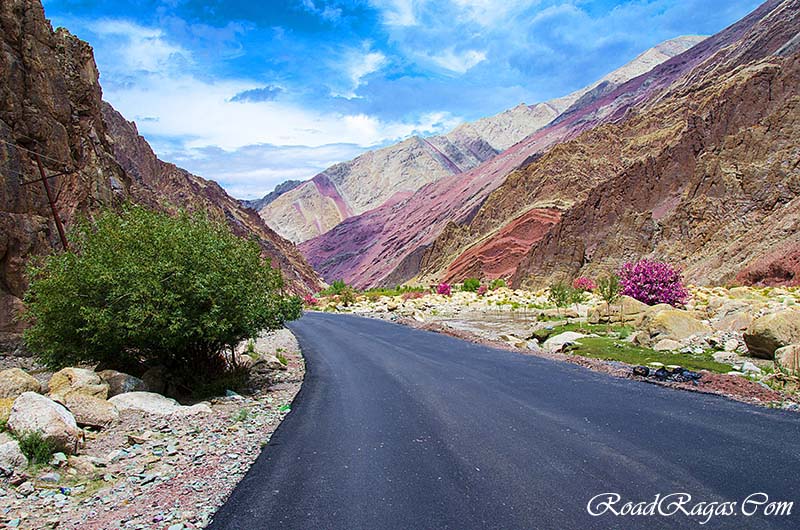 Best time to visit Ladakh with family
If you are traveling by Air and hiring a taxi in Ladakh with family; then any month between July and September is an ideal time to go. If you are however planning to drive on your own, then do it in September. You of course do not really want their hearts pounding as you take the car across a running water stream; or slush on a narrow road or get stuck somewhere after the road is closed due to a recent landslide.
Also read: Srinagar Leh Highway Route Guide and Road Map
Best time to visit Ladakh by Air
This is open for a long debate of course. Going by air will pretty much come down to what you are looking for and when can you go. Ladakh is accessible by Air throughout the year and you always have the option of hiring a cab there for local sightseeing. In snow is what you want, visit in Jan or Feb. Or else any time from June to Mid-October will be ideal to be in Ladakh.
Best time to visit Ladakh traveling by public transport
If you are planning to travel around by Public transport; then you must visit Ladakh in July;  August or early September. This is the time when the entire valley is filled with tourists; and you have the highest chance of boarding a shared taxi within your budget. There will be very less of waiting time anywhere; and even if you cannot find a bus or taxi, you will have the option of hitchhiking.
Also read: Complete List of All Tourist Attractions in Ladakh
Best time to visit Ladakh via Manali
Manali Leh highway opens in early June; so anytime between 15th June till 15th July and September would be best to travel on this road. The first two weeks of June will put you on bad roads with a possibility of temporary shutdown due to restoration work. August will see you getting drenched in rain and may even come across a landslide. October onwards will have you encounter extreme cold with a high chance of snowfall at Baralacha La.
Best time to visit Leh Ladakh via Srinagar
Pretty much the same deal as Manali Leh highway. Only difference is that this road opens a month earlier and closes a month later. An ideal time from Srinagar would be between from Mid May to early July and September.; for the same reasons that I mentioned for Manali Leh road. Rains can play havoc around Zoji La so late July and August are best avoided.
Also read: Is Srinagar Leh Highway Safe for Tourists?
Best time to visit Leh Ladakh for honeymoon
Yeah, never imagined that I would ever add this here but decided to do so after 5 emails that I have received so far. Ladakh in my opinion is not really a honeymoon destination. Sun is too harsh and weather is too hostile but if you still want to go there for honeymoon; go anytime between June till Mid October if you are catching a flight; September if you want a trip with very less adventure; or anytime from July to September if your spouse is as adventurous as you are.
Best month to visit Ladakh
As you can probably already guessed by the article so far, September in my opinion is the best time to visit Ladakh. Other ideal times would be Mid June to Mid July.
I think I have covered the topic of best time to visit Ladakh from every aspect here; and hope this information was helpful. If you have any further questions, please feel free to ask in the comments section below; or at our Community Forum; and I will be glad to answer.