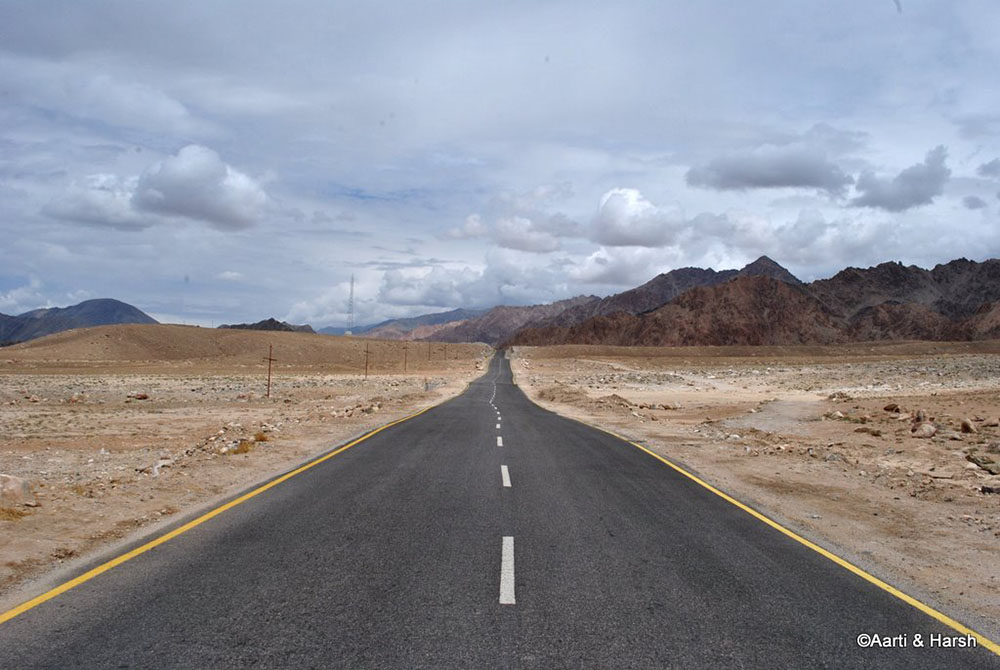 Sham Valley in Ladakh is one place that always comes highly recommended for local sightseeing around Leh. Also known as 'Apricot valley', it is home to some of the remotest villages in Ladakh. You can reach here either by road or undertake the popular Sham Valley trek to explore the region further.
Unlike Nubra Valley and Pangong Lake, you do not really need to dedicate days or a lot of time to experience the beauty of Sham valley. As a matter of fact, if you are traveling to Leh by road and including Srinagar Leh highway as well in your travel plan, you will be able to cover most of the tourist attractions here without going too far away from the highway.
If you however reached Leh by flight or doing the journey both ways on Manali Leh highway itself, then you must dedicate one day in your travel plan for a day drive to Sham valley.
In this article, I will provide more details on how you can plan a visit to Sham valley in Ladakh and what all places you should see there.
Sham Valley Ladakh
Sham valley is located a little ahead of the village of Likir, on the right side of Srinagar Leh road. The villages of Saspochey, Suspol, Bazgoo, Uley, and Hemis Shukpachan are right in the center of the valley.
A common notion is that the road between Leh and Lamayuru passes through Sham Valley which is not actually correct. To enter the valley, you will have to leave the Srinagar Leh Highway and drive through its villages.
Also Read: How to Plan a Trip to Ladakh – A Complete Travel Guide
How to reach Sham Valley
To reach Sham Valley in Ladakh, you will start driving towards Kargil on the Srinagar Leh highway. You will pass through some major tourist attractions like Magnetic Hill, Gurudwara Patthar Sahib, and Indus Zanskar River confluence and continue towards Nimmoo and Basgo.
After driving for 50 kilometers from Leh, you will reach a bifurcation. If you turned left, you will continue on Srinagar Leh road towards Kargil. If you continued straight though, you will enter Sham Valley and can continue for another 28 kilometers before the road ends to Hemis Shukpachan.
Before Hemis, you will notice a couple of other bifurcations to your right. If you turned on any of these roads, you will reach the villages of Uley and Saspochey.
The best way to reach Sham valley of course is by your own vehicle. The next best thing to do would be to hire a private taxi but this may cost you anywhere between Rs. 6,000 to Rs. 10,000 depending on what all places you are covering. It is a great option if you are in a group of 4-5 people in which case the cost per head will be way lower.
A shared taxi and Bus would not be that great an option because there are multiple places that need to be covered and you may not find public transport towards these remote villages at all. You will get off the bus or shared taxi, visit one place and then stand and wait for another which will not work at all.
Below is a map of the route for better understanding.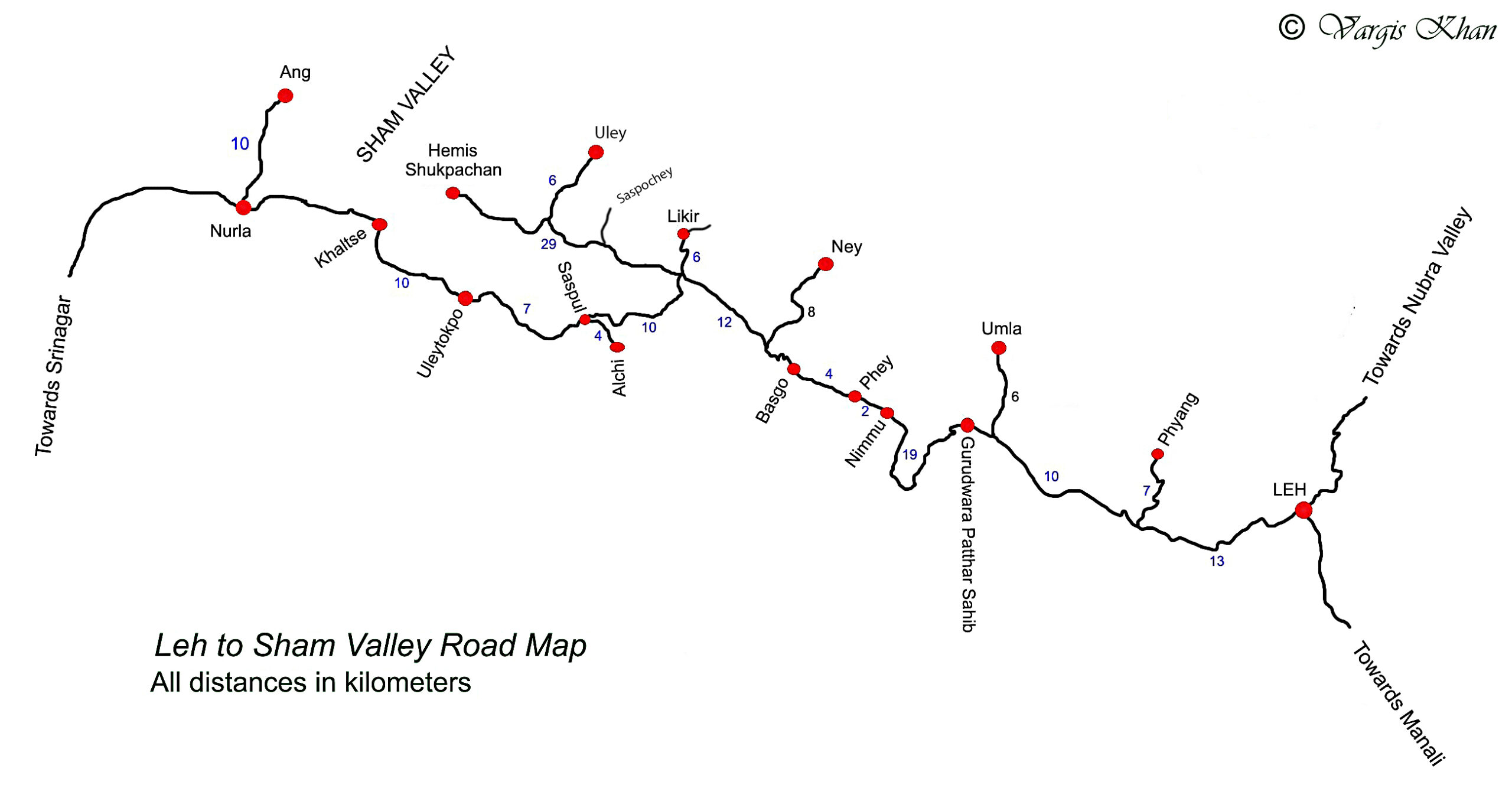 Sham Valley Tour – Places to visit in Sham Valley
Now let us take a look at the major tourist attractions in Sham Valley. This is commonly referred to as the Sham Valley tour that you can do as a day trip from Leh. During this tour, you will see Sham Valley as well as the tourist places on the way.
Phyang Monastery
Established in 1515, this monastery is located at a distance of 15 kilometers from Leh in Fiang / Phyang Village. It is noted for several sacred shrines and frescoes dating from the royal period.
The monastery is also home to a 900-year-old museum that has an extensive collection of idols including a number of fine Kashmiri bronzes probably dating to the 14th century, thangkas, Chinese, Tibetan, and Mongolian firearms and weapons.
To get here, you will have to leave Srinagar Leh highway and take the diversion on Phyang Link road. The diversion is about 11 kilometers from Leh after you which you will be driving for about 5 kilometers until the monastery.
Gurudwara Patthar Sahib
It is a beautiful Gurudwara, built in the memory of Guru Nanak Dev, and is located at a distance of about 25 kilometers from Leh. Built at a height of 3,600 meters, this Gurudwara is famous for a huge boulder that is believed to have an imprint of Guru Nanak Dev's hand on it.
For more details, please take a look at Gurudwara Patthar Sahib Travel Guide.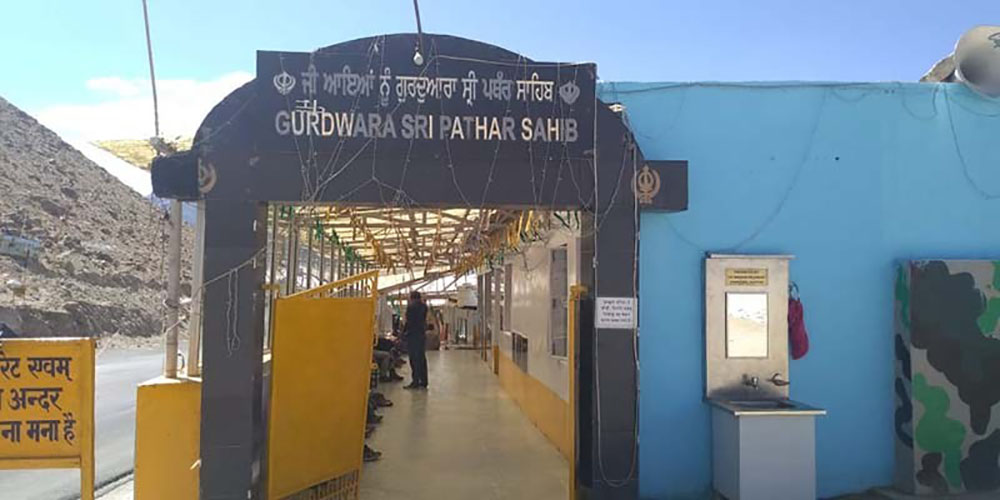 Magnetic Hill of Ladakh
After visiting the Gurudwara, you will move further towards Kargil on Srinagar Leh Highway. About 5-6 kilometers from Gurudwara Patthar Sahib and about 30 kilometers from Leh is the famous Magnetic Hill of Ladakh.
You will not have a problem spotting the area as there is a large board put up by the Indian Army there. This part of the road is believed to have a magnetic pull that can pull cars up an ascending road even with the engine turned off. Visit here and experience the phenomenon yourself.
For more details, please take a look at Magnetic Hill of Ladakh Travel Guide.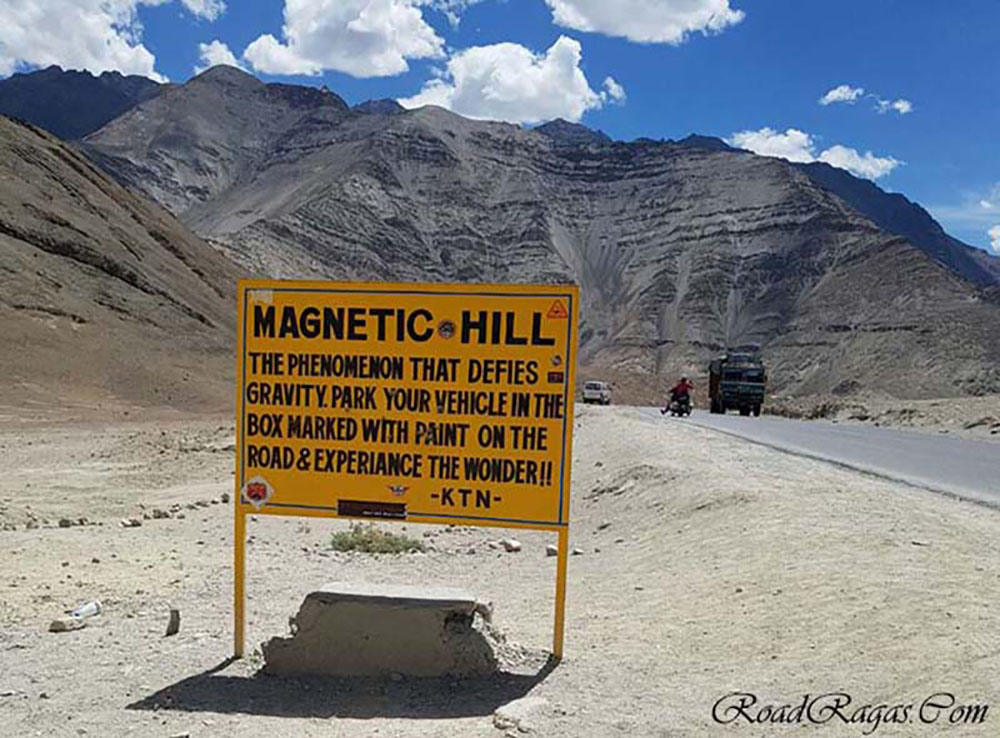 Indus and Zanskar Rivers Confluence
Further ahead from Magnetic hill and a little before Nimmu village is the confluence of Indus and Zanskar rivers, commonly known as Sangam Point. Indus river flows in from Tibet, originating in the vicinity of Mount Kailash and Lake Mansarovar, while Zanskar river originates in Zanskar valley before both of them merge together here.
It presents a beautiful sight worthy enough for a quick photography break. There is also a place near the shores of the confluence where you can spend some time.
For more details, please take a look at Sangam Point Ladakh Travel Guide.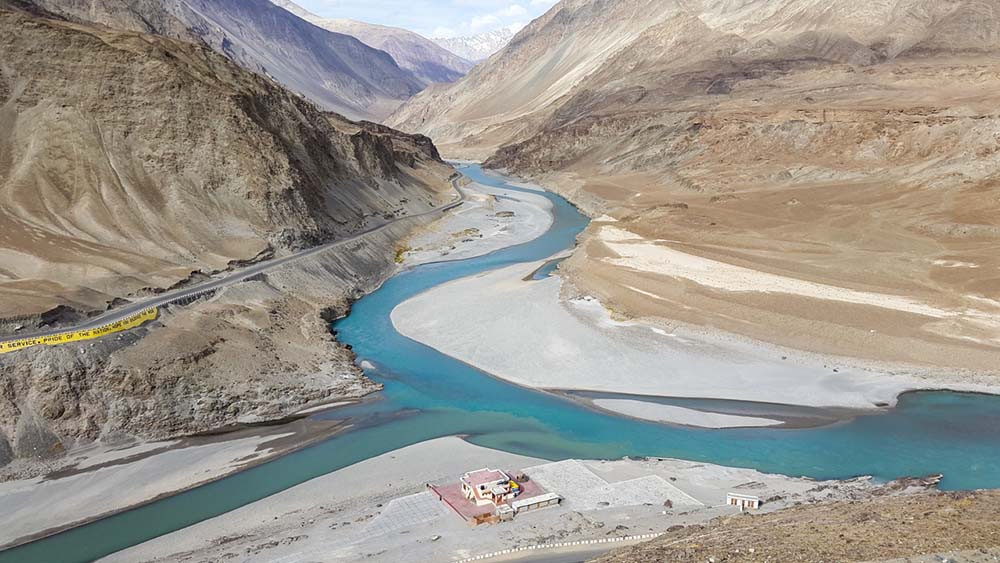 Mani Wall
Just near Nimmu village, you can see half a kilometer long Mani Wall, considered to be the longest in the world. In simple words, it is a wall built by stones known as Mani stone which is a stone plate, rock, or pebble, inscribed with Buddhist prayers.
Also Read: Clothes for Ladakh – What to Pack
Basgo Palace / Monastery
Located around 40 km from Leh is the small village of Basgo which in ancient times was considered a political and cultural center of Ladakh.
The ancient Basgo Palace which also houses the Basgo Monastery is located here. It was built in the 15th century but the Monastery is believed to be even older than that.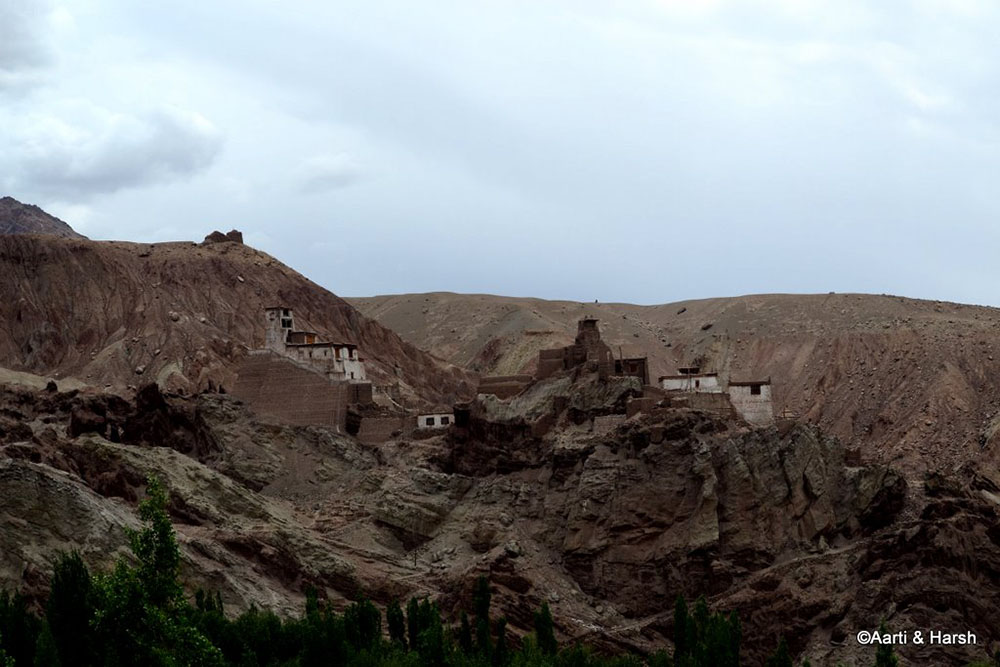 Likir Monastery
It is an ancient monastery built in the year 1065 AD and is famous for a 25 feet gold-covered Buddha Statue. There are also some artifacts here that are believed to have been created with butter but never melt.
The location of both the villages and the monastery is quite scenic and it is well worth a visit. This village is located about 9.5 kilometers from Srinagar Leh highway and to get here, you will have to take the diversion just about 10 kilometers before Saspul.
For more details, you can read Likir Monastery in Ladakh Travel Guide.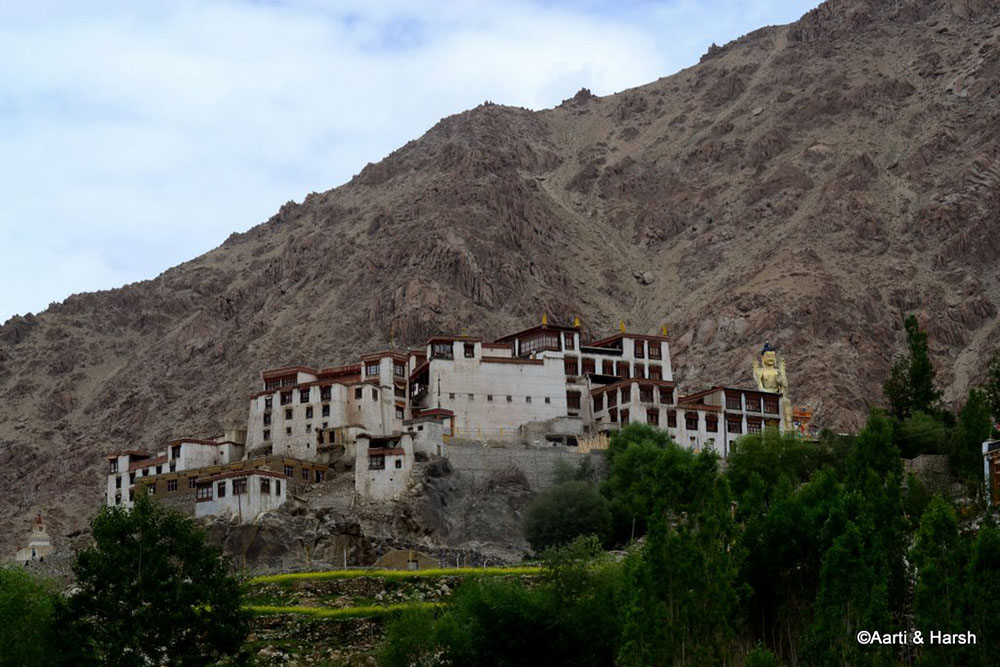 Alchi Monastery
Once you have visited Likir Monastery, return to Srinagar Leh highway and continue towards Saspul once again. Upon reaching Saspul, you will once again leave the highway, turn on the Alchi Bridge and continue for another 7 kilometers until the small village of Alchi.
This is another ancient Monastery in Ladakh, built sometime in the 10th century. There is a path from the monastery that leads down to the shores of river Indus if you want to take a walk.
This is a good place to stay as well in case you want to break the journey. There is a campsite here known by the name of Sumtseg Camps that is run by the monastery itself.
Rizong Monastery
After visiting Likhir, return once again to Srinagar Leh highway and head a little further towards the village of Uleytokpo. This village is famous for its stunningly beautiful Rizong Monastery.
This monastery was built in 1831 and sits at the top of a rocky slide valley. This monastery is also called "the paradise for meditation" and is noted for its extremely strict rules and standards.
About 2 kilometers from the monastery is Jelichun Nunnery, home to about 20 nuns at present.
Also Read: How to Handle Altitude Sickness in Ladakh
Hemis Shukpachan
After Rizong, if you still have some time, the small village of Hemis Shukpachan is worth a visit too. It is a small but beautiful and traditional village which is famous for another gold-covered statue of Buddha.
The location of the village is quite scenic too and it is a good place if you wish to stay for the night. There are several homestay options available and you will be surprised by the greenery around this village. The road ends in the village and is in a good condition.
In my opinion, if time allows, stay here for the night and continue either your return journey to Srinagar or back to Leh the next day. This village, named after the grove of cedars, is one of Ladakh's prettiest.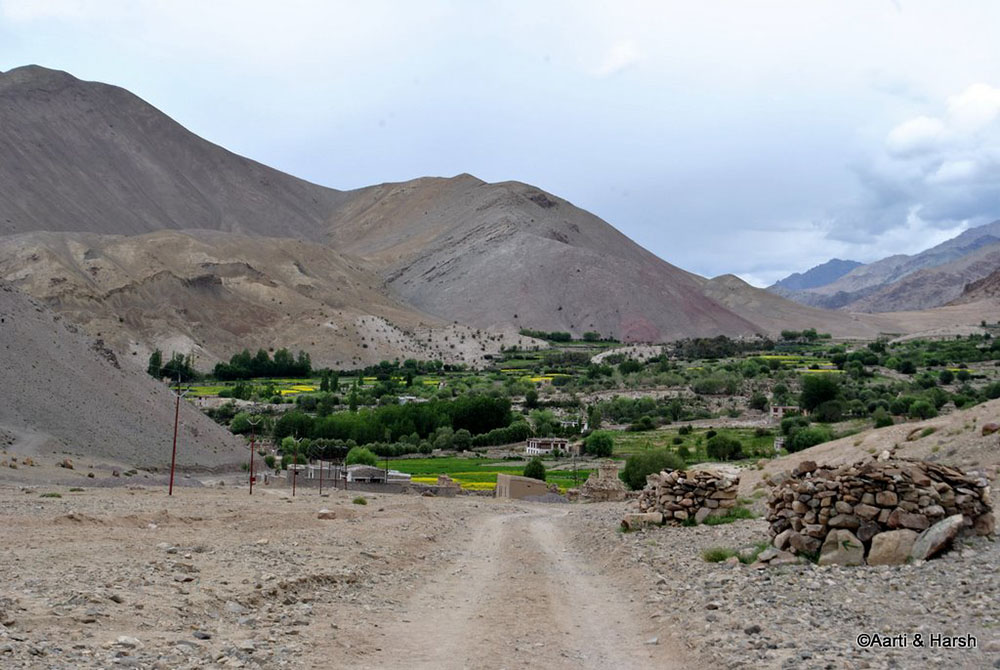 Phobe La
The first pass you will cross in the Sham valley Ladakh is Phobe La, which, at 3600 m, was a gentle climb. This pass is also spelled as Pobe La or Phoebe La. The track was pretty much tarred all the way to the top. The descent to the village of Sumdo begins immediately after the pass.
Chagatse La Pass
After Sumdo, you will begin climbing the next pass on the route, Chagatse La (also spelled as Charatse La) at 4000 meters. The ascent is pretty steep with a few difficult switchbacks, but thankfully the track is tarred all the way.
The region around Charatse La is completely barren! No green could be seen anywhere, except in the valley below, where you can spot a lush green village, Yangthang, nicely located in the middle of a bowl-type valley.
Also Read: How to Calculate the Total Cost of Ladakh Trip
Tsermangchen La / Settmanchan La
Immediately after descending to Yangthang village, the climb to the next pass begins. It is known as Tsermangchen La but I think it is the same pass that is also called Settmanchan La.
The climb to pass at 3850 meters is even more difficult than Chagatse La, with the track getting very sandy at places.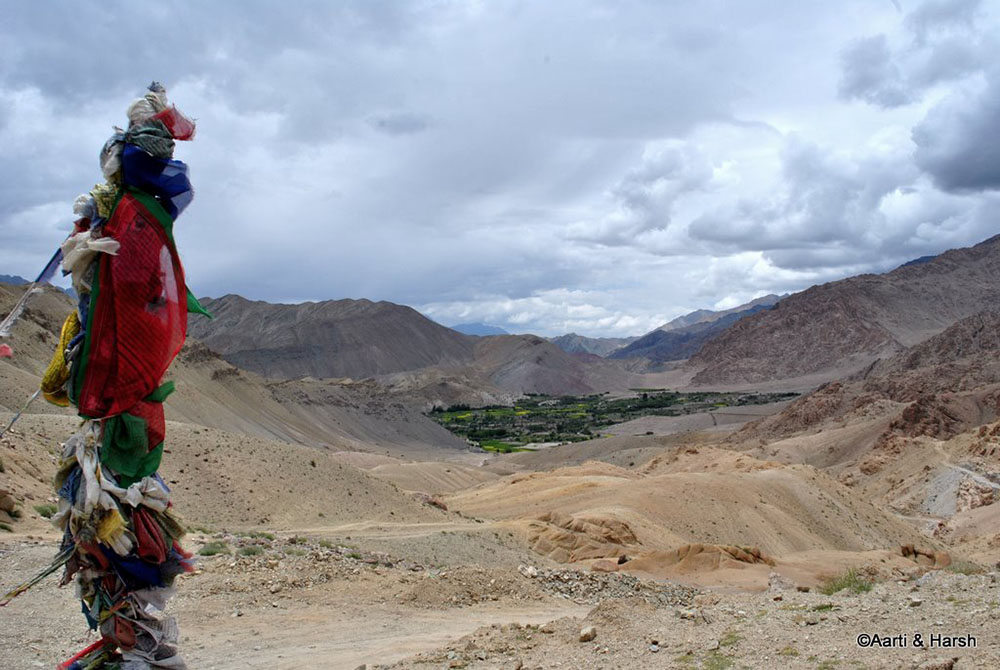 Sham Valley Trek
Sham Valley is more famous as a trekking destination. This is because most of the villages in the valley are not connected by a motorable road. You can drive to Hemis, Uley, and Likir, but trekking is required if you truly want to enjoy the beauty of the valley.
The trek starts from Likir and ends at the village of Hemis Shukpachan from where you will trek back to Srinagar Leh highway, ending the trek at Nurla or Khaltse. It is a relatively easier trek considered best for a beginner.
Also Read: Stok Kangri Summit – At the Top of the World
Sham Valley Trek Itinerary
Mentioned below is the most common trek itinerary for Sham Valley in Ladakh. You can try to merge Day 2 and Day 3 together if you are short on time however I must advise that you do not attempt this alone.
Please ensure that you have a guide with you to take you through the route. You will be walking through remote Ladakh and you definitely do not want to get lost here or get in any other trouble. It is better to have a guide with you, who can speak the local language.
Day 01: Leh to Likir
Drive to Likir Village, the start point of the trek
It should not take more than 2 hours at most
Day 01: Likir to Yangthang via Phobe La and Chagatse La
It is an easy trek of 9 kilometers that can be covered in 4-5 hours
Phoebe La is at a height of 3580 meters
Chagatse La is at a height of 3630 meters
Both these passes can also be approached by road
Day 02: Yangthang to Hemis Shukpachan via Tsermangchan La
The total trek for the day will be 8 km.
It can be covered in 2 to 3 hours
Tsermangchen La is at a height of 3750 meters
This pass can also be crossed by road
An alternate way to do this journey is to trek from Yangthang to the small village of Uley. En route, you will also cross Spango La, at a height of 4100 meters. This one is the highest of all the passes on the trek route.
Day 03: Hemis Shukpachan to Ang via Mebtak La 
The total trek distance for the day is 10 km
Trek time will be about 3-4 hrs
Rongthi La is the first pass you will cross as you approach the village of Ang from Hemis. It is at an altitude of 3816 meters
Mebtak La is the last high altitude pass to cross to reach the village of Ang. It is at an altitude of 3,750 meters
Day 04: Ang to Temisgam to Nurla to Leh
It is a total downhill trek of 8 km covered
Trek time will be about 3 hrs followed by a 2 hours drive to Leh
It is easy, enjoyable and you get to experience the local Ladakhi life up close as you pass through some of the remotest villages.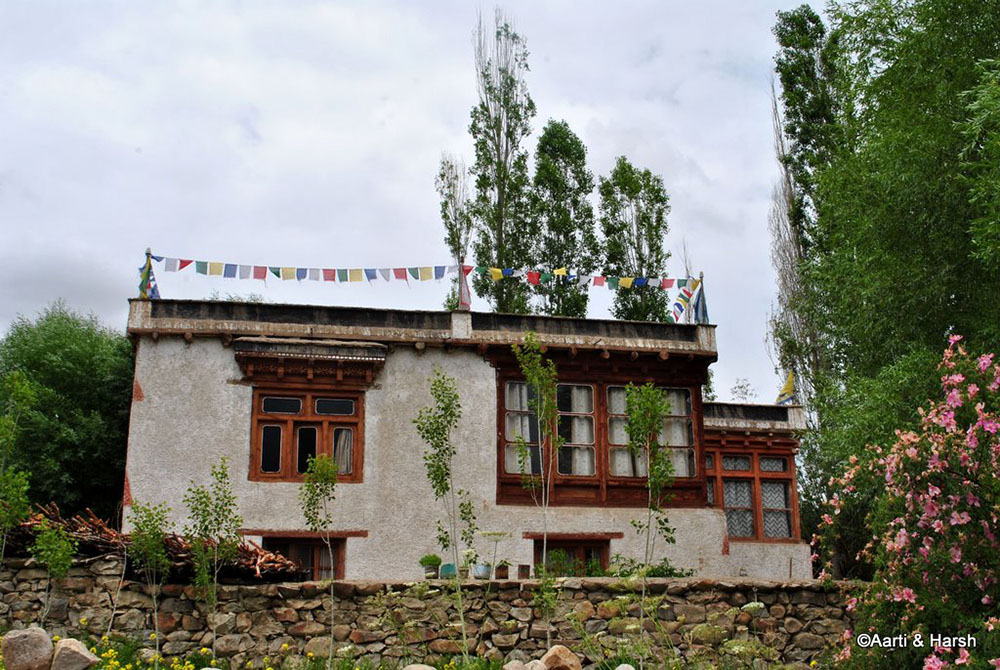 Best time to visit Sham Valley Ladakh
The best time to visit Sham Valley is anytime between May to October when both the highways leading to Ladakh are open for civilian traffic. This is one of the most easily accessible regions of Leh that remains open for all 12 months in fact.
If you were planning for a trek though, it will be better to attempt it in June, July, and August. Some of the passes en route start to receive snow in September and the weather can turn unpredictable.
Sham valley Ladakh Altitude
The average altitude of Sham Valley is about 11,000 ft which is about the same as the city of Leh at 11,400 ft. If you are however trekking through the valley, then the maximum altitude will be 12,300 ft.
Leh to Sham Valley Distance
It entirely depends on what places you are covering and how you are planning the journey but a round trip from Leh to Sham valley would be anywhere around 180 to 200 kilometers.
If you are however traveling from Leh to Kargil, then you will have to take a 30-kilometer long deviation from the highway; 10 kilometers before Saspul towards Hemis Shukpachan.
Kargil to Sham Valley Distance
Distance between Kargil and Sham valley would be approximately 200 kilometers if you go through Alchi and Likir. If you however enter the valley from Nurla, arriving at the village of Ang then this distance would be approximately 150 kilometers.
Also Read: Tourist Attractions in Leh City – Leh Local Sightseeing
Leh to Sham Valley Itinerary
There are three ways that this trip can be planned. You can either plan it as a 1 or 2 days trip from Leh, or you can cover Sham Valley while traveling between Kargil and Leh.
1 Day Trip
For a single-day trip, start as early as you can from Leh City. Visit Gurudwara Patthar Sahib, see Magnetic Hill and Indus-Zanskar River confluence, and drive straight to Hemis Shukpachan.
Spend some time in the village and return to Leh. Depending on the time you have in hand, you can also visit the monasteries in Likir, Alchi, and Basgo on the way.
2 Days Trip
If you have 2 days in hand, I will highly recommend spending a night in Hemis Shukpachan village. On Day 1, drive from Leh to Hemis and stay there. On Day 2, you can either return to Leh or continue to Kargil for your return trip.
This will also give you sufficient time to cover all the tourist places I have mentioned above.
Traveling between Leh and Kargil
If you were traveling between these two places, the time you have in hand will be severely limited. Your sightseeing will mostly be limited to Magnetic Hill, Indus-Zanskar confluence, and Gurudwara Patthar Sahib.
At most, you can cover Alchi and Likir monasteries as well but will not have time to go to any other place.
Leh to Sham Valley Tour – Conclusion
That mostly summarizes how a trip can be planned from Leh to Sham Valley by either road or trek. It is a really scenic place that is definitely worth visiting. I hope the information above was of help. If you have any further questions, please feel free to ask in the comments section below or at our Community Forum, and I will be happy to answer.