The stunning landscapes of Srinagar attract tourists from all around the world. Traveling from Srinagar to Kargil seems like a journey from one point to the opposite of almost everything that you have experienced during your stay in Srinagar. Srinagar is one of several places that have been called the "Venice of the East". Lakes around the city include Dal Lake – noted for its houseboats – and Nigeen Lake. Apart from Dal Lake and Nigeen Lake, Wular Lake and Manasbal Lake both lie to the north of Srinagar. Srinagar boasts of the red apples, the orchards, the differently shaped trees, the ripe peaches; everything seems to contribute to the charm of Srinagar. On the other hand, Kargil, the second largest town in Ladakh, is so very simple yet has an unusual scenic beauty. Kargil exudes a vibe of peculiar calmness after a war, and we cannot wonder why.
Also Read: How to Plan a Trip to Leh Ladakh – A Complete Travel Guide
While traveling from Srinagar to Kargil, one will come across picturesque landscapes. The views are simply breathtaking and you can witness the road dotted with maple trees which makes the journey more beautiful. Along the route, there are many attractions like Sonamarg, Baltal Valley, Baltal Wildlife Sanctuary, Zoji La Pass, Drass Valley, Kargil War Memorial, and Drass War Memorial. In this article, we will take a detailed look on the road route from Srinagar to Kargil and cover several important details on traveling from one town to another. You will find below information on how to go from Srinagar to Kargil, what to see, available modes of transport, the route, road conditions, distance and time and the cost involved.
Below is a quick navigation menu of the topics covered in this post.
Srinagar to Kargil Road

The road from Srinagar to Kargil is a part of national highway 1D, also famously known as Srinagar Leh Highway. The highway actually starts at Uri and then runs through Baramula, Srinagar, and Kargil before terminating at Leh. The entire length of the road is about 500 kilometers but the distance between Srinagar and Leh is about 410 kilometers. The distance between Srinagar and Kargil is 202 kilometers and the town acts as a midpoint between Srinagar and Leh; making it a popular halting point for people traveling from one city to another.
A journey from Srinagar to Kargil can only be completed by road. The option of train and flight is not yet available but there are several modes of transport available to choose from on the way from Srinagar to Kargil. Let us review these one by one.
Srinagar to Kargil Road map
Below is a link to another article where I have posted a map of the road route from Srinagar to Kargil. The second link is to a road map of the entire Ladakh region.
A Comprehensive & Complete Map of entire Ladakh
Srinagar to Kargil Road conditions
The road is a mix of good, bad and ugly. The ugly part is mostly limited around the Zoji La pass. For the rest of the distance, the road either remains to be good or average.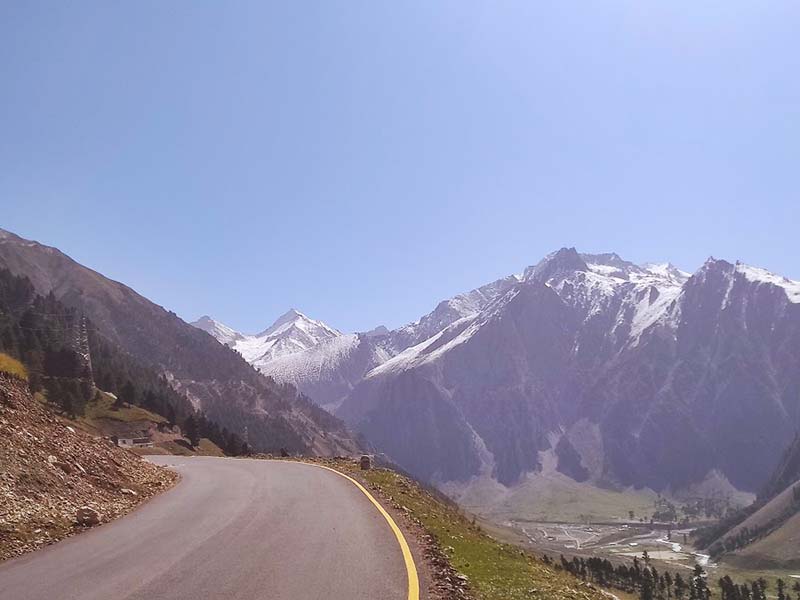 Route from Srinagar to Kargil
Starting from Srinagar, you will first reach the small town of Ganderbal. The traffic here is a bit rash and the roads narrow, hence I would advise caution while crossing this area. After Ganderbal, the landscape turns extremely scenic as you drive towards the small town of Kangan. You will then continue through the mesmerizing valleys of Kashmir to reach Sonamarg. Take a break here and get something to eat. After Sonamarg comes Baltal which is a very popular camping ground and also one of the starting points of Amarnath Yatra.
From Baltal, you will then climb up the mighty Zoji La Pass at an altitude of 3,528 meters (11,575 ft). Chances are that you will definitely find some snow here irrespective of the month of your travel. After Zoji La, you will then reach the town of Dras. The famous Kargil War Memorial is located here and a visit is highly recommended. After Dras, it is a straight run of about 65 kilometers to Kargil.
For a more detailed explanation of this journey, please read Srinagar to Leh via Kargil by Road.
Srinagar to Kargil Road Status
It all depends on the weather but historically, the road usually opens sometime in the month of April and closes in November. Another thing to remember here is that in the early days, the traffic at Zoji La Pass is controlled one way. It means that for certain duration, only vehicles from Srinagar are allowed to travel. Then the vehicles coming from Kargil are released after that. A few hours in the day are reserved for the movement of Army vehicles. So if you were traveling on your own, it would be wise to first find out about the timings to ensure that you do not get stuck at the road for hours, waiting for the traffic movement to start.
For the latest updates on the status of the road, I will recommend visiting and following the forum thread Srinagar Leh Highway Status.
Srinagar to Kargil by car
If you are traveling by your car, then the only thing you need to make sure is that your car is well maintained and not badly beaten. I myself have done the stretch from Srinagar to Kargil and then to Leh Ladakh in a 13 years old Wagon R. Another friend of mine has done it in a Maruti Swift. You just need to prepare the car well for the journey ahead; and have someone on the wheel who has some driving experience in the hills. For more information, take a look at How to Prepare your Car for Leh Ladakh Trip.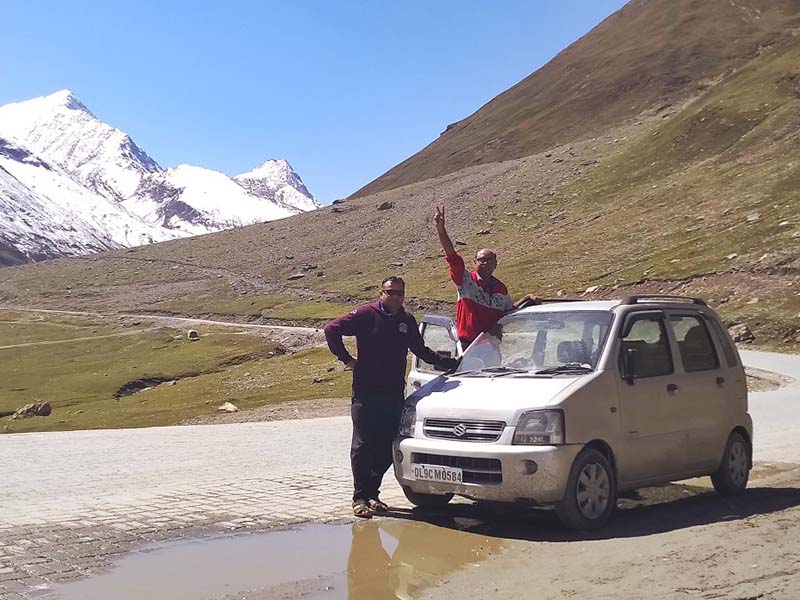 Srinagar to Kargil by Bike
Traveling by motorcycle is one of the most favored activities here. Thousands of people each year travel from Srinagar to Kargil on their motorcycles and then further to Leh Ladakh, due to which this belt is also known as a biker's paradise. A larger engine bike like Enfield would be better for the ride but even a 125 CC motorcycle can easily do the trip as long as it is well maintained and well-serviced. If traveling on such a bike, please ensure that you are riding solo and as light as possible. Also, take a look at How to Prepare your motorcycle for Leh Ladakh for some other tips on getting your bike read.
If you do not own a motorcycle, then you can definitely rent one from Srinagar. Kashmir Travelogue is a reliable rental agency there and its owner, Faisal is a gem of a guy. You can rent a motorcycle from him and rest assured that he will give you one in a very good condition. Give my reference and he will give you a discounted price. You can contact him at 9596410670.
Srinagar to Kargil Bus
Let us first take a look at modes of public transport from Srinagar to Kargil. I will first start by explaining the bus journey and then will move on to other options. If you want to travel from Srinagar to Kargil by bus, then you would have to board the daily morning bus from Srinagar to Leh. This bus starts from Srinagar bus stand and reaches Kargil by evening on Day 1. The next day, the same bus starts from Srinagar in the morning and reaches Leh by afternoon.
Srinagar to Kargil Bus Fare
The total fare from Srinagar to Kargil is Rs. 350 per person. If you want to extend your journey to Leh then you will pay another Rs. 380 per person, making Rs. 730 as total fare from Srinagar to Leh.
Srinagar to Kargil Bus Timings
The bus starts from Srinagar at around 7 am, arrives at Sonamarg at 11 am, Drass at 2 pm and finally reaches Kargil between 4 to 5 pm. It halts overnight at Kargil. The coach will start at 7.30 am the next morning from Kargil and reach Leh between 2-3 pm.
Srinagar to Kargil Bus Booking
There is no booking system available for this bus. You will buy the ticket on the spot and board the bus. The only other thing you can do is to reach the Bus stand a day in advance and buy a ticket in the evening before the journey.
Apart from the daily Srinagar Leh Bus, there are no other buses from Srinagar to Kargil available. If you missed it, then the only other choice is to either wait another day or board a shared cab. Another thing to note here is that the hotel at Kargil would have to be paid for on our own. The ticket you buy from Srinagar will only cover your bus fare and no other cost.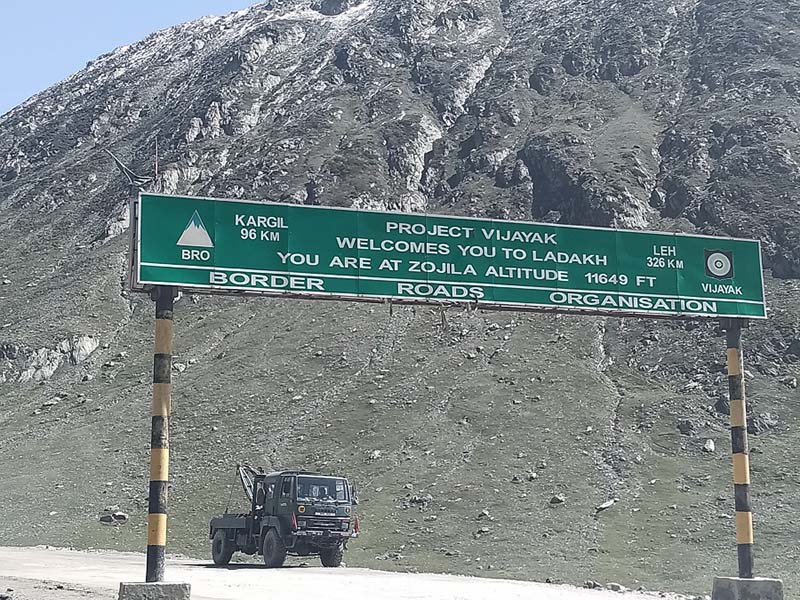 Srinagar to Kargil Taxi
Let us now take a look at option number two; that is to travel to Kargil by taxi. To be honest, if within budget, this is actually a better option than the Srinagar to Kargil Buses. When traveling in a taxi, you have the option of taking as many breaks as needed and whenever needed. You can stop for sightseeing, click pictures, cover all major tourist places on the way and travel at your own pace. On the other hand, though a bus may be a cheaper option, it will only commute you from one city to another. You will be bound by the bus timings and would just be staring out of a window for most of the journey. Stops will be limited and none of them would be for the purpose of sightseeing.
Srinagar to Kargil Taxi Fare
There are two types of taxis available on this route. The first one is a private taxi and the second one a shared cab. If you rent a private cab, then it will cost you Rs. 6,400 for a drop to Kargil. For a return journey with a night halt at Kargil, the fare would be Rs. 13,200. If you would like to extend your journey all the way to Leh, then the total fare would come out to be Rs. 16,200.
The most important thing to remember here is that a Srinagar taxi cannot be used for sightseeing either in Ladakh or Zanskar. It can only drop you at either Leh or Kargil. For your journey ahead to Padum or other places in Ladakh, you will have to rent another local cab from either Leh or Kargil.
Srinagar to Kargil Shared Taxi
If you want to hire a shared taxi from Srinagar to Kargil, then you can find one at the tourist reception center, also known as TRC. The fare, in this case, would drop down to Rs. 1000 – 1500 per person, depending on your negotiation skills. If you board a cab for all the way to Leh, then the total fare will be around Rs. 2,500 per person.
Srinagar to Kargil travel time
Srinagar to Kargil by road distance is 203 kilometers with an aerial distance of 134 km. It takes Approx. 6 – 7 hours to complete the journey, depending upon your speed, breaks, and traffic at Zoji La Pass.
Srinagar to Kargil by Air
Kargil does not have an airport of its own so you cannot actually fly there. There were talks of a helicopter service and it was in fact even launched but never stayed in service for long. I am not sure what the current status of this service is but as of now, there is no direct Srinagar to Kargil flight available. You will either have to fly to Leh and then reach Kargil by road. Or you can book a flight for Srinagar and then get a taxi from Srinagar Airport to Kargil. The taxi is available from right outside the airport so finding one will not be a problem at all.
The airport in Srinagar is the nearest airport to Kargil that is well-connected to major Indian cities like New Delhi, Jammu, Leh, Chandigarh, Amritsar, Mumbai, Indore, and Bangalore.
Srinagar to Kargil Train
There is no railway station at Kargil. If traveling by train, you will first have to get to Srinagar and then either board a bus or rent a taxi from there for Kargil.
Srinagar to Kargil Sightseeing
Sonamarg is probably the biggest attraction on this route. Stay here for a day if you can and trek to the nearby Thajiwas Glacier. After Sonamarg, the next prime attraction is the pass of Zoji La which is considered among the toughest. Next will be the Kargil War Memorial and then the small town of Dras. There are several tourist attractions around Kargil as well. Some of them are Suru Valley, Mulbekh Monastery, Mulbekh Chamba, Sani Monastery, Rangdum Monastery, Shergoi cave monastery and more.
For a more detailed version of this information, please read Tourist Places on Srinagar Leh Highway.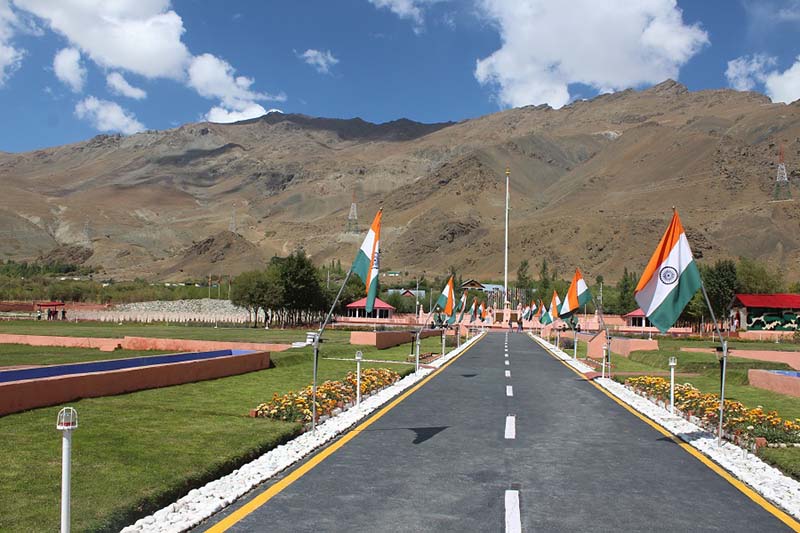 Best time to Travel
The best time to do this journey is from April to October depending on the opening of the Zojila Pass. From April till October the entire Srinagar to Leh Road remains open for the travelers to visit Kargil or go even beyond to Leh.
It is however advised to avoid the monsoon season and the winters to visit Kargil. When I say monsoon, I mean the months of late June, July, and August because, at this time, the rain gods can wreak havoc in the area. Crossing Zoji La in these months can become quite a bit of a challenge with all the slush. Landslides too become common at this time.
You cannot travel to Kargil by road in winters, from November to April after Zoji La gets snowed out. But traveling late in the season (late October and early November) is also not advised because it can snow at the pass anytime and you will get stuck.
Summertime makes Kargil toasty and warm during the mornings and pleasantly cold at nights. During this time, National Highway 1D remains officially opened. It connects Srinagar and Leh.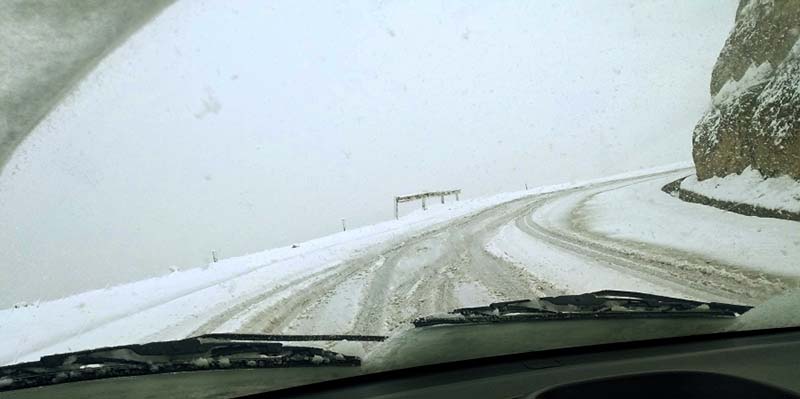 Banks & ATMs
Srinagar being such a preferred tourist destination has several ATMs, petrol pumps and mechanics available. As a traveler, you don't have to worry about ATMs, petrol pumps, and mechanics. It goes without saying that there are numerous petrol pumps in Srinagar; so ensure that you start the journey from here with a full tank.
After you leave Srinagar, the next fuel station is HP petrol pump at Nagbal. There are two petrol pumps at Ganderbal but after that, the next one is in Kargil only.
Mobile Connectivity
BSNL, Airtel and Jio phones work well in Kargil. Starting from Srinagar, if you were on a post-paid connection, you will have some connectivity until Sonamarg. Your phone will be dead again until you reach Kargil. In Kargil, BSNL, Airtel, and Jio will provide an excellent network with good voice clarity and 4G data. On the stretch from Kargil to Leh, Airtel will continue to keep come and go at regular intervals.
Medical Assistance
The cities of Srinagar and Kargil both have large enough hospitals to handle any medical emergencies. Between these two, you can get some basic medical assistance at Ganderbal, Kangan, Sonamarg, and Dras.
Conclusion
I hope the details above on traveling from Srinagar to Kargil were of help. If you have any questions; or need any other details; please feel free to ask in the comments section below; or at our Community Forum; and I will be glad to answer.