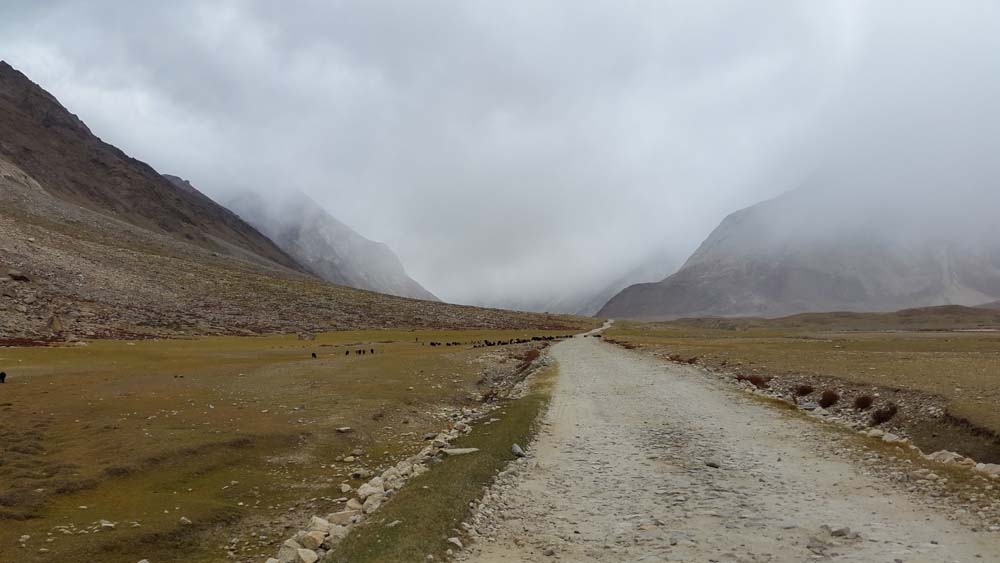 In this post, I will provide a detailed explanation of the road from Kargil to Padum, the route you take to travel to Zanskar Valley from the Srinagar Leh highway. It is a 230 km long stretch that starts from Kargil, travels through the Suru Valley, and ends at Padum in Zanskar.
This road is open only for about 6 months in a year, from May to October.  In winters the only way in and out of Zanskar is a hazardous walk along the frozen Zanskar River to the town of Nimmu.
There is one high altitude pass en route, Pensi La. This however is more of an easier pass. The climb is gradual and you will barely notice that you are actually driving up a high-altitude pass. Between Kargil and Pesi La is Suru Valley. Once you cross the pass and start driving down, you would have entered the Zanskar Region.
Kargil to Padum Travel Guide
The first and foremost thing that you really need to keep in mind here is that Zanskar is one of the remotest areas of Ladakh. Padum is the headquarters of Zanskar valley and is at a distance of approximately 230 km from Kargil.
Add to that the fact that the roads for the most part of the journey will be in a bad state, resulting in slow progress. Even with an SUV, this 230 km long journey of Kargil to Padum can take anywhere between 8 to 10 hours, depending on your speed and breaks.
Hence, if the intent is to reach Padum with plenty of breaks and the sun still in the sky, an early start from Kargil is advised. For more details on Zanskar, please take a look at Zanskar Valley – A Complete Travel Guide & Itinerary.
For a visual presentation of this route, you can take a look at the following videos of my journey.
Part 1
Part 2
Kargil to Padum Route
The route of the journey will be as below.
Kargil to Sankoo: 40 Kms
Sankoo to Panikhar: 24 Kms
Panikhar to Parkachik: 16 Kms
Parkachik to Rangdum: 46 Kms
Rangdum to Pensi La: 26 Kms
Pensi La to Abran: 36 Kms
Tungri to Padum: 42 Kms
If you want to view the route on a map, please take a look a look A Detailed Road Map of Ladakh & Zanskar. You can even download the map from the given link and use it on your trip.
A round trip from Kargil to Padum will anywhere be between 500 to 600 kilometers. There is a petrol pump in Padum but whether or not it will be operational when you are there is a big question so do not rely on it. Please pay close attention to your vehicle's mileage and carry spare fuel if required.
There are only a few small towns on the way and quite a distance apart. Please ensure that you are carrying a puncture repair kit (if you are on a bike) and some basic tools for your vehicle.
For the most part of the journey, you will in the middle of nowhere. Even a flat tire on this road can prove to be really troublesome.
With that being said, let us now take a look at the journey on Kargil to Padum road.
Kargil to Sankoo
Please ensure that you start early from your hotel so that you have ample time to enjoy the beautiful vistas and still reach your destination well in time.
Soon after Kargil, you will enter the beautiful Suru Valley which is really a sight for sore eyes. Suru river runs right through this valley and keeps it surprisingly green and fertile even at an altitude of above 3000 meters.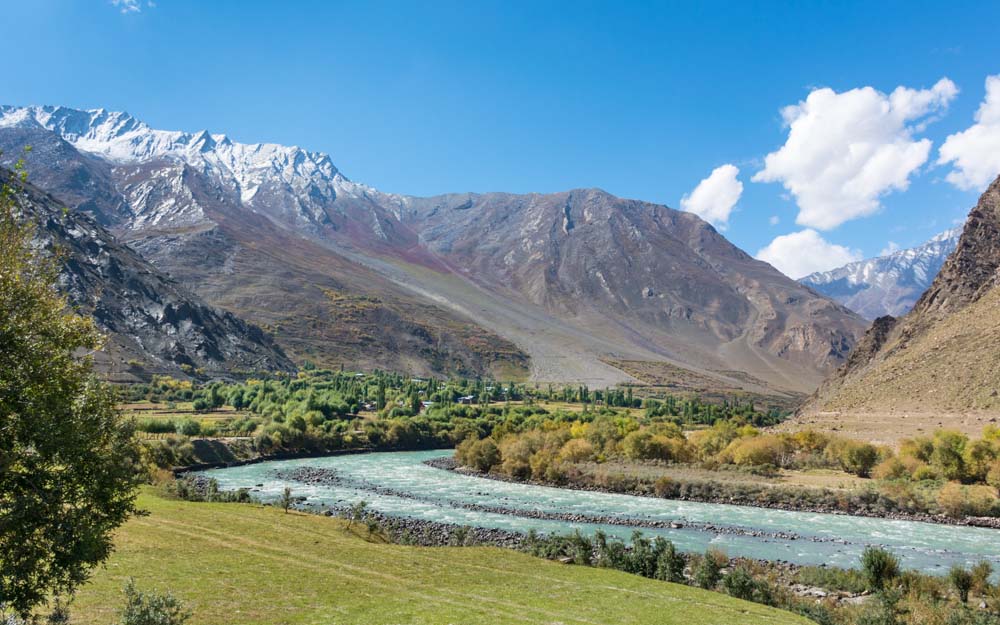 People here are mostly Shia Muslims. Roads are mostly good until Panikhar with a few bad patches in between. You will continue traveling right next to the Suru river and soon will reach the small town of Sankoo, some 40 odd kilometers from Kargil.
If you haven't already eaten at Kargil, you can have your breakfast here. Sankoo is the last big village after Kargil. Once you leave Sankoo, you will only come across small hamlets until Padum.
Also Read: Budget Trip to Zanskar Valley – How to Plan Your Journey?
At Sankoo, there is also a grand Buddha Statue that you can visit. I had some difficulty in finding the place as people were giving me random directions. In all, this 14 km approximately took over an hour and I went back to the road for Zanskar. After asking for directions from a few locals there, I finally found the statue. You will have to cross the Suru river to get there.
Maitreya Buddha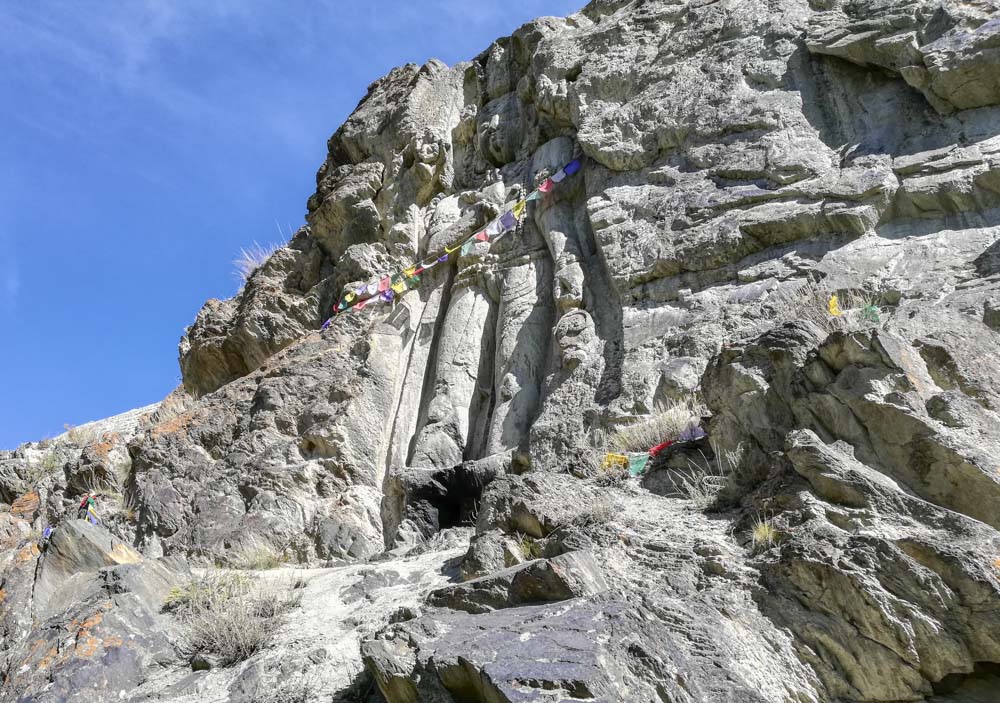 The place where I stayed in Sankoo deserves a special mention. The name of the small guest house is Goba guest house. It is lovingly run by the Goba family and they provided me with exemplary hospitality.
Sankoo to Panikhar
A few kilometers after Sankoo, you will cross the Suru River over to its right side. If the weather is clear, you will also get your first glimpse of Nun and Kun peaks.
Vistas will improve tremendously. You will be greeted with greenery all around, midst the mighty snow-capped mountains. It is one of the most scenic places in all of Suru and Zanskar.
Also Read: Leh to Zanskar Itinerary – How to Plan your Journey?
A few kilometers before Panikhar, near Purkitche, the road will be running right along the banks of Suru while Nun and Kun peaks towering in the background, presenting a breathtaking view. Together, these two beautifully mysterious mountains are one of the biggest attractions of Suru valley.
Nun is forever covered in snow, a white peak whereas its next-door neighbor, Kun is barren black. These two mountains are right next to each other, a perfectly beautiful combination of black & white that never changes.
There is a glacier in Panikhar that is visible right from the road itself. I am not sure about its name but I think it is called Shafat Glacier.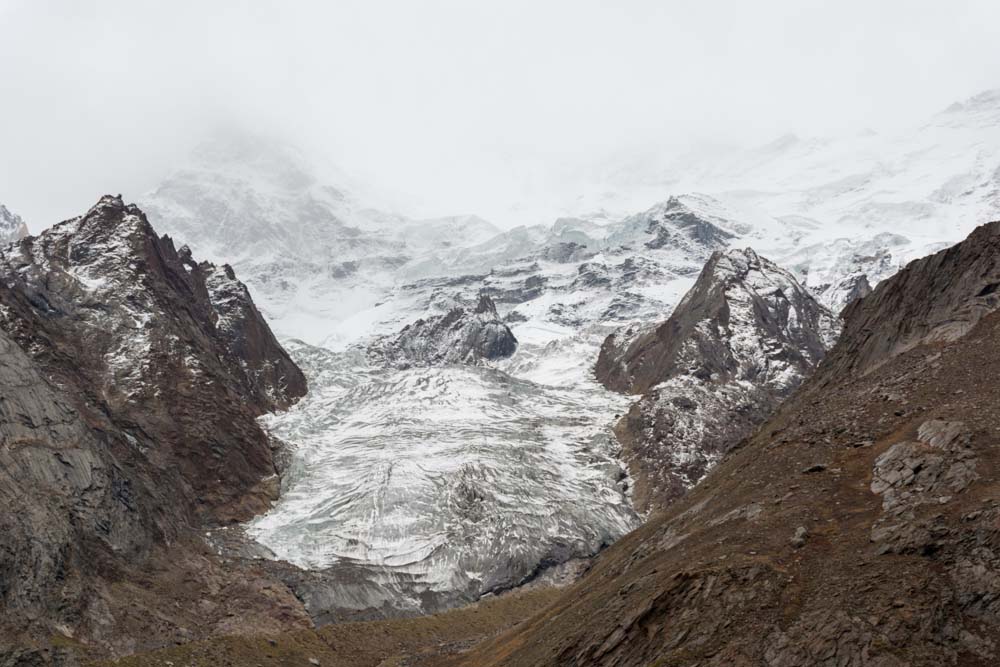 Panikhar to Parkachik
The moment you exit Panikhar, road conditions will turn from good to bad and eventually to ugly. From here until Padum, it will be just an unmetalled dirt road all the way.
The road will turn towards the Western side of Nun Kun Massif and will continue east towards the fort of Rangdum.  40 kilometers from Panikhar is the small town of Parkachik, another very scenic spot in Suru valley.
Parkachik La is another tourist attraction in the village of Parkachik but you can only trek to the pass.
Parkachik to Rangdum
From Parkachik you will continue your journey to Rangdum. A couple of kilometers after the village, you will get views of Parkachik glacier, another tourist attraction in Suru valley.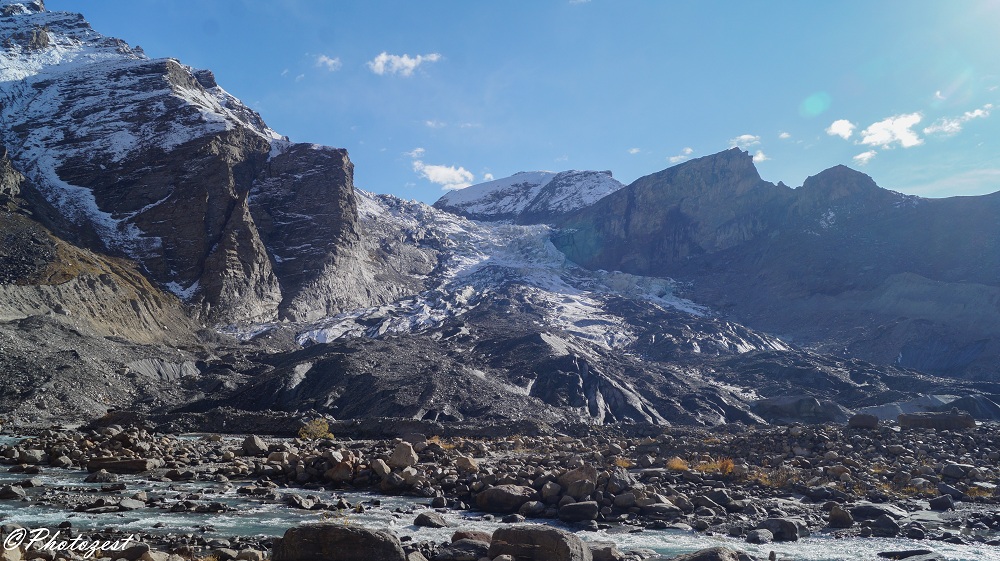 From here, you will exit the fertile lower Suru valley and enter the upper Suru valley. It is a high-altitude desert with its own absolute beauty. The valley here is quite flat but the bad roads will still keep your speed severely limited.
There will hardly be any greenery around and the Suru river will run slow with no rapid or waterfalls anywhere. You will continue traveling right next to the river until Rangdum.
Also Read: Mobile Phone Connectivity in Zanskar Valley
Rangdum is another small village on the way. It is just a few houses to be precise but it is the midway point of the journey. If you are planning to reach Padum the next day, then you can spend the night here.
If not, you have your lunch here and be on your way towards Padum. Even though the distance is just another 100 odd kilometers, it will still take some time to reach.
At Rangdum, I have stayed at La Himalaya Guesthouse. I found the rooms neat and clean and so took a room for Rs. 1200.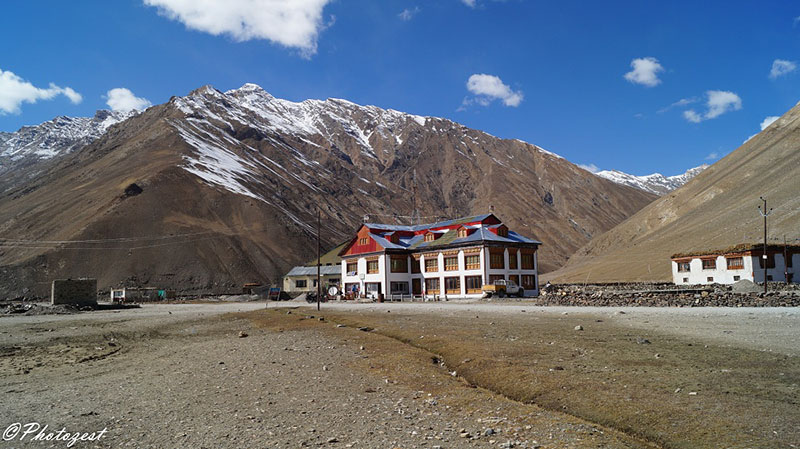 Rangdum to Pensi La
5 Kilometers from Rangdum is the Rangdum Gompa. Located on a small hill, this monastery looks like a fortress. It, in fact, was used as one by the Dogra armies of General Zorawar Singh.  It is an ancient monastery from the 18th century and a visit is recommended.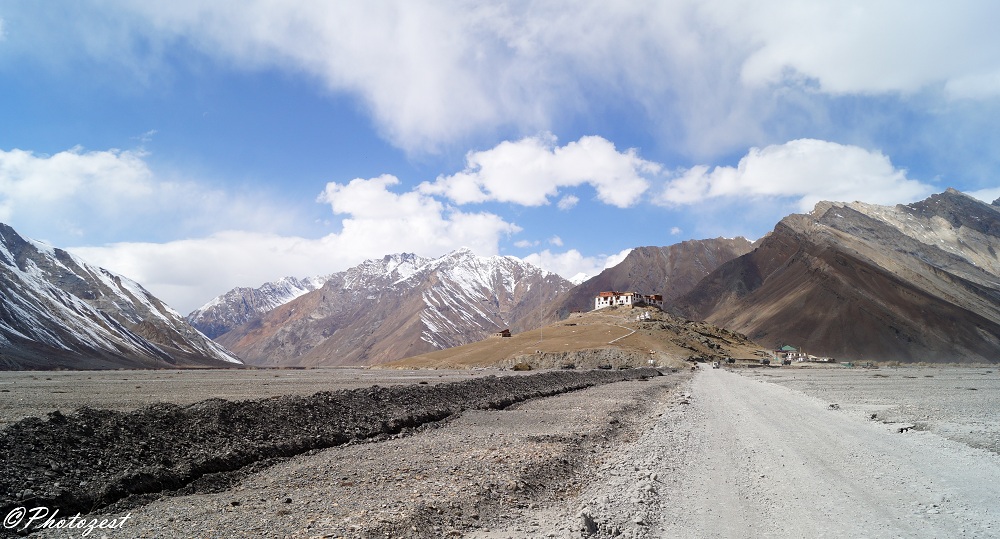 Rangdum is also the last inhabited place in Suru valley. The road here will take a 90-degree turn before it starts moving south towards Pensi la, on the other side of which the Zanskar valley is located.

Pensi La is considered as one of the "easy passes" as the ascent is not really that difficult. People who did not know that it was there tend to even miss the fact that they just crossed a high altitude pass.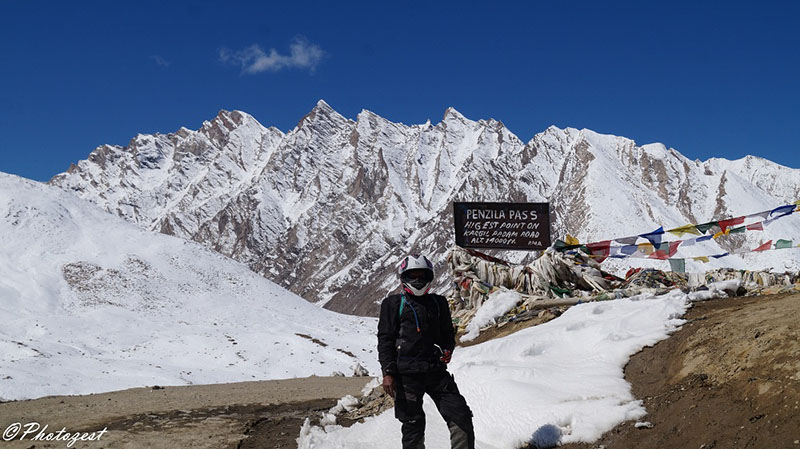 The valley now will become quite wide and the river that has been running close to the road will now flow far away. A long shallow drive, gentle ascent, and few zig zags will take you to the top of the pass before you even realize it.
Also Read: Zanskar Valley Itinerary – A Sample Travel Plan
You will notice a small body of water near the road atop Pensi La. These in fact are two small lakes called Ta Tso and the Lang Tso lakes.
The first lake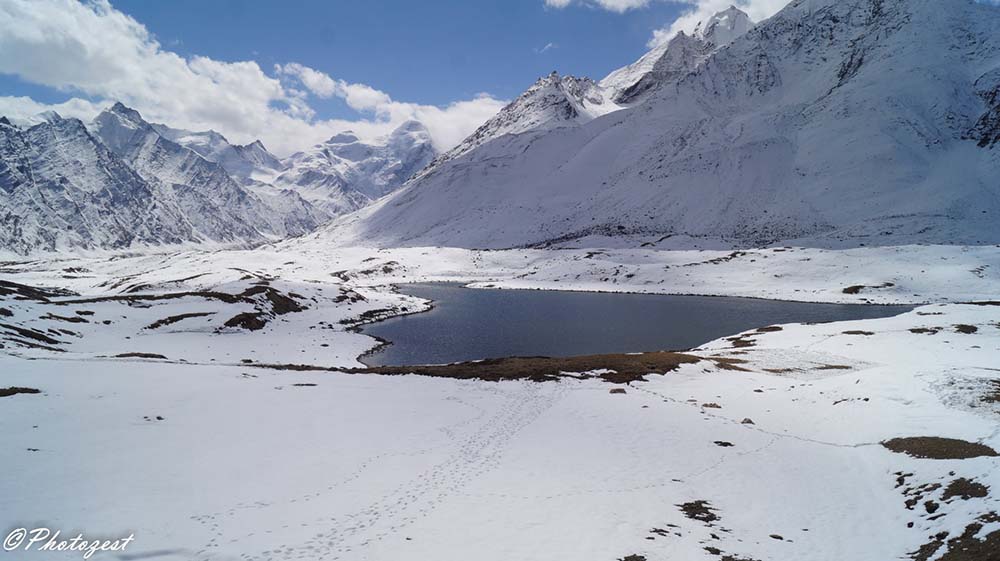 and the second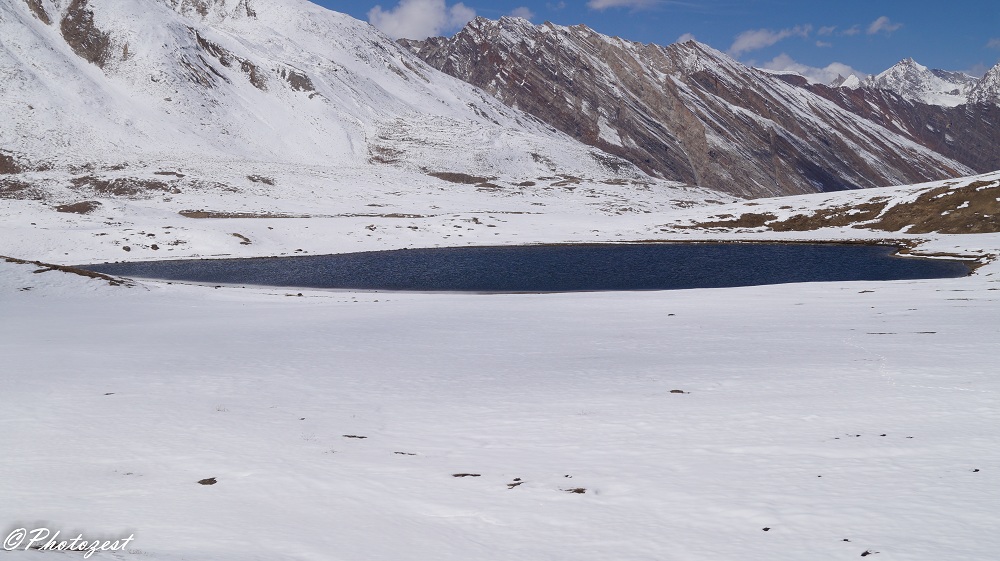 Beyond these lakes, you will see the massive Drang Drung glacier. There will be a noticeable chill in the wind, owing to the vast reserves of snow at the glacier. The glacier lies much below the road and the view in itself is quite dramatic.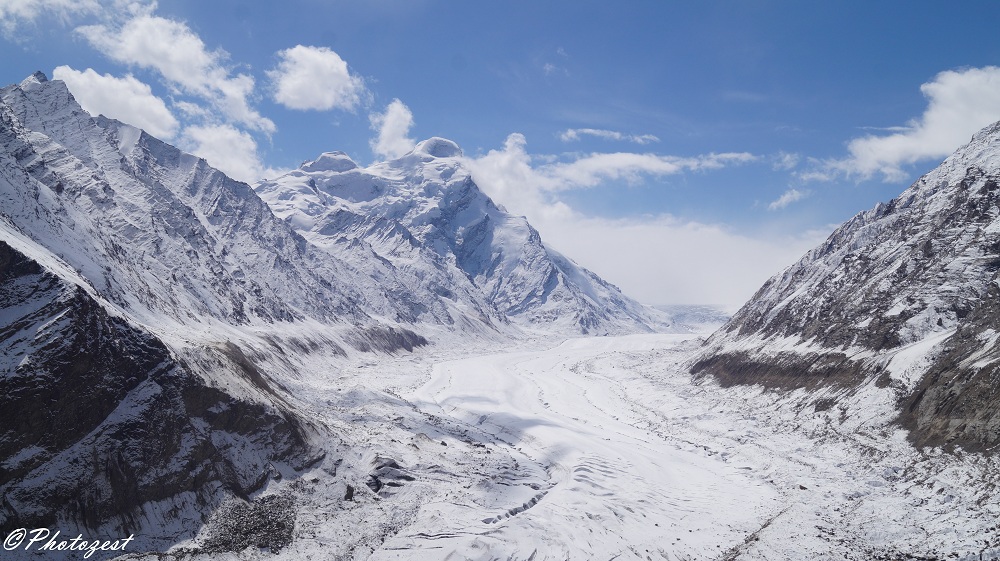 Pensi La to Padum
After Pensi La, you will start on your final stretch of the journey to Padum and descend into Zanskar valley. The road will continue to be a gravel path until a few kilometers before Padum when you will once again see Tar on the road.
Chibra is the first village in Zanskar valley after Pensi La and post that, it will be a series of small villages. At Tungri village, you will cross over to the right side of the river and from there, it is a straight run to Padum.
Sani Gompa, which is also known as possibly the oldest Gompa in Zanskar valley, is a place worth visiting in Padum.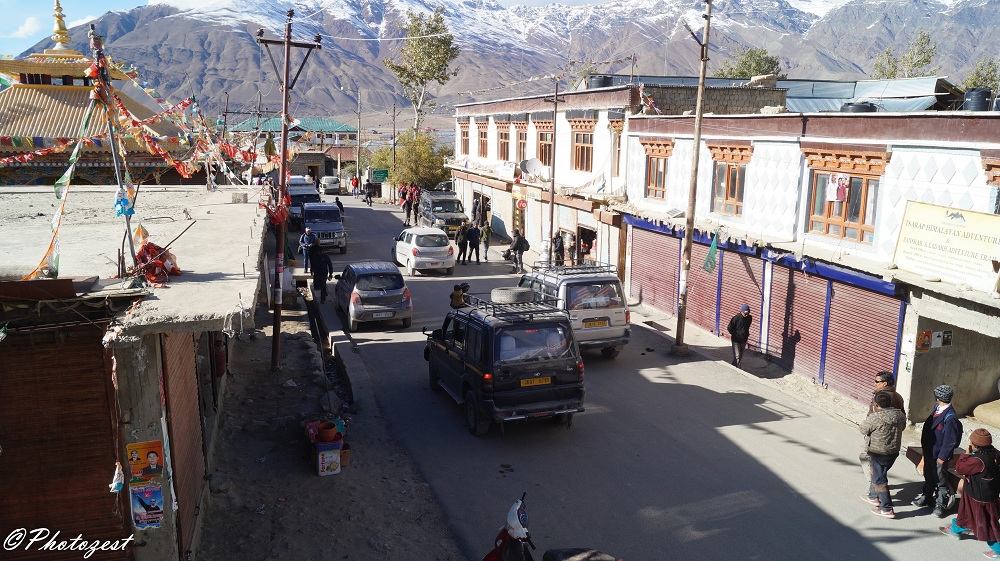 Other Villages in Zanskar Valley
If you asked me, Zanskar is definitely a place worth spending a couple of days. There is not much to see here except for the natural beauty of the barren cold desert. If time permits, spend a day here and visit the nearby areas.
There is a road that goes towards Hanumil, another towards Dzonkhul, and a third under construction road that goes towards Shinku La. It is a high altitude pass which when completed will connect the Zanskar valley to Lahaul valley.
Shinku La road will link the towns of Padum and Darcha. It currently exists in a very bad state and can only be traveled upon by 4×4 SUVs. In the future, after the work complete, one will be able to travel between Lahaul Valley and Zanskar within a day.
Let us now take a look at some of these other internal roads within Zanskar Valley.
Padum to Hanumil
This is an under-construction road which has been completed until the village of Hanumil and a little after that as well. Once completed, this road will run directly from Padum all the way to the town of Nimmu, drastically cutting down the distance between Ladakh and Zanskar valley.
The road till Hanumil is in near perfect condition. This 50 odd kilometers-long journey should not take you more than a couple of hours to complete.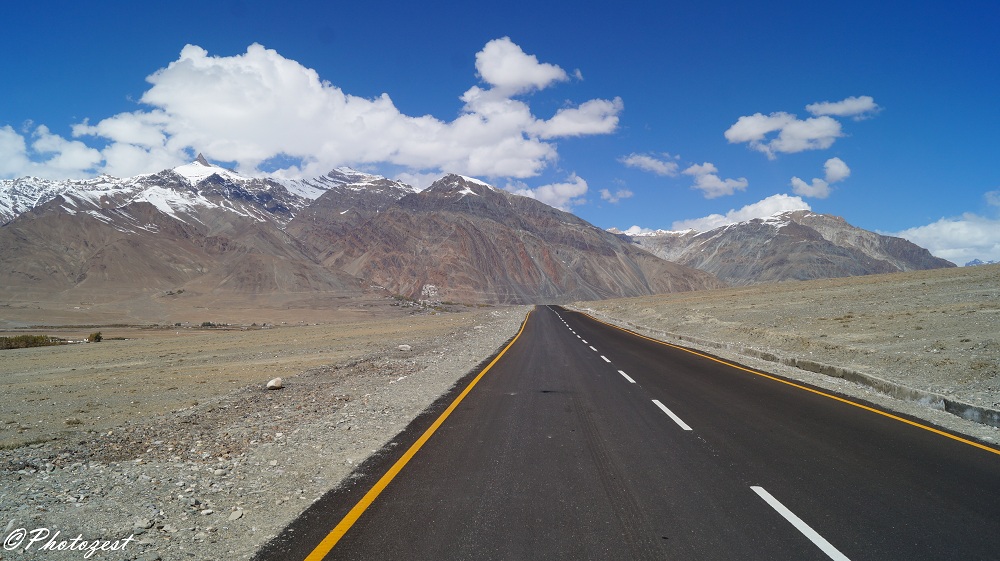 You will be traveling along the Zanskar River all the way. Just as you leave Padum, the road will cross over to the right side of the river and will stay on the right side.
Apart from stunning landscapes, a few other places to see on this route are Pibiting, Karsha, Stongde gompas, and the Zangla fort. Once you reach Hanumil, and if time allows, you can continue driving as far as the road goes.
Karsha Monastery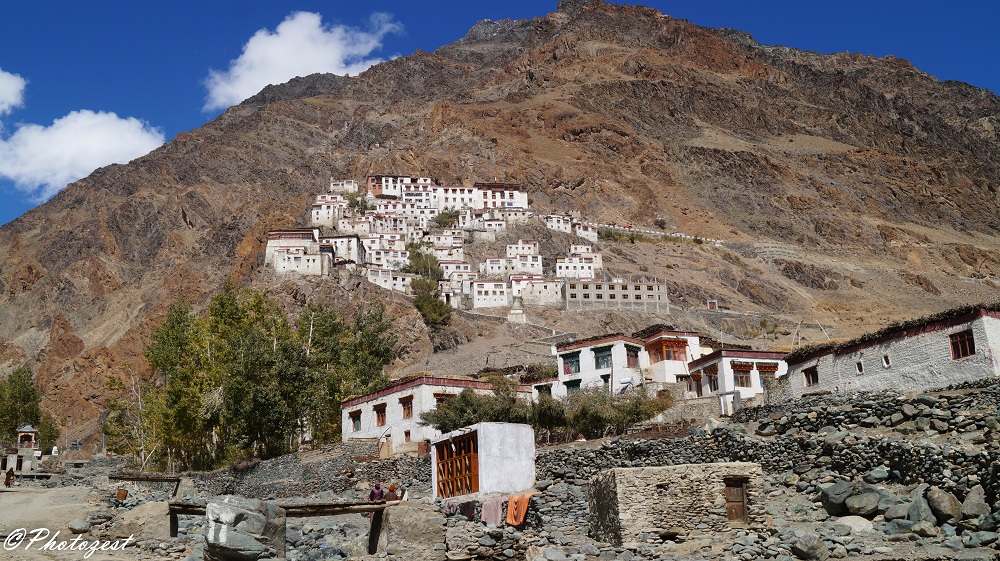 As I mentioned, this stretch is still under construction. At some point, you will reach the end from where you will have to turn back for Padum.
Padum to Reru
This is the same road that will run all the way to Darcha in Lahaul valley, across Shinku La, also known as Shingo La. For now, you can only drive up to the small village of Reru and visit Bardan Gompa on the route. This Gompa is located on a huge rock right next to the river and is worth a visit.
Another place to visit on this route is the Dzonkhul monastery. For more details on this, please take a look at Sightseeing in Zanskar Valley – Padum and Around.
Umba La Pass Road
Another way to reach Padum from the Srinagar Leh highway is to take the road from Drass to just after Sankoo, via Umba La. Earlier, this road is was not at all recommended, no matter which vehicle you were traveling in. A 4×4 vehicle was a must to travel on this road and even then this is one hell of a treacherous drive.
Recently though, the conditions have improved tremendously. I rode my Enfield 350CC on this road and was able to reach Drass without any problem at all.
This gives an alternate way to plan your journey. You can reach Padum from Kargil and then return to Drass, or the other way around.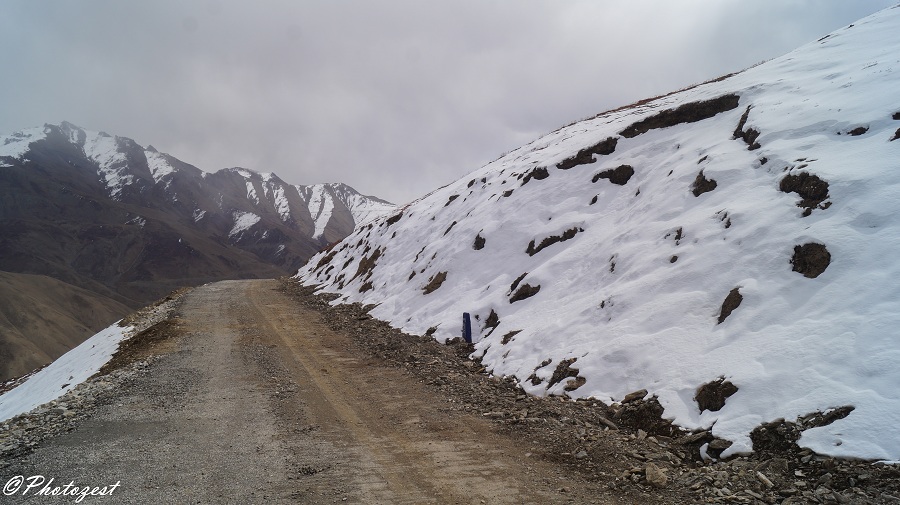 How to reach Padum by Bus
If you are not traveling in your own vehicle, you can choose to either catch a Bus or hire a taxi to Padum. There is a bus service by J&K SRTC to Padum from Leh and Kargil. This bus will stop at several places for sightseeing and is a good budget option to travel.
The only catch is that the frequency of the bus service from Leh is just once a week. There is a daily bus from Kargil but it only travels as far as Sankoo. After Sankoo, there is no other bus and you will have to either rent a private taxi or find a shared one.
Taxi Service in Zanskar
If you are planning to hire a taxi, please keep in mind that the taxi you hired from either Srinagar or Leh will not be allowed to travel to Zanskar valley. For this, you must hire a local cab from Kargil itself. The same logic applies to renting a bike as well. For more details, take a look at Zanskar Valley Taxi Rates – Updated Rate List.
Accommodation Choices
In terms of accommodation, Sankoo, Panikhar, and Parkachik have a government-run tourist bungalow and a few simple guesthouses. At Rangdum, there is both a PWD guest house and a tourist bungalow.
At Padum however, there are multiple options in form of guesthouses, hotels, and government tourist bungalows.
Nothing fancy but you can find small restaurants/dhabas at most of the major villages on the route. A puncture repair shop is available at Sankoo and Panikhar. At Padum, you can find a phone booth, several restaurants, a petrol pump (mostly in a non-working condition though), a mechanic, and surprisingly an internet cafe as well.
Other Tips for Kargil to Padum Route
The bus service from Leh to Padum is on weekly basis. This bus starts from Leh, halts at Kargil, and then continues to Padum the next day. The availability of seats on this bus also is uncertain.
There is a bus service from Kargil to Sankoo and Panikhar every morning.
Another bus from Kargil leaves for Parkachik daily. I am not sure if this is the same bus that goes to Sankoo and continues to Parkachik or a different bus.
Once you get to Parkachik, you can hire a cab from there to reach Padum. Do not count on this though as the number of cabs in Parkachik is severely limited. If there is no cab available on the day of your arrival, you will have no other choice but to break your journey there and continue the next day when there is a cab available.
The fastest, most convenient way to get to Padum from Kargil is to hire a private cab but this is of course also the most expensive one.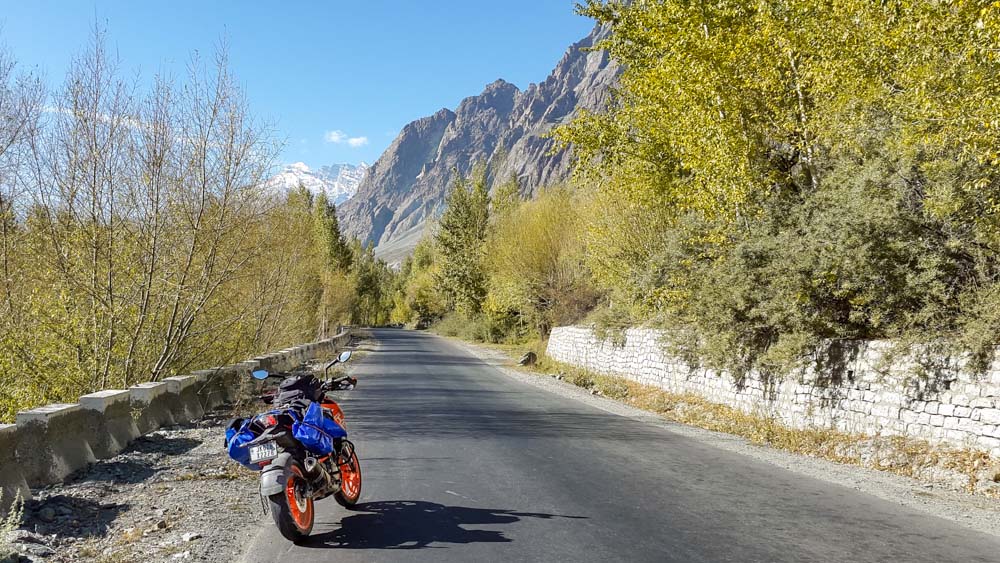 Kargil to Padum – Conclusion
I hope this information on traveling from Kargil to Padum was of help. If you have any other questions, please feel free to ask in the comments section below, or at our Community Forum, and I will be glad to answer.