Several years ago, when Ladakh was just a name people read about in newspapers; or in stories; or heard of it on TV; the first most known place in the region after the city of Leh was a high altitude pass which at that time was considered to be the highest motorable pass in the world. Khardung La; the mightiest of all the passes; standing proud wearing the crown of a king which over a period of time it lost but the pride still remained. A 39 kilometers long winding stretch from the city of Leh to Khardung La will bring you to the top of this high altitude pass; through some some eye catching vistas all around.
It is probably the most visited place in all of Ladakh; being so close to the city. Even people who do not want to visit Nubra valley will still make a day or a few hours trip to at least reach Khardung La top.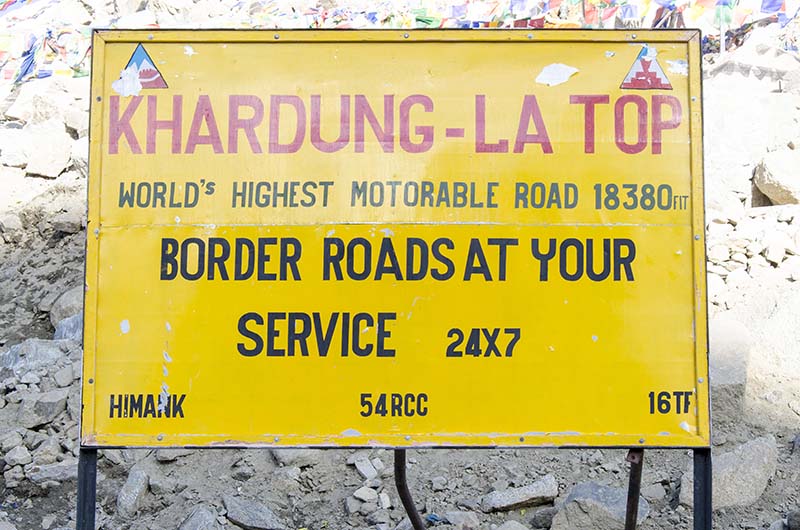 Located at 5,602 meters per the local summit but 5,359 meters per the modern measurements, Khardung La connects the beautiful Nubra and Shyok Valleys in the Ladakh region of India's northernmost state, Jammu and Kashmir, with rest of the country. It is a historical pass in the Karakoram Range to the north of Leh that still works as the lifeline for Indian Army posted in Siachen Glacier and is used to carry supplies.
At the top of the pass, you will be presented with amazing views of the surrounding mountain range and the valley in between. The winding road to the top, the feeling of standing atop a mountain that is often considered as world's highest motorable pass, the clean air, scenic vistas have made Khardung La a popular tourist attraction.
A visit from Leh to Khardung La top and back is roughly around 80 kms, round trip. With the recent boost in tourism in Ladakh; Khardung La has earned the reputation of being one of the must visit places. Some people cross the pass to travel to Nubra valley while others return after spending some time at the top. Due to this, in recent years, traffic towards Khardung La has increased drastically. The pass has started seeing tourists so much that last year, a friend of mind had to get in a queue to click a picture standing in front of the Khardung La board at the top.
Traffic turned in to such a nightmare that in 2016, timings were allotted for vehicles coming from both sides of Khardung La. Vehicles from Leh to Khardung La were allowed only from 9 AM to 1 PM and the traffic from Nubra Valley to Khardung La was allowed from 1 PM to 5 PM. This however was as per the situation in 2016 so it is always advised that you inquire about the timings in Leh before you start from Leh.
Khardung La Map
Attached below is a Leh to Khardung La road map. Please click on the thumbnail to view the map in full size. Feel free to save it to your phone in case you would like to keep a copy.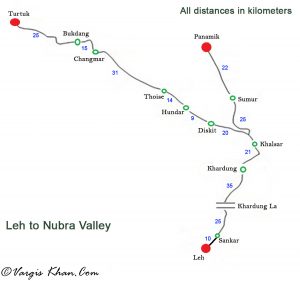 Leh to Khardung La Route
Leh – Phyang – South Pullu – Khardung La [39 kms]: Like yourself, there will be several people wanting to visit Khardung La. Add that with a long line of Army and civil supplies trucks, locals crossing the pass to other side and you have a heavy traffic on a narrow and steep road. To avoid this , an early start on the journey is advised. Road from Leh to South Pullu is quite good but from there until Khardung La top is all gravel and dirt track.
At the top of Khardung La is an army base and small canteen, which offers free tea, without milk however. So if you font mind sipping down black tea, it is a good place to sit with a cup in your hand and beautiful Himalayan peaks all around you. Take photos next to several signboards reading "Khardung La, 18,380 ft, Highest Motor-able Road in the world"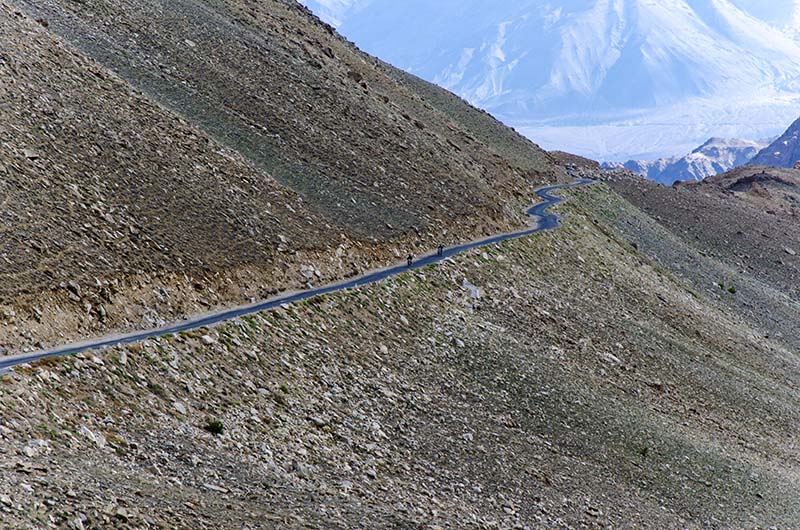 There is also an Army souvenir shop selling hats, caps, t-shirts and kitchenware noted "Khardung La"; in case you want to buy something that would remind you of the visit. Last time I was there, I really liked a hat with Khardung La written on the front but could not buy it as the souvenir shop was closed because the guy in-charge went visiting Leh.
Khardung La Permits
Inner line permit is required to visit Khardung La and Nubra valley so please ensure that you procure it before starting from Leh. Once you have the permit, please make several photocopies of it as you will have to submit a copy at each check post. While visiting Khardung La, the check post is at South Pullu where you will have to stop, register yourself, submit a copy of the permit and continue towards Khardung La. For more details regarding the permits like total charges, where to get, which place do you need it for; read How to obtain an Inner Line Permit for Ladakh
Khardung La Road Conditions
Road conditions from Leh to Khardung La is mostly smooth for about 25 kilomters until South Pullu. There are some bad patches in between but the real bad section starts for the last 14 kilometers, from South Pullu to Khardung top. The road will continue to deteriorate and as you approach the top, you will find it to be badly broken with a lot of slush and water streams cause by melting snow. Towards Nubra valley, road will again be bad until North Pullu post which it is again smooth through Nubra Valley.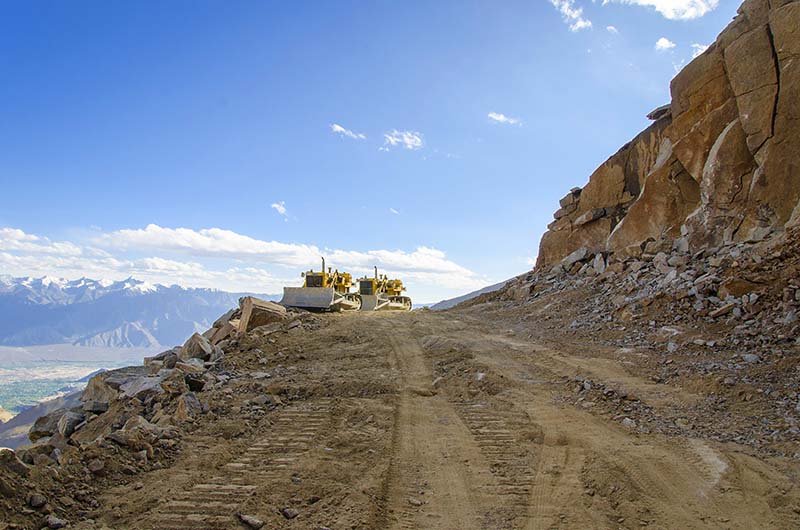 Khardung La Petrol Pump
Once you leave Leh, there is no petrol pump either on the way towards Khardung La top or in Nubra valley as well. Please ensure that you tank you up in Leh according to your itinerary. If only Khardung La is the destination, you do not have to worry about petrol because the distance is just 80 kilometers round trip. If the plan however is to go to Nubra valley or to continue towards Pangong or Wari La from there; please calculate kilometers with your vehicle's mileage and carry fuel accordingly. For more information on where do you need to carry spare fuel in Ladakh, read the article below.
Also read: Spare Fuel for Ladakh Trip – Where do you need it?
Phone services at Khardung La
In Leh, no matter which network you are on, your mobile phone will work normally; data speed however will be slow. As you leave the town and travel towards Khardung La, your phone will go out of network a few kilometers after and will not be back online until your reach back Leh. Click on the link below to read in details about phone services in Leh and other areas of Ladakh.
Also read: Mobile Phone Services in Leh & Other Areas of Ladakh
Best time to visit Khardung La
Contrary to common belief, the pass actually remains open throughout the year. Both Army and locals use it to cross over towards either Leh or Nubra Valley. In peak winter, months of January and February, it may get buried under deep snow but usually Army clears the road. A lot of people make a winter trip to Ladakh and visit Nubra valley as well. It is the question of reaching Leh in Winter which can only be done by Air. The best time to visit Khardung La however will be anytime between May and October, during summer. Weather at this time is pleasant and road conditions too are considerably better in later part of the season. October onwards, it starts to snow which increases the chance of a person getting stranded in case the road gets blocked.
Khardung La Altitude
The elevation of Khardung La is 5,359 m (17,582 ft). Until a few years ago, it was incorrectly cited as 5,602 m (18,379 ft, claiming it to be the world's highest motorable road. Local summit signs at top of the pass still makes this claim and you will find dozens of stores in Leh selling clothes with a Khardung La printed as world's highest motorable pass.
Khardung La Weather
Days can be pretty warm in the town of Leh but as you start climbing up Khardung La; there will be a noticeable chill in the air. Weather at top of Khardung La always remains to be cold and windy and it can pretty much snow at anytime during the year. You will find snow here in all 12 months. Though Ladakh is in rain shadow area, there was quite some rain at Khardung La in 2017 causing landslides; which resulted in tourists getting stranded in Nubra valley for days before they could return to Leh. Like rest of the high altitude passes, weather at Khardung La can only be termed as unpredictable.
Khardung La temperature
During the months of summer, temperature at Khardung La Pass during day remains around 10 degrees Celsius; at night it drops down to 0 degrees, maybe a couple of degrees in negative as well. During winter, it can drop down to as far as -30 to -40 degrees Celsius.
Khardung La Altitude sickness
Due to its staggering height, lot of people suffer from acute mountain sickness while at Khardung La. It is best advised to avoid drinking, smoking or exhausting yourself while you are at top of the pass. There is even a board put up there by Indian Army advising people of the same. This risk is more for people who flew in to Leh and their bodies are still acclimatizing to the sudden increase in height. If you are still suffering from AMS in Leh, avoid traveling towards Khardung La and wait for the symptoms to subside. If you were OK in Leh but start to notice AMS again as you start climbing up, best to give up the idea and descend back down.
Leh to Khardung La Distance
Total distance between the town of Leh and Khardung La top is about 39 kilometers.
Leh to Khardung La Travel Time
The journey from Leh to Khardung La top can be easily done in a couple of hours, considering the bad sections of road, winding road and breaks that you may take in between. A round trip with some time spent at top of the pass will be between 3-4 hours unless you are planning to continue to Nubra valley from there.
Khardung La to Nubra Valley
Mostly, Khardung La, gets added to an itinerary to visit Nubra valley. The road from Leh climbs up to Khardung La top and then descends down in to Nubra valley, crossing the village of Khardung and Khalsar on the way. This same road further continues to Siachen Glacier via Panamik and Warshi. Distances from Khardung La top to Turtuk and Warshi, last villages that civilians are allowed until on both sides of the valley, are 164 kilomters till Turtuk and about 140 kilometers till Warshi.
Also read: Nubra Valley Travel Guide
Khardung La to Wari La
Another high but even difficult pass that people try to cross after Khardung La is Wari La. This too usually gets included with Nubra valley itinerary; reach the valley via Khardung La and returning via Wari La. If such is your plan, then the turn towards Wari La is between the villages of Khardung and Khalsar. Take the diversion and continue towards Agham village. From Agham, once again take the diversion towards Tangyar village from where it is a straight climb to Wari La top. On the other side of Wari La, you will descend down to the village of Tathok and then Sakti. For more details on the route, read the article below.
Also read: Nubra Valley to Pangong Tso via Wari La
Khardung La to Pangong Tso
A few years ago, if you want to visit Pangong Tso after Nubra valley, the only way to do this was to come back to Leh first and go to the lake the next day. Now however you can take a direct route; thus saving a day in the journey. There are in fact two routes that you can take, one is longer and other one considerably shorter. The longer route is via Wari La that I explained above. You will descend down to Sakti and from there can continue to Pangong via Chang La.
Another shorter but more treacherous route is via Agham Shyok road. To travel via this route, from the village of Agham, continue towards Shyok village. You will be traveling right next to Shyok river for this part of the journey. From Shyok village, take the road to Durbuk and then to Pangong Tso.
Travel time via Wari La route will be way too long, approximately 10-11 hours however via Agham Shyok road, this journey can be completed within 5-6 hours.
Also read: Nubra Valley to Pangong Tso via Agham Shyok road
Khardung La Hotels
There are no hotels at Khardung La, because of the extreme weather conditions. Nearest place where you may find accommodation is either in Leh or at Nubra valley. If you are planning to camp on your own, I would strongly advise against camping anywhere near the top because of extreme weather conditions. Do not also camp in the middle of nowhere and look for a local dhaba or camping site to camp next to. For more details on camping in Ladakh, read through the article below.
Also read: Camping In Ladakh – Self camping & Camp sites
Khardung La Snow
Snow towards the top of Khardung La usually remains throughout the year; no matter which month you are traveling in. Chances of finding a lot of snow are more towards the opening months of tourist season, in May or early June. As summer arrives, snow starts to melt and only some remains in the month of July and August.
Khardung La Bike Trip
Of course, the real fun of traveling to Khardung La is by a motorcycle. If you however arrived in Leh by flight or in a car, you can easily rent a motorcycle in Leh town for a visit to Khardung La top or even further towards Nubra valley. Before renting, please ensure that you check the condition of the motorcycle; make sure that it will not ditch you at steep ascents or sharp turns. For more details on renting bike in Leh or the rental rates, take a look at the articles below.
Also read: How to rent a bike in Leh
Also read: Leh motorcycle rental rates
Cycling from Leh to Khardung La Pass
Please only attempt this if you have enough cycling experience; both in plains and hills. If you haven't ridden a bicycle in months or are just a casual rider; do not attempt it. Though the distance may see short, just 39 kilometers; the ascent is quite steep. Add that with low oxygen level and you will start to huff and puff in no time. If you have however some experience and would like to cycle from Leh to Khardung La, there are several shops in Leh that you can rent a bicycle from for a day.
Leh to Khardung La Bus
If you are traveling by public transport; there are several buses that travel to Nubra valley from Leh that you can board. For return journey as well, you can catch the bus coming from Nubra valley towards Leh; however the timing can be a little problematic. Another way to do this is you take a bus from Leh to Khardung La top; and hitch hike for the return journey. In peak tourist season, you will have no problem finding a ride back home. For details on which days the bus is available from Leh to Nubra Valley, please take a look at the article below.
Also read: Leh to Nubra Valley Bus Service
Leh to Khardung La Taxi
There are two options available in terms of Leh to Khardung La taxi service. You can either book a private taxi but please be advised that it may cost you easily as much as Rs. 4000 – Rs. 5000 for a journey that short. Another good and better option is to board a shared cab towards Nubra valley; which starts from Leh bus stand every morning.
Leh to Khardung La By Car
Though an SUV with good ground clearance will better suit the need; you can easily take a Sedan or Hatchback as well towards Khardung La top. Just be careful after South Pullu until top of the pass because roads here will be extremely bad.
Khardung La Oxygen
I get this question asked a lot so thought of adding it here. To be quite honest; I have never come across anyone with having problem breathing at Khardung La top in all my years of Ladakh travels. Some people do suffer from AMS; but that subsides as they start to descend towards either back to Leh or Nubra valley. If you however have breathing related problems, like Asthma; it is best advised to avoid traveling towards Khardung La (even entire Ladakh for that matter) without consulting your doctor.
Khardung La Clothes
You do not really need any special clothes for the trip. Just wear a thermal inside, put on your cottons and wear a thick heavy windproof jacket on top of all. Do carry a monkey cap to protect your face from cold winds and a pair of gloves.
I think this pretty much covers most of the information about making a trip from Leh to Khardung La. I hope this information was useful. If you have any questions, please feel free to ask in the comments section below or at our Community Forum and I will be glad to answer.