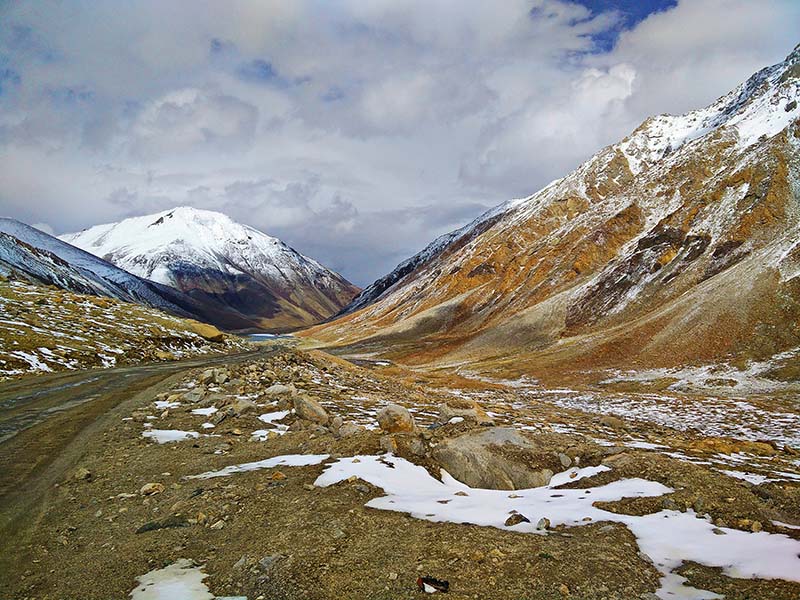 Travel to Ladakh alone as a woman? This idea sounded a little scary to me as well initially. But then I did it and what a trip it turned out to be. What's more? I completed my solo woman trip to Ladakh by public transport. I hopped on a bus, sat in a shared cab, and even hitchhiked. Yes, you read it right. Was I ever scared or felt threatened? Not ever and not even a bit. Was it fun? Absolutely. Will I do it again? I am already planning on it.
In the article below, I will share complete details of my solo female travel to Ladakh. I will share my itinerary, details of places I stayed at, how much it cost me and how did I travel. Even if you were a guy and planning to travel on a budget, the details can be of help in reducing the total cost of your trip.
Is Ladakh Safe for Women Travelers?
The travelogue below in my opinion answers two major questions. The first one is whether or not Ladakh is safe for a lady to travel alone. I have been getting asked this question a lot of late. With the recent boost in tourism in Ladakh, a lot of women have started to travel alone or with a group of other women. Even several tour companies are offering packages of an all women's trip to Leh Ladakh.
At times likes these, the first doubt that pops up is would it be safe to travel without a man accompanying them. Ladakh is after all a remote area where you may not come across a living soul for miles and miles. The travelogue below I believe clarifies that as long as you do not put yourself in a difficult situation, Ladakh is perfectly safe for a Lady to be traveling all on her own. To read more, take a look at Is Leh Ladakh safe for Tourists?
The second question is on how to make a trip to Ladakh by public transport services. I have never done it myself and though I provided all the required information on this blog; like bus schedules, budget hotels, details on shared taxis, etc. It is always great to read a first-hand experience. If you too are planning a trip to Ladakh by public transport, then I am sure that this travelogue will be able to provide some vital information that will be of help.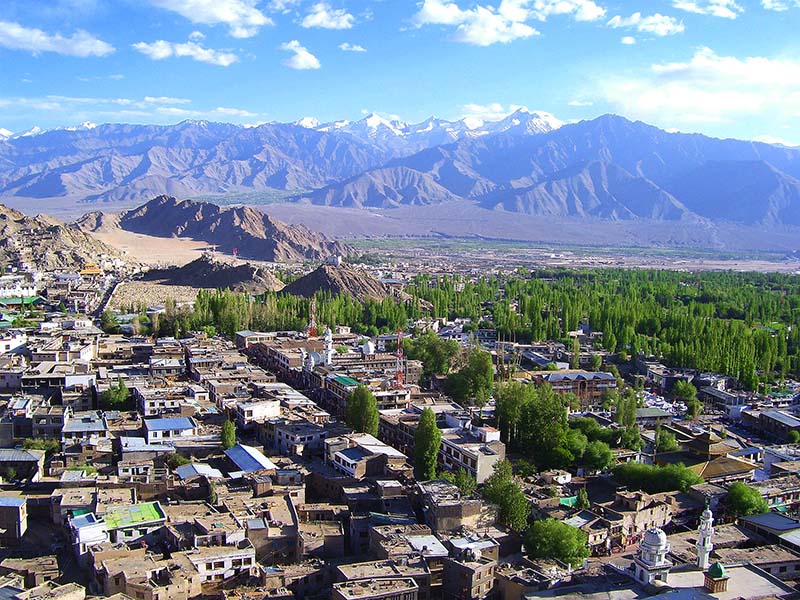 Memoirs of my 
Solo Woman Trip to Ladakh
A trip to Ladakh needs to be taken by all people who need to restore their faith in humanity. The main protagonists of my trip to Ladakh is not the place but its people, the Ladakhis. This experience would not have been created without their benign presence in the exotic land of Ladakh.
Day 1– Arrival in Leh by Flight
I arrived in Leh by an early morning flight. My trip was actually work-related that I had decided to prolong as a vacation. The original plan was to just be in Leh for a day, finish some work, and be on the next flight home.
I however decided to change the itinerary. Now the plan was that I will stay in Ladakh for a few days and go back home by Bus.
I stayed at Zangsti Road, close to the main market. For the first day, I just took rest to ensure that I do not get hit by altitude sickness. I relaxed at the hotel and walked around the main market. My stay in Leh was subsidized generously by the guest house owners as the organization I work with is their regular customer. There are many guest houses like Peace guest house or Paul guest house just opposite the Main Market to get reasonable accommodation.
That evening I visited the Tibetan Refugee market and ChokhangVihara in the main market. I had a nice Pizza at Il Forno which is located directly opposite the main market. For two people it was priced at Rs.440.
My worst fear for the first day of my trip was of AMS which thankfully I did not face. I was fine all day long and did not face any symptoms. But for most people, it is a big concern especially if you are catching a flight to Leh. To know more, please take a look at How to Handle Acute Mountain Sickness in Ladakh.
Day 2 – Central Asian Museum and Sankar Gompa
I had gone for one day's work in Leh city. Therefore, I first visited the Central Asian Museum (for work) and then walked to the Sankar Gompa in the evening.
The Central Asian Museum is located in one of the bylanes from the Main Market. It is a must-visit place as it gives a good perspective on the history of Ladakh.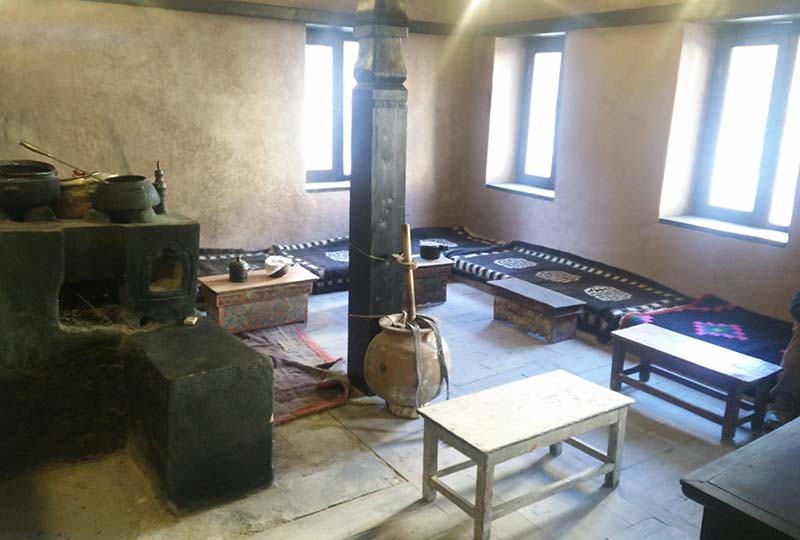 The entrance fee is Rs.50. It opened recently in 2015 and is open in summer months only. The caretaker, an old fellow, is really amiable and will tell you more if you ask him. He also showed the locked-up Ladakhi kitchen.
The museum also houses an old Mosque on its premises. It is good to start your trip to Ladakh with a visit to the Museum. This principle I follow generally to any place I visit. It helps in understanding the history and culture of the people much better.
Then walked on the Sankar Road till the Gompa which was closed as I reached by 6.30 pm. It closes at 6 pm. The younger monk of the Gompa had a good political sense of humor. He remarked how the Indian Prime Minister needs to send a plane full of vegetables and groceries since Ladakh has Pakistan on one end and China on the other!
Then the monks showed me a shortcut route to the main market which ran almost parallel to the main Sankar road. It is a nice walk on a small kachcha road behind the houses. The dinner was at Gesmo Restaurant. The salt was too much for my taste. You can order food ranging from Rs. 100 to 300 here.
Also Read: How to Plan a  Trip to Ladakh with Children
Day 3 – Leh Palace, Tsemo Gompa, and Shanti Stupa
The day started with an appetizing breakfast at Apple Tree Restaurant square (Rs.100 – 200). After that, I chalked up a plan of how I was going to spend my day and the first place on the list was the ancient Leh Palace.
This error message is only visible to WordPress admins
Error: No feed found.
Please go to the Instagram Feed settings page to create a feed.
Leh Palace
With my belly full, I walked up to Leh Palace via the Main Market, the Mosque which is under construction, and the old part of the town. One can ask people for the direction as you walk up.
It was a nice climb to the palace. The entrance fee is Rs. 10. It is a nine-storeyed palace – three stories are locked up and the rest is open to visitors. Most of the rooms are past their old glory. Some of them have been converted into a gallery of photographs that has nothing to do with its history or even Ladakh.
I basically enjoyed the climb up and going into rooms and figuring out inter-connections within the palace. Also, the perspective of the town as one climbs higher also changes. One can see the Main Market square from the Palace Top too. The main market square is the hub of all activities in Leh.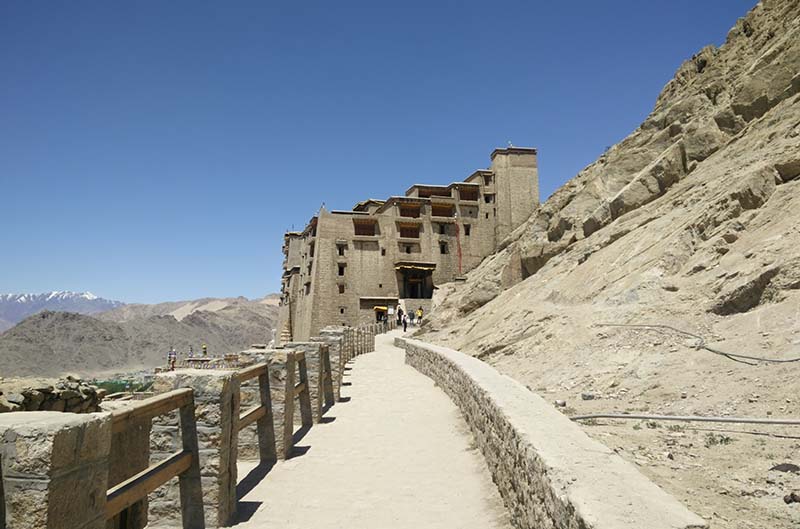 Tsemo Gompa and Fort
From the Palace, there is a climb up to Tsemo Gompa and Fort which is more rigorous. I finished it in 40 minutes with many stopovers. There is also a road which makes it accessible by vehicle.
Later I discovered a pucca staircase which starts from a little village on Sankar Gompa road. You have to go slightly up to the village and then only the stairs are visible. The Gompa and the Fort are closed on Sundays as I discovered by climbing up!!
I met some local Muslim women who had come for 'timepass' during the month of Ramzan. They were surprised at the idea of a solo woman trip to Ladakh but only because they thought it will be boring to travel alone, not because of safety. They shared there is hardly any serious crime heard of in the city of Leh. Then I had an ordinary late lunch at Namo Buddha Café (Rs. 130).
Also Read: Magnetic Hill of Ladakh – The Myth and the Reality
Shanti Stupa
In the evening, I walked up to Shanti Stupa on the other end of the city. The walk goes through Changspa Road and leads directly to Shanti Stupa stairs. It is a steep climb. Also, it was rather very tiring as I did two climbs the same day. It gives a nice top view of the city from the other end of lush fields and tall trees.
I befriended a local young boy while climbing up. He pointed out the way to Khardung La and Stok village from the Stupa.
After Shanti Stupa, I returned to the hotel, had my dinner, and called it a day. I thought to visit the market in the evening but was too tired for that because of all the walking and climbing.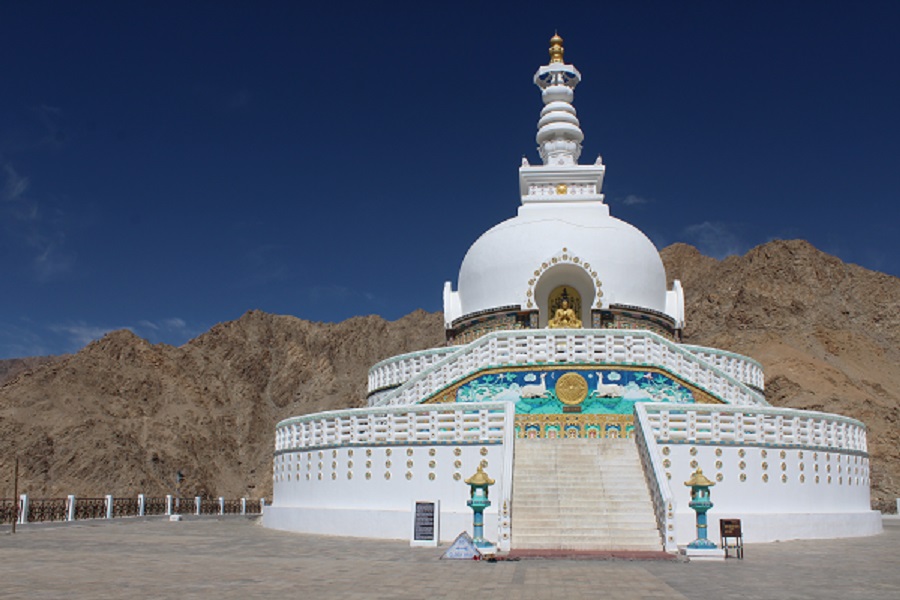 Day 4 – Zorawar fort
I started late as I was still very tired from the hangover of two climbs the previous day.  I had leisurely breakfast at Gesmo restaurant (Rs.130 -150 – too much salt again) in hope of some Internet connectivity.
During my entire stay in Leh, the whole town was down with the net connectivity as they were digging up the city for laying pipes for water. I heard few fellow travelers saying that it worked intermittently in some Internet cafes, though I never tried them myself.
Also Read: How to Plan a Trip to Ladakh with Family
Then I walked from Fort road where the Gesmo Restaurant is located to the Zorawar Fort which at the end of that road. It is actually one external wall and a moat that you can access from the roadside. There is construction going on inside the fort and it is not accessible to people.
The walk from Fort Road on to Yurthung Road to reach Tseru was a foolhardy decision. I tired myself unnecessarily as I reached till Shanti Stupa's footsteps and hitched a ride back to the town.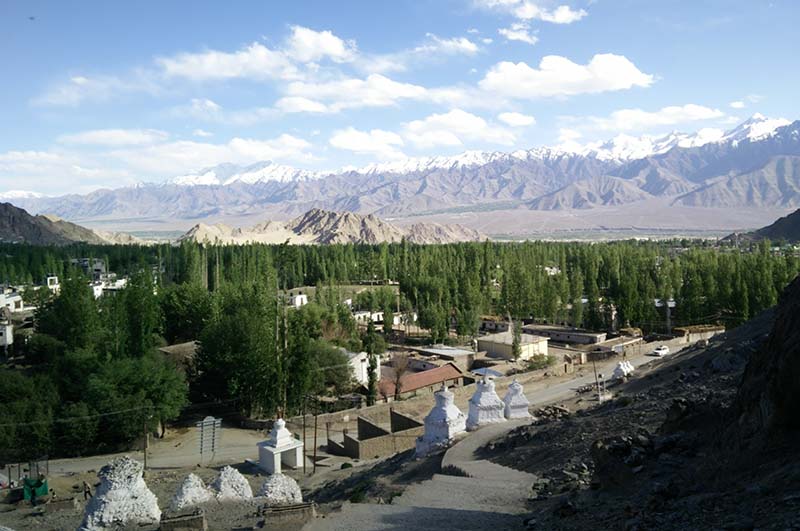 If you want to try going Tseru by walking, start from Sankar Road and ask people for shortcuts. I will try this in my next visit.
Permits for Sightseeing
Then I applied for a permit to Nubra Valley including Panamik, Turtuk, and Pangong for six days through a travel agent. I paid Rs.600 to him which included the permit cost of Rs.520. I applied for it in the late afternoon and received it by evening.
Do make multiple photocopies as you would need to submit it later at crossing check posts. It is good to keep a few extra days on permit especially when traveling by local transport. You may sometimes like a place and stay more days or you may not get a connecting bus service.
The lunch was special Yhukpa (Rs.130) at Tenzin Dickey Kitchen. It was too rich for my taste. The potato Momos (Rs.150) for dinner were completely worthless.
So far, my trip was limited within the borders of Leh City. Now it was time for me to head out and explore the rest. I know I could have covered more places in Leh City in 4 days but to be honest, I did not wish to run around. I was visiting places at a relaxed pace, as per my convenience; more like walking from one place to another.
But if you wish to know, then 4 days are actually more than enough for local sightseeing in Leh. People in fact just keep 2 days for Leh City and cover all of it. People in fact tried to wrap up their entire trip in 5 to 6 days.
Not me though, I just enjoyed the overall air of Ladakh as I walked around lazily. Yes, I did skip a few places but that is now my reason to go back to Ladakh again.
FAQs
Please click on the link above to continue reading the next part of the travelogue. While we are on the topic of a solo woman trip to Ladakh, let me also try answering a few questions that may be stopping you from planning your trip.
1. Is Ladakh safe for a solo woman Traveler?
An immediate answer to this question is that yes, it is very safe. But then a lot of it will depend on you actually. Travel during the tourist season, do not venture out alone into areas too remote, do not get into altercations, avoid unnecessary risks, stick to main tourist areas and you will be OK.
2. Is public transport better or a private vehicle?
Both are equally good. You can pick either as per your convenience.
3. When will be a good time for traveling to Ladakh alone as a woman?
My recommendation will be that you plan your visit between June and September.
4. Are there other woman travelers as well?
Yes, but you will not find many women solo travelers. There will be a lot of couples and families around though.
Solo Woman trip to Ladakh – Conclusion
I am sure the information above on a solo woman trip to Ladakh was of help. If you have any further questions, please feel free to ask in the comments section below or at our Community Forum and I will be glad to answer.