When you plan a trip to Ladakh, the focus always is more on the journey than the destination. As you spend days traveling from one town to another, you continue coming across sights that will leave you mesmerized. It is not really a trip where you first reach the destination and then indulge in sightseeing. Rather, it is probably the other way around. Some of these wonders that you see are natural while others are man-made. One such tourist attraction that I want to talk about in this article is the beautiful and holy Gurudwara Pathar Sahib.
Also Read: How to Plan a Trip to Ladakh – A Complete Travel Guide
I have been blogging about Ladakh for last few years now; covering the majority of the information you need to know to get there. In this next series of articles, I will be talking in details about places that you would be visiting after you have arrived in Ladakh. I will provide a little history of the place and then talk about how you can get there from Leh city.
For a brief introduction, Gurudwara Pathar Sahib is located about 23 kilometers away from Leh, on the Srinagar – Leh highway. At an altitude of over 12,000 ft, it is considered one of the highest Gurudwaras in the world. It was built in 1517 in the memory of Guru Nanak Dev; to commemorate his visit to Ladakh. You can visit the Gurudwara while either traveling from Leh to Srinagar or vice versa. You can plan also plan a day tour on Srinagar Leh road and pay a visit at the Gurudwara while visiting some other tourist places like Magnetic Hill and Indus Zanskar Confluence. How you can do so is what I will talk in details about further in the article.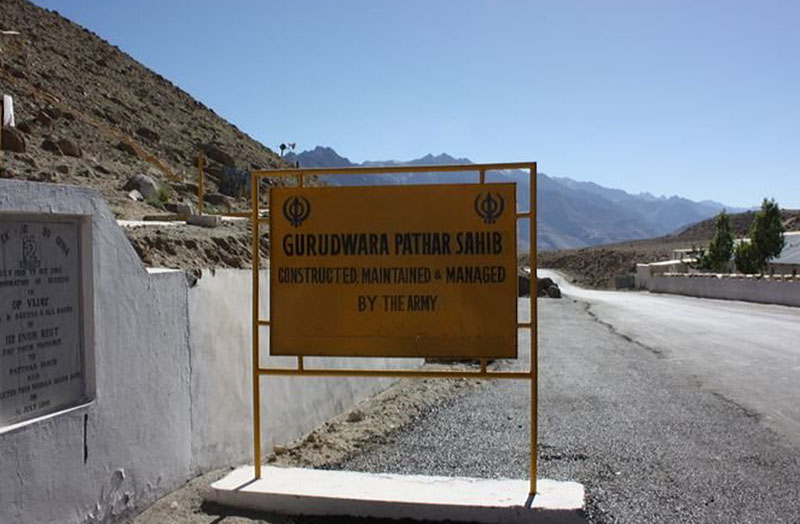 Gurudwara Pathar Sahib History
Let me first provide a little history of Gurudwara Pathar Sahib and how it came to be. Source of my information for this part is the Sikhwiki.Org site. Guru Nanak in his lifetime traveled to many parts of India including Ladakh; and even as far as Tibet. He is well respected by Tibetan Buddhists who consider him a saint and refer to him as Guru Gompka Maharaj.
While traveling to Ladakh, Guru Nanak dealt with a demon here that has been terrorizing the locals for quite some time. It is said that the demon threw a large boulder at him with the intention of killing. The boulder, however, softened like warm wax when it hit Guru Nanak's body. This left an impression of Guru Nanak in the rock itself. The demon then tried to push the boulder down with his feet but could cause no harm to Guru Nanak Dev. The only result was that the demon's foot too got imprinted in the rock. Both these pieces of stones are now placed in the Gurudwara.
This is just a brief summary of the entire story. To read more in details and the complete legend, please take a look at the Sikhwiki.Org Page.
Gurdwara Pathar Sahib Details
The boulder with an imprint of Guru Nanak's body in it was first discovered in the late 1970s when BRO was working on the Srinagar Leh highway. As the legend goes, this boulder was covered by Buddhists prayer flags and no matter how hard BRO tried, they could not move it out of the way. A Bulldozer was employed on the job but it kept turning off the moment it was used to move the boulder. When tried multiple times, the blade of the dozer broke but the stone remained in its place. When all efforts to remove the boulder proved futile, it was decided to blow it apart with dynamite the next day but that too failed.
Also Read: What to See in Ladakh – A Complete List
The driver of the Bulldozer and the army officer who tried to blow the boulder by dynamite both had dreams in the night. A voice told them both to not move the stone. BRO was then advised by the locals and several Lamas to leave the boulder be. They were told the story of a Holy Saint they called Nanak Lama and the unyielding boulder. It was after this that Gurudwara was constructed in its current place and is now taken care of by the Indian Army.
Leh to Pathar Sahib Gurudwara Distance
The distance between Leh and the Gurudwara is a total of about 25 kilometers. The road is smooth all the way and you can easily cover the distance in about 25 to 30 minutes at most.
How to Reach Gurudwara Pathar Sahib
There are two ways that a trip here can be planned. First one is for someone planning to cover Srinagar Leh highway as part of their trip. And second is for someone keeping the Srinagar route out entirely. I will explain both.
If you were planning to either reach Ladakh or come back via Srinagar then visiting Gurudwara Pathar Sahib is easy. It is located on the Srinagar Leh highway itself. All that you need to do is stop for a while, pay your respect and be on the way. So for example, if you were coming from Srinagar, you can visit Gurudwara just when you are about to reach Leh City. There is a board marking the location so it will be hard to miss. Same way, if you were coming from Leh and going to Srinagar, then you can visit the Gurudwara and continue traveling towards Kargil.
Also Read: How to Travel to Ladakh Solo
Leh to Gurudwara Pathar Sahib
If you, however, had no intention of traveling on the Srinagar route, then you will have to plan some time out to visit Gurudwara. This applies to people who either flew into Leh and were catching a flight out; or for someone who went via Manali and returned the same way.
The best way to visit the Gurudwara, in that case, is to plan a day trip on Srinagar route until Lamayuru. This is usually referred to as Sham Valley tour. You drive as far as the town of Lamayuru from Leh City and return by evening. On the way, you will visit Pathar Sahib Gurudwara and several other places like Magnetic Hill, Indus Zanskar Confluence and Hall of Fame. Leh to Lamayuru will take about 3 to 4 hours with all the sightseeing involved. If you had time, you can actually extend your journey all the way till Mulbekh. If you did not have the entire day to spend, then you can just take one hour out on any day of your trip; do a short run to the Gurudwara and be back to Leh City.
Private Taxi Charges
If you were not traveling by your own vehicle, then you can rent a taxi from Leh city for visiting all the places I mentioned above including Gurudwara Pathar Sahib. The cost of the private taxi will be about Rs. 3,000.
Motorcycle Rental
If not the taxi, you can rent a motorcycle from Leh City or a Scooty which will cost about Rs. 800 to Rs. 1500, depending upon the brand.
Bus to Gurudwara Pathar Sahib from Leh
There is no bus that specifically goes to the Gurudwara. Hiring a private taxi or motorcycle is your only choice here.
Best time to Visit
The Gurudwara actually remains accessible throughout the year. Even during peak winters, the road from Leh to Kargil stays open. So irrespective of the month you are planning your Leh trip in, you can keep Gurudwara Pathar Sahib as a part of your itinerary.
Also Read: When is the Best time to visit Ladakh
Where to Stay
There is no hotel near the Gurudwara so you will actually have to stay in Leh City only.
Gurudwara Pathar Sahib altitude
Pathar Sahib Gurudwara is located at an altitude of 12,000 ft.
Gurudwara Pathar Sahib Location
To understand the way to Gurudwara Pathar Sahib and its location, I will recommend that you take a look at Leh Ladakh Road Map which I created some time ago.
Conclusion
I hope the information above on visiting Gurudwara Pathar Sahib was of help. If you have any questions; or need any further details; please feel free to ask in the comments section below; or at our Community Forum; and I will be glad to answer.